After I first heard "In the Neighbourhood" by Sisters Underground, there was no doubt that further digging had to be done. It was a track that got everyone moving, a definite party-starter with the feel of an old-school hip-hop anthem. But the group's discography seemed to stop there, with the original "Proud Mix" and other remixes, and just one additional cut, "Ain't It True." Who were Sisters Underground, and how did this winsome slice of hip-hop soul come to be? We can start with the facts as we know them: "In the Neighbourhood" was released in 1994 as part of a compilation of rap and R&B from New Zealand entitled Proud that included the sum total of Sisters Underground's songs, along with offerings from ten other artists from Aotearoa. Now, the Land of the Long White Cloud is not exactly internationally known for its hip-hop, but in the mid-'90s, a distinct form of rapping and singing over laid-back beats arose, styling itself "Urban-Pacific Streetsoul." To get the full story, I tracked down one half of the Sisters, Hassanah Iroegbu.
Meeting at the age of thirteen at Hillary College in the South Auckland neighborhood of Ōtara, Iroegbu and Brenda Makamoeafi developed a close friendship that evolved around their love for music and dance. The music scene in Auckland at the time was far from other global hip-hop hot spots and was evolving in its own unique way. But similar to other creatively thriving locales, it was centered on a community of like-minded people supported by their peers—the people in the neighborhood. "Personally, I was obsessed with music, singing, and the arts, and that's all I really wanted to do," Iroegbu explains. "Every day, we would go to the Ōtara Music and Arts Centre straight after school and stay there as long as we could, either in the recording studio with [the in-house engineer] Ina George or in the main dance area. We were kind of a fixture there, and I think we thought of it as 'our place.'" 
With kinship and support from the staff at the center, making music, recording, and performing was already a daily practice for Iroegbu and Makamoeafi when producer Alan Jansson approached them. He was looking for fresh sounds for a collection that would become Proud, a title reflecting the attitude of the small but potent hip-hop scene in South Auckland at the time, including the likes of the Pacifican Descendants, Semi MCs, and Vocal Five. "In the Neighbourhood" was one of two songs the duo created with Jansson (the other, "Ain't It True," was cowritten by a young jazz pianist making his recording debut, Mark de Clive-Lowe). The title—originally inspired by Sesame Street's "Who Are the People in Your Neighborhood?"—succinctly indicates exactly what the track provides: a glimpse of daily life in Ōtara—the people, the places, and the connections.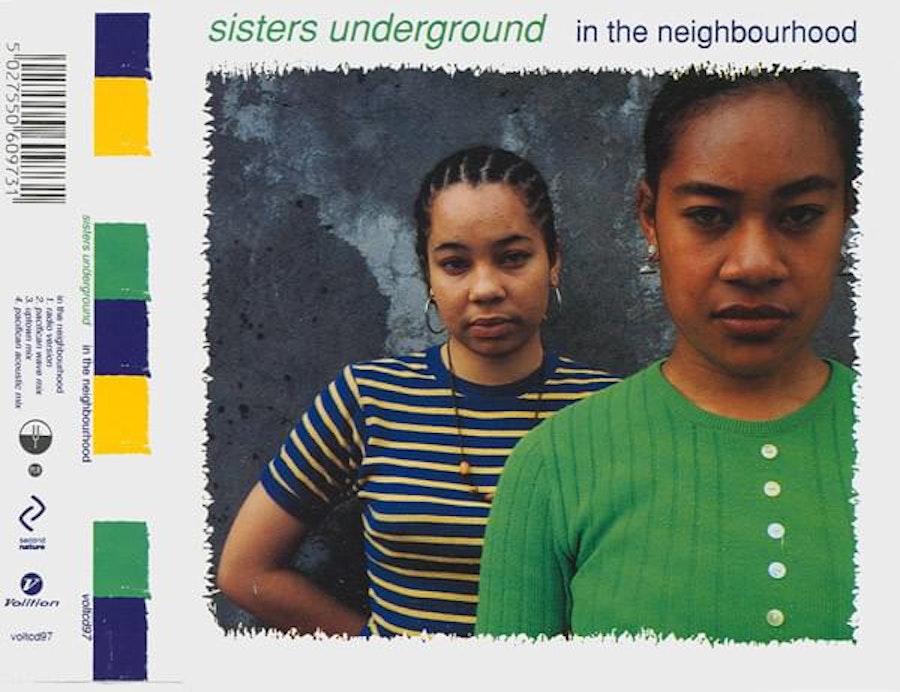 "I think the song reflected a general attitude that a lot of people can relate to," Iroegbu explains, "making it through days that seem to be all the same and trying to find some meaning or goal. I don't think we thought too hard about it though; we just created what came to us in the moment." As the teenagers connected the style of hip-hop they admired to their everyday life, they reflected on the social inequity they saw around them: "Because I'm chill / I have to keep subliminal / Because I know my enemy's a white-collar criminal." The whole track has an easy-going, conversational pace that amplifies the feeling of a real-time chat about real life as Iroegbu creates a mood: "It's a cruel June morning on the edge of the city / It's so damned hot and my neck is feeling gritty / I gotta find something to do…"
The video that was released alongside "In the Neighbourhood," directed by Samoan-descended photographer Greg Semu, follows the teenagers around their environs, where they meet their friends from school, capture a family portrait at home, wave hello to the man in the shop, and play with the kids in the park; a true depiction of a typical Saturday in Ōtara, South Auckland, in the '90s. Iroegbu remembers, "We were pretty embarrassed to be performing in the middle of Ōtara town center on a busy Saturday! But Greg Semu gets credit for a lot of the locations and the feel of the video. I think his visual interpretation of the lyrics captures the spirit of the song." That spirit glides through the thoughts of teenagers who are growing up in a small community, at a loose end, finding meaning in their future, and finding it in their community, looking around and celebrating the faces who make it all real. "I think for Brenda and I at the time, our main aim in life was to do well in music so we could help our families. We were both raised by single mothers and we wanted to help somehow."
"In the Neighbourhood" had a far-reaching impact that could hardly have been anticipated. It reached the top ten in the New Zealand charts while garnering major recognition in Australia, winning the duo the "Most Promising Group" at the 1995 New Zealand Music Awards and ensuring that, Down Under at least, they would be hip-hop legends. Through rerecordings and dance remixes, the track continues to receive global interest, but New Zealanders have been rolling with the Sisters since the very beginning. "This was really a surprise to us, and it's continued to amaze us both how long the song has remained in people's consciousness." Iroegbu adds, "We're both honored that it means so much to so many." Sisters Underground didn't try to replicate the hip-hop many of us would assume to know, and yet ended up with a song that serves as a perfect example of hip-hop's most seminal traits, a track that was unique to them and reflected the people they knew in their community. "I think it had the effect it did because people saw themselves in us," Iroegbu explains, "and there weren't many young women of color from that part of New Zealand that you saw on television or heard on the radio at that time."