American evangelicals will always try to stop it, but in every battle in the War On Sex, the winner is always Sex for one very obvious reason: in a capitalistic state, sex sells. Raunchy music is just good for the economy. In this instance, it's 1982 in Cleveland, Ohio, Reaganism is sprouting, and a conservative army of book burners and censorship-crazed pearl clutchers are emboldened by Ron and Nancy's first year in office. But this time, it's a coalition of Black churches and community leaders collecting seven hundred signatures to get local electro group Sexual Harrassment's "I Need a Freak" off the airwaves. "I Need a Freak" is primitive and base. Sex drips off every layer of the song. The carnal pining for "a freak every day and every night" demands a steady drum machine and a rote two-note thump on the synthesizer. Deeper and deeper into the hypnotic song, the chants for a freak get louder and more desperate. Oh, you know!
Perhaps it's that uncontrollable longing that scares the coalition? But most importantly, they feel that teenagers cannot handle such filth as "a super freak...in underwear."
Try as they did, the coalition's efforts were futile, even when the Cleveland station WZAK-FM eventually caved to the pressure and pulled the song from the air. The momentum from the controversy has placed Sexual Harrassment (intentionally misspelled) among another radio renegade, Prince's libidinous B-side "Irresistible Bitch." "I Need a Freak" independently moved over 200,000 units worldwide. It was an underground dance hit before such things existed.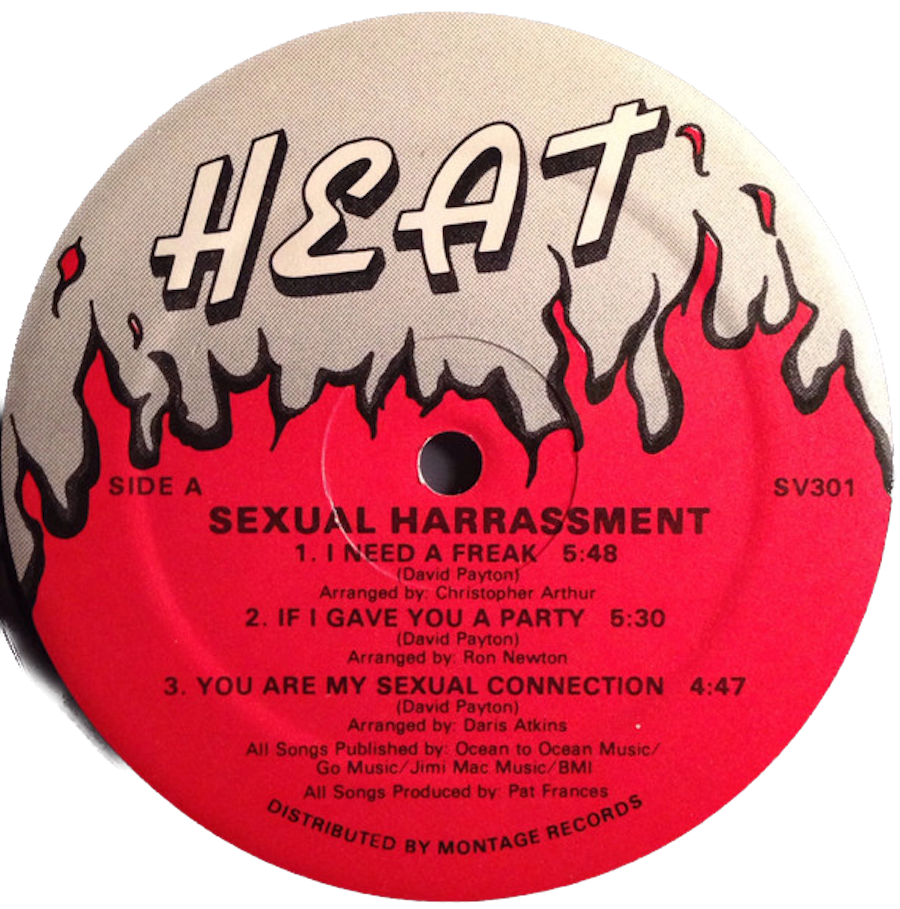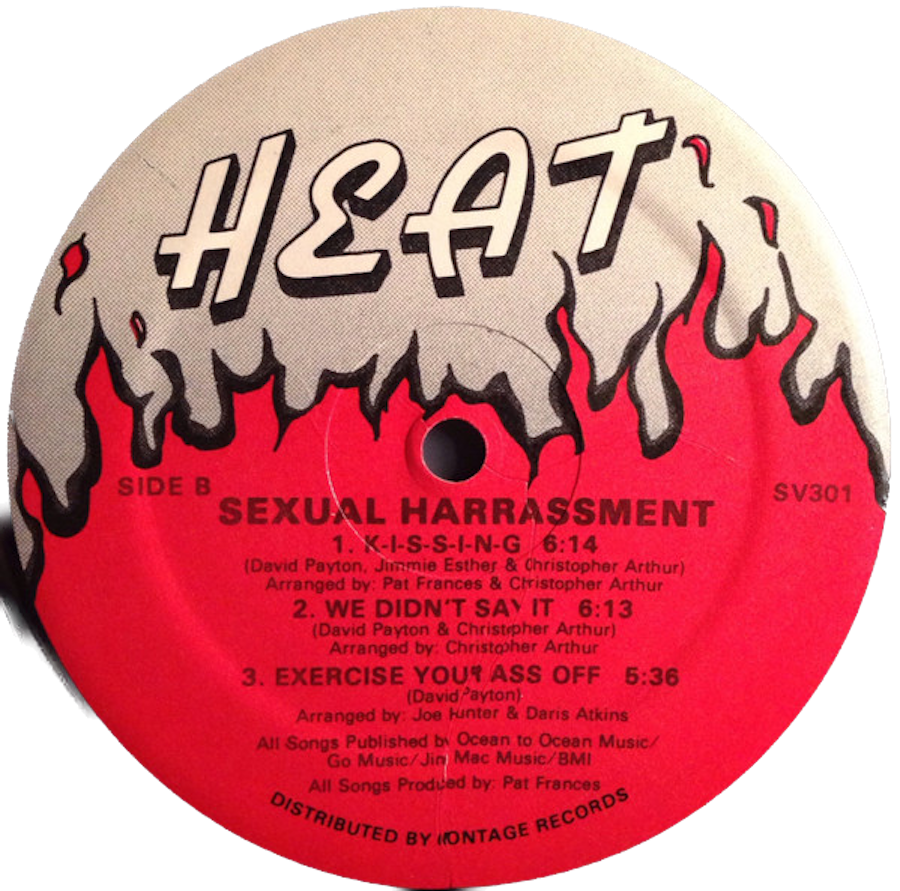 Recorded in Heat Studios in Akron, Ohio, the 7-inch single was originally released by Great Records in 1982. The song was re-released by Heat Records as a 12-inch in 1983. The group's leader, Lynn Tolliver Jr. (who passed away in early 2022), performing under the alias David Payton, soon learned the problem of collecting royalties under a pseudonym, as the label produced numerous versions with different catalog numbers that obscured its sales. But Tolliver let it slide. He didn't want to disrupt its momentum. And he was wise to do so. The owner of Heat Records eventually licensed the song to the Black Eyed Peas who sampled it for their double-platinum hit "My Humps." In 2011, Tolliver sued and won the $1.2 million lawsuit.
The single was followed by the eponymous full-length in 1983. The cover art is a Black woman leaning into the ear of a white woman whose passion is exploding to the point that it looks as though her hair is engulfed in flames. Her red lipstick makes an orgasmic O and it becomes easy to imagine her teeth have fangs. We simply cannot see where the other woman has placed her hands.
The day "I Need a Freak" arrove on the West Coast, a young Egyptian Lover happened to be at the store and walked out with a copy. That night, he spun it at a party. It goes off. From there, it's regular rotation and even gets played to ten thousand party people in the Los Angeles Sports Arena. The sound on "I Need a Freak" is so close to the electro he was producing that callers to radio stations confuse it as his song. Eventually, he covered it on his 1994 record Back from the Tomb.
In Europe, JD Twitch recalled it was a cult hit in the clubs in the 1980s. He eventually secured a copy of the LP in the '90s and played the title track as well as "If I Gave You a Party" and "K-I-S-S-I-N-G" at Optimo, his Sunday night dance party alongside Jonnie "J.G." Wilkes in Glasgow. He recalled that "I Need a Freak" was influential during the electroclash era, producing artists like Munich's Girls On Speed who embraced the same performance art approach as Tolliver.
In fact, Sexual Harrassment likely ushered in numerous eras. Their pornographic electro sound predates Chicago's ghettohouse and Detroit's ghettotech, two electronic genres that rely on dirty chants, but at the speed of 160 bpm. Then there's Miami bass and the arrival of 2 Live Crew, who also thrived off being banned by conservative America. Khia's "My Neck, My Back" feels inevitable. "I Need a Freak" set off a chain reaction.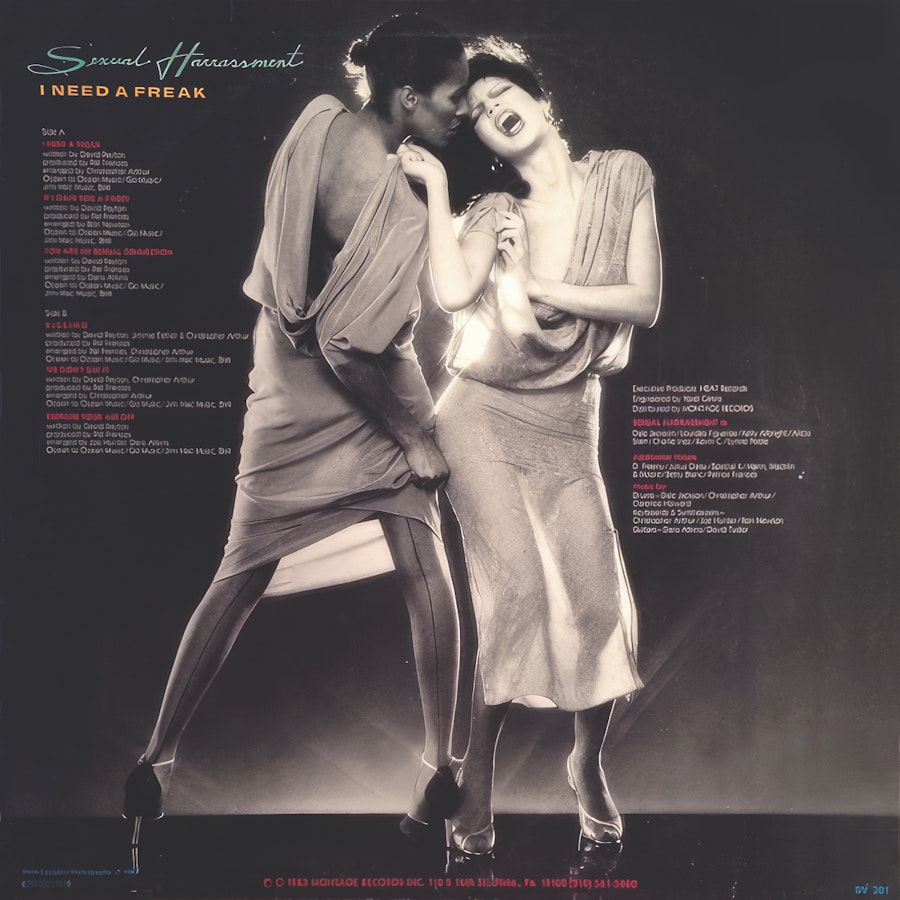 Much later, 2001 to be exact, Sexual Harrassment's "If I Gave You a Party" found its way on the Anti NY compilation released by German label Gomma. (Lynn Tolliver Jr. had no recollection of licensing the song to them.) The group reaches a whole new generation of young party people already gyrating to Peaches' sleazy electro descendant "Fuck the Pain Away." This time in Brooklyn. The anti-skill, no-wave feel of "If I Gave You a Party" resonates with people who are squatting in warehouses and living a lifestyle that feels as depraved and low- budget as the music. The refrain "If I gave you a party, would you come?" is like a DIY show battle cry. Sexual Harrassment's messy, amateur-ethos-meets-performance-art is now the allure, and carnal takes a back seat.
Bands like the Rapture and Le Tigre and DJ collective/ label DFA were all tripping on no-wave dance-punk, and Sexual Harrassment got swept up into the set lists. Dark Entries founder Josh Cheon had the Anti NY comp, and it put him on the hunt for "I Need a Freak." Bootleg white labels were circulating for ten dollars at Kim's on St. Marks. Eventually, he would connect with Tolliver and reissue the I Need a Freak LP on Dark Entries in 2021.
How does this keep happening? What is the attraction to "I Need a Freak" that keeps resonating generation after generation? Completely lost on the Christian coalition who wanted "I Need a Freak" banned is that if they had truly given the lyrics meaningful consideration, they'd have found a song about devotion and commitment. Tolliver begins with "In these times of hurt and pain / We need a remedy to take us from the reign." Had they just focused on Tolliver's claim of "exclusively," they'd understand he's not talking about promiscuous freakiness, not five or ten or twenty freaks, but the kink that comes with having one freak who's truly there for you. A sex-positive freak who understands you and all that you're going through. The underwear part is an afterthought.