The sixth installment of trumpeter/arranger/producer/bandleader Todd Simon's Jazz on 45 series focuses on some classics found within the genre. For the return of Wax Poetics, Todd has put together some of the more well-known gems found on 7-inch vinyl. Thanks to artists such as Kamasi Washington and Sons of Kemet, we have seen a newly found resurgence of this incredibly expressive and beautiful art form worldwide. Whether you are fairly new to digging into Jazz, or well-versed in it, you will enjoy listening to these selections at 45 rpm. Note that certain selections from this include both sides edited together.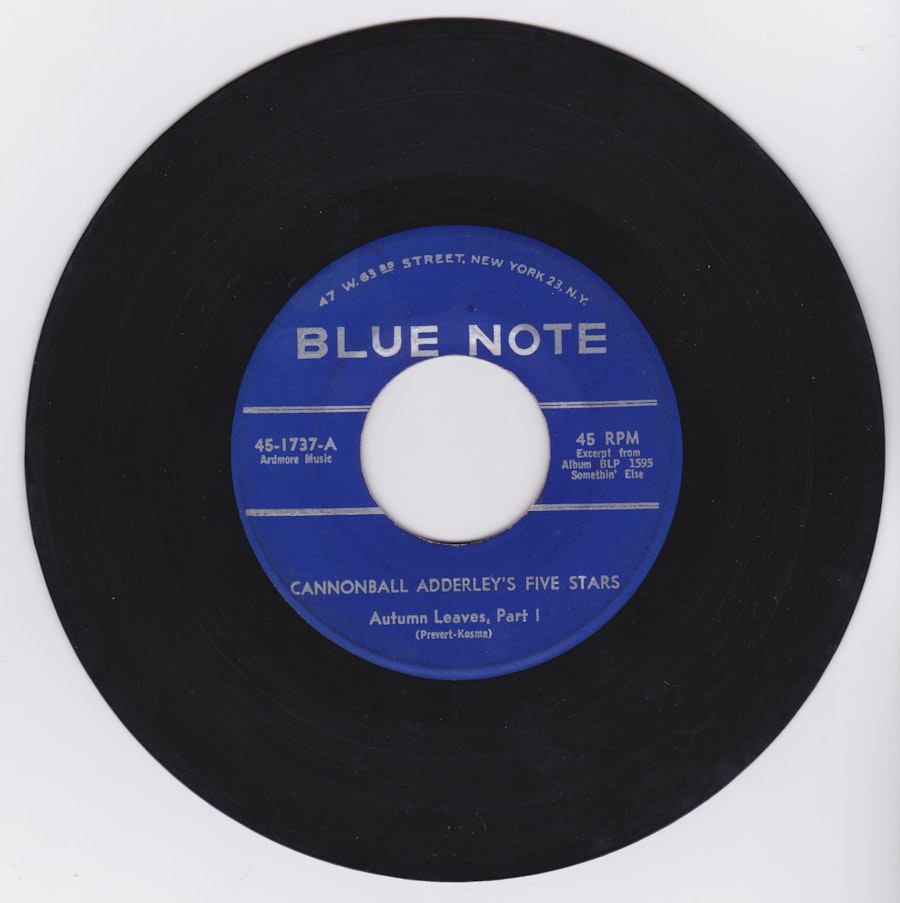 1. Cannonball Adderley's Five Stars "Autumn Leaves (Pts 1 & 2)" (Blue Note)
With one of the greatest intros to any recording, Cannonball Adderley's arrangement of the 1949 Yves Montand composition "Les Feuilles Mortes" prepares listeners with a moody and eerie loop. "Autumn Leaves" is a jazz standard that has been covered by countless artists and aspiring musicians. Adderley's version captures the essence of the magical late-1950s cool era which emphasized lush textures and space with inventive improvised solos. This 45, released in 1958, is the second single from the Somethin' Else LP on the Blue Note label with the first being the title track.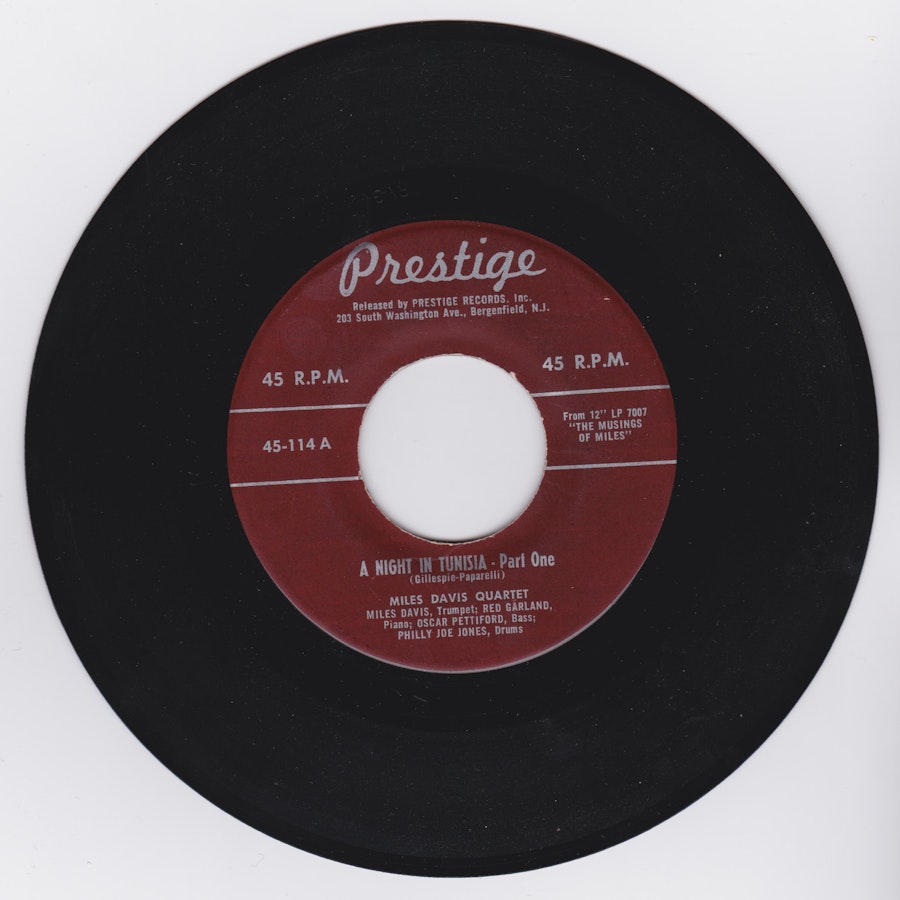 2. Miles Davis Quintet "A Night in Tunisia (Pts 1 & 2)" (Prestige)
No other musician has impacted jazz more than Miles Davis, so I found it fitting to feature a few more Miles 45s. Here he is on another 1958 recording, this time with his own quartet covering the Dizzy Gillespie/Frank Paparelli classic: "A Night In Tunisia." I love the communication that takes place during the trading fours section on the B-side. Philly Joe Jones exhibits his always tasty rhythmic flavors.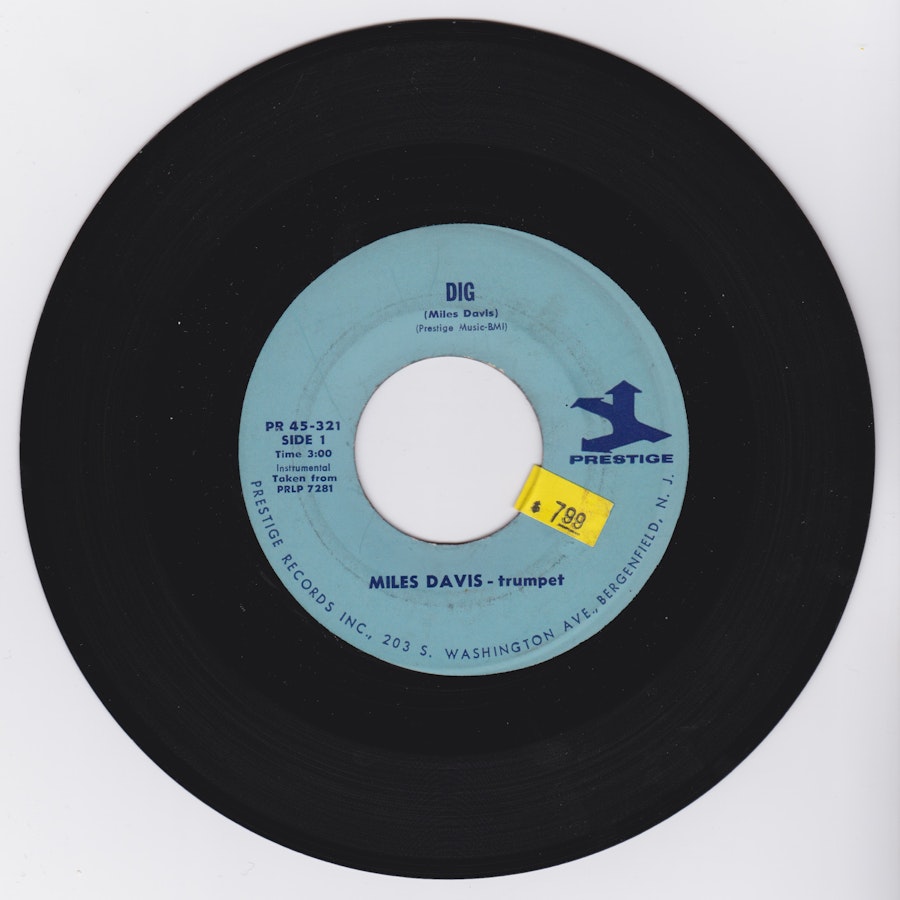 3. Miles Davis "Dig" (Prestige)
A burner recorded in 1951 for the Prestige label with the explosive Art Blakey on drums, Miles takes charge and allows only a little snippet at the end for alto saxophonist Jackie McLean to get some blowing in.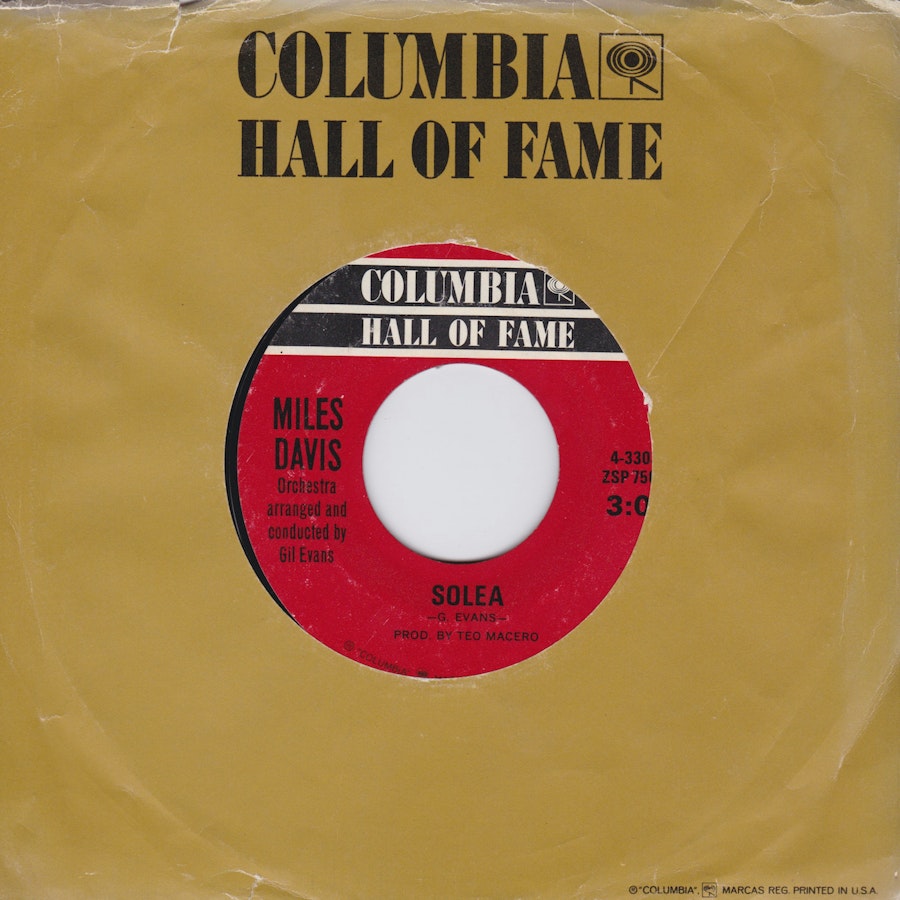 4. Miles Davis "Solea" (Columbia)
The body of work Miles Davis created with the arranger-extraordinaire Gil Evans and producer/engineer Teo Macero for the Columbia label is legendary! If music could be displayed in an art museum, the magic these three made together would be found in retrospectives worldwide. "Solea" is from the groundbreaking Sketches Of Spain LP, which earned Davis and Evans the 1961 Grammy Award for Best Jazz Composition of More Than Five Minutes Duration.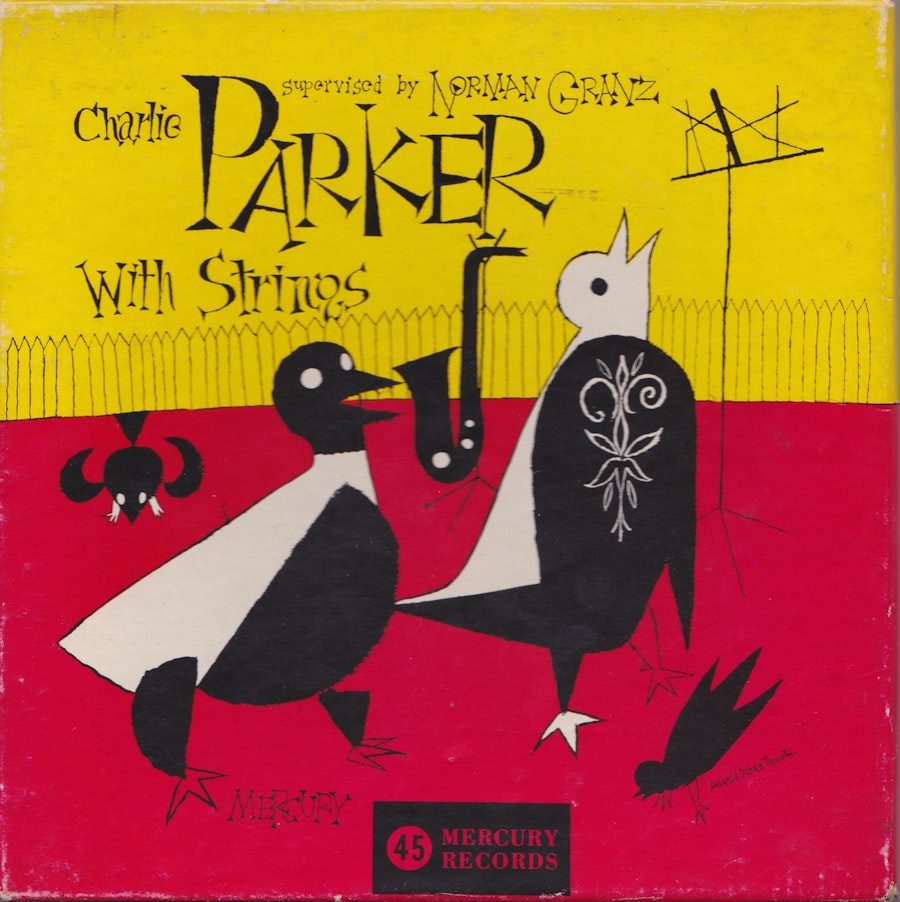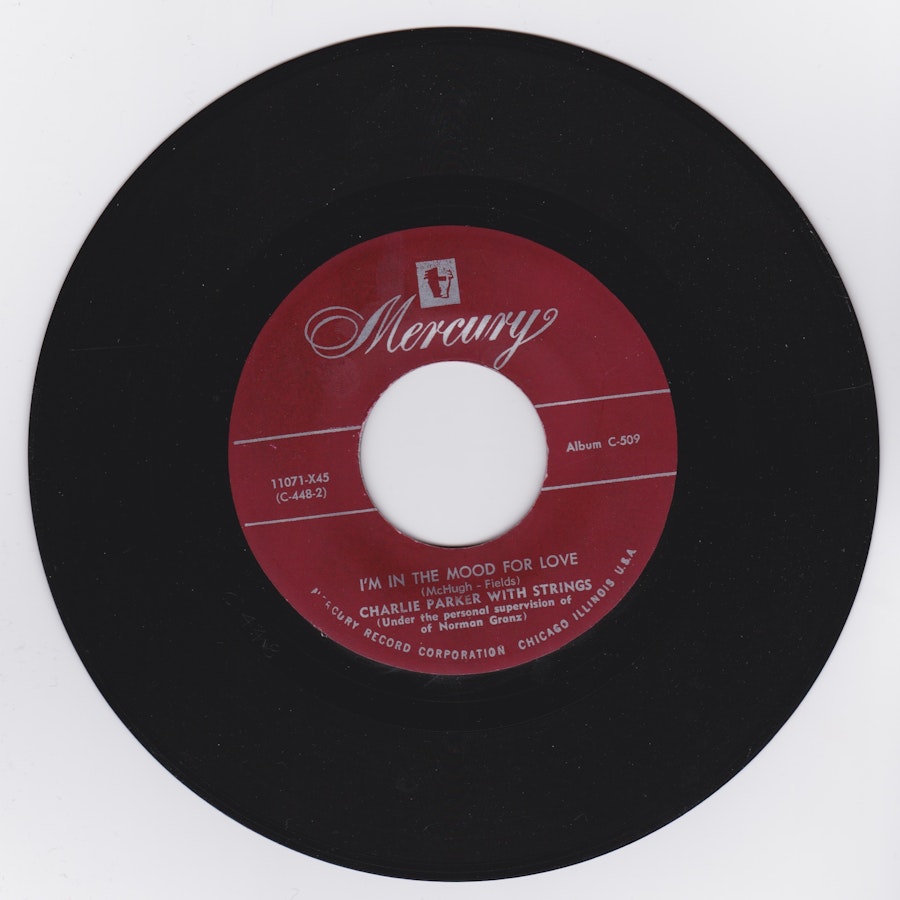 5. Charlie Parker with Strings "I'm in the Mood for Love" (Mercury)
One of my most cherished pieces in my jazz 45 collection is a Charlie Parker With Strings box set from either 1953 or 1954. The set contains three 45s that capture Parker's delicate genius of lyricism on the alto saxophone. Supervised by the great Norman Grantz, for the Mercury label, Bird is backed by a gorgeous orchestra. Many hip-hop producers I've worked with over the years admire the oboe stylings on these recordings. Most albums under the direction of Norman Grantz feature cover art by David Stone Martin.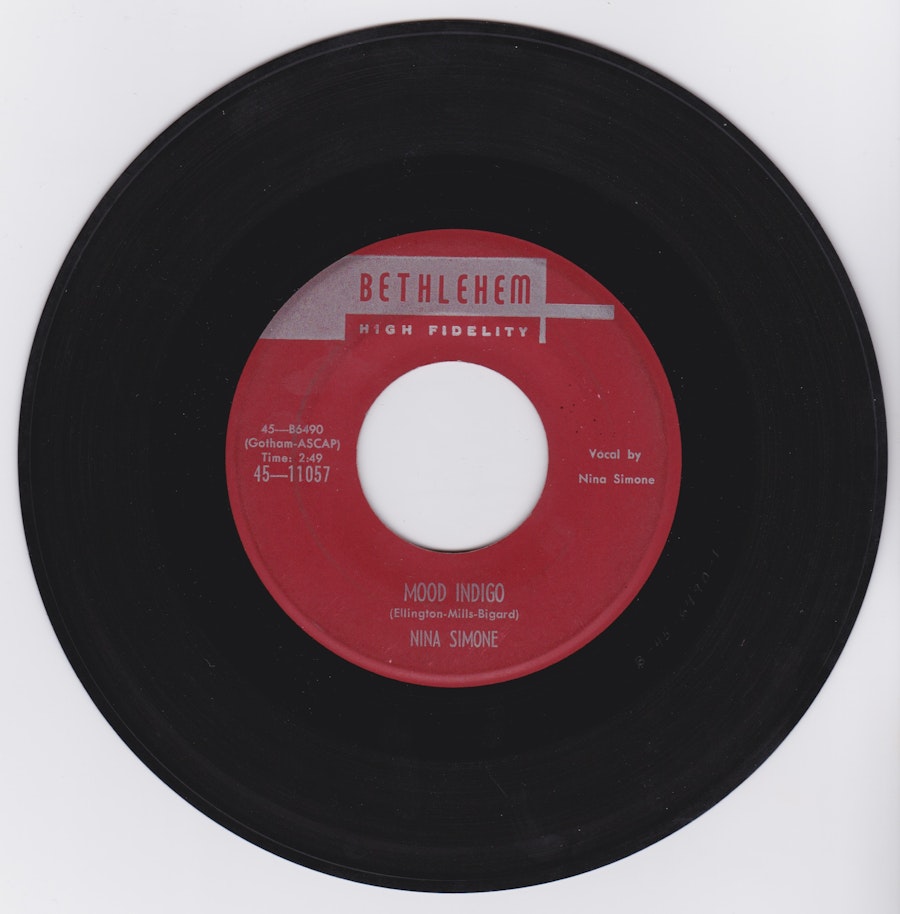 6. Nina Simone "Mood Indigo" (Bethlehem)
There is nothing better than listening to Nina Simone sing and play piano at 45 rotations per minute. Here we get a glimpse at the Simone's genius and how she vividly reimagines this classic Duke Ellington/Barney Bigard composition on this 1960 Bethlehem release.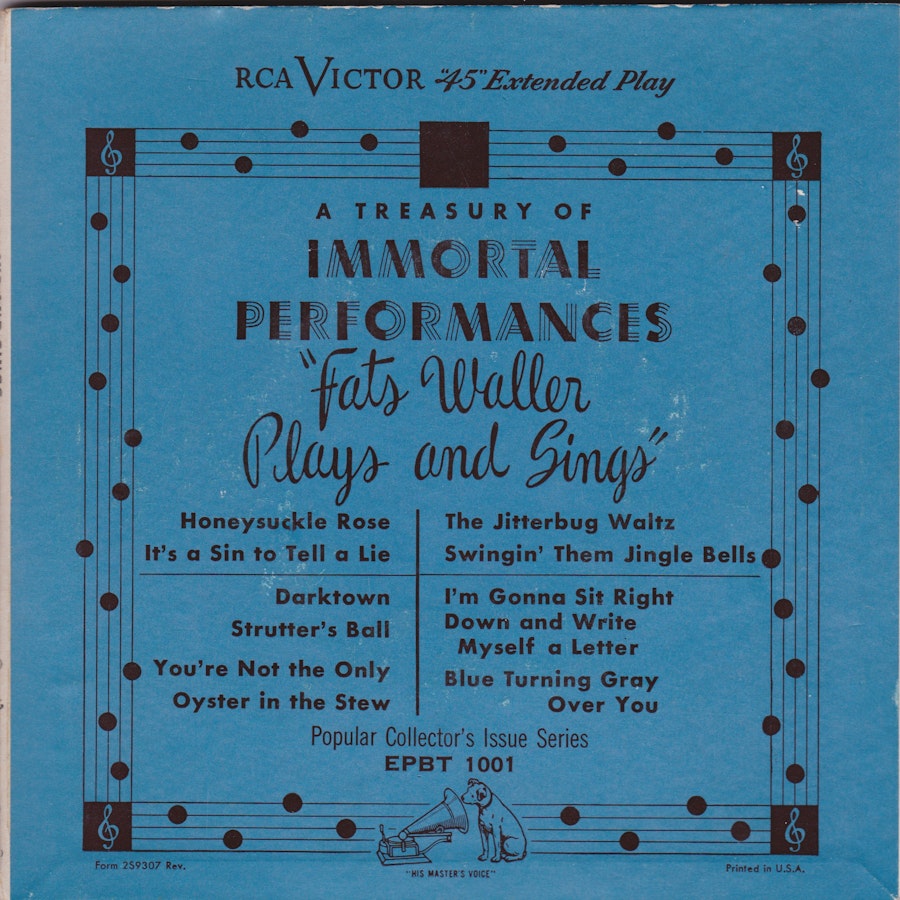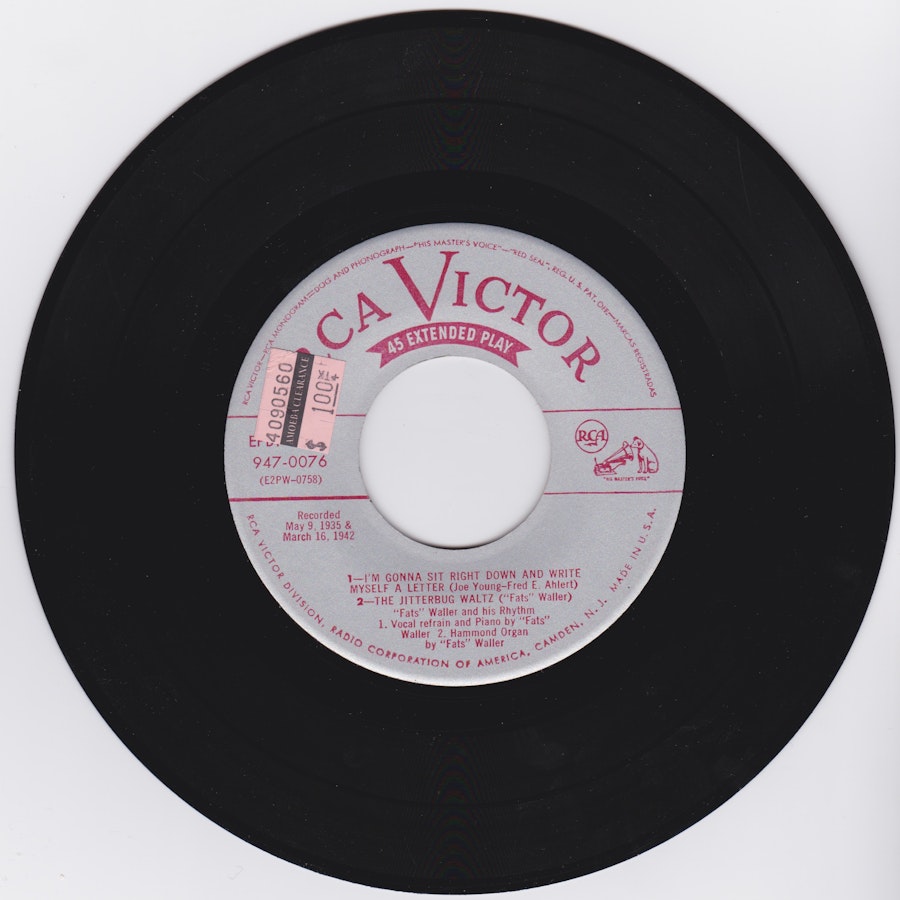 7. Fats Waller "The Jitterbug Waltz" (RCA Victor)
I still cannot believe that I found this 45 Extended Play collection of the great Fats Waller from the Amoeba jazz 45 bins in Hollywood for only $1.00! I'm a fan of extended-play 7-inch records and this one is a gem featuring Waller's "The Jitterbug Waltz." If you are a fan of Eric Dolphy, you'll know this one. Here's a request for record shop owners: PLEASE STOP PUTTING PRICE STICKERS ON THE LABELS OF  YOUR 45s! How many of you are sick of using lighter fluid to get those nasty price tags off of your record labels?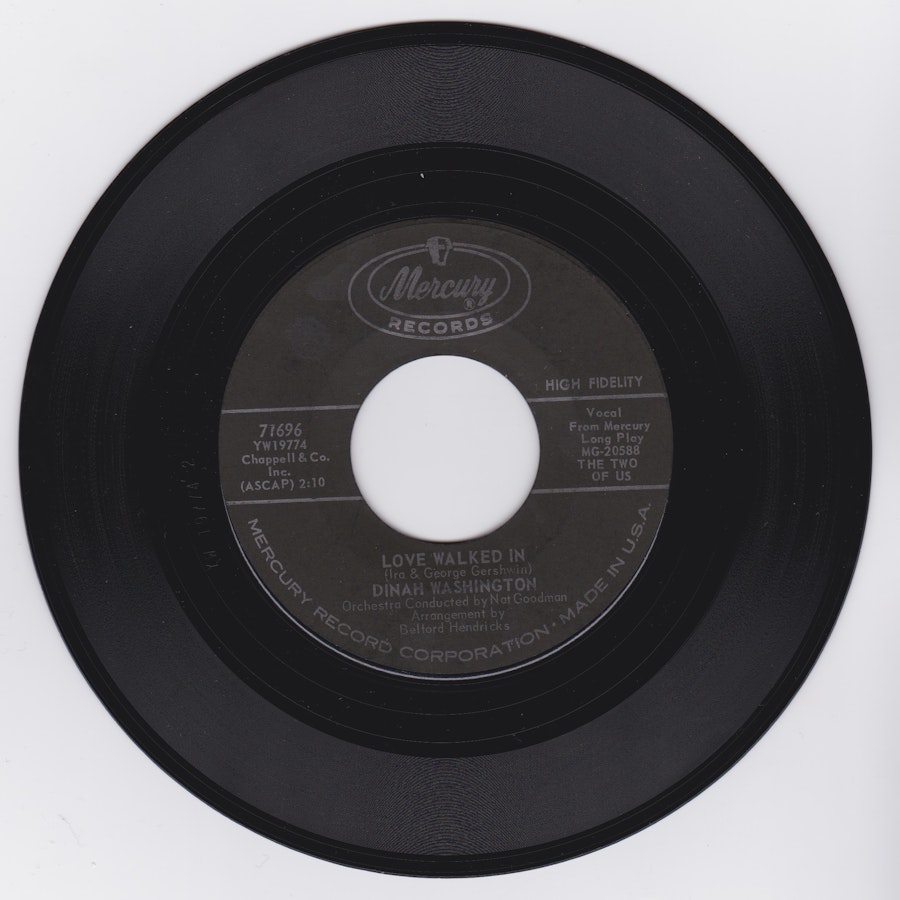 8. Dinah Washington "Love Walked In" (Mercury)
The brilliant sass found in Dinah Washington's voice is exemplified on this track from a collar project with Brook Benton. A young Joe Zawinul is found playing piano on this record.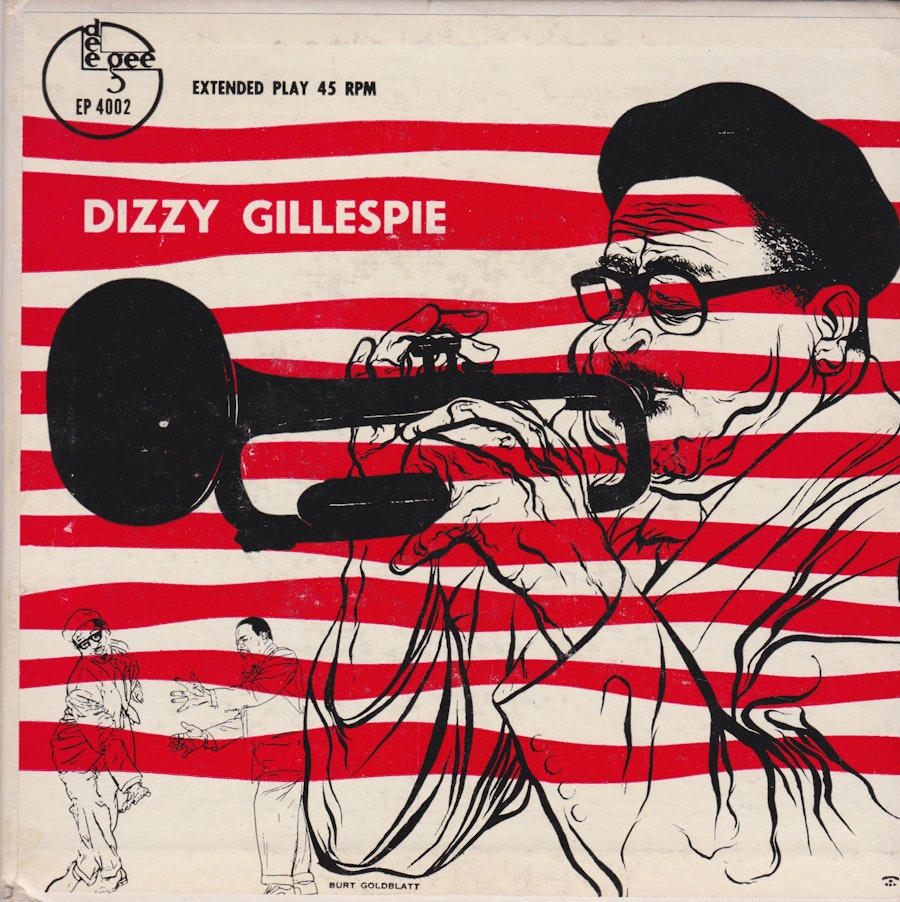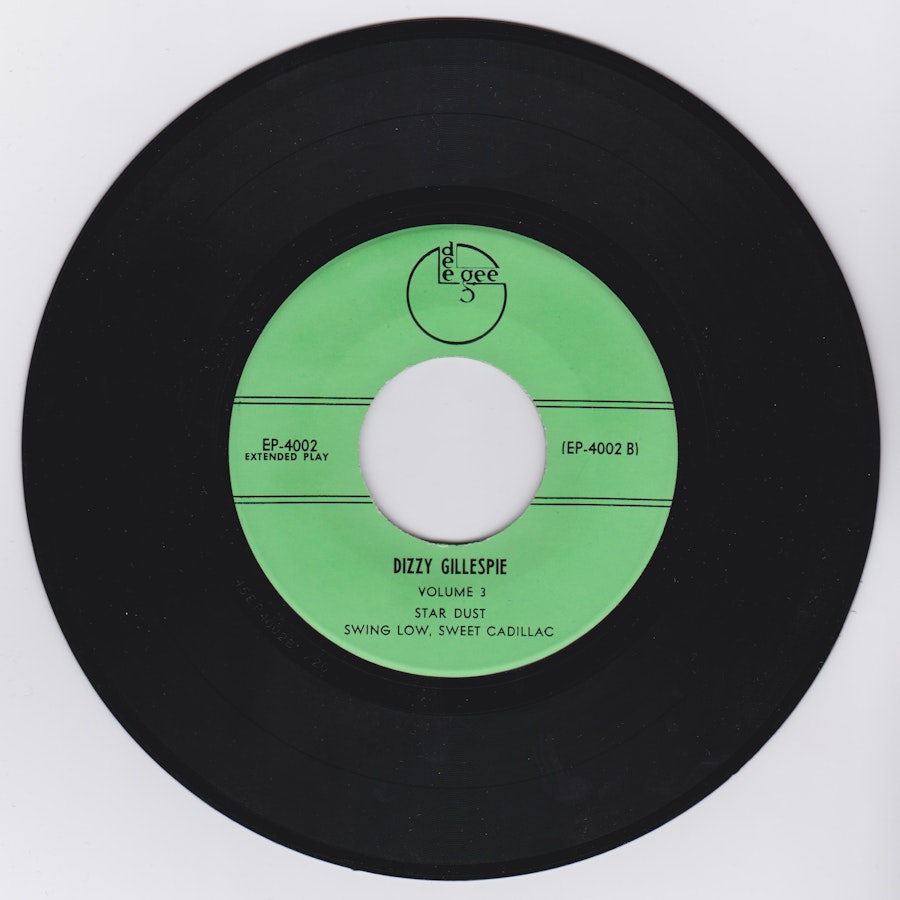 9. Dizzy Gillespie "Swing Low, Sweet Cadillac" (Dee Gee)
I never knew of this earlier/original recording of Dizzy's classic that was later recorded for the Impulse. The artwork, by Burt Goldblatt, on these Dee Gee extended play collections are priceless. I know the quality isn't great, but the musicality and sensitive dynamics are amazing.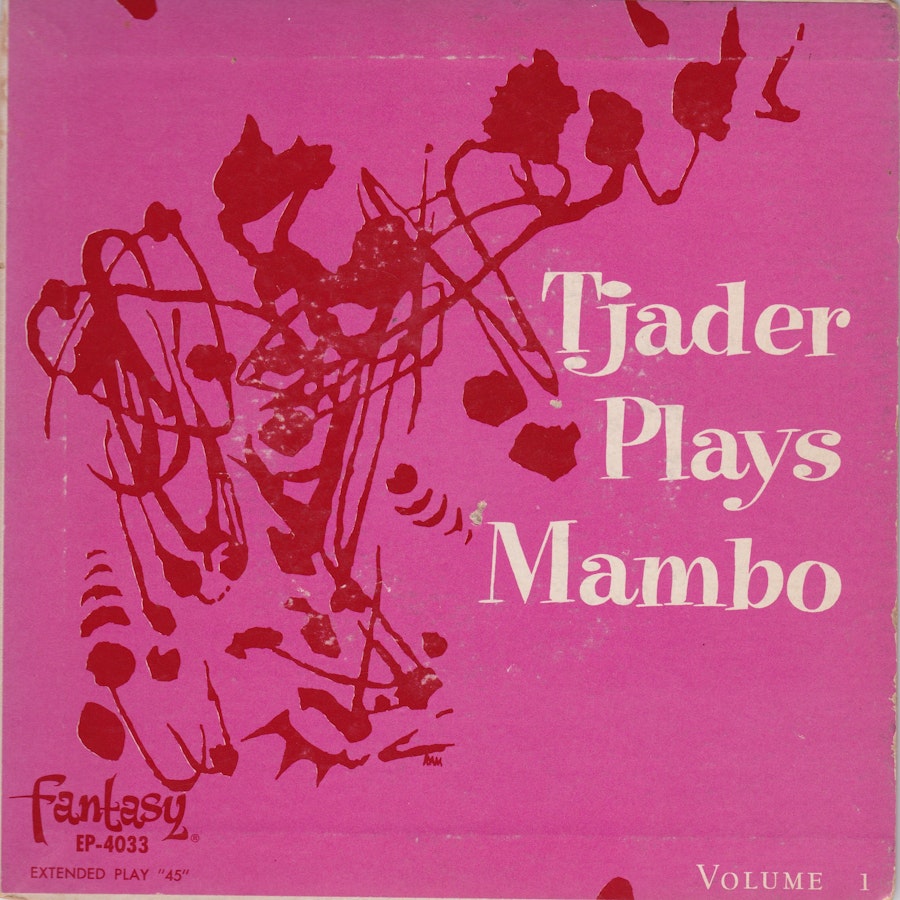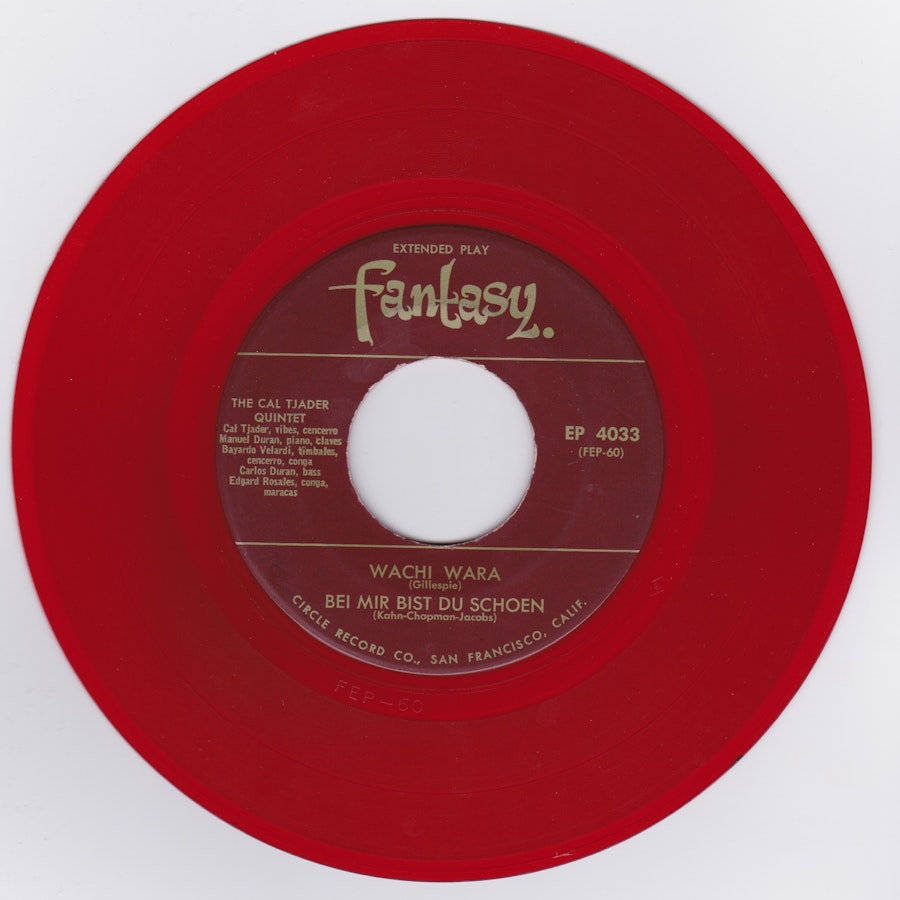 10. Cal Tjader "Wachi Wara" (Fantasy)
Any jazz record collector will find a red vinyl album or 45 from the Fantasy label during some part of their digging journey. The whole Tjader Plays Mambo LP is a masterpiece in earlier existence latin jazz. "Wachi Wara" (also known as "Soul Sauce") came to be one of Cal Tjader's biggest hit compositions.
11. Count Basie and His Orchestra "Lil' Darlin'" (Roulette)
I spent my early days as a jazz trumpeter playing in big bands. I will never forget when my high school jazz band director, the great Sid Lasaine, proudly played for our class his vinyl copy of The Atomic Mr. Basie. Lasaine would use the recording of Neal Hefti's "Lil' Darlin" as the model example how to play together as an ensemble quietly and patiently. Notice how Basie's group lays back, waiting for the very last moment to play 'on beat.' The same approach is found in how James Brown, Sly Stone, and George Clinton (the Funk Trifecta) played on "the one." I was blown away by the fidelity heard on that Basie lp and from that moment on became an avid jazz vinyl collector in my teen years.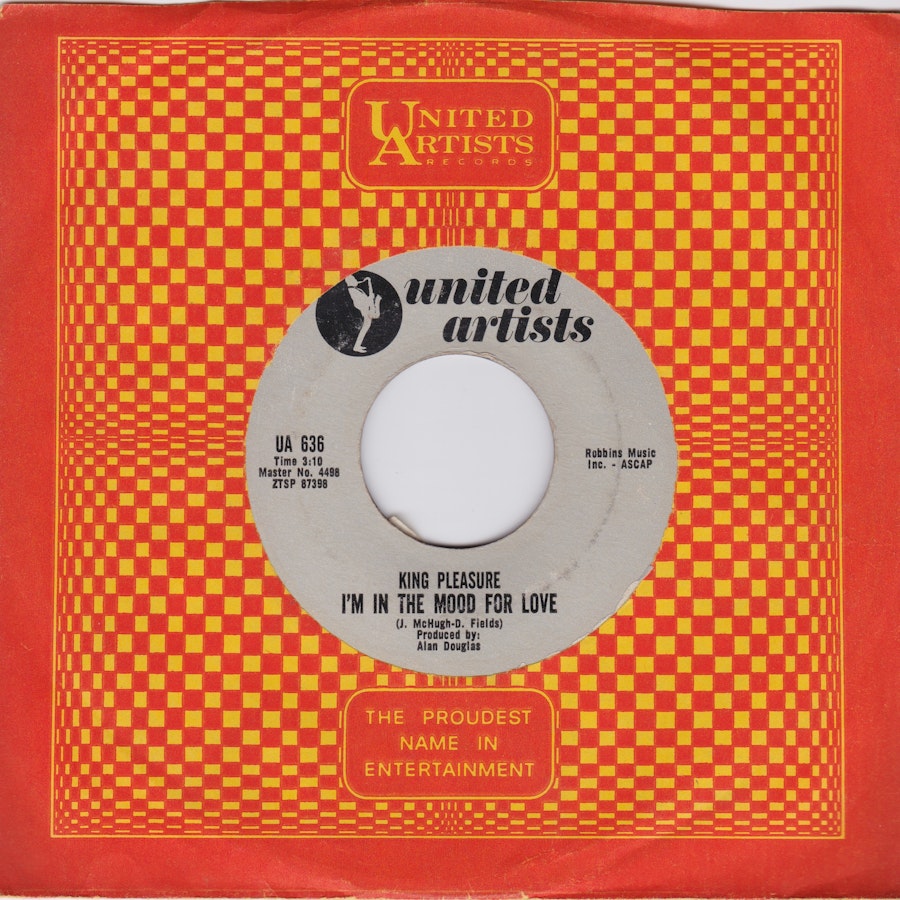 12. King Pleasure "I'm in the Mood for Love" (United Artists)
I had to include King Pleasure's version of "I'm in the Mood for Love." You shouldn't have difficulty finding this on 45. I have a few different presses of this recording on 45, in addition to the various versions recorded for LP. King Pleasure is an artist found in the vocalese genre of jazz where greats such as Eddie Hendricks, Annie Ross and Ella Fitzgerald were masters of. Ask any member of Freestyle Fellowship and/or the Project Blowed scene, and their eyes will open wide when discussing how influential vocalese is. Check out that United Artist sleeve design (and yeah… another sticker on the label of the flip side)!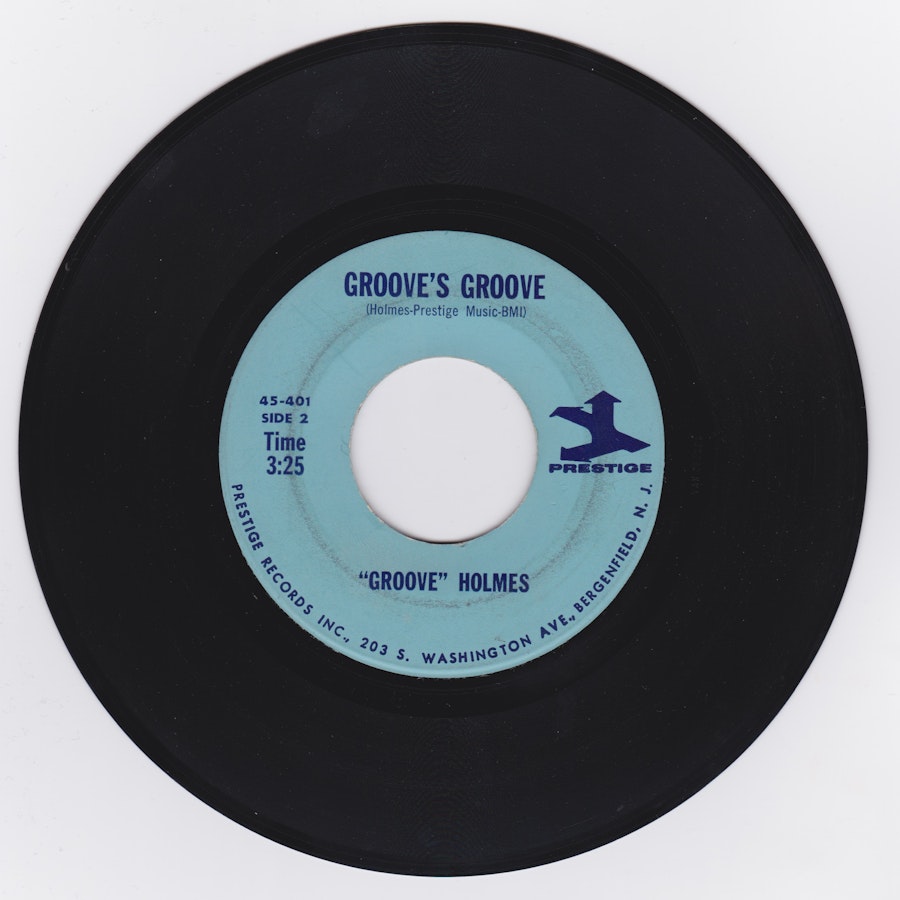 13. "Groove" Holmes "Groove's Groove" (Prestige)
I'll always cherish my visits to the Jazz Record Mart in Chicago where I've found so many incredible 45s including this next batch… The jazz organ trio has made comeback over the years and brought soul jazz back. One of the organ masters is Richard "Groove" Holmes.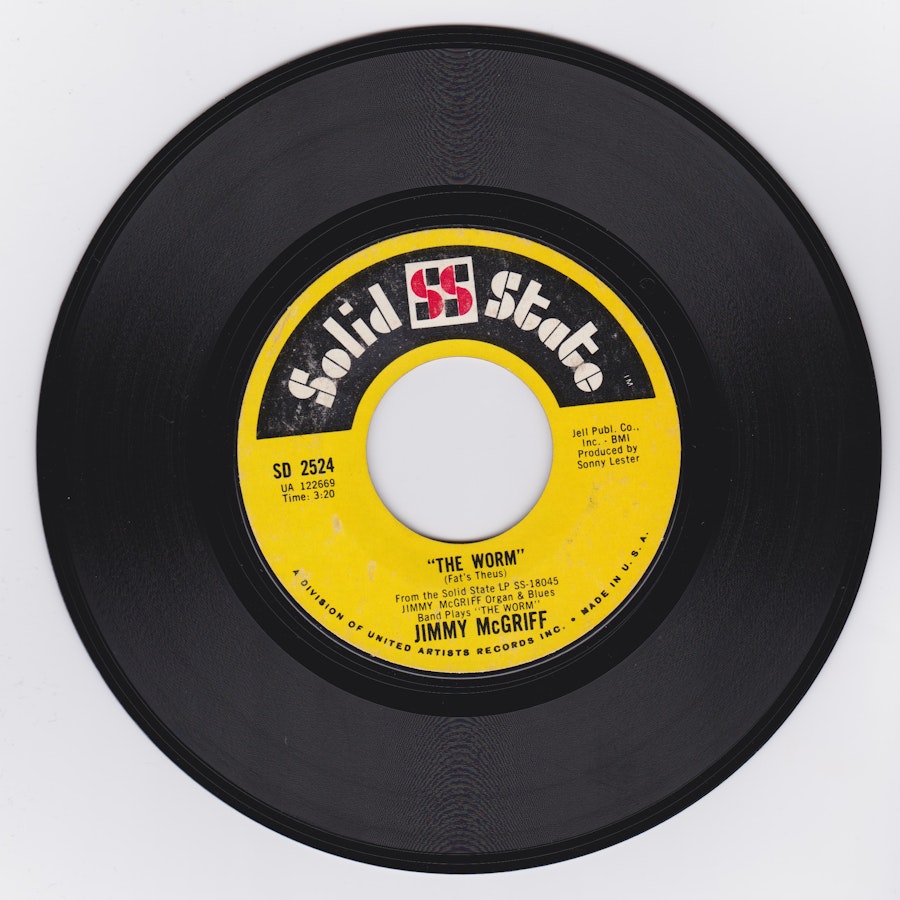 14. Jimmy McGriff "The Worm" (Solid State)
One of my favorite organists is Jimmy McGriff! Here is one of his hits produced by Sonny Lester featuring the great Blue Mitchell on trumpet and Grady Tate on drums. Looking for some breakbeats, you'll find a batch on most of McGriff's albums.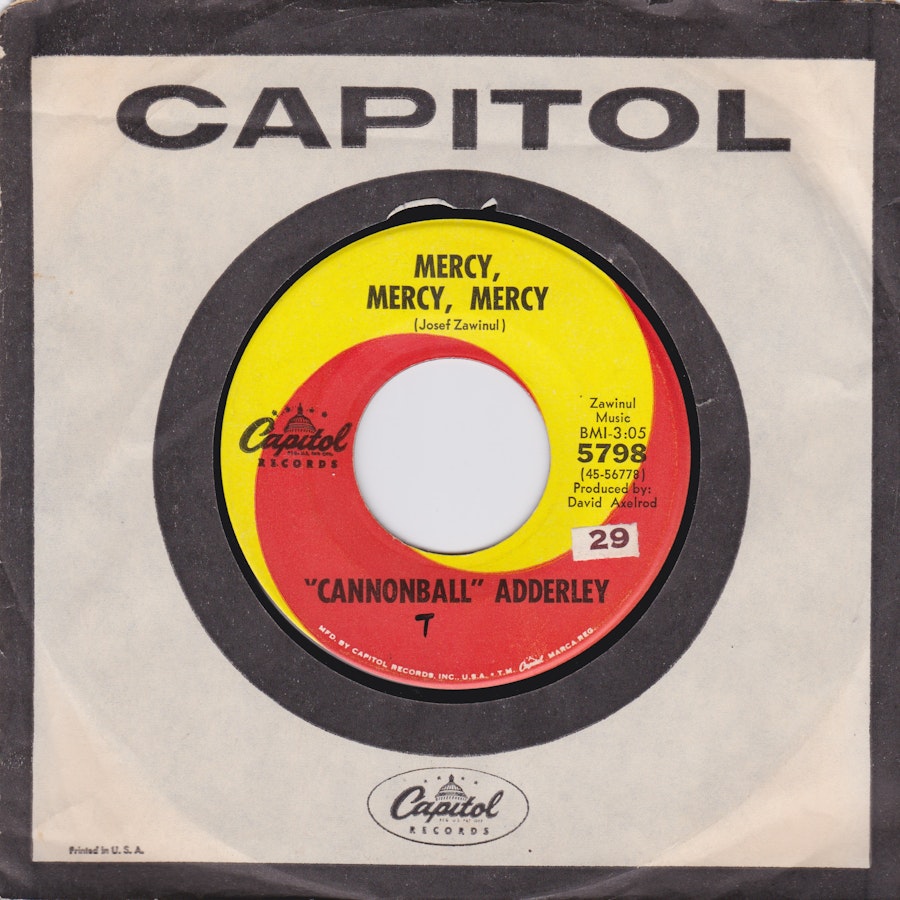 15. "Cannonball" Adderley "Mercy, Mercy, Mercy" (Capitol)
I cried when I found this classic on 45! One of the greatest live jazz recordings at "The Club." The Club is actually the great Capitol Studios in Hollywood. David Axelrod opened up both Studio A and B to create space for an audience and bar. While listening to this album you feel like you are right there in 1966, partying it up with a lively crowd while Roy McCurdy's groovy pocket makes you feel just right.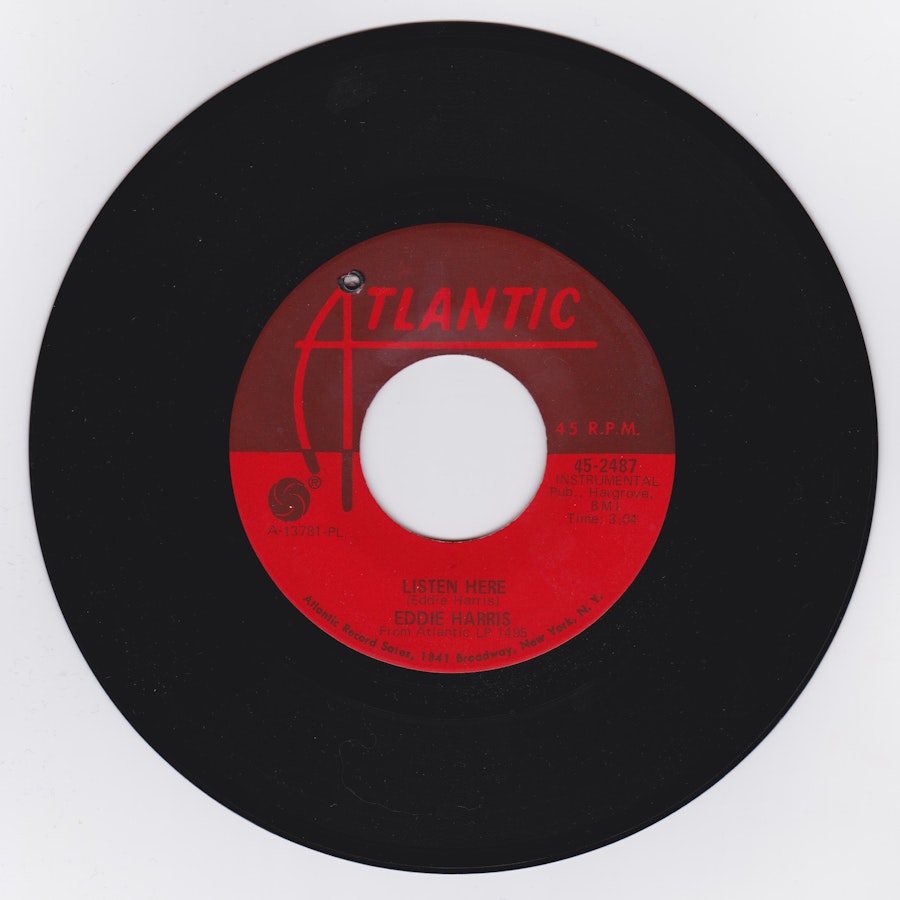 16. Eddie Harris "Listen Here" (Atlantic)
The next three selections are from the Atlantic label, which has some gems in recorded history including Charles Mingus, Ornette Coleman, Ray Charles, and more. Soul-jazz would not be what it is if it weren't for the immense input from a staple at Atlantic, Eddie Harris. "Listen Here" has an almost boogaloo feel to it which makes it almost impossible to not want to dance to.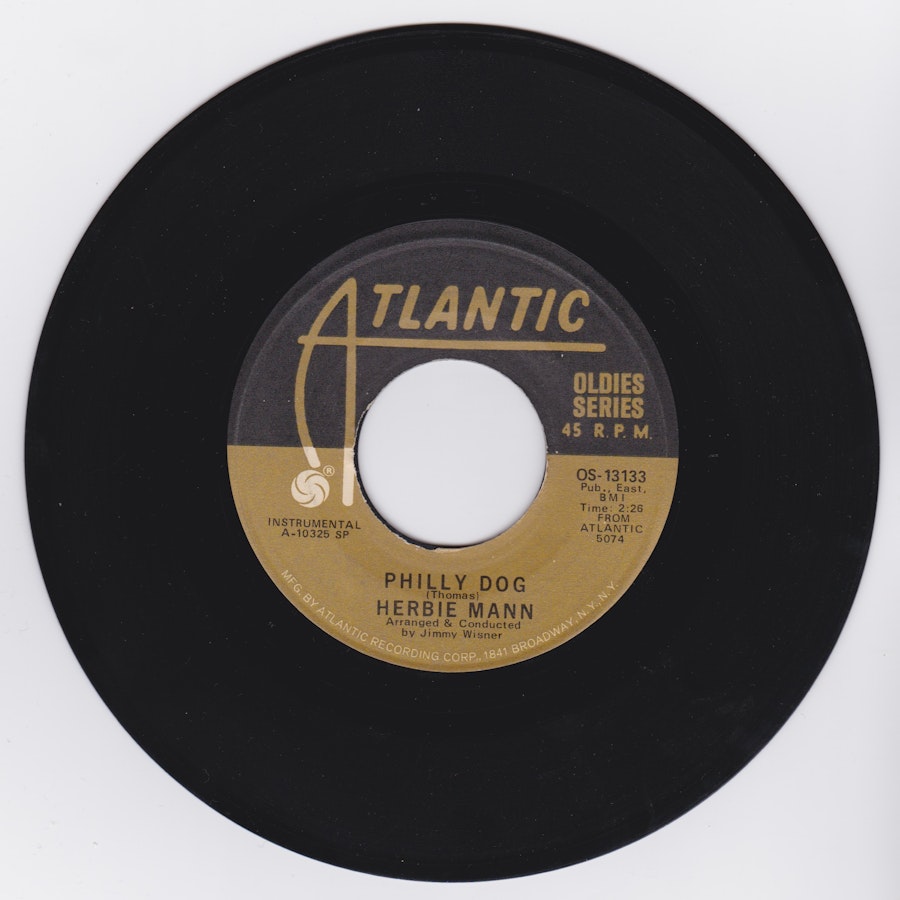 17. Herbie Mann "Philly Dog" (Atlantic)
These next two tracks are from the same 45. Here we have the great flutist, Herbie Mann, playing Rufus Thomas's "Philly Dog."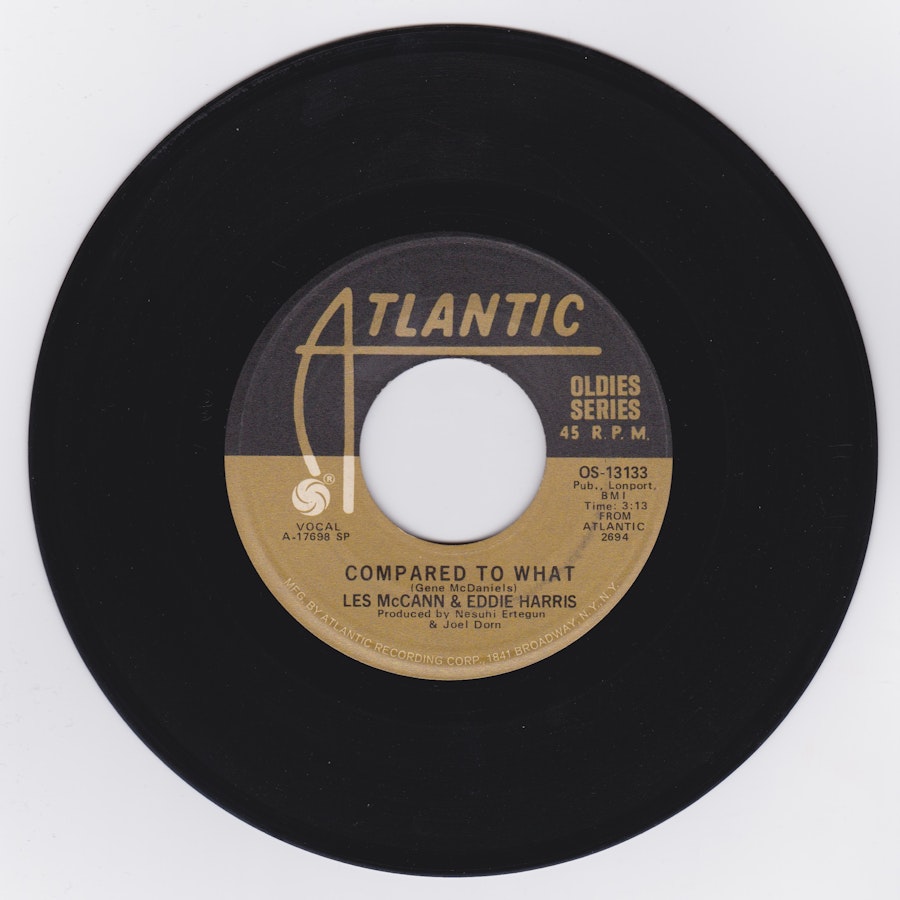 18. Les McCann & Eddie Harris "Compared to What" (Atlantic)
The flip side to "Philly Dog" is a lively cover of Gene (aka Eugene) McDaniels "Compared to What" performed by Les McCann and Eddie Harris. Most of you will know this song from Roberta Flack's First Take LP but will enjoy this live edited version with censored beeps every time McCann says, "Damn" in regard to the "United" States of America.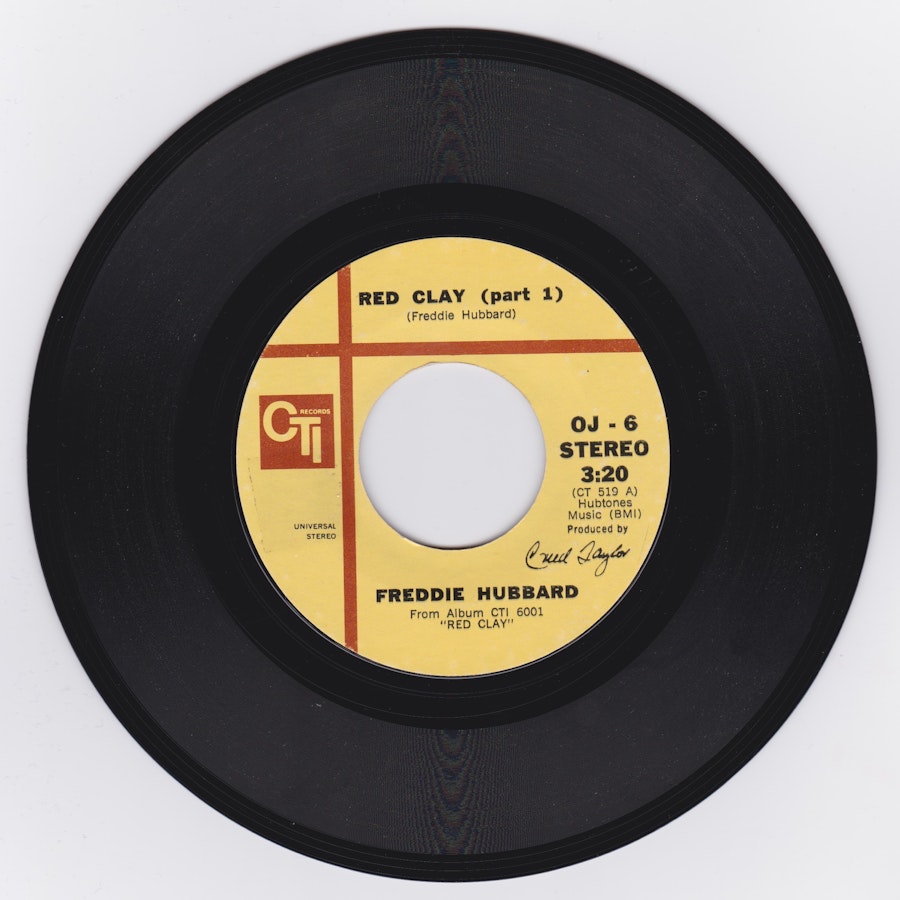 19. Freddie Hubbard "Red Clay (Pts 1 & 2)" (CTI)
Rounding out the mix, we have parts 1 and 2 of the Freddie Hubbard masterpiece "Red Clay" edited together. Creed Taylor produced this for his CTI label featuring Herbie Hancock on Fender Rhodes, Lenny White on drums, Ron Carter on bass, and Joe Henderson on tenor sax. Legends on a legendary 7-inch!