Trumpeter/arranger/producer/bandleader Todd Simon brings his fifth installment of Jazz on 45 celebrating the life and music of his longtime hero: the South African trumpeter/bandleader/vocalist/humanitarian Hugh Masekela.
"No other musician has impacted the way I hear, create, and perform than Bra Hugh has," explains Todd. "His unique sound—blending gorgeous lyricism with immense-percussive rhythm on the trumpet and flügelhorn—is that of no other. I hope you enjoy this small collection of Hugh Masekela's as much as I am presenting it for you. Note that this is just a small glimpse into an incredible catalog of material that Hugh left us with. I will definitely be posting some non-45 mixes featuring the music of Bra Hugh so we can continue to celebrate his genius! Thank you for listening and reading."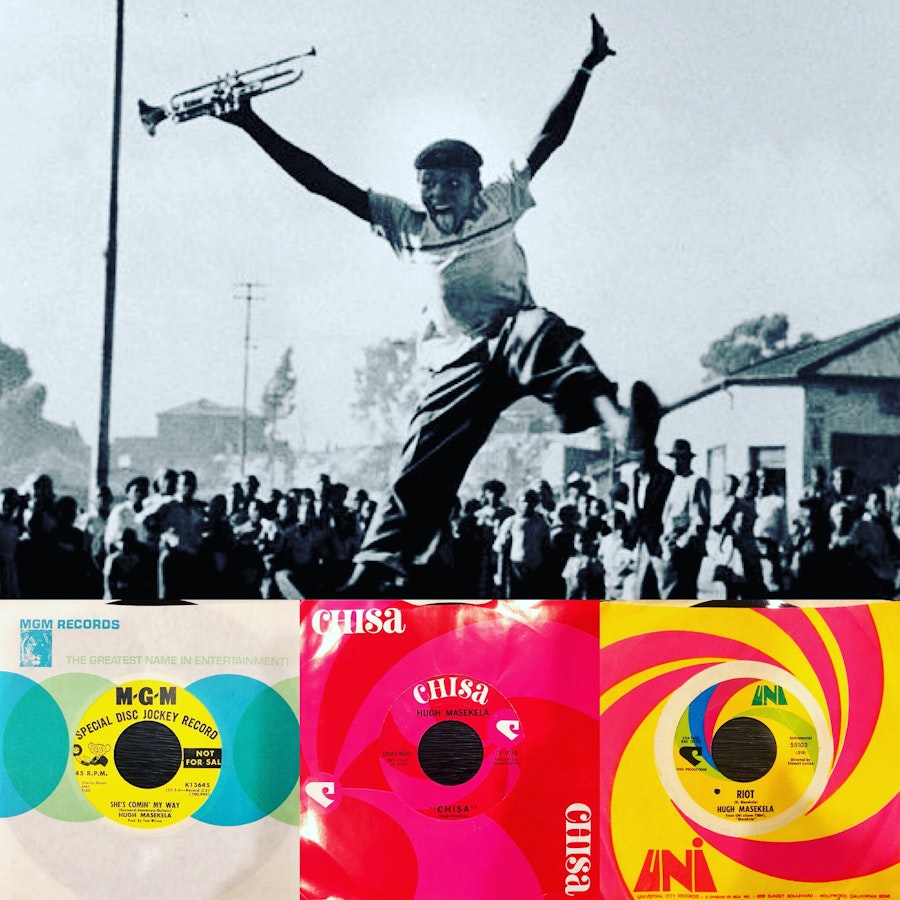 Track list:
1. "She's Comin' My Way"
2. "Unhlanhla"
3. "Chisa"
4. "What Is Wrong with Groovin'"
5. "Son of Ice Bag"
6. "Up-Up and Away"
7. "Grazing in the Grass"
8. "Bajabula Bonke"
9. "Riot"
10. "Mace and Grenades"
Below is a breakdown of each 45:
She's Comin' My Way
Unhlanhla
Released in December 1966, Hugh's fifth 45 gives us a glimpse into his delicate and soft sides.
Hugh was already on the map at this point with releases on both Mercury (Grrr!) and MGM, where fans were introduced to how open he was to playing various genres. 
Chisa
What Is Wrong with Groovin'
Hugh and his long-time friend/producer Stewart Levine created their own independent record company called Chisa Records with the help of Larry Spector (manager of the Byrds, Dennis Hopper, and Peter Fonda). "[Larry Spector] introduced us to Danny Davis, who was running Phil Spector's record company," says Masekela in his 1994 autobiography Still Grazing. "For a fee of five hundred bucks, Davis promised to teach us the ropes of the record industry." One can only imagine what the gigs, parties, and sessions were like during this time. The track "Chisa," released in February 1967, might give us a slight glimpse. Letta Mbulu's cover of "What Is Wrong with Groovin'" has become a favorite amongst the L.A. spiritual jazz community.
Son of Ice Bag
Up-Up and Away
Universal ended up signing Chisa Records to help pay off huge debts that were rising.
The result became UNI, the label that is responsible for releasing a bulk of Hugh's genius recordings.
It's hard to not notice the iconic 45 label and sleeve design while digging in the crates. The second 45 of Hugh's to be released on UNI features recordings from one of my favorite albums Is Alive and Well at the Whiskey released in 1967. "Son of Ice Bag" is out of this world!
Grazing in the Grass
Bajabula Bonke
Why not feature Masekela's most well known classic "Grazing in the Grass"? For many of us, this was our first introduction to the mastery of Bra Hugh. Unnoticed by many is the tenor saxophone of the producer, Stewart Levine, doubling Hugh for such a magnificent sound. To me, the flip "Bajabula Bonke (Healing Song)" is just as iconic as "Grazing…"
Riot
Mace and Grenades
While Hedzoleh Sounds is one of Hugh's most forward thinking albums, the self-titled Masekela released in 1969 exemplifies the genius of Hugh. It's politically driven repertoire backed with Hugh overdubbing layers of himself on top of each other to create one of the greatest protest jazz albums in history! "Riot," which has been covered and dubbed in Jamaica by the great Keith Hudson, is uplifting and spirited (a favorite that I love to perform with Ethio Cali), while "Mace and Grenades" is dark, horrifying, and real, screaming the more-than-ever-pertinent lyrics "I'm in jail in here/I'm in jail out here!" while Hugh's horn cries out loud.
Todd Simon has provided horns, arrangements, and production for Solange, Kelis, Lauryn Hill, Madlib, Quantic, Macklemore, Flying Lotus, Ziggy Marley, and more. In addition to teaching high school music in L.A., Todd runs the African jazz ensemble Ethio Cali and the 21+ member Angel City All-Star Brass Band. His Hodge Podge L.A. party blends live musicians with the finest DJs. You can find more of his music, live dates, and mixes at toddsimonmusic.com.