Their lofty reputation belies the reality that the group never reached the commercial heights afforded to other musicians, some of whom were their peers, and many of whom weren't nearly as deserving. The general consensus is they were victims of the music business. The plight of the Black musician in our country is as American as Camelot and Cadillacs. For every Quincy and Stevie, truly masters of their works, there's an evicted Mingus and a tragedy of a Sylvester Stewart. Industry rule #4080 is old socks, but the Meters' experience was different. They were the genuine artifact and should have achieved so much more.
Booker T. & the MG's may have broken more ground, but the Meters took what was a pre-existing style to thunderous heights and pleasurable depths—and did it all on the low. They knew where they came from and so possessed an ingrained rhythmic sense, overly willing to stay in the cut and in the pocket. Traditional timekeepers Porter and Modeliste were the embodiment of a new breed of session player, and coupled with Amiri Baraka's (née Leroi Jones)  view that "from New Orleans, conclusions may be drawn concerning the social and cultural phenomena that led to the creation of jazz,"(1) the Meters' history-rich, inspired creativity made the environment ripe for the fostering of a style.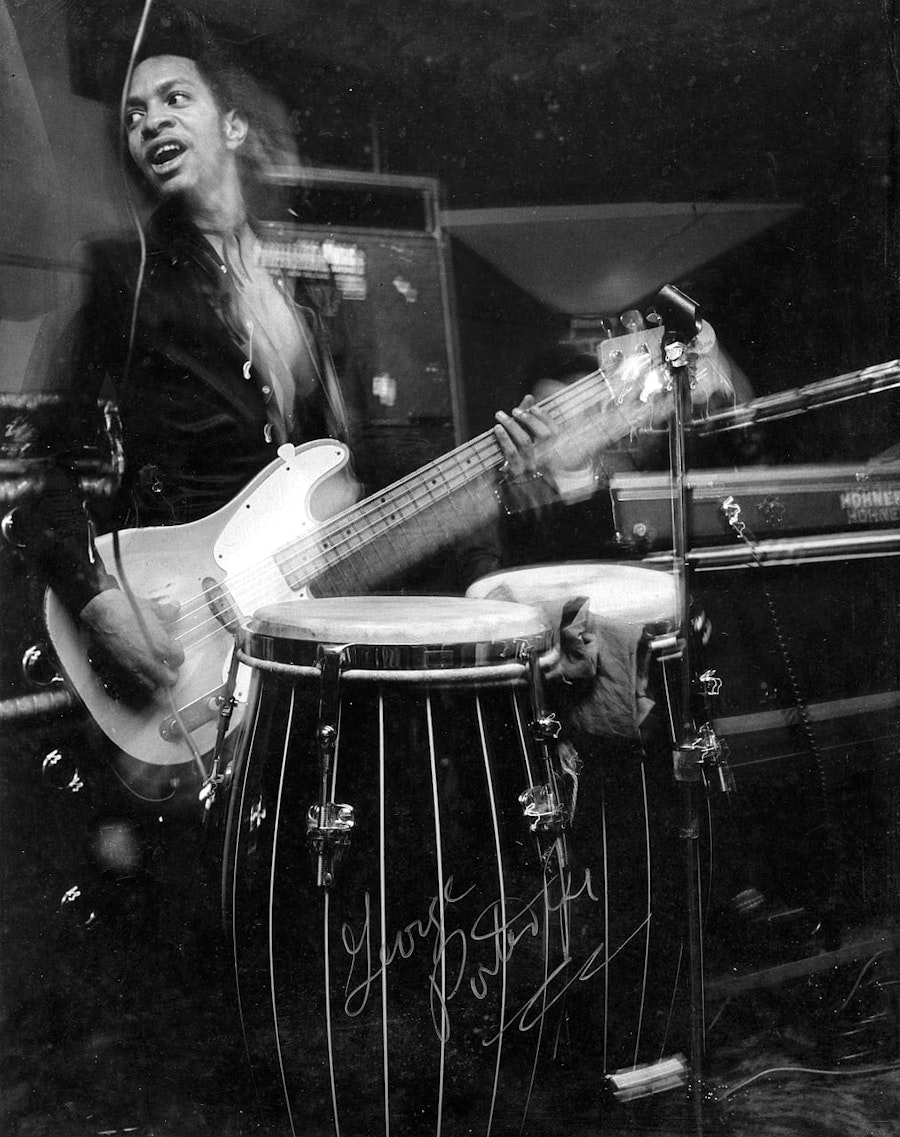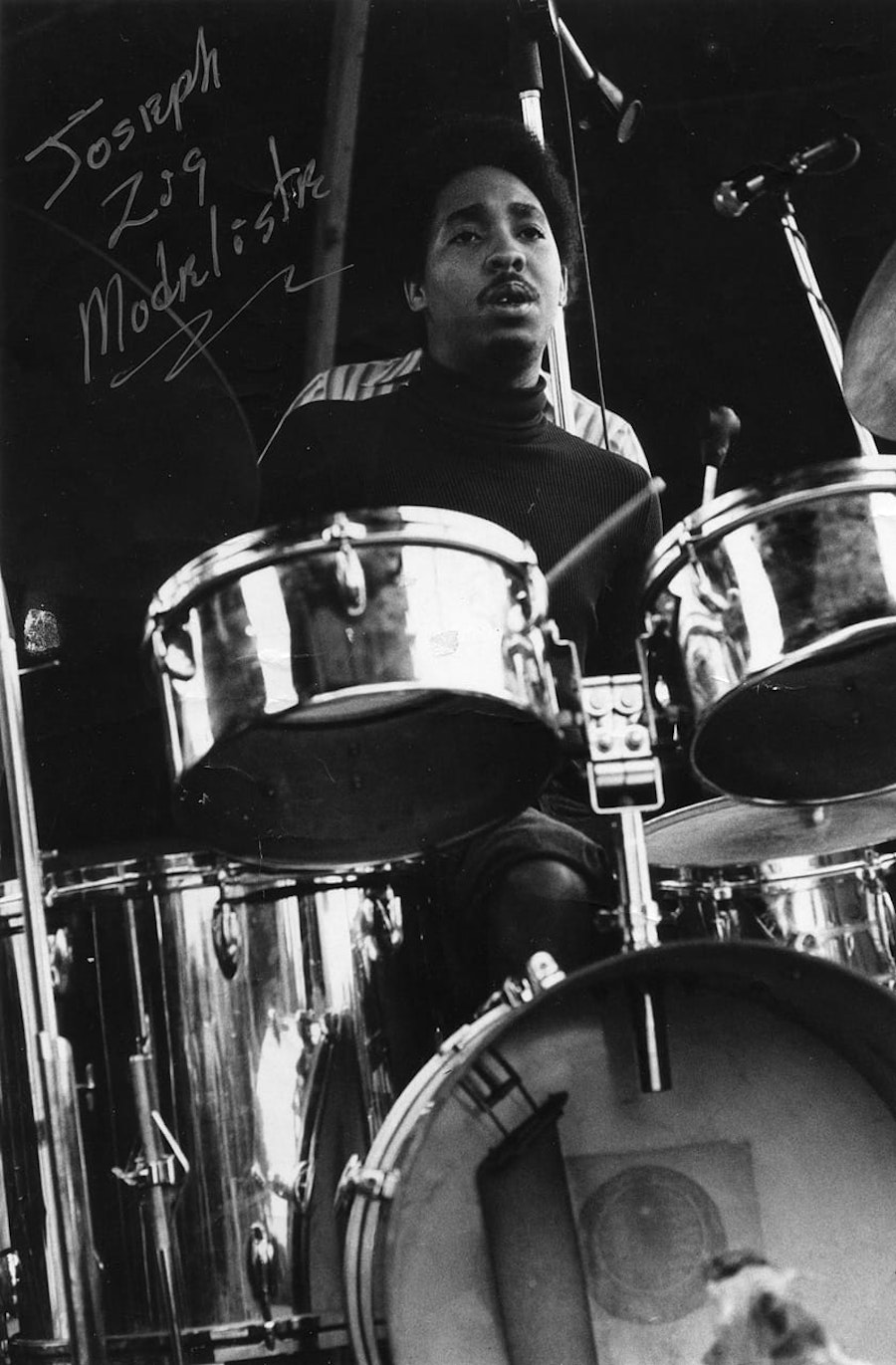 To us, the only funk band around was the Meters -George Clinton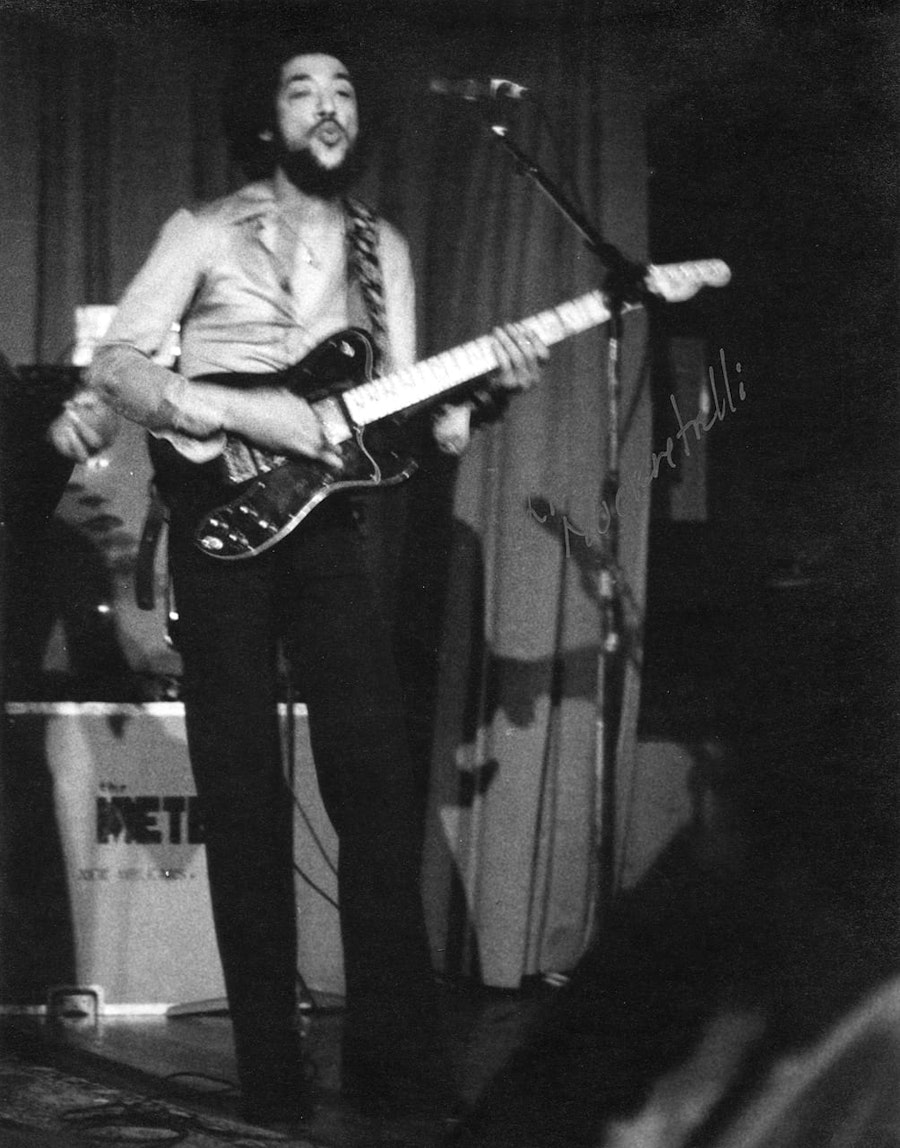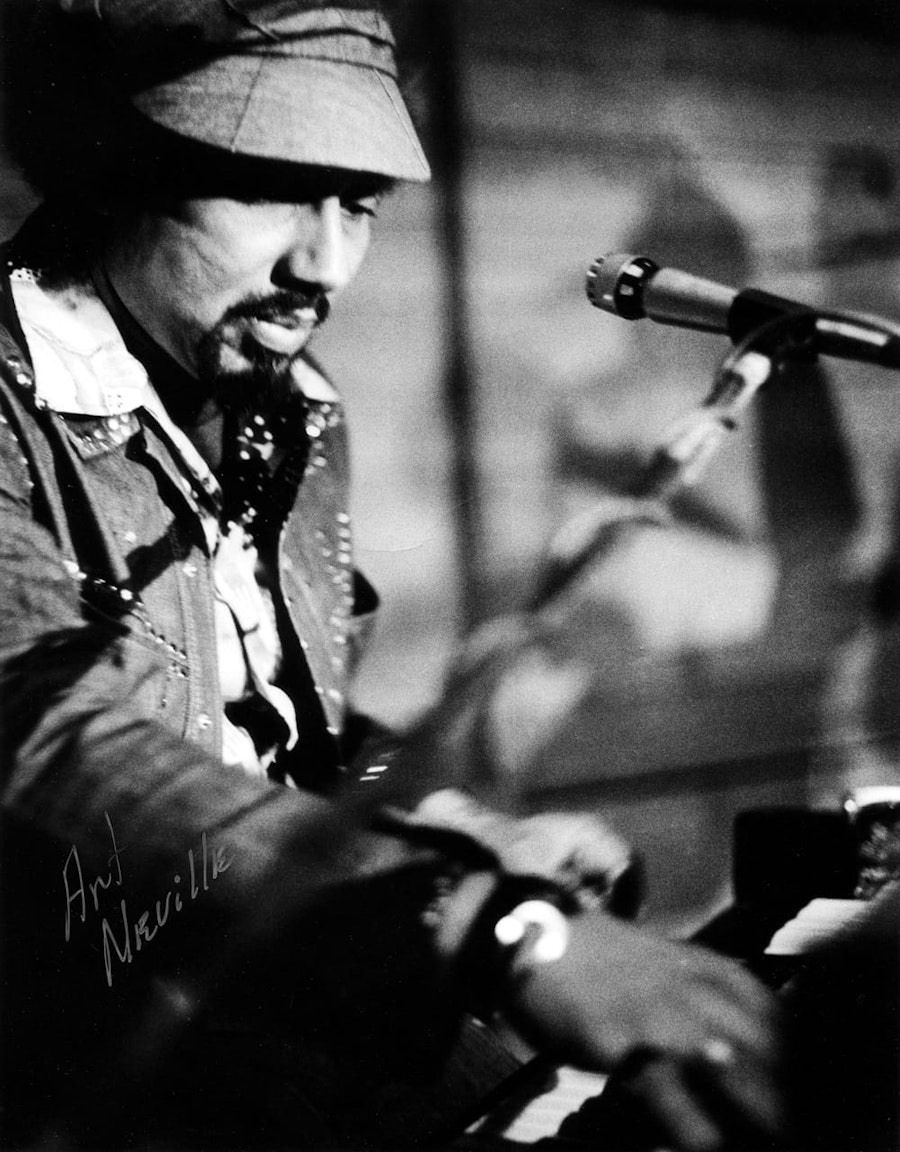 Humility led the four in being content to be heard and not seen. Origins in a recently desegregated South allowed them to witness the dissipation of separation. Next came trepidation, then nationalism, and in the end, Black was finally beautiful. The Meters were more advanced than a lot of Northerners who hadn't yet figured out what struggle and strife actually meant. There were some who acted as though they were already free, and these gentlemen were a good example of that. They weren't going to front, but there was going to be respect due.
Our setting is New Orleans, Louisiana, where a teenage Art Neville grew up as the eldest sibling in one of the sleepy port city's most renowned family of musicians. Art was in high school when members of a local ensemble, the Hawketts, asked his parents' permission for him to replace their previous piano player—and all scored a regional hit with "Mardi Gras Mambo" in 1954. Neville later cut solo singles for Specialty, Instant, and Cinderella, but before that, led the Hawketts when others were lost to college and the military, eventually bringing in brothers Aaron and Charles. The group toured the area, rehearsing under the attentive watch of younger brother Cyril Neville and his running partner Zigaboo Modeliste, until Art was drafted into the United States Naval Reserve active duty in 1959.
When he returned to New Orleans, Neville continued recording as a soloist and performing with the Hawketts, often featuring young Zig and Cyril alternating on drums. In the mid-'60s, Art briefly went on the road in support of brother Aaron and came back to the city afterwards to recruit guitar prodigy Leo Nocentelli, who had played on seminal recordings by pioneering locals Lee Dorsey and Ernie K-Doe at Cosimo Matassa's legendary J&M Recording Studio in the French Quarter. As is the nature of New Orleans musical relations, the Nocentellis and Modelistes had known each other for years, much like Zig and bassist George Porter Jr., who were close as children when the two lived in the city's Third Ward district. After Zig moved into the Neville's 13th Ward, the Porters followed suit, and the three families lived within blocks of one another.
The lanky Porter with the heavily processed do had "always acted like [he] was supposed to be there," his youth overlooked while hitting the circuit in his mid-teens, spending substantial time with Eddie Bo and guitarist Irving Bannister's All-Stars. It was with the All-Stars at a small club on Galvez Street where Art stopped in and checked the bassist one night. "I had played a couple of gigs with him back as a guitar player, but he hated me as a guitar player," says George about the man he has played alongside for over five decades. "When he saw me playing bass, he invited me to join his band," which then consisted of just half of the original Meters—Neville and Nocentelli. Although they had never met, Porter had previously been in contact with Nocentelli through in-demand multi-instrumentalist Herbert Wing. Says Neville, "George only had three strings on his bass when he first started, but he could play. He had told me that he played good guitar, so I knew he talked a good game."
Zigaboo, gigging around town with jump bluesman Deacon John and his Ivories, was asked to sit in when the regular Hawketts drummer went into the hospital for minor surgery. Fittingly, when considering the prestige Modeliste later achieved, none of the Meters four can remember anything but this unlucky chap's first name.(2) "Once Glenn got out of the hospital, he stopped in to say hello," Porter explains. "He heard Zig playing with the band, came back the next week to pick up his equipment, and was never seen again. He didn't get fired or anything, he just kind of walked away from the gig."
With Modeliste in the fold, in addition to tenor saxophonist Gary Brown and Neville brothers Aaron and Cyril on vocals, the Hawketts were rechristened Art Neville and the Neville Sounds by a local disc jockey. The septet settled for a spell at the Nite Cap on Napoleon and Carondelet, but lost the gig due to a disagreement between Art and the house over the band's percentage of the gate, a sizeable amount with their increasing popularity. The next stop was a six-night-a-week residency at the Ivanhoe Piano Bar on Toulouse and Bourbon in the Quarter. It was here where the Sounds were forced to scale back, losing vocalists Cyril and Aaron to space limitations. When Brown bowed out because of a strained relationship with Ivanhoe management, the core of the Meters had been formed.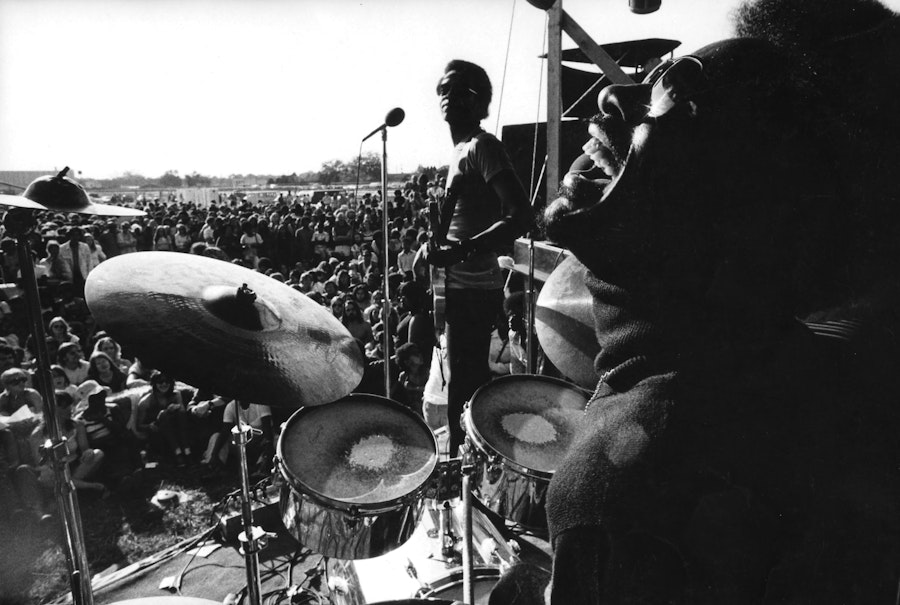 Nocentelli: "You never know why things happen. When that went down, I wouldn't say Gary was upset, but I guess he might have felt funny about it. It probably turned out to be a blessing in disguise for him, because the Meters's career has always been very rocky and filled with turmoil. We've been through a lot—basically every wrong thing you can think of that exists in the music industry. You never know, maybe he was blessed."
Porter: "What we were doing when we moved down to Bourbon Street got to be really popular. We became sort of like musicians' musicians down there—what we were playing, how we were playing it, our approach to playing cover songs. At the time, we were playing New Orleans music as well as 5th Dimension, Wes Montgomery stuff, so we were doing all kinds of music. We were basically a cover band. When we played these songs, we totally played them in a manner that was different than any of the versions that were out there. We were good at it, and I guess that's what got Allen Toussaint to start paying attention to us. Rumor had it that he was looking for a new rhythm section to work with, and we were approached as a band to come into the studio and record some tracks."
Modeliste: "[Toussaint and business partner Marshall Sehorn] got some kind of word that we were a group playing together. We didn't have any idea what direction the music was going in or who would be interested, so we didn't know where we would wind up or if any of it would even come out as a record. It was just something we got a chance to do from being in the right place at the right time. We were like musicians for hire, so to speak. By us playing together all the time, it kept us sharp enough to have a sound. It was just something you develop after playing together and hanging with each other for a while."
Under Sehorn and Toussaint at the pair's Sansu Enterprises, Art Neville and the Neville Sounds became the Meters, and the sides the quartet cut for the Josie label from 1968 to 1971 became some of the most influential Black music of the second half of the twentieth century. There is an honest, unrefined precision to these recordings, a noted influence on contemporaries like the early incarnation of Detroit's Funkadelic, as well as a new generation of Jamaica's ska and reggae movement. "To us, the only funk band around was the Meters," raves P-Funk instigator George Clinton. The regal Bootsy adds, "Before I got with James Brown, they were like the funkiest cats to ever hit the planet."(3)
The Meters were reminiscent of a traditional jazz combo, making proper use of the spaces between their playing, but without an emphasis on—or a need for—soloing. Their minimalist manner—focusing only on what was necessary—conversely maximized the sonance, and, consequently, allowed them to sound much heavier than what one might expect from just four pieces. Also, Modeliste notes, "The guys in the band, they never did tell me what to play. They just said, 'Zig, you play what you want to play,' and they did all of their stuff around what I was doing, which gave the music a lot of percussive value as well as melodic value."
Art Neville was blessed with a golden tenor, but none of the four were quick to step up as lead vocalist, nor were they experienced songwriters, so the Meters relied on a one-take, instrumental approach to recording such early 45s as 1968's "Sophisticated Cissy/ Sehorn's Farm" (Josie 1001) and 1969's "Cissy Strut/ Here Comes the Meter Man" (Josie 1005). This modus operandi also shaped much of the content of their first three albums. "It wasn't until the '70s when we started mapping out what we were doing and writing songs," Porter recalls. "Before that, we would just go into the studio and play." The results are second to none. It was the group's tenure at the Ivanhoe that tightened chops and sharpened senses of communication with one another as a unit, but it was a session mentality and supple application of rhythm that made them a direct descendant of what the standard-bearers had accomplished at Jim Stewart and Estelle Axton's Stax Records machine, a few hundred miles up the mighty Mississippi in Memphis, Tennessee.
Modeliste: "The only group out there that held any kind of togetherness musically and commercially as an instrumental group was Booker T. & the MG's. They were kind of the litmus test—you wanted to be like them, but you didn't want to be like them. The difference between Booker T. & the MG's and the Meters was, they had a much more polished and focused machine than we had, one that was dedicated to their musicians. I believe that has a lot to do with your longevity, your recognition, your everything. You have to have a machine behind you. You don't just come from out of nowhere and do it, unless something about your anatomy is different. Everyone I've seen that's ever made it, they had a well-oiled machine—people that had common sense and money and the know-how to promote groups and do all the kinds of things that would make a group successful. It was more of a grassroots thing with the Meters."
The Meters, in lead and supporting roles, were a sonic model of rugged discipline, yet easygoing in acceptance of their craft. The life of a New Orleans musician has always been more birthright than bottom line, evident in the familial legacies that have documented the city's musical history—Batiste, Jordan, Marsalis, and Neville, to name a few. "If your daddy played, you played," Porter explains. The inner workings of management were never much of a concern, and as a result, "We didn't know the business," says founder Neville. "We didn't know that it was ninety percent business and ten percent music. We just wanted to play." It was this naiveté that marked the beginning of a strained relationship between the band and its representatives—and more important, among the members themselves—that would continue to this day.
Early on, the situation reached an extremity when Art was briefly expelled from the group after expressing his desire to sign with Allman Brothers manager Phil Walden. "They actually put me out of the group," he recalls with a laugh. "Nobody remembers that, but they put me out of the group that I put together."
Neville knew the Meters had outgrown Sansu, but couldn't keep their handlers from cutting people off on the outside wanting in. There were interested parties with more resources and greater capital, but "the man Sehorn and Allen Toussaint" steadfastly believed they could power the engine themselves. "It was divide and conquer," according to the keyboardist. "That's what I heard and I saw these people doing. They didn't want us to sign on anything, and there was nothing I could do about it." Neville also understood that if the music reached a greater audience, the results might be propitious for everyone involved, "but they were happy with their little chump change. That chump change was big change for them."
Porter: "I've had people in this industry twenty years later come to me and say, "You're nothing like what I was told you were like." And I'm thinking, "What were you told?" "That you were just an absolute asshole," and this and that. That was the controlling factor people had on us. The industry didn't know us personally. They just went by what they were being told, which was that we were rough and hard to work with—noncompliant, nonconformist—that was just how it went. I can't say exactly who did it. We just had a front office that didn't represent us well enough. The representation only went to a certain degree, and it always seemed like it wasn't enough."

Nocentelli: "Toussaint and Marshall Sehorn were producers on paper, meaning they weren't involved. Not that I don't have the utmost respect for Allen Toussaint as a producer and a musician—I've done a lot of recording with Allen and I've learned a lot from him—but he wasn't actually physically there in the studio with us. We were such a self-contained group that producers could have been there, but we found it better to go in the studio and start doing things ourselves."
It was this approach the Meters took to Warner Brothers subsidiary Reprise Records in 1971. They remained under the direction of Sehorn and Toussaint, and reached the height of their popularity midway through the decade with the release of 1974's Rejuvenation, and Fire on the Bayou the following year, both of which stand as definitive declarations of New Orleans funk and rhythm. Like other soul and R&B acts of the early 1970s, the Meters partially benefited from sweeping change in the industry with regard to corporate structure and reach. The end of the stormy '60s was a time when record companies were uprooting the melodic fruits of societal tension built over the past ten years. Labels were undergoing internal change and at the same time trying to handle what had become a protest- and riot-prone voice of young, fed-up America. Black artists seeking recording contracts were met with the least amount of resistance. They were hustled, of course, but unchallenged, because no one was telling empowered colored folks what they could and could not do with their music. "Sign here and don't hurt us" was the attitude of majors like Warner, ABC, and PolyGram, who at the same time were initiating their own affirmative action processes to get minorities in middle management to handle these wildly creative Negroes and still generate profits.
The Meters remained primarily a regional phenomenon at the time of their signing, and Warner Brothers wasn't quite sure what to do with them. The quartet's esteemed reputation grew among critics and peers, but inadequate marketing as the result of Warner's inexperience with R&B didn't allow this adoration to translate into commercial viability. Much of the material on Rejuvenation and their 1972 Reprise debut, Cabbage Alley, was radio-quality, and meant to be so, but still missed the mainstream mark. "When you realize what's happening to you, it's really frustrating," Nocentelli admits. "We were putting out great stuff, writing great music, but it just wasn't selling." In spite of WB's inability to promote the Meters properly, their lack of industry advancement always swung back to failure at Management 101. 
Nocentelli: "I'm not putting all the blame on record companies, because it had a lot to do with management also. If you don't have management that's actually working for you, you're going to suffer. It was a combination of both, but I think it's more from mismanagement than the fact that WB was new to the R&B business. A lot of their groups that did have success probably had good management, whereas we didn't."
During that period, there was also something awkward about being favored by both soul and rock & roll audiences, a condition hampering the overall appeal of outfits like the Buddy Miles Express and the Chambers Brothers, the latter of whom hailed from Lee County in neighboring Mississippi, and were just as country as the Meters, if not more. Mandrill, the pride of Bed-Stuy, could find itself opening for Three Dog Night at the Fillmore—the Fillmore West, to make matters worse. WB fared well with gritty West Coasters Graham Central Station and Tower of Power because these were multicultural collectives that grew out of urban unrest experienced by "long-haired hippies and the Afro Blacks."(4) Generally, longhairs and naturals were rarely spending that much time together at concerts, and definitely weren't combining to support the same artists financially. For less-fortunate crossover acts, their options were such that they either transcended race and the times to be enjoyed by all or ended up overlooked and relegated to the back pages.
Whether too rock for Blacks or too Black for rock, New Orleans's finest were still a first-rate crew and did matter, greatly influencing Sea Saint Studios brethren Chocolate Milk—check Milk's "Actions Speak Louder than Words" against Rejuvenation's "Just Kissed My Baby"—and providing staunch backing on classic releases from LaBelle and fellow New Orleanian Dr. John. In March 1975, the four headlined a bill with Professor Longhair at a party thrown by Paul and Linda McCartney celebrating the completion of Wings's Venus and Mars LP. It was a "who's who of Hollywood," according to Porter, with such diverse guests as Gregg Allman, singer-songwriter Paul Williams, and pug-nosed actor Karl Malden. The culmination of their '70s exposure came when the Meters opened for the Rolling Stones on the Stones' Tour of the Americas in 1975, which kicked off in the Louisiana capital of Baton Rouge. The two acts toured Europe the following year, and with both parties no strangers to excess, it was a rock & roll circus, indeed.
Modeliste: "I thought we were very privileged to be in a set like that. It was before I got a chance to know the Rolling Stones. I had no idea who they were. I thought they were just another White group. When I saw them, it completely blew my mind, because I had never seen entertainers on that level—doing what they were doing, living the way they wanted to live, playing the music they wanted to play, and getting paid to do it. I thought the music we were playing was just as good, if not better, and I always wanted to know, "What are they doing that we're not doing?" I never knew. When I did see how dedicated they were to making their music, I had nothing but a lot of love and admiration for them. They have longevity, which is what it takes...good management and good people behind you. Power. Strip that away, they're just average musicians—creative, but they've been at it for a long time, and you can't knock success. If a person is successful—by whatever means they got there—they're successful."
We were musicians for hire, so to speak. By us playing together all the time, it kept us sharp enough to have a sound. -Joseph "Zigaboo" Modeliste
Coming of age and skill in a newly desegregated South, and now touring with Billy Preston and the Glimmer Twins, the Meters were successful, but as the '70s began to experience a power shift in popular music, the market grew stiflingly cluttered, making it difficult for a niche band to compete. The virtuosity was as good as ever, but the material became less personal and more mainstream. Sales suffered, for it was harder to be noticed. Still active as session musicians, Neville and company were a paragon of self-containment—always their strongest point—but the Me Decade demanded more, very much like the crack addict it soon became. If there was ever a time not to give a fuck, this was it. Tracks like Rejuvenation's "Africa" and the swamp-fonk opus "Jungle Man" certified their attitude, but the Meters never felt a need to get out of pocket with much bravado. They rarely felt a need to get out of the pocket at all. In one of the rare instances when they did, 1975's disappointing Trick Bag was the end product.
Porter: "Right in the middle of our musical high, disco happened. That just threw a serious brick into everyone's life. Disco put a lot of musicians out of work—a lot of whom you would consider R&B musicians. We had to start recording music to keep up with all the other stuff that was out there."
Pop music was growing in spades, and with a bigger beast came bigger budgets and arrangements. Much of this orchestration hid a faint, pulsating 4/4 beat that was increasing in intensity and infiltrating a profitable mix of R&B and AOR (adult-oriented rock). The advent of music championed by the Meters and other artists of their time had marked the passage from the '60s into the more dogmatic period to follow, but it was disco, followed by hip-hop, that defined another transition into a new era. A generation in need of relief ushered in the age of excess, and to survive, there was nothing for the Meters to do but adapt. Rickey Vincent, Bay Area DJ, historian, and author of Funk, explains:
"That's the murky water of the '70s sellout of a generation of artists who started with a fantastically accessible music style—this funk—and by the end of the decade, most of them had violated their own sensibilities or were ashamed of what they had done. The proof is in the pudding. The Meters had a record called 'Disco Is the Thing Today.' They didn't say it was their thing, they just said it was the thing."
Porter: "Leo Nocentelli wrote it, and the idea was to put out a record that would help him pay his light bill. That was the reason why a lot of our music started to change over the years. During the Warner Brothers years—the Reprise years—the music started becoming like everyone else's out there because the writers in the band saw groups that were opening acts for us at one point, now having gold records, winning Grammys, and stuff like that. That's got to be frustrating for a songwriter. It kind of washed off of my back. I was so loaded back then, I didn't give a shit if the Commodores had a gold record. That wasn't a big thing for me, but there were players—musicians in the group—who were very concerned with that. They were concerned because at the time, we were being very poorly represented, and they wanted to write songs that would open some other doors."
While the Meters were struggling to remain relevant in the ears of the consumer, their relationship with Allen Toussaint and Marshall Sehorn had fallen beyond repair. There is a wealth of what can be considered "contradictory truth" coming from all members on a variety of topics, but the opinion each shares is how they were taken advantage of and led down a dismaying path of deception by those they had trusted. "It was one individual who was really pulling all the strings," Modeliste explains. "Actually, two individuals, and those were the people who, at one time, we thought were godsends. It turned out to be some Uncle Tom tomfoolery."
Nocentelli: "A lot of that causes stress and frustration between people. You can blame it on a bunch of stuff about the Meters, but there were a lot of outside frustrations that had nothing to do with how one member felt toward the other."
It must have been extremely frustrating for them to see Toussaint driving a Rolls-Royce, and yet more aggravation would come in the form of road manager Rupert Surcouf Jr., hired by Marshall Sehorn in accordance with a federal conflict of interest law limiting managerial responsibility. Sehorn assigned a portion of his duties to Surcouf, who effectively became an extension of the mismanagement prevalent throughout their tenure at Sansu Enterprises. Surcouf was to induce the signing of a contract giving him power of representation, ultimately keeping the Meters's fate in Sehorn's hands under the guise of new and improved leadership.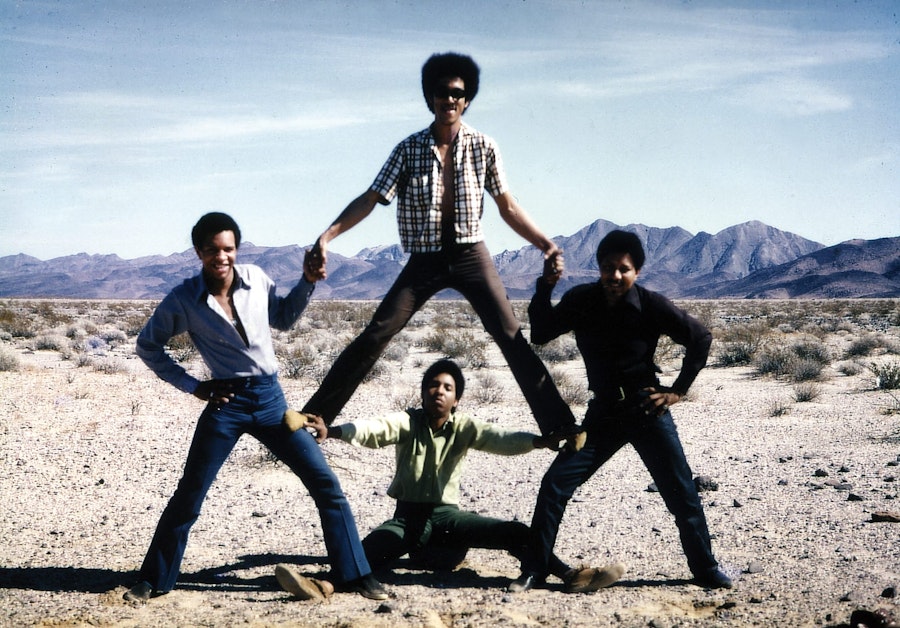 Porter: "[Surcouf] would do anything Marshall told him to, so Marshall said, 'You get them to sign the contract with you and I'll make sure your life is nice.' When Rupert brought us the contract—Leo, Zig, and myself—we got it while we were out cutting the record [1977's New Directions], and we said we weren't having any part of it. Cyril [who had joined the Meters on vocals and percussion, starting with 1975's Fire on the Bayou] wasn't having any part of it either, but Art had signed the contract without even talking to the rest of us about it. It was a divide and conquer thing."
Nocentelli: "It was a sad situation that went down. You have four guys that think really differently, and things get in the way of being a group and causes separation. Basically, what went wrong is the fact that when you're a group and you're serious about what you're doing, you start to wonder, 'Why am I not a success? Why is this not happening? I'm writing great songs, we're performing, people love us,' stuff like that. It's very frustrating when you can't really figure out why, and when that happens, it causes a lot of dissension between you and your brothers, you and your fellow man, you and your fellow players. It puts things in your mind out of frustration. Then you start blaming one guy for one thing and one guy for another. It's like being in a marriage with somebody you love, but you're so fucking broke—you have no money, no food in the house, no car, so you're frustrated. The next thing you know, you're cursing your wife out, she's cursing you out. I don't think it's anything personal between any of us. I think we all love each other. It's just the frustration of this music business and how we were being handled. Some of the wrong things that were happening to us are what made it so frustrating."
Porter: "We stayed with Allen and Marshall through all of the albums except for the last one. The last album we recorded was New Directions, and Warner Brothers assigned David Rubinson to produce because at that point, they saw it was going to be difficult to get us back into the studio with Allen. The band just sat on our hands and said, 'We're not recording anymore because this isn't working.' We weren't getting any respect from our management or producer at the time, and we were ready to do nothing until Warner Brothers said, 'We want another Meters record.' We owed them. We were supposed to be recording two records a year—basically in the five years we were with Warner Brothers, there should have been ten records—but because of our deteriorating relationship with Marshall Sehorn and Allen Toussaint, the band didn't want to do any work. We wouldn't even go into the studio, but Warner wanted their record, so they made an agreement with Marshall to buy him and Allen out, and then gave David Rubinson the call to make the record. Unfortunately for David Rubinson—as well as ourselves—we recorded the album, and on the plane going home after the session, Art quit the band."
Neville: "I just wanted to come back and do some stuff with my brothers. We [Meters] didn't see eye to eye on a lot of different things, so I didn't feel anything to come back to. Overall, it was good, but in any band you're going to have disagreements and people not wanting to go along with certain things. The management was all screwed up and I just couldn't deal with it anymore. I got my brothers together, and that's how the Neville Brothers were formed. It turned out to be pretty rewarding. For a long time, we played some gigs for free, but after a while, the Brothers started to take off."
Nineteen seventy-six's well-received The Wild Tchoupitoulas was a blessing and curse—the first Neville Brother collaboration, and the project that signaled the onset of the Meters's decline. Art Neville had long desired to lead little brothers Charles, Aaron, and Cyril—supposedly, a parental wish expressed to him by uncle and Mardi Gras Indian chief George Landry. Modeliste, Nocentelli, and Porter were to be the rhythm section, but the Meters were no longer young Sansu session stalwarts playing behind the likes of a prince of New Orleans R&B, Earl King, or its undisputed queen, Irma Thomas. Their taut backing on Lee Dorsey's lost 1970 gem, Yes We Can, and Betty Harris's monstrous "There's a Break in the Road" (b/w "All I Want Is You," SSS International 766, 1969) is in stark contrast to the Tower of Power–assisted beauty of "Be My Lady" from 1977's New Directions. The Meters had spent their career lending support to others, but longed for the freedom and reserve to expand their own sound and take that much further. When The Wild Tchoupitoulas was released, the majority of the credit went to the Neville Brothers and not the Meters, despite being the album's co-producers and primary arrangers.
Porter: "Art had been trying to get his brothers in the Meters for years. He had gotten Cyril in. Aaron was ready to start performing again. Charles was ready. He just needed a rhythm section, and the three rhythm players in the Meters didn't want that—didn't want to be a backup band for the Neville Brothers. That's pretty much what we would have turned into, and we weren't interested, so that pretty much left us in the cold. Art and Aaron had created serious names for themselves in the industry ten years before any of us. Aaron had a hit out—"Tell It Like It Is"—and Art had several hits in the early '60s, so they had more workable clout. The word was out that the Meters had changed their name to the Neville Brothers, and before you know it, all of the gigs the Meters used to play, the Neville Brothers were now playing. It just deteriorated and went downhill from there because none of us had any business sense. We were just musicians. None of the Neville Brothers had that sense, either. They just had somebody that did have business sense to go running and kick in doors and say, 'I got the Meters, except with a new name.'"
At Rupert Surcouf's insistence, Art Neville quit the band a few weeks prior to a 1977 Saturday Night Live performance, soon followed by younger brother Cyril. David Russell Batiste Sr., who recorded the much sought-after, Meters-influenced nugget "Funky Soul Part 1/ Part 2" (Soulin' 547, Instant 3308) with his own Gladiators back in 1970, briefly replaced Neville on keyboards. Batiste, father of current Funky Meters drummer David Russell Batiste Jr., was also from a famed New Orleans family, but that was where the few similarities he had to Art ended. Art Neville was the Meters. Despite his brief hiatus in the late '60s, there was nothing without him, a fact that applies to his role as founder and also to any intentions the remaining members had of continuing to perform. "I had to go through each one of them and ask their mothers could they play with me," says Neville. "Those were some of the baddest cats I ever played with."
Modeliste: "When the Meters broke up, that was a very difficult thing for each and every one of us. Art and Cyril, they went directly and formed the Neville Brothers and started playing all the Meters's music until they got their own. They never really lost any ground. George, Leo, and myself tried to keep the Meters going for a while, but that didn't happen. Without all of us there—all four of us—it's not the same. There are remnants of it, but it's not the same. We pretty much realized that when the four of us broke up, it was over."
Buoyed by the recommendation of Rolling Stones drummer Charlie Watts, Modeliste toured with Keith Richards and Ron Wood on their New Barbarians tour in 1979 before relocating to the West Coast and leaving the music business, disenchanted. The youngest of the four original members, Zig took the breakup especially hard. He had begun performing with Art Neville in his early teens, and considered Neville the reason he was fortunate enough to have a career in music. Modeliste held a critical position in the Meters and, as an individual artist and innovator, was—and still is—held in higher regard than any of his bandmates. For a long time, the man who humbly accepts the title of "King of the Funky Drums," felt the sting of what has become a harsh reality for all too many musicians, past and present.
Modeliste: "You take the time out to learn your craft, and at the end of the day, you want to be respected and not misused. I don't see anything wrong with wanting that, and I don't see anything wrong with being a little angry at the people who should have done that but were negligent. All you do is give, give, give. You give everything you have—heart, soul, creativity, your brain. You don't have time to sit around and play bullshit games with someone trying to take advantage of you. You're totally focused on creating, because if you stop creating, everything stops anyway. All I was doing was trying to play my ass off and be somebody. We were just four good cats—four nice dudes—coming together and getting misused by people who were greedy and self-serving. The money was there for everyone, so it shouldn't have been about greed or negligence with the talent we had."
Nocentelli: "The saying is that money is the root of all evil, but I don't agree with that. I believe if you're making money and you're prosperous, and everything is happening like that, everybody loves each other. Everyone's happy because they're able to pay their bills—their mortgage, car notes, everything. You have nothing to be frustrated about."
Together, the Meters filed suit against former representatives in 1984 to recoup lost earnings. Neville, Nocentelli, and Porter settled in 1989, while Modeliste continued litigation for nearly twenty years, getting a lesson in entertainment law and the criminal justice system while serving as his own counsel. "I learned that the wheels of justice turn pretty slowly," he reflects, "and justice doesn't mean the same thing to a poor person as it does to a person with money."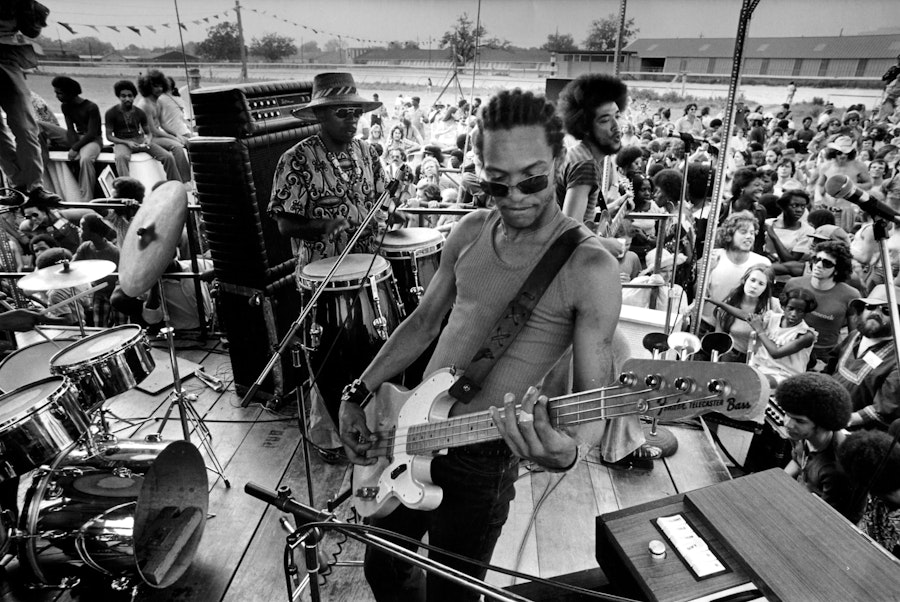 We were such a self-contained group that we found it better to go in the studio and start doing things ourselves. -Leo Nocentelli
In 2001, the inventive percussionist refused participation in a National Academy of Recording Arts and Sciences Governor's Award ceremony honoring the foursome, for reasons Zigaboo considers "too trivial to talk about." Not in the right place mentally to deal with the pomp and circumstance then, Modeliste is now of good comfort—educated, in greater control of his destiny, and happy with life as a legend. "I have a legacy that I'm proud of, bullshit and all. Over time, you stop being angry."
Zig also knows that management was not entirely at fault. That side of the coin only gets half the blame, for it was offstage where other erroneous actions were taking place. "Nobody twisted our arms," he admits. "Nobody put a gun to our heads. We just signed something and didn't understand what we were signing."
"Once you sign a bad document," he continues, "you can't get out of it. It starts a bad course of action and ruins you before you can even get started. I think the Meters were victimized, but out of all that victimization, hard times, and bullshit that wasn't right, we did do one thing—we recorded some fantastic music. It's all documented, and all of our names are there as writers. So, they can drop a bomb on this sucker right now, and you'll find my name in the annals of music."
As the primary songwriter, versatile guitarist Nocentelli was well-equipped to remain employed after the Neville-less Meters, moving to California to do so just as celebrated New Orleans drummer Earl Palmer had done some twenty years before. Leo also went back a long time with Allen Toussaint, reuniting with the producer and George Porter Jr. for Albert King's New Orleans Heat in 1978, and appearing on 1981's gorgeous Fiyo on the Bayou offering from the Neville Brothers, an album featuring two songs penned by the original Meters. Porter's life in wake of the breakup wasn't quite as rewarding. "I pretty much stayed home and kind of laid back in the gap and did a lot of drugs for a bunch of years," he reveals bluntly. There was also the Joyride project shared with Lafayette County, Louisiana, guitarist Bruce McDonald in 1979–80, followed by years of performing on the streets of the French Quarter with members of the Crescent City's distinguished Lastie family of musicians. By 1987, Porter was clean, and went on to become one of the most respected bassists in the business.
Popular music in the 1970s was a goose laying golden eggs at a rate never before seen. Not only did Black artists remain effectual, but they also became much more profitable, thanks in part to a combination of serious musicianship and increased solidarity among Blacks for any African American cause. Midway through the decade, business-school graduates began to infiltrate the industry's corporate structure, changing the pop landscape and paving the way for Reaganomics. It was soon the image of a particular artist—and not their music—that generated sales, as albums like Michael Jackson's Thriller set unprecedented standards in regards to earning potential and expectations. What was once big and beefy now needed to be cheaper and sexier, and fat started to get trimmed from what had recently been one nation under a groove. The still-evolving assembly-line approach of the major labels rendered bands and studio musicians near-useless—evident in the transformation from disco into house—as record companies began to see that a nine-piece unit didn't work as well economically in comparison to what could be accomplished with just one machine or one Prince.
New Directions was the Meters's last studio release, and the title couldn't have been more prophetic for both them and the path that pop music would tread entering the 1980s. Nothing was more significant than the rise of hip-hop, perhaps this century's most significant musical revolution since the dawn of rock & roll.(5) As the culture progressed, the process of creating its music began to evolve rapidly in technological innovation and sources of inspiration. When a solo Ice Cube said, "Gimme that beat fool, it's a full-time jack move,"(6) his words were a proper assessment of production during rap's first creative peak. Like generations of White rockers before them, hip-hop's second wave of producers were adopting preceding Black music and molding it into their chosen likeness. It was open season on the histories of jazz, funk, and R&B, as the offspring of the oppressed had taken on the pilfering ways of the oppressors. Sampling had always been a part of hip-hop culture, but by the late 1980s, it had matured enough to where it was difficult for some of the more sonically defiant projects to continue flying under the radar. Landmark statements from the Bomb Squad, Prince Paul, and the Beastie Boys/Dust Brothers blew the whistle on years of neglect. The rap kids who were ignored for too long, and left to fend for themselves, had been picking pockets and purses of their elders at a hellish rate. It was about time.
Modeliste: "It makes you feel good that someone else in the world wants to use materials that you've created. I don't know what the formula is, or the reason why they use it, but I'm just happy that people recognize it, because we definitely paid a lot of dues in getting it out there. It's always flattering to see somebody plagiarize your creation."
Hip-hop's use of pre-recorded elements in production may be the culture's longest-running beef. Music that had apparently gone out of style with the arrival of disco, punk, and new wave, suddenly experienced a renaissance among a new generation of DJs and songwriters. By the same token, being sampled was one thing, receiving credit and compensation for that sample was another. Many producers or engineers would take a record, sample a portion of it, and move on, paying no attention to the author of the sound. To many of the original artists, this was not homage, but theft. There were no rules during the first ten to fifteen years of hip-hop music, and the Meters were one of many acts from the '60s and '70s that suffered, contributing much to the culture's formative stages without even knowing it.
Porter: "We had no control over that—the music just got sold. Marshall Sehorn liquidated his assets, and unbeknownst to him at the time he did it, a lot of that music started to take off in the hip-hop community. He didn't know that. If he had, he would still have the music, and if he still had it, then I probably wouldn't own my house. The money that bought this house was some of the money being made off hip-hop music once we started getting paid."
Even with the widespread use of their work, years passed before the Meters knew they were being sampled, having failed to receive compensation from publishers Rhinelander Music and Sehorn and Allen Toussaint's Marsaint Music. "They never paid us a nickel," Porter fumes. "They took all of our royalties, saying they were owed to the company for 'back' this and 'back' that, but the record company had forgiven those fees. They were charging us for fees that the label had forgiven, so they were taking money from us that they didn't have to take. I was real disappointed because of that."
We were just young cats, working with famous people. It didn't matter to us what we were getting paid. Being paid was the smallest thing on our mind at this point. -George Porter Jr.
After a portion of the group's publishing—including the first two LPs and part of the third—was sold to New York's Screen Gems-EMI Music, Porter received a check for "Cissy Strut," some twenty-three years after originally recording the ubiquitous Meters anthem. For Porter, "It was unbelievable. I had pretty much written off ever seeing money from any Meters recordings, and one day a check came. That's how I knew Marshall had sold the stuff."
Guitarist Nocentelli, who has worked with Houston rappers Scarface and UGK's Pimp C, understands that for himself and many of his contemporaries, a paycheck is a paycheck, no matter when it comes or where it comes from. "This late in the game, it's all about how much money you can put into your pocket. Any source of revenue, and any kind of way you can generate some revenue, is fine with me."
Porter: "There's a hot and cold way of appreciating it. Most of the hip-hop music that was done, nobody knows that was our music unless someone said it was our music. The DJs who play the music don't refer to the samples. No one has ever done that kind of stuff. None of the people who used it ever said they were using Meters samples. "Gyrlz, They Love Me" by Heavy D? He never said that was "Thinking." No one ever said that. They didn't license the music, they just took it, and we got caught with our drawers down."
Diminutive R&B crooner Musiq didn't mention "Thinking" in the recording of his "Religious" for 2002's Juslisen, and neither did Nike when they licensed "Religious" for a nationally televised ad featuring New Jersey Nets point guard Jason Kidd. The Meters got paid, though. From Dr. Dre boosting Zigaboo's "Cissy Strut" drums for NWA's "Niggaz 4 Life," to the use of Struttin's "Go for Yourself" by the Boogiemonsters on their sublime "Honeydips in Gotham," the Meters—and Modeliste in particular—remain some of the most fertile sampling ground in hip-hop history. The majority of the Josie material provided the basis for countless recordings made during the late '80s and early '90s, widely regarded as the culture's golden age. While not shining as bright or shouting as loud as other sources such as James Brown and Parliament-Funkadelic, what made the Meters appealing was the skeletal quality of their early compositions. The first three releases—The Meters, Look-Ka Py Py, and Struttin'—are essential break LPs. "The reason a lot of those Josie Records songs made such great samples for hip-hop music," Porter explains, "is because they were rhythm tracks waiting for melodies to happen. They were just grooves. A lot of those songs weren't completed. We were laying down beds for something else to happen."
The general sentiment among Modeliste, Neville, Nocentelli, and Porter is one of flattery for even being considered as a source for sampling. All are grateful that the practice has kept them alive among producers in the hip-hop industry, if not in the eyes of the record-purchasing public. "It's been over twenty, twenty-five years since we've been a whole group, so it's not the fact that people are seeing the Meters," says Nocentelli. "It's not the personnel, it's the music." But for Leo and the others, the ends don't come close to justifying the means.
"[Hip-hop producers] felt like they didn't have to pay you anything because they went and spent six-fifty for an album," he reasons. "What they didn't understand was that you can buy something like that, but you cannot financially gain on somebody else's artistry. You cannot prosper financially off of somebody else's artistry, and that's exactly what they were doing. Once it was established that it was illegal to do that—after you sued a few of them—then everybody started asking for permission to license and working out some kind of financial percentage."
There were other events of the late '70s and early '80s that robbed the Meters of a future, but none were in position to pay off like hip-hop. Unfortunately, before there would be reparation, there was more stealing to be done. Few people, including the band, can accurately account for output from their early sessions. Control of the music was a mess from the start. "In those days, we never knew who we were recording for," Porter recollects. "We were told to go into the studio and record. Then we would get sent on the road, and while we were on the road, a record would come out. We had very little control over what was going on and when it went on." Many selections from the first three albums are available on compilations from numerous labels, both in Europe and the United States. Again, all fingers point back to management. "Marshall Sehorn was such a crook," George continues. "The same masters were being sent out to several different record labels, and we were only being paid by one."  
Each of the eight full-length LPs—three Josie releases, four Reprise, and their last on Warner Brothers—has been reissued on both vinyl and compact disc by eclectic, upstate New York–based Sundazed. Many other comps and collections of unreleased work come courtesy of Charly, born a French imprint, eventually operating out of London. Rounder and Warner division Rhino also contribute much to the current state of reissues, leading the way for Atom, Pye, Castle, Island, Mardi Gras, Virgo, Instant, and Italy's Get Back to all have a hand in the extensive repackaging of the group's nine-year catalog.
"By and large, a lot of it hasn't been reissued very well, if at all," according to Doug Arnold, assistant buyer for online vinyl hub Dusty Groove America. Muddled contracts and legal and publishing nightmares kept the music from seeing the light of day for a long time, but now, with so much in circulation, anything normally considered a rarity isn't really that rare at all. Serious collectors were the first to notice prices falling for original pressings. "From our perspective," Arnold adds, "from just being sort of a mom and pop record store, if Warner Brothers went and remastered them and put them back on CD, we might not do terribly well because we get a lot of the people who are really digging—the rare-record collector types—but as far as doing a service to humanity, it would be great."
Art Neville, Leo Nocentelli, George Porter Jr., and Zigaboo Modeliste deserve much for the service they've done to humanity, but still find it hard to catch a break. Their rendition of "Oh, Calcutta!" from the Broadway revue of the same title was sampled heavily by Rich Harrison for Amerie's "1 Thing," one of the early hits of 2005. In true Meters fashion, the group receives no royalties because they are not the originators of the piece. That distinction goes to composer Stanley Walden, as Porter states: "The writer gets publishing royalties on that song, but there are master rights that the owner of the masters gets, and he should pay us fifty percent of what monies he gets. That is, if he gets it."
If he gets it. One lesson learned is that there are no guarantees, especially when it comes to show business and its successes, with success every bit the "bitch-goddess" it was referred to as by nineteenth-century philosopher William James.(7) "The easiest thing for the Meters to do was make music," Zigaboo admits, and the four have continued making music, both on their own and in various Meters-related offshoots, including a reunion performance at the 2005 New Orleans Jazz & Heritage Festival. What has been difficult is receiving compensation for their efforts. Once it was acknowledged how much income had been lost, or not even made available, economics became more of a priority. It hasn't always been about the money, however, and that is where the group's problems began.
Porter: "We were young, we were recording with Allen Toussaint, and were in the studio, very excited, playing with guys who had hit records out who we knew about. The only person in the band at that time that had any experience was Art Neville. He had hit records out on his own, earlier in his career, so he was the professional. We were just young cats, working with famous people. It didn't matter to us what we were getting paid. Being paid was the smallest thing on our mind at this point, and when they paid us, it was 'Oh, we get paid for doing this? This is fun!' So we enjoyed it, and we were getting paid to do it, so it was indeed an honor."(8)
The Meters are the embodiment of the Southern musician. It's a humble region—especially the sleepy, slow-paced bayou country. The moniker "Big Easy" doesn't apply to New Orleans without merit. Art Neville and his recruits came along at a time when many artists from the area were deeply rooted in music, but green when it came to aspects of the business that had nothing to do with playing music. Aaron Neville recorded the smash "Tell It Like It Is" (b/w "Why Worry," Parlo 101) in 1966 and has still earned only a fraction of what was owed to him. He and a host of the city's talent were taken advantage of with regularity and many developed a "fuck you, pay me—on the front end" attitude in order to buck the system. As Zig spells out, "Money is easy to make. Keeping the money is the hard thing."
"You have to have an education to keep money," he maintains. "You can make the money being a dummy, but you have to be very smart to keep it." Modeliste's childhood partner in percussion Cyril Neville sang "My Name Up in Lights" on New Directions, but even the spotlight takes a back seat to profit.
Porter: "That's a double-edged blade because, you know, a lot of guys would like to be seen. I can walk down the streets of New Orleans and one out of thirty people might stop me. I'm still at home, still unknown. I guess it's good. I don't have a problem with it, but the truth of the matter is—and this is one of the well-kept secrets—everyone knows who the Meters are, but no one knows who the Meters are."
Until now.
Notes
1. Leroi Jones, Blues People. New York, NY: Morrow Quill Paperbacks, 1963, p. 71.
2. This would be a great trivia question, and one that apparently has no answer. The Meters are perhaps the only ones who would know the name of the Neville Sounds's original drummer, but none of them has any recollection. Clearly, after Zigaboo hit the scene, Glenn's last name no longer mattered and neither did he.
3. Ashley Kahn, "The Funk Band That Time Could Not Forget." The Wall Street Journal, May 24, 2005.
4. James Brown, "Get on the Good Foot," Get on the Good Foot, Polydor, 1972.
5. This is a statement I've heard a few times, but have yet to see it debated. It can be assumed to be truth, as there has been no genre of music emerging in the past thirty years that has challenged hip-hop's supremacy, nor anything challenging the reign of rock & roll before hip-hop took over.
6. Ice Cube, "Jackin' for Beats," Kill At Will EP, Priority, 1992.
7. Originally from James, quoted by Tennessee Williams in his 1948 essay, "The Catastrophe of Success."
8. Taken from a spring 2000 interview with George Porter Jr. for An Honest Tune magazine (AnHonestTune.com), conducted by Dave Jordan, founder and bassist for New Orleans funk troop Juice.
The author would like to thank David Stocker and George Porter Jr. for the photographs and scans, and Mike Callahan at Both Sides Now Publications (bsnpubs.com) for discographical assistance.