Over the years, James "Blood" Ulmer's music has covered more bases than the Boston Red Sox. He's played guitar with gospel groups, doo-wop singers, organ-tenor combos, straightahead boppers, and Ornette Coleman's harmolodic funk, as well as leading his own bands that explored the outer realms of Black rock and jazz. In an interview I did with Ornette, about a year before his passing in 2015, Coleman recalled of the enigmatic guitarist: "Blood Ulmer studied with me for a long time. He created his own theory, but nobody knows what it is yet! He scientifically broke down playing [notes] in unison. He knows that shit backwards! When he plays the blues, he can make you think what you're hearing disappear." 
Village Voice music critic Greg Tate once described him as "the missing link between Jimi Hendrix and Wes Montgomery on one hand, and P-Funk and Mississippi Fred McDowell on the other." Certainly, elements of each of those great Black musicians' sound can be heard in Blood's music, but ultimately his expression remains singular and unique. Comparisons are helpful. They're like stopping at a gas station for directions. You hope the guy inside speaks the same language as you and that he's been around the block a couple times so he has some idea of what he's talking about.
So much of what we know is secondhand, if we are to trust the accuracy of TV and newspapers. I learned a lot about Blood courtesy of his record company bio and the few things that critics and fans had written on the internet. He was eldest of nine children, born in 1942 in rural St. Matthews, South Carolina. His father, who worked for the Highway Authority before becoming a Baptist preacher, began teaching his son guitar at the age of four. Sitting the child on his lap, he'd hold his son's hand in his own as they strummed the strings together. Blood grew up hearing mostly local church music and whatever touring gospel groups were coming through, like the Five Blind Boys from Alabama or the Dixie Hummingbirds. In elementary school, James joined the Southern Sons, a gospel group led by his father with whom he would travel around the South for the next seven years.
"People ask me all the time, 'What kind of music were you listenin' to?'" Blood recalls with a husky chuckle. "Maybe somebody might've had a guitar, but we didn't have no records and nothin' to play 'em on. Even if I did, my mama would've whipped my ass if it wasn't a record about Jesus. I broke every law in the book to listen to some blues," Ulmer tells me. "We came from the church. We couldn't play no stuff like that."
By age seventeen, Blood was "thrown out of the house by my mama," as he put it, and headed north to Pittsburgh to live with a cousin where he soon found work accompanying doo-wop groups like the Savoys and the Del Vikings on guitar. Around that time, he got his first earful of Chuck Berry's guitar rockin' and rollin' on the radio. Meanwhile, organ-tenor sax combos could be found wailing into the wee hours at local bars and clubs. In an effort to hone his jazz chops, Blood joined Ernie Goldsmith's trio in 1961 and began sitting in with touring keyboard masters Richard Groove Holmes and Jimmy Smith. The following year, Jewel Bryner, a Midwestern R&B singer, hired Ulmer as the guitarist for her band, the Swing Kings. Blood toured the chitlin circuit with Bryner until 1965, when he landed a gig in Columbus, Ohio, at the 502 Club with organist Hank Marr's group. Ulmer would tour the States and Europe with Hank and make his debut recording on Marr's obscure Sounds from the Marr-Ket Place on King Records, released in 1968.
Blood's "most favorite guitar player of all time" was Wes Montgomery. "I felt like I knew how he breathed; I just could feel everything he played," Ulmer once said. Blood would eventually meet the man one night in the midst of a weeklong gig with Hank Marr at a club called the Hubbub in Montgomery's hometown of Indianapolis. Wes walked in and stood at the bar all night long. Meanwhile on the bandstand, Ulmer grew anxious, hoping Montgomery would compliment his guitar playing when the band took their break. Blood strolled past his hero a couple times and even deliberately stood beside Montgomery at the bar, but Wes never uttered a word. Montgomery's silent snub inspired Blood to no longer look towards others for encouragement or inspiration but to search within to develop his own voice. In an attempt to create a personal form of expression unique unto himself, Ulmer began eliminating all Western scales and conventional chords from his musical vocabulary.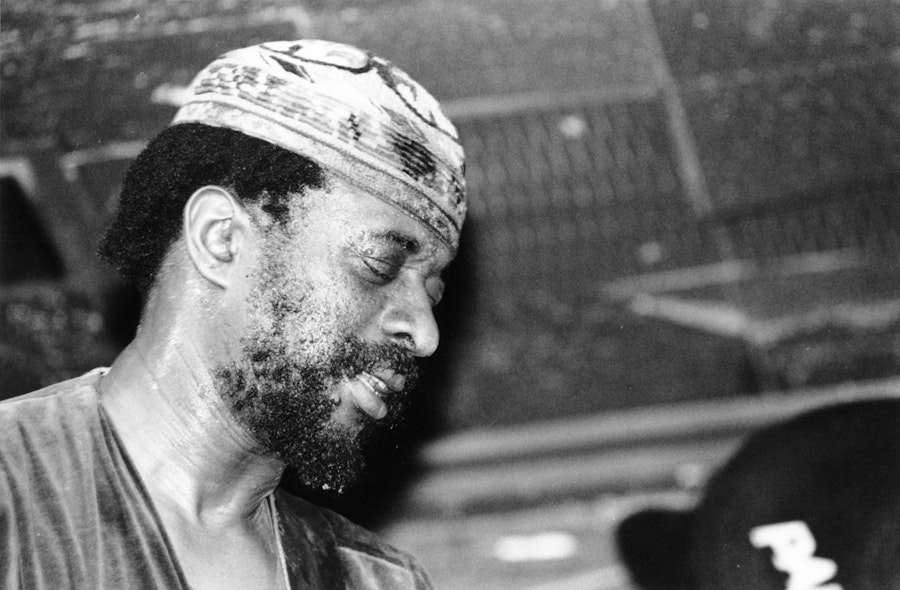 In 1967, Blood headed for Detroit to gig with the progressive jazz group Focus Novii at the Twenty Grand Club. The Motor City, famous for Top 40 Motown hits from the Supremes, Smoky Robinson, and Stevie Wonder, was also home to the Jones brothers (Elvin, Hank, and Thad), as well as Yusef Lateef and Kenny Burrell, and a regular whistle-stop on tours for John Coltrane, Miles Davis, and Dexter Gordon. While in Detroit, Blood recorded a couple of Blue Note sides with organist Big John Patton and became pals with members of a band who would soon become known as Funkadelic.
For six months, Ulmer played a club called the Bluebird. When the gig was finally over, the club owner, hoping to further Blood's fledgling career, gave him the money to go to New York to track down Miles Davis. "Tell him I sent you to play with him," his benevolent benefactor added. Although Blood never managed to find Miles, he did connect with Ornette Coleman. In 1971, Ulmer met the legendary avant-garde jazz saxophonist and immediately joined Coleman's funky electric Prime Time band.
While Blood jammed with Joe Henderson, Rashied Ali, Paul Bley, and Arthur Blythe, he also kept one foot in the straightahead jazz world, gigging with Art Blakey's Jazz Messengers at Minton's Playhouse. His stint with Blakey didn't last too long, for every time Ulmer began to solo, trumpeter Woody Shaw would glare at him disapprovingly.
"When I came to New York, I was thirty-one years old, and I ain't never thought nobody could make no money playing free music. So I always played structured blues, rhythm playing, dance music, or something like that. And I abandoned it! When I came to New York, it was like…I just went totally another way. I fell so much in love with the harmolodic idea."
While living at Ornette's loft, Ulmer would have a dream one night that liberated him from any past musical conceptions. He conceived of a new harmolodic guitar tuning that completely eliminated scales and chords. When Blood awoke, he began tuning his guitar strings to the notes he'd just dreamt of.
For six months, Coleman drilled Ulmer in his unique theory of harmolodics (one part harmony/one part motion/one part melody), of which melody, to Blood's ears, was the key component. While living at Ornette's loft, Ulmer would have a dream one night that liberated him from any past musical conceptions. He conceived of a new harmolodic guitar tuning that completely eliminated scales and chords. When Blood awoke, he began tuning his guitar strings to the notes he'd just dreamt of. Ulmer recalled, "I couldn't wait to show Ornette what had happened. I went to his room and said, 'Coleman, listen.' I began to play my guitar, and he picked up his horn and listened for a long time. Then he said, 'Blood, you have moved the tone center, making the treble clef a transposing note for the guitar.' He said, 'Play Bb.' I said, 'I'm not tuned to Bb.' 'Play Eb.' 'I said, 'I'm not tuned to Eb. In fact, all my strings are tuned to one note—I have one note with all six strings tuned to the same sound.' Music was jumping out! Coleman was amazed. He made me feel like I just graduated from his harmolodic school of music."
For whatever reason, no recordings of Ornette Coleman's group with James Blood Ulmer have ever been released. Blood soon began recording as a leader with his old friend, tenor saxophonist George Adams, with Cecil McBee on bass, when Coleman intervened and convinced him to temporarily shelve the project. The album, Revealing, was finally released twelve years later. In turn, Coleman produced and played alto saxophone on Blood's landmark 1978 debut Tales of Captain Black.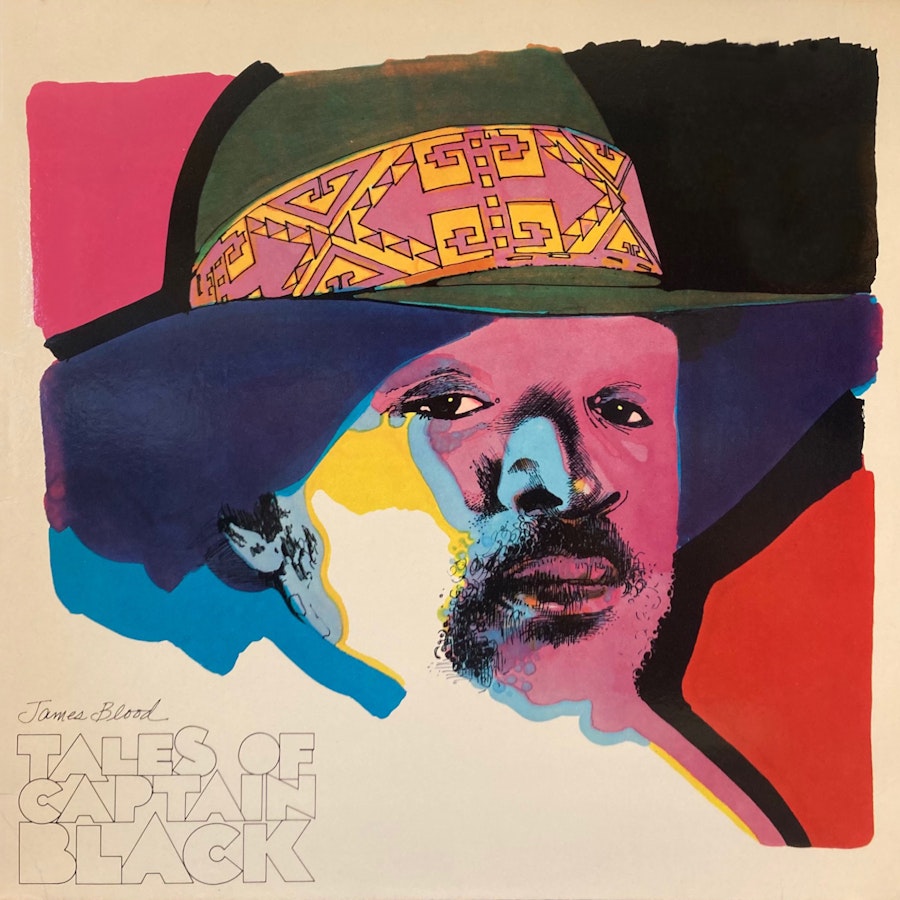 The British punk rock label Rough Trade soon offered Ulmer a record deal, believing his wildly frantic guitar style would drive an entire generation of disaffected kids crazier than they already were. Returning to the studio, he cut 1980's Are You Glad to Be in America?—whose sardonic title track is a force of sociopolitical nature. Constant comparisons to Jimi Hendrix in the press soon followed. In his Rolling Stone review of 1981's Free Lancing, journalist/musician Robert Palmer recognized Ulmer as "a one-of-a-kind brave new world maverick" and "perhaps the most original guitarist since Jimi Hendrix." Gigs at major venues like the Roxy and the Beacon Theater in New York led Columbia Records to buy out Ulmer's contract with Rough Trade.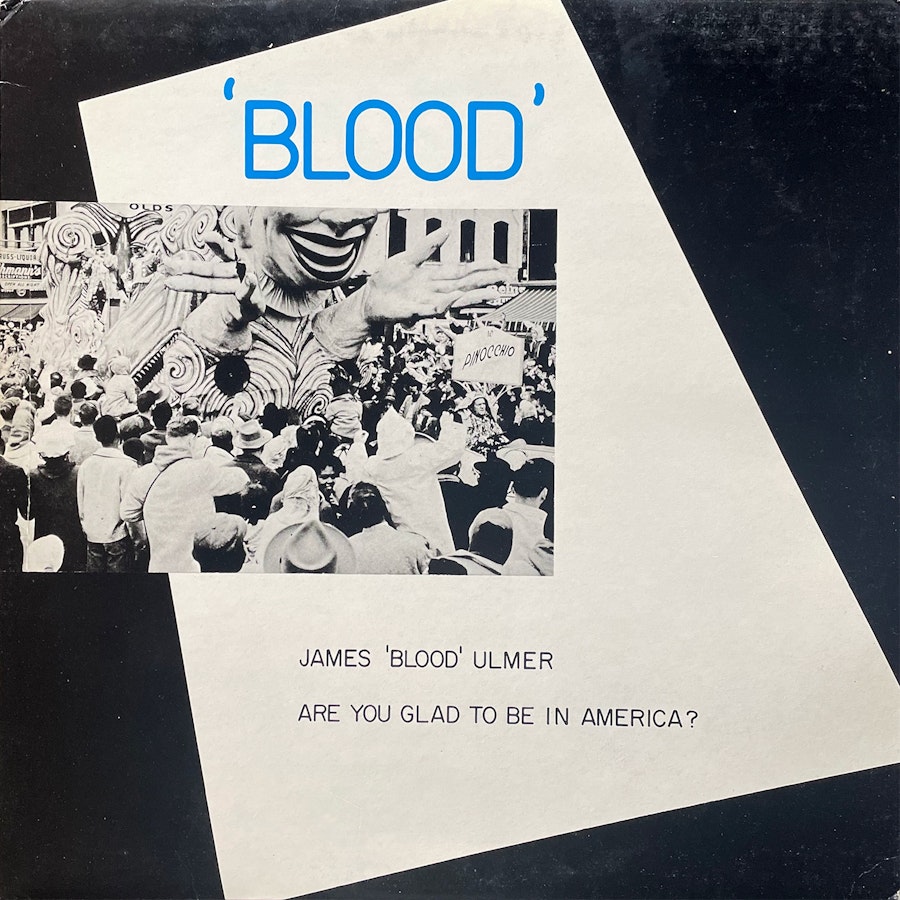 Following 1982's funky concoction of rock and jazz, Black Rock, Columbia begrudgingly released Blood's now-classic Odyssey the next year and then promptly dropped him from their roster. The label had been pressuring Ulmer to take a more commercial approach and cut a Bruce Springsteen tune. In response, Blood recorded an album of extraterrestrial hillbilly jams, mixing elements of funk, country, blues, and free jazz, with a bass-less trio that included violinist Charlie Burnham and drummer Warren Benbow. With numbers like "Church," "Little Red House," and a jumping remake of "Are You Glad to Be in America?," many consider Odyssey Ulmer's finest album. The Odyssey Band reunited in '97 and released a live album on the Knitting Factory label.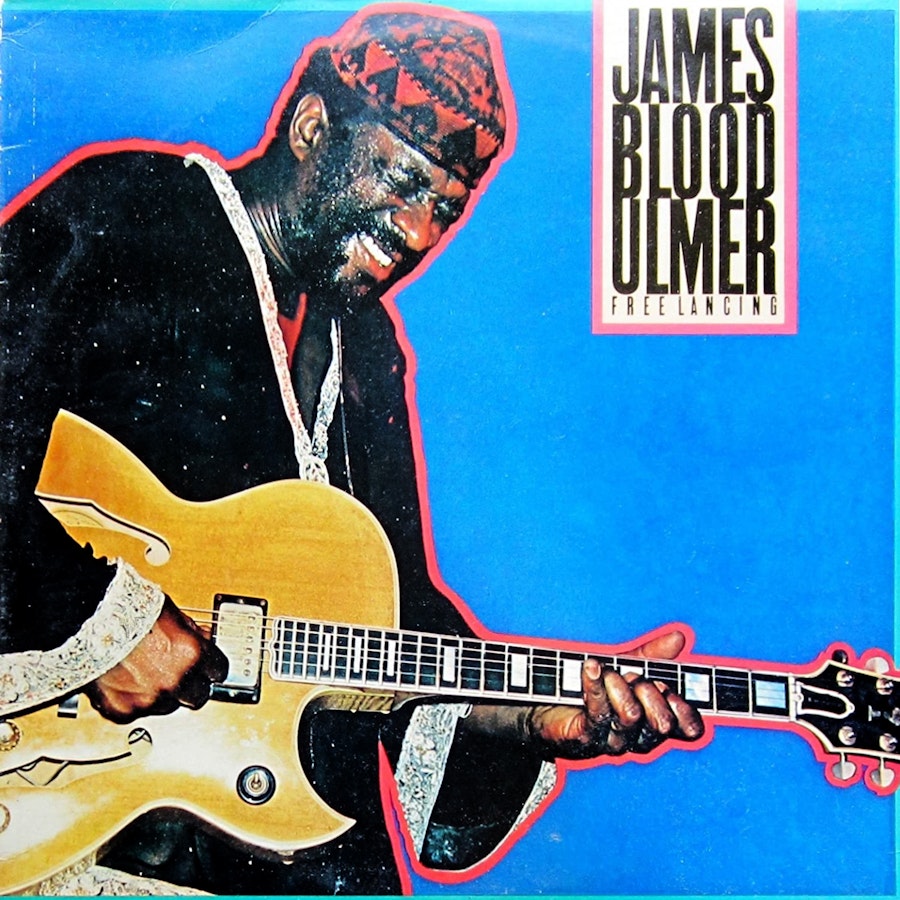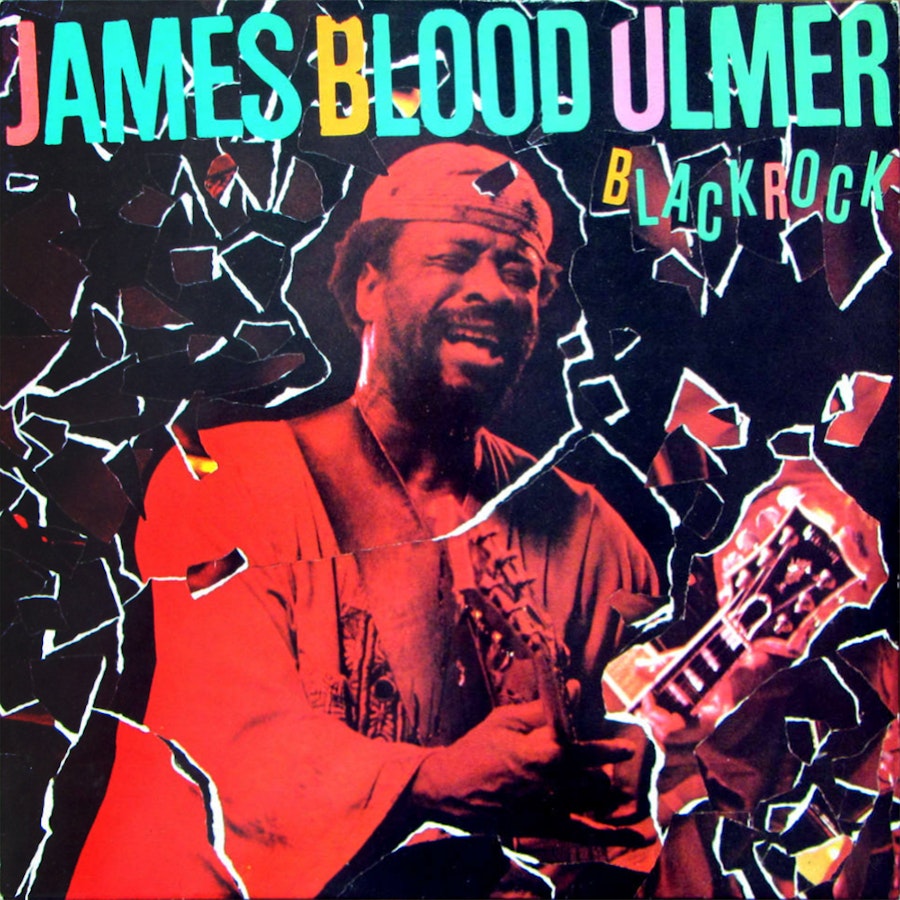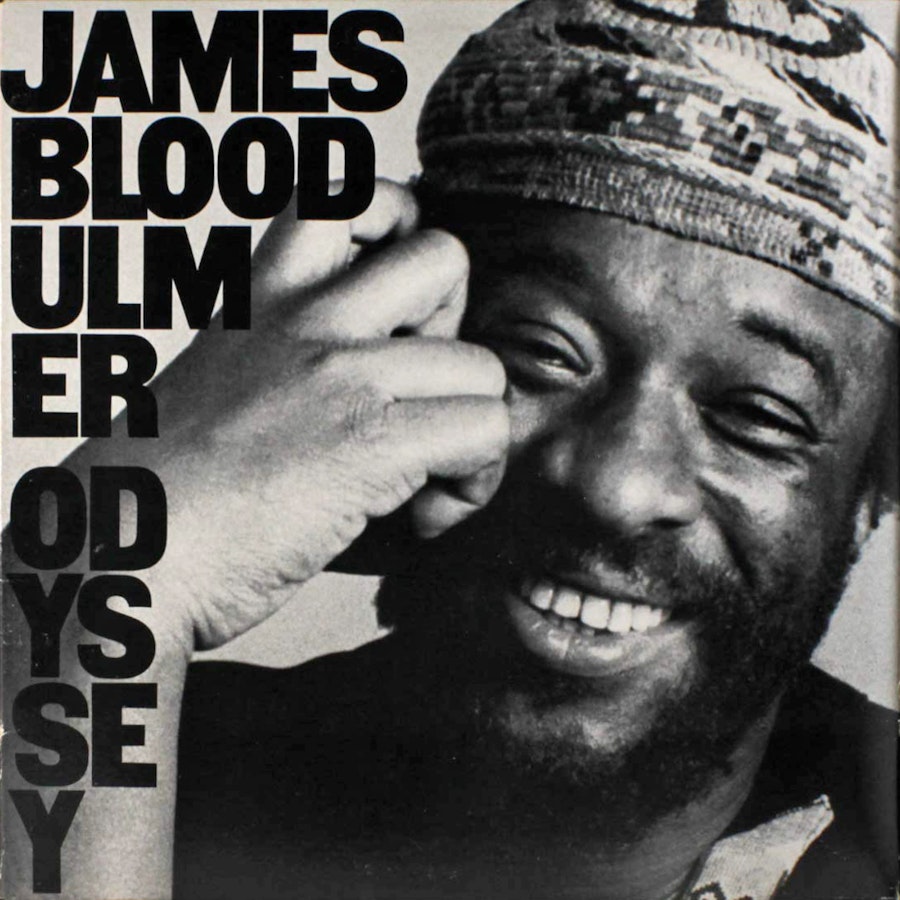 In 1993, DIW released Harmolodic Guitar with Strings, a variation and expansion on the concepts Ulmer previously explored with Odyssey. Sans drummer, Blood riffs over cellist Akua Dixon's Indigo Quartet, mixing elements of harmolodic and classical music with gospel-style call-and-response phrasing.
In 2001, Blood headed back down South to record a set of blues standards at Sam Phillips's legendary Sun Studio in Memphis, with his protégé, Living Colour guitarist Vernon Reid, producing. Recently re-released on the Hyena label, Memphis Blood: The Sun Sessions was nominated for a Grammy before disappearing off the shelf when Label M bit the dust in the wake of 9/11. The focus of the Memphis session, as well as his disc No Escape from the Blues: The Electric Lady Sessions, has been on ensemble playing. Blood and Vernon's guitars intertwine over a solid-groove rhythm section comprised of bassist Mark Peterson and Aubrey Dayle on drums, augmented by Charlie Burnham's snaky violin, Dave Barnes's fat fuzzy overblown harp, and Leon Gruenbaum's cool keyboard vamps.
Charlie Burnham had invited me over to Electric Lady Studios on Eighth Street in Greenwich Village to listen to the sessions for Blood's new album. The vibe was easy-going and the music flowed effortlessly as the band knocked off one track after the next. I even wound up adding my two cents, laying down an ethereal droning tambura on Blood's swampy take of Lightnin' Hopkins's "Trouble in Mind."
But despite all the camaraderie of the session, I still felt a bit nervous as I climbed the old wooden steps of Ulmer's Soho loft to interview him one cool, gray October afternoon—probably because Blood reminded me of a big old burly bear. Friendly enough, as long as you kept out of his way, but mess with him and you'll find yourself clad in claw marks from head to toe. Maybe that's how he got the nickname "Blood." Either way, I wasn't gonna be the fool who asked him.
A pair of Blood's axes lay on the kitchen table—an odd-looking headless Steinberger (tuned traditionally) and his cherished black Gibson Byrdland, in an open tuning with all six strings pitched to E. Ulmer sites "the original guitar," the Diddley Bow, as his inspiration for the unique tuning. Found in the rural South, the Diddley Bo is a single wire stretched between two nails, hammered into the side of a house, that reverberates when rhythmically plucked with fingers or struck with a stick. To this simple tuning, Blood adds his special sonic seasoning of one part gooey wah-wah pedal to one part ethereal swoosh, courtesy of his Roland Jazz Chorus amp. His big limber fingers run in linear patterns up and down the neck, evoking a mystical Imam's haunting call to prayer more than the typical licks of a Saturday night blues burner.
Beside the guitars on the kitchen table, I noticed a flute case. Although Blood doesn't perform live or record on the instrument, he often experiments and writes much of his music on the flute. "The flute and the guitar are both in concert pitch," he explains. "But the flute is easier to write and transpose on for horns. It's more exact for notation as the notes on the guitar are always changin' up a bit."
And so the interview began. I didn't know if it would last half an hour or half the day. Blood is no Chatty Cathy, but pitch him something interesting and he's sure to take a swing at it. In no time, I found my apprehension had turned to laughter.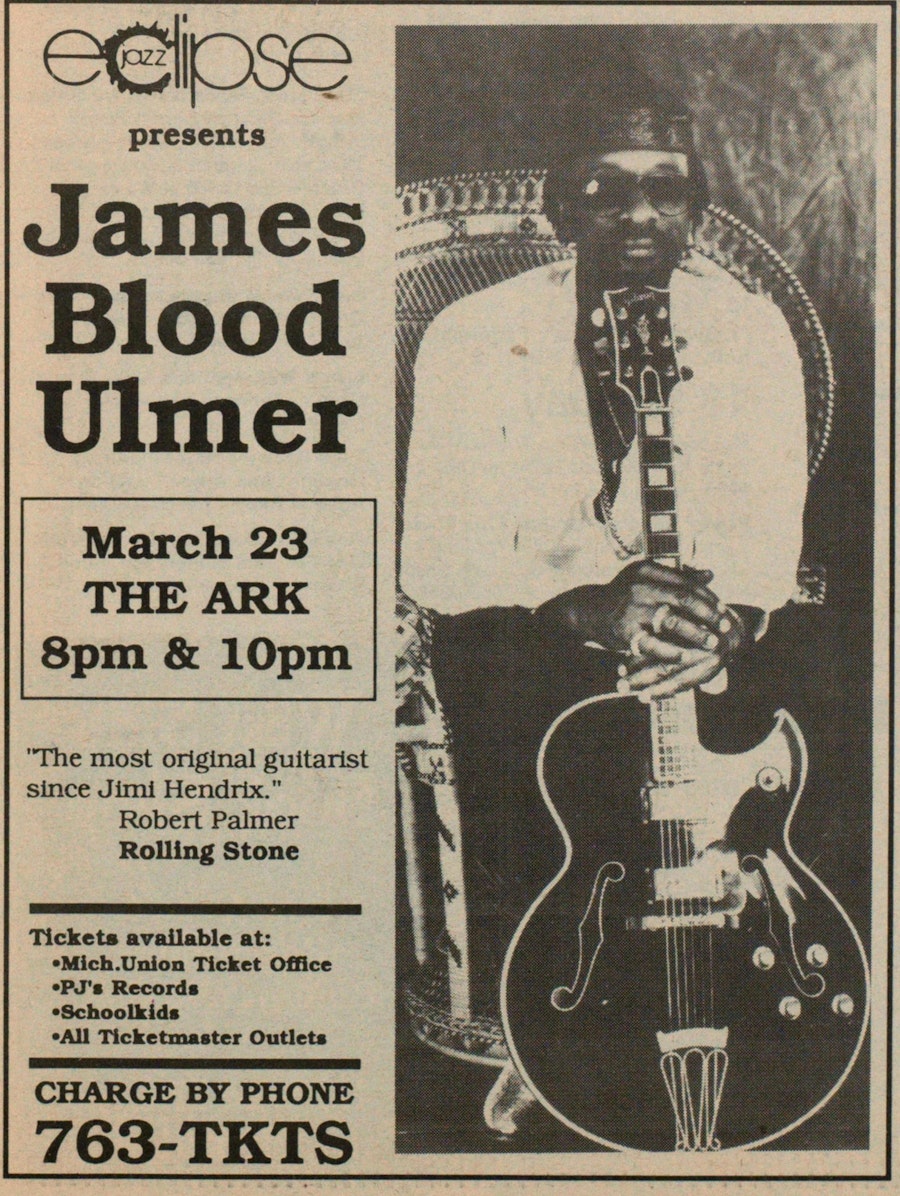 The first time I heard Free Lancing, it was so intense it scared the hell out of me.
James Blood Ulmer: Yeah, it scared me too. I'm glad some of those songs had some melody, 'cause I can't play 'em like that anymore. I don't even want to try to play like that anymore.
If you kept playing like that, you'd probably be dead by now. Music that ferocious can never last too long. What was it like in the early '80s playing for crowds of punk rockers all dressed in black, opening shows for Public Image Ltd. and Captain Beefheart after gigging with Blakey and Ornette?
I'd stand at the microphone and tell them to shut the fuck up. They had five minutes to get into it or get the fuck out! [laughs] But their attitude was like…they weren't there to judge. Y'know how people go to clubs and sit and listen to music with their cigarettes, expecting to enjoy it? Shit, we didn't even enjoy it! The band didn't even like themselves! [laughs]
You've got to have big ears for some of your music. The Music Revelation Ensemble is radical stuff. You've got to be open to music like that, and let the sound just wash over you like a waterfall.
Music is not for judgin'. You listen to it and take what you can get from it. Put it in your pocket and keep movin'.
Odyssey was a beautiful record, a great jam. I liked the mix of Charlie's Appalachian mountain fiddling with elements of space funk and blues.
I call that music "blues in the sky."
Y'see, the hip-hop mentality is the same as the blues player. It's about the concept of an oppressed person breakin' loose. The blues men weren't really singin' about their girlfriends. They were talkin' about the bossman. Whether you're in the ghetto or the country, it's all the same. It's an outlaw mentality—people killin' people, runnin' away, and windin' up in prison. It's not about the music. James "Blood" Ulmer
Speaking of blues, last week I watched that series of films on the blues on PBS. One episode was all about Chess Records and Muddy Waters's psychedelic funk record Electric Mud and how the hip-hoppers have now embraced the album, which at the time was seen as a commercial sell-out, a desperate attempt to get Muddy across to the hippies. Any thoughts on how hip-hop and blues connect?
Y'see, the hip-hop mentality is the same as the blues player. It's about the concept of an oppressed person breakin' loose. The blues men weren't really singin' about their girlfriends. They were talkin' about the bossman. Whether you're in the ghetto or the country, it's all the same. It's an outlaw mentality—people killin' people, runnin' away, and windin' up in prison. It's not about the music. But you gotta hand it those white boys from England. Muddy Waters and Howlin' Wolf and everybody was makin' those records here in America and nobody knew what was goin' on. Then they started playin' the shit, and it was like, goddamn!
Everybody was sleepin' on the blues till the Stones and the Yardbirds showed up. You had to wonder how a guy like Albert King must've felt after years of paying his dues when he heard Eric Clapton copping his licks note for note on "Strange Brew."
Well, the music gets around. [Ali Farka] Touré from Mali and Fela [Anikulapo Kuti], now that's the real shit! Fela had all those people playin' together, and it wasn't about style or "jazz." It was like a whole village.
Yeah, one harmolodic village!
[laughs] Fela, now, he was an outlaw! A harmolodic outlaw! [laughs]
That blues film showed Marshall Chess recording Pete Cosey, the original guitarist on Electric Mud, and crew of hip-hoppers at Electric Lady Studios, the same place where you and Vernon Reid recently cut No Escape from the Blues. Now, instead of suburban white kids and English teetotalers, we've got a new generation of inner-city Black cats who didn't grow up on the music, borrowin' heavily from the blues attitude more than the form, mixing hip-hop beats together with blues vamps. But instead of singing, they rap the lyrics, which I feel lacks the emotional intensity of somebody wailing and crying about how their baby left them.
The problem is they don't know enough to talk about anything but themselves.
Well, when you talk about yourself, you usually just wind up in trouble.
[laughs] That's true!
Talking about trouble, Arnold Schwarzenegger was just elected governor of California and with Bush Jr. in the White House, this country has been turning into some kind of sorry circus. Are you glad to be in America?
[laughs] Oh, that's a dangerous, dangerous question! I can't even understand why the motherfucker would want to be governor… [Ulmer stared at footage of Arnold on a muted TV set for a minute until I pressed him with the question again.]
So, Blood, are you glad to be in America?
I asked you first! [He sat for a minute, giving his own monumental question a thought.]
Y'know, California is full of sunshine. We don't have to go nowhere to find sunshine. We got a land that's filled with all kinds of goodies. We got food galore, good agriculture. We got plenty right here. We don't need no rocket ships! We got slaves drivin' Cadillac cars in a land where slavery is obsolete. So it seems like to me somebody should be thankful! [laughs] But, you know, that's a dangerous, dangerous question! That's the icing on the cake!
Afterword, July 2021
So, in the wake of the COVID crisis and the continued brutality and killing of Black citizens across America at the hands of police, I thought it might be time to catch up with a few of Blood's friends and collaborators to ask them how his definitive song still holds after all these years:

It has always struck me that from the very first time I heard James Blood Ulmer's seminal song, 'Are You Glad to Be in America?' was a necessary companion, corollary, and response to Woody Guthrie's classic, 'This Land Is Your Land,'" guitarist/songwriter/ producer Vernon Reid points out. "It doesn't revisit the 'Gulf Stream waters,' but instead speaks to 'the burdens we share,' of America's denial of its numerous brutalities and subsequently unanswered-for, unacknowledged traumas. Blood's gravelly blues testimony leaves no doubt as to the legitimacy of his declaration that 'Slaver is obsolete' at this remarkable, wholly unique American song."
"Blood does not bend to the world; the world bends to Blood," explains David Barnes, who has played harmonica in Ulmer's band since 2001. "When he wrote 'Are You Glad to Be in America,' in the early '80s, he was sharing his vision of this country—a snapshot of the culture seen through the sardonic lens of a Griot inhabiting the Trickster sensibility, as in the lyric, 'Home of the Brave—where slaves drive Cadillac cars.' When I listen to Blood, I feel like I'm witnessing something that is so deeply rooted in the reality of who he is, that he connects me all the way to Africa. He is the conduit. Recent conditions in this country only serve to reinforce the song's message. Blood was profoundly and powerfully prescient, and like an unwavering herald, he repeated this important message many times in many different iterations. Recent history only reveals the wisdom that accompanies Blood's guttural delivery and the shards of sound coming from his guitar. All of this allows me to answer the title's question in the affirmative."
And last but not least, is this missive from the great violinist (multi-instrumentalist actually) Charlie Burnham, whose ecstatic fiddling helped make Ulmer's Odyssey the delicious/delightful album it remains today: "If you accept the idea that Americans are 'fiercely individual,' then Blood is the most American man I've met. Completely unique and self-contained.  And the song 'Are You Glad to Be in America' is a knife that cuts six different ways. To answer properly, you have to really know the world we're living in."