I had no expectations going into this interview with Teddy Pendergrass at the Conrad Chicago hotel. A few of the people I spoke to prior didn't even know that the soul superstar was still alive, while others inquired about an autograph, seemingly unaware that Pendergrass has been paralyzed for the past twenty-six years with limited use of his hands. So I wasn't quite sure how to prepare myself outside of the usual research, questions, and talking points. As I entered his suite and greeted his manager, Pendergrass was sitting in the middle of the room in a powered wheelchair, with his face—sans trademark beard—looking as youthful and polished now as it did in his mid- to late-1970s prime. His eyes followed me as I crossed the room, stopping to give him a pound before sitting down. At this point, I was glad that I didn't have any expectations. They would have been dismissed immediately. 
The opportunity to talk to Pendergrass wasn't just about a story. He is a man who has seen the highest highs in multiplatinum achievement, Grammy nominations, and national and international stardom, but also the lowest of the lows in the March 18, 1982, automobile accident that left him an incomplete C5-C6 quadriplegic. And this isn't the clichéd low of the demons of drugs and alcohol abuse—although Pendergrass dealt with that as well—but a permanence that exposed fears, vulnerabilities, and uncertainties never imagined. He was a gifted vocalist, a standout member of Harold Melvin and the Blue Notes, and as a solo artist, one of the few acts undeterred by the changing landscape in urban music during the late '70s. It was much to be proud of, but it was perhaps Pendergrass's pride that was affected the most that calamitous night in 1982, both in the circumstances surrounding the crash and the subsequent course of his survival.
Prior to his accident, the first significant change in Pendergrass's life came in his early teens. Born into a deeply religious family, the clergy was his initial calling, as told to Terry Gross and National Public Radio (NPR) in 1998:
To hear a voice call you in the middle of the night…it calls you and you don't know where it comes from. Where did that voice come from? It wakes you up. And when it woke me up, I asked my mother did she call me? She said no, she didn't call me. That happened a couple of times. That voice just kept calling me, and it kept telling me things like, "You will do this—you will do that." That was scary for a ten-year-old kid, but it was a voice that was calling me.
Where did that voice come from? I've never begun to try to figure it out. We accept that in our religion as a spiritual calling, and I began to do what was equated to little sermons…a little ten-year-old speaking sermons.
Pendergrass had been singing in the church long before his call to the pulpit, but as the young minister matured and gained a sense of independence, secular music began to play a larger role in everyday life. Philadelphia's Uptown Theater became a home away from his denominational home, and also away from his mother, Ida, who worked in the kitchen of Sciolla's, a White-owned supper club where Pendergrass would learn showmanship firsthand from artists such as Philly's own Frankie Avalon and Chubby Checker. 
But it was the Uptown where young Teddy found comfort in a crowd of faces as dark as his, and where he fell under the spell of the era's preeminent showman, "Mr. Excitement," Jackie Wilson. "He was just a consummate performer to me," said Pendergrass to NPR. "My image of him was just so huge, and he was just such a master—a taskmaster. He controlled the stage. I had never seen anybody do it before like him. His audience was in the palm of his hand." Seeing Wilson perform brought Pendergrass out of the church and onto the stage, where he began his career as a drummer and also recorded for local promoter and A&R man, Gene Lawson, who would go on to start short-lived Philly imprint, Uplook Records. 
After three years on the club circuit, including a tour with "Little" Royal Torrance, Pendergrass was invited by Harold Melvin to join his group—known simply as the Blue Notes at that time—as their drummer in 1969. By late 1970, in the wake of group turnover, Melvin—who had since learned of Pendergrass's extraordinary singing ability—moved the budding superstar from behind the drum kit to lead vocal duties for the group, now known as Harold Melvin and the Blue Notes. For Teddy, it was an opportunity to step into the spotlight and also learn much about the business of music, but offstage, he was growing displeased with Melvin's leadership in terms of compensation and recognition. Royalties and payments from concert dates were unfairly distributed, and, making matters worse, audiences were confusing the main attraction on the stage with the name on the marquee. "In clubs and places we would work," Pendergrass told NPR, "they would come up to me and go, 'That was a great show, Harold.' And I'd say, 'I'm not Harold—that's Harold.' And people would just kind of look, like, 'Huh?'" 
By 1975's To Be True LP, the billing was "Harold Melvin and the Blue Notes featuring Theodore Pendergrass." Disgusted with Melvin's business practices, Pendergrass would quit the Blue Notes later that year. 
"If there wasn't no Teddy, there wouldn't have been no Blue Notes," says singer Charles Mintz, who recorded with Pendergrass in the mid-'60s under the direction of Uplook's Lawson and producer Jesse Herring. "And if there wasn't no Teddy, there wouldn't have been no big-time Kenny Gamble and Leon Huff either." 
While it's not certain where Gamble and Huff would have ended up without Pendergrass on their Philadelphia International roster, the wealth and depth of his talent was a soulful reality that would have never gone overlooked. "His voice just roared over you," says writer and producer Huff. "He had that baritone voice, but Teddy was raw. I think Teddy really knew how good he was, but he started as a drummer who sang in the background. 
"I remember saying, 'Gamble, this guy's got a sound.' Eventually, he came to Gamble's attention, and we started working on him." Pendergrass signed with Philly International as a solo artist in 1976, and what followed was the start of one of the most successful careers—commercially and creatively—in R&B history.
Pendergrass is one of the few original Black-music superstars that fans are privileged to have alive and well to share their history and discuss the changes they have seen take place in the industry, from past to present. On this day, he was in Chicago promoting the stage adaptation of his life story, I Am Who I Am, at the Black Ensemble Theater, and the play begins with his departure from Harold Melvin and the Blue Notes. It's a fitting commencement. "Featuring Theodore Pendergrass" was more than just the acknowledgement Pendergrass desired. It was the shape of things to come.
"That's why I'm here," Teddy explained toward the end of our interview, referring to the play, "not to do a retrospective of my life." What he did share was some of the passion and tenacity that prompted his split with Melvin and ascension to stardom. As we talked of expectations we both had regarding the conversation, it was suggested that I change mine. Coming in, however, I had none to change. "Maybe you should have," said Pendergrass, and perhaps he was right. The Teddy Bear of the late '70s and early '80s was a much different man today. I should have expected as much.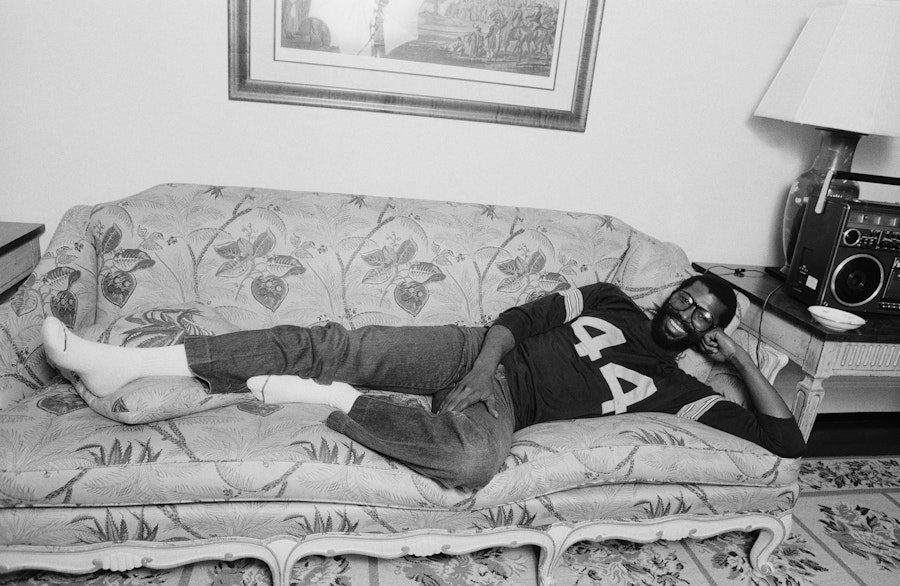 I wouldn't move back to North Philadelphia for anything. Teddy Pendergrass
What was it like growing up in Philadelphia?
I don't know—what do you say about your own hometown? It was very natural and nothing special to us. It's more of a neighborhood, Philadelphia. While it's not a neighborhood, it is built from neighborhoods—South Philly, West Philly, North Philly—all these different sides and all these different cultures from each area. It's still very natural to us. It's small. It's a big city, but it's a small town, because you kind of know everybody. So growing up in Philly, it was very comfortable—very natural. It had its drawbacks, because of the gang situations, but I think every major city had its drawbacks in those areas.
And a lot of the artists who grew up in Philadelphia stayed in Philadelphia—all of us. Bill [Cosby], Patti [LaBelle], me, Grover [Washington Jr.], Jill Scott—everybody stays in Philly because it's love. Rather than to move to New York, which I tried to do for four months and couldn't do, or move to L.A. Will Smith is probably the only person that doesn't live in Philadelphia, and he has a home in Philadelphia. He just doesn't stay there. 
And Will wears his love for his hometown on his sleeve—often, literally—so he hasn't forgotten where he came from. 
It's not a matter of forgotten. It's a matter of choice. I would like for people to get off of that, because if you make a change in your life, suddenly you're criticized for doing it. If you stay, then you're questioned as to why you did it instead of going somewhere else. And I would really appreciate it if people—particularly the media—get off of that. I don't appreciate the media questioning or commenting on where or how or what we do. What we owe you is the music, and our thoughts about the music. That's what we owe you—not stories about where we live and lie. That said­—Will is extremely Philadelphia. Overbrook Farms is where he grew up, in the Overbrook section of Philadelphia, so he's straight Philadelphia. He chooses to live where he works, as well as in any other home that he may have around the world. It has nothing to do with forgetting where you come from. I think there are people, who are not in showbiz, who forget where they come from in terms of staying close to your relatives and understanding your background in doing for those and helping those. That's forgetting where you come from, not because you don't live in the hood anymore. I wouldn't move back to North Philadelphia for anything, and I've been accused of forgetting where I come from because I live in the suburbs, where I've been for thirty years. So that's why I'm a little sensitive about that. 
What you just spoke of regarding Philadelphia and the comfort and love you felt there, how was that reflected in your music? 
It was everything, because all of us—[Kenneth] Gamble and [Leon] Huff, and [Gene] McFadden and [John] Whitehead—were from Philly. And many of us had known each other from childhood. It was like Motown in Detroit. Smokey Robinson and the Miracles, and the Supremes, and the Four Tops, they were all from Detroit. They were all homegrown people. That's why the music came so good there, because they all knew each other. Motown moved to L.A., so a lot of them moved to L.A., and a lot stayed in Detroit.
But the music of Motown wasn't really the same after the move. The company seemed to lose that insular sense of "home" that it had in its first decade. 
Berry Gordy couldn't stay in Detroit. Motown Records got to be a huge, huge industry. What are you going to do, keep that on the streets of Detroit? Motown just expanded and got bigger and better when it moved to California. I don't know why you would think that it wasn't the same. There were a lot of other artists, like the Commodores, and the music got to be more than just the local people from Detroit.
I say that because from what I've learned, the Motown sound—that "sound of young America" they had throughout the '60s—began to change upon moving to Los Angeles, when you consider the people who left the label and the new direction Berry Gordy was taking the company in. 
You can't stay the same year in and year out. It's like keeping the same clothes that you wore in 1960 and still wearing them in 1980. You can't do that, ever. Because then you're accused of not understanding change. Music changes, it evolves, so you're going to change with it. Case closed—next subject. 
My rehabilitation was totally due to the fact that I could still focus on continuing to make music. If it were not for that, I don't know where I would be.
I like the way you're directing this, sir. It's like being yelled at by my father.
I just like to give you the real information. When you make a comment to me, you're talking to somebody who knows what he's talking about. I have to make sure that you're clear, so you're not perpetuating the same myths. 

Thank you. I appreciate that. Next subject—you went from being a backup drummer to one of the most popular artists in the world in a relatively short period of time. How was your career progressing from one stage to the next?
Each thing I did was a big step. Going from playing drums in a little after-hours club to getting a job with Little Royal [Torrance] and traveling to Halifax, Nova Scotia. A little Black boy from Philadelphia going to Halifax, Nova Scotia when I was eighteen…I'd never seen that many White people in my life. That was a big jump. From there, to coming back and getting a job with some other guys, then being hired by Harold [Melvin] to be part of the Blue Notes and going to islands and the French West Indies and all over the Caribbean, that was another big break for me. That took me to another level. After we got a record deal, of course, that took me to another level. So I think [that with] each stage of my life, it's all relative. Each experience just took me to another level.
What is the difference between this Teddy Pendergrass [cover of Harold Melvin and the Blue Notes' 1972 I Miss You LP] and this Teddy Pendergrass [cover of Pendergrass's 1979 Teddy LP]?
About…
And not just age. 
The difference between not knowing your potential and having found your potential—the difference between just getting involved in a group, and being a team player, and having understood where you belong and where you need to be and getting there, on your way to what you became.
Specifically, what did the older Teddy Pendergrass know that the younger one didn't?
That's why the older guy left [the group]. I learned that I needed to go. 
After your accident, how much did music factor into your rehabilitation?
My rehabilitation was totally due to the fact that I could still focus on continuing to make music. If it were not for that, I don't know where I would be. 
Your roaring, baritone voice had great appeal, but many of your fans were attracted to the megasexual persona you expressed on record and in concert. How much of that is really who you are, and what was the motivation for having it become a musical personality of sorts?
You want me to answer how much is real? What do you want me to say? "Oh, fifteen percent!"
Well, some of today's artists craft images in accordance with what they believe to be marketable and what will sell records. I was three years old in 1978, 1979, so I can only speak on the current climate. 
I'll help you with that. I wouldn't sit here and tell you a percentage. I wouldn't tell you I crafted it. I'd be stupid to sit here and tell you I crafted it. I'll tell you this—do you have any older female relatives?
I got my moms and my granny, and two older sisters and a lot of aunties. 
Then ask them. The only thing that matters is what they think, not what I sit here and tell you. Because if I tell you all of it was real, you're going to say, [sarcastically] "Yeah, okay." And if I tell you fifty percent I crafted, you're going to say, "I knew it wasn't real!" That's a no-win situation for me. 
It's not a matter of winning or losing. I'm a student of this music—your music—and I'm a fan before I sit here as a writer, or media, or whatever. So what you tell me, I take as your word. I just ask that you be honest.
Ask, ask, ask your older female relatives. If you were three in 1978, you need to ask someone who was about ten years old.
But I would just be getting their interpretation… 
That's all that matters. 
Okay—fair enough. 
That's really all that matters. Be a student, and ask them. That will tell you all that you need to know, not me giving you a percentage, because I can't give you a percentage. I'm not one of these kids out here who are vying for attention. I don't want to say any names, but I'm not running after the media to get them to snap pictures of me as I go to do this or that. That's manufactured. 
I guess that was the intent of my question…
Well, that's my manager, there. If you're going to ask anybody, ask him.
I mean, is it…
No, ask my manager right there!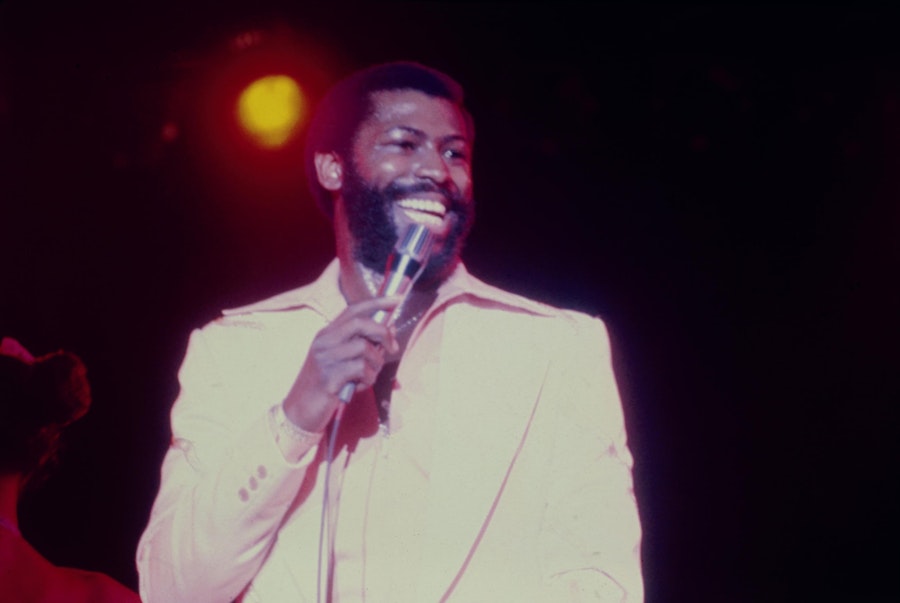 [to manager, Daniel Markus] Was this the case with Teddy at the height of his career? 

Daniel Markus: Well, I think you put an artist into a shadow box, and you put the angle on it that you want to be seen. His was shaped, but it was based on a reality. He had the magnetism. He had all of the tools. He was tall, he was good-looking—he still is, of course—but at that time he could sing, he could move, he could play percussion. He could do it all. A lot of the shadow boxes of today are covering, probably, some weaknesses and highlighting the positives, whereas his was, "What you see is what you get."
Something else we have today are American Idol–type, overnight-success stories. [to Teddy] Do you think that works for or against contemporary artists? 

Teddy: American Idol is an opportunity. It is a way through the door. And the good thing about it is that you don't have a lot of kids. Well, this year [2008], they have a young guy who's an incredible singer, but most of the time, these are seasoned artists who have already been out there struggling. And this is a handout in a major way. If they have a chance to make it on American Idol, it's just a major thruway to the business. What happens after that, I can't speak on. I have nothing but good things to say about American Idol. I won't speak on Randy, Simon, or Paula's personality, but the show, in and of itself, it's no different from the Dick Clark shows in the '50s when artists got a chance to glow. These are amateurs—with Dick Clark, you had to be a professional—but exposure is exposure is exposure. It's exposure that made the way, so that's good. Artists who are not willing to learn who they are, and understand who they are, will have a problem from the beginning. No amount of exposure will expose another angle. If you're not clear about who you are, you're not going to be very good.
And consequently, you won't be very successful. It's kind of a self-regulating mode of quality control. 
That's the nature of the business. There isn't room for everyone. On a weekly basis, I can't tell you how many records are released, and ninety-eight percent of them never get heard. It doesn't mean that they weren't good. But the ones that get heard, those are probably the best of the bunch or the ones that had the best people around them. 
Ninety-eight percent is potentially a lot of talent to go unheard, because you have a lot of artists who think they have a shot.
You're supposed to feel like you have what it takes to be the one who overtakes the crowd and leaps off of the page. 
And there's only so much music that people can listen to.
There's only so much time on the radio. How much [music] are you going to purchase?
How much am I going to purchase?
How much would you purchase?
I'd buy music every day if I could. 

New music?
Indeed. 
Then you're one of the few. 
But I find greater satisfaction in the music from your era than I do in the music of today. With the changes in the industry—the digital age, the Internet—even since the early to mid-'90s, it's very easy for someone to call oneself a musician without actually being one.
Because it doesn't take a musician to play a track. It takes a guy who sits there at a keyboard and presses one note. But that doesn't mean it's not a valid idea. And also in terms of budget, record companies are struggling. There aren't the budgets to get the greatest guys to sit there and play for five, six hours until they get it right. Now, these guys are going and sitting in a room and working it out. But then that's the culture they've gotten accustomed to. They don't want lushness. They just want to have a track. I like composition. I like things that are going to be around and say something, not just a track that's just a beat or something you can bob your head to that has no substance. But that's me. The culture now, we're listening to all of that, and that's what everybody is growing accustomed to. You're one of the different ones. You still appreciate quality. 
I read something this week in the Chicago Tribune where you mentioned that your music is just a snapshot of who you are…
I think that was about this Essential Teddy Pendergrass CD, so quote it right. Back it up. [makes rewind noises] Rewind.
Okay…
It's a good thing these are the 2000s, and I can remember all of this stuff. 
I'm glad someone does. So, what else is Teddy Pendergrass besides his music?
A whole hell of a lot more. Me, particularly, I'll speak for myself—my music just talks about the things I believe in. So I have to know and do the other things in order to know what to sing about. And it's more than "Close the Door" and "Turn Off the Lights." It's a lot more. You're the old-school philosopher, so all you have to do is go listen to the music, and you'll see everything that I believe in. And if that is a snapshot of who I am, then that means those things I sing about must be a part of my life. So then, that's a snapshot on record. That means, if I carry everything out through, it's got to be more than just what you hear on record. I just made sure I found the songs to fit who I am.