Wake up, everybody, no more sleepin' in bed 
No more backward thinkin', time for thinkin' ahead
The world has changed so very much
From what it used to be so
There is so much hatred, war, and poverty

Wake up all the teachers, time to teach a new way
Maybe then they'll listen to whatcha have to say
'Cause they're the ones who's coming up
And the world is in their hands
When you teach the children, teach 'em the very best you can

The world won't get no better if we just let it be
The world won't get no better, we gotta change it, yeah, just you and me
Harold Melvin and the Blue Notes' story begins in Philadelphia, Pennsylvania, in 1954. During this early phase, they were known as a quintet and Melvin was the ringleader, handling the duties of being the main choreographer, arranger, songwriter, and lead singer. 
Two years later, the group was signed to Josie Records and continued to perform around the Philadelphia area where their popularity rose to extraordinary heights in the late 1950s and early 1960s. For the next few years, they recorded singles for several local music labels. Their original lineup included Roosevelt Brodie, Franklin Peaker, Jesse Gillis Jr., Bernard Williams, and Harold Melvin. Around this time, Kenny Gamble befriended Harold Melvin and his brother Calvin Melvin. While the group underwent a series of personnel changes, they recorded a couple regional hit songs, "If You Love Me" and "My Hero." By 1965, the group fractured into two different groups, which left Melvin with the opportunity to restructure his vision of the group. He replaced Bernard Williams with lead vocalist John Atkins and within the same year, this new version of the group scored a hit record, "Get Out (And Let Me Cry)" on Landa Records. For the remainder of the decade, they cut records on different independent labels such as Arctic Records, Checker Records, and Uni Records, and new members shifted in and out of the lineup.
As fate would have it, the group began touring with New York–based group the Cadillacs in the late 1960s. The drummer for the Cadillacs would eventually become a household name for Harold Melvin and the Blue Notes. His name was Teddy Pendergrass. To increase the group's prospects, Melvin recruited Pendergrass to join the Blue Notes as a drummer in 1970, but the young Pendergrass soon took over as lead singer—and former lead Atkins would leave the group. During this juncture, Melvin's decades-long friendship with Kenny Gamble was on the verge of becoming a match made in musical heaven. Once Melvin was able to re-form his group again by adding the vocal talents of Lloyd Parks, Bernard Wilson, Teddy Pendergrass, and Lawrence Brown, he secured a record deal with Gamble and Leon Huff's burgeoning label Philadelphia International Records in 1972. 
In 1972, the group released their first album for the new label, I Miss You. Their first hit single, "I Miss You," introduced them to a larger audience, but it would be the next single, "If You Don't Know Me by Now," that elevated them to the top of the Billboard charts. The album was soon reissued as a self-titled LP with a different cover. The following year, they struck gold again with their sophomore effort, Black & Blue. The album featured another #1 hit, "The Love I Lost," and a top ten hit, "Satisfaction Guaranteed (Or Take Your Love Back)." Through their partnership with ultra-talented producers Kenny Gamble and Leon Huff, they broke new ground by ushering in a new sound on "The Love I Lost," which would later be considered the blueprint for disco. 
In 1974, the group underwent another member change, replacing Lloyd Parks with Jerry Cummings. A year later, vocalist Sharon Paige would come into the fold to complement their overall sound and structure, resulting in two albums being released that year. To Be True, their first album in 1975, became their first gold-selling album, featuring the hits "Bad Luck," "Hope that We Can Be Together Soon," and "Where Did All My Friends Go." 
These triumphs laid the groundwork for their next album. On November 13, 1975, Wake Up Everybody would be released by Philadelphia International Records, and it became the collective's first platinum-selling album. The record would spawn three singles, "Tell the World How I Feel About 'Cha Baby," "Don't Leave Me This Way" (which Tom Moulton would later famously remix for the dance floor), and the #1 hit "Wake Up Everybody." Crucial to the album and the songs' successes were Kenny Gamble and Leon Huff, who forged their songwriting and business partnership several years prior. For Wake Up Everybody's forty-sixth anniversary, we spoke with album architect Kenny Gamble, who explained to us in great detail how Harold Melvin and the Blue Notes recorded this timeless classic.
Wake up, everybody

Need a little help, y'all

To change the world

From what it used to be


Can't do it alone

Need some help, yeah


Wake up, everybody

Get up, get up

Wake up, come on, come on


Wake up, everybody

Teach a new way

Maybe then they'll listen

To what you have to say


Wake up, everybody

No more sleepin' in bed

No more backward thinkin'

Time for thinkin' ahead


Wake up, everybody

I'm talking about the dope pusher

Stop pushin' that dope

Dope users

Stop usin' the dope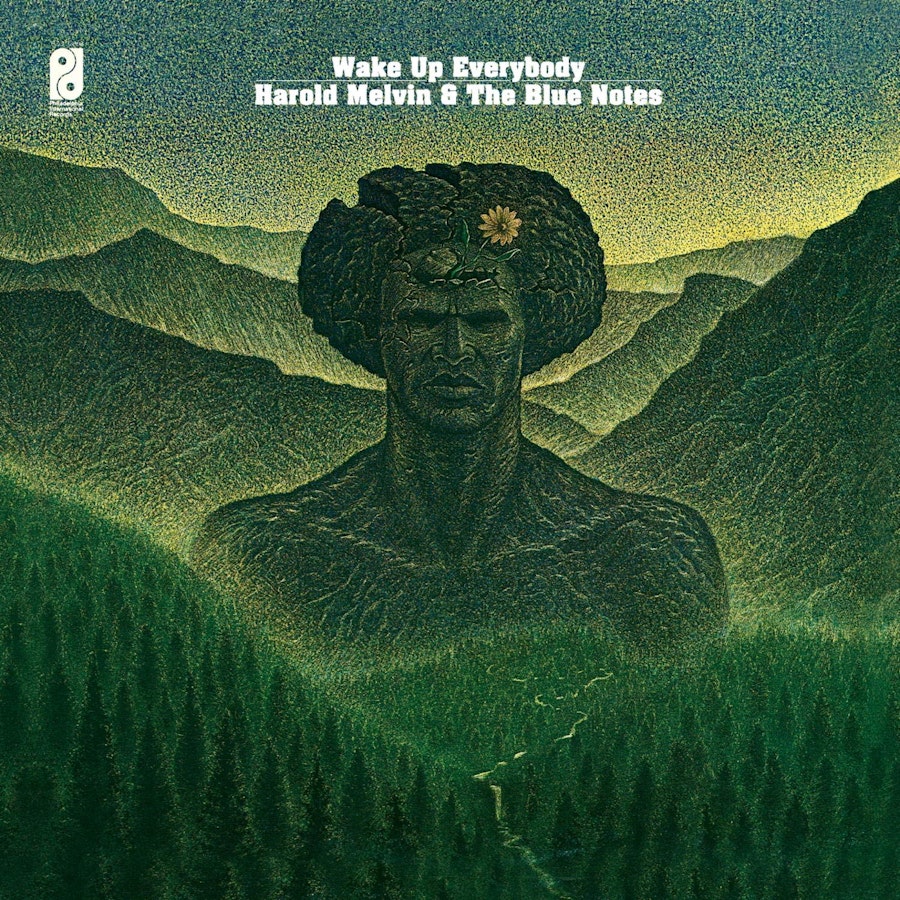 How did you discover and sign Harold Melvin and the Blue Notes to Philadelphia International Records?
Kenny Gamble: Let's talk about Harold Melvin, because he really was the Blue Notes. He was a genius, and he used to perform at the Uptown Theater [in Philadelphia] when he was very young. The Blue Notes had been around since the '50s, really. And Harold, he was one of the youngest ones of the Blue Notes, and they used to be a crowd-pleaser at the Uptown Theater. I knew Harold and his brother, Calvin Melvin. Me and Calvin went to Barratt Junior High School together. Calvin and I were good friends, and we used to work together in school. Then, I met Harold. We found out that we both loved singing and loved groups. All the groups from Frankie Lymon and the Teenagers and all that kind of stuff. We had a common interest and that was singing and then writing songs and whatever. In my view, Harold Melvin was a very talented person, and he was the kind of guy that could take me and you, brother, and put us in a group, man. We would be the Blue Notes, me and you. [laughs] He could do it. Harold Melvin could take anybody. Give him thirty days. He would have you in a tuxedo, patent leather shoes, and have you dancing on the stage. He was great. God bless him. He passed away now, but he was a great man.
How did you sign the group to Philadelphia International Records?
He used to come around to Philly International all the time. During the days when we had our band, which was Kenny Gamble and the Romeos, we used to perform in Lawnside, New Jersey, every weekend. Harold used to come over, and he'd bring the Blue Notes over and they would sing. [Future songwriter and producer] Bunny Sigler would be there, and he would sing. Earl Ward and another guy who used to be there all the time and a few other Philly attractions. We had a great band. Our band was an exceptional band with Thom Bell, Leon Huff, Roland Chambers, Karl Chambers, and Winnie Walford. It was MFSB at a young age. These guys were really great. They would all come over, and they would do a couple of numbers. I didn't have to do anything, but they were doing all the singing. I really didn't like singing that much on the stage because everybody was watching you. They wanted you to do something. They wanted you to jump up in the air, and they wanted you to do a split. [laughs] I used to walk off the stage, man. We'd have a good crowd or something like that, and we had a great band. We harmonized very well and sang really good, Thom B. and [Leon] Huff and all of us. I really liked when we started to write and rearrange songs. That was the best part of it for me.
That's how I met Harold Melvin. We established a common bond, which was music, and Harold had a lot of experience because he was with the Blue Notes in the '50s. I guess he was at least about six or seven years older than me, maybe. It was really good just to know him. One other thing, too, is that he had Richard Barrett and the Three Degrees and all of these people. It was like a music community, and we used to meet up from time to time and sit down and talk about what we would like to do and where we'd like to be in the music business, and how we planned to get there or whatever. It just worked out. We all worked together and that was the way we got into the music industry.
When and where did you meet your longtime songwriter partner, Leon Huff? 
I met Huff at the Shubert [Theater] building. It was on 250 South Broad Street. He was working on one floor, and I was working on the other floor. I was kind of learning how to write songs. I was working for a guy named Jerry Ross, and Huff was working with some guys named Johnny Madara and Dave White. We met on an elevator. While we met in that elevator, we started talking. We didn't see too many African Americans there. I know I only saw three Black people at that building when I was there. I used to ask him, "What are you doing in here, man? What are you doing?" He replied, "Well, I work down here," and I said, "I'm trying to get in here with Jerry Ross." One word led to another, and we both were trying to do the same thing. So one day, he said, "Maybe one day, we'll get together and let's write a song together." One day, I went over to Camden, New Jersey, where Huff lived, and we got on that piano and that was it, man. Those songs came so easy. It was a blessing from on high. I said, "Wow, this is much easier." I was a lyricist, and I could play a little bit of piano. I could play enough to get the melody and everything out. Huff was a keyboard player, and he was strong at playing the piano. I was stronger at writing the lyrics, so it made it easier to write songs when there were two people. It was all about teamwork.
When you all established Philadelphia International Records, was it a long process to get the label started and sign Harold Melvin and the Blue Notes to a record deal?
Well, we had a couple of labels before Philly International. We had Gamble Records, which we established in 1967. We had the Intruders, the Cruisers, and Dee Dee Sharp. We had a real good group of people, and the industry kept changing. At one point, the industry was made up of independents, and at Gamble Records, we had our own distribution; we had everything. Then the independent distribution closed down, and we had to find another way to distribute our records. We wound up going with CBS Records and Columbia Records as a distributor. That's when we created Philadelphia International. Philadelphia International was distributed by Columbia Records. In doing so, it gave us a few benefits, because it was worldwide distribution; and I think that we were better at writing and producing, finding artists, and creating songs, rather than the administrative aspects of the whole thing, which was a worldwide setup. We were best at finding the talent, and CBS was a machine that was good at worldwide distribution, and it worked. At that particular time, we could expand our operations and get more artists. We could get the O'Jays, Harold Melvin and the Blue Notes, the Three Degrees, and a few other artists that really did well when we got Philly International.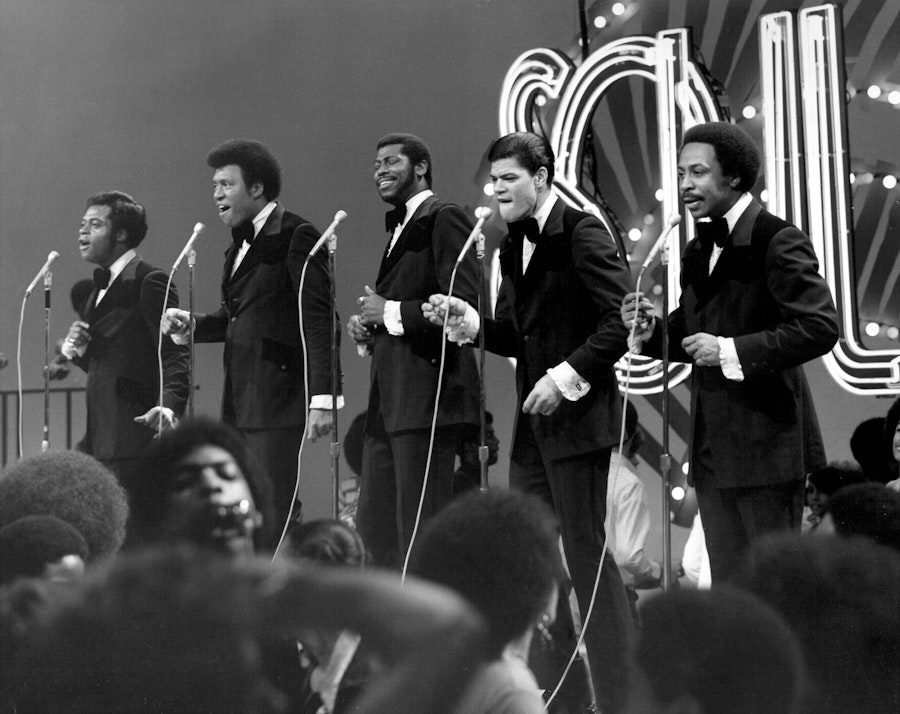 To Be True came out early in 1975, which would make Wake Up Everybody the second album that came out that year for Harold Melvin and the Blue Notes. Would you say that the incidents transpiring in the country at that time provided a way for you all to really express on record what was going on in the United States at that time?
At the time, Philly International, Gamble and Huff, Thom Bell, and all of us were like a machine. We were just writing songs and producing records all day, every day. We seemed to have used current events as a lot of the material for our songs. The Stylistics had a song called "People Make the World Go Round," which was kind of like in that same bag. The number one record of all time is Marvin Gaye's "What's Going On" and number two is "Wake Up Everybody." I've got a high regard for [the latter] song and a high regard for [Gene] McFadden and [John] Whitehead. They were the ones who wrote that song. [Leon] Huff and I produced it, but they wrote it. We helped them in many ways to write the song, but it was a fantastic collaboration for all of us to work on together. With Teddy Pendergrass being a feature on that album, it was another thing that gave the group a wide range of talents. 
First, it started off as the Blue Notes, and then Harold Melvin and the Blue Notes. Then, it was Harold Melvin and the Blue Notes featuring Teddy Pendergrass. Then we changed it again to Harold Melvin and the Blue Notes featuring Teddy Pendergrass and Sharon Paige. [laughs] Everybody was moving so much. Put everybody's name on it. [laughs] But it worked. It was beautiful, because the thing of it was, like at the beginning of our conversation, Harold Melvin trained all of them people. A lot of the time, the people didn't know who Harold Melvin was because they would see Teddy Pendergrass out there singing. He was singing his heart out. There's nobody to even compare to Teddy Pendergrass in those days or even right now. I don't know nobody that can even compare to Teddy Pendergrass. The guy was unbelievable. 
Teddy Pendergrass used to be the drummer for the group, and I know he moved to front man status after you all heard his voice. Is that story accurate?
Yes, it was me and Huff. He was rehearsing one day, and I was on my way into the office. I called Huff, I asked, "What's happening?" And he replied, "Man, wait until you get in this office, man. Harold got this guy who used to play the drums with him singing. You ain't never heard nothing like this guy." I was excited. I was trying to get there as quick as I could get there. Once I got there and I'd seen Teddy, because I had seen him around before, and when I listened to him, I said, "Man, listen to that voice. God." He was with the right man. He was with Harold Melvin, a guy who could tell him how to walk, how to talk, how to be a star, on and off the stage. Yes, I was happy when I heard him singing. It was great.
Incredible.
The first song was "I Miss You." It was a great one. Teddy was a big part of the equation. He was the kind of artist that you just wanted to keep recording and recording. That's why we probably put two albums out on him that year. One was in the spring and one was near the holidays because that's how you have to market to our people. They promote these holidays, especially around Christmas. They'd buy everything they could get their hands on and try to get Santa Claus. [laughs] Hey, man. It's unbelievable.
You're correct, because To Be True came out in February.
February, right. CBS Records didn't want to put Wake Up Everybody out. They said it was too close. I told them, "You don't know what you're talking about." They said, "Nobody's going to buy no albums around Christmas." I responded, "You don't know what you're talking about." They don't know our people. They don't know Black people at all. They think they do, but they don't. When we put it out, I think the first couple of weeks shocked them all. But I've got to give it to them. They admitted that they didn't know, because when we had a song like, "Wake Up Everybody," boy oh boy, they don't come around that often. The other thing, brother, was the artist [Edward Soyka] who drew that cover. It was unbelievable. The way he displayed the graphics and the Wake Up Everybody title was beautiful.
We had a lot of great covers because we had this guy who used to do our [design] work. His name was Ed Lee. He was an Asian brother. One day, I told him, "Listen, Wake Up Everybody is the theme for this thing here." He would take that title and create something magical out of it for the cover just like the O'Jays' Family Reunion album. I don't know if you've seen the cover for that. It was the same thing. He did something great with that cover. The other one was Ship Ahoy. 
Can you describe the collaboration process that existed between you, Leon Huff, John Whitehead, and Gene McFadden to mold this particular album?
One of the things that we did was rehearse. A guy like Teddy would come in and rehearse. We would be rehearsing them for maybe two or three weeks just to make sure that he could learn these songs. It was a big difference when an artist knew the song and went in the studio, instead of shuffling the papers and trying to find things. The process would be that me and Huff would write maybe ten songs for an artist when they'd come to the studio, and we would rehearse them. Then, McFadden and Whitehead would write maybe ten songs. Then, Tommy Bell might write five songs for them. Then, Joe Jefferson and Bruce Hawes and all those guys would write something. So we had about thirty songs.
The artists would come to Philly and they would stay for at least a month. We would take them in the studio and work on the songs. This was done to give their voices a break. They didn't have to be onstage hollering and screaming. They could relax themselves. That's how we used to do it. It was a beautiful process and the beauty of it was that, when you look at those albums and listen to the albums, you will see that it actually really worked. Even the engineers and the people that worked with us in the technical aspects of things were great, like Joe Tarsia and Sigma Sound Studios. We had a great team, and I think it takes teamwork to get something that was this great.
Did you all have conversations in the studio while writing these songs for this particular album?
No, these songs were already completed by the time we got in the studio. When we got in the studio, we had to translate these songs into music because the musicians never heard of them yet. So we'd be in the studio with a piano and the group. We'd be translating to the band how we felt that a song should go. It was a great process, and just about every time, the song would sound even better when we got the band with it.
Could you describe that process when you worked with the band to get them up to speed on the songs?
Oh yes, absolutely. We'd sing it for them. We'd show them different figures we'd like for them to play on different instruments, like the bass line and guitars and the bongos. We had an orchestra. MFSB was our orchestra. Then, the key of it was once we'd do the piano, the bass, the drums, the congas, and the vibes—these were like the tracks—and once we'd get them laid down, then we would put the voices on it. We'd put the voices on it and then you would have the track. You'd have the voices, and then what we would do was, we would go back in that studio, and we'd put the strings or the horns and all the other little percussions and all kinds of stuff on it. It was like dressing it up after that and taking stuff off. We'd take stuff off and we'd put stuff on. So that was great. During those days, we were working with a two-track in the beginning. Then it was four-tracks, and then it was eight-tracks. Man, listen, how many tracks can you get today? There's no telling with Pro Tools. With Pro Tools, you can get eighty or a hundred tracks if you wanted to. [laughs] But it's great to see the technology moving. It's moving in the right direction, I believe.
For this particular album, what was the typical day like in terms of the studio routine you all had? 
With the musicians, we would start early in the morning. We'd start at about ten o'clock, and it would be really relaxed. We wouldn't rush anything. Sometimes, we would get the groove right away and, sometimes, it might take us a whole day or two days to get something right. With "Wake Up Everybody," it was the mood on that record. When you turned it on, you were going to say, "Something's getting ready to go down." [laughs] These jokers weren't playing. [laughs] Just like "If You Don't Know Me by Now," that was another good one. See, these were great songs, man. We were really blessed, man. I'm thankful that we all were able to work together. Bunny Sigler was great to work with. God bless him. That's the way it went. It went like that, but putting the voices on was really the easiest part. It was the easiest part because we had been rehearsing with the artists for a couple of months, so they knew the songs. It was just a matter of doing them the right way in the studio.
With the guys in the band, you would work with them beginning around ten o'clock in the morning. When would the group usually come in and when would you all wrap up for the day?
I think that the artists would come in between ten and eleven o'clock. Everybody would start filing in. By at least twelve o'clock, we'd be ready to roll. A lot of the times, our artists had not even heard of the new additions to the music that we did. They would be getting used to it with the different instruments that we'd put on there. Those instruments would embellish a song and make it sound better. It was interesting. We would leave around midnight. Sometimes, we'd be in there all day and all night. A lot of times, when we put the lead vocals on, we would do that at night, because they were used to working at night. The artists were used to working at night and sleeping during the day, so we would do a lot of the overdubbing of the vocals at night.
Where would everyone be positioned in the studio during the recording process? 
The band had their positions inside of the studio. Me and [Leon] Huff and some of the other guys would be in the control room where everything was at, which was good because we all could hear what was going on. If we had four sets of ears on it, we could hear if there was a flat note. So we'd try to keep it together. We didn't have no flat notes or no sharp notes, because you got to live with them jokers if you do, man. [laughs] You got to live with them for the rest of your life. If was a hit, we'd say, "Oh, man. I shouldn't have been rushing it. I should have corrected that back then." But it's all good. I think we did a good job. Most of our records were well balanced.
In the early 1970s, there were several albums that came out that had sung about the harsh realities that Black Americans were facing at that time. Did you receive any kind of hesitation from CBS Records in releasing Wake Up Everybody?
I don't even think they really even noticed it until later on. You know what I mean? What we were doing with the music was sending messages. We weren't doing it to hurt nobody. We were doing it to help, because that's the way we felt. I think that the one album we got the most pushback from CBS was the O'Jays' Message in the Music. That album cover had the tribe of Zulus on it. Man, listen, somebody from CBS at that time asked, "Who are these people?" I answered, "That's the Zulus, man. What are you talking about, who is it?" But for the most part, they never really bothered us with anything, because it was all done in good taste from what I could see in it.
Wake up, yeah


False lyin'

False preachin'

False teachin'

Wake up, y'all

Come on


You preachers

Start preachin' what you teach

Teach the truth

Wake up, preachers


All liars

Politicians

Stop lyin'


Why don't somebody

Help the poor people

Help the babies


You businessmen

Start treatin'


Wake up, yeah

Wake up, yeah


Ain't don't matter

What race, creed, or color

Everybody we need each other


Wake up, everybody

Well, you see

We need

Wake up, everybody


We need

No more sleepin' in bed

No more backward thinkin'

Time for thinkin' ahead


Wake up, all you teachers

Time to teach a new way

They're the ones that suffer

Each and everyday


Teach the children

Teach the babies


They are the ones who's coming out
What was unique in the process of recording straight to two-inch tape at that time?
It was terrible because if we made a mistake, we had to go back and start from the beginning again. The technology is so much better today, because you can edit. Just the editing process today makes everything worthwhile. It's unbelievable because we used to edit our tapes from the back. We used to have tape all over the floor. It would be all over the floor, and we'd have to go and find where to cut the tape. If we cut it one-sixteenth of an inch, or whatever, too short, we had to go back and do it all over again and edit it all over again. 
Earlier you mentioned that you and Leon Huff would write ten songs, Thom Bell would write five songs, and John Whitehead and Gene McFadden would write ten songs. 
Oh, yes. We were all working together. On a song like [the Intruders'] "I'll Always Love My Mama," McFadden and Whitehead was working it. I came in the door that day and I said, "Man, let me get in on this song!" That's the kind of song that hits you right in the heart, you know what I mean? "I'll Always Love My Mama" is a song that will be around forever. In no way can I explain how those elements came together, except that it was meant to be, and I'm really happy to have been able to get in on it. There was another [songwriter and producer] there with us. His name was Victor Carstarphen. We had fun, man. We had fun, and we respected one another. Once you get to that point, then you can do a whole lot with music. You can make people laugh and you can make them dance. It was a great thing.
I agree. When you all were working at Sigma Sound, what was the studio setup like back then?
It was set up beautifully. We didn't have to worry about any technology because of Joe Tarsia, his son, Mike Tarsia, and Jay Mark. It was the whole staff that Sigma Sound had. We had three studios that we worked in, and they were booked twenty-four hours a day. The studios were spotless. They had the best equipment that you could find in the industry, so we were lucky. We had known Joe Tarsia for years and years. Nobody was new because everybody was familiar with each other. That's what made it good, because everybody was making it a little bit. That's what everybody wanted to do. How blessed can you be when your dreams come true? You should have no complaints if your dreams come true.
If you were to take us on a tour of what Sigma Sound looked like on the inside, with the three rooms, how would you describe it?
It was in two buildings. The first Sigma Sound Studios was on 212 North Twelfth Street over here near [what's now the Pennsylvania] Convention Center. It was called Sound Plus back in the early days. Then it became so busy and everything. We needed more facilities, because you needed storage too because you had to store those tapes. We had all of these tapes and master tapes. We had all this stuff, so we had to find more room. So we had to buy the building over at 309 South Broad Street. We were able to put another studio over there. We'd lease some space out to Sigma Sound, and they put a studio right there. We didn't go over to 12th Street that much anymore. I was basically working out of 309 South Broad Street, which was beautiful. Those studios that were over there were an upgrade from the Cameo-Parkway [Records] days. Cameo-Parkway was unbelievable. Cameo-Parkway had Chubby Checker, Dee Dee Sharp, the Dovells, and Len Barry. They had all of these great artists. It was a beautiful ride, I'm telling you, man, and it's still going. I love it. It's great. I mean, I've got you here interviewing me and everything too. [laughs]
For this particular album, which room did you all record mostly in at Sigma Sound?
We recorded Wake Up Everybody in Studio B. It was a smaller studio downstairs, because I can see it right in my eyes right now where we were at. I remember that day. That was a beautiful day. We were kind of close in there, because that was a smaller studio than Studio A upstairs. But we kept going in that studio. We started to move it upstairs but when we did, we said, "No, let's keep it here because it feels good." 
When you all were recording in there, where was the group and the band located at?
Just the band was in there. Teddy might have walked in later on, just to make sure the tempo and everything was right. We very rarely recorded live vocals with the artists and the band, because the microphones would be open and you would get the bleed-in from the band on the artist's mic. It would be hard to mix it later on because you'd have that sound coming in. We used to have some small speakers that we used to use if we were making a demonstration record, but I preferred not to use vocalists while we were using the lead singers on there because it messed up everything. It messed up the sound. 
So you all had separate sessions with the singers versus the band.
That's correct. We had separate sessions. 
In terms of the melodies and the harmonies for the songs on this album, who took the lead in coming up with them?
I wouldn't be able to say who did what. All I know is that once we started grooving on it, that was it. I'd say I think that we all complemented each other.
How did "Wake Up Everybody" come together?
Well, that song is self-explanatory, because it is the way the world is right now. People living in darkness. They're living in darkness right now, because they're not treating each another with love and affection. People are killing babies. They are killing and shooting. The bottom line of all this stuff here is that if you don't take care of your young then, who will take care of you? We must take care of our young and train them and teach them. Education is the number one thing. It always has been and always will be. We've got to teach our young. We've got to teach them how to survive and how to deal with one another so that they can survive, because otherwise, they won't survive. People had to and still have to wake up. I remember the day that we set foot in that studio, and when I heard them chords, I said, "Man, that's it. This is going to be a monster."
What was that day like?
Oh, man. It was a blessed day. Look what happened that day. Look what was born that day. This song was born that day and it's still living. God willing, it'll still be here another forty-five years. You're writing something up on it, and somebody else is probably writing something up on it. They're trying to stop the world from growing, but they're not going to win. The world is too powerful. The Creator is too powerful to let these feeble-minded humans destroy this great creation. There's nothing they can do to stop it.