Natural Selection: Betty Wright says music chose her
Betty Wright says music chose her: simply being in the right place—a record shop—at the right time—in front of a group of songwriters that included Clarence Reid. Betty thrived in the bustling Miami music scene, working with the great artists in the community, from Willie "Little Beaver" Hale and Jaco Pastorius to Harry Wayne Casey of KC and the Sunshine Band. And Betty Wright has naturally sustained relevance through the years by writing for, singing with, and mentoring a grip of high-profile female talent.
Words by Brad Farberman
Photos by Bruce MacCallum.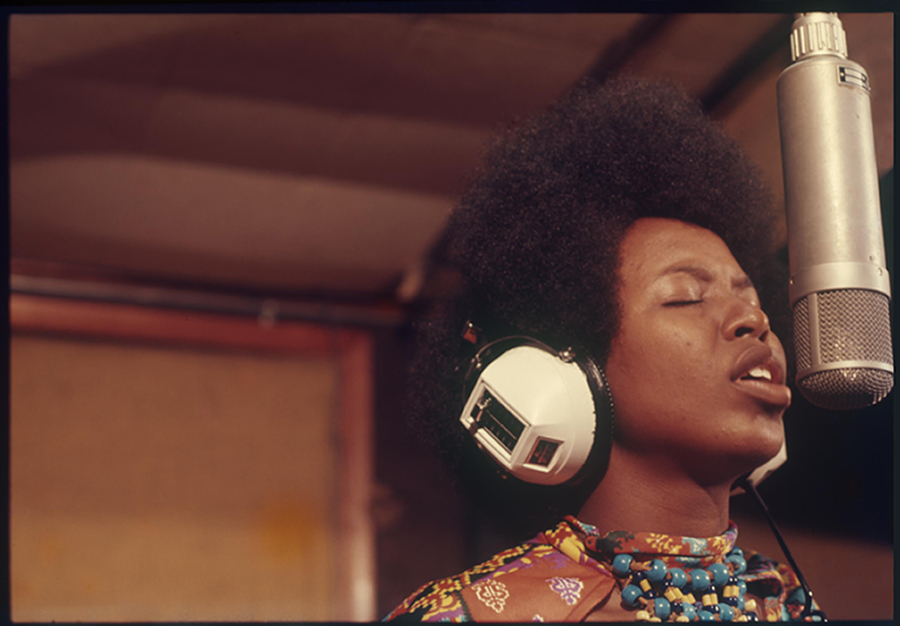 Sam Cooke's Live at the Harlem Square Club, 1963 is more than one of the top live soul albums of all time; it's a juicy piece of foreshadowing, and a glimpse of things to come. When Cooke and company took the stage in Miami that January night—no, the Harlem Square Club wasn't in Harlem—the audience was right there with them, ready to devour every impassioned note out of Cooke's mouth and every ecstatic scream out of King Curtis's horn. The Miamians who showed for Sam were hungry for a scene of their own—listen to them oohing and aahing along to "Chain Gang" and their frenzied responses to Cooke's call on "Nothing Can Change This Love"—and, about a half-decade later, they got it.

Between the late '60s and late '70s, Miami produced a coterie of potent R&B notables including Timmy Thomas, Little Beaver, Clarence Reid (aka Blowfly), Latimore, George and Gwen McCrae, and KC and the Sunshine Band, all of whom recorded for Magic City music impresario Henry Stone's various labels. But at the center of the scene was Betty Wright, the tough, stirring voice behind hits like "Pure Love," "Tonight Is the Night," "Girls Can't Do What the Guys Do," and "Clean Up Woman." Despite immeasurable talent and an unmatchable work ethic—one that led her to become the first Black female artist to earn a gold record on her own label—Wright's story is one of effortlessness and, perhaps, destiny. "Music chose me," insists Wright. One would be a fool to argue.

Born in Miami on December 21, 1953, Betty Wright wasn't just the newest member of the family; she was the newest member of the band. Betty, her mother, and her five older siblings made up the Echoes of Joy, a gospel group that played on bills with kindred spirits like Shirley Caesar and the Staple Singers. They mostly toured around South Florida, but made it as far north as Jacksonville.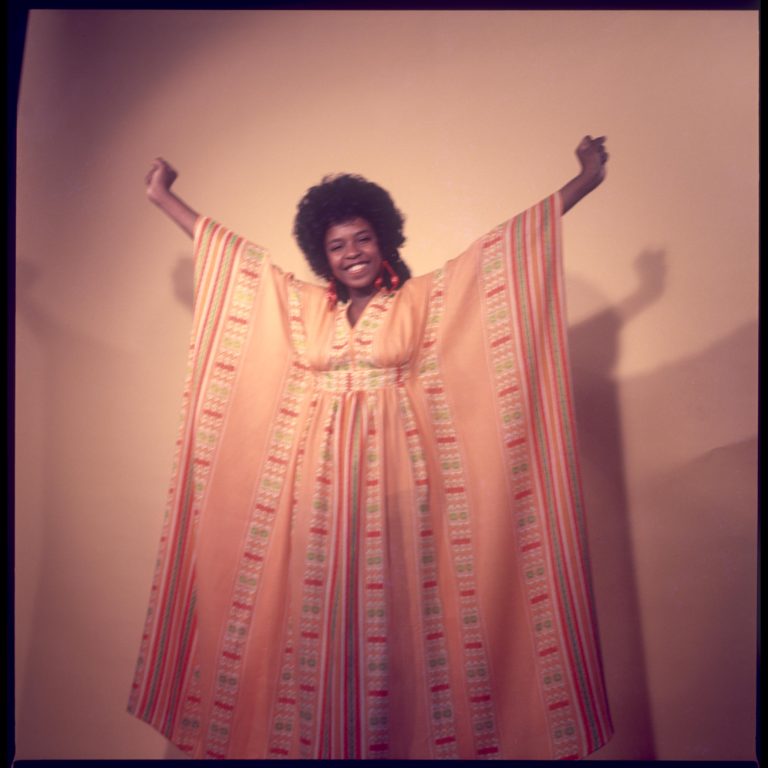 Betty Wright photographed by Bruce MacCallum.
"Music chose me," declares Wright. "I didn't choose it. I was standing in a record shop one day singing. 'Cause I won a 'guess that tune' contest. And the prize is you go to this record shop, and select out of the top twenty from this radio station. Back then, the song I loved was called 'Summertime' by Billy Stewart. And when I was standing in the shop, the girl said, 'Well, I better play it for you, 'cause sometimes these records scratch.' She put it on, and as soon as it started, I started singing along with it. I was drawin' a crowd. My cousin and I were standing there, and before I looked around, everybody from the front of the record store had come inside to see me sing. And this guy came from out of this back door. And he said, 'Who was that singing?' And they pointed to me. And he said, 'Can you sing that whole song, all the way from the top? With all the effects, the way he does it?' My cousin said, 'She can sing anything.' She put the record back on. I sang the record. The man says, 'Listen, I wanna record you.' That simple. No long story. No 'I came and I auditioned.' None of that. I don't have that story. I just was singing in a record shop. Guy heard me. Said, 'I wanna record you.' "

As luck would have it, the guys who heard her that day were Miami songwriters Paul Kelly, Willie Clarke, and Clarence Reid. In 1967, after about a year spent convincing Betty's mother that her youngest child wouldn't become a drug addict if she got into the soul business, Clarke and Reid recorded and released the first four songs under Betty Wright's name. "Good Lovin' " b/w "Paralyzed" was released on Clarke's Deep City Records; "Mr. Lucky" b/w "Thank You Baby" was issued on Clarke's Solid Soul label. All of the songs were products of the Reid/Clarke songwriting partnership except for "Good Lovin'," which was written by Reid, Clarke, and Johnny Pearsall, owner of Johnny's Record Rack and co-owner of Deep City. These 45s spread the secular Betty Wright gospel as far as Georgia and the Carolinas, and led to shows with Stax vocalist Mable John. But most importantly, they grabbed the attention of Henry Stone, who was scouting for Alston, the label he had just started with fellow producer Steve Alaimo.

"The first time I went there, they couldn't stand me," admits Wright about her first visit to Alston. "They thought I was horrible. Thought I couldn't sing. I was mad. I didn't wanna leave the softball game. I had a mountain of hair. So all I looked like was a rail with hair. With one pants leg rolled up and one down. And I don't think they really were interested in no little tomgirl singing. And then two weeks later, I went in a dress, with my hair combed, and they signed me. So go figure.

Betty's first album for Alston—her first album, period—was 1968's My First Time Around. Officially released on Atco, with which Alston had a distribution deal, the LP spawned a pair of Betty Wright classics: "Girls Can't Do What the Guys Do" and "He's Bad, Bad, Bad." The dazzling "Girls"—which advises young women to curb any manlike sexual appetites they might have—has been given new life in recent years: its deep, desperate horn riff became the hook for Beyoncé's 2006 hit "Upgrade U" (a sample of the track also shows up in a 2011 song by the Lonely Island, Andy Samberg's comedy trio). Betty likes Beyoncé's track so much she's incorporated a snippet of "Upgrade U" into her own recent performances of "Girls."

On the strength of "Girls" and My First Time Around, Stone scored Betty a slot on a 1969 James Brown revue. Alongside acts like Honey and the Bees, fifteen-year-old Betty sang "Girls" and "Pure Love" every night, warming folks up for the Godfather. After about a month and a half, though, Betty left the tour. "I didn't last very long, but that'll be in my book," says Wright with a laugh, referring to her projected autobiography. "Most tours then were anywhere from two to three months. And I think I lasted half of that. I was glad to be able to perform to those audiences that James commanded. And I was blessed to be asked to do it."

Next up for Betty was 1971's "Clean Up Woman," the song that made her a household name in soulful homes. Composed by Reid and Clarke, and taken to number six on the pop charts by Betty's bold, funky vocals, "Clean Up Woman" warns women not to throw their men away so easily, as there's always another woman waiting in the wings. So infectious it hurts, "Clean Up Woman" has left its stamp all over popular music, having been sampled by everyone from Sublime and Afrika Bambaataa to Mary J. and G. Love.

"Clarence Reid's a genius. Clarence Reid's a genius. Clarence Reid's a genius," says Wright about "Clean Up Woman." "Pretty much what I have to say about that. Except I still wish he would've come back with that bridge that he told me was gonna go walk and write and never came back. But I guess it was enough! I rode the crest of a wave that was made for me, and I will forever be grateful. Because some people never get one like that. I can sing 'Clean Up Woman' for thirty minutes and nobody complains. If I sing that, I'm good."

Also responsible for the success of "Clean Up Woman" is guitarist Willie "Little Beaver" Hale, whose six-stringing on the track inspired funk guitarists the world over to get back in the shed. Betty's first memory of Beaver, though, is as the featured vocalist with saxophonist Frank Williams's band.



"I was a little girl, and there was a band playing in a club in Miami called the Knight Beat," remembers Wright. "And [Beaver] was playing in this band called Frank Williams and the Rocketeers. And I thought he sang like Aretha! Oh my goodness. He was singing a James Brown song, and he did one of those high whooohooos! He always had it. And then of course, by the time I had gotten to Deep City, he had that record, 'You Got to Be a Man.' So he was well on his way."
Betty and Beaver also worked together on Beaver's Party Down LP, released in 1974 on Stone's Cat Records. On the supremely danceable "I Can Dig It Baby," written by Beaver, Betty, and Clarke, the Miami crew was joined by a then unknown Jaco Pastorius—credited on Party Down as Nelson "Jocko" Padron—whose dancing, burbling bass lines propelled the track to new heights of funkdom. Betty remembers Jaco well, and is still shaken by the Florida musician's untimely death.

"[Jaco's] favorite song in the world was 'Clean Up Woman,' " says Wright. "He loved 'Clean Up Woman.' He loved Beaver. And I would always say [to Beaver], 'Mannn, Jaco asked about you.' And when I got that call that Jaco was dead... Sometimes, it's just...you die for the music. When the music changed, and everything got very stereotyped, and blocky, and disco-y, I think those real musicians just died with the music."

Though "Clean Up Woman" was an early peak, the rest of the '70s were good to Betty. In 1975, Betty's "Where Is the Love"—a tune she cowrote with Clarke, Harry Wayne Casey (aka KC of KC and the Sunshine Band), and Sunshine Band bassist Richard Finch—won Best Rhythm & Blues Song at the Grammys; '78 saw Betty rocking with Alice Cooper on the shock-rocker's "No Tricks" single; and '79 found Betty opening a world tour for Bob Marley. But the '80s started with a real bang: when Alston shuttered around the start of the decade, Betty signed with Epic and went to L.A. to record her first major-label album. In La-La Land, Betty kept running into Stevie Wonder, whom she had met earlier through her guitar-playing brother Phillip, a member of the Motown family (he was one of Junior Walker's All-Stars). Betty wound up on the sessions for 1980's Hotter Than July, singing backup on "Happy Birthday" and "All I Do"; Wonder returned the favor by cowriting the bouncy, island-flavored "What Are You Going to Do With It" for Betty's first Epic album, 1981's Betty Wright.

"His process is very different, because he has so much music in him, you just gotta be ready," says Betty on writing with Wonder. "I couldn't come in there half-steppin'. I couldn't come in there on my way to the note. I had to come in there on the note. You don't come to him with a whole bunch of foolishness. He likes to have good fun, good food, and, boy, listen, you get him some fried chicken, you his best friend. We always had those conversations where I don't care how I disguised my voice, I said [in British accent], 'Hello, may I speak to Stevie?' [in Stevie's voice] 'Hell, country Betty Wright!' He knows you by your wrists. He holds your hand and feels your wrist. He'll say, 'Mmmhmm. Hey Tito. Hey Jermaine.' He's something. God gave him something extra. I'll tell you that."

Betty continued recording her own albums into the '80s and '90s, but she also became something of a mentor to a new generation of female artists. You can find Betty singing backup and/or producing on Erykah Badu's Mama's Gun, Angie Stone's The Art of Love & War, J.Lo's On the 6, and Joss Stone's The Soul Sessions, for which Ms. B. assembled a crack band: Little Beaver, Timmy Thomas, Latimore, and Jeanette Wright, Betty's sister and an original member of KC and the Sunshine Band.

"When I hear Angie Stone say, 'Black brother. For your information, a lot of our brothers got education,' " says Wright. "When I hear her being that person to stand up for her man. When I hear India.Arie saying, 'I am not my hair,' and saying, 'I'm not like the other girls in the video. No matter what, I'm good. I'm cool.' And to hear Erykah saying, 'This dress I'm wearing? I paid seven dollars. But I made it look good, 'cause I'm clever.' Those kinds of songs, to me, are the essence of who Black women are."

In 2011, after a decade away from releasing her own music, Betty came back big with Betty Wright: The Movie, a sharp slice of soul coproduced by Questlove and featuring members of the Roots on some tracks. "Surrender," off The Movie, was nominated for a Grammy in the Best Traditional R&B Performance category, but lost to Cee-Lo's "Fool for You."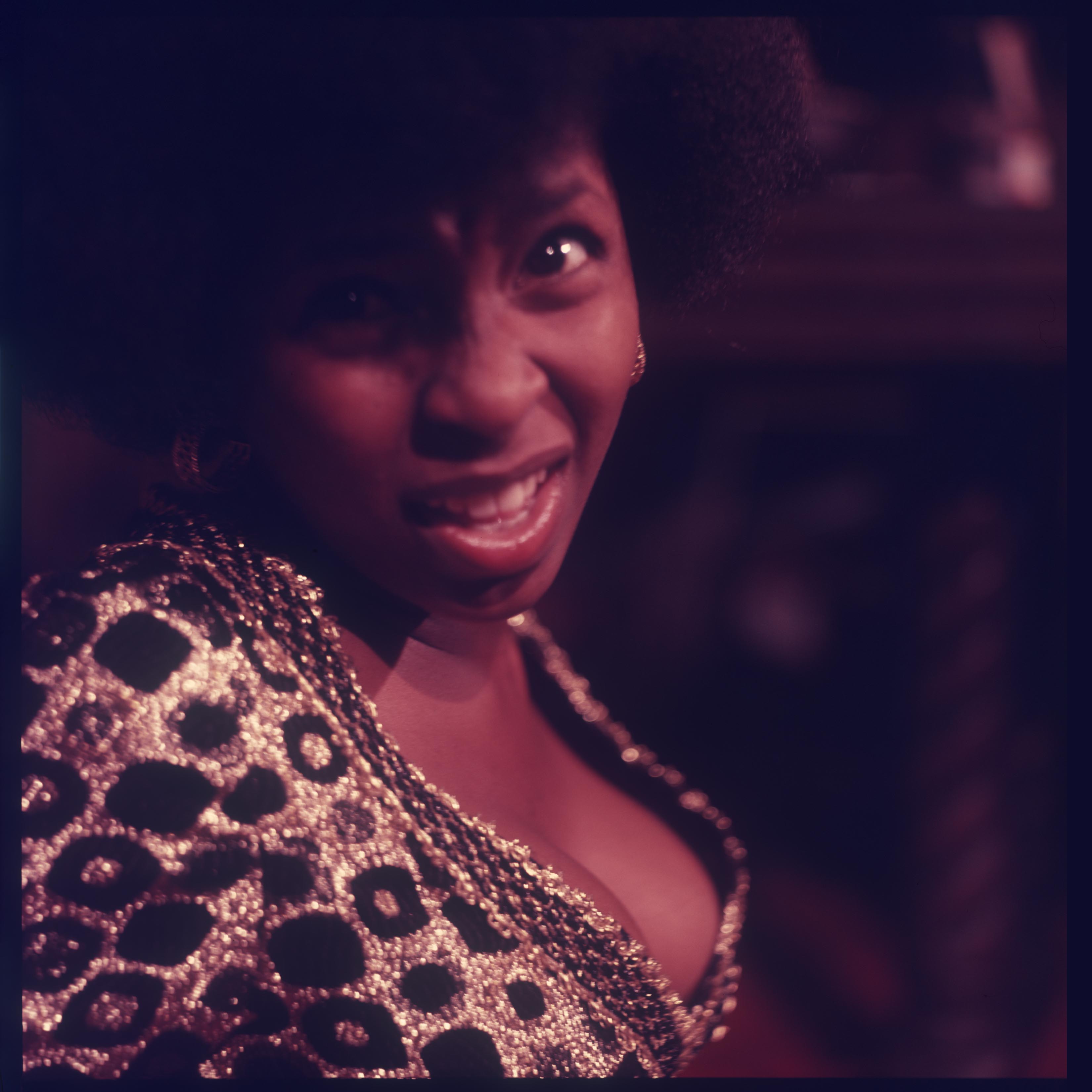 Betty Wright photographed by Bruce MacCallum.

"When it came out, I didn't know a whole new nation was gonna be gravitating towards it," says Wright of The Movie. "I have fans, and I thought my fan base would jump to it, but then came the hip-hop nation. Saying, 'Oh my goodness, we love this.' And I guess, in essence, it's because most hip-hop is really a derivative of soul music and R&B. So it was like feeding them the pure when they had been used to a derivative."

Since committing to music in the late 1960s, Wright has strived to be heard: as a singer, writer, producer, and businesswoman. As she gets older, though, it's important to her that she's listened to not only as a voice of soul, but as a voice of experience.

"One thing I remember [from] working with Lil Wayne, and sittin', talking with Baby, Baby would always say, 'Tell us again how they didn't wanna pay no royalties, they just wanna buy you a car, and you still don't have no money,' " says Wright. "And I believe to this day that's how he got to be such a mogul. Because he was determined to not let it happen to him. And I thank God for being a mentor to a lot of these artists so that they don't have to repeat those horror stories. And once again, because somebody will read the article, and they'll say, 'Well, oh my God! She did this and she did that. Oh, how ungrateful can you be.' I'm just talking the real. And if I gotta apologize for how I feel, then I ain't real. I meant it. That's what I said, I said exactly what I meant. I'm gonna keep teachin' 'em not to go pick a bale of cotton and hand
Sign Up Now
ONE YEAR ANNUAL MEMBERSHIP
€84.99*
*one off payment
Explore examples of our journalism