Gino Soccio was the one-man-band behind countless disco gems—until he vanished
"I built a wall between me and the media. After twenty-five years, you run out of shit to say," Soccio tells Wax Poetics.
Words by Jered Stuffco
Photos courtesy of Gino Soccio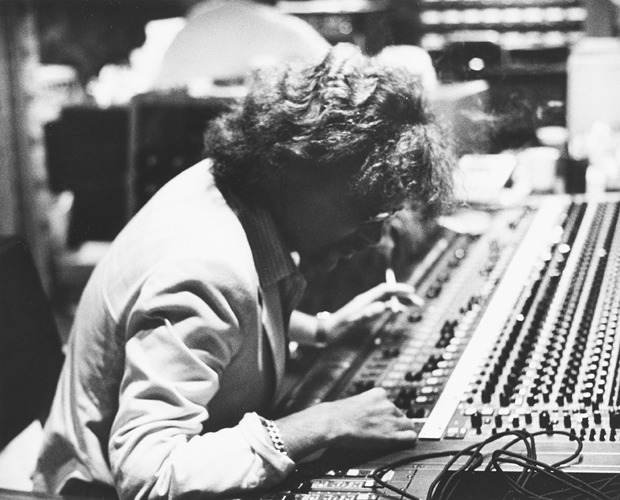 Originally published as "Invisible Man" in Wax Poetics Issue 55  

About a month before thousands chanted "Disco sucks!" at Chicago's Comiskey Park, Gino Soccio was ensconced in his Montreal studio, sipping coffee with cognac and laying down tracks for his second LP. Leaning against a twenty-four-channel mixing desk, Soccio spoke like a disco evangelist during a June 1979 interview with the Canadian Press. "Disco is more than just music. It's a social movement, and I'm not jiving you when I say it's spreading to epidemic proportions. It fills a demand for people who want to blow their minds dancing."

Soccio had been blowing plenty of minds over the past year. His debut LP's lead single, "Dancer," had topped the Billboard disco charts for six weeks, propelling his LP Outline onto more than a million turntables globally. Slim and wide-eyed with a handlebar moustache and mane of dark hair, Soccio was immediately hailed as a disco auteur and a synth wizard. Trained in classical orchestration, Soccio created music that mixed the glamour of European disco with the gritty bottom-end of American R&B.

From 1978 to 1985, he released music at a blistering rate: four full-length albums and a clutch of 12-inches under his own name; singles and EPs under different monikers; production and writing for other artists; a motion picture soundtrack.

But shortly after a 1984 alleged Montreal police-brutality incident, Soccio vanished. There were rumors: He had lost his mind. He'd become a vagrant. He'd become a reclusive shut-in. While many believe Soccio is another disco-inferno-turned-dance-floor burnout, the untold truth about why one of the era's singular talents abandoned his career is a tale of ego, conspiracy, and betrayal.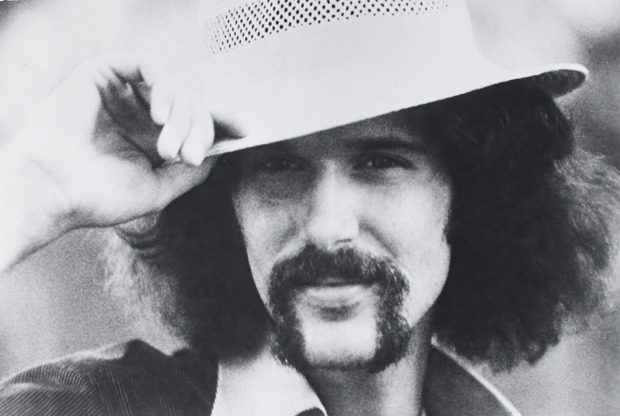 I've Put Gino Soccio Behind Me

The voice on the phone has a slight accent that's hard to place. It has the kind of tone that can only be earned by years of cigarettes. After this author's search that spanned a year and ended with a bizarre twist and ten digits, the past had finally caught up with Gino Soccio.

"I built a wall between me and the media. After twenty-five years, you run out of shit to say," Soccio tells Wax Poetics. In an age when many musicians retire just to come back again, and others fight to stay in the spotlight, Soccio is an anomaly: He no longer makes music. He claims to not use email. There are hints he uses an assumed name, as he says cryptically, "I've put Gino Soccio behind me."

A week after that first conversation, Soccio is back on the phone, talking about his unlikely entry into disco. He's agreed to his first interview in two decades, but only if personal details and information about his current life remain hidden.

Born in September 1955, Soccio started playing piano at age eight and was playing Bach sonatas by eleven. Switched on to electronics by Kraftwerk, Stockhausen, and Wendy Carlos in the early '70s, he started renting synths and earned a reputation as one of Montreal's best keyboard specialists.

Studying philosophy at the University of Montreal, Soccio earned his living as a session man, and in 1975, he got a call from a local producer named Pat Deserio who was putting together a "disco" record. Soccio had never done disco and didn't care much for the genre. But he showed up to the studio and remembers seeing a roomful of ARPs, Moogs, and Hammonds, along with a wooden box that contained a primitive, homemade drum machine. When Soccio asked where the other band members were, the engineer pointed back at him and said, "You're it!"
Deserio's concept was to make a disco version of Ravel's "Bolero" and release it with a few other tracks under the banner Kebekelektrik. And Soccio would play every note. 
"It was very labor-intensive," says Soccio, "but at the same time, I had free rein of the entire studio, which had never happened [before]. It was a really great learning experience. I had never done disco. As you're going along doing it, you fall right in love with it."
The Kebekelektrik sessions also spawned "War Dance," an orgy of analog squirts and electronic flourishes that Soccio wrote and recorded on the spot, warts and all. "I was scared shitless of that one," he says. Buried on the B-side, Soccio the perfectionist was told no one would ever hear the track.

The four-song LP Kebekelektrik was given the remix treatment by Tom Moulton and released in the U.S. on Salsoul in 1978. "Bolero"—which took up the entire A-side—was considered to be the lead track, but it was "War Dance" that caught fire on dance floors. Curious, Soccio went to Montreal's Lime Light where DJ Robert Ouimet spun for a sexually diverse crowd and waited around until the song came on. Two hours later, Soccio witnessed the reaction. "I'm just about to leave," Soccio says, "and then 'War Dance' comes in, and everyone had every lick of it. And I got it there. That was an epiphany."

Shocked that this mistake-ridden jam could move a dance floor, Soccio leveraged the money he'd earned and set out to record a real "artist album," something that would make up for the hastiness and mistakes of "War Dance." A fan of Rubber Soul, Soccio wanted to make a disco statement. "I wasn't a singles guy. It was an album or nothing." With a $12,000 budget, Soccio used his summer break to track after-hours at Listen Audio in Old Montreal. "On my ten-speed bike, I'd shoot down to the studio and record for five or six hours until the cleaning lady came in."

The sessions were marked by heavy use of synths and grease-pencil-meets-razor-blade tape editing. Typical of his approach was the song called "Dancer," written and recorded as a four-minute tune but later doubled in length through mix-downs, re-edits, and loops.
A few months later, with his debut album still doing the demo rounds in Canada, Soccio was recruited to produce a project called Witch Queen, with sessions in Muscle Shoals, Alabama. Peter Alves, a Canadian studio veteran hired to coproduce, says the Muscle Shoals sessions were fruitful but also daunting, given that legendary artists from the Stones to Aretha had cut at the studio: "And here we are, a couple of bozos from Canada!"

Witch Queen was a one-off, but it gave Soccio connections to Black musicians from the South and exposed him to real American R&B, two touchstones he would revisit throughout his career. As Soccio was in Muscle Shoals, his full-length record was being shopped to U.S. labels—a move that would land him greater exposure but also one that would eventually sow the seeds of his professional downfall.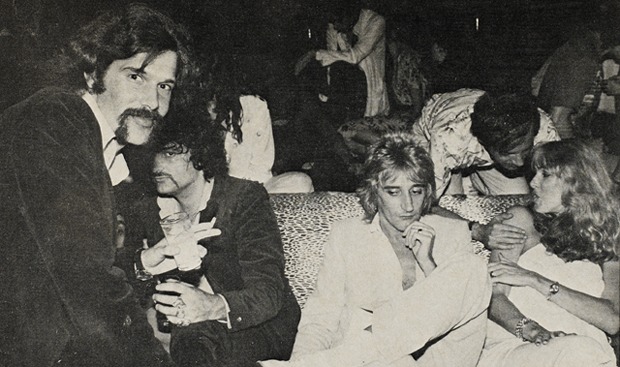 With Rod Stewart at Studio 54. Courtesy of Gino Soccio.
Statement music
Ray Caviano is supposed to be dead. But on a crisp day last November, Caviano was sitting in his Brooklyn office talking about disco, the Paradise Garage, and Luther Vandross. Today, the sixty-three-year-old works as an addictions counselor, but he still exudes a fast-talking vibe that must've served him well when he quarterbacked a string of hits by the likes of KC and the Sunshine Band at Henry Stone's TK Records. (Caviano says rumors of his demise can be traced to the untimely death of his brother Robert, who managed Grace Jones and the Village People before passing away from an AIDS-related illness in 1992.)

Flamboyant, charismatic, and well-attuned to both dance floors and bottom lines, Ray Caviano was disco royalty by the end of the 1970s. His tireless promotion in DJ booths, at roller rinks, and in underground clubs had resulted in Warner Bros. chief Mo Ostin handing him his own label. Never shy about self-promotion, Caviano called the new venture RFC Records, after his own initials.

Caviano recruited his buddy, Rolling Stone music writer Vince Aletti, to help run the new label, which would focus on the freshest disco sounds. Armed with $6 million of Mo Ostin's money, Caviano just needed a hit. "Gino Soccio was the first artist I signed. I fell in love with it the minute I heard it," says Caviano, calling Soccio's art "statement music."

Soccio's music had come to New York via John "Disco" Driscoll, who was the man in Canada when it came to dance music. Driscoll was running Quality Records at the time and was looking to bust out of the tiny Canadian market. "I thought we had something there," Driscoll says. "That's why I jumped on a plane to New York." Driscoll's first appointment was with Prelude Records boss Marvin Schlachter, who liked Soccio's music but reckoned it needed a remix. Driscoll took a pass and went to Caviano, where he scored a worldwide deal. The Canadian spent the rest of the day riding around New York in a limo.

The major-label record machine was gearing up to create a disco star, and Soccio recalls going to New York, where Caviano "locked him up for two days" at the Hotel St. Regis for photo shoots and media interviews. Soccio also flew to Los Angeles and met Mo Ostin and the staff at Warner. Soccio was greeted with a stretch limo full of booze at LAX—a surreal encounter that would stick with Soccio to this day.
Upon release, Soccio's debut album, Outline, was hailed as a connoisseur classic. The Village Voice compared Soccio to Kraftwerk and Steve Reich. Outline mixed dance-focused cuts like the smash "Dancer" with arty cuts like "The Visitors," which showed up in Federico Fellini's La Città Delle Donne. Even the Outline album cover, with its minimalist design, portrayed Soccio as a kind of disco auteur. According to Aletti, Soccio shifted the disco template when the genre needed it most: "Gino was certainly unlike anything else that had been out. It was sweeter, smoother. It had a kind of lightness that people responded to—a buoyancy."

The album had an impact in the underground too. Soccio remembers going to the Paradise Garage with Caviano and hearing Larry Levan spin an extended mix of "Dancer": "They would play that song three times in a row sometimes, and it was already an eight-minute song. It was twenty-four minutes of 'Dancer,' and people just would not get enough of it. It really was something. It blew me away."

The William Morris Agency wanted to put Soccio on tour, but frankly, he was making too much money as a producer. He scored club hits for Arista's Karen Silver and Quality's the Mighty Pope. He composed the soundtrack for the movie Babe, a mildly pedophilic film starring a very old Buddy Hackett and a very young Yasmine Bleeth. In 1980, Soccio bought his parents a home in Montreal. But label interference took its toll on his 1980 LP S-Beat, which Soccio says was a disappointment. "After that experience, I decided to shut the studio door."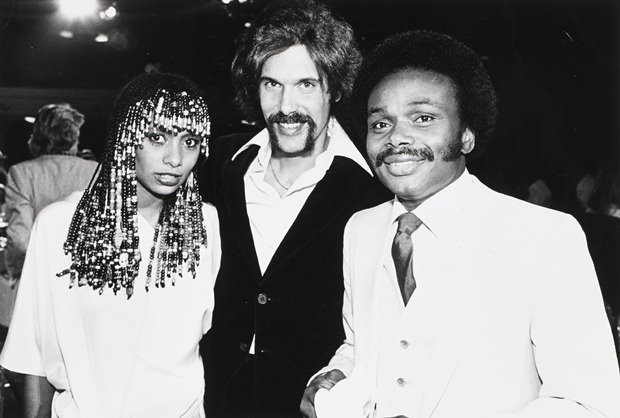 With Peaches & Herb. Courtesy of Gino Soccio.
Try it out.
For his next record, Soccio hired Erma Shaw, a singer he'd met at Muscle Shoals. Shaw had been discovered as a teenager by Stax cofounder Estelle Axton and was a session vocalist at Willie Mitchell's Royal Recording Studios in Memphis. For Soccio, she was the perfect voice to bring out his American influences: "I wanted to go ultra, ultra R&B, and she was Black as Black. She was Willie Mitchell's girlfriend, she was from the South." With Shaw on vocals, Soccio cut the LP Closer and the lead single "Try It Out," which spent ten weeks at the top of the disco chart in 1981. It also crossed over to Black audiences, climbing as far as number twenty-two on the R&B chart—an achievement Soccio said is a crowning moment in his career. "I was proud of that," he says. "I'd been criticized for being too Black: 'It's too Black, it'll never work.' Well, you can never be too Black."
In 1982, Soccio released Face to Face, a robotic funk record that flirted with hi-NRG and yielded the hit "It's Alright." It was his most accomplished work so far, but what he says in an interview with the Montreal Gazette during the album's promotion is telling: "It gets to me after a while, this constant pressure of wondering whether the record will take off, or whether the royalties will come in on time."

Personal cracks were beginning to show. In January 1984, Soccio was involved with some kind of altercation with Montreal police. He would claim officers dragged him from his car by the hair and beat him with a flashlight. An inquiry was launched and the story made headlines across Canada. A more public bruising would be on the way.

A greatest hits LP, led by the single "Turn It Around" was set for release, but the cover—featuring a lingerie-clad young woman bound by two-inch tape—ran afoul of women's activists, who threatened to activate a U.S.-wide boycott. Soccio wouldn't change the cover, citing his artistic license, and the record was shelved in the U.S. For Soccio, it was a setback. But something else started to gnaw at him. Around this time, he took a trip to Atlantic Records (which had since picked up the RFC imprint) and sensed something sinister.

Listening through a pile of new Atlantic 12-inches, he hated everything: "They were putting out the worst garbage, anything with a 4/4 bass drum on it, and I'm saying 'Why? This is garbage!' And then I understood, they wanted to flood the market. The end part of disco was really bad—it was bad music. But they would put out anything as if to gross you out. And it worked."

Dance music was changing, and as a disco artist, Soccio didn't like where it was going. Digital recording and programmable synthesizers like the Yamaha DX7 were coming onto the market, meaning producers no longer had to splice tapes and spend hours tuning an ARP 2500 to make a dance track.

Gino Soccio—the artist who created full-length records, the studio wizard who had mastered LFO filters and tape loops—was becoming a dinosaur.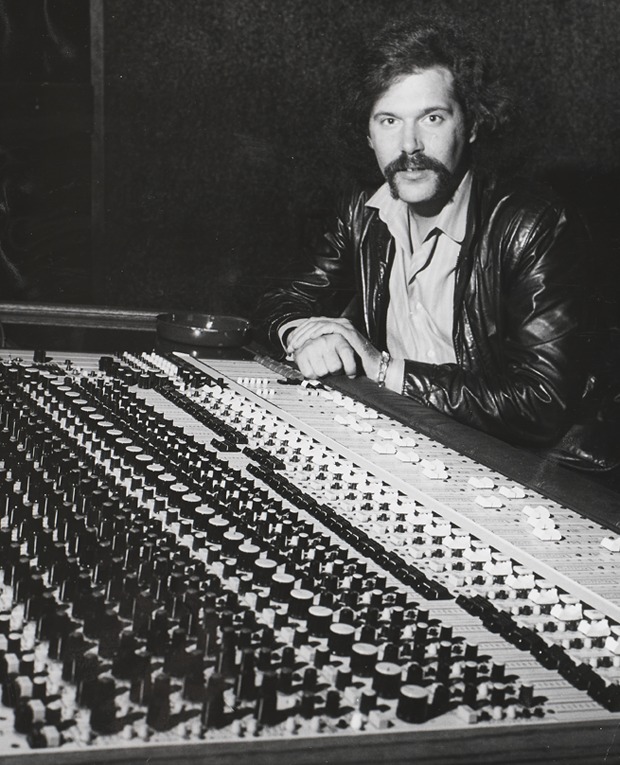 Gino Soccio in Brazil. Courtesy of Gino Soccio.
Human Nature
At Billboard's 1980 International Disco Forum 8 at the Roseland Ballroom, Soccio had appeared on a panel about the record business, saying that "producers should trust record companies." But by mid-decade, his relationship with the industry had soured. Soccio issued the 1985 12-inch "Human Nature" on a new label (Celebration), but it didn't live up to his expectations. There are still hints of frustration in his voice: " 'Human Nature' really marked the end of my career, because I thought it was a great record, but nobody wanted to know from it. Nobody wanted to play it, nobody wanted to even put it in the store. It was the end of disco, and that's when I got out."

Soccio recalls driving around downtown Montreal, seeing boarded-up discos that only a year earlier had been teeming. "I went through a bunch of existential questions," he says with a sigh. For Soccio, those questions triggered memories of his first trip to Warner Bros. back in 1979. Soccio recalls walking through a maze of cubicles near the front of the office, and facing a wall of death stares. Once in the disco section, Soccio was told that the rock people hated the disco people. Disco was too popular, too Black, and too gay. The rock staff was intimidated. "The reason that disco died, they oversaturated the market," Soccio says. "It was a bunch of racist, homophobic rockers who wanted us gone."

Soccio felt betrayed. "When I was younger, it didn't bother me that much, but when disco died, I understood there was a conspiracy to kill it from the beginning. It's like, 'The job to our shareholders is to make money, and if disco sells, then fine; but let's burn it out.' " Depressed in Montreal, he was invited by a friend to Los Angeles. Soccio sold all his gear and moved to Hollywood. He tanned and jogged. It was his first break in about fifteen years, and it turned into a two-and-a-half-year vacation.

By 1986, Caviano was doing time at the Taconic Correctional Facility on drug charges, stemming from what the Village Voice reported was a $500-per-day blow habit. An unnamed RFC staffer told the paper, "We were all doing drugs. You couldn't see what was serious and what wasn't." Disco was done and Gino Soccio had been thrown out with the disco trash. He was barely out of his twenties.

Through the '90s, his music collected dust in record crates, in basements, and in storage warehouses. Soccio returned to Montreal and worked for the Canadian government, running a program for arts grants. But in the dying summer days of 2001, Soccio placed a call to his old friend Erma Shaw. He wanted to do a track. She flew to Montreal for three days, wrote lyrics, and recorded forty-five vocal takes on a song the pair called "Spirits."
The song was never released because it sampled the guitar line to "Hotel California" by the Eagles. "Don Henley and them just wanted us to get rid of that riff," Shaw told me over the phone, adding that Soccio didn't have the budget to recut the track without the sample. Another roadblock, and Soccio once again reverted to the shadows. "We just sort of lost contact with each other," Shaw adds. "I've tried to reach him, to no avail." A few days after our interview, Shaw's manager called me and suggested I get hold of Soccio and pitch him on a disco review show in Las Vegas.

But at fifty-seven, Soccio feels as though his time has passed. Even as younger generations discover his music, he believes it's too late: "I'm just coming to grips with it, because when I was doing this music, I was doing it for the day, I was doing it for the minute… I wasn't thinking, 'Thirty-five years down the road, I hope this is still alive.' " Some resentment seeps into Soccio's words when he hears about online comments from fans who demand more music, more singles, another album. "I guess I'm fortunate. I don't know how I feel about it."

But there's also a sense that revisiting the past has brought up a well of emotions. "I saw some disco artists keep going after the disco era, and put out album after album that didn't sell. I didn't want to be one of those… I didn't want to dilute my catalog, my repertoire, in that way."

Soccio won't say what he does for work these days, only telling me he has "business interests." He still lives somewhere in Montreal and prefers to be left alone. But even as he tries to bury his past, it simply won't die. In a way, Soccio's career mirrors the genre he fell in love with thirty-seven years ago. 

"Everything I hear is disco. It's all disco to me. Fuck Billy Joel and 'it's all rock and roll.' It's still disco to me. That's what it is."
Sign Up Now
ONE YEAR ANNUAL MEMBERSHIP
€84.99*
*one off payment
Explore examples of our journalism