"It was clear. It was fresh," replies GZA, when asked how his head was while making Liquid Swords. "We were on a roll, and it was the perfect time to get in the studio and just do it."
The year was 1995 and the first generation of Wu-Tang solo projects was gripping fans globally. And for his part, GZA never did waste ink and has shown a penchant for writing since Enter the Wu-Tang (36 Chambers) and his debut, Words from the Genius. Even in a year of memorable releases, Liquid Swords' rhymes coupled with RZA's cinematic beats stood tall, furthering Wu-Tang's dominance to this day.
Over two decades later, Liquid Swords continues to age well and is a stellar case of quality '90s hip-hop. For the first time ever, GZA talks about the making of the heralded classic, deconstructing it track by track and allowing insight into a vital era in which it was made.
David Ma: What was your writing process like at the time?
GZA: Real slow. I don't say slow in the sense that it necessarily took me a long time to finish what I'm writing. I mean, Raekwon and Ghostface can step in and record a song in about forty-five minutes. I, on the other hand, would often go back and finish rhymes that I started. I would say I pieced things together [more] slowly then. Songs generally take me two to three days to write. Sometimes I take different sentences and put them together.
For a few tracks on the album, I remember, the beat would be running, and it'd be four o'clock in the afternoon. We'd be smoking, and you know how weed takes its toll on you. I'd just get tired and sit in the same spot all day. I'd take a nap, hang out, nap later, wake up, and finish a track. RZA would leave and go to the city to handle business. He'd come home hours later, and I'd still be writing same shit I started when he left. [laughs]
What did you think of RZA's beats for Liquid Swords when he first played them for you?
I loved them. A lot of them had a grimy, rock-like feel to them. The majority of the album was done at RZA's house, in the basement. It was a small, two-bedroom apartment where he showed me all the beats he had made. We did a lot of stuff there, including Tical, I think, so it's hard to remember the exact moment, or time, he showed me which beat. I just remember absolutely loving them.
The album heavily samples the film Shogun Assassin and keeps a dark atmosphere throughout its course. Were you trying to stick to a theme for the album?
It's the story of a shogun told through different narratives and scenarios. It's not a theme, but more like a thread throughout the album.
Had you seen Shogun Assassin by then?
No, I hadn't actually. While we were mastering the album, RZA asked the engineer to go out and get it and bring it back to us. That's when I watched it. I loved it immediately and thought it fit with the album well.
Did you feel like you made a classic after it was done?
It's hard to say something is gonna be classic or not. But I can say that I felt the magic with that one. I actually saw it grow and come together, and felt that it was special as we were doing it.
You've never talked real in-depth about Liquid Swords before. Are you down to talk about each track on the album?
Sure, let's do it.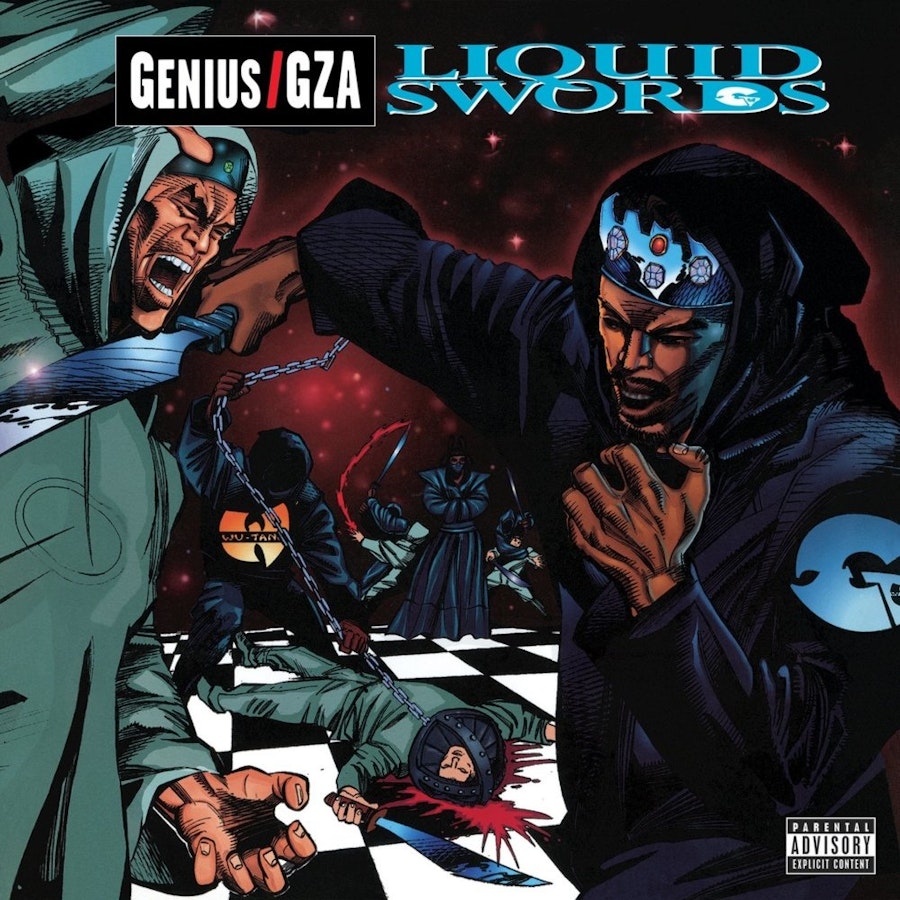 "Liquid Swords"
This track is just braggadocios. It isn't meant to stand for anything. I'm talking about my skills and how I'm better than the rest. Usually, I take a beat home and write to it for a few days, but it wasn't like that with this track. I think RZA played the beat for me and I just spit to it right there. The hook was actually a routine from around '84 that me RZA and Ol' Dirty [Bastard] would do: [sings] "When the MCs came, to live out the name." Just like that.
"Duel of the Iron Mic"
This might be my favorite track on the album. I like how I delivered on this one, and I love RZA's beat. I remember writing to it and that it took me a while because I was trying different things. I remember being so happy after Ol' Dirty blessed the track like he did. I love how the recording sounds too. When we perform this song live, the music gets real low for Deck's part, and then it comes in real loud and it still always gets me hype. I also love the skit at the beginning. I just love that shit.
"Living in the World Today"
I just remember sitting in the basement for hours and writing it over and over. I don't know what actually transpired during the making of this. But as far as the song itself, it was another old-school hook taken from a crew we knew from the Bronx. They used to say something like: "And if you listen to me rap today, you be hearing the sounds that my crew will say. And we know you wish you can write them, well, don't bite them, well okay…" So I flipped it and said: "Well, if you're living in the world today, you'll be listening to the slang that the Wu-Tang say…" and so on. It's just another old-school hook we took and had some fun with.
"Gold"
This is a great track. I really love the beat a lot. It has sorta has a rock vibe to it, and Meth helped with the hook. The whole song is on a street-hustling-vibe tip. The whole song is talking about hustling and stuff like that, but I don't say it plainly. It's a street tale, not a let's-get-your-grind-on song. And the hook is actually kind of taken from the Diana Ross and the Supremes song "Ain't No Mountain High Enough." In the '80s, we used to harmonize a lot and we sang a similar hook: [sings] "No neighborhood is rough enough, there is no clip that's full enough…" See? Like that. We used to sing the chorus and harmonize with each other. That's how that one came bout.
"Cold World"
Just another dark, gritty street tale. Normally, when I hear a beat, I already know where to go with it. I can picture the track and just vibe off it. As soon as I heard the beat to "Cold World," I knew it would be another inner-city story. And the beginning is obviously taken from "The Night Before Christmas."
I have this cousin who we call Life. He sang a little bit of background on the album, and he was in the studio when we were making this track. He's got a great voice, not as great as it used to be, [laughs] but he's been singing his whole life. He was singing Stevie Wonder's "Rocket Love," where the hook goes, [sings] "Took me riding in your rocket, gave me a star, but at a half a mile from heaven, you dropped me back down to this cold, cold world." RZA was the one who told Life to change the words and use it as a hook. So we added the hook and we got [Inspectah] Deck on it and boom! That's how that one went.
"Labels"
My whole negative experience with Cold Chillin' was part of why I made this song—but it wasn't the main reason. I wasn't deliberately trying to write a song dedicated to problems with labels and so on—I just threw Cold Chillin' in there because they were an established label at one time. It actually started when I heard my friend say: "Tommy ain't my boy!" Then it just kind of clicked in my head to use "Tommy" and "Boy." I mean, I like doing songs based around wordplay with one theme. I actually love doing those kinds of songs. It comes naturally to me for my rhymes to have double meanings.
"4th Chamber"
Crazy, crazy song. If I ever do a rock album, not saying I would, but if I did, it would have to be on that kind of vibe. It would musically have to sound like "Rock Box" from Run-DMC. Making "4th Chamber" was crazy because I didn't have a rhyme ready for that one. That's why I went last on it. [laughs] Plus, Ghost killed it with his verse, so I knew I had to come correct.
This is one of three songs that crowds always go crazy for when we do a Wu show. As soon as they hear the [imitates opening guitar sound] they just explode. It's not even a GZA song to me—it's a Wu-Tang song. And Ghost's verse is [just] incredible to me. He delivered so well. I don't know if you saw the video; I directed that too. This song, the guest verses, the video, the crowd response, all turned out perfect for this one.
"Shadowboxin'"
Meth delivered well on this one too. I even do his verse when I do it live! I mean, "I breaks it down to the bone gristle" is so dope. It's hard not to rap along to this one. Just like when I hear "Triumph," it's hard not to do Deck's verse. I think, I was actually [just] the filler for that song anyways. [laughs] It always seemed more like Meth's track. I remember RZA telling me I needed to get on it, so he put me in between. It's an incredible song though, and I love performing it. It's just another MC lyrical joint with crazy smooth cadences.
"Hell's Wind Staff / Killah Hills 10304"
This is another one of my favorites. It's a very special song as far as the album's concerned, because it's long as hell and has no hook. It's up-tempo and is straight-through. My cousin, Life, who did the hook on "Cold World," also did some singing on this too. This song has a lot of depth in terms of sound 'cause we used to layer weird shit over it.
For example, myself and Killah Priest were in the city one day with a portable ADAT recorder I just bought. We were just walking around, going to stores, buying water, juice, whatever, and just recording the random stuff, you know, just picking up sounds and shit. I think we recorded the Hells Angels riding by too. RZA was in a restaurant talking to some guy, and we were banging forks on the tables, and we just recorded all those sounds too. [laughs] So we incorporated all that into the production.
As a song, it's a street story, but not told in a regular street way. I'm talking about slanging on the block, but not just your average street dealer. These were more sophisticated cats. Some of it came from a documentary I saw on the infamous Pablo Escobar. He was sending judges intimate photos of their wives and things like that. I think this is my first real Mafioso track. It's like a dense, short film.
"Investigative Reports"
I don't remember this one that much. RZA kicked us the beat and Rae just set it off. RZA decided to put all that news footage in there, and U-God did the hook, and I just followed it up. This one was just all of us doing our parts. I think it was just a simple track we put together.
"Swordsman"
This is another one of those hard ones that I love. The beat just knocks. The hook also came from a routine we used to sing a long time ago. But like I said, we used to harmonize often back then: [sings] "Every MC has his place, to begin in the MC race." The melody is from an Earth, Wind and Fire track. It's just a dope, recycled hook. I love this song a lot too. I think I delivered well on it.
"I Gotcha Back"
This was a short rhyme I wrote for one of my nephews. When I said, "My lifestyle was so far from well / Could've wrote a book called Age Twelve and Going Through Hell." It's for my nephew who was twelve at the time, and whose father, my brother, had been locked up since '88. So he wasn't around for my nephew when times were rough, so I wanted to up my nephew a bit with this track.
It was actually part of the soundtrack for the movie Fresh. I don't know if a lot of people know this, but I directed the video for that song. The interesting thing about that [one] is how the video blends in with the movie itself. I had two nephews in the video, they were both real young at the time. And in video, they both had met up and shots rang out from some young gangsters. It's a shame because both those kids in the video, both nephews of mine, ended up getting in trouble for ringing out shots and are both doing time right now. It's kind of ironic. One of my nephews ended up getting eight years for that shit. So the whole song is a sad irony to me now.
"B.I.B.L.E. (Basic Instructions Before Leaving Earth)"
I really wanted to get [Killah] Priest on the album. And when I did, he said he could cover the whole track, so we let him do it. It's incredible to me, man. Some people still tell me that it's their favorite song off the album. I mean, it's a really deep song. He broke down lots of things: preachers, ministries, churches, details, and a lot of insight on a lot of stuff. "The earth is already in space / The Bible I embrace / A difficult task I had to take…" The song's just perfect and ends the record out brilliantly.