Under a sweltering Texas sun, Emmanuel "Jagari" Chanda steps onto an outdoor stage to cheers from a 500-person crowd. The seventy-year-old Zambian front man of WITCH is playing his second show of the day in Austin for SXSW 2022, leading a band of hotshot European bandmates decades his junior. Despite his age, Jagari's the most active musician on the stage, dancing like James Brown while wearing a floppy blue Funkadelic wizard hat and beaming a huge smile.
"It's a super explosive show," says Jacco Gardner, a thirty-four-year-old Dutch musician who plays bass in the reunited WITCH band. "He's the most animated of all of us onstage, he's jumping up and down. The same as he used to be, I guess."
The genre of music isn't easy to pin down—it's garage rock, it's blues, it's funk, it's psych. WITCH even goes full-on disco in the group's final two LPs in the 1980s. The diverse sound of WITCH, alongside contemporaries like the Oscillations, Ngozi Family, and Amanaz, has come to be known simply as Zamrock, a style indebted to both foreign rock music and the musical traditions of the seventy-two ethnic groups in the country.
"We didn't even know we were playing Zamrock," says Chanda in the alley after the show, shortly after hugging a fan who claimed to listen to WITCH every day. "The genre came much, much later. We just played pop and rock, with a fusion of traditional rhythms and melodies."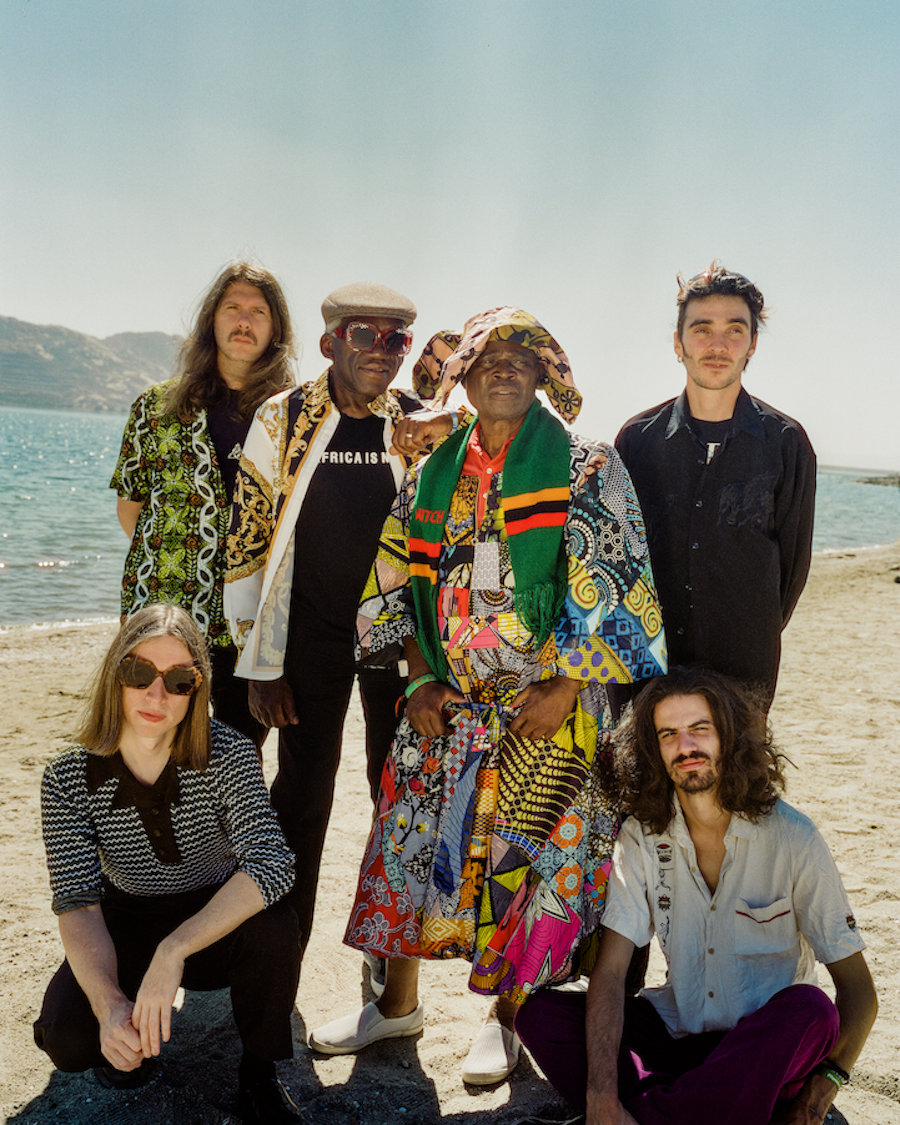 Chanda's musical evolution continues with Zango, his first album in thirty-nine years to be released on June 2. It's rooted in the same anything-goes attitude, but the shotgun blasts of psychedelia are now laser-focused, executed with a prog-like precision. "Avalanche of Love" shifts effortlessly from monster rock riffs to left-field funk, with a guest verse from Zambian rapper Sampa the Great. WITCH leans back into disco with "Unimvwesha Shuga," which starts with a  outer space synth phasers before Zambian singers Theresa Ng'ambi and Hanna Tembo bring the track back to a slinky boogie groove. "Message From WITCH" serves as a mission statement, beginning with the lyrics: "Like the story of the Phoenix, the bird from the ashes, Zamrock has resurrected from its decades of slumber."
The story of WITCH (sometimes appearing as "the Witch" on earlier releases) begins many years earlier in 1972, when the five-piece band led by Chanda released Introduction, the first commercial album ever produced in Zambia, pressing a run of three hundred copies. The fuzzed-out sound was indebted to British Invasion bands, which Chanda heard on the radio from a station in neighboring Mozambique called Lourenço Marques Radio.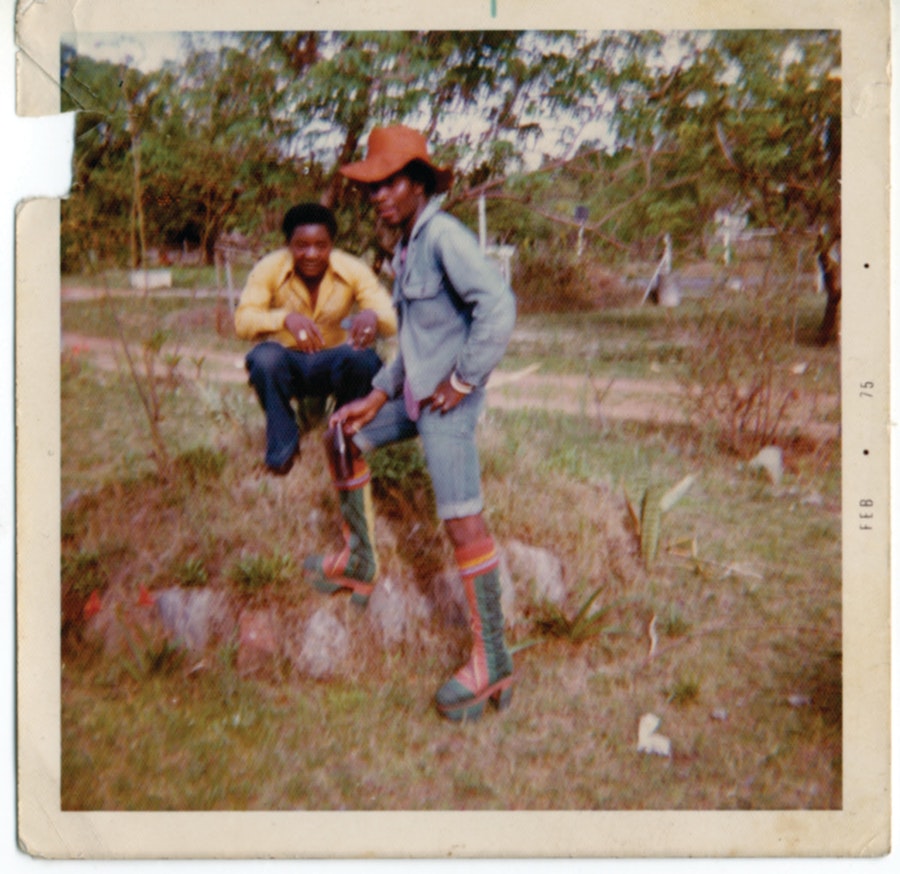 "We were listening when our parents were asleep, without the intention of becoming a musician. You don't discover you're a musician until much much later," says Chanda, who earned his "Jagari" nickname from his onstage resemblance to Rolling Stones frontman Mick Jagger. 
The melting pot of influences included the guitar virtuosity of Jimi Hendrix, plus acts like Deep Purple, Grand Funk Railroad, and the Hollies, whose vocal harmonies sounded different from most Zambian music at the time.
"[Americans] are very good at harmonies," says Jagari. "You can go to a hall and listen to an orchestra, and all the complexity of harmonies. Ours are simple melodies and simple harmonies, maybe two part, three part, and in the performance there's a spontaneous participation by the people. Normally, we didn't have crowds that just watch; most of them participated in one way or another."
While Lorenzo Marrakesh was bringing American music into Zambia, the domestic radio stations were focused on local sounds, due to a law passed by president Kenneth Kaunda which stated that ninety-five percent of the music on the radio had to be from Zambia. The exposure helped raise WITCH's profile, drawing wild crowds at marathon shows that sometimes lasted up to seven hours.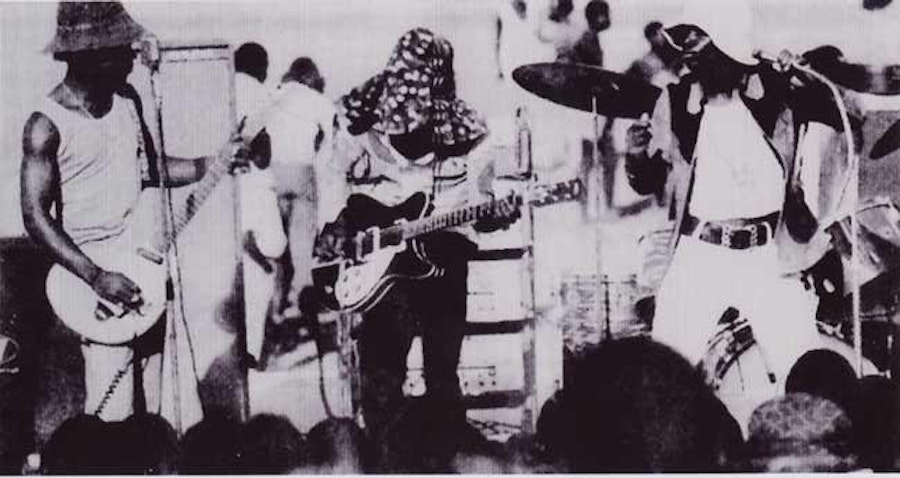 "They had a massive following and were the biggest stars in the country. It was like Beatlemania—Witchmania," says Gio Arlotta, the Italian filmmaker behind the 2019 documentary We Intend to Cause Havoc. "If you take the whole Zamrock scene and compare it to the Anglo American scene of the '60s, you could say that WITCH were the Beatles and the Stones combined."
As their popularity grew, WITCH (sometimes credited as The Witch) wasn't content to stick to one style. WITCH's third album, 1975's Lazy Bones!!, is a haze of progressive psych rock, with wah-wah guitars pulsing under huge, distorted solo riffs. Drummer Ginger Baker's influence can be heard in the hard-hitting fills. There's a playful, rhythmical quality to the songwriting, which comes from a compositional trick Chanda revealed in We Intend to Cause Havoc—while writing guitar parts, he would drop the needle on a scratched record and mimic the skipping rhythm on his guitar.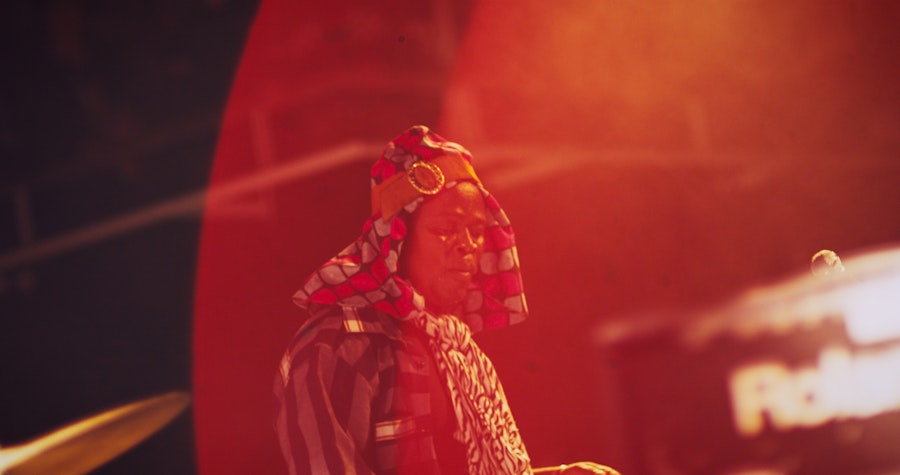 The album Lazy Bones!! was an immediate hit, selling 7,000 copies in the first three weeks of its release in 1975. The song "Strange Dream" is the personal favorite of Eothen "Egon" Alapatt, who reissued the WITCH albums as well as the Welcome to Zamrock! compilations on his label Now-Again. "'Strange Dream' didn't sound like anything they had done before, or anything after," says Egon. "It was this outlying song in this crazy set of music that they made. It's just pure psychedelia. The whole thing is perfect psychedelia. It's not perfect Zambian psychedelia, it's just perfect psychedelia."
The follow-up to Lazy Bones was 1976's Lukombo Vibes, which shifts from frenetic Fela-influenced stompers to even dustier psych akin to the Doors. Next came a self-titled LP in 1977, their first on South African powerhouse Teal Record Company Ltd. The band's star might have continued to rise, but recession hit Zambia, and the price of copper, the country's primary export, plummeted. As a result, President Kenneth Kaunda imposed curfews which made WITCH's bombastic all-night live shows impossible. 
Witch would be the final album featuring Chanda, and then the band would embrace disco trends in the '80s for the albums Movin'-On and Kuomboka, which featured Patrick Mwondela on keyboards. Now sixty-four years old, Mwondela is the only known surviving WITCH member from their original run of albums, other than Chanda.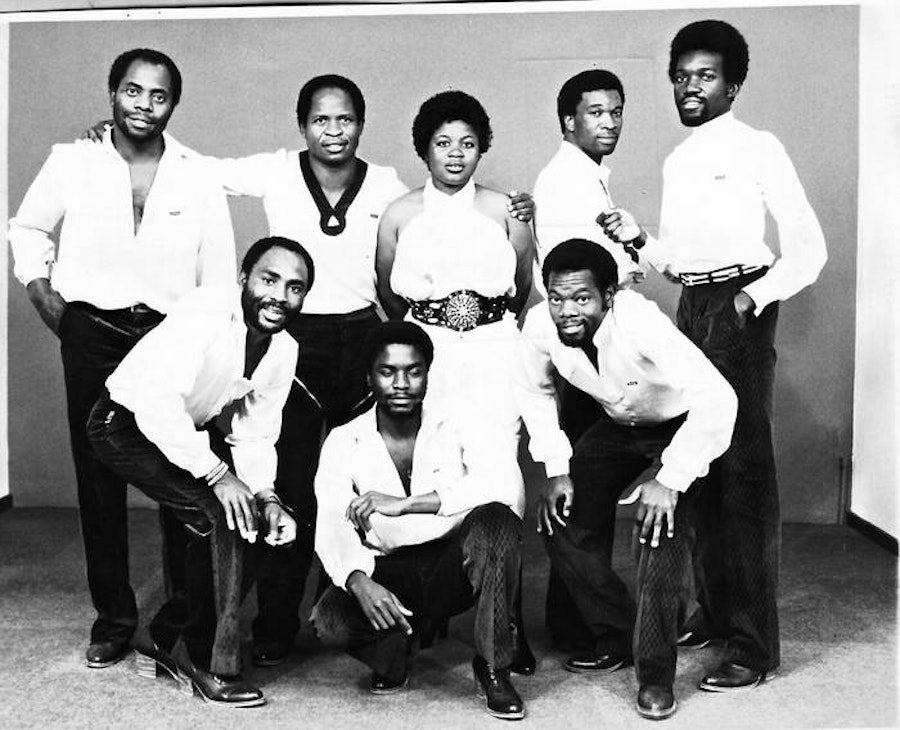 After leaving WITCH, Chanda continued writing music, but spent his days working as a gemstone miner. Interest in the band waned, but a string of reissues by Shadoks Music in the late aughts brought Introduction and Lazy Bones!! to wider audiences, although few details existed about the band. Several years later, Now-Again began releasing Zambian records, first from Rikki Ililonga of Musi-O-Tunya, whom Egon had contacted via MySpace. Ililonga connected Egon with Chanda of WITCH, who helped identify other important artists from the scene.
"At that point, I was getting a lot of CD-Rs of this stuff," says Egon. "So I didn't know whose records were which, no pun intended. I'd be playing Jagari something over the phone, and he's like, 'That's not WITCH, that's Oscillations or Ngozi Family.'"
In 2011, an extended interview between Egon and Chanda at Red Bull Music Academy Madrid reignited the WITCH myth and a six-LP box set of Now-Again reissues followed in 2012. Then in 2013, Chanda performed live for the first time in North America on a bill alongside Madlib in San Francisco. The show didn't sell out, and according to the promoter, most attendees seemed to be anticipating a hip-hop set, even though the event was billed as the Madlib Medicine Show: the Sound of Zamrock.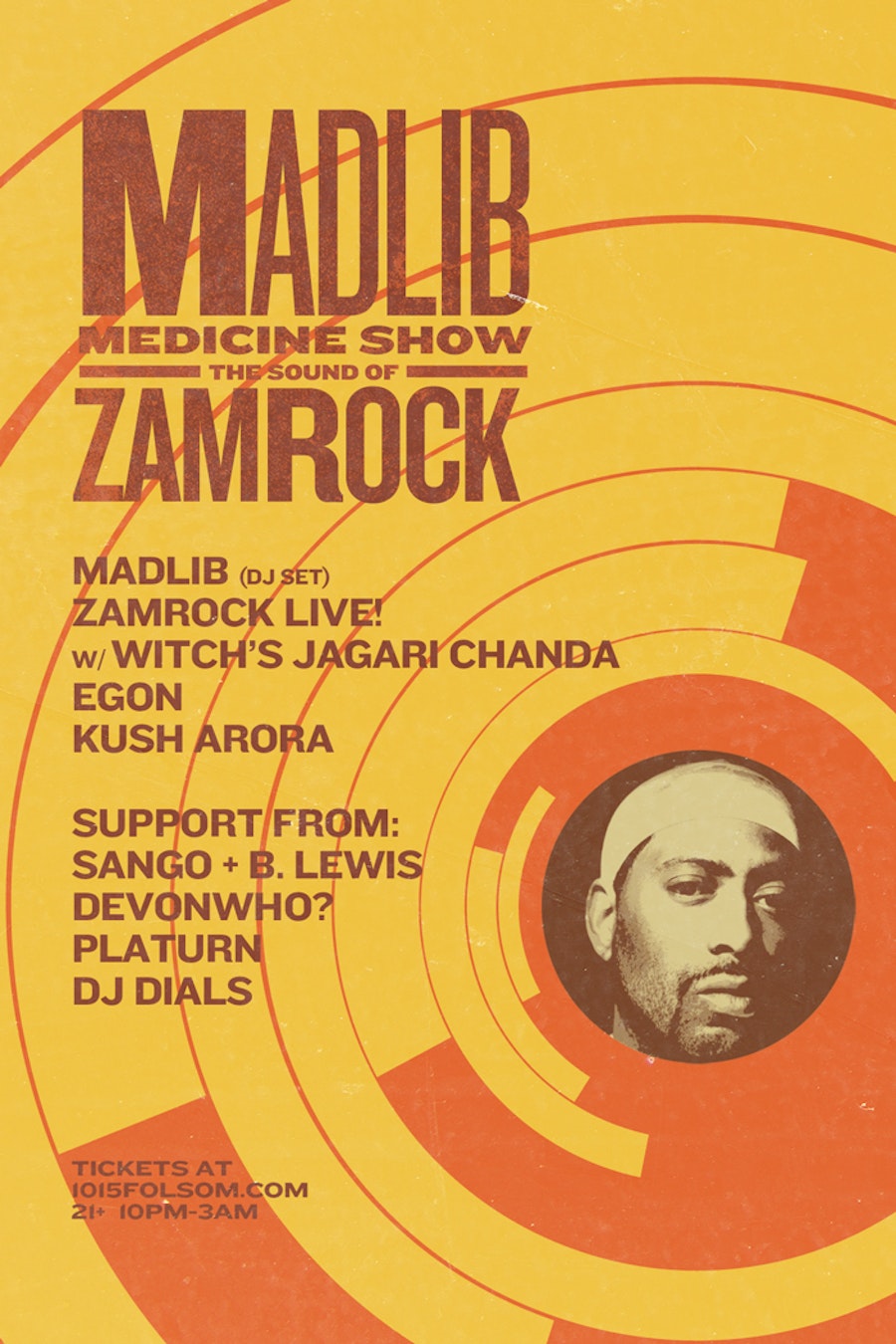 "It was intentionally a bait and switch. It was a Madlib show with WITCH, but it was really about supporting the discovery of that music," says Noah "DJ Dials" Bennett, the San Francisco promoter who booked the show. "By the end of the show, everybody was rocking out. Jagari was like Hendrix, it was so unreal. The sound was great, there was so much magic in the room."
Due to the complexity of setting up the concert, it was only expected to be a one-off event. The story of WITCH could have easily come to a close that night, a joyful reunion show before Chanda returned to his life as a gemstone miner. But the former superstar informed Egon that he had other plans.
"Jagari told Madlib and me that day, 'This is just the beginning. I'm getting ready to do my big tour,'" said Egon. "Madlib and I were looking at him like, 'Do you understand what a miracle it was to pull this off?'"
Meanwhile in Milan, Italy, Gio Arlotta had been running a blog called Is Your Clam in a Jam? where he posted VHS recordings he made of touring musicians. A chance invitation from some friends to help document a project in Africa led him to Zambia in 2014, coincidentally during the fiftieth anniversary of Zambian independence. Arlotta was a fan of WITCH, so he looked up Chanda with hopes of filming a session. 
"The first day we met, he showed me his childhood home and places where the band used to live," Arlotta says. "Then I hung out with Jagari for two weeks, just me and him."
The idea snowballed into the aforementioned documentary called We Intend to Cause Havoc, which included a concert featuring Chanda, Victor Kunda (the Oscillations), Nic Mauskovic (Mauskovic Dance Band, Bruxas), and Jacco Gardner. Although Gardner is decades younger than Chanda, they have many of the same influences, especially Black Sabbath. The shared musical language softened the age gap.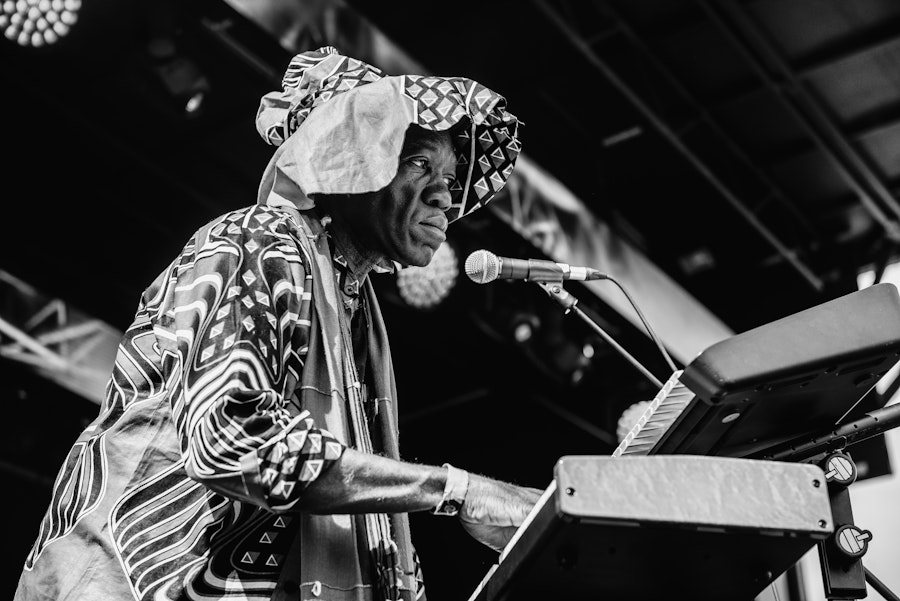 "While playing with them, we don't feel the age difference at all," says Gardner, who releases music under his own name as well as with Mauskovic in Bruxas. "You just get inspired by each other and interact through music. You have different backgrounds, because you grew up in different places, but that's something we don't feel is any obstacle. It's a beautiful thing to experience."
"They've got the heart of it," Patrick Mwondela says, describing his bandmates just a few minutes after stepping offstage at SXSW in Austin. "I remember a time I closed my eyes while we were playing, and the sounds I heard were the sounds I heard back in the day."
Like the Madlib show in 2013, the band that formed for the 2017 documentary concert wasn't intended as a touring act, but word spread and demand grew. Since Arlotta had organized the first show, he became the band's de facto manager, bringing guitarists Stefan Lilov (L'Eclair) and JJ Whitefield (Whitefield Brothers, Karl Hector and the Malcouns, Poets of Rhythm) into the mix. One show led to another, and another. Chanda finally had his world tour, receiving the same type of rock star treatment he enjoyed in 1970s Zambia, including crowd-surfing and bras thrown onstage at the band's 2022 tour kickoff show in San Diego.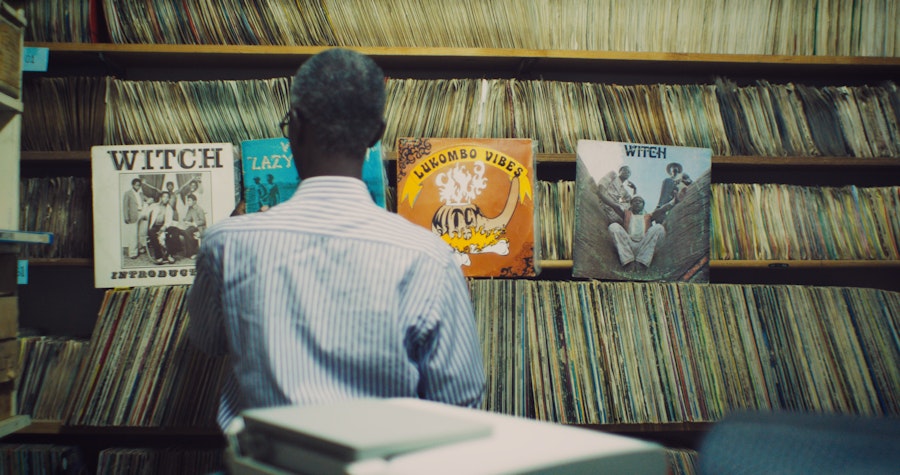 The tour continued through the US, with a whirlwind set of shows at SXSW in March, then a string of European festivals. Throughout late 2022 and 2023, the first singles from Zango began to drop — all recorded in the same studio where the original band wrote Lazy Bones in the mid-'70s. The album, which will be released June 2, builds on Chanda's Zamrock foundations, but is a far cry from a revivalist album.
"We're trying to maintain the genre, but times have evolved and so has music," Chanda says. "So we accept and are inclusive of new ideas, whether they are from the genre of disco, or our tradition, and we bring them together and throw it to the audience for them to judge."