If you enjoy this article, go deeper into our pages with a Wax Poetics subscription by subscribing here.
When Gilles Peterson founded the We Out Here festival in 2019 it was to celebrate the many corners of the U.K.'s DIY club culture he has always been immersed in.
As a baby-faced teenager, Peterson recorded a pirate radio funk and soul show in his dad's garden shed in Sutton in the South London suburbs, the foundations for a lifelong career in radio. Even when holding down a Saturday afternoon slot on BBC 6 Music and traveling across the world to DJ, in 2016 Peterson found time to launch a global community music radio platform. Worldwide FM is currently on pause while they seek funding, but the love for what Peterson and his team built was shown in the outpourings of support from DJs and the community at large.
We Out Here took its name from a 2018 album from the rising stars of U.K. jazz on Peterson's Brownswood Recordings label, and the first edition of the festival was a natural extension of that compilation. But alongside jazz artists Shabaka Hutchings, Joe Armon-Jones, Moses Boyd, and Nubya Garcia, the program jumped between the post-punk funk of A Certain Ratio and the Ethiopian jazz of Hailu Mergia and a DJ lineup that ranged from the deep house of Detroit's Theo Parrish to the roots/dub reggae of Channel One Sound System.
As the sun came out on the Friday afternoon in the fields of Abbots Ripton, Cambridgeshire, We Out Here felt like a true reflection of the melting pot that is U.K. club culture. This all mirrored Peterson's drive for true inclusivity also seen in the diversity of the programming of Worldwide FM.
Since 2005, Peterson has hosted the Worldwide Festival in Theatre de la Mer open-air amphitheater in Sète, France, a coming together of live music and DJ culture. But We Out Here was to be even more connected to Peterson's clubbing roots. It's seen festival editions of his '80s club session A Sunday Afternoon at Dingwalls and takeovers by everyone from Hessle Audio to Underground Resistance.
Gilles and his team returned in 2021 after a break due to COVID with a strictly U.K. line up due to travel restrictions. After last year's international festival which many suggested was the best yet, this year sees We Out Here move for the first time. The setting is wooded parkland and forest in Wimborne St Giles, Dorset, in South West England. The lineup reads like the best day on Worldwide FM and Peterson's 6 Music show combined: from 50 Years of Hip-Hop to 30 Years of Metalheadz, and from Mala & Joe Armon-Jones' jazz dubstep project to a rare U.K. show by Meshell Ndegeocello through to the return of Galliano and Japanese jazz punks Soul & Pimp Sessions who'll compete with Ezra Collective as the most explosive act. A few days after the full lineup was announced, we caught up with Gilles in his apartment in Sète, France during some down time the day before the Worldwide Festival.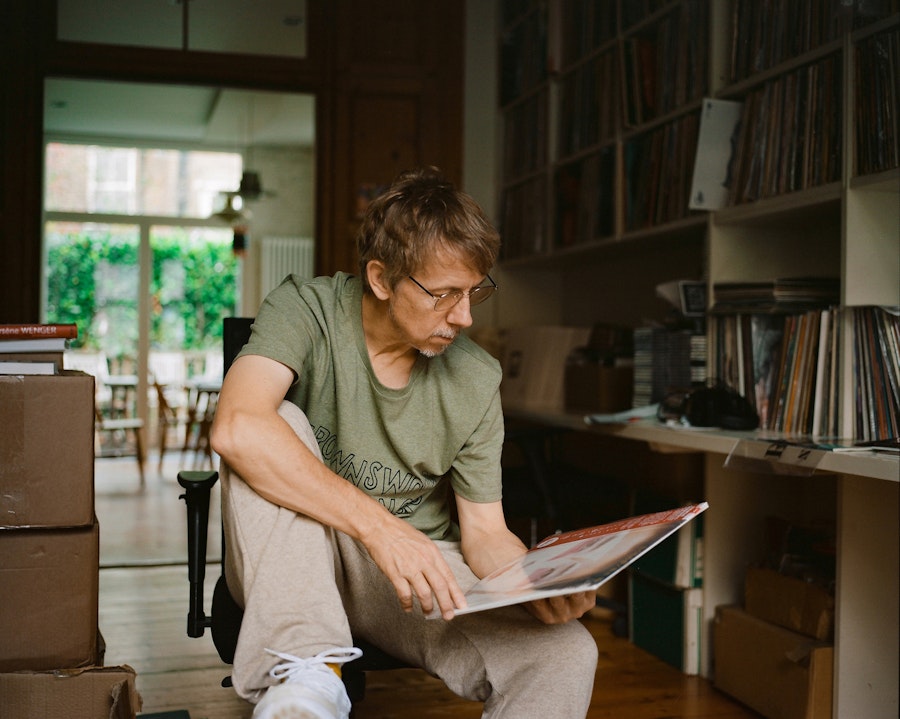 You're out there in Sète for the eighteenth year. I wanted to start by asking why you wanted to set up another festival and how We Out Here came about?
One of the reasons I set up the Worldwide Festival was I was fed up going to festivals where I'd go and play and they didn't know what a DJ was and they weren't set up for it. Or you'd go to a dance festival with a band and they didn't have a clue how to deal with that. So I wanted to put on a festival where the DJs and bands were on the same level. As things have grown on the festival circuit abroad I started to meet other organizers doing similar things but on a bigger level. Two of those people were Noah Ball and Joe B. who ran the Dimensions Festival. That was always the best of those other festivals where I would go as a DJ where the crowd was in tune. We got on really well and it was really their idea to do a festival in the U.K.
You'd just had the We Out Here album out and I was interested in how much the festival was connected to that?
That album was obviously a statement for the emerging U.K. jazz scene of that time so that became a kind of catalyst for a community that has of course grown since then. So the idea of calling the festival We Out Here was connected to that young jazz scene in one way. But what makes this particularly interesting for me was how Noah and Joe [We Out Here festival directors] were really connected to club culture. So they could help me make the link between live music and DJs in all its forms through all the times I've been involved in it. And of course that goes way back to pre-acid house. That is why we have the likes of Colin Curtis [DJ at Rafters and Berlin in Manchester in the early '80s] playing because to me it's really important that we can give people that full lineage that reaches all the way back and right through to today.
So that bringing together of the different generations is really important?
The fact that we can have a Shy One, SHERELLE, and Touching Bass next to Colleen "Cosmo" Murphy or Luke Unabomber is what it is all about. To have a festival that can capture the actual weight and history of what makes club culture in the U.K. so special and also how it relates to live music—that is what makes all this so brilliant and fascinating.
Have you been surprised how open the younger people have been to the culture of their elders? 
I think this younger generation is a lot more open and less ageist than ours was back in the day. Twenty year olds today have really learned to appreciate the importance of the lineage. When we started We Out Here though I really didn't expect to see it happen in such a big way. It became this festival that had a really big age gap. And to have created a space that has given young people a chance to party with their parents and to experience in some way the culture that we had been through that has been really special to see.
As well as the diversity of age anyone who's been will see how racially mixed the crowd is. Apart from programming, how do you try and ensure this?
It's not been something we've chased necessarily and I feel it's been quite an organic and natural thing. We work closely with lots of organizations across the festival and we try to make sure that diversity, inclusivity, and accessibility are core to what we do. With regard to booking it's not hard to book Black bands or women, we don't have to search for them because they are all there. I also think that people believe in us and trust us so that comes down to being authentic. People can look at us and see it doesn't feel forced.
Just looking at the programming there are obviously some big names, but the up-and-coming acts seem to have equal prominence.
For me, it's about not relying on the big names you see at other festivals. There are loads of people I could book and they would come and they would help us bring in the numbers. But even though the quality level would be great, things just get a bit dull. You have got to find the space for young up-and-coming talent. That was key to Worldwide FM and very much with We Out Here. It's a really great starting point for the next generation to have a great experience and to build their community.
You mentioned the mix of live music and DJs and I just wondered how  important that is to you as a curator? 
Look, from the days of Dingwalls going right back to The Wag club we always put on live bands. And when you get that right there is a real magic that can happen. So with regard to We Out Here there are all the great bands in the daytime but then late at night the whole DJ thing happens. And that is equally as important as the live stages. We do that properly not as an afterthought. So we make sure everything is as right for Donna Leake or Mike Dunn in the woods as it is for Kahil El'Zabar, Gary Bartz or whoever we have on the main stage. 
How open are the elders generally to your curation of their music?
I think most of them are up for it really. The radio show helps in that I can get to know many of them pretty well so I guess they can trust me – whether it's William Parker or Ron Carter I can have a more direct line to them than another promoter. They see me in a way that is different from other curators as they have seen the impact I've had through the radio. The BBC is a really interesting thing because it still carries that weight. And these elders appreciate and understand that. When someone like Gary Bartz comes over we can work together on the show. He was great. We put Maisha, Saul Williams and Dwight Trible with him and it was like 'you have to do 'I've Known Rivers' you have to do 'Celestial Blues' and he was really cool with all of that. 
Thinking of the performances of someone like Gary Bartz, a big player in jazz but maybe someone not so aware of the appreciation from the younger generation. What's it been like to see that interaction?
I mean Gary had never been away but he was just playing on that kind of American jazz circuit.  For him to play at We Out Here in front of that crowd, playing those classics they know so well, put a different kind of slant on things for him. So to be able to curate this event and to watch these artists I've selected see for themselves what it is this other generation gets from this music. That is my biggest buzz, seeing the elders get a real genuine boost out of these interactions. That is something the young U.K. club scene has always given these artists.
You've moved to a new site this year so I wondered how preparations are going? 
There have been challenges and I can't tell you the amount of admiration I have for Joe who works on making the infrastructure work. To create what is essentially a small town on a patch of green land is amazing. This new site had no infrastructure at all unlike We Out Here, which was where Secret Garden Party was held.  With the old site you just had to sort of drop the bits in but with this new one we have to build it from scratch, so the road, water, electricity and all of that. Then to get everyone on board from the local community, the council, the health and safety, the police it's so complex. But at the end of this we have a site that belongs to us from where we can grow even more.
We Out Here takes places in the Dorset countryside of Wimborne St Giles from August 10-14 2023. Find tickets here.