The past five years have witnessed the quick ascendency of Chicago-born vibes virtuoso Joel Ross. The twenty-six-year-old took the New York City jazz scene by storm soon after his arrival in 2017. He became a regular fixture in venues like the Jazz Gallery, Jazz Standard, and Roulette, leading his own group, Good Vibes, and as a sideman with illustrious groups led by the likes of drummer Makaya McCraven, trumpeter Marquis Hill, saxophonist Melissa Aldana, among others.
Ross's dynamic single-mallet playing style caught more than just the ears of the New York jazz cognoscenti; it also earned him a recording contract with the legendary Blue Note label, where he has released two albums, 2019's KingMaker and 2020's Who Are You? 
Wax Poetics caught up with Ross on his return to touring to talk about his development, his music, and what is on the horizon.
Catch Joel Ross and Good Vibes at the EFG London Jazz Festival on November 20.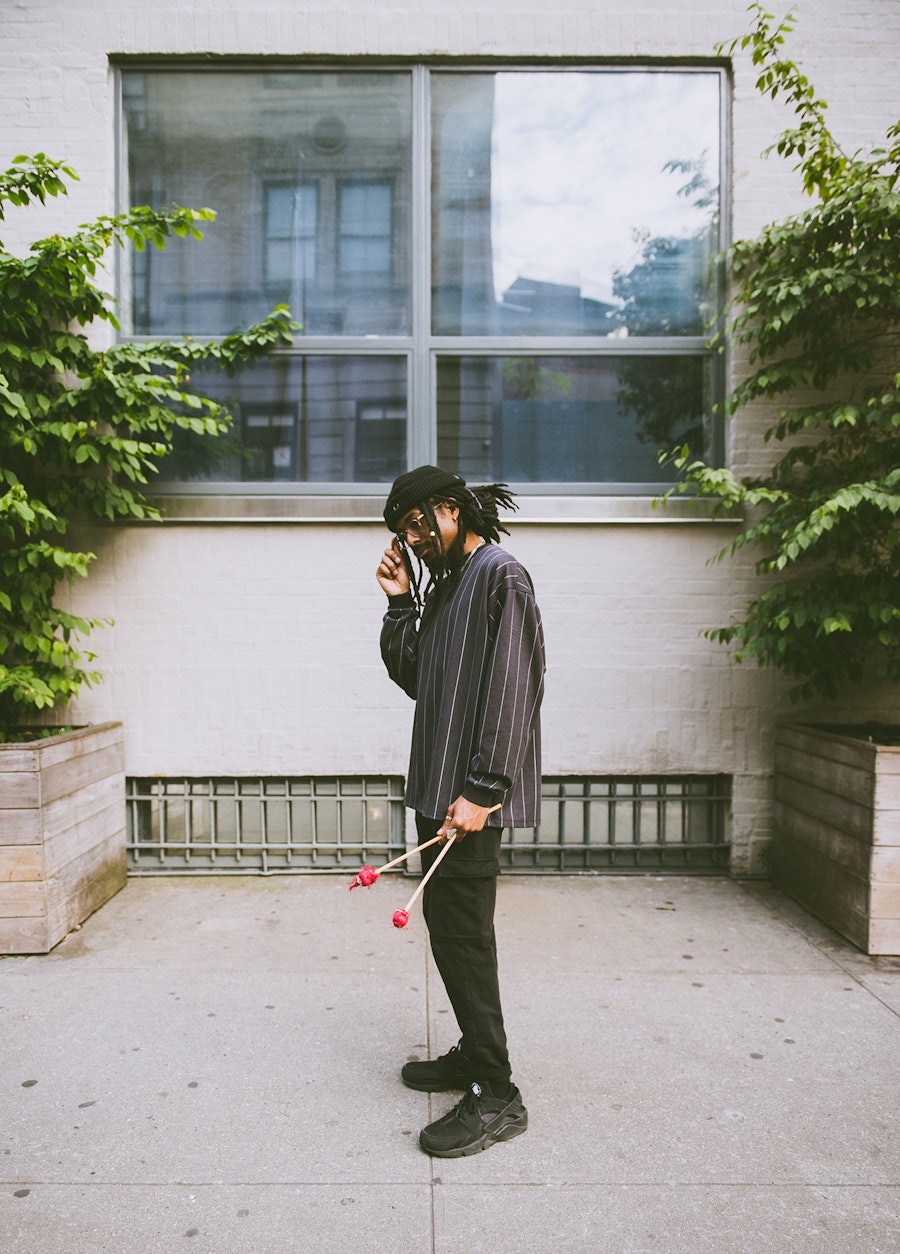 What drew you to music initially? What kind of music was being played around the household?
Music was in the house as long as I can remember. My parents weren't musicians, but I think every time that we got in the car, there would be music playing. If we weren't watching TV, somebody was playing some music on the radio. It was a part of our everyday culture. We grew up in the church, so there was a lot of gospel music but also R&B, Motown… My parents like a lot of different music, so my mom would listen to country, pop music, and a bunch of different styles. We didn't really start listening to jazz until we started playing jazz when we were like ten years old. Before that, it was all gospel and R&B. All that stuff.
Your father was a choir director for that same church, right?
Yeah, yeah. It was when we were younger. I think he spent a couple years directing the choir. He probably wouldn't call himself much of a singer, per se. It was more he took on the responsibility.
You and your twin brother, Josh, got into music at a very young age. What was that like? Was it a friendly competition between you two as you grew older, or was it more a mutual discovery of music?
Not so much. [laughs] I don't think it was so much competition. He was a twin, so you quickly—I can't speak for other twins, but for me, you just accept that Josh is going to be here doing everything with me. It was just what we were doing. We played music together. Once I switched to the vibraphone, then it became more of a partnership thing. Even less of a competition, because we were able to make music together.
At some point, I was always jumping on piano. It was something that we did together and we grew up doing.
Did you begin on piano before you went to vibes and mallets?
No, I started on drums. We both started on drums when we were maybe two or three years old. We only played drums until about ten years old.
Is playing in church where you discovered that you wanted to pursue music as more than a passion but as your life's calling?
My godfather was a part of the church band. By the time we were at the church, my dad wasn't really directing choir anymore. But he's always been a Sunday school teacher and a marriage counselor. Both of my parents are retired police officers, so the church would also look at him for security advice. Kind of an everyman among the churchgoers. Both of my parents. They were both doing things and helping out. They still are.
When we would get there, we would run straight up to the front where the musicians were and sit with my godfather and watch him until we were old enough; then they would start to let us play the drums a few times after service. That led to us joining the band and playing every week.
It wasn't necessarily a decision, like, "I'm going to do music. I want to be a musician." It was just like, "This is what I want to do, so this is what we're going to do."
Your godfather was a drummer?
Yes. Drummer. A percussionist.
When were you introduced to jazz? You said that you were about ten years old when you began hearing it.
Before that, we were playing in church every week. Around the fifth grade, when we were ten years old, we joined our elementary school's concert band for percussion. I'm the younger twin, so my brother made me learn the mallet percussion. I was interested in it. I've always been interested in learning things. I was interested in theory and notes and everything. It worked out.
That same year, we also auditioned for one of Chicago's All-City [Performing Arts] bands, where kids from all around the city come together and practice and, eventually, do some concerts. We auditioned for their concert band and got in. Josh was on snare drum, timpani, bass drum… He has perfect pitch, so that helped him with the timpani. I was playing all of the mallet percussion.
We also auditioned for their jazz band. We both auditioned on drums, but by that time, it wasn't difficult to admit that Josh was the much better drummer. I still loved playing the drums, and we were still trading back and forth every Sunday at church.
They suggested that I go for the vibraphone, because I played the mallet percussion. At the time, I didn't know anything about the vibes. I didn't want to do it. My dad and the percussion instructor strongly insisted that I do it. So I did and I stuck with it ever since.
Who was leading the jazz program there? Were you able to develop any mentors? I know that Chicago has a rich jazz history, and I assume that you got to know some of the people locally. Was there anybody that made a stamp on you while you were there?
I feel that I've had so many educational situations. That All-City program, it was a public school program, so a lot of the instructors were local musicians around the city who also did music in their free time. The percussion instructor Ronald Dennis was a drummer. Mark Coulter… Now I'm forgetting names.
I can say that after that program in elementary school, once I got to high school, I started to meet more [musicians]. I went to Chicago High School for the Arts—ChiArts. The first public arts high school. Because they were brand-new, they made a lot of connections with different organizations. One organization they worked with was the Thelonious Monk Institute, which is now the Herbie Hancock Institute. They sent a local [saxophonist] named Jarrard Harris, who worked with us almost every other day, all four years. Then they would send guest artists every year. We had [pianist] Eric Reed. We had [pianist] Benny Green. [Trumpeter] Sean Jones. Then my last year was [pianist] Gerald Clayton.
Then the high school hired some of the local Chicago musicians, who I know now from the scene, like flutist Nicole Mitchell [who] was the head of jazz at first. Meeting her, she opened us up to thinking of music in a completely different frame of mind, because I wasn't really accustomed to the avant-garde or anything of that nature. Makaya McCraven—who I play with so much now—at the time, my freshman year, I don't know if he remembers, he subbed one day for my drum teacher, and I remember that. That is when I met him.
I don't think I got a chance to meet Von [Freeman, the saxophonist]. I think I met [saxophonist] Fred Anderson. Von Freeman was another cat. I feel like I was on the outskirts of meeting a lot of the older musicians, who cats like Marquis [Hill] and Makaya knew in the city.
There seemed to be a turnaround in the mid-2000s where a lot of guys passed on. Talk to me about how you got involved with vibraphonist Stefon Harris and began to attend the Brubeck Institute.
I have to say that we were fortunate to be involved in a lot of jazz education programs, which I know musicians aren't always thrilled to say. But I think my maturation owes a lot to these programs. So another program that is in Chicago is called the Jazz Institute of Chicago. We were a part of that program all through high school, and they would supply different gig opportunities. They had a summer program where we would work with more local musicians, like the late Willie Pickins on piano, [saxophonist] Pat Mallinger, another local musician, Lorin Cohen, a bassist.
So the Jazz Institute, they would get us different opportunities, and I think that one year they asked me to play the "Star-Spangled Banner" for the Jazz Fest out there. I think that year, Stefon was playing, so we met each other. He gave me his information and said to let him know when it comes time to figure out what I'm doing for school. So I did. When I became a senior and was looking into schools, I emailed Stefon and talked to him. He told me that he was starting at this program in California, as the artist in residence.
From hooking that up, he got me in the Brubeck Institute [at the University of the Pacific], which was an all-expenses-paid, just come work with him. It was not like a normal school. It was just one ensemble of five cats, and we just worked on ear training, writing music, and theory. A lot of Dave Brubeck. A lot of different music in general and guest artists. Stefon changed everything about my playing.
I assume there was a bit to change, because you had no real, formal vibes study until then, right?
I had classical percussion training, but then I'd go, when I was younger, do these gigs. Playing jazz and everything. Improvising. I would get all excited in the music and my technique would go out the window. Nobody ever really warned me about being specific to my technique because I could always get by. There was this natural talent. I could always play what I needed to play, so in the ensembles I was in, there was always a bigger worry than my technique, because I was playing everything right.
We studied with Mr. Dennis for a few years before high school and he got me more than ready for that. But once I got a little older, I didn't have anybody looking out for me on the vibraphone, so Stefon really took that.
Think of something as simple as breathing. As a percussionist, we don't play an instrument where we have to blow into anything or use our breath, so, I didn't know, but was holding my breath a lot when I was playing. That would tense up my muscles. That changes your body. One of the things he made me think about was just remaining relaxed while playing. It will help you play faster or play longer. Stamina and everything.
Stefon just opened up my thought process to thinking in a bigger picture in approaching the instrument and music in general.
When did you start composing? Before you went to the Brubeck Institute?
Definitely before. I would say probably even before high school, but I can't really remember that. I can say for sure that when we started freshman year of high school, I remember Ms. Mitchell encouraging us to write. That's where it started.
What led you to go to New York? What opportunity presented itself?
The Monk Institute. When I was there, there was an educator who would always travel to the school and work with us. His name is J. B. Dyas. The Monk Institute had these high school programs where they would take a high school ensemble to a different city and have you work with different high schools and perform for them, which is really cool. So J.B. took me and my brother and some other Chicago musicians to Washington, D.C., when the head of CPS in Chicago, at the time, became Barack Obama's head of the Department of Education, Arnie Duncan. That was maybe my freshman or sophomore year.
They would take ChiArts band, but then he would take the "best high school students" and make a conglomerate group they would call the "all-star group" and have us travel. We went to Philly my junior year and Los Angeles my senior year. That's where I met a lot of the musicians I know and play with today, like [pianist/composer] James Francies, drummer Mike Mitchell, [flutist/vocalist] Elena Pinderhughes, [pianist] Jeremy Corren. All of my friends now and who live in New York or California. I met all of them through traveling through Monk Institute.
After meeting them, I knew, "I want to be with them, and they are all going to New York. I got to be in New York." After graduating high school, I wanted to go to New York, but it didn't work out. I ended up going to the Brubeck Institute [in Stockton, California]. If you ask anybody now, they would say that it was the best thing that I could do, because it helped me prepare to move to New York. I got these two years of practicing and shedding, deeply. That's where I really started writing a bunch of music, and where the majority of music for KingMaker came from, the two years at the Brubeck Institute.
You end up at the New School in New York City. How long did you stay? I know that you didn't quite finish, because you became pretty busy.
I think I transferred in 2015. I got through a year. Started the next fall semester, and then I think Marquis [Hill] took me on my first tour that fall. That was difficult. I get it: teachers aren't always responsible for your intentions. Long story short: You've got to work to live in New York. I wasn't living on campus. I was a transfer student. I was already a few years older than most of the incoming freshmen. I tried to make it work. I would do a semester, take a semester off, do another semester. It was just too much for me, so in 2017, I took some time off, and that's when I really started touring as a sideman and bandleader a lot more. Eventually, recording.
I actually went back to finish last fall, during the pandemic. I should be done with the last semester this coming December.
Early congratulations. The quintets of Miles Davis and John Coltrane have been touchstones in the importance of a cohesive ensemble sound in your music. How did you use their inspirations to develop your group, Good Vibes?
The concept originally developed after meeting those names: James, Elena Pinderhughes, Mike Mitchell, and bassist Daryl Johns. At the time, they were the best young cats I had ever heard in my life. Naturally, I want to play with the people who are going to challenge me. I met them. They are great musicians. They like me. That was great. So, we just talked about moving to New York and starting this band together. You plan these things and they don't always work out, but I still had this idea of starting this band with friends. I got to the Brubeck Institute and I met the drummer Jalon Archie, another Houston musician who went to school with James and Jeremy. We moved to New York together and we were playing together. Then I met a bassist at a camp I went to with James, called Banff [Centre in Alberta, Canada], run by Vijay Iyer. That's where I met Ben Tiberio, the bassist on KingMaker, who is currently my roommate.
I started getting some gigs around New York and started calling who I could. I met Jeremy Corren during my senior year of high school, the pianist in Good Vibes. I always loved his playing. I knew he was in New York and I called him. We've been playing together for years, already, in different iterations. That's basically how each person joined. From meeting them to being like, "Yeah, let's play."
Things happened pretty quickly after that. All of a sudden, you are on Blue Note Records. How did that and the release of KingMaker come about?
I owe it to sticking around James [Francies].
Have good friends.
Yeah. Really. During my second year of the Brubeck Institute, I was figuring out where I should go when I get to New York, what school I should go to. I was thinking Juilliard, Manhattan School of Music, or New School. My guys were treating it like I was trading teams or something. "I'm going to Miami or L.A."
"I'm taking my talents to…"
[laughs] James and I were at the Next Gen Jazz Festival. It was a competition and some performances. The Brubeck Institute was there performing, and the New School had brought an ensemble, with James and Jeremy and some other cats. James was like, "Come to the New School." And I was like, "All right." He convinced me to come to the New School, but, while we were there, James met [head of Blue Note] Don Was. This had to be 2014 or 2015. I'm pretty sure that is where they started their conversation about James joining Blue Note. So he was in that family then.
Then I moved to New York and performed and recorded with James. I guess from there I was on Don Was's radar a little bit.
What really happened was, and if you rewind back to the Brubeck Institute, as the current members, we are part of the auditions for the next members. One of the musicians who auditioned for the Brubeck Institute was Don Was's son, Sol Was. He was a bassist. Don asks Sol and his other sons, "Who are the young musicians out there that you guys know?" Sol told him about me. He was kind of looking around and keeping his ear out and eventually reached out when he knew I had the band together or anything to record.
We had already recorded KingMaker before Don reached out. We recorded it, pretty quickly, in December 2017, once I got out to New York. Don reached out and I was like, "We have this already."
It went from there. But I knew that after releasing that, we wanted to put out something more up to date. We really wanted to record Who Are You? and release it soon after.
I wanted to talk just a little about your composing. Many folks talk about your rhythmic understanding, and the vibes provide so many harmonic possibilities. What do you feel influences you more when you compose? Stefon Harris also talks about emotions and colors in the things that you play.
Stefon helped me figure out how to extract the emotional element out of theoretical information. Chords… These sounds and everything. His whole method of teaching is ear training, and it is supposed to teach people to improvise and play music. Not on a cerebral level. You can hear it and feel it. He basically wants you to be able to hear this sound and intuitively know what it is. There's a chord, you should play it. We call it the "baby chord," because it is like, "When I look at a baby like this…"
I love the idea that music and notes can have that sort of effect on people. And I know that, because growing up in the church, playing music serves that purpose. It is not about soloing or being in the spotlight. It is definitely in service to this bigger thing. That was always a part of the equation.
The way that I compose changes. It will either come from a rhythmic place or a harmonic idea or a melodic idea. It can really come from anywhere. Any type of inspiration. Once the things start coming together and I start piecing them together, then it is like, "What's the story that is going to be told here? What is the mood? Is it playful? Is it serious? Is it sad?" I try not to decide these things so much as to let them naturally form. There is a fine line. I try to keep what I want out of the compositions and just let them become what they should be. But sometimes, I just like to throw quirks into them. That's just my personality.
That is why I love Thelonious Monk. He has his personality in all his compositions. But I do feel that a lot of his music is rather simple, and, if not simple, it is specifically simple in his style. He has a vibe. It is just like, "Oh yeah, that's a Monk tune." That's how I want to be. "Oh yeah, that's a Joel tune." It may be in 13/8 or whatever, but I want people to hear this melody and think, "That sounds like something Joel would play. That's something Joel would write."
That is more of a recent realization. I'm still learning and figuring out what I'm trying to do.
How did you feel that you grew compositionally between KingMaker and Who Are You?
I stopped writing so many hard, rhythmic things for the sake of it. A lot of the things written for KingMaker were—like "Ill Relations"—I'm pretty sure that was an assignment from Stefon working with the theory that we were working with him. We had to create a melody based on that idea. That was an assignment. A lot of the rhythmic stuff that was happening at the time, we were just trying to figure out how to play it. We couldn't play a lot of that music at the Brubeck Institute, so when I got to New York and started the band, we spent a year and a half figuring out how to play it.
Is there something to say about finding the right people to make this music run?
I guess the music was difficult. These were the musicians who were willing to learn it. I actually met [saxophonist] Immanuel [Wilkins] last, when my group was already at Jazz at Lincoln Center playing a late-night session and he came and sat in. Then we did another session at the New School, read through "Ill Relations" and some other music, and we were like, "Okay, we're gonna be playing for a while."
Then we spent the next year and a half trying to play the music. Those first few years, we were really learning how to be a band. Less about the music. Now if you ask Jeremy or myself or anybody who is playing the older music, we're actually trying to go back and look at that music again and reapproach it, because I feel that we can approach it a little more maturely now.
A lot of that music written for KingMaker was challenging to me. It was what I was listening to when I was listening to music while graduating from high school. That is when I first got exposed to [pianist] Robert Glasper, Gerald Clayton, [trumpeter] Ambrose Akinmusire. A lot of Herbie [Hancock] and Wayne [Shorter's] funkier compositions. Not so much the easy-listening ones, but the ones that were a little crunchier chordwise. Getting into different music that I wasn't exposed to before and trying to understand it and how it was working.
I remember listening to Ambrose's band and his album, When the Heart Emerges Glistening, and not really understanding how the band [was] reacting and responding to each other the way I learned from the Miles Davis Quintet. I didn't understand that at first, either. It was a learning thing. I guess the music that I was writing was just my interpretation of that and how to work with these rhythms and have a melody. Things like that.
You had a lot of things happening when COVID struck. How did that affect you and your momentum? Did you just take the time to readjust and do some other things?
I just went with it. I just kind of go with everything. I took the time. I was running around a lot. We were about to get even more busy. But it was a time to stay home. My girlfriend is a flutist and woodwind player, Gabrielle Garo. She lives in Brooklyn and we are only about ten minutes from each other. I would go over to her family's house. We spent the whole quarantine together. We met at New School, but we never really had time to play or work with each other. We spent quarantine just having the chance to write music. That's how we worked on "Gato's Gift" together. We did some livestream things. At this point, everything I write, she knows. And vice versa. She encouraged me to go back to school. Other life things… Getting tax stuff together.
Once the gigs started coming back, I kind of changed. The compositional process changed a little bit, in that once these playing opportunities started popping up, I had to be calling. Everybody was gone in New York. So I'd have to work with whoever was there. I couldn't be bringing in this difficult music. It takes rehearsals. I wanted to play some new stuff, because I like to change things up, so I just started some simpler forms, simpler melodies that could really be vehicles for improvisation.
That's where a lot of the music that we're playing now on the road comes from. It is a mix between those easier, open vamps, blues… I've been focusing a lot more on what the blues means to me. Maybe not in a traditional sense but stretching the limits on the definition of what the blues means.
Do you have any particular insight on that?
[laughs] I guess the best thought I could see… I went to see Ambrose at the [Village] Vanguard a couple weeks ago. We were talking and he was talking about a blues that he has. They were joking around saying that it wasn't really a blues. I guess something that we agreed on is that the blues is a spirit. There is this sound that we associate to the blues, but it is really a spirit. An aura. You know when somebody is not just playing the blues, but somebody has the blues. It is relational and situational to somebody's life. Not to say that everything has to be all doom and gloom for you to be able to play the blues. I think there is a sound… I'm still figuring it out.
It sounds like you are on the right track. Now that you are back on tour, how does it feel? Is it any different being in front of audiences now than before the pandemic?
In the best situations, the bands are more focused. We feel like we're making up for lost time. All the musicians that I've been playing with kept shedding, because they either knew or hoped that we'd be getting back to this. I've been enjoying getting back to playing with everybody, because everybody sounds good. It has been fun to play.
I feel like I've been pushed and am growing. I feel a lot of growth from the last time I was able to play with a lot of these people.
Apart from the tours, are there any upcoming projects coming up?
It is not announced quite yet, but I recorded my large ensemble, Parables, last summer. I had a commission at a venue in Brooklyn, Roulette. I wrote some music for that. We recorded that music this summer. It should be released next spring.
I saw that you've been playing a bit of piano on tour. Is this something that you've been delving into more in live performance, or is it something that has been in your bag that you've wanted to do?
Probably the latter. If you ask anybody, anytime there is a piano around, I'm probably on it. Anywhere. It has been that way since high school. I just love the piano. It is actually my favorite. The drums and piano are my favorite instruments. If I could perform on them at a level I wanted to be at, then I would. I just normally feel that the vibraphone is the easiest instrument that I'm able to express myself on.
I also don't like comping on the vibraphone. If I don't have a piano player in the band, then I prefer to comp on the piano. These gigs have been without Jeremy. Immanuel is going to join us in about a week. For now, I've been using the opportunity to play more piano and get more accustomed to figuring out how to make it flow between the piano and the vibes during a gig.