London Town
Jazz has been part of London's musical landscape for over a century, as well documented by Lloyd Bradley in his revealing 2013 book Sounds Like London: 100 Years of Black Music in the Capital. Particularly relevant to later developments were the Musicians Union restrictions, which limited opportunities for U.S. performers and in turn enabled musicians from the British Commonwealth to help fill the gap. London was awash with jazz clubs in the '50s and '60s, with many of the best players African or West Indian.
The British blues obsession also fueled a demand for home-based Black singers and musicians, and so, by the mid-'60s, away from the showbiz mainstream, many Black artists were recording jazz, rhythm and blues, and ska, as well as regularly performing in the numerous clubs and venues.
Then came Jimi Hendrix. A U.S. artist, but one who first broke in the U.K., recording "Hey Joe" in late-'66 London. The rock era, its main icon a Black man, provided a loophole for British-based Black musicians to express themselves with a newfound freedom, at least as far as the recording process was concerned, rock being a very wide church at the time and the "progressive" category an undefined territory. This was a different terrain to the pop and R&B successes of artists like former U.S. serviceman Geno Washington and the Ram Jam Band, the Equals, and the Foundations, who were very much regarded as a British imitation of the real deal Black American groups.
Bluey remembers how, as a young musician, genre definitions never got in his way: "I'll give you a perfect example of how things merge. When I was at school, I was listening to Deep Purple as much as I was listening to Motown, you know—I learnt 'Smoke on the Water' on the guitar, and I learnt 'I Heard It Through the Grapevine' on the same day." Black youths were indeed watching Top of the Pops like the rest of the British population, growing up with prog and glam rock, as well as funk and dub.
Out of this environment came a number of bands of the late '60s/early '70s consisting of or featuring Black members, including the Ferris Wheel, Cats Pyjamas, Black Velvet, the Sundae Times, One, Demon Fuzz, Assagai, and Hanson. Complete with their eye-catching Roger Dean artwork, the most successful were Osibisa, an amalgamation of African and Caribbean musicians whose first two albums, 1971's Osibisa and 1972's Woyaya, both reached #11 on the U.K. chart, as well as #55 and #66 in the U.S., respectively, providing a crucial juncture for the continued emergence of "world music." Across the Atlantic, the Black Power movement in the U.S. was influencing the more politically aware among U.K. Blacks—its heroes and heroines adopted as symbols of a wider cause. It was this melting pot of influences that powered the British approach.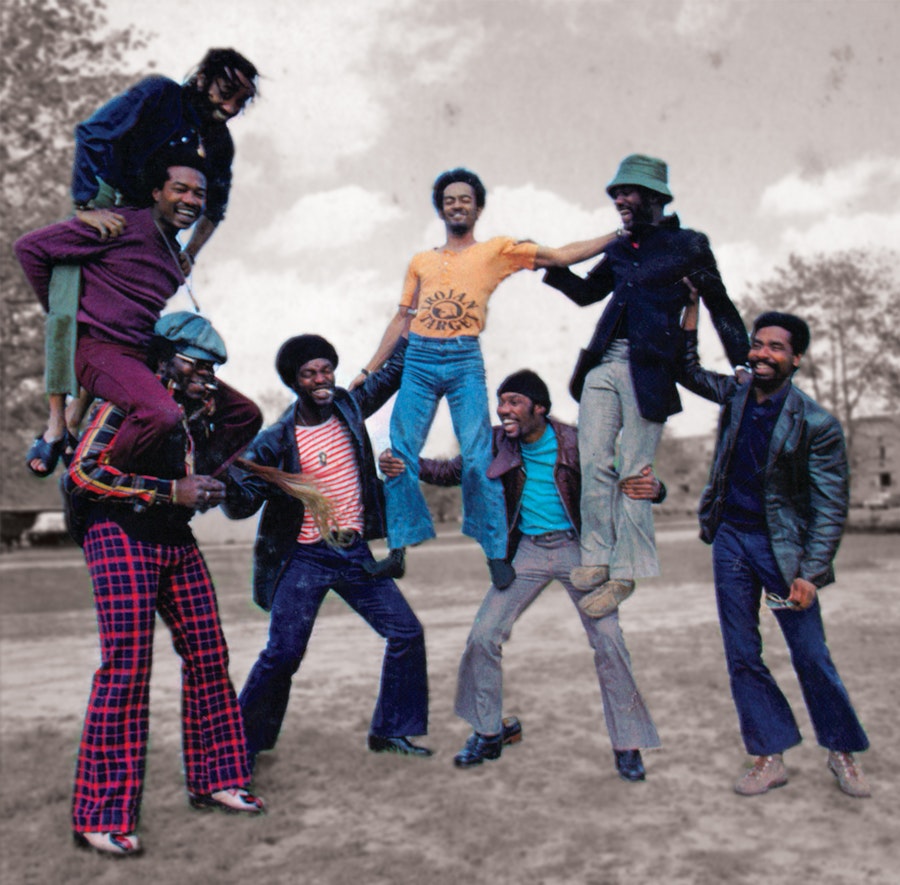 Cymande and Afro-funk
Osibisa excepted, these fusions of funk, Afro, reggae, jazz, and rock are largely forgotten, many long deleted, but, despite almost criminal inattention in its source country, another Caribbean/African alliance would find favor in the U.S. following the release of their self-titled 1972 LP. Cymande's debut single, "The Message," remarkably pierced the U.S. top fifty, while reaching #22 R&B. The album would double down on this unexpected chart bonanza with the follow-up single "Bra." And Cymande's next LP, 1973's Second Time Around, brought them further R&B success. While Osibisa faded into memory, Cymande would ultimately be rediscovered by break-seeking hip-hop DJs and producers, although their music's U.K. origin was a surprise to many. London's rare-groove scene of the mid-'80s further spotlighted the band's legacy when "Brothers on the Slide" became a belated anthem. Despite success in touring the U.S., they disbanded to take what was supposed to be a temporary break from the road in 1974 following their third album, Promised Heights. As Cymande guitarist Patrick Patterson told Wax Poetics in Volume 2, Issue 1, "Truth of the matter is, we took a sabbatical. We had done two tours of America, and when we got back to the U.K., we didn't feel the appreciation was what we got in the States… We were disappointed, but also wanted to explore other things." The temporary break ended up lasting decades until Cymande officially reunited in 2012.
British funk groups had begun to surface by the mid-'70s, with albums from Gonzalez and Olympic Runners in '74 and F.B.I. in '76, while Nigerian group the Funkees, having relocated to London, provided a forebear of jazz breaks to come with their percussive Afro-funk. The Chequers, having started out in reggae and switched to funk, just missed the top twenty in late '75 with "Rock On Brother." These bands were often to be found supporting, and sometimes providing backing, for overseas artists on their U.K. tours.   
The Equals
Blues & Soul had their own label, Contempo, which both licensed U.S. material and produced their own. Their house band, Ultrafunk, were best-known for 1975's "Kung Fu Man" with former South Carolina boxer, Freddie Mack, reinventing himself in the U.K. as Mr. Superbad. Led by Eddy Grant, the Equals would also weigh in with "Funky Like a Train" in '76, although it would fail to give them their first hit since Grant's no-nonsense "hymn to diversity" (as The Guardian put it in a 2011 article), "Black Skin Blue Eyed Boys" six years earlier. The Equals had trailblazed in the late-'60s as an interracial group who scaled the pop heights, not just in Britain, but internationally, thanks to their 1968 U.K. #1 "Baby Come Back" (the Foundations had achieved the same feat the previous year with the Motown-esque "Baby Now That I've Found You"—the first U.K. #1 by a multi-racial group).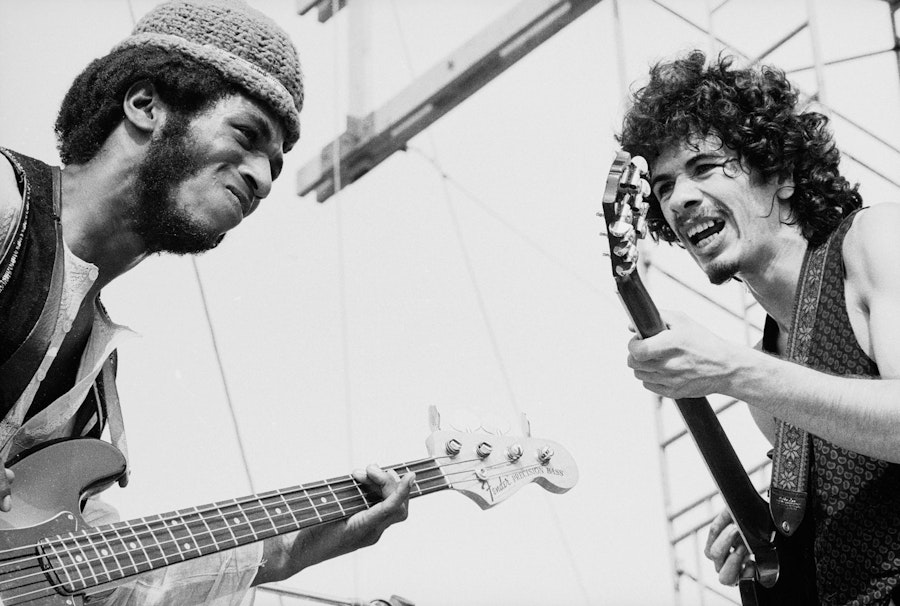 Santana
The rich hidden heritage of British funk was caringly curated by Bluey on the 2005 compilation Brothers on the Slide: the Story of UK Funk. He tells me about his own Damascene conversion, and how, having been drawn to rock as well as the various strands of Black music in his youth, he'd gone to see Santana in '75. Resisting the indifference of his cousin, who favored the pub to sitting through a support act, Bluey told him, "'Man, look at the name: Earth, Wind & Fire. They can't be shit!'"
"The name got me, nothing else," says Bluey. "I didn't know anything about Earth, Wind & Fire and was surprised to see as many Black people going in to see Santana, 'cause I'd been to see Santana before and not saw a Black face. Here I was at Hammersmith Odeon this time, and it was like it looked like a thick fifty percent Black crowd. I was like, 'I'm going in!' So I went in, sat down, and got my mind blown. All I can say is Santana had balls to put them on before him."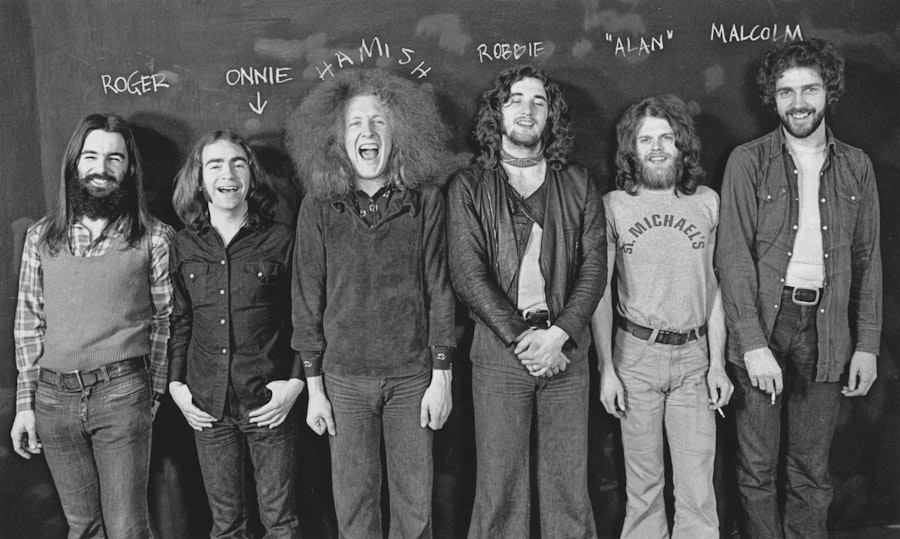 Average White Band
While most Black British musicians could only dream of the type of fame and acclaim afforded to Santana or Earth, Wind & Fire, right out of left field a Scottish group with a self-deprecating name, the Average White Band, famously topped the U.S. chart earlier in '75 with their classic instrumental funk workout "Pick Up the Pieces." Although a white band, this was heard by Blacks and whites alike as "authentic," the sound itself undeniable, with further endorsement in that it was signed to Atlantic and produced in the U.S. by the already legendary Arif Mardin.
The Black British soul groups of the '70s who compromised to commercial demands were deemed "inauthentic." These groups often had to work with pop producers and writers, and so were dismissed by the more up-front side of things as diluted pop-aimed pseudo-soul. Pye labelmates Sweet Sensation, Sheer Elegance, Carl Douglas, Jimmy James & the Vagabonds, and, some consider rather harshly, the Real Thing all fell into this camp, as did the hit machine that was Hot Chocolate, signed to the pop-aligned RAK label. This was decidedly not the music that the Black youth regarded as representative of "their music." British Black music was constantly judged against the exceedingly high standards of its U.S. innovators.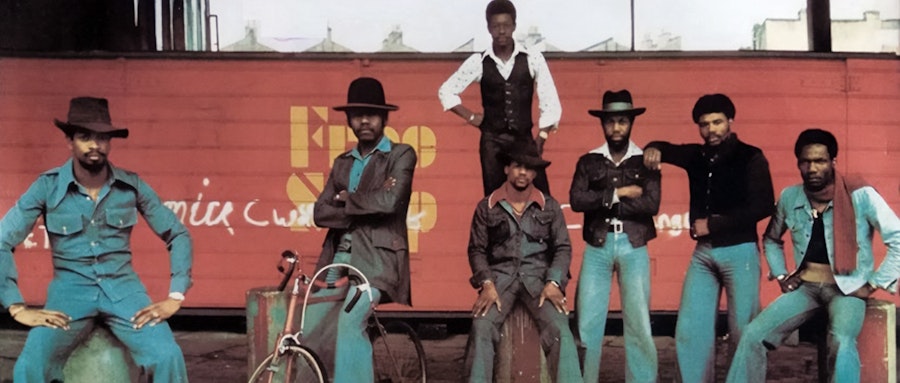 J.A.L.N. Band
The rawer disco funk of Birmingham's J.A.L.N. Band seemed to be cut from a different cloth, first appearing in 1975 with their cover of the Fatback Band's "Street Dance" and narrowly missing the U.K. top twenty the following year with "Disco Music – I Like It." Although this was a Black band, lurking in the background was future '80s pop impresario Pete Waterman, then an ex–club DJ from Coventry working for Magnet Records and making his first foray into record production. The group, however, failed to live up to their initial promise, and, already irrelevant by the time the jazz-funk scene began to bubble, they're rarely mentioned in any accounts of British funk lineage.
Heatwave
There was one British band that bucked this trend—British in that they formed and thrived in London, but with an international lineup including Americans, a Swiss, a Czech, and a Jamaican, along with its U.K. contingent. This was Heatwave, whose disco sensation "Boogie Nights" went all the way to #2 in the U.K. in early '77, before they achieved the same feat later that year in the U.S. Despite having an international hit under their belts, their debut album stalled at a disappointing #46. The U.S. acclaim stacked up when the soulful ballad "Always and Forever" took them back into the top twenty, and right up to #2 R&B. A further single, "The Groove Line" in '78, gained support on the nascent jazz-funk scene on promo, before being quickly dropped on release as it climbed the chart, stalling at #12, before, once again, taking off in the U.S. a few months on and placing Top 10 both pop and R&B. "Boogie Nights" and "The Groove Line" are played by Chris Hill in the film British Hustle, the former somewhat surprisingly given its then already long-standing pop association. Heatwave's main songwriter was, of course, Cleethorpes-born keyboardist Rod Temperton, destined for greatness via his oncoming association with Michael Jackson.
Soul and funk was the mainstay of mid-'70s club music in the U.K., taking in a range of styles and tempos, but soon there were also a whole host of tracks breaking out of New York's underground clubs. U.S. trade magazine Billboard included a weekly National Disco Action chart from '76, as this newly defined club genre gradually seeped overground and eventually became full-on money-spinning massive.
Before the movie Saturday Night Fever was released in late '77, disco music generally related to soul and funk. It was shorthand for music played in discotheques and clubs. However, in the slipstream of the juggernaut success of the film as the mass audience gatecrashed the party with a Bee Gees soundtrack in tow, the jazz-funk direction increasingly became the up-front option for those who wished to remain ahead of the pack.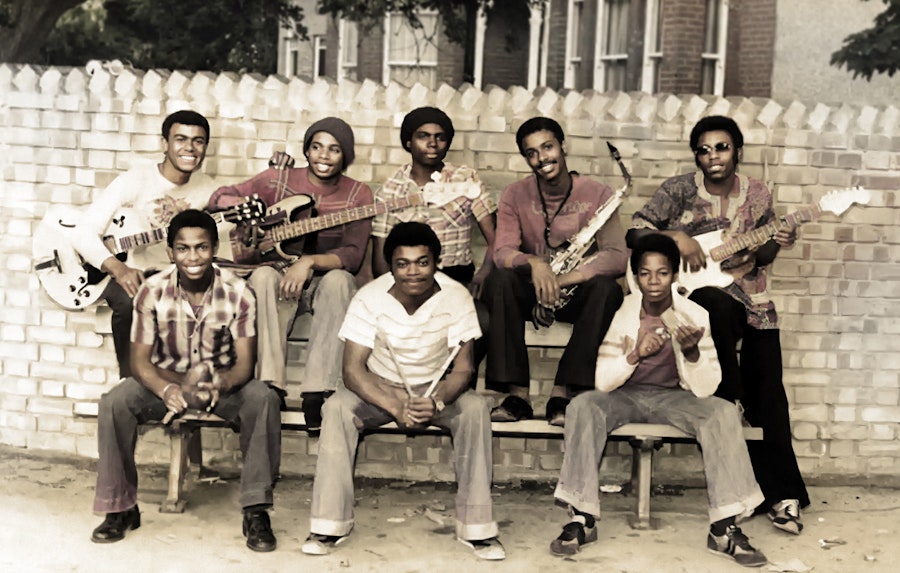 Hi-Tension
The stage was now set for a new generation of jazz-funk-inspired and largely London-based Black British musicians. Taking the lead would be Hi-Tension, who'd started out as Hot Waxx in the North West of the capital, and first announced their presence in 1978 with their debut single, "Hi-Tension," on Island Records. Young and bold, they separated themselves from those who had gone before, and those who, as they told Blues & Soul at the time, were "merely duplicating the American sound without adding their own feel." This homegrown monster club cut, which could be played alongside the latest U.S. imports without sounding in any way out of its depth, would also meet with mainstream approval, climbing to #13 on the chart and taking the eight-piece onto Top of the Pops, the BBC's all-important weekly music spotlight.
This then provided an entry point for a generation of white kids, at that point unconnected to the Black club scene, to engage with British Black music, including a teenage Gilles Peterson who recalls, "You'd see Hi-Tension on Top of the Pops and say, 'Well, this is me'—I could relate immediately to it."
The follow-up single "British Hustle" took them into the top ten and it was sky's the limit for Hi-Tension, but that was as good as it got, none of their later singles troubling the chart. Disappointingly, their LP barely scraped into the top seventy-five, lending weight to the argument that whereas the clubs could break singles, this didn't translate to the big league of album sales. So while club promotion had been standard with U.K. record companies for a number of years, it was still regarded as the poor relation in comparison to the roles played by the A&R, radio, TV, and press departments.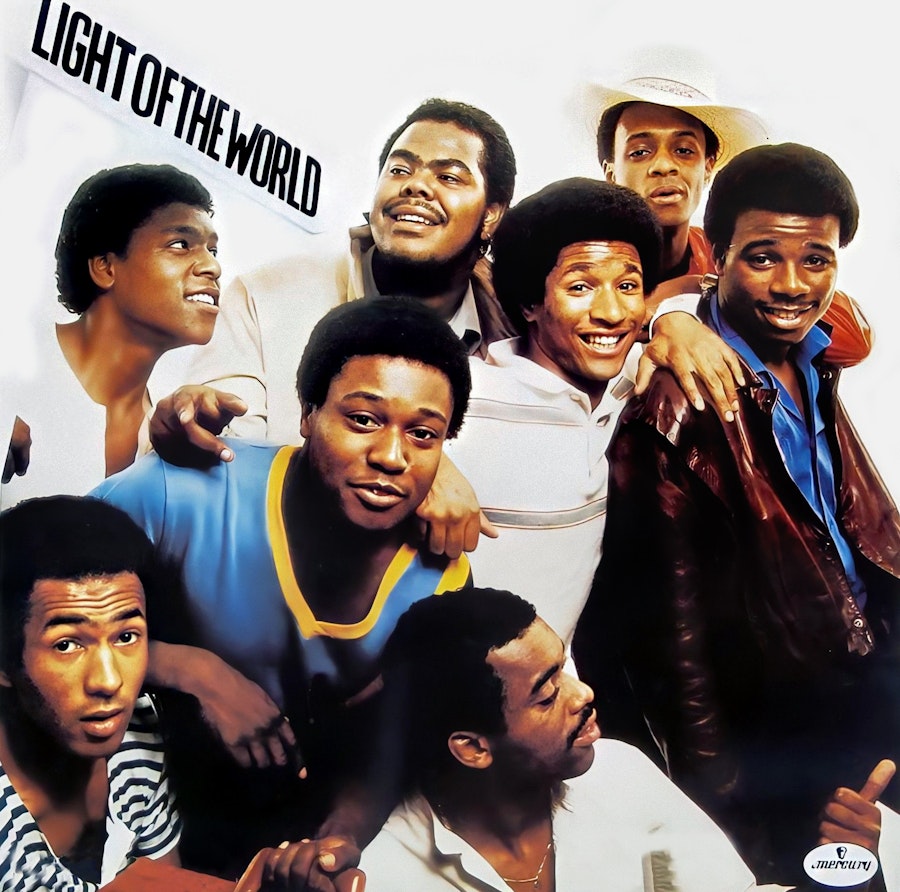 Light of the World
In '79 there was a new band on the scene, their name referencing Kool and the Gang's 1974 album, Light of Worlds. This is where Bluey makes his bow, part of a sprawling lineup of mainly North Londoners, but with Mancunian representation, managed by record shop owner Joe Williams. Having been signed up by Chris Hill to Ensign Records, Light of the World unleashed their brass-driven debut release, "Swingin'." Hill's partner, Nigel Grainge, had been a club promotion pioneer, inventing (as Hill put it) the idea of a mailing list solely for disco DJs and excluding radio DJs. This was back in the early '70s, several years before New York's first record pools.
In the same vein as "Hi-Tension," but full-throttle in its raw urgency, "Swingin''' was met with surprising indifference in the pages of Blues & Soul, despite Hill writing a column for the magazine at the time. The record was quickly embraced by the DJs on the scene, however, making it to a highly commendable #45 on club and specialist radio play alone. Frustratingly, their second single, "Midnight Groovin','' failed to build on the momentum.
There was also some initial resistance from within the Black community itself; many of those deep into reggae/dub or unprepared to look beyond U.S. funk, soul, and jazz were quick to disregard the nascent British jazz-funk scene and its bands as faux. Speaking to then staff member Pete Tong in a 1980 Blues & Soul interview, Light of the World's Kenny Wellington described the band's audience as "mixed 50/50," adding "the strange thing is that any prejudice or spitefulness we have endured in the U.K. has been at the hands of Blacks themselves."
Running parallel, in the pop arena, the 2 Tone label was stacking up the hits in the late '70s/early '80s via ska-inspired artists like the Specials, the Beat, and the Selector—British bands that included both Black and white members. However, their audience was largely post-punk white and, for all its merits, it wasn't what you'd hear a Black music DJ play.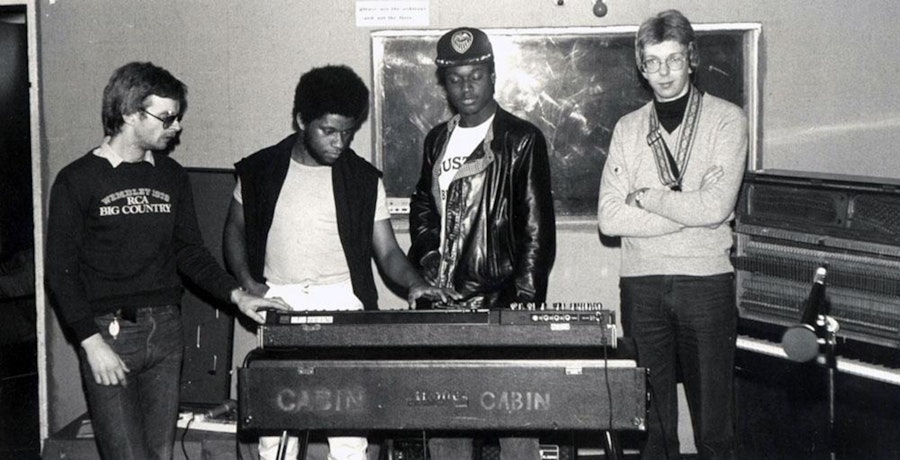 Atmosfear
With Hi-Tension stalling and Light of the World struggling to take off, a fresh spark was needed, which arrived with the dubbed-out U.K. jazz-funk opus, "Dancing in Outer Space" by Atmosfear, who, like the 2 Tone acts, were comprised of both Black and white members. Months earlier, Toronto-based/Hackney-born David Bendeth had served up an Anglo-Canadian jazz-funk classic in 'Feel The Real.' Following Bendeth into the top fifty of the chart, having been and forever remaining a huge underground tune, "Dancing in Outer Space" had surfaced earlier the same year of 1979 on the independent label Elite, but was quickly snapped up by a major, MCA. It was a landmark British release, living up to its title and sounding like nothing before. This funk/jazz/ reggae/disco force ushered in not only the new decade, but a new U.K. jazz-funk direction, the studios bubbling with activity as new bands put out a steady flow of records that found favor with the DJs—these included Central Line, Edit Point, Level 42, Shakatak, Stop, T.W. Funk Masters, the Rah Band, and the UK Players.
It was all still very much underground, although "The Scratch" by Surface Noise, released on WEA but affiliated with Groove Records, the essential Soho import shop, impressively climbed into the top thirty. As with Andy Sojka and Jerry Pike, who'd come from behind the counter at All Ears in Harlesden to mastermind the Elite label, producing the likes of Atmosfear, Level 42, Stop, and Powerline, Groove's Chris Palmer also made the transition from selling to making records. Palmer's credits, apart from Surface Noise, included Inversions, Cayenne, and Linda Taylor for Groove Production, plus UK Players for A&M and Morrissey Mullen for Beggars Banquet.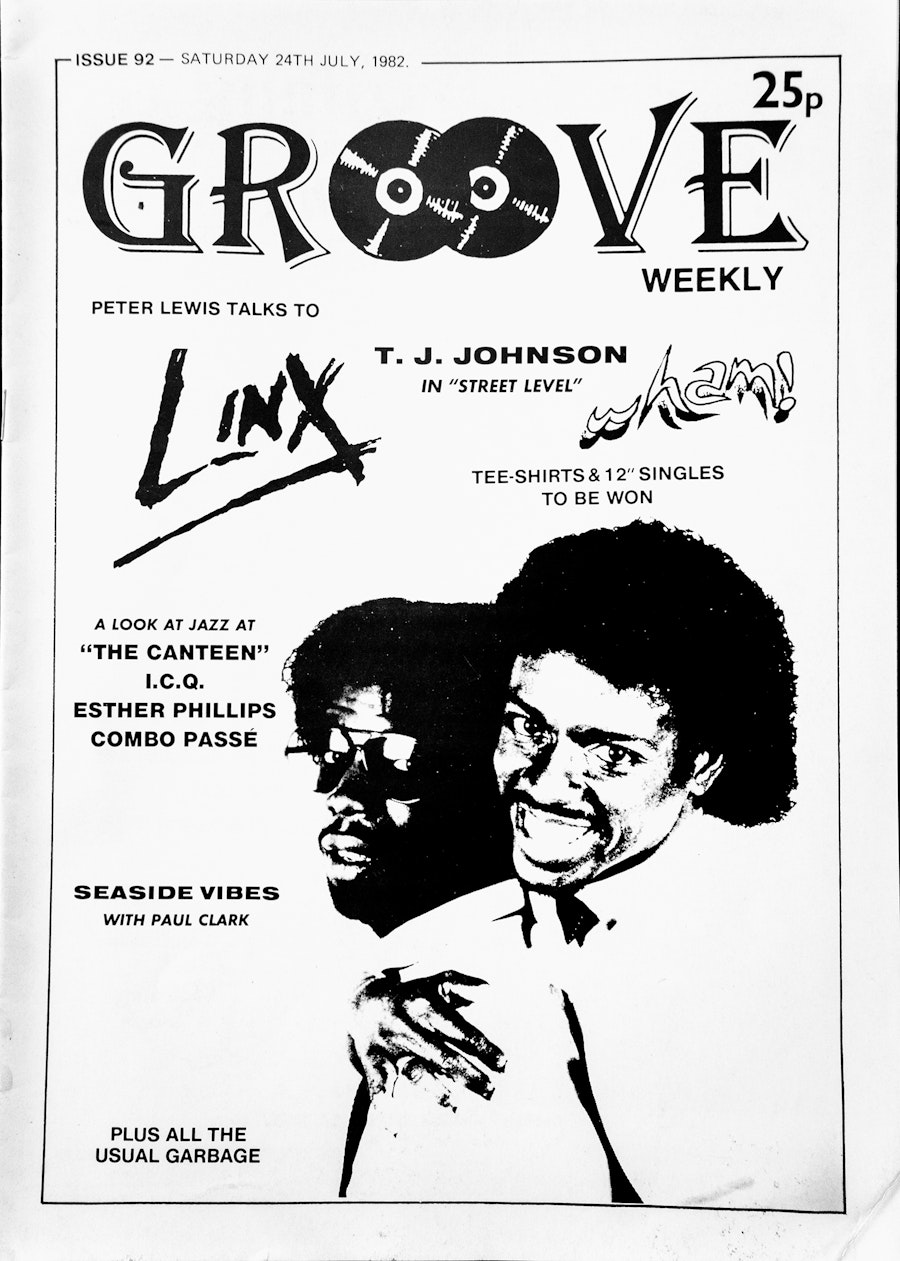 Linx
The advent of Linx was a major landmark. Led by vocalist David Grant (once in a gospel group with a pre–Light of the World Bluey) and bassist Peter "Sketch" Martin, Linx's single "You're Lying" would originally appear as a limited pressing of one thousand on Aves Records, sold through City Sounds in Holborn. Major label Chrysalis took notice, and not only would the track reach #15 in the U.K. during the autumn of 1980, but would also become a top thirty U.S. R&B hit the following spring. In 1981, they'd make the U.K. record industry sit up when their debut album joined their latest single, both entitled "Intuition," in the Top 10. It announced U.K. jazz-funk's arrival as a commercial force but would also mark the end of a cycle as well as the beginning of a new one.
Nineteen eighty-one was the year of uprising, with the U.K.'s various Black communities taking their grievances onto the streets; a younger, more self-assertive generation was not going to accept the abuse and harassment their parents were subjected to. What was more, many white kids were out on the streets with them, their Black counterparts no longer regarded as "the other," but their friends and neighbors. What had been happening in the clubs, and at the All-Dayers and Weekenders, impacted hugely on wider society. Barriers had been broken down via a shared love of primarily Black American music, but now cemented by this plethora of bands and recording projects who weren't being judged by the color of their skin, but by the quality of the tunes they put out.
It was also the year that, having witnessed independent labels like Elite and Groove Production punching above their weight, the bigger record companies really began to sit up and take notice, tapping ever-deeper into this jazz-funk subculture, seeing a developing market, and wanting in on the action. Club promotion departments would morph into A&R outlets now that there was a flourishing British source to mine, each company signing up their quota of "Brit-funk," which in '81 had become a new industry buzzword for radio friendly British Black music acts. If you wanted to get into the charts and have a financially successful music career, you had to have hits, and daytime Radio 1, with its pop-based playlisting, held make-or-break power there. Thus, a compromise was made by many, and a lighter, more pop-friendly approach was a feature of much Brit-funk, which would in turn be superseded by the Jam & Lewis–inspired street soul direction, with Loose Ends at the vanguard and key contributions from the Cool Notes and, briefly tasting commercial success, the Funk Masters whose Master Funk release "It's Over" went top ten in the U.K. in '83.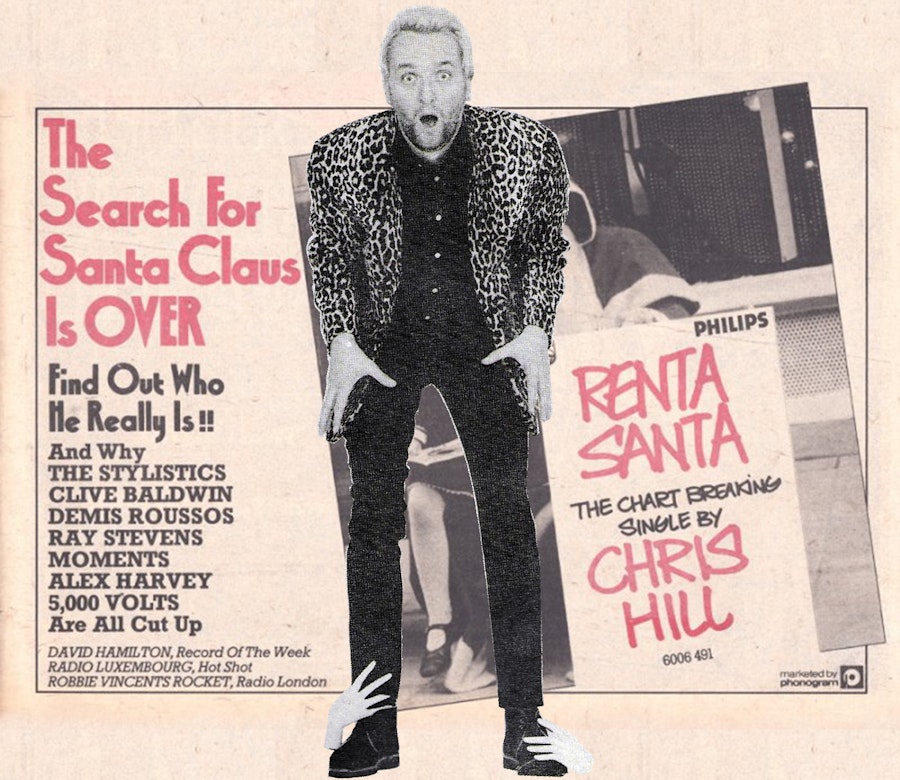 Chris Hill
Once again, Chris Hill was at the center of things. Apart from being a DJ, he was also a largely unsung music industry figure. He came to national attention via consecutive Christmas novelty hits in '75 and '76 on the Philips label: "Renta Santa" and "Bionic Santa." It was satirical fun in the style of American Dickie Goodman, whose debut single (with Bill Buchanan) in 1956, "The Flying Saucer Parts 1 & 2," was the first ever cut-and-paste hit.
Hill's Santa trilogy concluded with "Disco Santa" in 1977, but the idea had ridden its luck and this final offering failed to chart at all. It was also on a different label, Ensign, Hill's new venture, which had established itself that year with a trio of hits, two for Irish punk band the Boomtown Rats, and an oddity from Danny Williams, a South African–born old-timer who'd topped the U.K. chart way back in 1961 with his cover of "Moon River" before disappearing into the shadows a few years on. Now he was back for a top thirty swan song with "Dancin' Easy," a curious rewrite of the then popular "Anytime, anyplace, anywhere" Martini TV advert, and another novelty feather in Hill's cap.
The label initially failed to impress the DJ community, having, apart from Hill's involvement, no apparent connection with the Black music scene. That was until 1979 and Light of the World's arrival, who, as well as recording, were lauded for their live shows, becoming a feature of the All-Dayer circuit and its satellite clubs. Almost from the beginning, however, the band was precariously creaking under its own weight, and faced with a variance of opinion as to how they should move forward. Creative agendas gradually broke down into component projects. A slimmed-down Light of the World would move on with their second album, 1980's Round Trip, produced by Augie Johnson, the founder of Side Effect.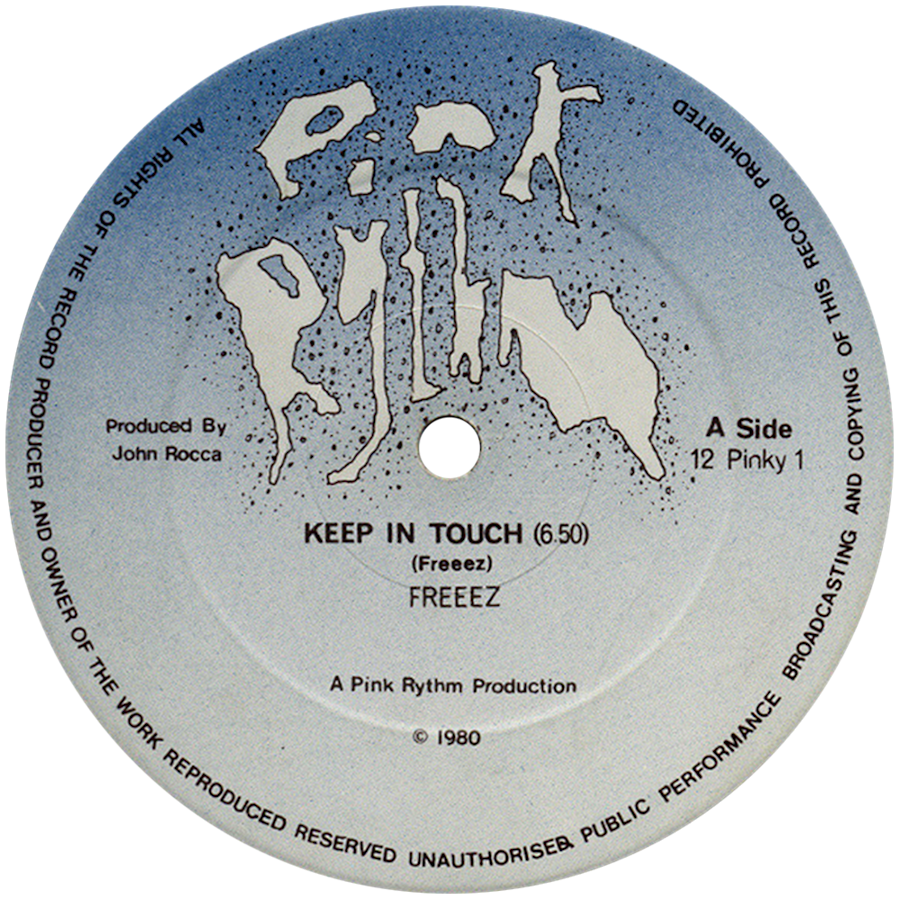 Freeez
Bluey hadn't waited around, initiating Freeez with John Rocca and releasing two singles on the Pink Rhythm label in 1980, "Keep in Touch" and "Stay," the first of which scraped into the U.K. Top 50, thanks purely to underground support. Still restless, Bluey and LOTW bassist Paul "Tubbs" Williams decided they wanted to "do something a bit more jazzy," asking Chris Hill if he could give them a studio budget. Hill obliged and Incognito was born, their self-produced single "Parisienne Girl" a jazz-funk favorite as well as an unlikely, albeit minor, hit.
This was a defining moment for Bluey: "I wanted to be the producer of my stuff. Whereby a lot of Light of the World went on to be produced, I wanted to produce my own music, you know, and Tubbs felt that way as well, you know. Tubbs and I were two people who actually felt that when we're being told about something, if it was something positive, we would accept it; but if it was something which we felt was going to lose our sound, because we knew what we were going for, we would stand up to it. So therefore, one of the things that I can tell you clearly that Chris Hill did for Tubbs and I, was he encouraged us to produce our own stuff, whereby with the other stuff he was looking for producers. He understood that this project was something we wanted to produce, and he encouraged it."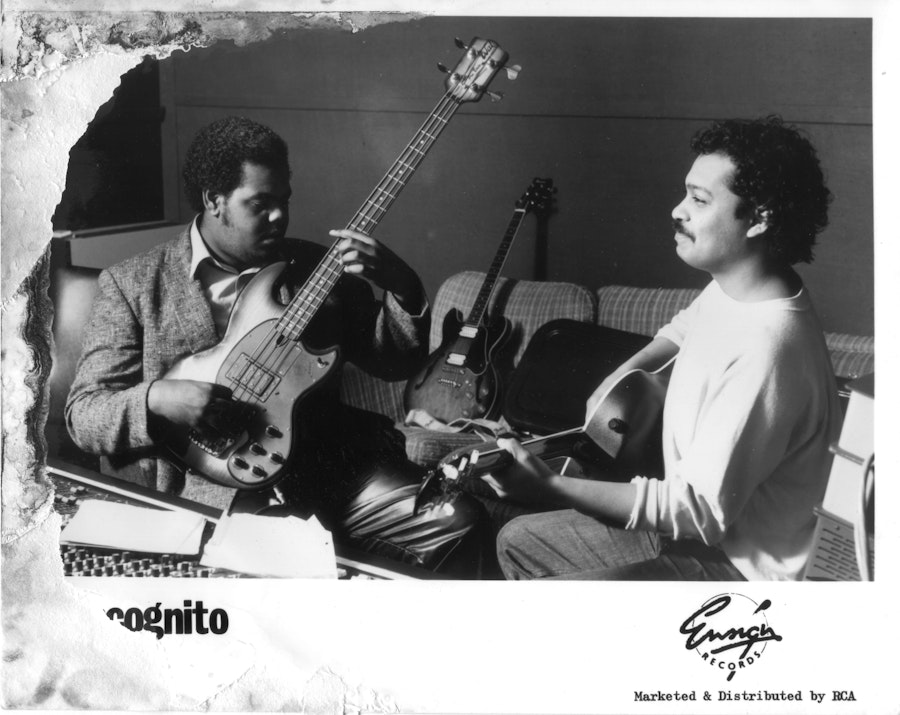 Incognito
Following the auspicious "Parisienne Girl" session, Hill put Incognito back in the studio, but rather than presenting him with the expected second single, they conjured up an entire LP which they'd call Jazz Funk. Released in April 1981, the album would remarkably dent the U.K. top thirty. In context, Light of the World's Round Trip, issued just a few months beforehand, peaked at #73, while two years earlier Hi-Tension's only LP stalled at #74.
The faith that Hill had in them is not lost on Bluey. "He said, 'That's great, man! If you guys want to produce your own stuff, go ahead.' And he basically gave us as much of a budget as he could give a band that was not saying, 'We want to have this commercial kind of success.' We didn't care for it, you know, we just wanted to make a proper jazz-funk record with instrumentals and stuff in it. We weren't worried about where the next single was going to come from. And he took that on board and he gave us as much money as he could give a band that really wasn't going to give him a return." Hill would later enthuse to Bluey and Tubbs, "'You guys ain't going to believe! We sold 80,000 copies of the album!' He was shocked. Even Chris was shocked."