In his native Jamaica, U-Roy was known as "the Originator" because he turned everything around for the deejay, transforming incidental figures attached to sound systems into actual stars whose chanted rhymes were as important as the lyrics of any singer, paving the way for the dancehall style. His innovation had important repercussions outside Jamaica, especially in the rap and hip-hop culture that emerged in New York. His death at the age of seventy-eight, in February 2021, thus had an end-of-an-era feeling about it, especially as his passing was followed so swiftly by that of Bunny Wailer, with whom he shared a particular history: U-Roy had voiced a toasting cut of the Wailers' "Trench Town Rock" in 1971 as "Kingston 12 Shuffle," just as each of these artists was rocketing to fame.
U-Roy's incredible career lasted over half a century and brought him to stages all over the world, yet he remained grounded and down-to-earth, aware of his achievements but never feeling the need to boast about them. On stage, on record, and in the sound system arena, U-Roy was a force to be reckoned with, and he had a potent personality, yet was somehow a modest man who eschewed vanity. Our salute to this musical titan profiles the more important elements of his accomplishments to illuminate how his creative impulses influenced the evolution of reggae and the popular culture of the world at large.
"I didn't think that something like this would ever happen and that it would still be going on until now," he said in a low drawl, breaking into a bemused smile. "At the time, it was like a joke! A deejay is just a person who comes to a dance, he talks over the mic, puts records on, and reads the invitation of where the next dance is going to keep. Who could tell that this thing would ever reach like this, people having number one on the chart!"
I conducted my most detailed interview with U-Roy at his Jamaican headquarters in Cockburn Pen, a lower subsection of Waterhouse in Western Kingston affiliated with the conservative Jamaica Labour Party. The area had long been blighted by gang violence, and seated on his veranda in a string vest, U-Roy radiated the kind of physical toughness needed to thrive in this harsh urban space. However, U-Roy was clearly seen as a role model and was deeply involved in his local community, his King Stur-Gav sound system retaining a social function more than anything else, enabling disenfranchised citizens to make ends meet through local dance promotions. "There's people who tell me that when they keep dances with many different sounds, they never make no money," U-Roy explained. "But when they keep a dance with my sound, they make some money, and I always be very happy about that."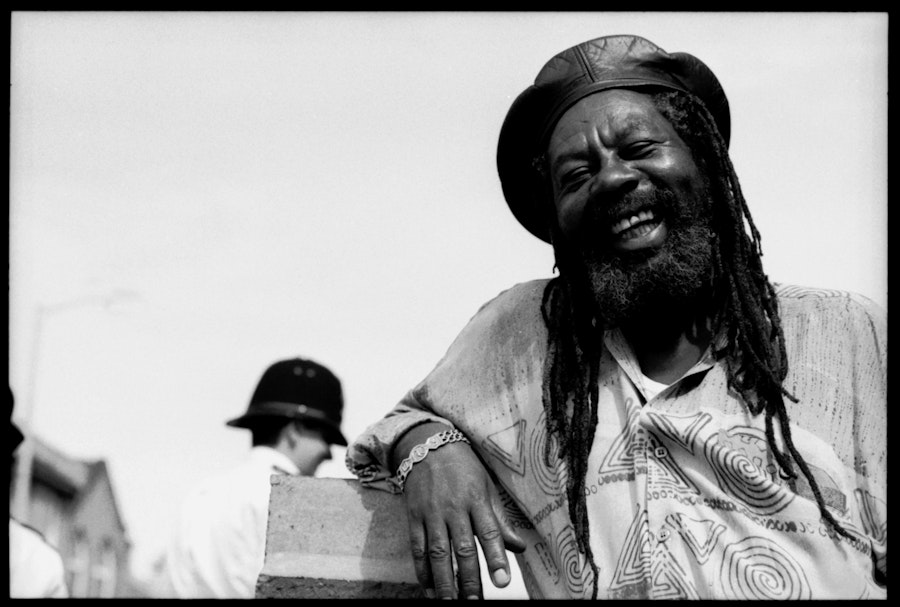 He was born Ewart Beckford in 1942 and raised with his extended family in a strict Seventh-day Adventist household in Jones Town, a West Kingston slum that borders the more famous Trench Town, where opportunities for betterment were few, forcing many onto the wrong path. "I born in Jones Town, grow up in Jones Town, and it's a rough area to grow up with; but if you see people robbing, stealing, stuff like that, you don't have to do that too," he said. "You're gonna do your own thing, because you're gonna be responsible for what you do. My mother raised me for part of the time, but then she went away to England, and my grandmother raised me for the rest of the time. And she brought me up in her own way, so you know what you have to do: respect your parents, respect your grandmother, don't do bad things around your parents. I grow up with quite a few of my brothers and sisters and my aunts and uncles—everybody together as one. My grandmother, she always go to the countryside to sell things on the weekends, leave out early Friday morning and come back on Saturday night, selling clothes and everything like that."
As the young Ewart entered his teens, the sonic landscape of Jamaica dramatically changed through the advent of the sound system. From the late 1940s, a few forward-thinking entrepreneurs began renting out PA systems, allowing dances to be held at informal outdoor spaces with a low cover price allowing entry for the masses. This was unlike the live jazz scene, which had catered to the light-skinned upper class and visiting tourists; that is, until the Second World War put an end to it, since many musicians and patrons saw active duty overseas. Then, huge sets of sound equipment began appearing on the island after the Jamaicans—who'd gone to nearby Florida or elsewhere in the American South to do casual farm work—had attended dance parties held by Black Americans, stimulating something similar back home. Restaurant owners, hardware-store proprietors, and other aspiring businessmen had massive portable systems with powerful amplifiers sent down from the USA, often with the speaker boxes hand-built in Jamaica. The sheer power and volume of such systems inevitably inspired a large audience when booming out at an open-air dance event. They have been likened to "mobile discotheques," though that term does not do justice to the impressive nature of the sound systems, nor the vibrant social aspect of the experience, since sound systems soon became a focal point for local communities.
In any case, from 1948, U.S. rhythm and blues became the main style on the turntable, supplanted by the indigenous folk form of mento, along with merengue and other Latin American forms. That is, until local artists began recording a Jamaican variant of rhythm and blues, which morphed into ska through jazz elements and Caribbean cadences. This eventually sparked a homegrown music industry once sound system proprietors began taking a chance with local performers.
Since Western Kingston was the epicenter of the sound system scene, young Ewart was surrounded by music and the artistry of Count Machuki. As the star deejay of Sir Coxsone's sound system, Downbeat (established by future Studio One founder, Clement "Coxsone" Dodd), Count Machuki made the strongest impact on Ewart. "There was a lot of dance halls around me in Jones Town, so I could stay at my house and hear every record that play in the dance, and I could hear Count Machuki talking over the mic," said U-Roy, whose stage name stemmed from his brother's difficulty in pronouncing Ewart. "Sometimes, I would steal away from my house and go watch him, get closer, and say, 'This man knows what he's doing.' I used to love to listen to him, because he was very intelligent and know when to speak so that he doesn't disturb the singer, nor an instrument that is playing."
Following Machuki's lead, U-Roy soon became the resident toaster on Doctor Dickie's, a local sound system established by his friend, Dickie Wong, who later opened the esteemed Tit for Tat nightclub on Red Hills Road.
"I used to live on Septimus Street, and when I was very small, like twelve or thirteen, my friend have a sound system just above my street on Penso Street," said U-Roy. "It was a Chinese youth, Dickie Wong. They call him Doctor Dickie; he have his bar and he have a wholesale liquor place. And he also have this sound system, and he play out on the weekends. I was one of the man who used to ask him to be around the sound, and he had no problem with it, so I was around the sound and kinda shy, but I still talk a little thing over the mic. At that time, deejays never used to chat much. And back then, the sound systems were playing ska and American music, like Louis Jordan, Louis Prima, James Brown, Ruth Brown, Fats Domino, Smiley Lewis, Johnny Ace, and Lloyd Price. So when I first picked up the mic, it's just simple things I would say, like, 'Wake the town and tell the people,' and 'You're listening to Doctor Dickie's Dynamic.' I used to be very shy, and I never want my family to be near when I'm going on the mic, except my brother who used to come to dances with me, as he was like me—he just love this live vibes."
As U-Roy became more confident at the microphone, his reputation grew on the circuit. After passing through Sir George the Atomic, things reached another level when he became the star toaster on King Tubby's Home Town Hi-Fi, based a little farther west in Waterhouse. "I was on Doctor Dickie's quite a long while, and then I leave and start play Sir George the Atomic on Penn Street, the street above Dickie," said U-Roy. "His name was George Clarke, and he used to have a printery where he works, but he also have the sound system. And because of the tone of my voice, they used to have this likeness for me. Then I was playing the sound at a dance one night, King Tubby pass by and hear me, and he said to me, 'I would love you to play my sound. You can come and check me over in Waterhouse.' And I was really about to leave Sir George anyway. Then I start play with King Tubby's, and the first dance I've been to, people get so excited, and everybody that have a dance to come, they'd be saying, 'You have to come play at my dance.'"
The transformer-winder and electronics specialist Osbourne Ruddock—known as Tubby, according to his friend, Marvin "Mandingo" Williams, because his mother venerated the Liberian president William V.S. Tubman—is of course the man who helped to turn dub into an art form at his tiny home studio as the '60s gave way to the '70s. But U-Roy had joined Tubby's sound system a little before his dub innovation, at a time when rocksteady was becoming dominant; the slower, more spacious style allowed U-Roy room to extemporize his lyrics with greater fluidity, his presence on Home Town Hi-Fi helping his fame to spread throughout the land. "King Tubby was playing a lot of rocksteady, because the ska was going away," explained U-Roy. "So they playing a lot of Duke Reid music, like Alton Ellis, the Melodians, and the Paragons, and I have to say that is where my fame start coming from."
Soon the more innovative record producers approached him for recording, a bold move at that time, since a deejay's chatter was then the near-exclusive preserve of the sound system. During the ska years, there had been a few brief instances of deejays breaking up the monotony of an instrumental through exciting, Africanized whelps and peculiar vocal interjections, most notably with Uziah "Cool Sticky" Thompson on the Skatalites' "Guns of Navarone" and "Ball of Fire." Then, in 1967, Sir Lord Comic went one step further through slow, drawling toasts on "Ska-ing West" and "The Great Wuga Wuga." And although these popular songs were pioneering attempts to extend a deejay's chatter through the entirety of a rhythm, in truth, Comic sounds awkward and out of time, and his delivery is little more than a series of proverbs and gimmicky quotations carelessly thrown together. More substantial deejay hits came with the arrival of reggae as a fast-paced dance music in 1968, though each had limited vocal input. The first to reach the charts was King Stitt's wild "Fire Corner" for Clancy Eccles. And Stitt's "Herb Man (Shuffle)," recorded for Lynford "Andy Capp" Anderson, also had a shouted introduction and plenty of vocal sound effects to emphasize its pro-ganja message. But when U-Roy first reached a recording studio, his approach was entirely different—so different as to be deemed too far ahead of its time. U-Roy's debut recording, 1969's "Dynamic Fashion Way," voiced over Ken Boothe's "Old Fashioned Way" for downtown Kingston dental technician and aspiring producer Keith Hudson, and U-Roy's next recording, "Rightful Ruler," voiced with Peter Tosh and Ras Michael for Lee "Scratch" Perry, were both almost entirely overlooked. The latter recording, also known as "Righteous Ruler" and "(Earth's) Rightful Ruler," has U-Roy listed as Hugh Roy and Peter Tosh listed as Peter Touch, names they used early on. 
According to U-Roy, "Keith Hudson used to hear me on the sound, so he said to me, 'I have this tune, and I want you to talk 'pon it, 'cause you sound good.' So then we go to Dynamics studio, and being in the studio, I say, 'Studio kinda cloudy, and we have man called Val Bennett on [tenor] saxophone,' and stuff like that. But after that song ['Dynamic Fashion Way'] come out, it did not do so well, because at the time in Jamaica, people never really recognize deejay music. Then, Bunny Lee and Scratch Perry check me about doing a song with Peter Tosh with just a street rhythm, so me and Peter went to the studio and we did 'Earth's Rightful Ruler,' where I say, 'Blessed be the man that walketh not in the counsel of the ungodly.' And it also came out, but never did very well neither."
The turning point came at Arthur "Duke" Reid's Treasure Isle studio, where U-Roy instigated a revolution in Jamaican popular music by toasting over the Duke's rocksteady rhythms, most of which were already a good two or three years old and featured ex-Skatalite Tommy McCook and the Supersonics.
"When I start getting famous is after John Holt tell Duke Reid that he come to a dance and he heard me; Duke Reid tell Tubby, 'I want to talk to your DJ,'" said U-Roy. "So I go by Duke and we have some verbal agreement, and I did 'Wake the Town and Tell the People' and 'Rule the Nation,' my two first big hits in Jamaica [in 1970]. I didn't even have no idea that them was going anywhere, but I've seen it with my eyes: I watch these songs become number one and number two on the top ten. And then a couple weeks after that, Duke said, 'Will you do me a next tune?' So I go and I do 'Wear You to the Ball' with John Holt, and this song came out like a volcano, just come out and start rip the place up. 'Wake the Town' was at number two, 'Rule the Nation' did number three, and 'Wear You to the Ball' was at number one, so I had number one, two, and three for six weeks. And I have number one with 'Wear You to the Ball' for twelve weeks, so that was surprising for me. People start bigging me up and giving me my ratings."
"Wake the Town" and "Rule the Nation" were little more than invitations for dancers to strut their stuff, with the previously recorded vocal tracks removed to make way for the toaster's reverb-laden chatter. But "Wear You to the Ball" set a different precedent by its inclusion of fragments of the Paragons' original vocal track, allowing U-Roy to frame his toast around the message of their hit, striking deeper recognition among those who loved the original. When first unleashed in a dance hall setting, the song caused utter pandemonium. This was the format that would be most lasting in Jamaica, and such mutation of previous releases would find greater resonance in rap a few years later.
How, I asked U-Roy, did this fluid toasting style develop? "Believe you me, I can only say it's a blessing from the Most High, because I can't tell you where it came from, really," he insisted. "When this happened, it's like Jah just tell you, 'I'm going to give you this job, and this job is going to feed you, clothe you, and house you and your family, and if you can help some friends that is down…' So that's how it was, and sometimes, when I know that I am going to go to the studio, I write down some things. And when I go to the studio, I put those things in my back pocket, 'cause when I go in front of the mic, the Most High tell you in a part of the Bible, 'Open your mouth and I will fill it with words,' and that's exactly what he did."
U-Roy stayed at Treasure Isle for the next couple of years, voicing nearly three dozen tracks for Duke Reid, the best of which were eventually compiled on albums, including the groundbreaking Version Galore in 1971, the follow-up set Version Galore, Vol. 2 (with fellow DJ Dennis Alcapone) in '72 (both sets definitively compiled here), the eponymous U-Roy in'74, and With Words of Wisdom in '79, all stepping stones to greater recognition. "The reason why I stay with Duke Reid for long was because Duke Reid understand me, and I understand Duke Reid," said U-Roy of the producer. "I could say to him, 'Duke, I would love x amount of money to look after my house, buy my kids food,' and he would do that. When I see that my music was selling a lot, I said to him, 'Duke, I'm gonna need a house out of my royalties,' and at the end of the day, he did give my little house."
Reid was a former policeman with a love of guns and close links to Kingston's criminal fraternities. He was also a devout Christian who banned Rastafari music in his studio, though U-Roy refused to comply with the ban. "He couldn't tell me that, 'cause that is my religion and he can see that I wasn't this person that you can push around," U-Roy said. "His wife say that I should trim and shave, but the look that I give to her, he came across and said, 'Just leave him alone.' Even my mother, which, she is the boss, even she tried to say that to me; but I always tell her, 'Look, Mommy, it's my religion, and I don't tell you not to be a Seventh-day Adventist.' I have a lot of friends that used to talk about Rastafari, that you sit down and talk about the whole religion, and I used to like it very much. It just something that I took on, from my heart. I used to love to listen to the congo drums, and I go to quite a few Nyabinghi at a young age too, and listen to the preaching and the teaching, and I was happy about everything. And from that time until this time, I remain what I am."
During the early '70s, as reggae continued to evolve, U-Roy began cutting one-off tunes for grassroots producers. One of the first was "Scandal," a popular hit produced by Lloyd "the Matador" Daley, followed by the aforementioned "Kingston 12 Shuffle," voiced gratis for the Wailers. "Bob [Marley] check me to do this for him, and it was no problem, because we know each other from long time; we call it rude boys, young rude kids," U-Roy explained. "He have his record shop on Beeston Street and called me and said, 'Would you come do this for me?' I say, 'Yes, man,' and I never take a penny from him."
Further one-offs followed for Alvin "GG" Ranglin, Lee Perry, Niney the Observer, and others, as well as an album's worth of material for Bunny Lee, and there were sparse singles on his own Del-Ma and Mego-Ann labels, which found limited success (including an unexpected boost when U.S. pop duo Hall & Oates covered U-Roy's "Soldering" in 1975).
Then, during the mid-1970s, U-Roy finally achieved an international breakthrough upon teaming with producer "Prince" Tony Robinson, who voiced him on popular works by the Gladiators, Barrington Spence, and Bunny Brown. "Prince Tony come and check me for doing some songs for him, and I think that lift me up a lot," U-Roy said. "When Virgin Records start, Richard Branson came to Jamaica to check me with Prince Tony, so I do 'Chalice in the Palace,' a huge hit, 'Natty Rebel,' another big hit, then Rasta Ambassador, Jah Son of Africa. So I have really give up a big props to Richard Branson for recognizing me at the time. That's really how I become known worldwide."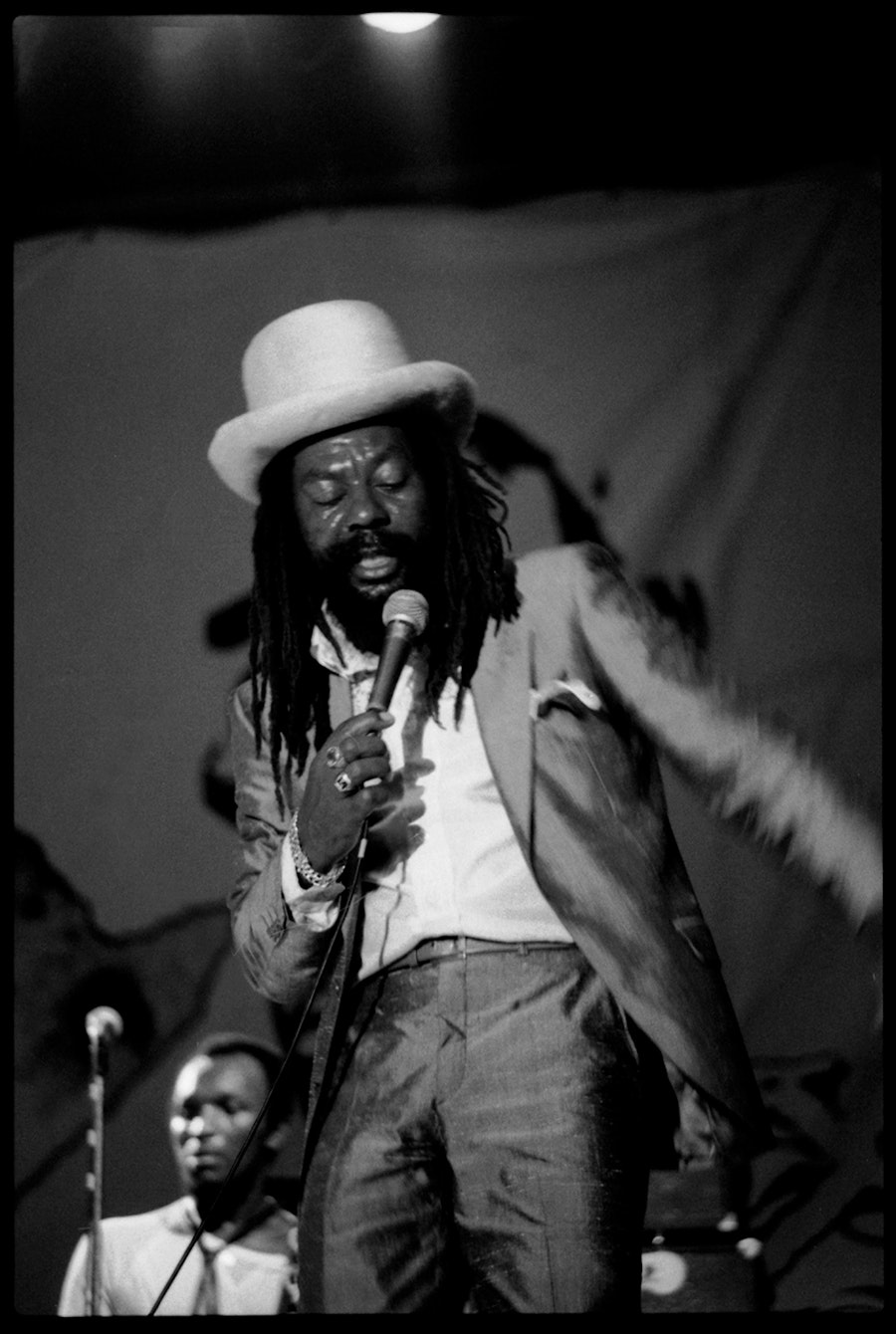 After the Virgin phase, U-Roy's recorded output slowed during the 1980s, when he concentrated on making Stur-Gav a world-class sound system with selector Jah Screw and 
DJs such as Ranking Joe, Charlie Chaplin, and Josie Wales, each of whom became big stars. But since the sound system was strongly affiliated with the Jamaica Labour Party, it eventually fell prey to sabotage by elements aligned to the opposition People's National Party. "We used to carry the biggest crowd and the sound get bigger yet, but then it starting going on some envious way," said U-Roy disdainfully. "Some people that call themselves politicians, they shoot up my dance and take away my sound."
Line Up and Come for Tappa Zukie and Music Addict for Prince Jazzbo were strong releases of the late 1980s, though U-Roy was frustrated financially by each. His connection with Mad Professor proved more fruitful, the 1990s albums True Born African and Smile a While stimulating a career revival and bringing U-Roy onto international festival stages. In 2018, Talking Roots evidenced the same high standard, but he was already suffering from a range of health issues, including diabetes, hypertension, and kidney problems.
U-Roy's final recordings were released this July by Trojan Jamaica as Solid Gold, featuring Shaggy, Ziggy Marley, and, among other guest performers, former Clash guitarist Mick Jones. As well as being at the root of rap, U-Roy's impressive legacy has become part of Jamaica's intangible cultural heritage, which is why he was awarded the Order of Distinction in 2007.
"Around the whole world today, there is so many wars and fighting, so we need to have more peace, love, and understanding with each other," said U-Roy, as our interview drew to a close. "War takes away life, and love keeps life rolling, so I want to tell everybody peace and love every time—more and more and more love, unity, and strength."