Nineteen eighty: a pivotal year in the history of dance music. Just one year after disco had been declared "dead" in the mainstream media, it was the year that soulful dance music reclaimed its roots in underground discotheques, in Black and gay dance clubs, and remained hot on the charts under different musical styles and with new artists. It was also the year that Two Tons o' Fun, while having sung with the legendary disco soul diva Sylvester throughout the mid- to late 1970s, finally had their own coming-out party.
Izora Rhodes Armstead and Martha Wash began honing their natural singing talents in the best training camp for soulful vocalists—the church. Martha, in particular, began singing there at three years old. Years later, she'd meet her vocal partner there too. 
"Izora and I met because we had sung together in community choirs in San Francisco," Wash says. "We also sang together in a gospel group called NOW, which stood for News of the World. And our churches were right next door to each other." 
In 1976, just out of high school, Martha went to the audition that would change her life. She didn't know that the audition was being held by Sylvester, whose show she first saw "a few years earlier." 
As Joshua Gamson wrote in his 2005 book The Fabulous Sylvester, "Martha Wash had seen Sylvester perform at the Berkeley Community Theater in 1974, when he'd opened for Billy Preston. She had not been ready. He had worn his sequined hot pants, his black net top with winglike silver shoulders, and his curly black Shirley Temple wig." 
"I had never seen anything like it or anybody like him before," she told Gamson. "He was this big, beautiful woman. He blew Billy Preston off the stage and he wore me out." 
Two years later, to her surprise, she was auditioning for the legendarily fabulous and flamboyant cross-dressing soul singer-songwriter. "A friend called me and said a guy was holding auditions; I thought I was going to audition to be a studio singer," Wash says. "There were two blond girls still there [auditioning]." After Wash's audition, "Sylvester hired me on the spot and told the other girls to leave."
Martha would recommend her fellow church-singing friend Izora, and the two of them would become Sylvester's "girls," professionally known as Two Tons o' Fun. Vocally, Izora's alto growl and Martha's stirring soprano made a perfect musical mix with Sylvester's equally gospel-inspired sanctified shouts. "When they joined Sylvester, it clicked," Gamson shares with me. "It was church you could dance to, a powerhouse secular church." And while the ladies were hired as background singers, it was Sylvester who pushed his girls to the foreground, sharing distinctive co-lead vocals on classics like 1978's "Dance (Disco Heat)." In live performances, the ladies would each be positioned on his immediate side. "He never kept us in the background, really," Martha remembers. "He had us in front with him." Beginning with his debut solo album on Fantasy Records in 1977, Sylvester, Izora, and Martha's style showcased a unique arrangement, and audiences hadn't heard anything quite like it before. When they shared and felt the spirit onstage and on record, it was not simply as Sylvester with two background vocalists, but as a soulful trio—all together as one. 
The trio would become a duo at the suggestion of Harvey Fuqua who, in 1980, proposed that Izora and Martha release their own album under the Two Tons o' Fun moniker. Wash admits to not recalling who coined the name, as "Izora said she came up with it, and my manager said he came up with it. There was a controversy. I honestly don't remember who named the group."
Fuqua, as described by Gamson in The Fabulous Sylvester, was "a former fifties doo-wop star with the mellow, slick Moonglows... He'd made his name in Motown, producing Marvin Gaye and songs like 'Ain't No Mountain High Enough'... He'd written 'Someday We'll Be Together' [by Diana Ross and the Supremes] and 'If I Could Build My Whole World Around You'" by Marvin Gaye and Tammi Terrell. By 1976, he was based in Oakland, running Honey Records, which was distributed by Fantasy Records and which signed Sylvester to its label. Fuqua, also Sylvester's producer, encouraged the ladies to come out on their own.
Wash describes the making of the 1980 Two Tons o' Fun album as a "fun experience," and that she and Izora helped to pick the songs, along with Fuqua. "Eric Robinson [who played keyboards and sang background vocals on the album] was a major contributor of songs, a very good songwriter," she says. "Harvey asked him. Also Sylvester."
While Wash and Izora's debut album might have been a bittersweet affair for Sylvester, who may have had mixed feelings about his "girls" breaking out on their own, he still participated in the recording, playing keyboards on the jazzy ballad "Taking Away Your Space," a song that Martha is convinced would have been a hit in the quiet-storm format if it had been promoted as a single. "Sylvester and Harvey wrote that one, and I still sing that in my concerts." 
Martha's other personal favorites from the album include the uplifting "Earth Can Be Just Like Heaven," and the feel-good two-step of "Just Us," which Martha describes as "the big one for us." 
"People knew who we were as background singers for Sylvester. With this album, we proved to them that we could become solo artists," says Wash. "It was our first attempt at being a solo act and it was well received." In fact, all three of the album's singles ("Earth Can Be Just Like Heaven," "I Got the Feeling," and "Just Us") reached #2 on the Billboard U.S. dance charts, while "Just Us" also made it to #29 on the R&B charts. 
With the mix of up-tempo dance-floor burners, mid-tempo movers, soulful ballads, production from Harvey Fuqua, and whirlwind promotion that featured the large, glamorous-and-in-charge ladies up-front and center, Two Tons o' Fun was an undeniable package.
"They did not compromise who they were in any way, shape, or form," Gamson says. "They were who they were—that included body size. They weren't apologizing. They were offering it to you." 
Critical and commercial acclaim for the Two Tons o' Fun debut was positive. So what did Sylvester think of the album? 
"I think he liked it," Martha says, smiling. On the album's original liner notes is a quote from a proud Sylvester: "I love you both so very much and wish you the best 'cause I know you can do it."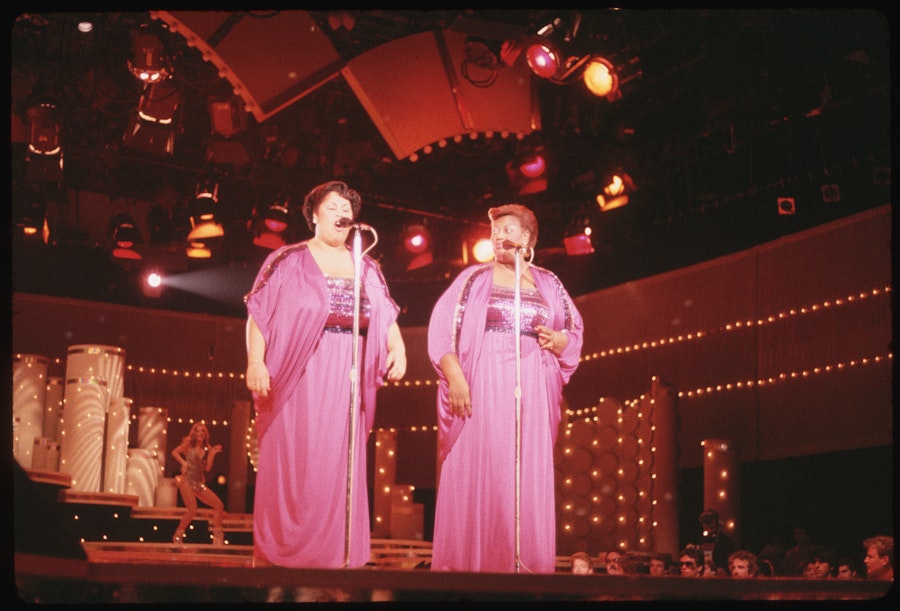 Izora and Martha officially left Sylvester's band in 1981, after releasing another Two Tons album called Backatcha in 1980. Then they changed their name, a decision that Wash insists had nothing to do with any other musical or performance group—only the fans.
"We received a cease and desist letter from a burlesque-type act who claimed that they were also called Two Tons o' Fun," says Wash. "That didn't stop us [from continuing to use the name]. By that time, we had recorded 'It's Raining Men' [in 1982]. In the beginning of the song, it says, 'Hi, we're your weather girls.' New fans who heard the song said there was a new group out called the Weather Girls. People who were fans of Two Tons o' Fun said, 'No, no, no. That's Martha and Izora—Two Tons o' Fun.' So it went just back and forth and back and forth for a while, which was totally funny to me. So what we finally did was, after 'It's Raining Men' became such a hit, we decided to change our name to the Weather Girls. And we moved record companies, from Fantasy to Columbia, and moved from the West Coast to the East Coast." 
Had this playful arguing among Izora and Martha's older and newer fans about the correct group name not happened, "It's Raining Men" may have possibly been released under the Two Tons o' Fun name. Regardless of that fact, the song became a smash hit, reaching #1 on the dance charts, #34 on the R&B charts, and crossing over to the pop top 50 in the Hot 100 chart. The song further established the ladies' prominent position in dance music history. Martha pursued her own successful solo career in 1985, and notably contributed lead vocals to 1990s pop hits by Black Box and C+C Music Factory. 
Izora reformed the Weather Girls in the 1990s with her daughter Dynelle Rhodes. Sadly, Izora passed away in 2004, but Dynelle has kept the group alive to the delight of both Weather Girls and Two Tons fans.
Thanks to a recent reissue, the Two Tons o' Fun debut album finally has its own coming-out party, no longer under-recognized and in the background. "I'm just glad some of these tracks have stood the test of time," Martha states. The songs, which found themselves equally at home in soulful discotheques and on R&B radio, still take listeners right to church. And today they are "still played," still showing off Martha and Izora's spirit, sass, sensuality, and fun—two tons' worth.