Soul folk is a genre of lost and found. Of seen and heard—yet unnoticed. How does that start? How did we arrive at an image of a folk musician that is largely white? Why isn't that image instead of the potent mix of soul, of jazz, of blues, of gospel, swirling around the souls of Black people, finding rest on the strings of a guitar? Terry Callier, maybe one of the best known soul-folk artists, saw his debut album, The New Folk Sound of Terry Callier, lost for years before finally being released in 1968. 
Maybe there's no better metaphor for the history of Black folk music—seemingly lost, recovered, yet somehow still in the shadows. And now, in another addition to the history of the genre, soul-folk artist turned country musician, Cleveland "Cleve" Francis is preparing to see his debut record, Beyond the Willow Tree, made available to the public for the first time in over fifty years. The story of Black folk performance is one of necessity, innovation, and erasure. But despite that, the genre found, and continues to find, its way into meaningful, intersecting musical spaces.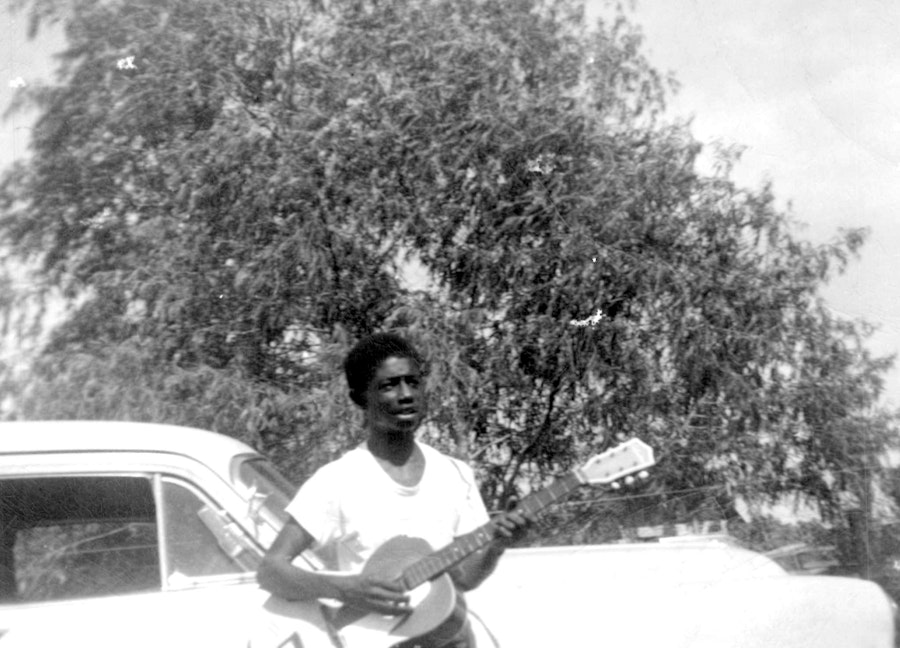 There's a 1975 article in Ebony Magazine. A sweeping look at Black culture and the way it's shaped music. Journalist Alex Bontemps writes, "the evolution of black culture in America began with the folk, those anonymous souls James Weldon Johnson called our 'black and unknown bards' in the connection with the creation of spirituals." These "unknown bards" signaled that folk music was, at its core, about people—and about the spirit. Black folk-music history begins with the story of community, of hope carried through generations. Folk music, in this case the spiritual, was the sound of Black freedom, if not here on Earth, then in a vast, hoped-for promised land, something that drew Francis to the genre, "The folk music really would come out of a need inside the black culture to explain some stuff, to lay the word out like a sermon," he says. 
Raised in rural Jennings, Louisiana, Cleveland Francis got his first guitar when he was nine. There's still a hint of the excitement in his voice, and a lingering sense of how he must have felt holding the instrument for the first time. Before that, he says, his guitar was homemade from a cigar box, "I just cut a hole in the middle and literally nailed a neck to it and then put some nails at the end of that. And for strings I use the window screen. I must have [played] that for about a year or so." The upgrade came when his mother started saving, a quarter a week, to put a downpayment on a guitar for him. "That is love, you know, the highest degree."
Maybe it's because he's from Louisiana, a place where powerful forces have always met—land and water, Europe and Africa, French and English, jazz and country—that his musical tastes were diverse. There, a folk artist can be a soul artist, can be a blues artist, can be a jazz artist. He'd learn Sam Cooke songs, Nat "King" Cole, Elvis Presley, each adding to what would become his personal sound. "A guy down the street played harmonica, my grandfather played accordion, a guy a few streets down played blues guitar. One of the teachers at the school played jazz, and then you had all this gospel music. So that's kind of where that stuff came out of."
When he left home in 1963 to study biology at Southern University in Baton Rouge, his guitar and all of his influences came with him. It was there that a professor, Dr. Huell Perkins, head of the university's music department and humanities professor asked him an important question: "What did you bring us?" Education, Perkins said, was an exchange. Yes, the university would teach you what you needed to become the next phase of you, but what did you bring to share? Could you write? Could you paint? How would you shape the place that was shaping you? He gave his students fifteen-minute appointments to come into his office to show him what they brought. 
Francis, with guitar in hand, reluctantly made an appointment. Perkins set out a stool, and Francis began to play. He played some of his original songs, and after a few minutes, Perkins abruptly stopped him. He asked his secretary to cancel the rest of his appointments, and to bring him a tape recorder. Francis spent the rest of the afternoon singing while Perkins recorded him. Perkins, who knew that Francis was going into medicine after graduation, told him "I know you're going to be a doctor, but don't ever let this part of you go away."
One of the remarkable things about soul folk is that it feels like something that is always at the edges, waiting to be discovered. A 1975 article in Crawdaddy was already bemoaning the invisibility of the genre almost as soon as it became one, "it is clearly a hybrid form, one that is being practiced in relative obscurity," he writes. "A lot of people can't understand this music simply because of previous expectations as to what a Black singer should be singing." But why not? Black musicians have always been folk performers. 
Folk music was also another way of storytelling, and has been throughout its lineage. Composer Will Marion Cook, for example, directed the Afro-American Folk singers beginning in 1913. As the name would imply, the group performed folk music, but the folk music they performed was a distinctive sort. Folk in this sense meant the music of Black America. Musicologist Eileen Southern describes Cook in her landmark book The Music of Black Americans as someone who "consciously turned to the folk music of their people as a source of inspiration for their compositions, whether in the fields of concert music, show music, or dance and entertainment music." 
This was the music rooted in Black traditions and geographies, Black churches and communities, and that made it folk. It was marketed as Black folk, and there was never any question about whether or not it was folk music. When Billboard magazine introduced its folk chart in 1944, the history of the music should have meant that it would be natural to have Black artists there. But somehow, they were missing. The only Black performer making the chart, which was subtitled, "Hillbilly, Race, Cowboy Songs, and Spirituals," was R&B and rock pioneer Louis Jordan. And just in case readers thought that Jordan's inclusion was a signal of a more inclusive chart in the future, an article nine months later on the rise of folk defined the genre as "cowboy bands" and "hillbilly music," "the moan of the mountain man," as performed by artists like Gene Autry and Ernest Tubbs. 
While that definition wasn't explicitly white, the images it conjured up were a far cry from Afro-American folk singers. Even though Black performers had long included folk and country music in their repertoires, they were quietly fading from the picture. Gone were the anonymous bards, replaced by images of an imagined America. This was an idealized picture of the country presented right at the moment when the real thing was just too painful, too violent, and anything but ideal. W. E. B. Du Bois once called Black folk music the "weird old songs in which the soul of the black slave spoke to men," but with the shift in image, these songs became hushed, whispered. And it's almost like they were never singing at all. It's something musicologist Daphne Brooks explains in her book Liner Notes for the Revolution, "certain kinds of cultural histories get rendered as "precious," get dubbed as worthy of "preservation," while other forms are left to seemingly fade away." Folk that's infused with jazz, with soul, with gospel, is called something else, gets to wither, and those artists never have their names shine quite as brightly.
By the folk revival of the 1960s, folk musicians and audiences were becoming whiter. What would have been positioned decades earlier as Black folk music, was now gospel, or blues, or R&B, but Black folk music still existed, and still incorporated spirituality, history, and political empowerment of the folk revival. But it also merged with something else. The field hollers weren't as relevant as what was happening in the city streets. The work songs didn't hold the same weight as freedom marches. The world was changing, and music was responding. 
"I noticed that these guys were talking about a war. [Black people were also] talking about human rights. We were talking about all these things. And, you know, we're left out of that discussion," Francis says of the first folk musicians he saw in coffeehouses around Virginia where attended graduate school. "I could get involved in the politics [through music]." And if you're like Francis, the music that shaped you included not just folk, but soul, country, jazz. All of these influences found their way into his music, into soul folk. 
When he was a kid, Francis says, he did what he calls "song painting," blending sounds like a painter blends colors. "I could sing a song, and I could reference a Sam Cooke feel or I could reference a Nat King Cole feel. When I started singing folk music, I used the same techniques." It felt different, he says, "Soulful. Not your standard folk music." Francis, like other Black folk singers, was drawing from his experiences. He was rooting folk in the music of his youth. He, like the artists Gibbs wrote about, was "composing the kinds of self-searching songs that have become its hallmark." Soul-folk was a chance for those anonymous bards to feel the spotlight, a chance to tell their stories. "I'm interested in what's going on with democracy. I'm interested in what's going on with the war. I'm interested in what's going on with human rights. I'm interested in civil rights," Francis says. And those were the types of songs he brought to Willow Tree.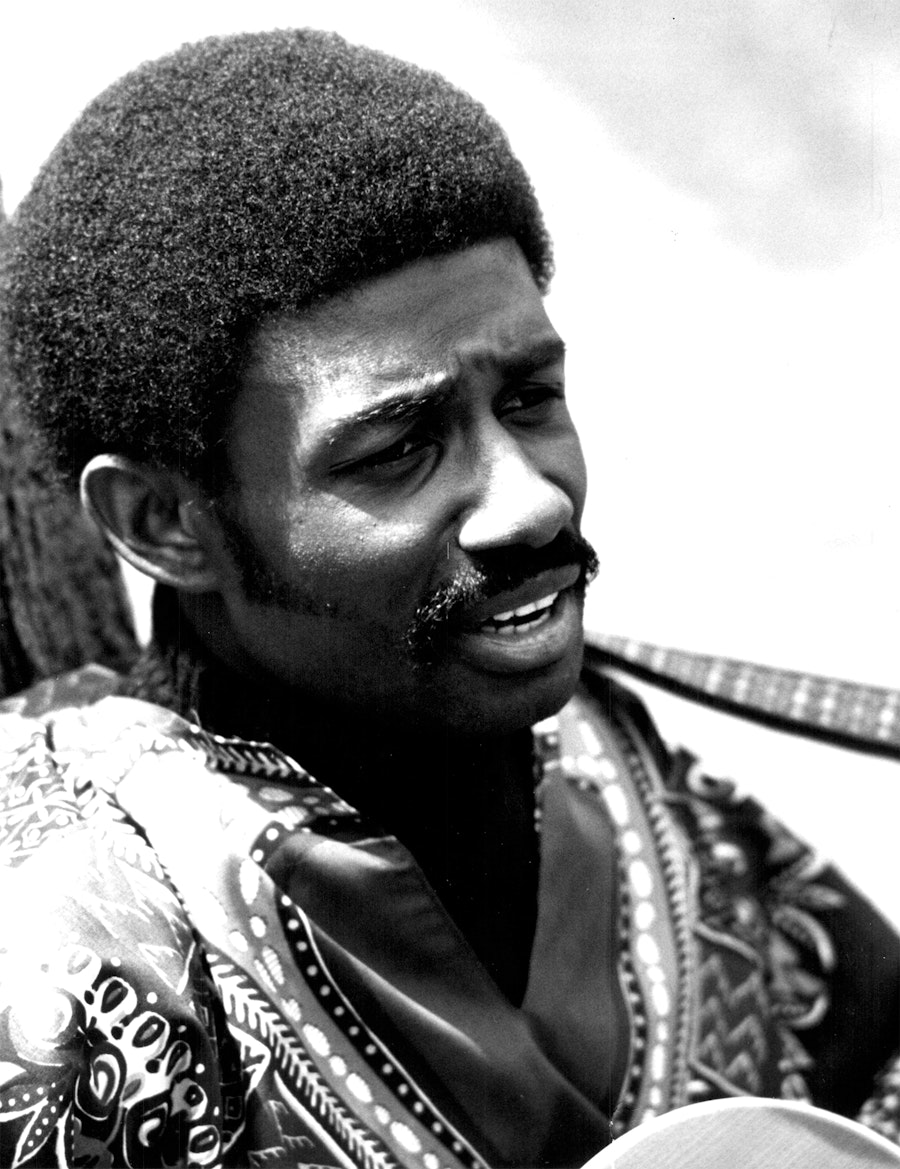 The album took a long time to resurface. He was playing at coffee shops in and around Williamsburg, Virginia and it was at one of those gigs that Victor Liguori, one of his professors. heard him play. "He said, 'You need to record some of this music.' I didn't have any money. So he got some people together, they put some money together. And we did a little 45 with 'The Willow Tree' and a song called 'It's Got to Get Better' on the B-side [in 1970]." Francis also credits Liguori with the release of this reissue; about six months before Liguori died, he brought Francis the master tapes from those sessions. Later recording sessions produced enough music to start sending demos to record companies. "We sent the tape out to at least six or seven major folk recording companies," Francis said. They all passed. Francis released the record, titled Follow Me, himself, selling it at shows he performed during his summer breaks from medical school.
Francis went on to become a doctor, and later a successful country recording artist, but his folk history remained little-known. The professor who encouraged him to record saved all of the original tapes that make up the reissued Beyond the Willow Tree (Forager Records), which features all of the Follow Me album, and some previously unreleased tracks from those recording sessions. "This album sat in my basement for fifty years," Francis says. "I'm just lucky I'm still alive. Somebody was going to find The Willow Tree, but I wouldn't be here to know and that's my gratitude." The album combines all of his various influences into an album that explores his inner self. "I just want [listeners] to feel what I felt when I wrote [the songs]." 
Any music, any art, is a reflection of its time. And for Francis, the time he grew up was one of segregation, of kids who went to war and never came home, of heroes shot down in their prime. Those emotions can be heard on his original songs like "Change" and "It's Got to Get Better." He speaks directly to the hurt of watching King fall with his "Ballad of Martin Luther King." And the soul influences are on full display with songs like "What's Wrong With the World Today" and "Hot Sun." There might not be any better display of his varied influences than "Getting Ready For Tomorrow," his cover of a 1968 Al Wilson B-side that sits comfortably alongside Beatles and Joni Mitchell covers. It's a combination that sounds disjointed until you realize that soul-folk, Black folk, jazz folk, is the voice of the people. It's a genre that resists definition in some ways, but is unmistakable in its sound. 
Though the album has been tucked away for decades, Francis's love for folk still lives at the surface. After a white supremacist killed ten people in Buffalo in May, his thoughts went to his music. "I wrote," he says. "I woke up just like I did with Martin Luther King. We needed a folk song." He wrote a song called "Buffalo" soon after. "How much more do I have to do to prove to you that I'm human too?" he recites the lyrics carefully, capturing the still-fresh emotions of the day. Soul-folk of the past was inherently tied to the personal becoming political, to voices tired of being unheard, and the soul-folk of the present keeps that tradition.
"Young Cleveland Francis must have been fearless and brave to belt out these freedom songs," Francis writes in an email following our interview. There is a hint of bravery and vulnerability in folk, and maybe more so in soul-folk, where artists are often crying to be heard and seen. Soul folk is a genre that puts so much of the sounds and feelings of Black America into it, the pain and the joy, the hurt, but most importantly, the hope. "I left home from Jennings with three things," Francis says. "My science book, my Bible, and my twenty-five-dollar Sears & Roebuck guitar. And the feeling that I was rich."