I've never been one to get all worked up about fate, destiny, and all that, but when I got the call earlier this year to write the liner notes for Legacy's six-CD box set, Miles Davis: The Complete On the Corner Sessions (2007), I did raise my eyes heavenward and say, "Thank You, Jah!" See, for years, I've wanted to write about Miles's revolutionary electric band that rocked the planet between 1972 and 1975 (On the Corner to Agharta/Pangaea).
I have never been able to forget or forgive all those jazz and rock critics who trashed the music, the man, the band—and then, decades later, when all the reissues came out, praised them as ahead of their time and records that they always championed when no one else did. Fuck 'em and their hagiography. I always wanted to throw my two cents in, 'cause, see, back in the day, I was right there in the audience grooving to Miles's electric nonets and tentets. I bought all the domestic and import LPs (Dark Magus, Black Beauty, Pangaea). I was all the way down with the trip.
I remember Miles playing Howard University and turning out a rammed Crampton Auditorium like he was P-Funk. I remember all the straight-up party-time sisters who were down with Miles. And as the years went by, I heard Miles's music in Headhunters, Public Enemy, Tricky, Jungle Brothers, even P-Funk. And I just got madder and madder that even when Tutu came out, critics was still fronting on the Prince of Darkness.
So, I've done the liner notes, said my piece as best I could in the context of the music corporate matrix. Cool dat. But better than that, Wax Poetics has allowed me to give the cats most responsible for the voodoo Miles ran down a voice. Crazy as it seems, until now, neither Michael Henderson (bass) nor Pete Cosey (lead guitar) nor Mtume (percussion) have been given the opportunity to tell their truths in print. Un-fucking-believable!
C'mon…Michael came on board in September 1970, Mtume in early '71, and Pete in April '73. They were the nucleus, the source, and the essence of that band until Miles disbanded it in the summer of '75. (Couldn't get foundation drummer Al Foster or guitarist Reggie Lucas to talk, unfortunately.) On the real, everybody else—keyboardists, saxophonists, guitarists, sitarist, tabla player—was just passin' through. 
Rather than take up more print space telling you how deep this trio was before and after they joined Mistah Miles (Google 'em), I'll just let 'em speak for themselves…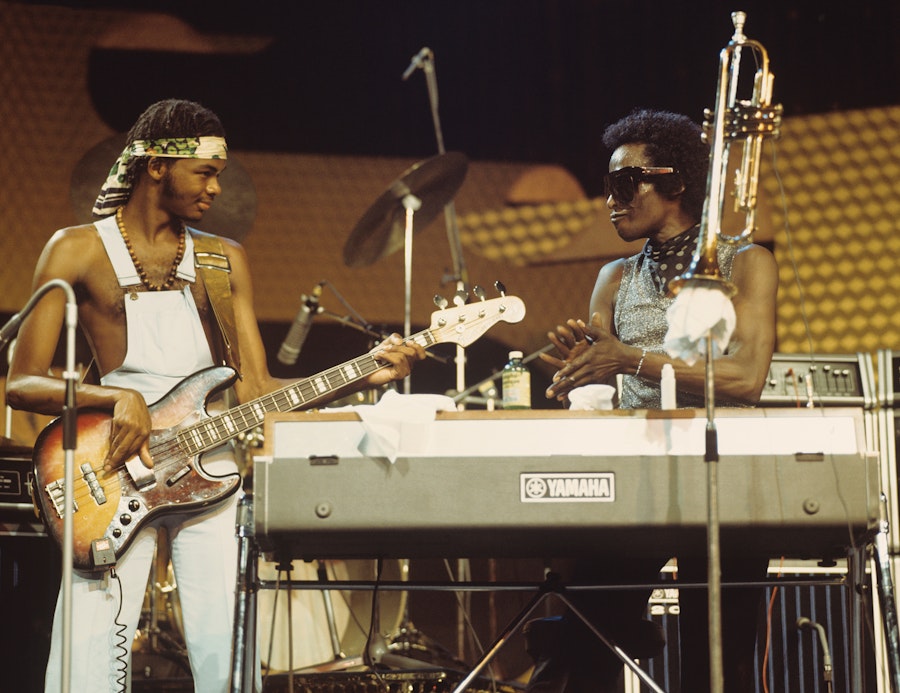 MICHAEL HENDERSON
I started off with the Detroit Emeralds, then the Fantastic Four—y'know, "The Whole World Is a Stage," "You Want It, You Got It," "Showtime"? Then I worked with Little Carl Carlton, Martha Reeves and the Vandellas, the Four Tops, Temptations, the Dells. Hmmmm, the Originals—"Baby I'm for Real"—Marvin Gaye, Stevie Wonder, whoever was on Motown's roster, I played for. I'm the second generation of the Funk Brothers—Robert White, [Richard] "Pistol" [Allen] on drums, Benny Benjamin, Earl Van Dyke, Rudy Robinson, Johnny Griffith, James Jamerson—but I worked right alongside of them all over Detroit. I was Aretha Franklin's bass player at the same time I was playing with Stevie too. 
I played a lot of jazz with those bands; a lot of people didn't know that. You couldn't live in Detroit, Michigan, and not play jazz! I played with the Spinners. Their opening number was "Fascinating Rhythm." Well, I'm playing jazz on that—that's jazz. The tempo was like Elvin Jones playing it. It was up there. A lot of Motown acts had jazz as an opening number just to impress when they played Vegas or wherever.
Why do you think Miles wanted you in his new band?
Well, he wanted to bring more of a groove and a feel to it. Not a lightweight feel but a more solid feel. He wanted a groove more intense, so people could dance to it a lot easier. He wanted to appeal more to our folks at the time. Y'know, in R&B, after you finish with the song, you get the breakdown. Basically, Miles started with the breakdown. He said, [raspy voice] "To hell with the song, let's do the breakdown!" It's just like freestyle jazz. When you swingin', you're playing free, but you play the "head," don't you? You're playing free, you're into the breakdown, then somebody plays the change. It's the same thing; you play the changes—you feel me—but there was nothing different than when you play the breakdown. Freestyle funk with a little bit of jazz in it.
In the beginning, Miles just didn't want me to follow what Keith [Jarrett] was doing, because he had that before. He had a bassist that followed what Keith was doing, and he always ended up doing jazz or going "out." Y'know, where everybody's everywhere. So in order to prevent that, he said, "Just don't follow that muthafuckah!"
Miles would cue everything through the trumpet—tempo-wise, slow it down, this is the end, here we come in—and a lot of things he didn't cue. We just went on our own with it. I just took the liberties and went on and jumped into stuff, and then he'd always manage to work with it. Having that band and having everyone play off each other, a lot of the times he'd cue, play off the drums, off of Mtume, off of Reggie. Sometimes, we'd get a cue from one another that had nothing to do with the head Miles was playing. And then he'd say, "Ah, shit!"—you'd take him to another place. Oh yeah, he loved that! He loved that.
We never really rehearsed. Y'know, once you're a well-oiled machine, all you have to do is give 'em: here's the head, and I'd like to go here, and you guys take it where you take it. Bam! Here's the head, let's play with this; wherever it goes from there, it's on you. And if he wanted to stop it or change the melody, all he had to do was give me a cue, and I'd know where to go. He knew we had his back; he didn't have to worry about a damn thing! [laughs] Whatever we came up with, he knew it was going to be something. All he had to do was sit there and wait. Even when you see Miles turning his back to the audience, he turned his back to the audience, 'cause he loved listening to his own band and looking at them play. Watching us play—that's why he turned around—he became the biggest fan in the audience!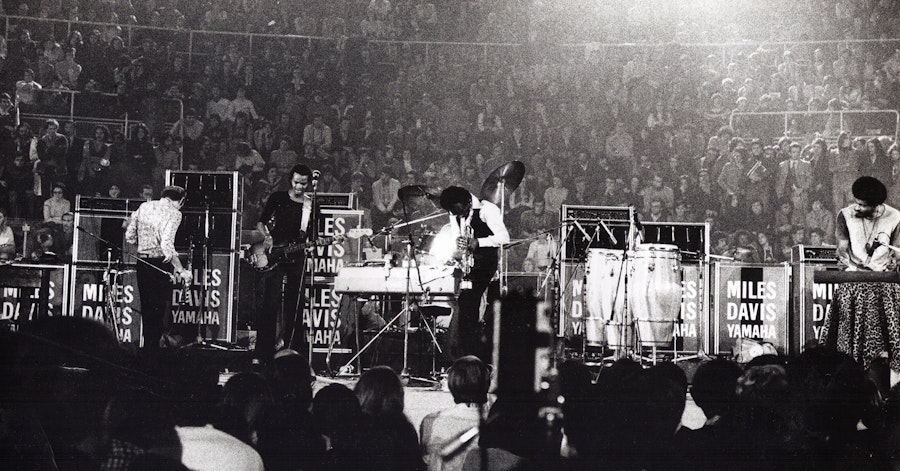 Did y'all think y'all were making history?
No, we knew it was far ahead. We knew what our mission was, and we knew where we were at. It was like the chocolate factory! Miles said he just wanted me to stay funky and keep it funky. All the music that the rappers, Beyonce, and all of them are doing now, it's from that band. On the Corner was the first funk record with Indian music in it. That funky record was the first you heard with tabla and sitar, and the way they were placed in that song with the funky wah-wah, you're talking over thirty years ago. 
There was no ego-tripping. We were like "warrior-musicians." That was our whole attitude; that's what we felt about each other. A cohesive unit, we were one. And there's nothing like that [band] to this day. It was like having the greatest feast, the greatest meal you could possibly think of feasting on: your Indian food, your soul food from America, all the foods from around the world and, ah, outer space [laughs] and put it in front of you, and there you have it. The most complete feast and helping and serving of food you could ever have in the universe with being in that band. Everything came into play. We covered all genres, we covered genres that had never been covered and have never been since. 
When I left that band, there was nothing left to say, basically. It was time to just go and do some structured things. What else could you do? I knew that I had to bring more structure to some of the chaos, some of the madness, in order for people to get into it, 'cause we weren't getting airplay on what we were doing. And we weren't going to get any airplay; we weren't doing the music to get airplay. We didn't care about airplay. There were hundreds of thousands of people in the audience when we played. That was our "airplay" right there; from the stage to the audience.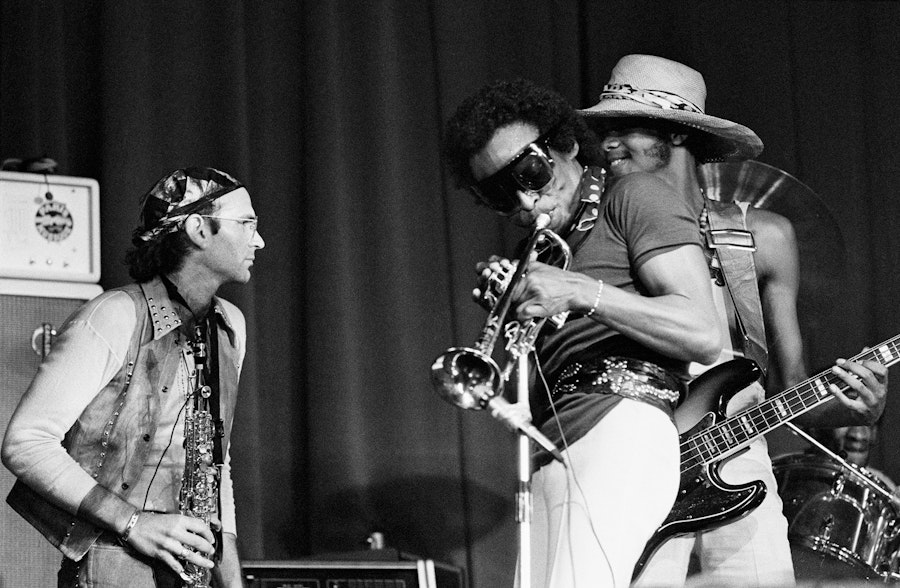 What do you think Miles would say now about all of this if he was still around?
I have no idea. I don't know what Miles would say, but all I can tell you is the foundation that he laid down, that we laid down with him over three decades ago, is still prevalent today, and all of those who know that we weren't two-note-playing, R&B, no-talent musicians; after we left Miles we went out into the world and we recorded million-selling records. The first year I was no longer with Miles, I recorded "Valentine Love"—top-ten hit. The next year was "You Are My Starship." And later came "In the Nighttime," "Take Me I'm Yours," "Be My Girl," "Wide Receiver." And Reggie and Mtume had "Juicy," "I Never Knew Love Like This Before" for Stephanie Mills, and hits for Teddy Pendergrass. And Reggie produced "Lucky Star" and "Borderline" for Madonna. So we went on and sold millions and millions of records.
Playing with Miles showed me that there was nothing I couldn't do if I put my mind to it, and that's what that taught me. And Miles was a beautiful father figure to me as well. And we got along. It was the greatest school on the planet. They talk about music schools, but the greatest school on the planet between Motown and Miles Davis, what else do you need? Motown, Miles Davis, and Aretha Franklin. That kind of sums it all up.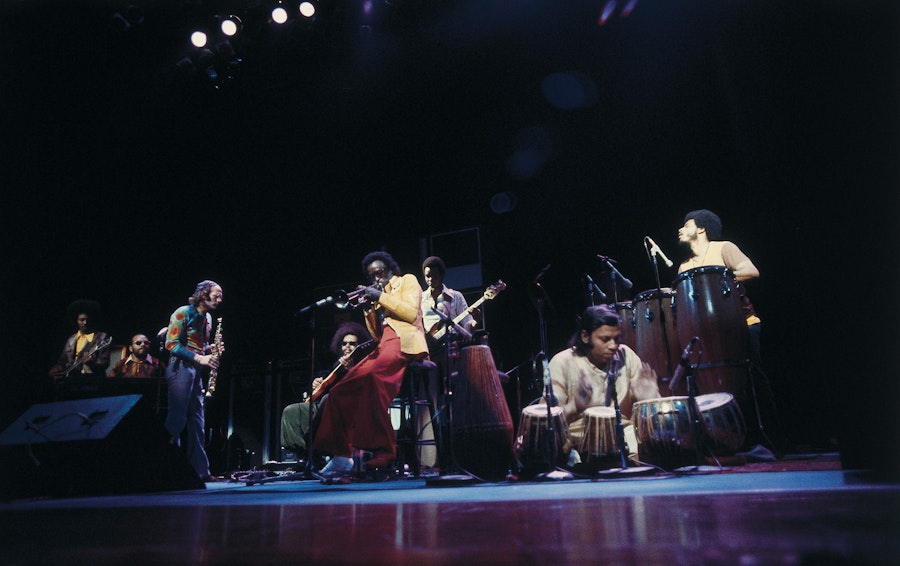 PETE COSEY
I always admired Miles, and I kind of always looked for Miles as the guiding light for what was hip. Every time a new Miles album was to come out, I knew that was a new direction. [laughs] The guy I really wanted to play with was John Coltrane, because of his spiritual level and all that. I had no idea of Miles's spiritual level or anything else about him other than he was the essence of cool and hip.
Why do you think Miles contacted you to join his band?
Well, it was a series of events. I was with Gene Ammons at the time; we had played New York the year Miles had his accident [crashed his Lamborghini into an abutment on NYC's Westside Highway]. The summer before his accident, I went to the Ann Arbor Jazz and Blues Festival. Freddie King played, and then, after that, Miles played. I had met Michael a year or two before; a friend of mine from Phoenix was playing drums with Michael at Motown, and he introduced us. 
Anyway, it was really funny, because when Miles stepped out of his car backstage, his horn case opened up and his horn was about to hit the ground, and I did like a football player and went underneath it to scoop it with my hands, and I told him, "Man, don't drop your shit!" And he looked, he caught it in time, and he looked at me and smiled and kind of winked. And then he put the horn back in and then went up on the stage and proceeded to smoke! The band was cookin'! He had about ten or eleven pieces: Reggie on guitar; Balakrishna on electric sitar; Badal Roy on tablas; Cedric Lawson on keyboards; Carlos Garnett, I believe, on sax; Mtume, percussion; Michael and Al Foster, drums; and Miles; that rounded out the band.
The day after Ann Arbor, a group of us got together on Michael's back porch—Reggie, Mtume, Michael, and a flautist who was a neighbor from across the street. So we were just jamming, and the guys were impressed with the way I played, and we exchanged numbers. Then in the fall, I joined Gene Ammons, and the first gig was in Harlem. The next gig was two weeks later at the Key Club in Newark. I gave Mtume a call and said, "I don't know if you remember me or not…" And he said, "Of course I remember you!" We talked, and I invited him around to the Key Club, and he got a chance to hear me really play.
The next time I heard from him again was in April of the next year. It was April 3, I believe, when I got the call…a Saturday, the night Muhammad Ali got his jaw broken by Ken Norton—that was the day I got the call in Chicago. I got the call from Canada. Mtume and the band manager were on the phone, and he asked me if I could come and join them, and I said, "Man, I appreciate that, but I'm happy in this band; I don't have any desire to leave this group. I tell you what, I got a couple of guys who are studying with me, and I could choose one and send 'em to you." And he said, "No, he wants you to make it." And, ah, how can you refuse that? [chuckles] We made arrangements for me to catch up with them in Calgary, Alberta, the next night. I was to catch a flight out early Sunday morning, but I missed the flight because of getting paid late, so I made reservations, and I caught up with them in Portland, Oregon. It was Monday, and we were to hit Tuesday night.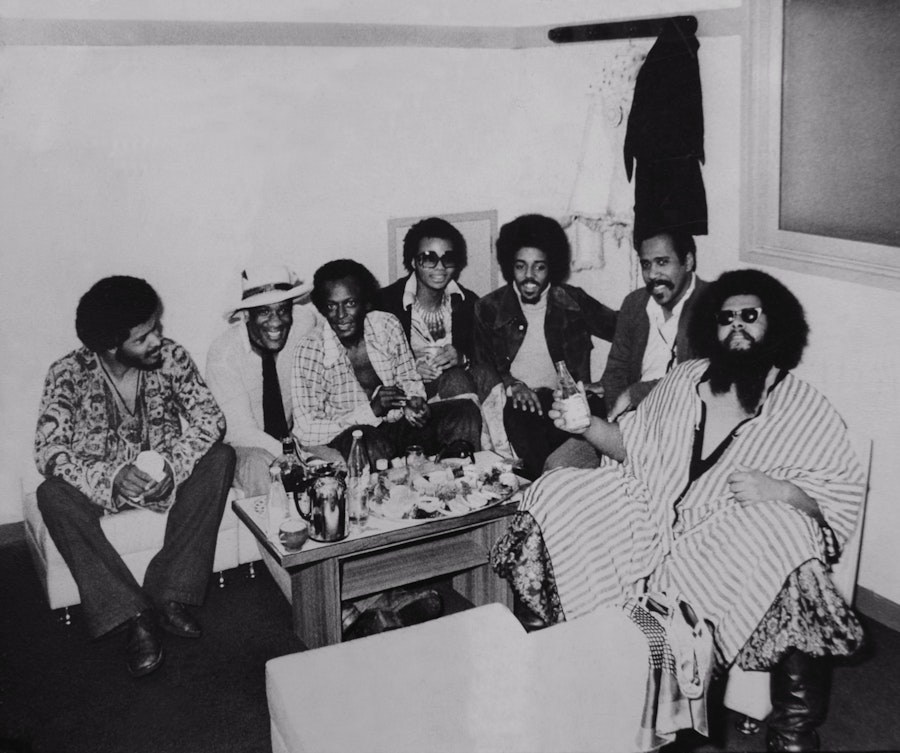 Did you have time to rehearse with the band?
Ha! You don't know that story? Okay, in Miles's hotel room, he started playing the tapes of the previous night's concert. I'd listen to a few bars and say, "What key is that?" And he said, "E-flat." Cool, let's go to the next one. And the cat looked at me, y'know. [laughs] And we did that again and again—and this piece is in 5/4 time, and I said, "You moved into five there." And he looked at me and smiled. So we're sitting there doing this, and he offered me some glazed salmon he ordered from room service. I looked at it, and I said, "Great, you like fish?" And he said, "That's all I eat." I said, "I'll be right back."
See, before I left home, I prepared red snapper and perch; I had a sack full of cooked fish in my luggage. I brought it back to his room, tossed it on his bed, and motioned him to have some. He started tasting and we sat there and listened to more songs, and he says, "What is this?" I said, "This is red snapper and this is perch." He said, "That's chicken!" "No, no that's fish; that's red snapper that you're eating." "That's chicken!" We went on liked that for five minutes. And he picked up the phone and called Michael to come to the room. Then he said, "Michael, what is this?" And he says, "That's fish, man." And Miles says, "That's chicken!" And Michael says, "That's fish, man." "That's chicken. I don't know what it is, but it's good as a muthafuckah!" That was the rehearsal, Tom. The next night we hit, and it was like we had been together for years. 
So, did Miles ever tell you why he wanted you in the band?
He didn't have to. He only gave me about two or three directions the whole time I was in the band. The first thing was when I set up that night to play. I set up my table and pedals back next to the drums—I always like to be close to the drums and bass—and he directed me up front; he wanted me on the front line. And the other two things he said was he just wanted me to look Black! [chuckles] And then the only other thing he said as far as direction was to turn that stuff up, man! So I did. And then years later, he told me he didn't want me at rehearsals, because I "know what to play." I found out that he had ideas for the guitar—he had Jimi Hendrix at his house before his death—he understood the power of the guitar to take the music to certain higher levels. He couldn't do it with the guitarists he had before in the band, and I guess the guys—Mtume, Michael, and Reggie—spoke highly of me. 
In retrospect, what do you think that you, Pete Cosey, brought to that band?
Apparently, what he was looking for was to stretch out, because in my experience of playing, I know that musicians can make other musicians reach and make better musicians out of other fellows around them and inside of them. And Miles is one of those people, and he's always looked for other musicians who have that same quality. A John Coltrane, a Wayne Shorter, a Herbie Hancock; anyone of those people you name will make men better by virtue of their sensitivity, and he recognized that in me as well. And that's what happened—the band moved forward. If you check out the evolution of the band, you'll see the difference between the playing in '73 when I first got there and by the time we stopped playing in '75. The stuff was almost light years away, man.
Last question. What is Miles to you?
Oh, where would I begin? Man, what a great being. Such a great teacher. He knew how to utilize the elements around him better than anyone else I've ever seen. And that's quite true. But he was such a complete person by virtue of his intelligence, his upbringing; you know, the intelligent parents that he had and family and his experience. Experience is a virtue, and this man had experienced pretty much every experience, and if you were around him and had any kind of intelligence at all, you were going to learn something. And the time we spent together off the bandstand was just as rewarding as the time on.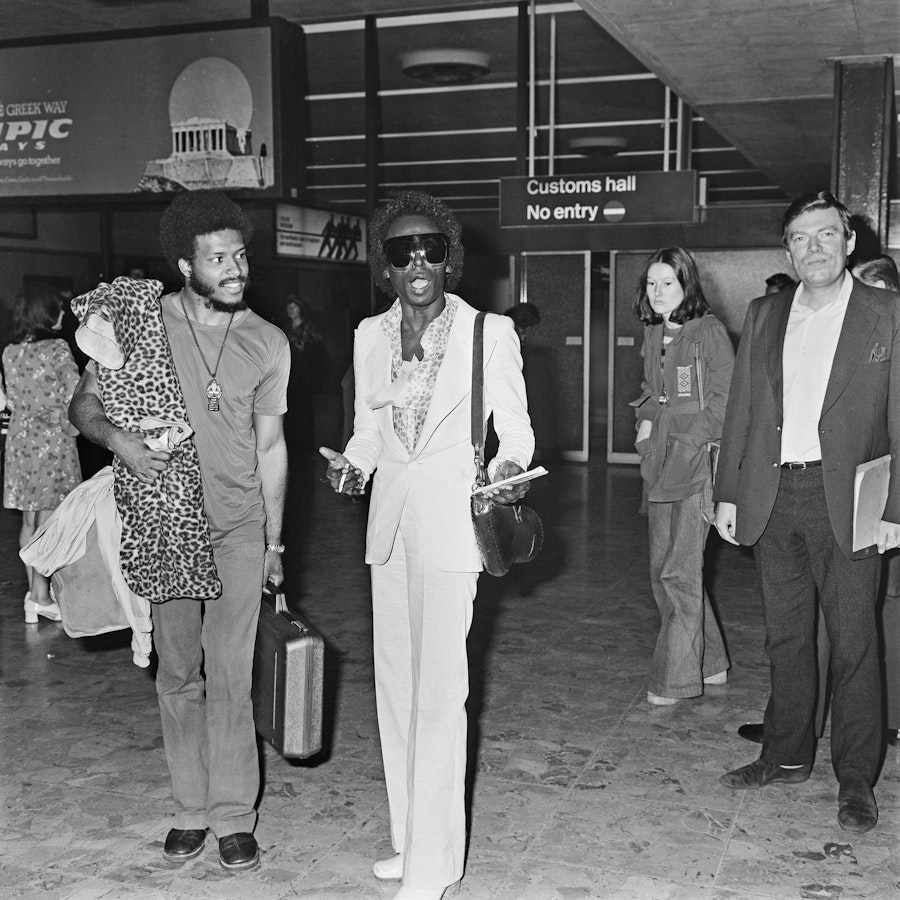 JAMES MTUME
Why do you think Miles wanted you in his new electric band, and what do you think you brought to that band?
Actually, in all honesty, I can't answer why Miles brought me or anyone else into the band or any band that he put together. That applies to the cycle of what his sensibility was and who he felt could take him there the best, so—myself and everyone else—the decision to bring us into the band was what he saw in terms of his microscope, y'dig? Who he felt the travelers were who could get him to the station he wanted to get to the quickest. And to your second question, what I brought, I think I answer that straight up from his lips to my ears: he said, "No one in the world would have ever thought that he would bring a percussionist to stand next to him and drive the rhythm!" [laughs]
You joined Miles's band in '71, but I understand he asked you to join a year before. What took you so long?
Miles heard me playing with Freddie Hubbard at the Village Vanguard. I didn't know he was there, 'cause my back was turned. Anyway, a couple of days later, he called. We all used to pretend to be Miles calling someone else just to fuck with them. [laughs] So I get this call, I pick up the phone and, [raspy voice] "Hey motherfucker, you want to be in my band?" I actually started laughing, and I thought it was my friend Ndugu [Chancler] who had already joined the band, so I hung up. The phone rings again, and I realize, oh shit, this is the real deal! And he said, "Pack your toothbrush and your douche bag. We're going to Europe, and I want you to be in my band." Then I got a call from the manager, and I realize he's serious. I think that the tour started in October or September, and I got the call in August.
Anyway, before rehearsals are to start, I'm sanding the floors in my apartment. I go to the hallway to dump the sawdust down the chute. I had no idea that it was connected directly to the incinerator. So I'm dumping this sawdust and all of a sudden, Tom, I hear this "whoosh" coming up and I had just enough time to turn my head and the stuff blew up! My hand was still inside the thing. I'm blown up against the wall, my face is singed, and then I realized I hear something going sssssstttttt! and it's my right hand. I'm looking, and the two fingers on my hand, I'm looking at the bones, the flesh had been blown off! I wrapped myself up and ran down three blocks away to the hospital. I go to the burn unit, and the guys look at it. They don't know I can hear them saying that "we might have to amputate his two fingers." There was a specialist from Europe—I can't remember his name—and he said, "No, I don't think you have to do that, and he did some application. He said that "even if you keep your fingers, you'll never play again."
So here's what happened, brother; Miles is having rehearsals with Michael, Gary Bartz, Keith Jarrett, and Don Alias. Miles saw my hand was all wrapped up in bandages, and he said, "I want you in my band. I'll pay you not to make the tour. That's the pain you're in." And I'm telling you this story, 'cause it will give you an understanding of our relationship on a whole other level. I said, "If I can't make the tour, I don't want the money." The first night and our first concert in Gemany—and when I unwrapped that shit, brother, it was scary. And I decided right then that I had to train my left hand to do everything my right hand could do, and I had to train my left hand to respond just as quickly. 
Needless to say, I was able to make it through that tour. I had to learn to do two different things with each hand. And as a result of that, what I taught myself to do was to play in two different time signatures! I could play 3/4 with my left hand and play in 4/4 with my right…and switch it up! What I had then was the freedom, 'cause Al [Foster] kept the time, where the "one" was, and I was able to be Tony Williams. I could switch up time signatures and play through it. I was totally ambidextrous; the hand burn helped me do that. I could hear in two different time signatures as well. That was very different. I began to tune my drums in fourths, so when I'm playing rhythm, I'm also playing tonality. Badal Roy and I got together wonderfully for On the Corner, because I was able to respond to all the odd time signatures. Tabla players are trained in 15/8 and all that, but I was there too, y'know what I mean? So we worked it out, and, basically, Badal followed what I was doing. There was never any conflict rhythmically.
What was the dynamic working in a band where everyone was like a leader?
My thing is when you have musicians that leave ego at the door and surrender their souls to the music, then everybody's there to cooperate. The beauty about being in that band, Miles, whatever the personnel was, everyone surrendered. And the only thing for us was that bigger picture of the organic resolution of our contribution. In other words, I gotta play what fits. Michael gotta play what fits, Pete… It was never ego. There was a point where we didn't rehearse. The reason for that was Miles had said that spontaneity was the most important aspect for him, and if we rehearsed it too much, he felt, "Hey, man, we're not coming from where we're feeling." His whole thing was everything had to be organic, what you come up with at that moment. And we forged new territory, a new branch to that tree that had never been explored—improvisational funk. The thing that fucked us up was being trapped by critics who didn't even understand the music.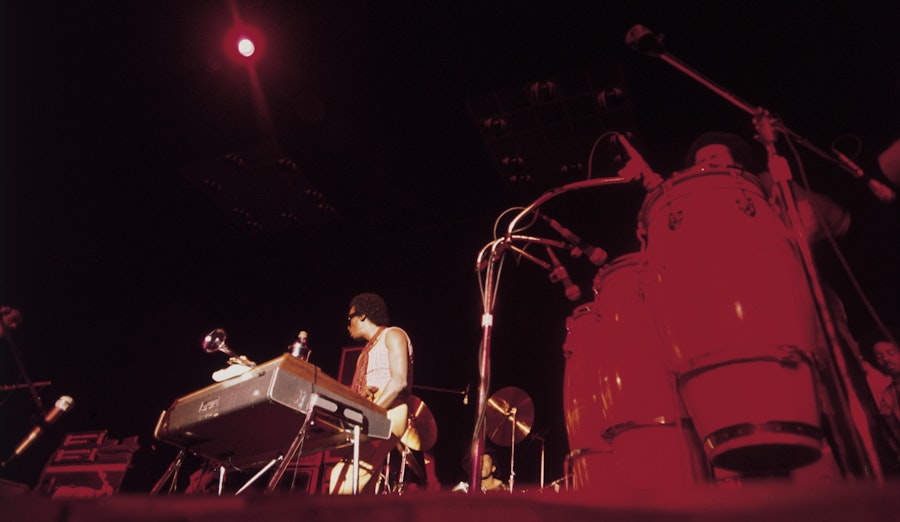 I remember the critics really gave y'all the blues during the whole time…
Critics have to have a vocabulary to describe what it is. Miles had broken all the rules, so it required them to have a new vocabulary, which they were too lazy and too important to develop. So it was easier to castigate the music. Sometimes, some music has to wait for a new generation of listeners; we had to wait for a new generation of critics. The listeners were already there; the jazz critics were talking about what Miles was doing when the fact is we were no longer playing jazz! [chuckles] It was like bringing a Kool-Aid drinker to a wine tasting—they didn't have the palate. When we recorded Live at the Philharmonic, that was the first time I realized the divide that he was creating. The old jazz fans were confused, some of them actually angry. After the concert, a critic ran up and said, "Miles, every move you've made musically, I've been there. But I can't get to where you're at now." Miles looked at him and he said, "What the fuck am I supposed to do, wait for you to get there? I'm already gone." I always laugh when I hear those idiots saying, "He sold out." How could he sell out when he's going against the grain and he's refusing to play what everybody else wanted? To him, to play what he had already done—"Kind of Blue," "Round Midnight"—was selling out. To go backwards to him was selling out.
Do you think there was a racial bias thing going on with the critics, most of who were White?
White critics thought Miles had abandoned them. When we went to Japan, Yamaha gave us all this equipment, and Miles said he wanted the sound system covered in red, black, and green. That was revolutionary for 1973. Then it became fair game to dog Miles: oh he's on drugs, he's crazy, blah, blah. It was personal, and I began to realize how much they had held back on loathing him. And Miles began to be more vocal about his politics; not vocal being out there like, "I'm this," but through the music. The music became more Afrocentric. When we were recording On the Corner, I'll never forget the call I got around four o'clock in the morning. Miles called me, and the first thing out of his mouth was, "We losing Black people; we not getting enough Black people to come and hear our music." And you know what he said? "That means there's something wrong with the music." He was setting the stage for On the Corner, and that's why it's so Afrocentric. And the original LP—first of all, look at the cover. That was absolutely Black. He got niggas on there look like they from the Panthers, street niggas; he was making a statement. He wanted to get more young Black people to come hear the music.
But what I was always drugged about was, bottom line, why they never did get the Black players who were creating the rhythms. So they go to Keith Jarrett and Dave Liebman instead of Michael Henderson, Pete Cosey, or Reggie or Al or myself. Hey man, I was there. I don't want to hear what you think Miles was doing; he was telling me what he was going to do. What has never really been dealt with is the racial aspect of these critics who began to castigate Miles. Why did they not talk to someone like Michael Henderson who was there before I was there. And they accuse him of not playing jazz. He wasn't supposed to play jazz, fools!
Whew! One last question…sum up Miles, what he means to you and music past, present, future…
Deep question. What I think is this: there are two kinds of influences; one is indirect influence; the other influence is what I call programmatic influence. When I say that music had programmatic influence is because of the wide range of musics and people that it affected. It affected the next generation of artists from Mos Def to Santana to De La Soul. Miles opened the door to bridge a gap that had never been bridged before. The bottom line is, look, we've all heard Spanish music, but we never heard it like it was on Sketches of Spain. It's not what exists, it's what a great artist takes and reinvents and has it comes out with his own signature. And that's the difference, and you gotta measure that difference. It affected everything after that period. And that's what people don't understand. See, Kind of Blue and Sketches of Spain were direct influences. On the Corner, Dark Magus, all that shit were programmatic influences. 'Cause you can't really measure how far it spreads. Miles created a music that elements could be extracted from for any musical genre. From Annie Lennox to Parliament-Funkadelic, that's what I'm saying. And there's no ruler to measure that inch. Like they say in church, an "Amen!" go right there. That's the truth, brother. That's what genius is.