There's been no shortage of hip-hop artists who have illuminated the malaise of ghetto life. But in the way that writer David Simon turned a television series into an intricate, detailed narrative much like a novel, the Roots' conceptually based album Undun paints a nuanced portrait of character Redford Stephens. The album employs a reverse-chronology technique, beginning the story with Redford already dead, and it tracks backward, showing how he went from a reluctant criminal to a fervent one.
The Roots complexity is reminiscent of the character Omar Little from Simon's The Wire. Omar walked the balance—his trench coat waving behind him in the hectic, blue-collar Baltimore breeze as he whistled a nursery rhyme, robbed drug dealers, and took his grandmother to church on Sunday. The Roots celebrate those complexities—the joy and mundane—of ghetto life. But they also want to remind people that Redford could be anyone who finds themselves ordering their life by the circumstances surrounding them. In true Lord of the Flies fashion, Undun's ultimate reflection is that anyone is capable of doing anything.
"Undun is the story of this kid who becomes criminal, but he wasn't born criminal," says Ahmir "Questlove" Thompson, who, with this thirteenth album, has surpassed his wish to pass the Beatles. "He's not the nouveau, exotic, primitive bug-eyed gunrunner like Tupac's character, Bishop, in Juice. He's actually thoughtful and is neither victim nor hero. Just some kid who begins to order his world in a way that makes the most sense to him at a given moment… At the end of the day…isn't that what we all do?"
In their short film released to coincide with the album, snippets of songs parallel the character Redford's existence over a nine-year time span. He begins at a literal crossroads, standing still in the middle of an intersection while a group of men stand on the corner to his left, and a stop sign is on his right. Throughout the course of the film, he makes a series of decisions amidst requisite ghetto images—a man shooting up, crack pipes, pit bulls, skull caps, and worn faces. As the Roots featuring Dice Raw rap on "Tip the Scale," "Some think life is living hell / Some live life just living well / I live life tryna to tip the scale my way / My way." Towards the end of the film, the track "Sleep" plays with guest singer Aaron Earl Livingston's haunting vocals: "I've lost a lot of sleep to dreams / And I do not miss them yet / I would not wish them on the worst of enemies."
Like other Roots projects—ranging from "Water" (from 2002's Phrenology), inspired by Spike Lee's Jungle Fever, to the Mahalia Jackson–inspired How I Got Over—Undun is a patchwork quilt of inspiration drawn from a variety of sources: Avon Barksdale from The Wire, Prince Paul's A Prince Among Thieves, the Guess Who's "Undun," and Sufjan Steven's "Redford" from Michigan. And in Roots' tradition for stretching boundaries, the last portion of the album features a four-part instrumental coda that starts with Sufjan's rendition of "Redford," followed by a string quartet's interpretation, as well as a frenetic and free take with Questlove on drums and D. D. Jackson on the piano.
"We go through different stages of putting together a record, and one of those is collecting media," says Tariq "Black Thought" Trotter on the phone, preparing tortillas for his daughter before heading to Late Night with Jimmy Fallon where the band has worked as the house band since 2009. "It could be newspaper clippings, an article of clothing, photographs, an image, or a painting, or a sketch. It could be existing music. All of it is ground zero for us. We're gonna build as time goes on. We'll take all these different items and replace it with something original."
The Roots, despite their ghetto intellectual image—or maybe because of it—are the finest, funky, neo-soul, jazzy, day-job-having, hip-hop group to tell Redford's complicated story.
As they quickly became known for playing over three hundred dates a year, it's hard to remember that even in the beginning, they were a performance band. Playing on South Street in Philadelphia, through cold weather, cops, and hecklers, the band found that sometimes just a word of encouragement kept them going. "We never thought this was something that wasn't going to happen," Black Thought remembers. They were struggling to pay bills and feed their families. Twenty-five years later, amidst their success, they still set their internal alarms for a nine-to-five.
Redford's story is personal for them. They've seen real-life Redfords play before their eyes. Before Phrenology, they lost their MC Malik B., in part because of a drug addiction. "Questlove and myself and [producer and manager] Rich Nichols, each neighborhood we're from is full of Avon Barksdales and our relatives that could have been characters on The Wire," says Black Thought.
Black Thought, who can also sing R&B (yes, he's considering an R&B album one day) and can read music was born to parents that worked in the Philadelphia-based Black Mafia—an organized crime syndicate that made part of their daily living doing what Omar's character did—robbing stash houses and crap games. It controlled much of the city's heroin trade in the 1970s and intimidated by way of murder. Trotter's father was murdered by the time he was two years old, and his mother was murdered right after his eleventh-grade year at the Philadelphia School for the Arts.
"My mom was always involved with an element of the streets and all that comes with it, including murder." Trotter says he immersed himself deeper into both visual arts and music after she passed. "Sad to say, it has been a major part of my reality growing up. I wasn't able to see myself as a thirty-year-old man. It was devastating to lose my mother, but that wasn't my first experience with death at all. I witnessed people right in front of me being murdered. It shouldn't be normal, but it is."
His longtime partner and Roots leader and drummer, Questlove, was born to a musician father and a doo-wop singer, Lee Andrews, who kept him at home practicing drums. It paid off in his becoming his father's bandleader by the time he was thirteen. Still, he was not sheltered from what was happening around him, having friends murdered, hearing on the road of people they have grown up with who had been killed.
Undun is the Roots' carefully crafted torch album to the masses—a reminder that talented, oppressed people will continue to be thwarted. It's called seduction.
Somehow, despite their longevity and the worldwide respect they garner for their musicianship and craft, the Roots still come out seeming like an underdog. Black Thought is one of the most slept-on MCs—clever, witty, and unrelenting, with a flow that never pauses. Damon "Tuba Gooding Jr." Bryson, the band's sousaphone player, tears the house down at every live show. Questlove, a walking encyclopedia of music and everything in between, is one of the top drummers in the world. But they still struggle with getting radio play and having sales that reach the one million mark.
"In the beginning, there were expectations that all of us had that if what we did was innovative and good, we'd be rewarded," Questlove said in a late '90s interview. "That was the worst wake-up call ever—years of sleeping on cold floors and waking up in countries you don't even know the name of, and looking out and seeing sixteen people in the audience."
Now the group easily sells out shows around the globe. And their annual Roots Picnic in Philly packs crowds up to 750,000 and has become legendary. But they still maintain a blue-collar work ethic. And taking on a day job has somehow helped their creativity. Every day is a jam session on the show, creating new songs. And with a decreased touring schedule and a regular paycheck, they are able to spend more time and risk on the creative process of their album, without the nagging worry of being dropped by a label.
Black Thought reveals that they've already begun conceiving their fourteenth album. "The record we are working on now, I think, is going to be a narrative. It will be focused on a single person, but it will be a story that spans generations—following their lineage, showing how they became the man or woman that they are."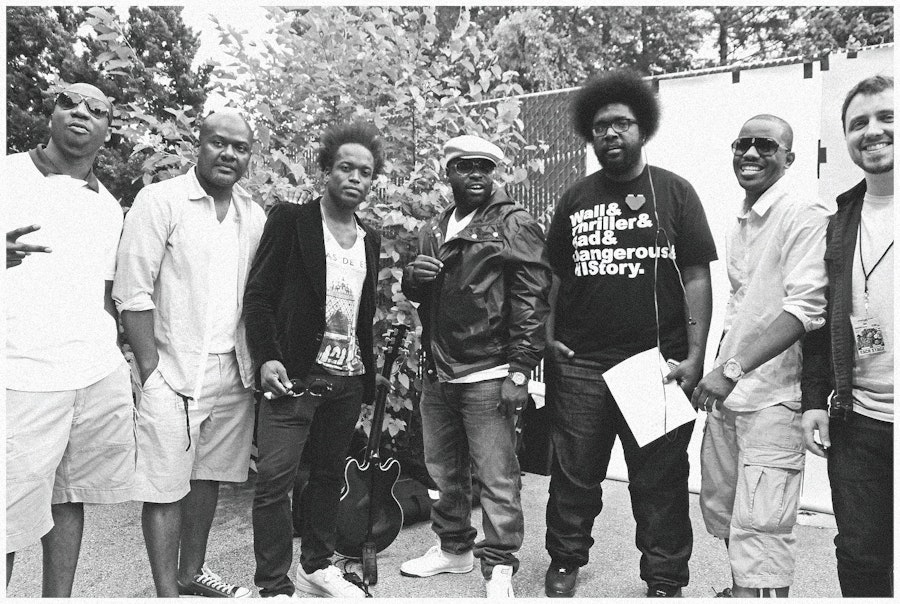 It's late in December, three weeks after Undun's release, and the Roots are onstage, all dressed in black at the Fillmore in Silver Spring—the D.C. suburb's standing-room-only answer to S.O.B.'s. Black Thought has on black shades, black boots, and a black scarf. 
"Coming to Break You Off" has morphed into a go-go beat. Then Tuba Gooding and guitarist Captain Kirk Douglas are playing "Step into the Realm" in unison, their backs against each other.
By 10:27 PM, the show that began at eight ends with "You Got Me." The lights turn off. The group leaves the stage. The crowd is screaming, pleading. Nobody's moving.
At 10:39, they come back out. There's more energy. They freeze onstage. Black Thought asks the audience, "Can I get some help?" They launch into "Here I Come." They pause and depart. The crowd won't leave. They come back again. By 10:47, they're playing Gil Scott-Heron's "The Bottle." The crowd looks near eruption. Then there's Curtis Mayfield's "Move On Up." An audience member, jumping up and down, tells me this is their twenty-fourth time seeing them.
Questlove is playing like a man possessed. Now he's playing with one hand—he's broken two of his sticks. It's been two and half hours nonstop, no breaks. 
A little after eleven, they finally shut it down. This is only clear when Questlove throws his sticks out to the audience.
If there was any solid criticism that came out of the brilliance of The Wire, it was that it presented a relentlessly bleak portrait of ghetto life. Everybody's life was either shit or spiraling towards it real fast. There was no glassy-eyed exuberance as kids ran through fire hydrant sprinklers. No ghetto intellectuals taking buses to private school. No thugged-out musicians playing on garbage pails and mailboxes in the streets.
The Roots have seen and articulated the life of Redford. But can the heady, hardest working hip-hop band in show business still make you dance? The woman next to me, soaked in sweat, throws her head back in ecstasy as the lights dim for the last time. Yeah, twenty-five years later, they can.