"Won't somebody tell me, answer if you can! I want somebody to tell me, just what is the soul of a man?" The Texas holy blues shouter Blind Willie Johnson begged the eternal question on his April 1930 single for Columbia Records. The notion of "soul" remains a slippery subject. You either got it or you don't. While Ray Charles was the undisputed "Genius of Soul," Aretha was dubbed its "Queen." And as we all know, James Brown was "Soul Brother #1."
Inspired by a back-handed quip Howlin' Wolf made after first hearing the Rolling Stones (dubbing their sound "plastic soul"), Paul McCartney glanced at his Beatle boot and christened the Beatles' 1965 album Rubber Soul.
"Soul" was a gauge of one's "Blacknuss," as Rahsaan Roland Kirk put it. Ramsey Lewis, Cannonball Adderley, Les McCann, and Eddie Harris all helped spread the news with the groove of "soul jazz." 
"Soul" is hard to pin. It has taken the form of music, food, a "brother," "sister," and even a "finger"—as in the Bar-Kays' 1967 hit "Soul Finger." It ultimately became a buzzword, a yardstick to measure the depth of feeling. Nineteen sixty-seven also saw the release of Sam & Dave's smash hit "Soul Man," while the Chambers Brothers, a former gospel quartet, announced theirs had been "psychedelicized," in their eleven-minute trippy opus "Time Has Come Today."
By 1968, Eldridge Cleaver's jailhouse memoir Soul on Ice exposed the systemic societal freeze-out that he and his Black Panther brothers faced in "Amerikkka" (an epithet first coined in 1970 by Black World magazine, originally known as The Negro Digest, originally founded in November 1942).
By 1970, "soul" hit mainstream TV with Soul Train, the creation of Chicago DJ Don Cornelius. Originally aired on WCIU-TV, the hour-long program ran five days a week, keeping the party going. "Soul" was everywhere! The "Celtic Soul Brother," Van Morrison got into the act, proudly shouting "So, you know, it's got soul!" in his song "Caravan." Five years later, in 1975, David Bowie confessed to "blushing at all the Afro-Sheeners" after copping Gamble & Huff's Philly sound, as he sang "Blacks got respect, whites got his soul train" on "Young Americans." Decades later, Marlena Shaw's version of Ashford and Simpson's "California Soul" was used by Dodge to pimp pickup trucks.
Soul is a changeling, a perennial, that might go underground or out of style from time to time, but then return once more, taking a new form. You just can't kill "soul."  
"There will be no sad farewell," William Matthew Golden (born January 1878) wrote in his classic gospel song, "Where the Soul Never Dies," while serving an eight-year sentence in a Mississippi state prison.
And for all those white folks still wrestling with the nagging question, Neil Young did his best to put the issue to rest once and for all when he sang "even Richard Nixon has got soul," in his 1976 song "Campaigner." 
But that eternal spirit we have gathered together to praise today, beside this cyber-riverside, belongs to Ellis Haizlip's groundbreaking television series, Soul!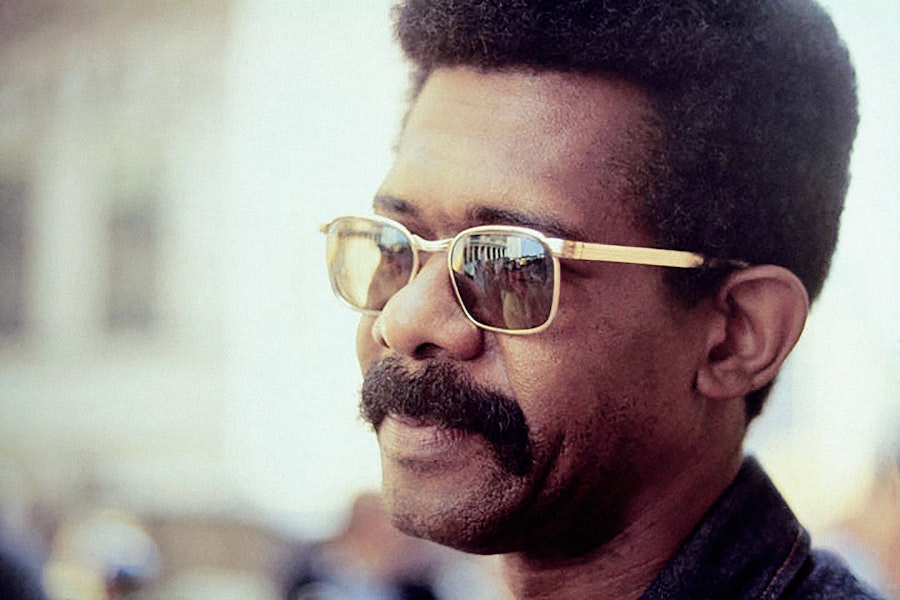 By the mid-'60s, Haizlip, inspired by the civil rights struggle and recent violence on the streets of Detroit and Newark, confronted the accepted (repressive) norms of the broadcasting industry and became the first Black producer at New York's educational television station WNDT (soon to be better known as WNET, in the Newark/New York area). 
In March 1968, Public Broadcasting's cultural director, Christopher (Kit) Lukas, began writing a proposal for a Black Tonight Show, after reading the Kerner Commission Report, which emphasized "the absence of Black Americans from visible media roles," and how it "was damaging" to our society and culture. In the wake of Dr. Martin Luther King's assassination that April, Lukas successfully secured funding from the Ford Foundation and asked Ellis Haizlip to produce the first hour-long Black cultural variety show. While the Ford Foundation paid the tab, it was, according to author Gayle Wald, "Black people [who] made the show possible." Haizlip soon assembled a stellar crew of African American producers, stylists, cameramen, and technicians that included associate producer Alice Hille Jackson, who previously worked with Harlem's Apollo Theater and helped program much of the show's stellar musical lineup.
"It wasn't the entertainment that made Soul!—it was its very existence," Lukas wrote in 2009. "At a time when whites thought African Americans were either poor, undereducated people or frenzied rioters, Ellis created his own Harlem Renaissance on the home screen, debunking those myths."
Born in 1929 in segregated Washington, D.C., Ellis at age ten bore witness to the opera/gospel singer Marian Anderson's legendary Lincoln Memorial concert on Easter Sunday, 1939 (after she'd been barred from singing at Constitution Hall by the Daughters of the American Revolution as she was Black). This life-transforming experience inspired Haizlip to become a spirited human rights activist with a profound understanding of the arts' power to change society.
Soul! laid testament to Ellis Haizlip's astute curatorial prowess of blending all aspects Black culture, from modern dance to jazz and funk music, with plenty of radical politics and poetry tossed into the mix.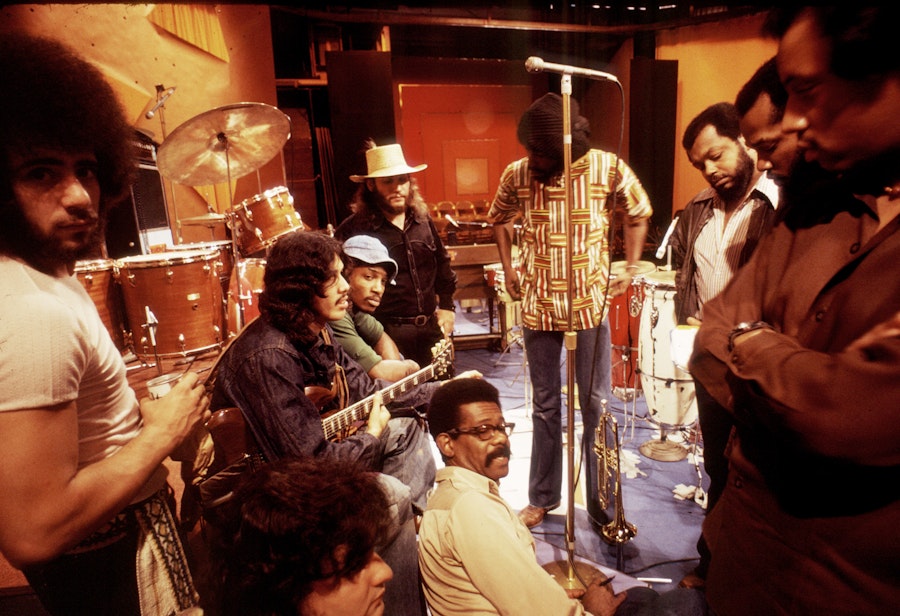 Debuting in September 1968, Soul! ran the gamut of Black culture, providing a platform for unknowns to those at the top—actors, musicians, sports figures, and politicos including Sidney Poitier, Stevie Wonder, and Muhammad Ali, along with provoking prose from James Baldwin and fiery political rhetoric from Amiri Baraka and Stokely Carmichael, to the New York Democratic Congresswoman Shirley Chisholm. The work of African American visual artist Max Bond, cartoonist Brumsic Brandon Jr., and sculptor (and consultant to CBS's Black Heritage) Inge Hardison all made for fine subjects and interviews. 
"We got a good thing goin' tonight," guest host Jerry Butler (of the Impressions) told the small studio audience on October 24, 1968. (The show had many guest hosts over the years, including Curtis Mayfield, Joe Tex, Letta Mbulu, Carla Thomas, and Nikki Giovanni.) When Butler ran down the guest list that evening—that included undefeated heavyweight champ Muhammed Ali and Archie Bell and the Drells—he ended with the show's musical director: "the swinging sound of King Curtis and the Kingpins." When Saturday Night Live debuted seven years later in October 1975, its theme song bore more than a little resemblance to Curtis's wailing tenor.
While as serious as your life, Soul! came off as a very laid-back affair. Comfy on the couch, Butler regaled the World Champion, "You got excellent rhythm, and your time is outta sight!" he said. Handsome in a three-piece black suit with orange shirt and tie, Ali replied with that winning grin, "You're only sayin' that because it's true!" "How about the draft situation?" Butler begged Ali, who rapped his answer, claiming he had "the wrong complexion and the wrong connections!" Adding, "I can't go to Vietnam and shoot them people and come back here and be free!" Then they laughed at the absurdity of Hollywood portraying Tarzan as a hero to African people waiting for him to come swinging through the trees to rescue them and fight off treacherous lions. Next up was Archie Bell and the Drells, bustin' some bad moves in suede vests, singing "Show Time" backed by King Curtis and his killin' sax.
On October 20, 1971, Ellis Haizlip interviewed Georgia Jackson, mother of slain Soledad Brother George Jackson. Following the tragic death of two sons, her weary eyes knowingly say it all. Next up was a fabulous set by Mandrill, the "raw rhythmic outta-sight musicians from Brooklyn." The band threw down a smokin' gumbo of funk and Latin rhythms. Then LaBelle slayed with the Rolling Stones' "Wild Horses." Cut back to Georgia Jackson, who identified herself not as "a revolutionary," but "a Black American mother, fighting for all oppressed people all over the world… We worked and we died for this country, but we don't have a voice in this country," she told Haizlip.
"This was a vibrant time in African American culture," enthuses Pat Thomas, author of Listen Whitey! The Sounds of Black Power 1965–1975. "That TV show, in the few years it was on, included every major Black political, artistic, literary, and musical figure you can think of! And to present it in such a reverential way. At this point, watching these episodes of the Last Poets, LaBelle, James Baldwin and Kathleen Cleaver, Earth Wind & Fire, and Amiri Baraka is almost like a dream-like fantasy. It's the convergence of Black Power, Black Power politics, poetry, funk and soul… What even made this show even more progressive was that Ellis Haizlip was a gay Black man with a Johnny Carson–meets-college-professor modus operandi. Haizlip not only delivered more intellectual Black culture per episode than any other TV show before or since, but also included more Black women both behind and in front of the camera than anyone else!"
"I was the first Black woman to earn an MFA degree at NYU, where the only people who looked like me either cleaned the place or were guards," says filmmaker Demetria Royals, who worked on Soul! "I was a twenty-two, twenty-three-year-old Black woman when I started to work at WNET. It was a whole new world, a magical time. Two things were coming together at a unique time in history. There was a push at PBS to start a 'training program' to get more minority people and producers in, where Yvonne Smith got started. Yvonne made the [1986] Great Performances documentary Miles Ahead: The Music of Miles Davis after he told PBS, 'There will be no film on me unless Yvonne Smith makes it!' They had never done anything before on Black people. So it was a time in history where the few Black people who had the skills to produce television were being pushed into news and public affairs. It was a time of James Baldwin, Nikki Giovanni, and Ntozake Shange [whose book of poems For Colored Girls Who Have Considered Suicide / When the Rainbow Is Enuf, which became an enormously popular Broadway musical] and you have to understand what we [Black Americans] saw in Black people. When I saw Nikki Giovanni, lit by a single light, in all her Black beauty, it meant something to us! We were only allowed at the table if we spoke about how oppressed we were. That was the first time that Black people were treated respectfully as artists! The first time that Black people got to own their experience! 
"With Soul!" Royals continues, "Ellis put down a marker that said, 'This is the Black experience.' When we were taping Soul!, there was a rule that white people couldn't come in when they were taping the show. I think they were terrified of Ellis at WNET!" Royals laughs. "Ellis brought together Blackness and a gay sensibility, and he made no apologies. He was so brave! He put it in your face. To me, Ellis and James Baldwin defined Black masculinity because they believed, as the [sixteenth century] French philosopher Michel de Montaigne said, 'I am human, I consider nothing human alien to me.' When I saw the [documentary Mr. Soul!], it made me think, what a price he had to pay. They lived in the contradictions of intersexuality because they were outsiders—they eventually became the trend makers."
"I came to WNET in 1972, as Soul! was reaching the end of its run," Yvonne Smith recalls. "Although I didn't work directly with Ellis, he had an important impact on my career. I didn't know it at the time, but he stood up for me when I, as the only Black woman producer of Great Performances, proposed making Miles Ahead. They were happy to fly over to Europe to present classical musicians and dancers, but it was a real job to convince the white-centric programmers to make that leap." 
Watching the show again recently, Yvonne is struck by Haizlip's "importance as a Black impresario presenting Black culture, giving exposure to Nikki Giovanni, the Last Poets, with Patti Labelle and Earth, Wind & Fire. We need more shows like that on television now!"       
In watching Melissa Haizlip's recent documentary, Mr. Soul!,  in hindsight, we witness Ellis Haizlip's strengths and struggles, particularly when he unflinchingly interviewed Louis Farrakhan on May 27, 1971. The Nation of Islam spokesman sat, surrounded by his intimidating gang of bow-tied toughs, while implying to Ellis, that gays are an abomination before God's eyes.
"I really respect Ellis and his place in history. And I really liked the show," says poet Quincy Troupe (coauthor of Miles Davis's 1989 autobiography), who appeared on Soul! on February 2, 1972, along with Cissy Houston.        
"All the people, the poets, and writers I got to know, for the most part, were on Soul! Nikki Giovanni was a good friend of mine. I did a book and the last interview with Jimmy [James] Baldwin, who also appeared on the show. Most white people in publishing thought poetry was T.S. Elliot. They could barely stand Allen Ginsberg! They preferred Black women and didn't want to deal with Black guys. And if you were political…forget it! Maybe they thought we were too tough and rough. But Ellis was fearless, and he put us on the show!"
Imagine, if you can, seeing the Last Poets perform their shocking, conga-driven, spoken-word incantation "Die Nigga!!!" on Johnny Carson or The Ed Sullivan Show. Ellis Haizlip didn't simply push boundaries, he stretched heads!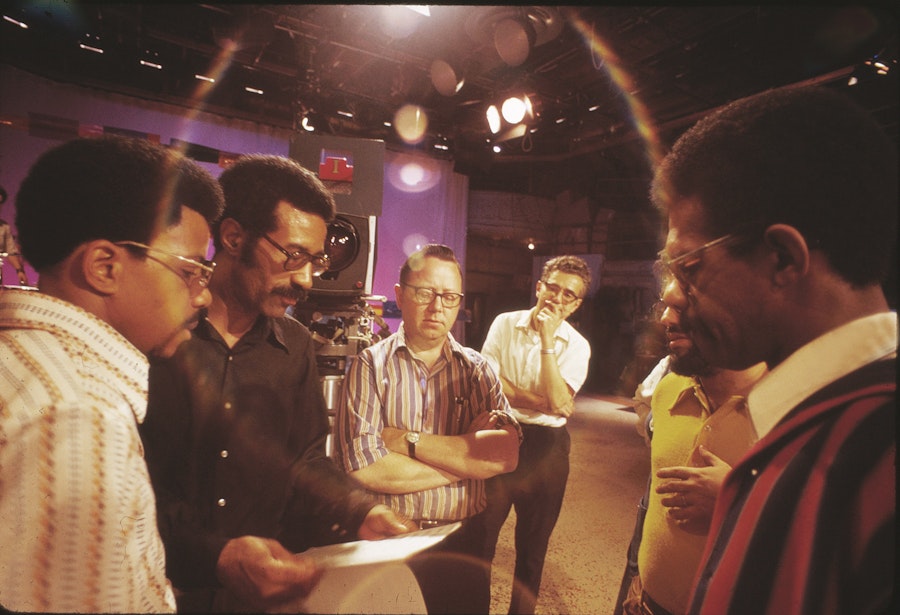 While Soul! boldly addressed the myriad issues facing Black America, the show also loved to party, as portrayed in the episode Shades of Soul Part II, which aired on November 22, 1972. Mongo Santamaria sat centerstage, in his matching purple satin vest and pants, groovin' on a trio of congas, as his horn section picked up percussion, providing plenty of cowbell and guiro for the master to improvise over while the bass and piano laid down an infectious rhythmic vamp. The band in slick suits with pointy collars, sharp enough to kill, brought a catchy Afro-Cuban groove to an ebullient audience, with heads bobbing in time, and Afros glistening in the spotlights. One of the aspects of the show was that performers didn't play just one or two numbers, but a set of five or six tunes, bringing you the feel of a live performance into your home. The host took the time to respectfully introduce each member of the band, which is unthinkable on TV these days. Mongo gleefully flailed on his bongos, while a trio of flutes played in harmony, a melody so rich and sweet that you momentarily might forget the tragedy of the times—child poverty, racism, and the war in Vietnam. Mongo's fingers pounded the skins, blending rhythms from Puerto Rico, Colombia, Venezuela, and Harlem (where members of his band hailed from). The tenor sax and trumpet pushed air hard and fast, in new directions, bringing bright, soulful music into the living rooms, ears, and hearts of thousands of viewers. Among the crowd, women wore exotic patterned geles (West African head wraps) with strands of colorful glass beads as the hard clank of timbales inspired people to dance in their living rooms, as the sweat glistened on Mongo's smiling face. Soul!, like Miles Davis on his 1970 cutting-edge double album Bitches Brew, boldly ran the voodoo down. 
"My Uncle Ellis was my spirit animal," laughs Melissa Haizlip. "I was just a little girl when he moved in with us on the Upper West Side [of NYC] in 1968. Ellis had incredible vision and was always imagining a grander life, for himself and others, that really propelled and demanded a greater reality for all the artists, musicians, and activists he presented on the show. He was always vibrating on another dimension. Ellis had the gift of sight. He was very open and would present Amiri Baraka, who believed all art must serve a revolutionary function. But at the same time, he could accommodate the conservative Black church, along with the Delfonics, Lee Morgan, and Al Green. So you had this juxtaposition of the sacred and the secular, with the carnal. Ellis saw the cultural thread of continuity and brilliantly articulated it all. It was all high art, just a different aspect of who we are that needed to be foregrounded. So he refused to take any side."
Once the show found its footing, Haizlip began to loosen up, losing an air of formality as he transformed into a humble yet charming MC: "At first, he was the perfectly groomed academic host, but he soon abandoned that," Melissa explains. "He did not make any apologies for Black culture, which, until then, had been roundly dismissed as low culture. Jazz wasn't 'officially' recognized as high art, and neither was poetry. Black women didn't have a voice yet. But Ellis didn't play by those rules. He believed the complete opposite. Everyone was stuck in their own bubble. But Ellis had an expansive view of Black culture, and opened up the conversation. He wasn't predictable at all, and you could feel that when you watched the show. People were a little bit alarmed, a little bit offended, and a little bit fascinated at the same time. That's what made the show so unique. And that's how he approached life, every day. I count my blessings every day, to have seen the culture through his eyes and to see how much he was in love with his Blackness and all of ours! He was totally committed and unflinchingly brought myriad talent and politics to the forefront. But he wanted to be behind the scenes. He wasn't interested in taking the credit. It was so much more important for him to create opportunity for artists."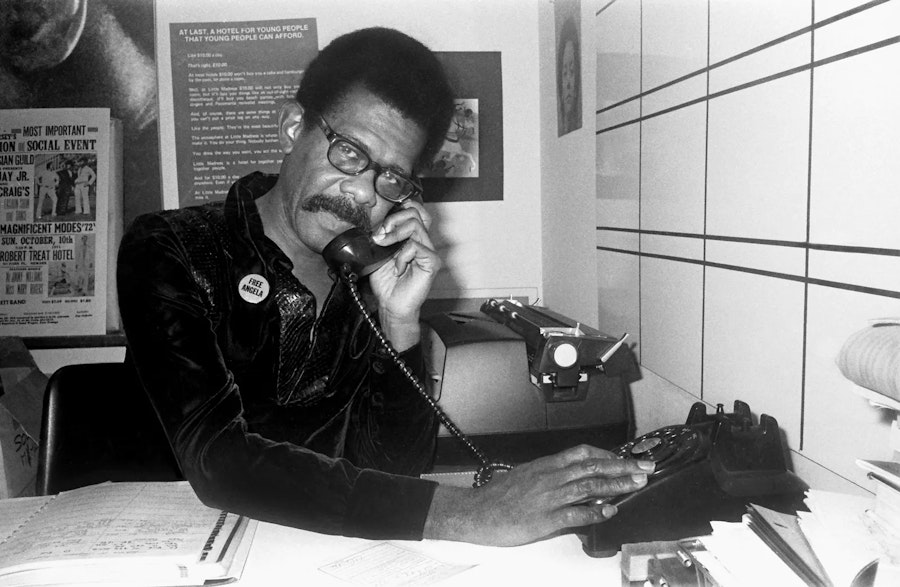 Like a great record producer, Haizlip inspired the best in his guests. He initially created Soul! as the vehicle for presenting Black culture to the greater New York Black community, and as the show became syndicated across America, its effects continued to ripple outwards, not just to the African American audience, but to anyone who was willing to watch, listen, and learn. Soul! was an honest expression of Black America, and as its curator Haizlip was inclusive, shining the spotlight equally on both unknowns and stars, on the oppressed and the champions.
"Ellis had remarkable and visceral relationships with all these different people, all over the world, and not just because they were famous," Melissa explains. "Jimi Hendrix once came to the show and sat in the audience. Ellis saw him and brought him up onstage. They spoke but he didn't perform. They had previously met in Europe, around 1969, while they were both on tours. I didn't use it in the film because I couldn't successfully tie it in with the rest of the story. I also wanted to talk about why certain people were not on the show. But that was another rabbit hole I couldn't go down."
At the same time that Soul! brought the message of Black America into homes across the country, jazz great, Rahsaan Roland Kirk, with the help of his friend Mark Davis, formed the Jazz and People's Movement in the summer of 1969. Inspired by the civil rights marches in Alabama and the growing numbers protesting the madness of the Vietnam War, Kirk and Davis conspired to disrupt the prime-time television airwaves for the sake of the music they loved and believed in. Max Gordon, proprietor of New York's legendary Village Vanguard, offered his club on Monday nights as a base for the band of ad-hoc musical guerrillas that included trumpeter Lee Morgan, drummer Elvin Jones, and sax man Archie Shepp. Demanding the time had come for the media to recognize the contribution of creative Black musicians, they composed a manifesto pointing out that jazz musicians rarely appeared on TV and were constantly neglected by limited radio formatting as well.
On August 27, 1970, the Jazz and People's Movement, comprised of some sixty musicians and friends, gathered on the corner of Fiftieth Street, outside of Radio City Music Hall, with the intent to disrupt The Merv Griffin Show. Rahsaan and Mark passed out wooden whistles to the crew of protesters and told everyone to start wailing when he gave the signal.
"Halfway into the show, we opened up with our whistles and bells," Kirk's percussionist, Joe Texidor, recalls. "Merv Griffin thought we were a religion and went downstairs and wouldn't come back until we quieted down."
Despite warnings that the J&PM had broken FAA regulations and that the FBI were keeping track of their every action, Kirk and Davis forged ahead. The Tonight Show with Johnny Carson and The Dick Cavett Show were next. Along with Archie Shepp and trombonist Roswell Rudd, Kirk led the J&PM into the offices of the Guggenheim Museum to protest their choice of jazz artists who received their annual fellowships. 
Davis then sent The Ed Sullivan Show a letter warning them that they were next. With its live audience and numerous commercials, the J&PM would surely throw off the show's tight schedule. Sullivan's people thought it over and decided to make peace with the J&PM rather than risk a disruption of their show.
As Rahsaan had recently recorded Stevie Wonder's "My Cherie Amour," Sullivan's programmers suggested his group perform the song on March 28, 1971. For the occasion, he brought along an all-star crew, including Charles Mingus, Roy Haynes, and Archie Shepp. As it was the final Ed Sullivan Show, the host had granted Kirk an unusually generous five-minute slot. Upstairs in the dressing room before going on, Rahsaan began getting worked up and started to shout, "We're gonna burn it down! We're gonna burn this place down!" A minute later, all hell broke loose live across America as the band busted into a ragged freeform scrambled jam of Mingus's rolling and tumbling "Haitian Fight Song."
"He was just trying to give America a wake-up call," explains composer/pianist David Amram. "Rahsaan wanted to give kids, regardless of their race or nationality, an image they could aspire to, instead of gangsters, pimps, and drug dealers. He felt that perhaps they could put something else on television. Jazz was this great, sophisticated, internationally respected music that at the time was invisible," Amram laments. "Instead, the press considered it a revolutionary act and portrayed it as civil disobedience or a riot."
Riot or not, Rahsaan Roland Kirk's October 4, 1972, appearance on Soul! was radical. Frank London, trumpeter/composer with New York's cutting-edge klezmer band the Klezmatics, "was just a twelve-year-old white kid from the suburbs" as he sat stunned before his TV set as Rahsaan, after playing three saxophones simultaneously, "began to smash a chair, while screaming 'Blacknuss! Blacknuss!' It totally freaked me out! I thought the suburbs would be burning any day."
"Once, we did this TV show called Soul!" trombonist Dick Griffin—who played with Rahsaan Roland Kirk's Vibration Society—told me in 1999. "Rahsaan got started on this metal chair. It was a thirty-minute show, and it took him about fifteen minutes to get this chair broken up. They panned out with him still going at it and we just kept vamping. He would not give up, if it meant die! Being blind, he couldn't see how he looked with his legs kicking." 
"I first started watching Soul! in 1970 while still in high school," recollects Kenny Margolis, keyboardist with Exuma and Mink Deville. "What an eye- and ear-opener it was! Incredible musicians and poets of color who didn't get much, if any exposure on national television all found a home on Soul! Donnie Hathaway, Pharaoh Sanders and Leon Thomas, Herbie Hancock, Richie Havens, Al Green, Tito Puente, Max Roach, and the unique Exuma were just some of the artists my young mind was turned on to.
"Coincidentally, I started playing with Exuma a few years after I first saw him on Soul!" Margolis continues. "Exuma aka Tony McKay was mesmerizing onstage." You can catch his performance on Soul! along with Cicely Tyson and Taj Mahal, which aired December 13, 1972. "In his oversize straw hats festooned with various trinkets, spangles, and ribbons, plus his long velvet robes with sewed-on appliques and colorful boots with ankle bells attached, he was like no other performer. Sometimes, his eyes would roll back, and he began to vocalize in tongues! I'm grateful he included me in his world of Obeah and Junkanoo rhythms."
Ellis Haizlip once claimed that "Soul! makes Blacks visible in a society where they have been largely invisible." The man (and his devoted team) accomplished their mission with taste and purpose, while giving proper respect to African American musicians, writers, and artists as well as a voice to political activists and social advocates marginalized by mainstream television and the press.
After a five-year run, the final episode of Soul! aired on March 7, 1973, after Haizlip stoically announced the show's funding had been unceremoniously cut, whether due to "limited appeal," or as some claimed, the high cost of production, with some shows running as high as $15,000–$20,000 each. 
Melissa Haizlip's excellent documentary Mr. Soul! debuted at the TriBeCa Film Festival in April 2018, and has subsequently won a total of fourteen festival awards, as well as the IDA Doc Award for Best Music Documentary. In addition, Mr. Soul! just won the NAACP Image Award for Outstanding Writing in a Documentary (Television or Motion Picture) and the Critic's Choice Documentary Award for Best First Feature Documentary. After a television debut on PBS's Independent Lens, it now gets a run on HBO Max.
Mr. Soul! is more pertinent than ever considering the current atmosphere of the escalating racial tension in America. And while it might be tempting to wax nostalgic about Soul! as a golden period of Black culture, thanks to the great variety of music and poetry that Haizlip presented, viewers cannot ignore the harsh realities and struggles of the time in which it stood as a bold and singular expression.
Melissa Haizlip's Mr. Soul! was not merely a valentine to her late/great uncle, she has dealt with his realities and struggles with a refreshing honesty and directness. She was clearly the right person for the job.
While never as perky or popular as Soul Train, or the other mainstream programs fashioned to depict Black America, like The Mod Squad and Sanford and Son, the impact of Soul! has continued to endure, educate, and inspire to this day.  
For more Soul!, be sure to check out Gayle Wald's book It's Been Beautiful: Soul! and Black Power Television.