Too often we find ourselves listening to posthumously rereleased music, or reading extensive praises in memoriam of artists that were legends in their own time but lacked the commercial success of the heavy-hitting recording stars still played on repeat via corporate iHeartRadio stations. These after-death praises are essential to give these artists the accolades they deserve, but often blind us to the fact that many of these musical treasures are not only still alive but still capable of creating content we erroneously think is locked in an era of the past. Such is the case for Doug Carn, who recently released an album, Doug Carn JID005, with Ali Shaheed Muhammad and Adrian Younge on the Jazz Is Dead label. "I don't really consider myself a great player, except on the organ; I ain't no Herbie [Hancock] or no McCoy [Tyner], or no Chick Corea. On the same token though, I am an innovator," says Carn.
This innovation he's referencing is the use of deeply spiritual lyrics born from a place of struggle paired with transcendence and liberation, unique to being a Black Southern artist in Los Angeles during the late '60s and early '70s. "They had done swinging lyrics to those songs, some of the more modest songs before. Jon Hendricks certainly had done it, and Mel Tormé; you know, people had done it before. I just picked the spiritual ones, and I think it's the way that I put them together at the time," says Carn.
Musician and composer Adrian Younge was elated to work with Carn on the last record. "There are all these legends that we love, that you don't even know if they're still playing, you just know that you love the record," Younge says. "So what was crazy is that [Doug Carn] was in L.A. for something, and our manager told us, 'Yo, Doug Carn is here.' So I was like, 'Holy shit, we got to try to figure something out with that dude.' So we met up, hit it off, and started recording. It's dope when you find legends like that, because us being thirty and forty years younger, for him to see that there's a younger generation of people that really love what he's doing, and actually want to work with him to continue the conversations that he started back in the day, it's a big deal… We always want to give flowers when people are alive, and that's a big part of all this." 
Founding member of A Tribe Called Quest, Ali Shaheed Muhammad, who also played on and helped arrange the JID005 album with Carn and Younge, has similar sentiments: "It's an interesting journey that both Adrian and I have had, as we both started off as programming musicians, and graduated to playing instruments and obviously writing a great wealth of music on our own. But to be able to sit with the likes of someone like Doug Carn, and to know that we speak his language and he speaks our language, we can present an idea with a legend and [have] it be easily embraced and welcomed, that means a lot to us… He was crazy down-to-earth and warm, and felt like family instantly. He has a lot to say, and hasn't had enough of a spotlight for his talent and his contribution to the Black conversation. We're thankful to be blessed to be in a room with him."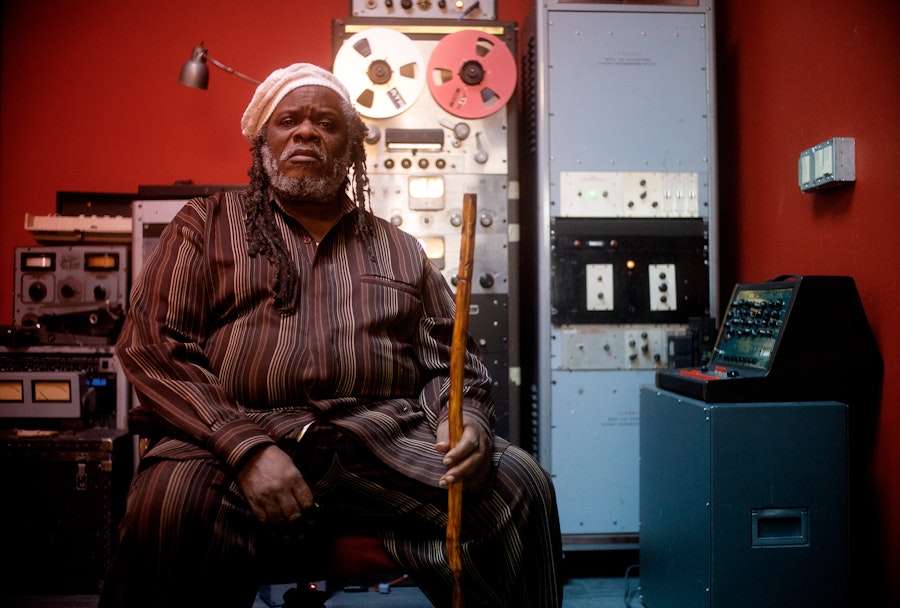 Dwell like a ghost, Black angel / Move through life in a silent way. Doug Carn, "Dwell Like a Ghost," Spirit of a New Land
Look within, you're sure to see the source of true reality / Take your time, relax your mind, you have until eternity / Don't plea, just be / You'll see, feel free. Doug Carn, "Feel Free," Revelation
These are just two examples of Carn's lyrical content that go well beyond the ordinary. This, paired with the incredible vocal range of his former wife, Jean Carn, helped to establish a new standard for jazz vocals, and provide a musical outlet for content dealing with the divine but too far out for church circles. While he was certainly not the first person to take jazz to a higher spiritual plane, he was among the first to verbalize sacred concepts derived from the Qur'an and Holy Bible, and bring them into the world of Miles Davis, Horace Silver, Wayne Shorter, and John Coltrane. Though he could have been busy trying to create music just to sell records, Carn was devising ways to further turn the wheel that freedom fighters of the '60s had put in motion.
"The main problem was that Black people needed liberation, man," says Carn. "We need it now, but we needed it back then as much for ourselves on our own terms, spiritually and culturally, as much as we needed it economically and from white discrimination or oppression. Being a child of Black educators during the time of segregation, and being in the Black church and a Black school, the goal was to take everybody to the promised land, not just to take the ones that wanted to party, or just take the ones that wanted to stay all the time. Everybody had to go. So I tried to figure the best way." 
Born in New York City's Harlem Hospital in 1948, in the "same room that Sammy Davis Jr. was born," Carn spent his young years steeped in jazz. Shortly after being born, his parents moved the family back to St. Augustine, Florida, where he couldn't help but get into music. 
"My mother played piano and organ, and my uncle was a DJ, and my grandmother was a schoolteacher that could read music and played for church sometimes," says Carn. "I couldn't help it, I loved music." His disc jockey uncle played a huge role in exposing him to music from the beginning. "My uncle played a lot of jazz and R&B over the radio. As a matter of fact, he played a lot of bebop. He would play something by Dexter Gordon, and scat the solo right along with the record, live. My uncle was a hell of a cat," says Carn. After living in St. Augustine, his uncle moved back to New York City while Carn was still a teenager. 
"I'd go up there [to New York City] in the summer and hang out with him," Carn recalls. "You know, my parents would send me up there to keep me out of the civil rights stuff so I wouldn't get beat up or arrested. I'm sitting at Birdland, man, I'm fifteen, and they let me in with my uncle, 'cause they knew my uncle. There were several kids like that, you know, that they knew were into the music and appreciated it. As long as your parents or relatives were with you, you could go in. Now they wouldn't serve you alcohol, so I'd be sitting there drinking a seventy-five-cent Coke, listening to [Art] Blakey and Wayne [Shorter] and Lee Morgan, without the slightest idea that one day I'd be playing some of their music, or playing like them." 
Another tremendous influence was church music. His mother played piano and sang for the church choir. "In those days, if you had a talent, it was a God-given talent, so you were supposed to play for the Lord for free," reveals Carn. "Or if they give you some money, they don't have to give you what they promised, or when they promised you, so [my mother] was just a slave. She had to go to choir practice two or three times a week, church every Sunday. And they had night church too, because a lot of Black people worked as housekeepers and cooks, and they couldn't just take off on Sundays. So they'd have to have their church Sunday night. But there's nothing more fun than church on a Sunday night, boy. And then when it start pouring down raining, boy, ha-ha," recalls Carn.
After finishing high school in St. Augustine, he headed up the Atlantic Florida coast for college, studying oboe at Jacksonville University's School of Music. While there, he recalls legendary American classical composer, Aaron Copland, giving a guest lecture to the music department. After the talk, Carn grabbed Copland's attention and arranged to chat with him the next day: "I said, 'Why don't you meet me in the student center tomorrow, and we can have a beer.' He said all right. He didn't want no beer, I don't think he even drank, but he was glad one of the students really wanted to talk to him."
The next day, Carn picked Copland's brain about musical arrangement. According to Carn, Copland said, "'Go to the music library, and if you got a song or a composition in Bb, look up all the Beethoven scores in the key of Bb. Where he puts the second trumpets, that's where you put them. Where he puts the violas, that's where you put them. Because Beethoven was the master orchestrator. Nobody is better.' So I started doing that, and it's like having filet mignon, and a ripe fruit, and sensimilla, and Château Lafite Rothschild 1956, together." 
Not only did this fortunate meeting open Carn up to fusing jazz with classical arrangements, but it showed him the power of creating space within music. "It took Aaron Copland to tell me who I was… When he was getting ready to leave, they had a little thank-you-for-coming ceremony," explains Carn. "I was standing around and somebody came up and asked me what instrument I played. I said, 'I'm an oboist, but I play jazz too.' The guy said, 'Oh yeah, what kind of jazz musician are you?' And, man, I didn't know what to say. I didn't know whether to say I'm an organist, or a bebop player or what. So Aaron Copland leaned in and said, 'He's a "space"-ialist, and a damn good one too.'" This helped Carn realize how a little can say a lot, especially with proper timing. This comment sparked the idea for "Moon Child," his only original composition on 1971's Infant Eyes, his first album with Black Jazz Records. "It only takes three notes and a bass note. You can play any chord with a bass note and a triad," says Carn.
He eventually transferred to Georgia State University to be closer to his girlfriend at the time, who was going to school at Spelman College in Atlanta. Though things didn't work out with his girlfriend at Spelman, Atlanta was where he met Sarah Jean Perkins, who would later become his wife and the vocalist we know as Jean Carn. "I tell you, boy, my girlfriend should have left me where I was," says Carn. "When I got to Atlanta, and saw all them queens from Buffalo, Charleston, Providence, Peoria, Chicago, and all over, I said, my God, I knew it was more to it than the beauty that's in St. Johns County, Florida. But before I could get full control of the candy store and start to wreck the place, I met Jean, and it was strictly business from then on."
Before meeting Jean, Doug was already gigging in Atlanta with the Doug Carn Trio by the mid-'60s. In 1969, they released a self-titled album through Savoy, which would be Carn's only record with the trio.
"We had kind of conquered Atlanta," says Carn. "We played everywhere in Atlanta that would have jazz, except the Playboy Club. It was kind of segregated. Not full-on segregated, but the vibe wasn't quite right. We were trying to get to Coltrane's level. We wasn't Mel Tormé and that kind of act; we were more hardball. But when Dr. King got killed, it seemed like everyone just decided to go to Hollywood. I didn't even know Hollywood was nowhere close to L.A., but everybody was going to L.A."
By 1969, Doug and Jean Carn had fully moved their dreams of success to Los Angeles, California, and began gigging in jazz clubs around South Central. Carn recalls strong-arming his way into a steady gig at a tiki-themed lounge near Western Avenue and Vernon: "I put on my best clothes, and I took my last five dollars and went to the bar and bought a double Courvoisier, and walked right up to the organ player on the side of the stage. I said, 'Man, you are good, play it, baby. Ooh, you swinging, that's right, play it, play that blues. Ooh, you sound like Jack McDuff, play it, man. That's a Bb blues, I know twelve-bar, ooh.' And I'd hit Bb, say, 'That's Bb right there, see I know, play it, baby, swing, swing.' The next thing you know, I put this 225 pounds on his ass, pushed him right out the motherfucking way, in the middle of the song, and jacked that shit up, man. I didn't play but one song, and that's all it took. When I walked off the stage, the club owner said, 'I can't pay you but three hundred dollars a week.' I said, 'Well, my wife sings,' and he said, 'I'll give her two hundred dollars.'"
The club also featured blues icons such as Big Joe Turner, T-Bone Walker, and Eddie "Cleanhead" Vinson. Shortly after landing the gig, the club owner decided Jean wasn't a good fit for the place, which was a little more rough around the edges than the more upscale jazz clubs. "Nobody could outsing her, but she wasn't used to working in no joint, walking on and off the stage, how to use a microphone, and how to talk in between songs," says Carn. "Then after she got better at doing that, I wouldn't even let her do those kind of joints. We'd be going to the nice places that we could get the work at."
The two eventually moved to an apartment in Hollywood, and found themselves surrounded by a cast of colorful characters from the entertainment world of the late '60s and early '70s, including actor Gail Fisher and her husband, bassist and talent agent John Levy; Wally Amos of Famous Amos cookie fame; comedian Ruth Buzzi; and even Janis Joplin. "I was one of the last people to see [Janis Joplin]," says Carn. "A lot of people that was already famous were living there. It's a place you could stay by the day, the week, the month, or the year. And that's where I met Joe Zawinul and Larry Young, 'cause [Larry] used to play with Tony Williams Lifetime. Nat and Cannonball [Adderley] were living out there too." Carn eventually landed a spot playing in Nat Adderley's band for several live tours. 
"Everybody would hang out there and got to know everybody, 'cause they'd be hanging around the pool," recalls Carn. "I didn't hang around the pool too much, 'cause I wasn't used to that. To tell you the truth, man, I was kind of Anglophobic a little bit. I just wasn't used to hanging around the pool with white folks during the day. At nighttime, I'd be out there smoking the weed. But I had to watch that, because at the nighttime, the women would take off their tops off the bikinis and jump and raise hell, so I couldn't let Jean see me doing that. I'd be in big trouble, just for looking."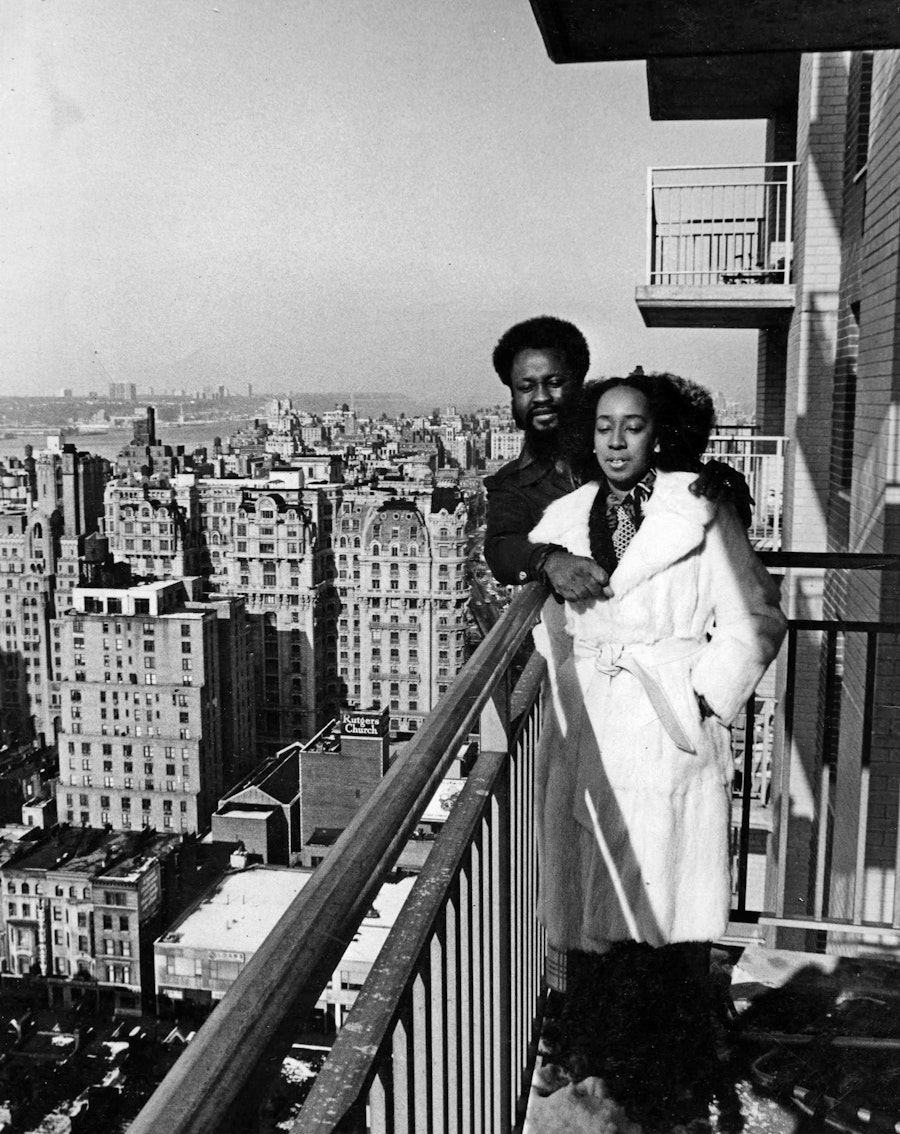 Most notably, living in the Hollywood apartment linked Carn up with another group of musicians who had just relocated to Los Angeles from Chicago: Earth, Wind & Fire. Spearheaded by the creative genius of Maurice White, the band had yet to cut their first record at the time, but had landed a big recording contract with Warner Bros. Carn joined the band, recording with them on their first two records, both released in 1971. By this time, he was already a well-established player, but being in the studio with Maurice and the band showed him the art of producing.
"I knew how to produce, because I had been with Earth, Wind & Fire for two motherfucking years," asserts Carn. "If that don't teach a motherfucker, you don't have no learning ability. I would be the first one to get to that studio, and the last one to leave. I was soaking that stuff in. To give you a classic example, it would take them about four to five hours just to get the bass drum sound they wanted. Maurice would send Verdine [White] out there, and whatever song would be their first song, Verdine would start playing that on the drums. Once they got that bass drum sound they wanted, they would cheer like their football team had won the fucking Super Bowl. 'Oh Lord, we got their asses now.' Then they'd spend a few more hours getting the bass on there. After the bass, they'd do the lead guitar. Then they'd throw some keyboard track on there, and then put the vocals on. Listen, man, they would take a song home and listen to it to really ingest it. They'd listen to it over and over and over again, for two motherfucking weeks. Then they'd go back in the studio and lay the real shit down, and start stacking tracks."
The year 1971 would serve to be a big year for Carn. Aside from the two Earth, Wind & Fire recordings he played on that year, Carn was integral to the inception of Black Jazz Records with the label's first release, Infant Eyes, which was the biggest success for Black Jazz's short run. Infant Eyes mainly featured reworkings of other jazz artists' songs from the '60s, but with Jean singing Doug's lyrics over the tracks (with Michael Carvin on drums).
Doug says that he came up with the concept for the album back in Atlanta: "A lot of the hip cats don't like singers, because you gotta play the same old repertoire. And then the singers like to be the star, and they do a whole bunch of talking, then they take all the money. So I was thinking, if we don't like what the singers are singing, then write something else for them to sing. So when I found out that Jean could sing any note, I started writing it."
Also around this time, back in Atlanta, Doug started really listening to John Coltrane and Wayne Shorter for the first time. "I used to just go straight to the organ bin when I would go to the record store, because all I wanted to know was what the organ players was doing," says Carn. "So I was talking to a guy at a gig, and I told him I hadn't really heard Trane all that much. He said, 'Well, I got all his records, come on over to the crib.' I heard that stuff, man, and I was converted. I stayed there listening to one Trane album after another."
The title track, "Infant Eyes," was a Wayne Shorter composition from the 1966 album Speak No Evil. "I remember saying to one of my boys that also played organ, 'Man, why didn't you tell me about Trane?' He said, 'If you think Trane is bad, you need to listen to Wayne Shorter.' I said, 'Wayne who?' He said, 'Wayne Shorter.' And then he looked at me and walked away backwards and said, 'Infant Eyes.'"
The success of Infant Eyes led to two more albums for Black Jazz Records with Doug and Jean together, Spirit of the New Land and Revelation. His last album with the label, 1974's Adam's Apple, was without Jean, and featured vocalists John Conner and Joyce Greene, as well as Doug himself singing on several tracks.
Shortly after Adam's Apple, Doug and Jean divorced, as Jean pursued her own career moving more towards pop and disco. Financial issues led Doug to move away from Black Jazz Records, who he claims never really paid him his proper dues for the recordings. His next record, Al Rahman! Cry of the Floridian Tropic Son, heavily embraced his faith in Islam, releasing the album under the name Abdul Rahim Ibrahim, formerly Doug Carn. Though it appeared he had gone through a conversion process between Adam's Apple and Al Rahman, he says, "I was Islam the whole time since Infant Eyes, but I didn't assert it. I don't assert it now… Religion is not what you believe, it's what you do." The title track and standout piece of the album, "Al Rahman," is a fifteen-minute spiritual journey featuring Doug singing the fifty-fifth chapter of the Quar'an in Arabic. While this record wasn't as successful as his Black Jazz recordings, Carn feels particularly proud of what he laid out on the album. 
After Al Rahman, he stepped away from the recording studio, and went back to the live setting, not releasing another studio album until the mid-'90s. He currently lives in his hometown, St. Augustine, Florida, where he is involved with community-based events like the Lincolnville Festival. The pandemic was certainly a huge setback, but Doug, Ali, and Adrian still managed to release the Jazz Is Dead 5 record in December of 2020. Though his most revered work may have been laid out fifty years ago, the story of Doug Carn, aka Abdul Rahim Ibrahim, is far from over. "The young women in Africa, and the young kids, they call me Abdougal," he says. "So I might start going by that. I'm thinking of getting T-shirts made. Be on the lookout."