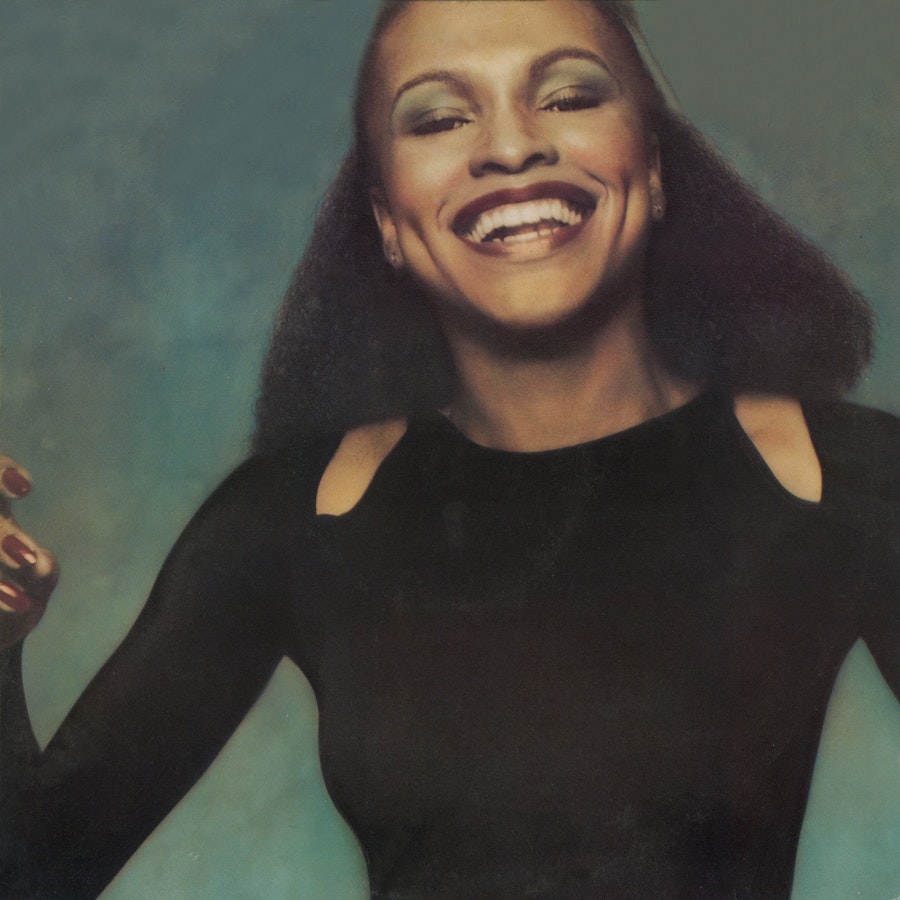 The vocals were beautiful, but direct, unadorned with no ad-libs, and a uniform level of seduction. –Norma Jean Wright
How Norma Jean Wright (Chic's original 1977 vocalist), Luci Martin (Wright's eventual co-lead), Alfa Anderson (who with Martin became the sound of Chic from 1978 to 1983), and Robin Clark (the "glue" within their unified sound) got to Chic, got out of Chic, and moved forward from Chic is as crucial to this tale as Rodgers's continued stewardship. 
Wright's tenure is curious to the Chic legend, not just because she was their first vocalist, but rather because it was her Edwards/Rodgers–produced solo—1978's Norma Jean—that set in motion the Chic-teaming most listeners are familiar with featuring Anderson and Martin.
"I started in a church choir, so there's smokiness to my style," says Wright, who came from Ohio and worked with the Spinners before finding her way to Manhattan in the early '70s. Wright is a natural alto but used her voice's lighter side for songs like Chic's "Dance, Dance, Dance," where she "played up the sexiness." Yet, when she first arrived, she stuck with her huskier style, auditioning for R&B bandleader Curtis Knight's ensemble immediately following his time with Jimi Hendrix. "Knight is why I moved to New York City, as he heard my tapes and asked if I'd move to Manhattan for his funk-rock band. When I got to rehearsal, I met this girl, Luci."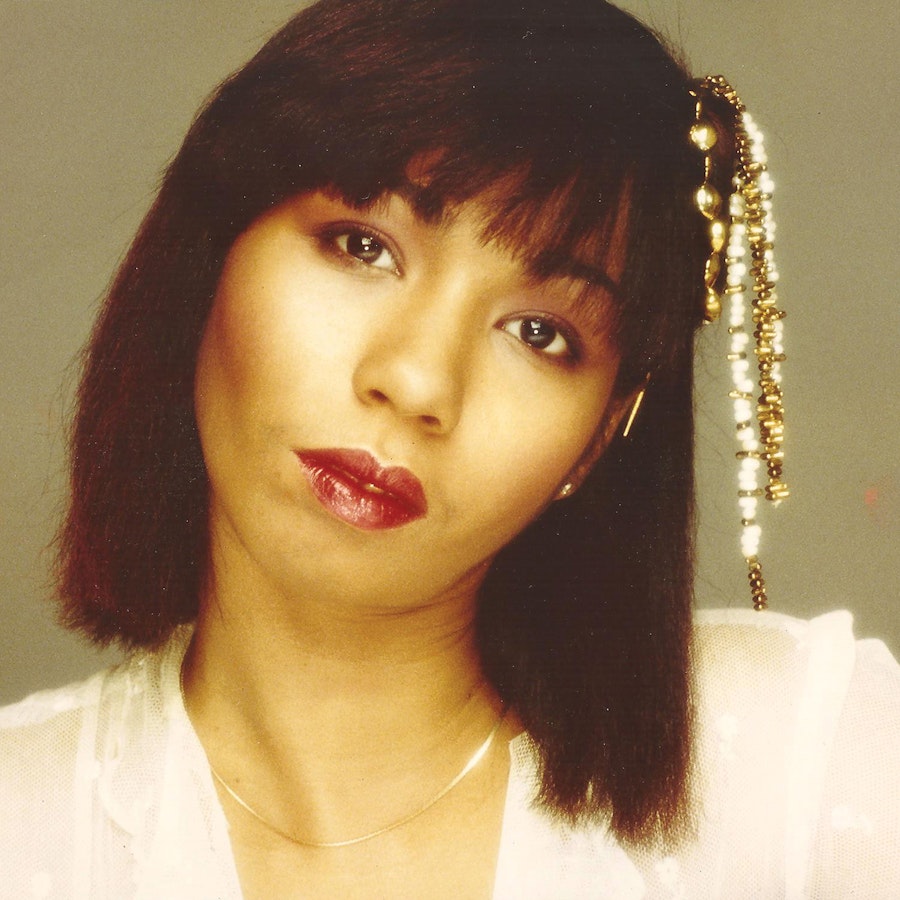 Nile asked me if I'd heard 'Dance, Dance, Dance.' No. Disco wasn't my thing. –Luci Martin
Luci Martin—a rocker—and Wright became friends, forgot about Knight, and zigzagged between Canada and NYC doing background vocals with various groups, until Wright's roommate mentioned a possible gig with Edwards and Rodgers who were, at that point, morphing into Chic after trying sillier names and heavier sounds. "Soon as they heard me, we started," says Wright, with the first song being "Everybody Dance" featuring her damsel-in-distress tones.
When it came time to record Chic's eponymous 1977 album, Rodgers and Edwards (who worked "sternly but patiently" with their vocalists, notes Wright) brought in Nile's old pals Robin Clark and Luther Vandross, with the latter also acting as vocal arranger. "I knew Nile from way before Chic," Clark says. Luther, Fonzi, Robin, and her husband, famed David Bowie guitarist Carlos Alomar (Clark sang on 1975's Young Americans), were in the late-'60s/early '70s musical ensemble Listen My Brother, which would become a regular act on Sesame Street. "Carlos got Rodgers to sub for him in Listen My Brother with me and Luther during a tour with the Sesame Street road production," Clark recalls. "Carlos got another gig with the Main Ingredient and wanted someone he trusted for the Sesame Street thing. It was one-for-all-and-all–for-one with us." Through Alomar, Rodgers would also get his start in the Apollo Theater house band.
Everybody around that mic had to have the same inflection, the same enunciation. and it was nuanced stuff—very percussive and very legato. –Alfa Anderson
In the meantime, Wright dragged Luci Martin into the fold as her co-lead ("reluctantly," laughs Martin), while Vandross brought in his new pal Alfa Anderson, a Georgia-born, soft Southern-belle jazz singer whose first gig in NYC was with Nat Adderley Jr., celebrating the music of his uncle, saxophone colossus Cannonball Adderley. "My Manhattan debut was at Lincoln Center," says Anderson, whose goal to continue her work in education was sidelined after meeting Vandross at an audition. "Just to show you how small a world New York City session work was then, Nat wound up with Luther shortly after that gig, and stayed with him, even when I joined Vandross after Chic folded." Adderley was Luther's longtime musical director.
While Anderson describes her Chic sound as piercing, clear, and smooth ("I didn't have what people thought of as a heavy soulful voice"), Luci Martin—who became Wright's co-lead singer—was a native New Yorker via Queens who started her singing career accidentally when she auditioned for Hair. "I was going to be a chorus girl, dancing. My ambition wasn't to be a singer. The producers asked me to do 'Aquarius,' liked it, and I got the job."
As an alto with a big voice, Martin got tricked into a Chic audition when Wright—who already had the lead Chic gig—invited Luci to a party that Rodgers, Edwards, and Chic drummer Tony Thompson attended. "I knew Tony from Queens, and we joked about the neighborhood the whole time, until Nile asked me if I'd heard 'Dance, Dance, Dance.' No. Disco wasn't my thing." (Then again, Martin will eventually admit that Chic was never a disco band. "We were too rich and fully arranged for that.") Back at the makeshift audition, however, Martin threw shade by telling Rodgers and Edwards that one of the notes in the "ba-ba-ba-ba" section was wrong—"that if you're following the chord, the next note should be a half-step down." The male Chic threesome left the room, returned, and said that Martin was in. "In what?" she asked.
That's how Martin joined Chic. Wright's hiring had been just as swift, as would be Anderson's. Folami and Davis—the newest singers—were brought into the fold quickly as well, hitting last-minute auditions at the urging of friends and band members.
"Nile and Bernard made impulsive decisions," says Clark, considering the Chic bosses' gut-instinct musicality. "There was never advance warning or long rehearsals," says Anderson. "You got material right before you recorded and had to be spot-on." Folami agrees that things are still much the same. Davis, on the other hand, sees Rodgers as "open and willing to let you bring what you got to the table," she says.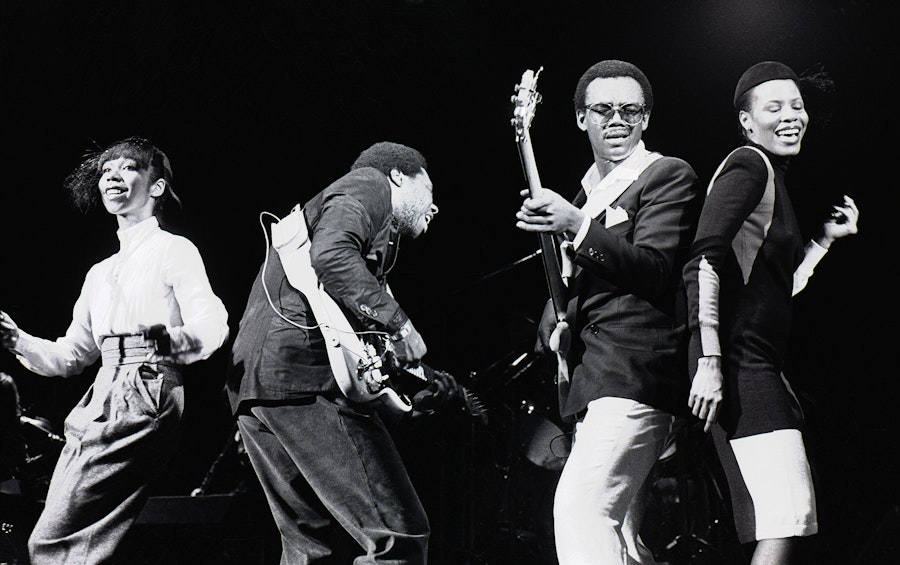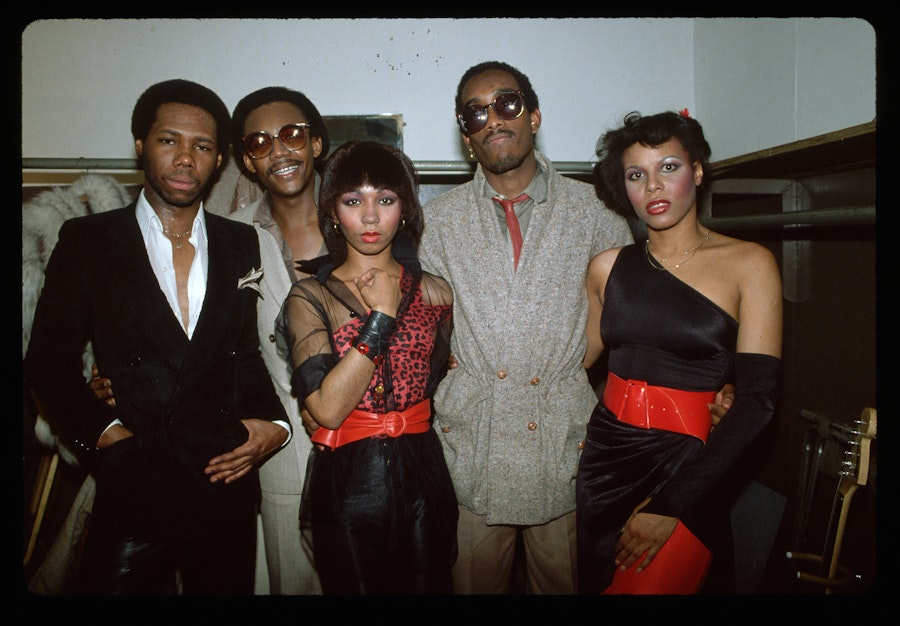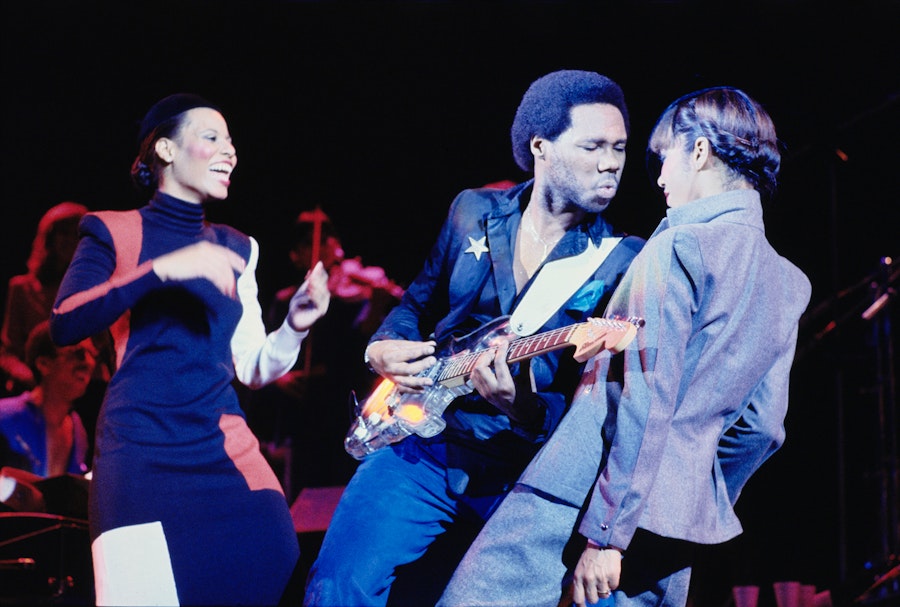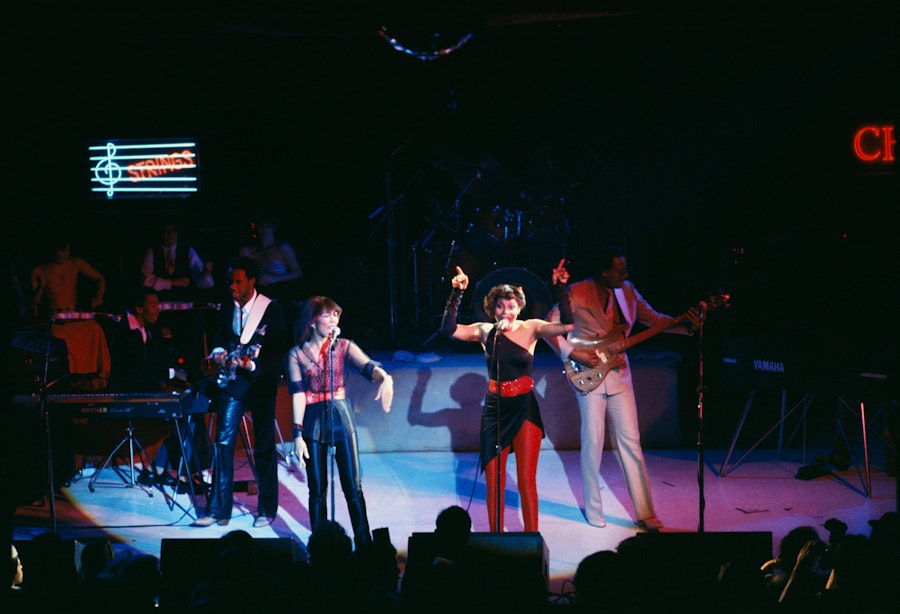 Anderson didn't know Wright, despite having toured with her, and didn't know the politics of her split. At the time—early 1978—all she knew was that Vandross would no longer be able to tour with Chic, because "he had to go and become Luther," says Anderson with a chuckle. "But Luther did say Nile and Bernard asked if I would stay and take Norma's place."
While the next several years brought mega-stardom based on the Chic Organization's winning way with melody and rhythm, much of their success came too from their image—a noir-ish, couture look that annoyed Martin. "It didn't always go over, no," she says. "I like having my own fashion sense. I wasn't going to call something fantastic just because they thought it."
For all of Chic's hit-making, after 1980 and until 1983—the years of Real People, Take It Off, Tongue in Chic, and Believer—there came a decline in the band's fortunes and mood due to disco's rapid downfall. "It was a shame, because there was some beautiful material there, and the longer that Luci and I worked together, we became more adventurous vocally," recalls Anderson. "There were some amazing Chic songs that people didn't hear due to disco's demolition," says Martin.
Ultimately, cultural and professional fission busted up Edwards and Rodgers, and therefore Chic, a fact that saddened Anderson (who immediately ran to Vandross and became his background singer) and pissed off Martin. "No, darling, I didn't have mixed feelings," she says when asked. "I had one: anger. We were in the middle of something in the studio, but I was home. All of a sudden, there's this pink slip, so to speak. No explanation. We knew they were having differences of opinion about the next step but figured that they'd work it out. Then nothing. So, no mixed feelings. Just: What the F, pardon my French."
Like Wright and Clark, Martin and Anderson wound up with background vocal sessions after their Chic run.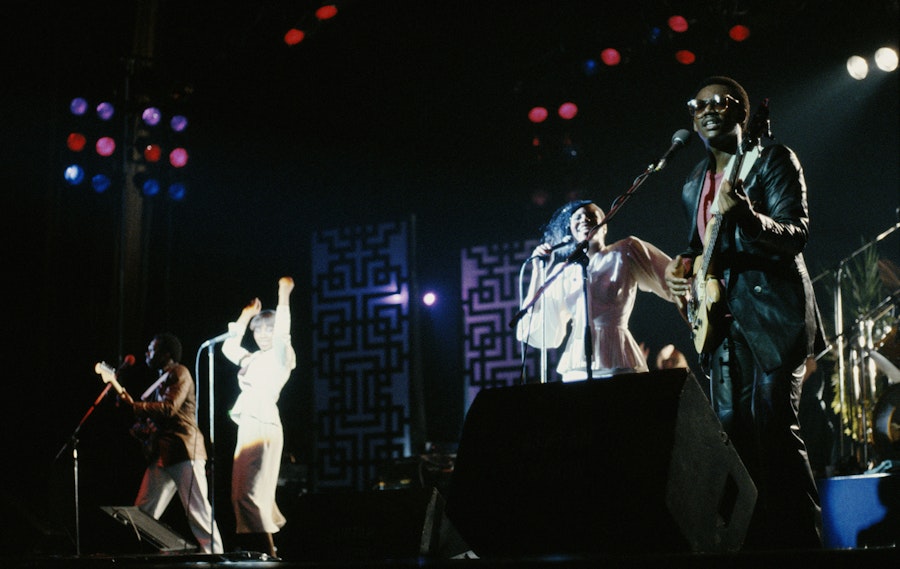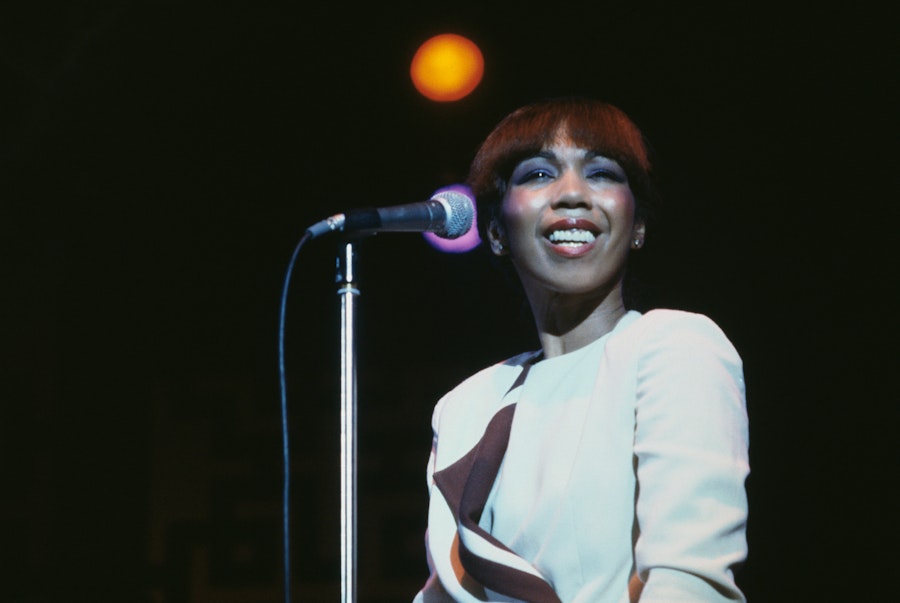 Norma Jean Wright worked with Aretha Franklin, Madonna, D Train, Arthur Baker, Melvin Van Peebles, and C+C Music Factory, as well as writing and singing for several gospel hitmakers. Robin Clark, already having moved on long before the split, worked with Vandross, Pendergrass, and George Benson, among many others. She also had a stint with Simple Minds and released her own solo record, 1985's Surrender. Besides her work with her friend Luther, Alfa Anderson racked up credits with Gang of Four, Teddy P., Dionne Warwick, and Eddie Murphy. Luci Martin recorded for B.B. King and Robin S, but mainly got sick of the music business, went into computer technology, then medical records transcribing, then nursing full bore with the same feeling she had for music. "It's a passion," says Martin. Anderson too, got out of the life and went back to her "other calling"—education. First as a principal for a school in New York City, then with NYC's Department of Education in its Arts and Special Projects division, looking for ways to integrate music into every aspect of holistic learning.
"That didn't mean music wasn't there," says Martin. "It was always on my shoulder like a green devil." Anderson adds: "I started to want to make music again through mentoring kids." She wound up finally releasing her first solo track, "Former Lady of Chic," in 2013. Martin actually began doing track dates with Norma Jean nearly twenty years ago. "I'd been working with a gospel act that had a hit in Japan," Wright explains, "and I went but asked Luci to do the date with me." Martin chimes in: "Next thing, a promoter who knows that we were in Chic, asks us to do a one-off show in Japan. Okay, I need a new roof. This is several thousand dollars. Sure. Next weekend, someone in Italy asks for the same. Why not. Next thing, I'm keeping a bag packed in my trunk, leaving my nurse's job on Friday afternoon, flying to wherever, getting home Sunday night, then back to my nine-to-five."
Anderson also called on the pair to sing a track ("My Lover's Arms") that her husband, bassist Tinker Barfield, had written. Before that, though, the threesome began getting together for group chats that lasted for hours—"emotional conversations finding out how we had felt or what we knew back then," notes Anderson. "We often shared the same opinion, but we never knew," says Martin. All this was but an entrée to the three main Chic singers reuniting for their own thing, Next Step—a trio that each of its members takes seriously, enough so to make certain that it's not, in Wright's words, "Chic 2.0."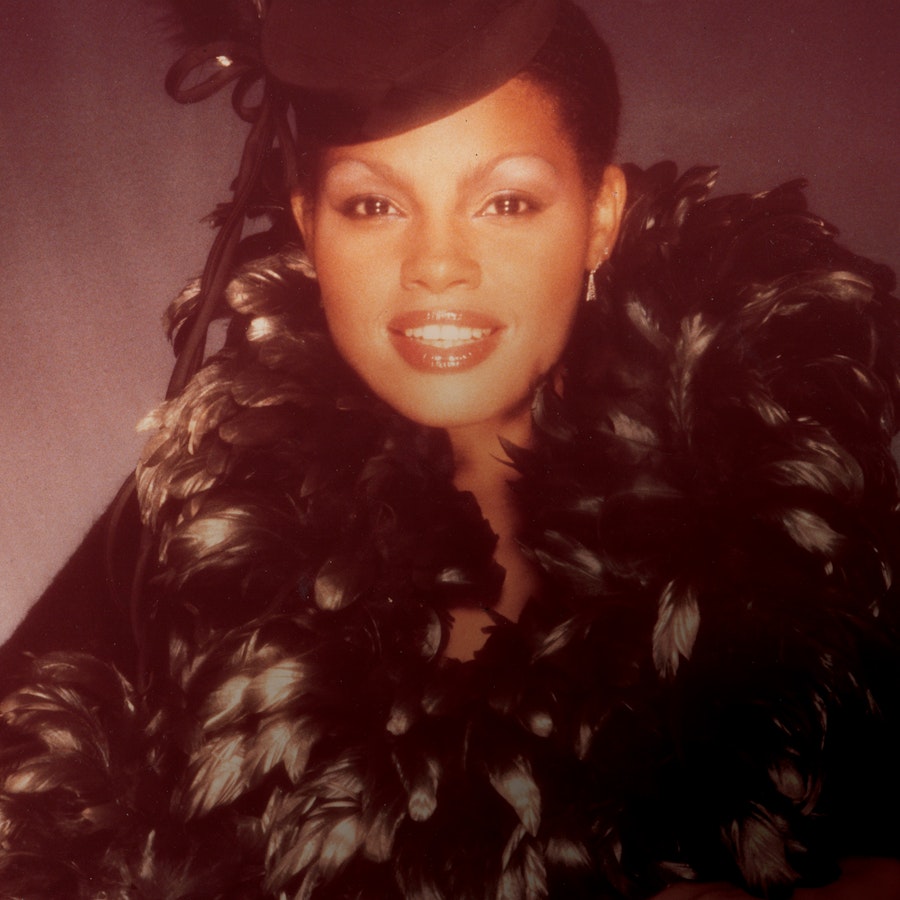 Those women deserve their own identity. They earned it. They're Chic, yet much more. –Robin Clark
Meanwhile, Rodgers—since finding that box of old Chic tapes in 2010—had been calling on the original singers to come record with him again as Chic. "I don't know every song that's on all of those tapes, but I remember how beautiful everything sounded," says Clark.
Like the old days, Martin and Anderson say Rodgers would hint about getting ready to do new sessions. "My reaction was, 'Okay, Nile. Let me know,' " says Martin. " 'Hey Lulu. I'm almost ready,' he'd say." Then, at the end of 2014, Rodgers invited Anderson and Martin to lay down vocals with Davis and Folami for the new album. Anderson says, "That's Nile—a moment's notice. The whirlwind begins again." Folami knows Rodgers's last-minute ways well. She digs the surprise element of Rodgers's secret-keeping, likening it to the filmmaking process. "It's like when you shoot a movie and leave the set, you're never really sure what the director used until you see the final product." Martin laughs about living in Florida and getting the ticket to go to the same studio in New York City where they recorded their legendary hits—all in a twenty-four-hour period. "I like how Nile's juxtaposing new vocal rhythms with the old vocal rhythms," says Martin of the recent sessions.
"During our time in the studio, I looked over at Nile and Luci after a take, and I heard her say the funniest thing," recalls Anderson. "It was this emotional moment for me—recording at the same studio where we had in the past—and there I see Luci looking at Nile and saying, 'Wow, Nile, you really learned how to do this.' He just stared at her like, 'Duh. Yeah.' That says so much about who we were then and who we are now. It's still family."
The continuation of Chic's sleek-sounding family lies in Folami Ankoanda-Thompson, a Bay Area–raised soprano ("I can go first tenor low") known singularly as Folami, and Kimberly Davis, a house music hitmaker, born and raised in Brooklyn, with her own first soprano-to-tenor tone ("I have range, boo!") to tend to. With each of these women raised on Chic hits and Rodgers's lend, they're not about to let the brand falter on their watch.
"With the women in Chic, there was always dignity without drama, and we're following suit," says Davis. "We're keeping the name clean and representing the music in the best way. Plus, we keep everyone dancing."