After releasing their third album, Ego Death, last year, the Internet finished out 2015 touring the world and snatching a Grammy nomination for Best Urban Contemporary Album. What began as a Neptunes-styled production house for a rotating band of singers has turned into a full six-piece band of young Black musicians playing instruments—unfortunately, still an anomaly in 2016. The brainchild of vocalist Syd tha Kyd and producer Matt Martians, the group now includes drummer Christopher Smith, bassist Patrick Paige II, keyboardist Jameel Bruner (Thundercat's brother), and guitarist Steve Lacy. Though their Grammy nom may have come as a surprise to some, the Internet has been quietly rethinking modern soul and R&B over the course of three releases. 
Emerging from the Odd Future collective in 2011, Syd and Matt each held down roles in the crew for years prior. As Tyler, the Creator's DJ and in-house Odd Future engineer, Syd recorded all of the crew's early material at her parents' house, where she still lives. Matt had contributed beats to various O.F. projects and formed Jet Age for Tomorrow with Pyramid Vritra before connecting with Syd on the Internet. The duo's first release, Purple Naked Ladies, caught some O.F. die-hards by surprise but gained them a loyal following of kids with its progressive and youthful vision of soul music. While their follow-up, Feel Good, failed to capture the immediacy of Ladies, last year's Ego Death marked a favorable return to the familiar with an eye on the unknown. The confidence in Syd's vocal delivery and clarity of Matt's sonic palette arrive as components of the larger recent sea change in Black musical expression. As sounds of the Black music underground make their way from the perimeter to the mainstream, Ego Death abandons the occasional haziness of past releases for poignant songwriting and  knocking beats. 
Like other musicians of their generation, the duo is keenly aware of a music industry historically out to stifle their creativity. Skillfully navigating a joint deal between their label Odd Future Records and Columbia, they're redefining what it means to be independent artists while incessantly questioning preconceived notions of what it means to be young, gifted, and Black. On the heels of their album release last summer, I sat with the group to discuss Ego Death, the new Black expressionism, and the seemingly infinite influence of  Pharrell Williams.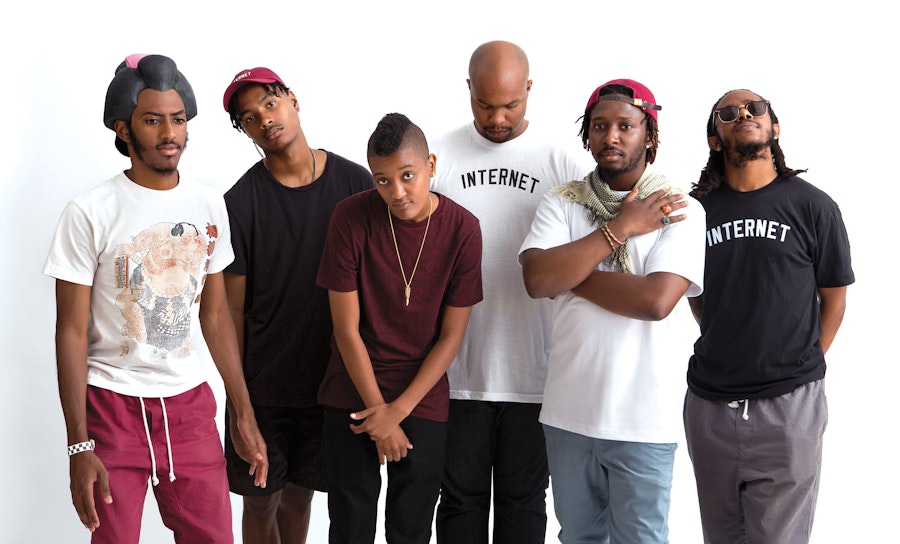 Was there something you were setting out to do differently with Ego Death?
Syd: With this album, our main focus was to have harder drums—drums that knock in the car and at the house, just to give ourselves that kind of feel that we were at with Purple Naked Ladies. And just because that's what we've been on lately, so that was the main goal. Other than that, I wanted to be able to write some songs that would give me an excuse to turn up a little bit more at the shows. 'Cause I used to DJ for Odd Future, and there are times when I miss that burst of energy, that release performing. 
Matt: I honestly believe that we were missing something with our last album [Feel Good]. We were making great music, but it was missing a certain demographic. What I realized is that when you give the younger generation the drums, you can do whatever else on the top. So with this album, I really set out to make drums where older fans would be like, "That's dope!" But people who are fourteen, fifteen can be like, "Oh, this knocks." When you can give people the drums, you can put any type of chorus on top, and I learned that from Dave Chappelle. The skit where he was like, "You give them the drums, they're gonna start!"
How was the process of collaborating with different producers this time around?
Matt: It's mostly people we've been wanting to work with. We've always been fans of Kaytranada, 'cause he's a beast. I think it's great that he's a Black guy pushing dance music forward, 'cause we don't have a lot of us in that realm. We just wanted to do a lot of things that made sense with other artists that are pushing boundaries. Kaytranada is pushing a boundary with his music. It has traditional house in it, but it also has this different thing that you haven't heard before. 
With all the features, we have been friends with [the artists] before, except for James [Fauntleroy]. James was somebody the label suggested to us, and we became friends after the process. But everybody beforehand was just friends that we've always been talking about. I've been talking to Janelle [Monáe] since Feel Good. So it was one of those things that came full circle, and we finally got to work with the people we wanted to work with. We never really went out to get anybody. 
Syd: Yeah, even with the "Girl" track, we didn't write that for the album. [Kaytranada] sent me a bunch of beats, I picked two, and I wrote "Girl."
Can you speak more about pushing the envelope as young Black musicians?
Matt: It's important for my album cover just to show that there are other avenues that we can go. I am very grateful we grew up with parents that exposed us to all races, all people, all types of things, and told you that you can do whatever you want. It's not just about picking up basketball or rapping; there's more to it. I've been talking about stuff like—we need a Black Bear Grylls, we need a Black guy in the wildlife. There are other avenues to explore creatively as a Black kid than just rapping and being an athlete. It was important for us with the instruments on the cover to show we're doing more than what is expected of us, to be honest with you. So with Kaytranada, it's tight with me 'cause it's hard to break through that genre anyways right now with everybody having a computer, everybody having a Soundcloud, and everybody knowing how to blend things. So to me, it's progressive young Black kids. 
The thing is, music is for everybody. You can call yourself a Black band and not be like, "It's just for us." No, we're literally six Black kids playing this music. Those are facts. But we make music for everybody, and it's age ambiguous and race ambiguous. So that's really what I love about Kaytranada. If you go to a Kaytranada show, it is a mixed crowd. If you go to our shows, it is a mixed crowd—agewise, sexwise. We kind of see a lot of each other, and the same with Thundercat. Pushing things forward for our people, our culture, but it's for everybody at the same time. I feel like that's very important. I feel like that's something people can do. Take pride in being a Black band but say, "Our music is for everybody."  That's very possible. 
Syd: I feel grateful to be included in this new soul resurgence. Shout out to Thundercat, Hiatus Kaiyote, Miguel, Phony Ppl.
Matt: There's an extra oomph to music that's coming back, and you can feel it.  It's dope.  Syd: Yeah, I'm just grateful to be a part of that.
Where's this freedom of expression coming from, and why's it important to you?
Syd: I think that times are just changing.
Matt: Yeah, and let me shout out Kendrick [Lamar], by the way. I think Kendrick is very important in that transition, because he is a mainstream rapper, and for him to put out that album [To Pimp a Butterfly], now fourteen-year-olds know who Thundercat is. He really opened a lot of doors. It's all about who it's coming from. So if Kendrick can come in and say, "Hey, this is dope. These cats made this album, this is what it is, pay attention to instrumentation." Then everybody else, when more stuff comes out, is like, "Did you hear that bass line?" It's subconscious. 
Even Tyler's album [Cherry Bomb]—albums like these are what I want to put out. Chance [the Rapper] with the Surf album. You're seeing a lot of people just put out these really heartfelt, true albums, and I definitely think Kendrick had a real big part of that. Like I said, I'm very thankful for Kendrick. I just want to say that. I think it's really dope that he opened that door for Kamasi [Washington]. All those musicians started coming out with music, all you need is a catalyst. There's always one catalyst and then it happens, so I just wanna say thank you to him real quick. 
Syd: I think times are changing. We went from: it got cool to be different; to now, it's like you're not cool if you're too different. 
Matt: Different is the new same. 
N*E*R*D was for everybody. But it was done by a weird Black guy, and he was accepted by Black people too. 'Cause that's the thing as far as being a Black person in our community, if you're a little bit weird you can get kind of outcasted. Matt Martians
Syd: Hipster is the new lame, you know what I mean? So I think we're at a place where nobody knows what anything is, and people do not care. If the product is good, then they'll support it. 
Matt: I feel like now it's getting back to the core of, "Okay, what is your true talent? Are you really good at what you put this braggadocious energy out for?" I think it's getting back to that. Now there's a cool conceptual video [online] every day by a new artist. Five years ago, it was like, "Oh my God, this is cool!" So now mediocre artists can get a great video shot where you forget that the song is not that great. You put these people on a pedestal that haven't really put in the work on the core of  the talent. 
That's why we said we need to make a really undeniable album this time. I feel like there was an urgency with this one, like [it was our last] album. Even Frank [Ocean]—Frank showed us with Channel Orange that you really gotta make a complete, unquestionable, great album. When you make that product, the people will decide. Shout out Frank too, he definitely helped us out subconsciously with this album as well.
I understand that you initially wanted this to be a producer-based group with a rotating cast of vocalists. 
Syd: I honestly wanted to be like Pharrell. I wanted to be the one who made the beats, sang some of the hooks, and was in the music videos with the girls and stuff. Because honestly, I think the Neptunes probably influenced me to want to be a producer the most. 
Matt: Yeah, me too. 
Syd: We grew up on Neptunes' music. They were always all over the radio when we were growing up, which was amazing. 
Matt: It's just that they had that vibe. Their whole "You can be a Black guy and make some really off-the-wall shit"—and it'd be cool, and it would be okay. And of course, N*E*R*D was for everybody. But it was done by a weird Black guy, and he was accepted by Black people too. 'Cause that's the thing as far as being a Black person in our community, if you're a little bit weird you can get kind of outcasted. So it was cool when Pharrell and them came out, 'cause it was the cool Black nerd kids that didn't grow up in the hood, but had hood friends, but also had White friends. So Pharrell and them did more for us than I would say we really think.
Syd: I forget what song it was, but I know it was produced by Neptunes. I heard it on the radio as a kid and thought, "Dang, I wish I can say that I made that. I wish I can take credit for this." 
Matt: I was just like, "Man, I wish I can give people that feeling that N*E*R*D gave me, that energy that they gave me and that hope." You know the certain chord changes you hear in certain music that give you hope in life? Like the Thundercat album. There are certain change-ups that he does and you'll just be like, "Oh, life is going to be good!" You know what I'm saying? Things are going to be okay. So that's what we really wanted to do. So the Neptunes really did that for me, being in fifth grade listening to In Search Of... when everybody else was listening to Jay Z and DMX. So, yeah man, we really appreciate those guys. 
I'm gay. I'm not going to sing songs about men, and I'm not going to try to make them sexually ambiguous. Why? Syd tha Kyd
You both come from musical families.
Matt: Yeah, my brother's an A&R.
Syd: My parents love music. I got the reggae vibe from my dad, and the R&B, neo-soul vibe from my mom. So I grew up on a mix of that. My dad's brother is a producer, his name is Mikey Bennett out of Kingston, Jamaica. He's produced for the biggest reggae artists. He was a huge inspiration to me; I don't know if he knows it. Last time I was in Jamaica, I was in eighth grade or something, and it was my second or third time going there. My uncle has a studio, Grafton. It's two, three studios with a bunch of rehearsal rooms; it's like a whole complex. 
So the last time, we spent a whole week there. Every day, we would wake up and go with him to the studio, and just sit with him. He wasn't always in the studio; he was outside getting fed—he has a chef—so he was outside. People were walking up, "Hi, my name is so and so, I really wanna show you my…" It was just cool, he started out as the one making the tracks, writing the songs, and now he can sit back at his studio and just chill. My mom wanted to be an engineer when she was my age, but it was much harder at that time to do anything as a woman, especially in the music industry behind the scenes. So she got discouraged, and I grew up with a love for music partially from her. She might love music more than me. 
Matt: She's our biggest fan and toughest critic. 
Syd: Yeah, my mom is a huge Thundercat fan. Esperanza Spalding. 
Matt: So you know when she's giving you an opinion, she's really listening to it. 
I love that your delivery is always unapologetically addressed to a woman.
Syd: That's exactly what it is. I know a few artists here and there who happen to be gay but make songs for straight people, and I get that. Me, personally, my integrity goes really deep. I can't do anything if it doesn't feel right, to a fault sometimes. I've gotten offered some pretty big opportunities that I just couldn't do 'cause I was like, "I'm honestly not a fan of this." I'd probably be famous tomorrow, but I just can't. I'm gay. I'm not going to sing songs about men, and I'm not going to try to make them sexually ambiguous. Why?
Matt: I think the good thing we did from jump was let it be known that she's a lesbian. So it wasn't a thing. The first video ["Cocaine"] was her immediately with a girl, so now there's nothing to talk about. Everybody likes women; women run the world. If you sing about women, everybody's gonna sing with you. A girl is going to sing "Girl" as well as a dude. We're trying to make music for everybody, and I feel like the best way to make music for everybody is to sing to women. 
Syd: Yeah, I just didn't see the big deal.