Some of the most innovative music of the post-punk era was made at the intersection of the United Kingdom and New York—from Factory Records' association with producers from the downtown scene like Mark Kamins and Arthur Baker to Jah Wobble's dub-wise dance excursions with François Kevorkian. Adrian Sherwood's On-U Sound label might be best known for the coming together of Jamaican titans like Lee "Scratch" Perry and Bim Sherman with the mixing-desk genius of its founder. But equally important to the direction of the English label was a cross-Atlantic partnership that followed a meeting in New York in 1984 between Sherwood and hip-hop drum pioneer, DMX beatbox innovator, and tape machine sound collagist Keith LeBlanc.
Back in 1979, with guitarist Skip McDonald and bassist Doug Wimbish, LeBlanc had become a pivotal figure in the history of hip-hop. As the house band of Sugar Hill Records, the three were at the helm of a raft of b-boy classics. Creating prescient, hard-edged electro-funk records on his Oberheim DMX for Tommy Boy Records as Sugar Hill began to implode, he became one of the drum machine pioneers of hip-hop. Then in the mid-'80s, through his Adrian Sherwood–produced LPs under his own name, he further stretched the limits of technology with avant-garde tape manipulations, sampled cut-ups, and seriously radical rhythms. But it was with McDonald and Wimbish in Fats Comet/Tackhead that he is perhaps best known, working with Adrian Sherwood in the mid-'80s to create a dubbed-out, industrial funk-rock sound that would prove hugely influential.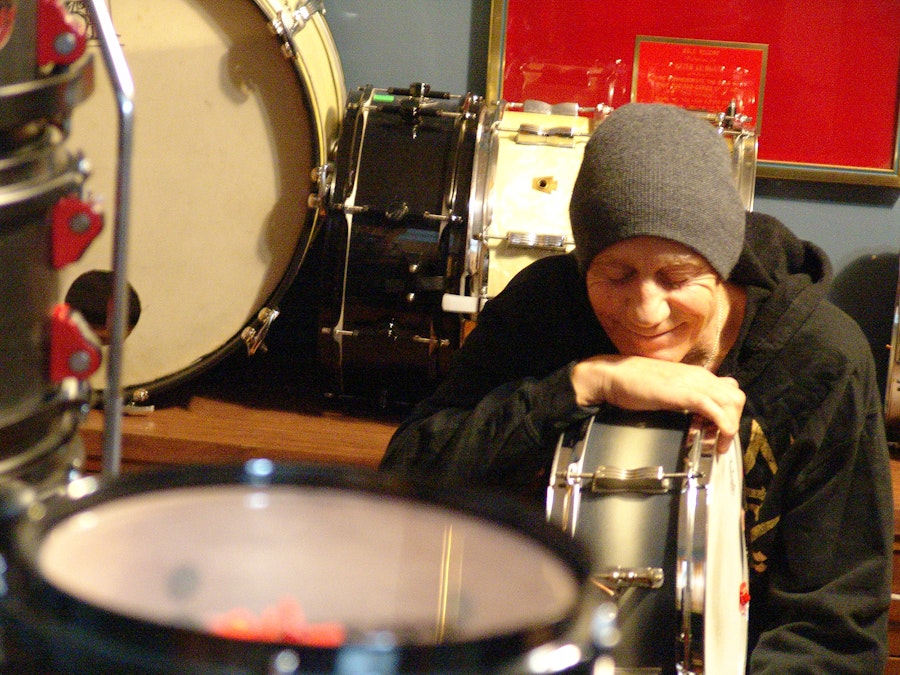 Raised in the small town of Bristol, Connecticut, LeBlanc discovered his natural instinct for rhythm early. "As a kid, I was always banging on everything in the house. Then I saw Ringo Starr on the TV and that was it. I was like, 'That's why I'm banging on things.' I went off and made myself a drum kit out of big old tin cans and rubber tubing," he tells me over the phone from his home in Connecticut. Suffering from dyslexia and hyperactivity, he found solace in music, spending as much time as possible investigating its possibilities. "My parents bought me lessons and I began to piece together a drum kit one piece at a time," he recalls. "My dad had a big stereo system, and I started to play along to the records. That is when the hook really got in. I would spend all day practicing and just learned everything. I was about five years old." 
After playing in his first band, called Little Jimmy and the Soul Testaments, at the age of just ten, he graduated to a wide variety of local groups, playing the local circuit. "At a certain point, I stopped playing in bands and got really serious about practicing after being introduced to drummers like Steve Gadd and Harvey Mason," he says. "For about two years, I would practice all day, every day, and pick those drummers' and others like Peter Erskine's playing apart. Once I'd learned playing along to the rhythms, I would improvise on it. Then I started to go to jam sessions at the clubs in Hartford [Connecticut] where you could sit in."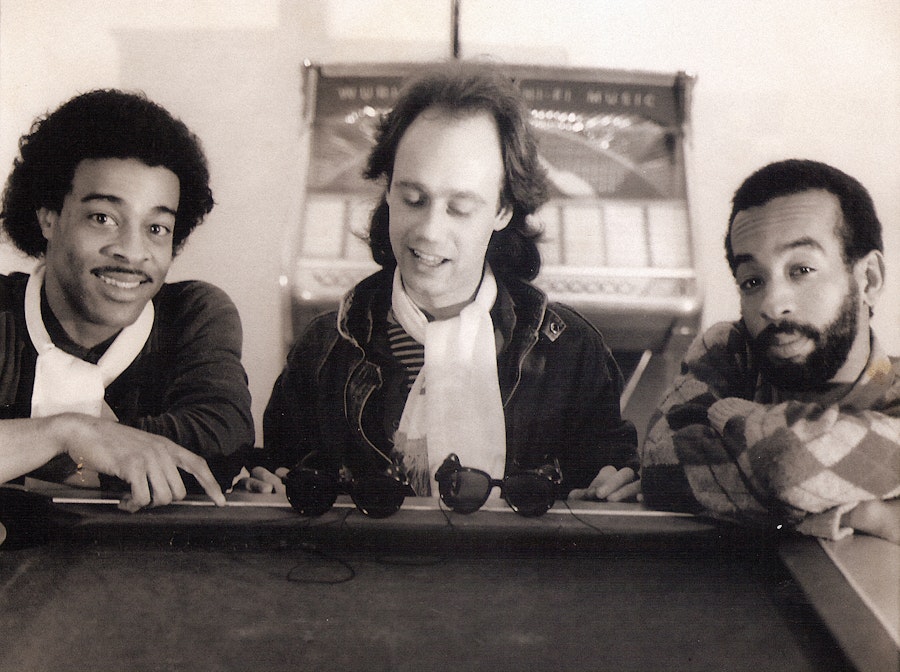 One of these sessions took place every week at a spot called the 808 Club, frequented by local drummer Harold Sargent. Known for playing the (uncredited) breakbeat on Skull Snaps' "It's a New Day," Sargent was also a member of Connecticut's Wood, Brass & Steel alongside guitarist Skip McDonald (born Bernard Alexander) and bassist Doug Wimbish. The group's self-titled disco funk LP from 1976 had received plaudits and made their name locally. But Sargent was about to leave the band, going on to put together, produce, and play drums with the disco group Sparkle as well as cult groups like Chain Reaction (aka Hott Ice). At one of the sessions at the 808, Sargent suggested LeBlanc should meet two musicians in his band as they were looking for a replacement for him. "That turned out to be Skip McDonald and Doug Wimbish, and we hit it off straightaway," LeBlanc recalls. "Those guys were incredible, and all the stuff I had been practicing over all the years suddenly fitted with what they were doing. Finally, I could play the music I wanted to play. That was the first time I had met any musicians who could do that. And right after that introduction, we started to do gigs as the new Wood, Brass & Steel." 
One day, Harold Sargent came to the group with the news that Sylvia Robinson at Sugar Hill Records wanted to record with Skip and Doug. Having bad experiences on previous projects, they were initially reluctant but eventually decided to head up to Sugar Hill with LeBlanc. "On one of our first visits, we heard [the Sugarhill Gang's 1979 song] 'Rapper's Delight' in a club, and for the first time knew that there were now records being made out of this culture," LeBlanc recalls. "Although Skip and Doug were initially reluctant after hearing Sugarhill Gang, New York now seemed like a better prospect." 
What followed was an intense period of recording in the late '70s and early '80s by a studio band now on the cutting edge of a new musical movement. One of the most formidable rhythm sections of any era, they were behind such iconic records as Grandmaster Flash and the Furious Five's "Freedom," the Sequence's "Funk You Up," Spoonie Gee's "Spoonie Is Back," the Treacherous Three's "Yes We Can-Can," Crash Crew's "We Want to Rock," and Funky Four Plus One's "That's the Joint."
Sugar Hill reached its creative peak once they moved studios and Sylvia Robinson brought in Clifton "Jiggs" Chase as in-house arranger along with percussionist Ed "Duke Bootee" Fletcher. "Sylvia would give [Chase] tapes of what DJs were playing in the clubs and would ask him to create arrangements for us to play of whatever four bars they were playing for the rappers," says LeBlanc. "That was how all those records were done in the wake of 'Rapper's Delight.'" 
In the age before drum machines became widespread, LeBlanc, alongside Errol "Pumpkin" Bedward at Enjoy and Profile, was one of the early pioneers of hip-hop drumming. They were soon performing these future hits at the seminal hip-hop clubs of the day. "We played at Disco Fever with the Sugarhill Gang just after the [self-titled LP from 1979] came out and after that we toured with them for around a year," LeBlanc recalls. "But we didn't really hang out at the clubs when we weren't playing; it was really just a recording and live thing."
With Sylvia Robinson's empire heading toward its collapse, LeBlanc struck up a new relationship with Tom Silverman's Tommy Boy Records after recording a new track financed by the legendary Marshall Chess. "I told Marshall I had the idea of using Malcolm X's speeches on a track, and he loved the idea," says LeBlanc. The idea came after LeBlanc had heard Grandmaster Flash playing a sample from the Dirty Harry movie [Clint Eastwood's famous line "You've got to ask yourself one question: 'Do I feel lucky?' Well do you, punk?"] over a beat and loving the way the spoken word worked with the music. "Harold Sargent really helped with that record, as he let me use his little studio and gave me loads of Malcolm X records to choose from," he adds.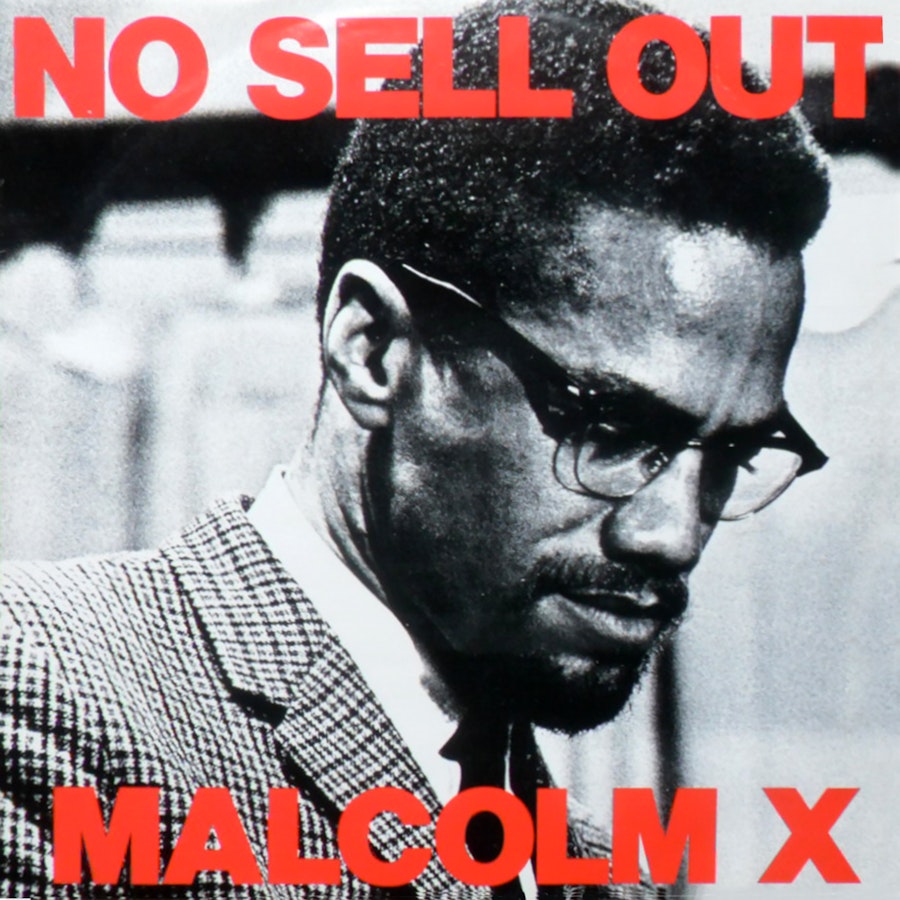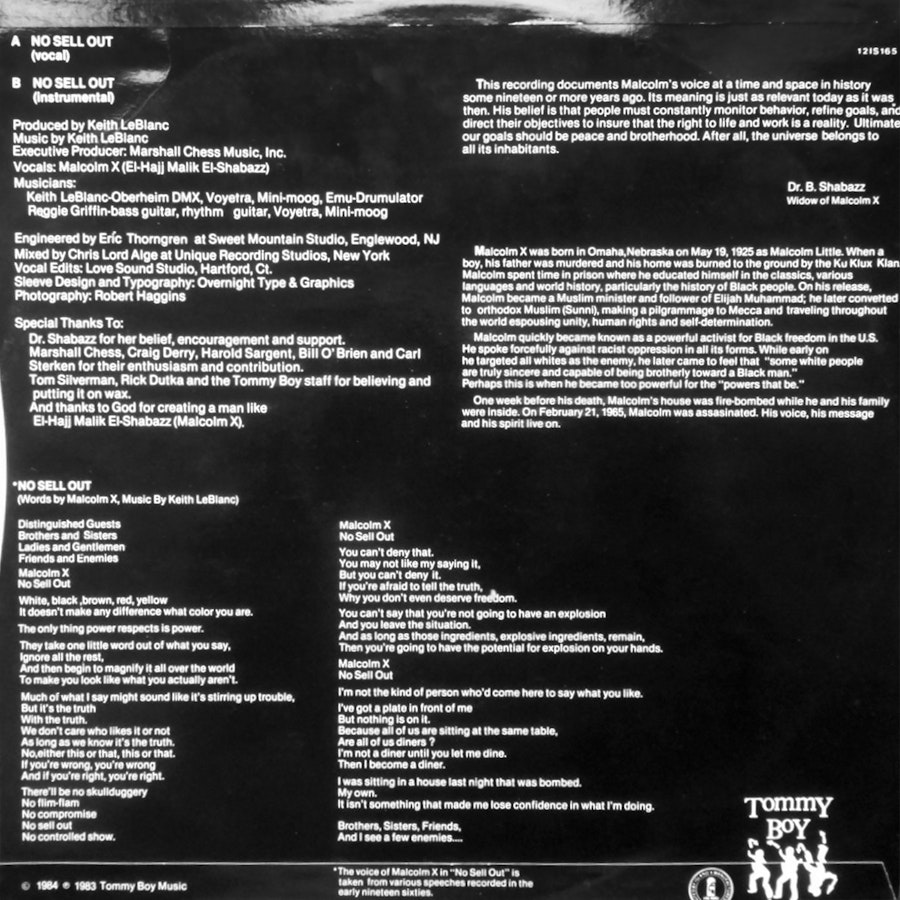 A few days before entering the studio for what would become the 1983 "No Sell Out" 12-inch released on Tommy Boy, a friend had lent him an Oberheim DMX beatbox, one of the building blocks of early hip-hop and electro. And again alongside Errol "Pumpkin" Bedward, LeBlanc was there at the forefront. "Programming a DMX was incredible for me, because it allowed me to do things I could never do with drums," he says. "But as a drummer, I think I approached it differently to an engineer or other musicians, because I was looking for those sounds I couldn't make on the drums. I really loved drum machines, because all of a sudden I was sitting in the producer's chair." 
The spoken-word passages were used with the permission of Betty Shabazz, with a percentage of the proceeds going to the family of Malcolm X. "This recording documents Malcolm's voice at a time and space in history some nineteen or more years ago," she is quoted on the back of the album. "Its meaning is just as relevant today as it was then. His belief is that people must constantly monitor behavior, refine goals, and direct their objectives to insure that the right to life and work is a reality. Ultimately, our goals should be peace and brotherhood." 
Commenting for NME at the time, Jon Savage wrote that "this extraordinary record has redefined dance forms in the way that Grandmaster Flash's 'Wheels of Steel' did two years ago, taking the cut-ups of current New York styles to one logical conclusion."
With only rudimentary equipment available, the Malcolm X samples were, LeBlanc recalls, "thrown in off tape like a DJ would do with their mixes using records." He had also recently been working on another record under the name Beatmaster with keyboardist Robert Kilgore and engineer Chris Lord-Alge. "We were in the Unique Studios, and Chris was editing it for me but had something else to do," he recalls of the "Lipservice" session in 1984. "So he said, 'Keith, let me show you how to edit. You're a drummer. You should get it.' And after about ten minutes, that was it. I knew how to do it, and that was my introduction to editing on tape." The result was another early electro bomb that anticipated LeBlanc's later cut-ups.
As part of the in-house band with Sugar Hill at Unique Studios as drummer, producer, and arranger, LeBlanc appeared on sessions by everyone from Afrika Bambaataa and James Brown Unity to Force M.D.'s. But he was soon to move into a new phase of creativity with the arrival in New York of a London producer equally eager to explore new sonic avenues.
At the time, Adrian Sherwood had reached a creative junction. "Following the senseless murder of Prince Far I in 1983, Sherwood turned his back on reggae for a period, concentrating his energies on the increasing amounts of invitations to produce or remix other labels," wrote Matthew Jones in the liner notes to the 2016 On-U Sound compilation Sherwood at the Controls Volume 2. 
One of those labels was Tommy Boy, who had invited Sherwood to Unique Studios, where so many early electro tracks were recorded, to produce Akabu's "Watch Yourself" (featuring Double Dee & Steinski). It was of course one of the regular studios used by LeBlanc while at Sugar Hill. The drummer had come to the attention of On-U Sound's Mark Stewart (founder of the Pop Group) through "No Sell Out." Knowing that Sherwood was heading to New York, Stewart suggested he should try and hook up with LeBlanc. "When he first introduced himself to me, I paid him no attention, as I had no idea who he was," LeBlanc recalls. "He came back about a month later, and this time I saw him in the tape room surrounded by engineers. I went in and they were all looking at the needles on the tape machine and they were sitting in the red. But that tape he was playing sounded amazing. So as soon as I saw and heard that, I had a lot more interest in who Adrian was."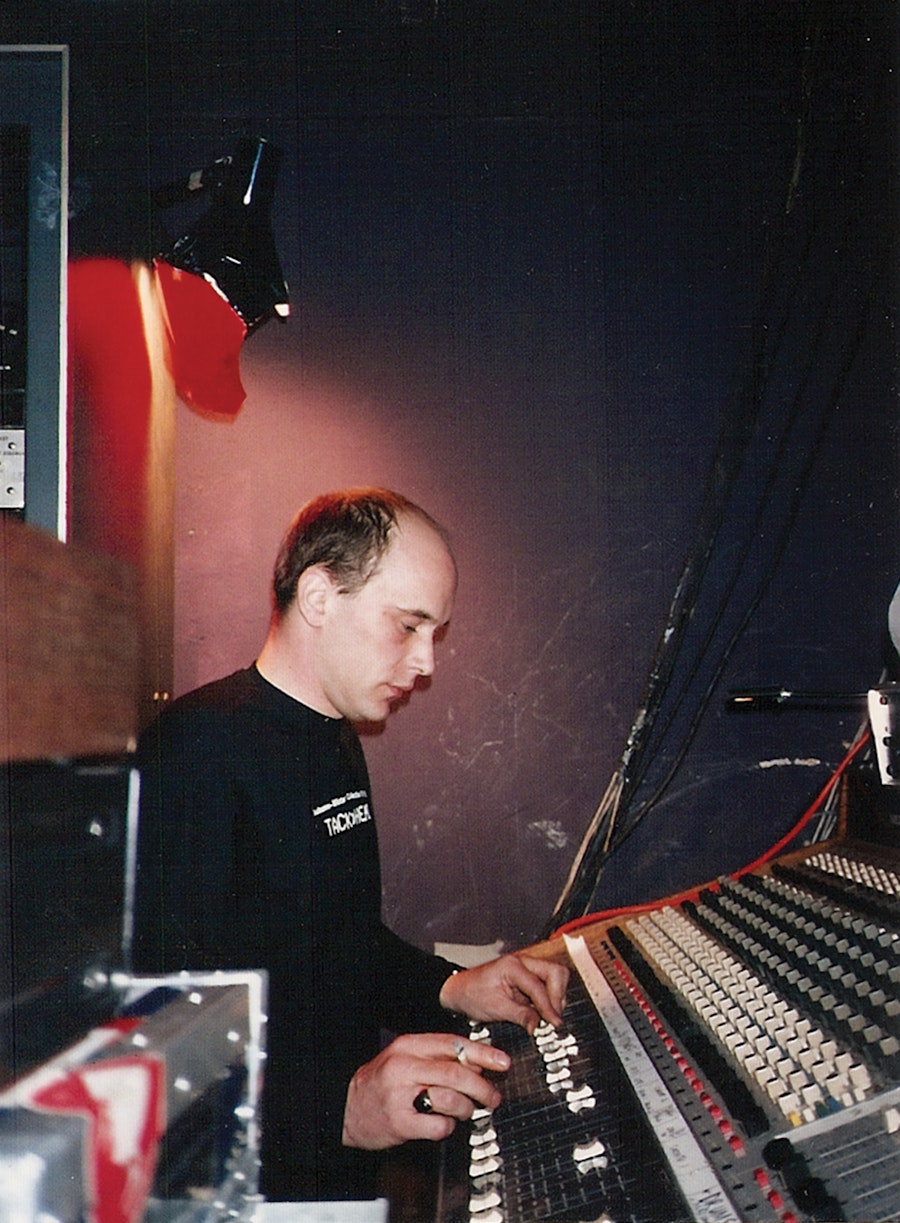 The two immediately clicked, sharing a love for studio experimentation and exploring the limits of new technology. "Meeting him was great, and I went over to England," says LeBlanc. "I remember him picking me up in a Ford Cortina and taking me straight to Rough Trade Records." The shop and label was at the forefront of the U.K.'s DIY post-punk movement. "It was 1984, and it was a real culture shock to see the whole independent record scene that was going on there," says LeBlanc. "And of course, Adrian in those early days of On-U Sound was this great, charming hustler, so to be amongst all of that really was amazing."
After experiencing Sherwood on the mixing desk during their first studio sessions together ("the frequencies he was using and the sounds he was getting out of my DMX were just mind-blowing—I had never seen anyone working a mixing desk like that"), LeBlanc invited McDonald and Wimbish to join him in London. There, during the creative fallout of post-punk, when borders were being ripped down, they would form one of On-U Sound's most influential collectives with Sherwood acting as producer and de facto fourth member. 
Going by the name of Fats Comet, soon to mutate into Tackhead, their fusion of industrial, noise, funk, hip-hop, and dub would leave an indelible imprint on independent music.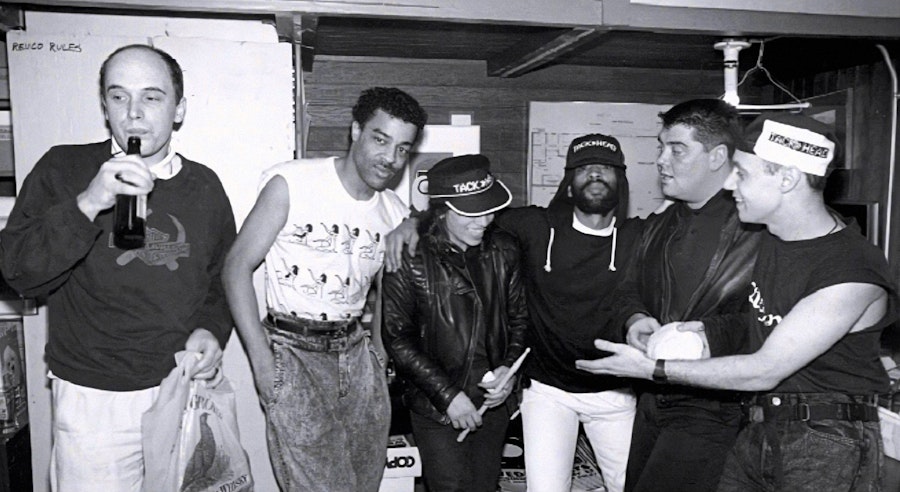 Their first releases, "Bop Bop" and "Stormy Weather," were typically out-there productions by Adrian Sherwood who was at his most avant-garde coming off the back of the Missing Brazilians' 1984 Warzone LP. Subverting old samples of the Citadels' doo-wop track "When I Woke Up This Morning" and the Zircons' 1964 version of "Stormy Weather," Sherwood turned out two of his great mid-'80s productions. "I used to get the feeling going into the studio with Adrian that anything could happen," says LeBlanc. "We really were using the studio like an experimental instrument."
Fats Comet followed this with the killer electro boogie track "Dee Jay's Program" drawing heavily on the b-boy records the Americans had been the backbone of. "I started it in NYC on a four-track tape recorder," LeBlanc says. "Skip and I did the vocals, and all the sampling was done with an AMS delay unit. Adrian then mixed and edited it."
Several Tackhead and Fats Comet recordings were used as rhythm tracks for singers Sherwood was working with at the time, with elements of "Dee Jay's Program" becoming "Hypnotised" with the addition of a vocal by Mark Stewart. The Bristol singer's partnership with Sherwood and On-U Sound had already yielded such pivotal records as Learning to Cope with Cowardice recorded as Mark Stewart and Maffia in 1983. LeBlanc, McDonald, and Wimbish would become the second incarnation of the Maffia working with Stewart and Sherwood on monumental records like As the Veneer of Democracy Starts to Fade and touring across the world. "Some of those gigs were really wild as well. It was like a real clash of cultures onstage," says LeBlanc.
Released in 1985, As the Veneer of Democracy Starts to Fade was an immense and extreme trip into a vortex of industrial, electro, and dub with fragments of found-sound and ominous spoken-word samples. This terrifying but seriously funk-driven soundscape matched Stewart's agitated attack at the powers that be. The record came a year after a bitter coal-miners' strike was crushed as Thatcher's ever more draconian rule began to represent a police state. "When we arrived, we didn't know much about the politics in England, but we soon learned from Mark Stewart who was really into all of that," says LeBlanc, who released a 12-inch ("Strike") with Adrian Sherwood as the Enemy Within in support of the miners. "It wasn't just about the politics for me. I was really into how these slogans and samples sounded," LeBlanc adds. And those mid-'80s releases were the sound of a nation on the edge, a future shock for the times that still sounds radical today.
Fats Comet soon mutated into the group LeBlanc, Wimbish, and McDonald are most associated with. Tackhead's first singles for On-U Sound, "Mind at the End of the Tether" and "What's My Mission Now," according to audiovisual artist Trevor Jackson, who curated Science Fiction Dancehall Classics compilation, "saw them honing their all-out aural assault…pushing each sound to its absolute limit." Against the distortion of McDonald's guitar and the rubbery bass of Wimbish, LeBlanc's militant machine-like rhythms and triggering of his DMX beatbox were the perfect match for Sherwood's avant-dub production, all overlaid by the political samples the group became known for. "At that point, we were just trying to really push the limits of what you can do in the studio," says LeBlanc. "Think about it. It's 1984, '85, all this digital equipment is coming out from everywhere. You have a new piece of equipment coming out every week. And all we wanted to do was to embrace as much of it as we could and break new ground. And, like us, Adrian was really into his spoken-word stuff, so we were like kindred spirits."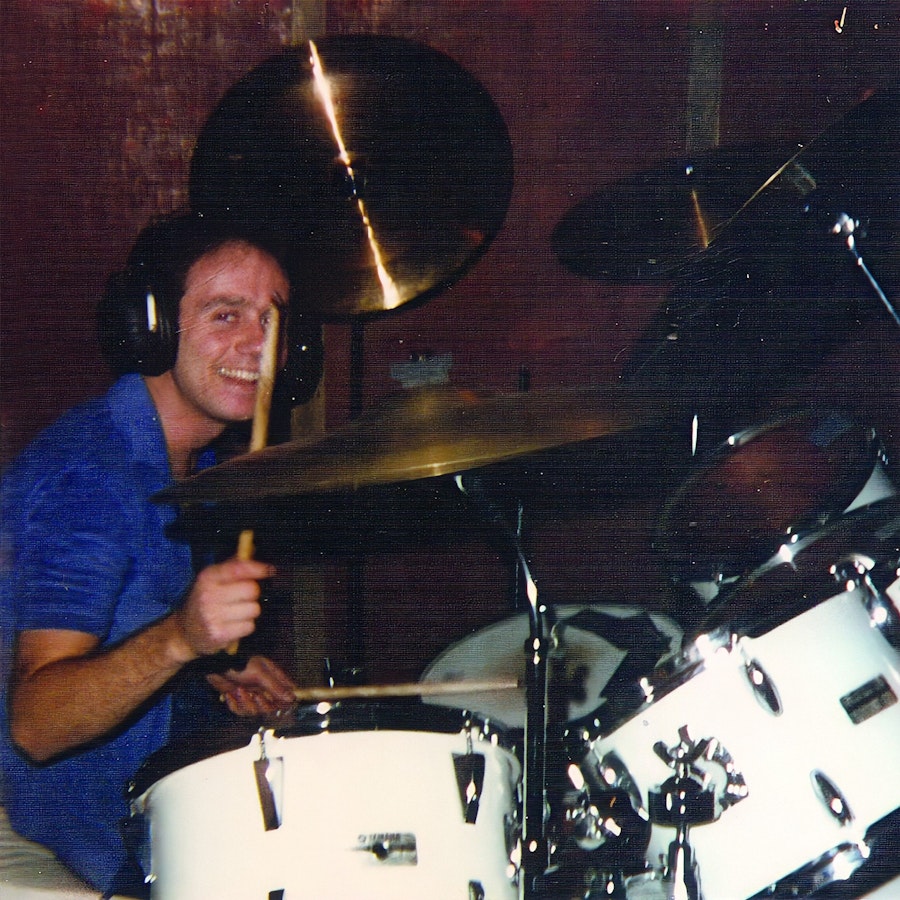 Instigated by their friend Vernon Reid of Living Colour after a conversation in LeBlanc and McDonald's New York loft, the Tackhead live shows pushed the technology further. With LeBlanc triggering samples from his drum kit, Wimbish working a set of MIDI bass pedals with his feet and McDonald setting off samples from his keyboard, while Adrian Sherwood created a live dub mix, the shows were studied by other bands. "We were doing all of this sampling stuff live way before anyone else had thought of it, and lots of bands used to come and take notes," says LeBlanc. Tackhead was hugely influential to the industrial groups of the late '80s, particularly Nine Inch Nails and Ministry who Sherwood and LeBlanc worked with on their early releases.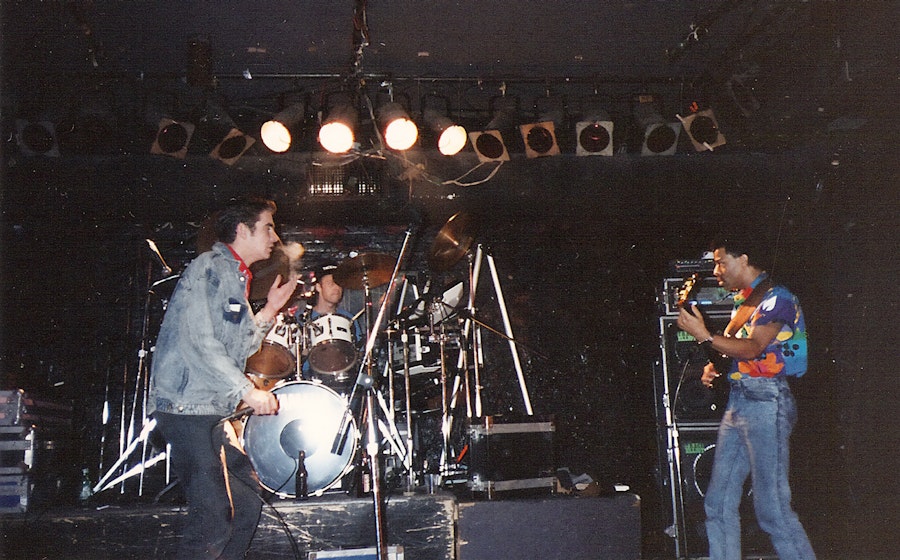 With Sherwood at the controls and his Tackhead cohorts on board, LeBlanc then ventured out for his first LP under his own name. Recorded while Tackhead were working on its debut LP, LeBlanc's Major Malfunction, released in 1986, was a masterwork of ominous skeletal funk rock. It was created while LeBlanc was "strapped to a quarter-inch tape machine with headphones on," editing the dubs of the group that Sherwood had created. "Most of that LP was tape manipulation—I was turning the tapes backwards, recording stuff on top of things that were recorded backwards, so with its own organic life form," says LeBlanc. Weaving in samples from reportage of the space shuttle Challenger disaster, evangelist preachers, and speeches from U.K. Prime Minister Margaret Thatcher, the pounding rhythms and austere atmosphere of the LP captured the anxiety and paranoia of the era.
LeBlanc recorded his second album under his own name in 1988. Packed full of his trademark spoken-word samples and tape manipulations, Stranger Than Fiction offers a more avant-garde take on the industrial sound of his debut, touching on everything from jazz noise to musique concrète.
During this period, Tackhead brought in singer Bernard Fowler of Peech Boys after an introduction by Doug Wimbish. "At the time, we really did need a singer, because although we were influencing all these other bands, we couldn't get signed," says LeBlanc. "We were just viewed as this weird funky band. So it was great to get Bernard in for that first [Tackhead] LP, because we already had the album done, and he just had to come in and sing. So it had a similar Tackhead vibe but with vocals." While 1989's Friendly as a Hand Grenade retained much of the raw funk and political radicalism of the earlier work, their follow-up album, 1990's Strange Things, sounded somewhat diluted. "I think what happened was that we now started to write songs for a singer, and it changed the sound of the band quite a bit, so we kind of lost our way a little bit," suggests LeBlanc.
As for LeBlanc's recordings under his name, he continued to work with his On-U Sound comrades and other musicians on a further series of albums, such as Raw in 1990, Time Traveller in 1992, and Freakatorium in 1999.
He also regularly appeared on On-U Sound sessions for Lee Perry and Bim Sherman as well as becoming a regular member of Skip McDonald's dub blues project Little Axe and with Doug Wimbish on his Trippy Notes for Bass for On-U Sound. The friendships have remained strong and now nearly forty years on from their pioneering LPs, Tackhead is back with new recordings. "Back in the day, we were in the studio all day. It was constant, and everything we did was really time consuming. But now with all the technology, we have been able to create an LP, remotely, across the Atlantic," says LeBlanc. "It's been great fun and I think some of the best stuff we've done because we don't have to worry about the logistics of how to do things. There are always several ways to do stuff now. Adrian produced it and the music is sounding great. You can tell it's us, but at the same time, it's much different to what we've done before. I think it's groundbreaking in its own way." 
With technological advancements making the DIY tape edits and drum machine experimentation of LeBlanc back in the day seem like ancient history, I end by asking how he makes music today. "I work the same way as I've always worked, with all my gear set up so there is a mixing desk and tape machine," he replies. "But now anything that I think of, I can do instantly, and it's much easier and much less time-consuming; but it's the idea—that's what's important."