In fall of 2005, we put composer-producer David Axelrod on the cover of Wax Poetics Issue 14. When we declared him, on the cover line, the "Architect of Jazz Fusion," some people thought we were crazy or stupid or both. While we admit that we were being a bit provocative with the descriptor, it was in fact based in reality. Billboard music critic Eliot Tiegel—who wrote about David Axelrod's career from 1964 until it basically came to a halt in 1980—often repeated his theory that Axelrod was "probably the first U.S. composer to create fusion music." While that's up for debate, Axelrod did in fact fuse many genres and styles, and even had many of the elements that most list when explaining "jazz fusion."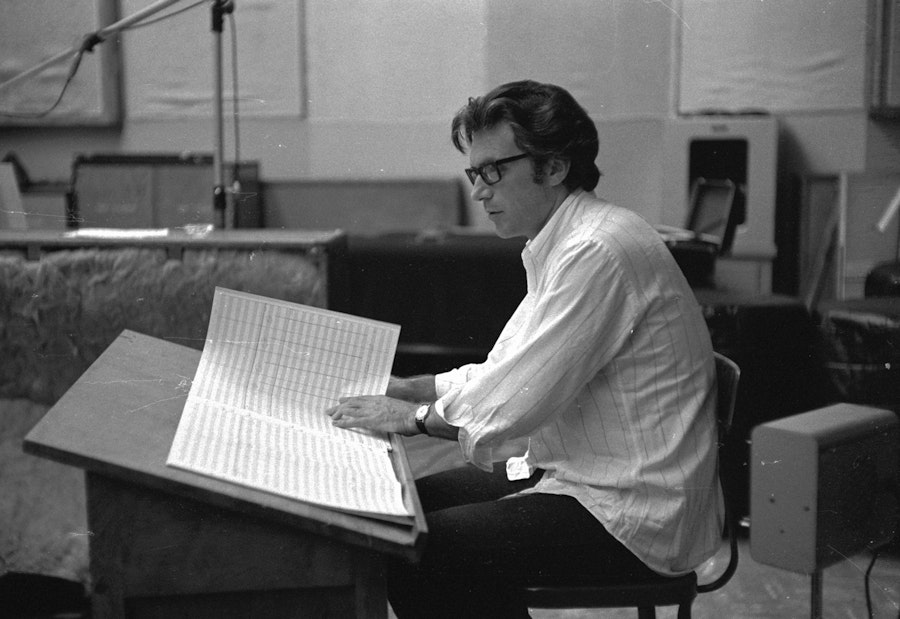 His first solo album, 1968's Song of Innocence on Capitol Records, is not the recognizable sound of jazz fusion most are familiar with (you know it when you hear it), but let's look at the facts. First, Axelrod combined jazz improvisation with his love of atonal music. "[Axelrod] cites Cannonball Adderley and Miles Davis as the leading jazz musicians who have gained acceptance with young people through a blending of true jazz with [with] atonal music," wrote Tiegel. Axelrod and Miles listened to a lot of classical composers, and they dug the atonal composers. Atonal music represents, in fact, two oft-heard elements of early jazz fusion: the avant-garde and classical, or the Third Wave, as embraced by keyboardist Josef Zawinul. And Bob James, whose arrangements for CTI Records brought in orchestral scores for almost every major jazz player of the era. While some vehemently deny that the pop-funk jazz of CTI is fusion, classical elements can be found in many of the "accepted" fusion groups, like the classical guitar of fusion demi-god John McLaughlin on his Mahvishnu and solo records.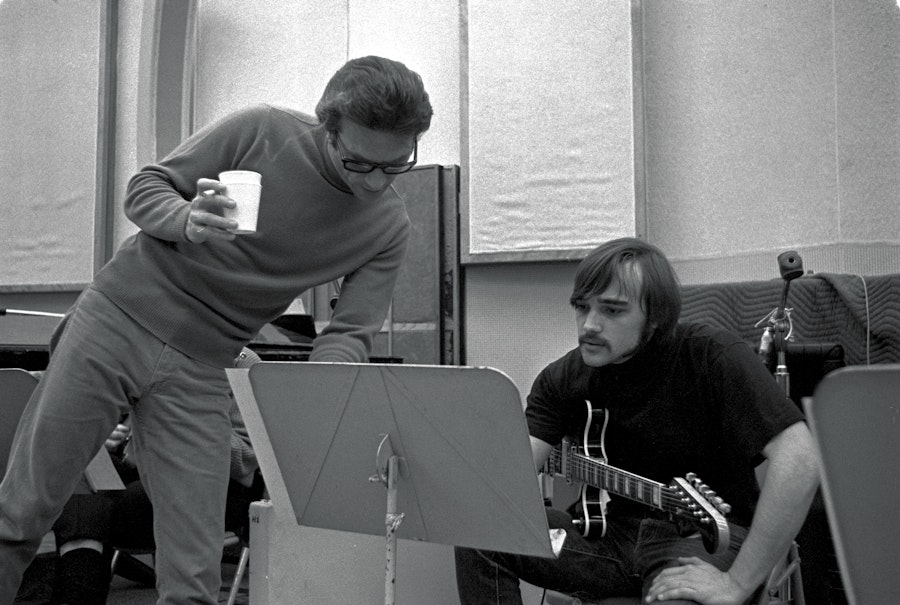 Axelrod also employed some funky drumming and other aspects of R&B and funk, and in later recordings utilized synthesizers—all agreed-upon elements of jazz fusion.
To top it all off, Axelrod brought in rock guitarist Pete Wyant (of Hardwater, an Axe-produced act on Capitol) to play alongside jazz guitarist Howard Roberts—whose early, traditional jazz tone and style was currently in flux, as could be heard on 1969's Spinning Wheel, and would continue to evolve on 1971's Antelope Freeway and 1975's Equinox Express Elevator. This inclusion of fuzzy, loud guitars was a foreshadowing of the direction Miles Davis and others would soon explore. (A year later, Miles brought in guitarist John McLaughlin for his 1969 album In a Silent Way. More on this later.)
True, it's often this "rock guitar" sound that is most associated with jazz fusion. And if you are unlucky enough to dive into the internet rabbit hole of "the history of jazz fusion," you will see a lot of disagreement but also a heavy reliance on the borrowing of rock and funk to explain the birth and sustain of jazz fusion. And a lot of talk of "jazz rock"—which I'd rather not wade into that dirty river too much. Let's just acknowledge that rock bands who liked jazz were incorporating aspects of jazz into their music, specifically certain chord voicings and especially improvised solos, be it guitar or flute or sax. Anyway, the music public often argues about the start of jazz fusion, the end, and everything around its fringes. Everyone agrees on Weather Report and Billy Cobham, but some argue for and against CTI tracks; for and against the jazz-rock; for and against the early electrified soul jazz, which, I believe, was at least a precursor, as the use of electric instruments in jazz (especially bass) is a heavy element of jazz fusion.
So after coming up for a breath, I wondered if there was any real agreement on what the first jazz fusion track might be. It's a silly concern, but sometimes music makes you go crazy.
Jazz was fusion from the very beginning. A mix of European instruments and musical concepts blended with a brew of African/African American polyrhythms and sensibilities, improvisation, and the blues. And jazz continued to evolve over the decades and fuse with other music, like popular music, Broadway, classical, opera, gospel, and of course soul, in which pianist Ramsey Lewis pioneered, embracing R&B quite naturally in the formation of soul-jazz.
So it may be pedantic to try to define what "fusion" really is, but it is interesting to note some of the evolution as well as artists and songs around fusion's fringes. There were lots of exciting sounds happening in the mid- to late 1960s, and it would have been shocking if jazz did not start to incorporate some of these. So the critics agree that a bit of rock (often as an electric guitar) and some funk pave the road toward jazz fusion. And electric bass. And synthesizers were often embraced. But let's not forget the Latin rhythms used by Miles and Weather Report, as well as some classical and atonal music—the earliest fusion was indeed avant-garde. Both Miles and Weather Report were always knocking on the door of the avant-garde, if not kicking it in.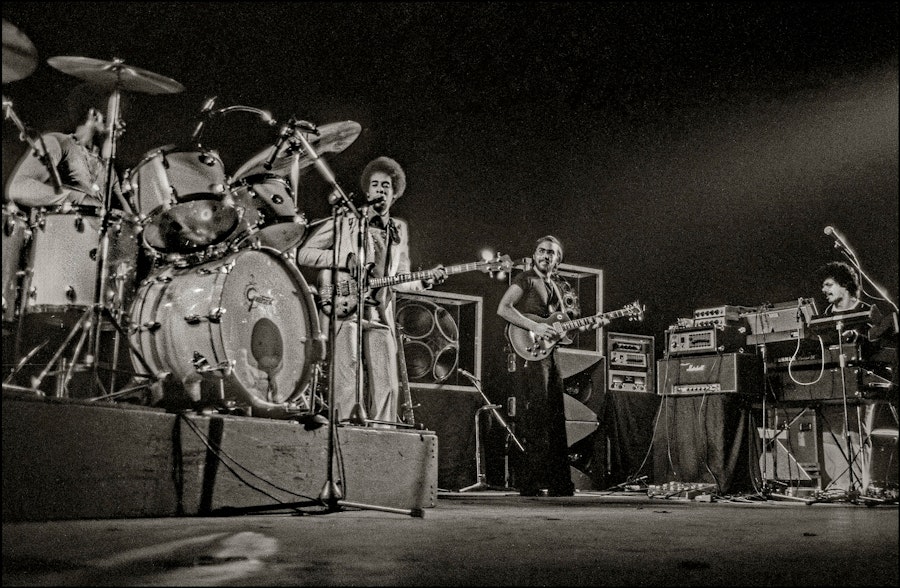 So is there a definable starting point for jazz fusion? Most agree that the bomb that set if off was Miles Davis (and some lazily point to 1970's Bitches Brew, but most usually point to 1969's In a Silent Way—though I'd go back one year and two albums before that with Miles in the Sky as Miles's true start). And it's crystal clear that many of his disciples became big names in the jazz fusion world during the 1970s—Herbie Hancock, Joe Zawinul, Wayne Shorter, John McLaughlin, Anthony Williams, Chick Corea, Jack DeJohnette, Bennie Maupin, Larry Young, Don Alias, Airto Moreira, Lenny White, Billy Cobham, Gary Bartz, and even Michael Henderson and Keith Jarrett, both who dabbled a bit.
But every player had their own spin. We hear some real funkiness in John McLaughlin's Mahavishnu Orchestra, as well as classical aspects and progressive music. Gary Bartz would found the funk-based NTU Troop, often accompanied with singer Andy Bey, to make music for the people, he said. But why is his contributions often left out of the jazz fusion conversation? Just because it doesn't have mile-a-minute guitar solos? Remember that Weather Report—fusion's multi-decade ambassadors—never even had a guitarist. And the band's first two studio albums had more in common with free jazz than rock. Sweetnighter would change their direction more towards funk (Zawinul even spliced tape from jam sessions to get the final cut, just as Miles had earlier done on In a Silent Way), but no one tries to argue that some of Weather Report's catalog isn't fusion.
Some consider jazz fusion to include some but not all of what a lot of us just call jazz-funk. And I now definitely see and appreciate the connection. But why is Herbie Hancock's Head Hunters considered a fusion classic but Grover Washington Jr.'s "Knucklehead" is jazz-funk, soul-jazz, or "CTI music" but rarely considered to be jazz fusion? This brings us to another evolution in the music and something I've been fascinated with for nearly thirty years.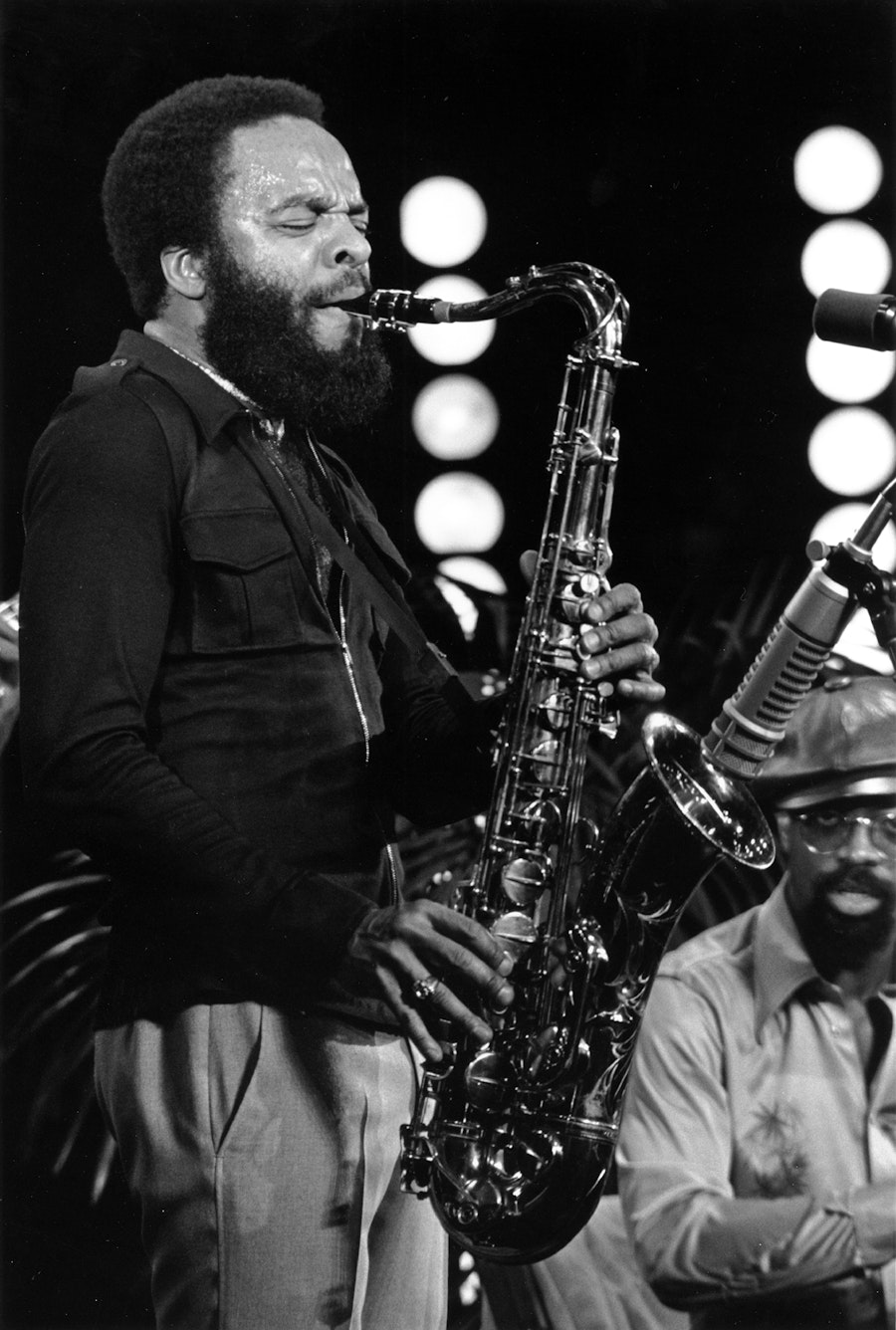 After the 1970s established a group of bona fide fusion groups and artists to lead the way—like Billy Cobham, Tony Williams Lifetime, Return to Forever, Mahavishnu Orchestra, Weather Report, Lee Ritenour, Jeff Lorber Fusion, Pat Metheny Group, Jan Hammer Group, George Duke, and Jean-Luc Ponty—something started changing towards the end of the decade. Where is the jazz fusion cut-off date? The 1980s saw the dawn of contemporary jazz, which, for the sake of simplicity, let's acknowledge two camps, one smooth jazz and the other progressive jazz. It's not entirely true that the progressive fusion players informed and evolved into the progressive jazz camp in a vacuum, while the lighter jazz funk and pop jazz from the CTI catalog was solely to blame for the birth of smooth jazz. Listening to the vast array of jazz in the 1970s points to a truth somewhere in between (i.e., even the progressive players had elements of saccharine, lightweight melodies that bled over into the smooth jazz era).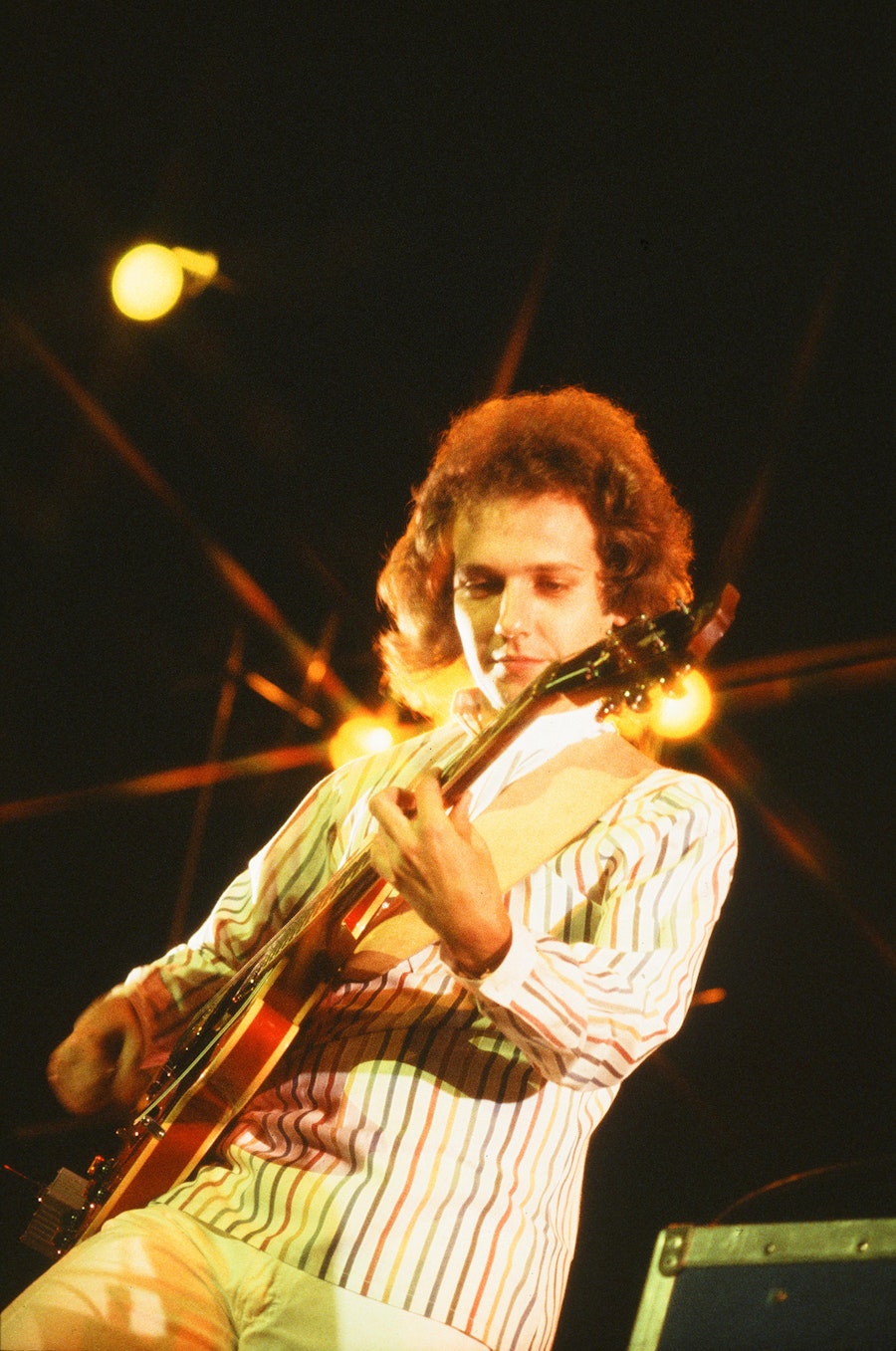 And that's why I propose to cast the jazz fusion net wider for our thought/sound experiment, and listen to the (incomplete) "history of jazz fusion" with open ears and an open mind, and consider for yourself the similarities and influences that each bring to the table, and how they all interplayed with each other to create the stew that became known as jazz fusion. Let's listen to the more avant-garde pieces, the jazz-funk of Blue Note, the Euro jazz of Marc Moulin's Placebo, fusion from Brazil, the orchestral and pop-jazz offerings of CTI Records, the Japanese funk-fusion, soul-jazz of Atlantic Records, the bona fide fusion icons, Frank Zappa's excursions, and we cannot forget Donald Byrd, who took hard bop to the funkiest place it could go, before mellowing out with his electric offering, 1969's Fancy Free, and then dipped his toes into the avant-garde with 1970's Electric Byrd, with some offerings that you'd be hard pressed not to admit are fully in the fusion realm. But Byrd's trajectory would take its greatest turn when he started working with the Mizell Brothers. And their "fusion" was revelatory.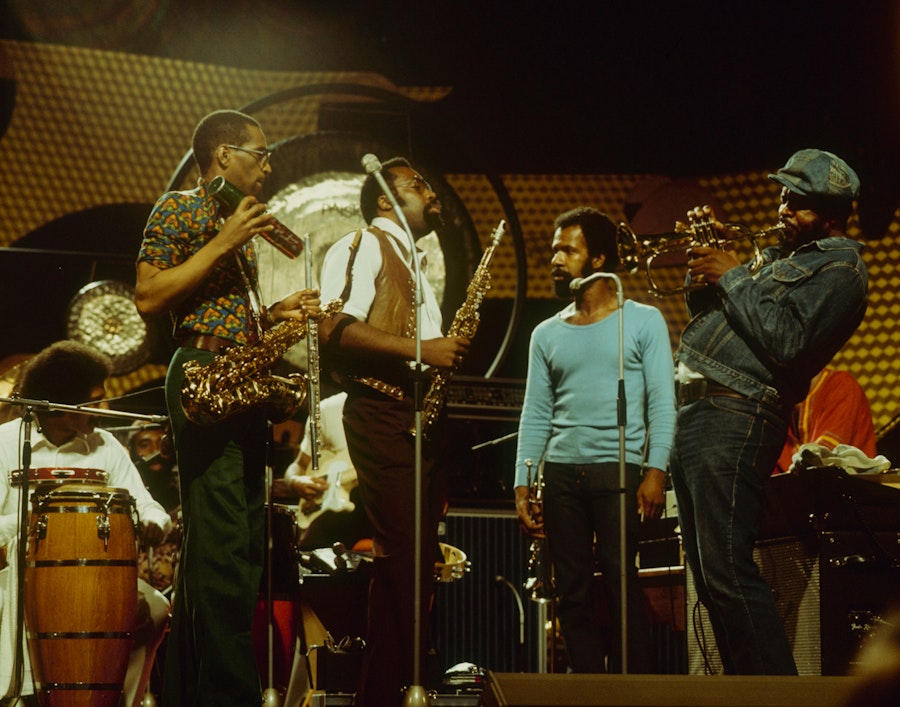 Before wrapping this up, we have to return to the start. Is there a definable starting place? Axelrod used rock guitar before Miles. But Miles in the Sky lit the fuse first (albeit pre-guitar). That element of guitar seems to be very important to most who go down this rabbit hole of trying to define jazz fusion and its birth. Most point to the very important role guitarist Larry Coryell had. When you listen to the playlist, you'll hear that some of Coryell's early solo albums are more funk-rock (or, gasp, jazz-rock) than anything resembling the fusion of his 1970 album Spaces (where he teamed up with fellow guitarist John McLaughlin, with Miroslav Vitous on double bass, Chick Corea on Fender Rhodes, and Billy Cobham on drums—it's a strong document of the era's jazz-fusion space, pun intended). But Coryell's early singing on certain songs foreshadowed the trend of bringing vocalists to the front of some of the most well-known fusion acts, like Jan Hammer Group and Lee Ritenour.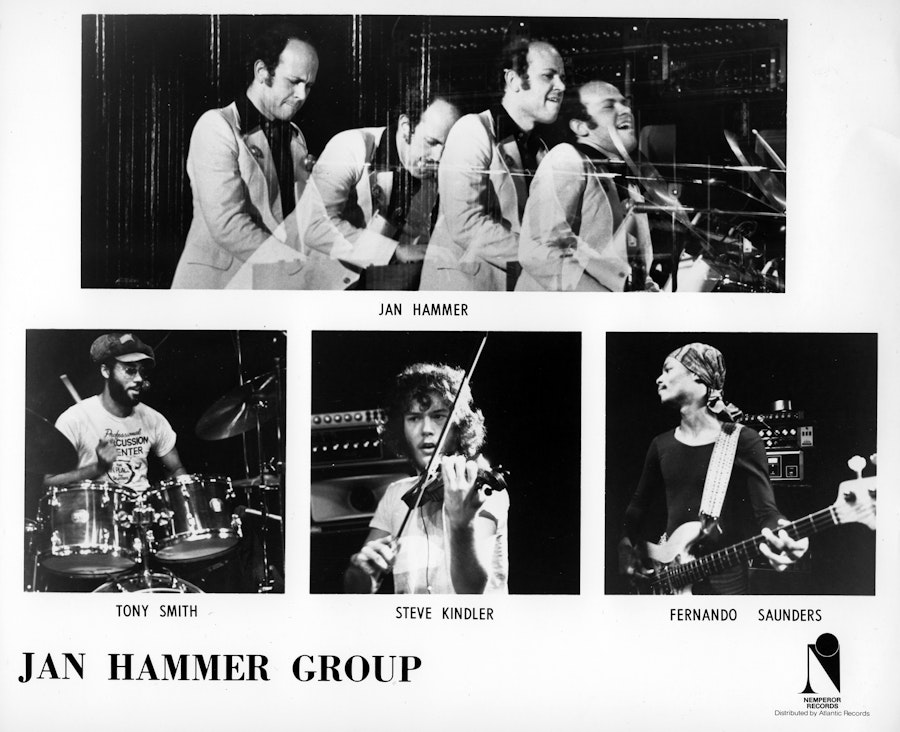 The album that is referenced time and again as the start of jazz fusion is Gary Burton Quartet's Duster (notable for both guitarist Larry Coryell but also bassist Steve Swallow, who would be one of the first jazz bassists to go electric). Although, listening to the album, one may not completely connect the dots to jazz fusion. We've included a cut from that album so you can listen and wonder to yourself, Is this the first fusion album?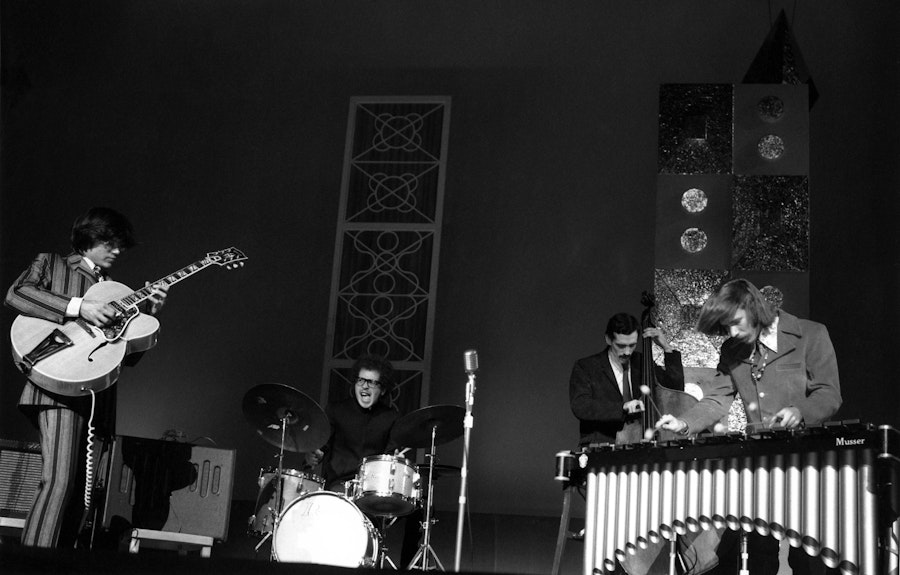 Just to stir up the pot, we'll take it back one more year, to 1966's jazz-rock track "Flute Thing."
Make up your own mind. Or don't take any of this too seriously and just enjoy our playlist, which we've tried best to create in chronological order by year, but forgive us if there are a few errors.
Take it to the Forum to discuss freely.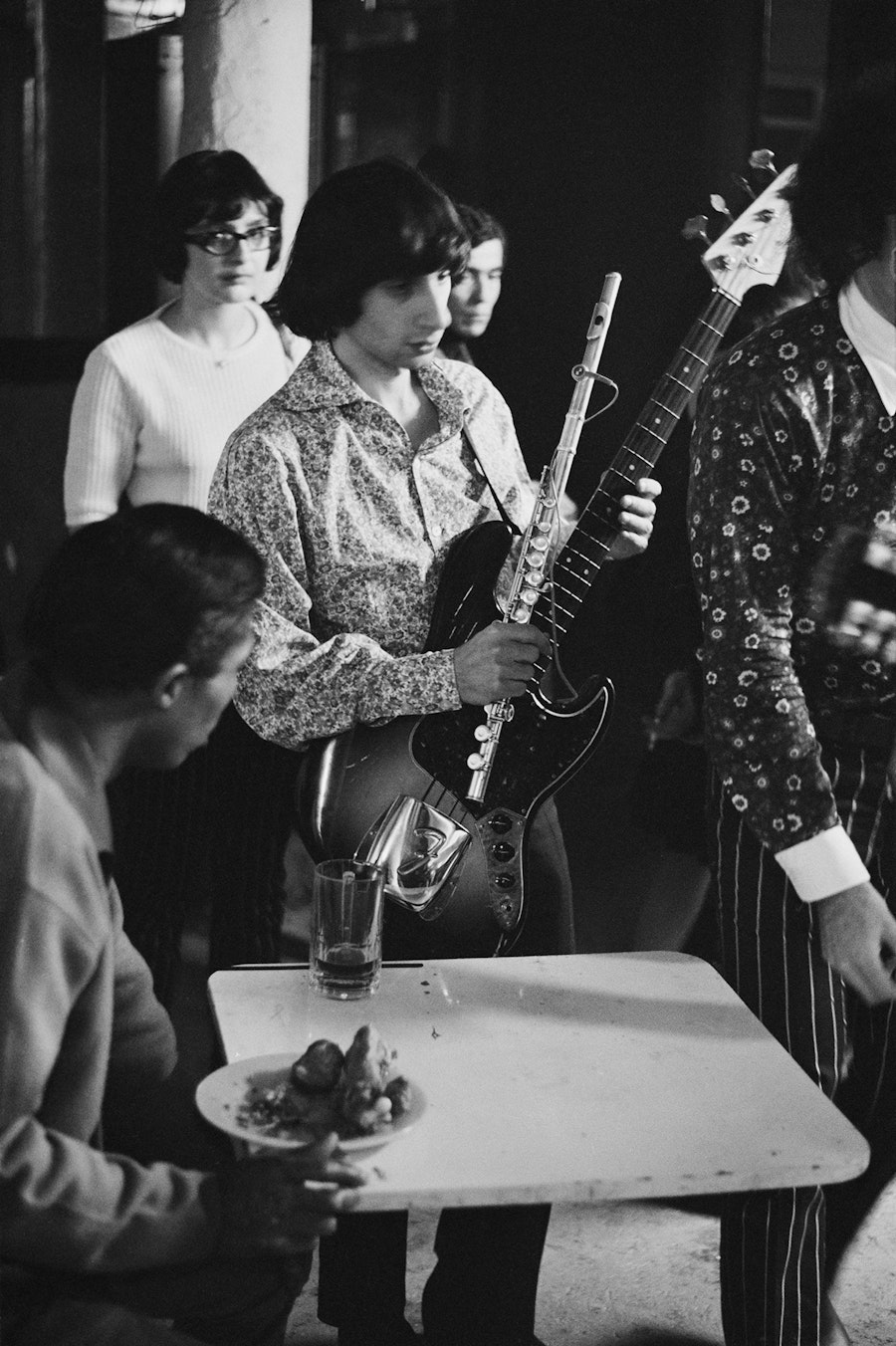 The Billy Cobham–George Duke Band at the Bottom Line Cabaret in New York City, March 18, 1976. (left to right) John Scofield, George Duke, Alphonso Johnson, and Billy Cobham. Photo by Leonard M. DeLessio/Corbis via Getty Images.

Herbie Hancock and the Headhunters (bassist Paul Jackson and saxophonist Bennie Maupin shown) perform tracks from their 1973 album Head Hunters on Soul Train Episode 110, which aired on September 28, 1974. Photo via Soul Train/Getty Images.

The New Tony Williams Lifetime promo shot, 1976. Photo by Gilles Petard/Redferns.

Return to Forever at the Orpheum Theater, Boston, Massachusetts, March 28, 1975. Photo by Ron Pownall/Getty Images.