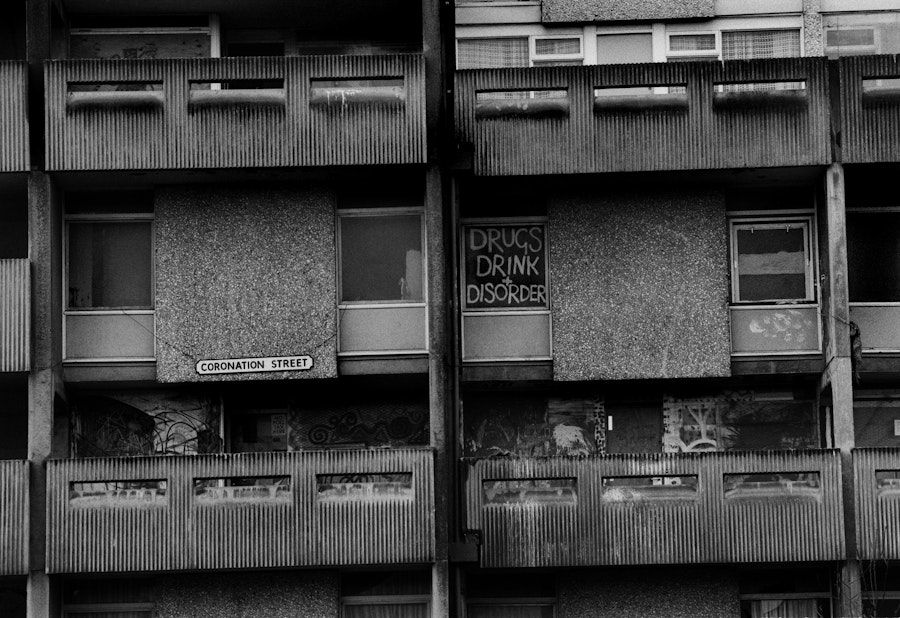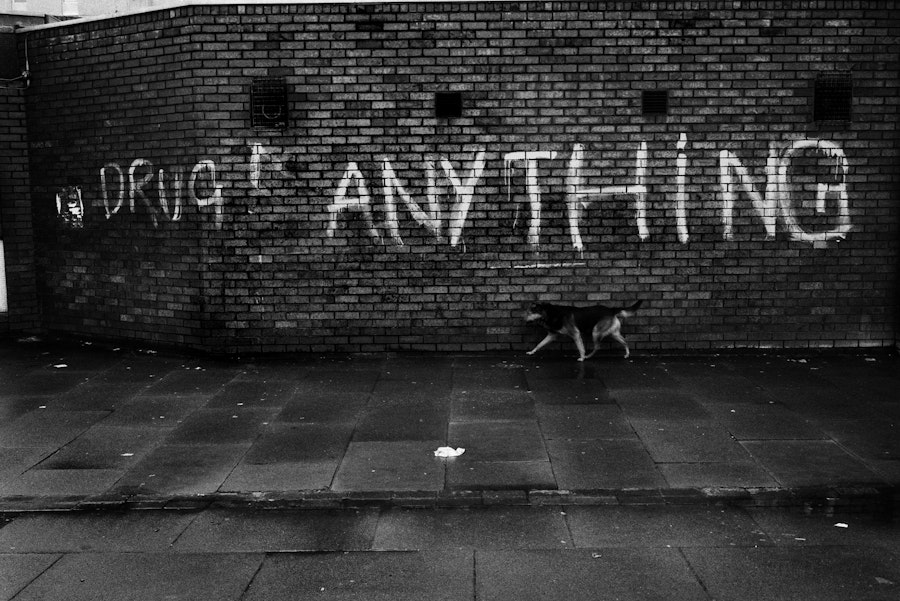 Manchester's post-punk brazenly affirmed that popular music could be working-class and experimental, branching outwards from its firm roots in the visceral chaos of punk, and instead reaching for enlightenment in avant-garde theory and art. Dystopian literature determined the genre, often capturing existence in a post-industrial wasteland with a Kafkaesque lens and consequently influencing the song titles and bands. Tony Friel, the former bassist of the Fall, suggested the band's name as he was reading Albert Camus's profound 1956 novel The Fall; while Joy Division took their name from the 1953 novella House of Dolls by Ka-tzetnik 135633. These dark, cultural, and historical references knocked punk's restrictive walls down, as philosophy had now become the reference point for understanding the self and humanity surrounding it. And somehow, despite the sheer intellectual density behind these albums and ideas, this wall of sound, its legacy soon to be concretely defined as "post punk," penetrated in cathartic ways that were freeing and accessible for the masses.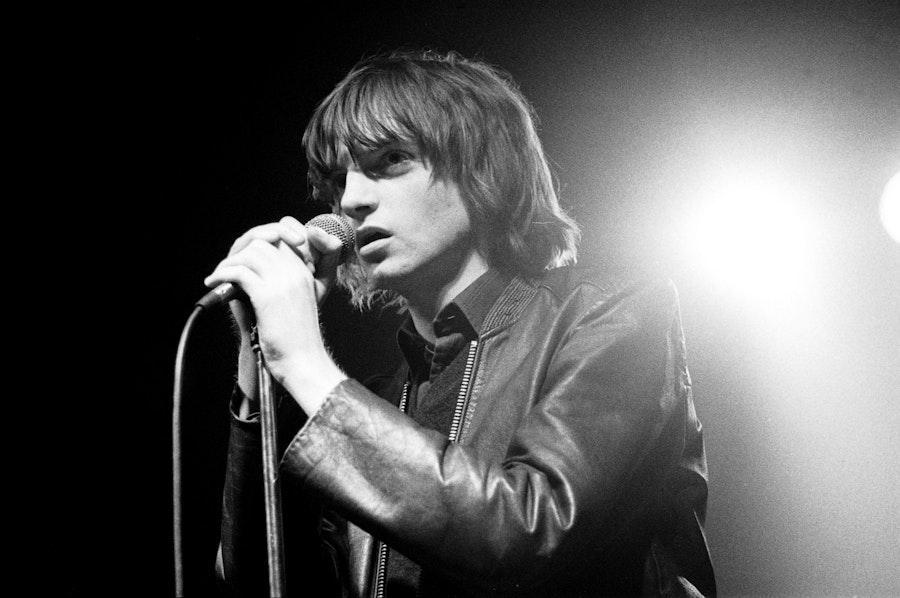 The close-knit network in Manchester invented spaces for post-punk to be attainable and self-governed, thus forming the famed independent record label Factory in 1978, originating from a club night in the city; and later, in the '90s pinnacle of "Madchester" and pills, the monumental Haçienda nightclub. Factory worked because of its emphasis on unity, togetherness, and collective identity in changing the direction of history. There was no hierarchy amongst the bands, the organizers, or the admirers, as it treasured the music more than the business—a mantra that overflowed into the Haçienda, and in hindsight was deemed somewhat foolish. The title of Joy Division and New Order cofounder Peter Hook's 2009 book, How Not to Run a Club, speaks volumes. Despite it all, Factory insisted on allowing the bands to keep their artistic integrity without the constraints of binding contracts and industry bargaining. They gained cult status for doing so. 
The cultural assembly needed to create this vision alongside the post-punk sound was demanding. Factory, comprising managers, graphic designers, and producers (Tony Wilson, Alan Erasmus, Rob Gretton, Peter Saville, and Martin Hannett) worked hard to change the music scene for a cause they believed in. The influence, to this day, is immeasurable, sparking a catalyst of record labels, venues, and musicians that still cite Manchester, Factory, and all the people behind it as the reason they felt a sense of belonging in post-punk. I include myself among them.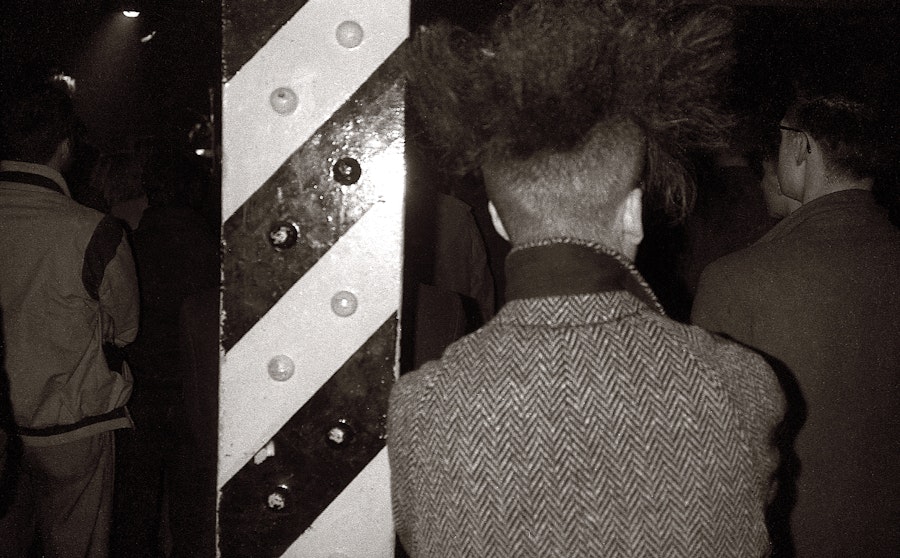 I spent my most recent years living a window's gaze away from the so-called "Joy Division bridge," as it was known to local students, and Epping Walk Bridge to the residents of Hulme, Manchester. The bridge is most recognizable as the setting for a seminal image of the post-punk band Joy Division, taken in 1979 by local Mancunian photographer Kevin Cummins. The musicians, depicted on black-and-white film, are captured on the frame's horizon overlooking the vacant terrain of a snowy post-industrial Manchester. Cummins details that the band frequently complained that day during the shoot because the bitter Northern wind was too cold for them to bear. It was a sentiment I also shared, crossing the bridge several times a week in harsh winter conditions to attend my lectures at Manchester Metropolitan University.
On those drudging early morning commutes, I would stop to gaze over the bridge and comprehend the weight beneath my disheveled footsteps with star-struck admiration. Tracing my sullen idols' footsteps in the grit and sleet, I grew connected to my identity as a Northern, working-class, twenty-something-year-old art student, subject to the often grim realities of impoverished living. I came to understand that I wasn't different from any of the bands. We shared the same ideas, politics, and values, and lived in the same town—forty years apart.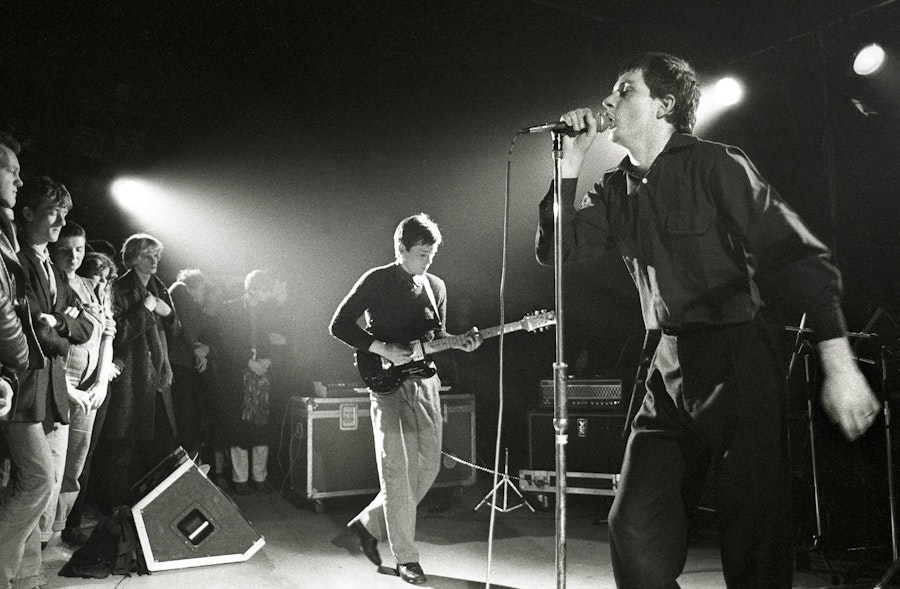 There are, of course, evident differences between the two time frames of post-punk—the past and the present. In the twenty-first century, the city's center is overgrown with glass skyscrapers and wiry metal columns, stretching to the furthest heights of its overcast skies. The revolutionary factories of Manchester's nineteenth-century cotton industry no longer stand; instead, coffee shops are sprinkled on to street corners, selling bustling city workers their cup of morning motivation to attend high-rise desk jobs. 
Over the last few years, Manchester has seen an exponential rise in technological advancement, capitalism, even gentrification of working-class areas—as have the surrounding network of other allied Northern post-punk cities—Liverpool, Sheffield, and Leeds. But both waves of the genre, though decades separated, have deep-rooted musical parallels in similar politics, notably as a reaction against the rise in far-right movements and populism—highly suggesting that the political climate is the counterpart to the art regardless of the slight geographical changes. 
To further understand the paramountcy of post-punk's influence on Manchester's modern-day revival, we first must deconstruct its ancestral history in preceding genres; and the founding framework that allowed the sound to develop, a genre lightly described by NPR music writer Matthew Perpetua as "Post-Brexit New Wave."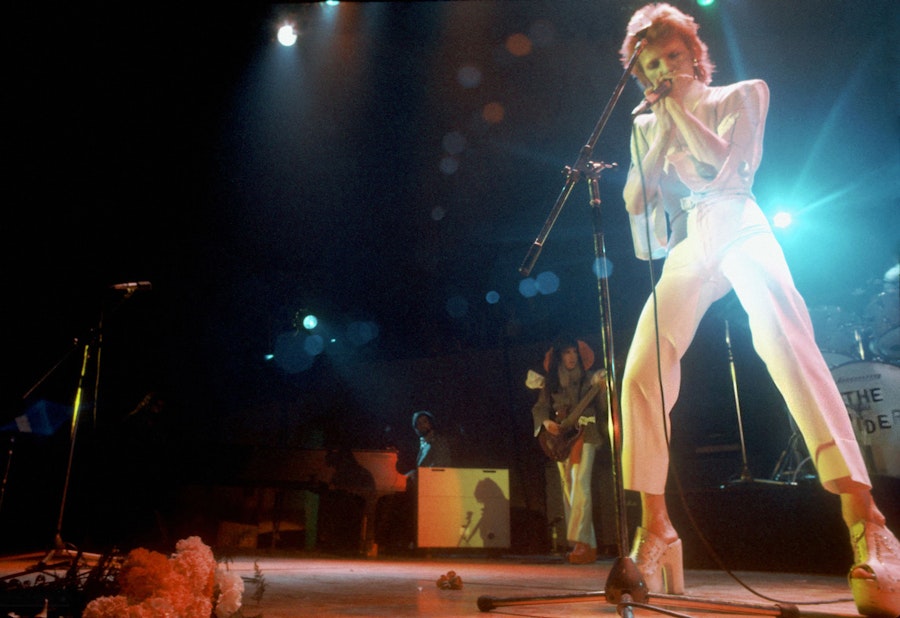 Due to his own growing disillusionment with the genre's limits, David Bowie's ever-changing fluidity of alter egos saw him transition from the glam heights of Ziggy Stardust and Aladdin Sane to the cold and controversial, fascist-tied depths of the Thin White Duke; and the once-extravagant visions of joining the cosmos seemed to perish alongside Bowie's newfound proto-punk Station to Station identity and, penultimately, with Marc Bolan's death in 1977.
Across the pond, America had already begun working on a radical shift toward a new band structure—ahead of the United Kingdom. The New York group the Ramones erupted in April of 1976 with their self-titled album Ramones on Sire Records, perforating ear canals with fast-paced, hard-hitting anarchy. The band proceeded to populate the founding template of the genre later known as "punk"—a riotous music scene that impacted England massively. Contrary to the glittering perfection of glam, people turned up to Ramones gigs in crusted jeans and tuned in to the turmoil—the band distinctive for their "1-2-3-4" count-ins, leather jackets, and unkempt bowl haircuts. Their July 1976 gigs at the London Roundhouse and Dingwall's helped England kick-start their rowdy revolution, and the legend states that in attendance were future members of the Sex Pistols, the Clash, and the Damned. Heavily influenced by the band's attitude to life, glam was now a distant memory.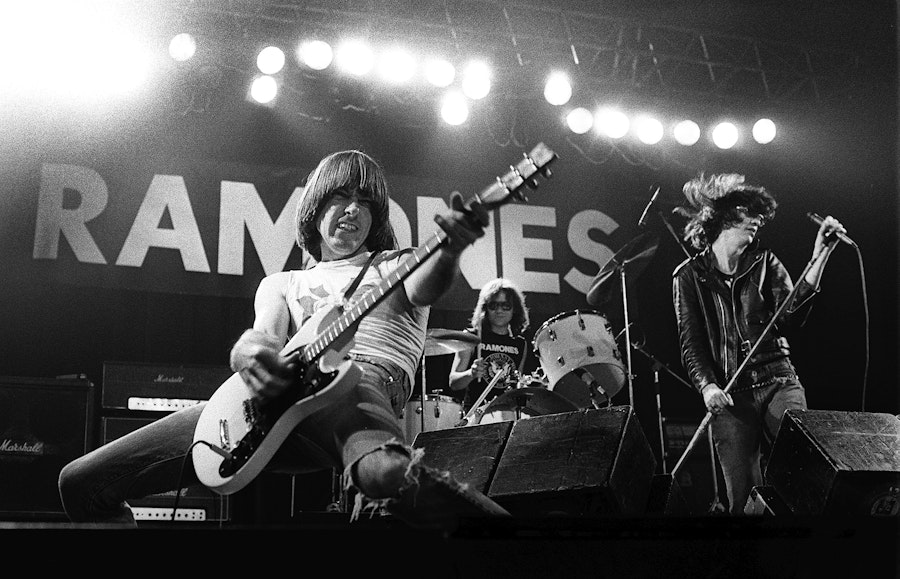 The British punk rock movement of the mid-1970s quickly broadened and aimed to be a direct antithesis to the mundanity of modern music. There was dwindling popularity of radio-play artists, and instead, relentless pursuance of the testosterone-addled lawlessness of Johnny Rotten (John Lydon) of the Sex Pistols. Inspired by the Ramones' triumph and supported by designer Malcolm McLaren's ruinous chic vision, the London group took off like forces of nature, leaving behind a trail of destruction, bulldozing their way through a run of gigs at art schools, venues, and colleges in England. 
Every music journalist, author, and historian (Dave Haslam, John Robb—the list goes on) will tell you that the makings of Manchester's historical post-punk scene that we know of today were at the mythologized Sex Pistols show in the city. The band delivered punk profanity, unruly fashion, and energy in a way that pushed the artists of the next wave to accelerate forward, helping them break boundaries to create illimitable mastery. The gig was hosted by Pete Shelley and Howard Devoto, later to form the Buzzcocks, at the Lesser Free Trade Hall in June 1976. It was the shot in the vein that Manchester needed, flowing mobocracy and terror straight to the bloodstream.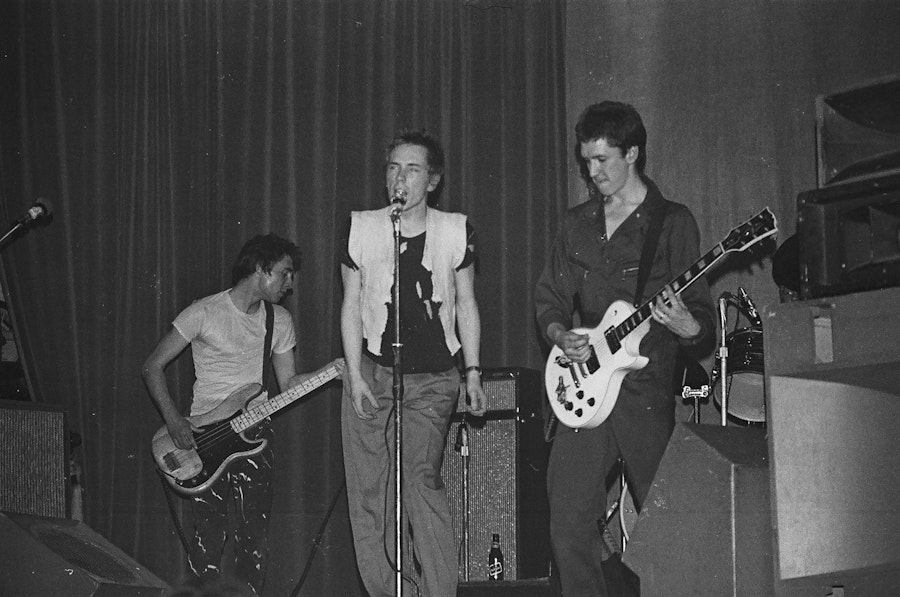 Although documented as a small crowd of forty people or less—lurking within was the foundation for the next upsurge of artists and historical figures: Mark E. Smith of the Fall; members of Joy Division, who later formed New Order; and Tony Wilson who would cofound Factory Records. Even a seventeen-year-old Steve Morrissey of Stretford, Manchester—soon to be unleashed as the nation's romanticist, Morrissey of the Smiths—was to attend, though apparently, he was not wholly impressed. A devout New York Dolls fan and admirer of their alluring aesthetic, Morrissey, in a letter to New Musical Express, described the Sex Pistols as "bumptious" with "discordant music and barely audible audacious lyrics," looking as if they'd slept in their clothes. He was most likely right. Regardless of Morrissey's smug disposition, the Sex Pistols' take on "punk" was alight with anger and meaning; it was an open commentary about the mindset of a disgruntled nation. John Lydon, the band's front man, easier to dissect as a cultural archetype than an individual, was adept in his persona as Rotten. It was a complete portrayal of artistic expression and class representation. 
Twenty years young, adorned in razor blades and barbed wire, was the fiery-haired makings of an icon; and the front man's enactment of unfiltered bona fide aggression and Dionysian demeanor helped construct an identity that was a glowing alternative to the mainstream. Rotten was the future. Rotten was an agitator. He was the face of anarchy, snarling and spewing filth-riddled battery acid in the faces of those who dared to stare. The lyrics on their 1977 debut record, Never Mind the Bollocks, Here's the Sex Pistols, were frothing to the brim with havoc, class division, and anti-monarchy dialect. He screams: "God save the queen, she's not a human being / And there's no future, and England's dreaming."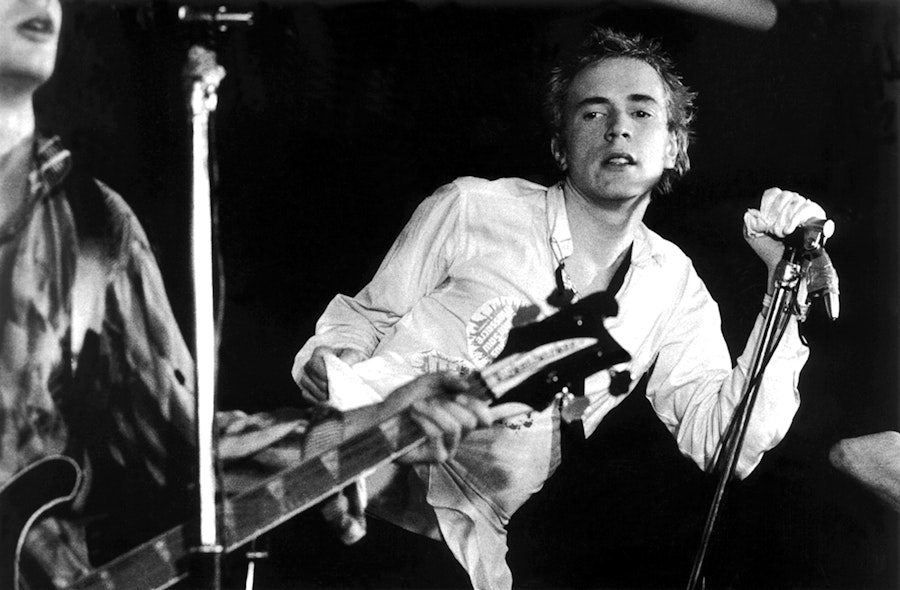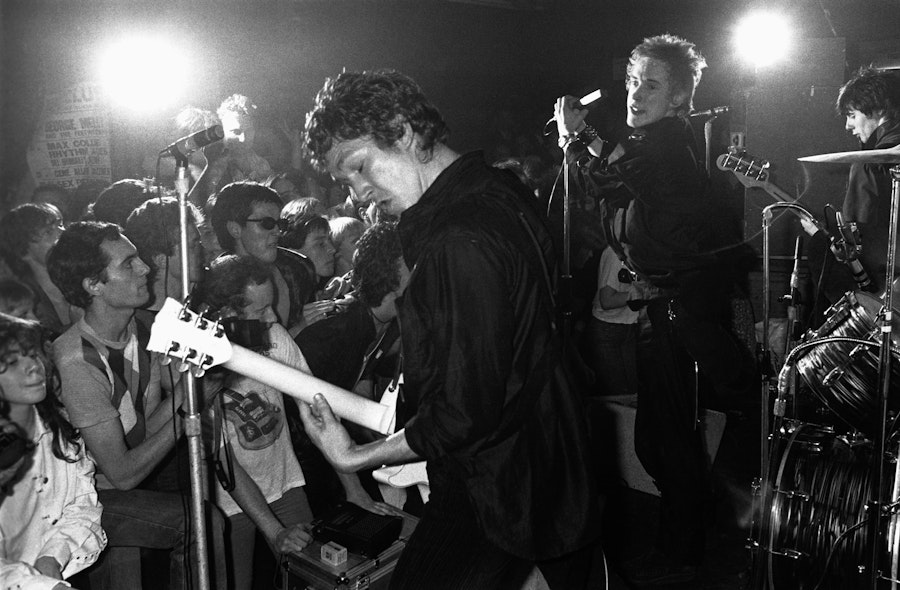 Although certainly political—Rotten's punk had no interest in scholarly ideas. The movement was pejoratively anti-intellectual, somewhat viewing academia as an alliance with the establishment. Drawing from Marxist concepts, though not aligning with the school of thought, punk believed higher education was responsible for teaching social order and preparing for employability. The unadulterated blitzkrieg unleashed on authority was enough to keep the proletariat sustained for some time, but after two years of unhinged mutiny, punk eventually succumbed to the mainstream. The initial momentum had started to fade, and the genre, as a subculture, became an easy target to commodify because of its growing popularity in fashion. The band split apart, firing into different directions, and the pioneering, authentic self-expression they'd initiated was now the profit-driven trend. In the 2013 article "In Conversation: John Lydon" for Clash Magazine, he expressed that Virgin Records had become run by the "accounting department" and to continue a business that way is "the death and ruination of originality." He felt that the band had become a material asset to the market—a paradox given its fundamental provenance of anti-capitalism. Lydon had pushed the genre as far as possible and started to explore other artistic avenues, predominantly with the band Public Image Limited, their Metal Box album (aka Second Edition) esteemed as a horrifyingly brilliant landmark in the sound of post-punk. Lydon destroyed what he had started, charmed like a snake by the melodic euphoria of krautrock and dub. Punk had died, but the band was guaranteed immortality for their profound impact.
Following the frenzied collapse of punk and James Callaghan's postwar Labour reign, Manchester was hostage to a Britain now facing debilitating consequences of rampant inflation, and the rise of Thatcherism had started to seep into civilization like an infected wound. "The Winter of Discontent" of 1978–'79 had defined a haunting period for the country, characterized by private and public union strikes in the fight for better wages, and the "Iron Lady," British Prime Minister Margaret Thatcher, was in power. It seemed the blackened stars had aligned across the Manchester heavens, as later that same year, weighted with civic commentary and frustration—Joy Division released their most renowned album.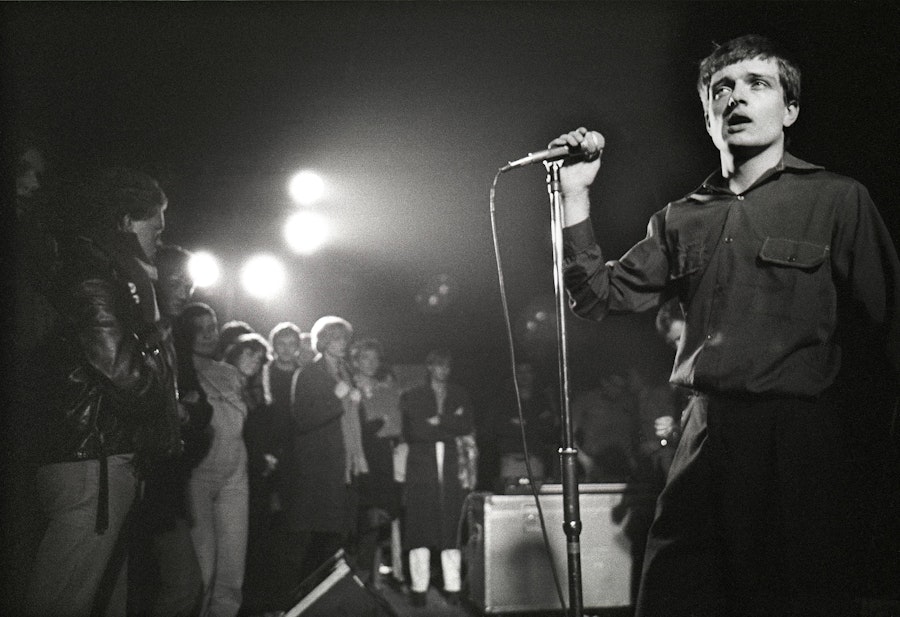 The streets of Manchester were intimidating for people in the late '70s, as Joy Division guitarist Bernard Sumner confessed in his book Chapter and Verse: New Order, Joy Division and Me: "Back in the seventies, Manchester was not the place it is now... It is less threatening at night... You could get stabbed quite easily [back then]." Ian Curtis expands on this while experiencing rising popularity as the band's front man but still tapping into the experiences of societal claustrophobia and authoritarian control. One of the authors and editors of the 2016 book Post-Punk, Then and Now, Kodwo Eshun wrote that "the psychic geography of the suburbs creates an intense self-consciousness that is not necessarily alleviated or assuaged by success; in fact, success might intensify these feelings of alienation." In the Joy Division song "Dead Souls," Curtis sings of an entity that "keeps calling" him. In "Shadowplay," with the lyrics, "I let them use you for their own ends / To the centre of the city in the night, waiting for you," he adopts the mise-en-scène to act out his fate. These emotions were similar to the anguish that many others shared living in Manchester, as the once hopeful visions for the future fell further into a starless chasm, unable to escape. The determining success for Joy Division didn't seem to encourage Ian Curtis to survive it, and, as a prisoner to his exhausting battles with mental health and epilepsy, he succumbed to suicide one year after their landmark album, at only twenty-three years old.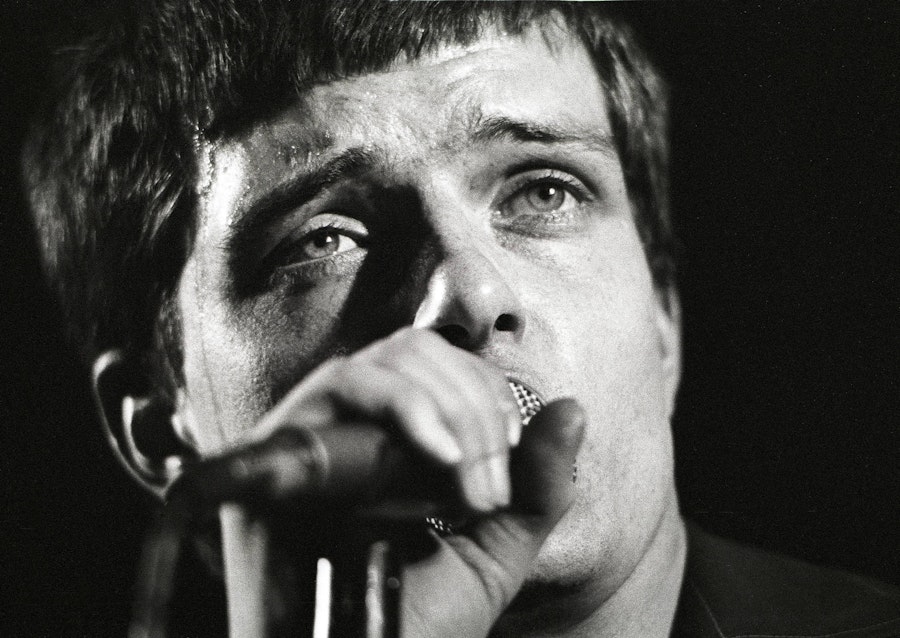 Bands like Joy Division, the Fall, the Durutti Column, Crispy Ambulance, all from Manchester, synchronously described the experiences they shared and how their surroundings affected their lives. The Fall, especially, as Mark E. Smith's resilient snarls and grueling murmurs documented a different sort of affliction with the world, separating him from the other bands and the Factory assemblage. There is no band like the Fall and no front man like Mark E. Smith. His irrefutable "Northernness" and deadpan critique was the band's driving force, and it never lessened once. The commentary of Mark E. Smith's provinces was trivial, as he focused more on the daily realities of stoic acceptance rather than embody any deranged opposition. His commentary was simply, and matter-of-factly, "his"—a direct portrayal of the life he lived and witnessed. With Smith growing up in Prestwich and working at Salford docks, the Fall's music was a psychogeographic monologue emerging from the basement of Smith's mind, with grim portrayals of humdrum Mancunian living, as heard on "The Container Drivers" from the 1980 album Grotesque (After the Gramme). Smith laments for the middle-aged men plodding along in a monotonous trance, spending their time trucking for barely any money and hardly existing: "Net cap of five-eight thousand pounds / They sweat on their way down / Gray port with customs bastards / Hang around like clowns / Uh, containers and their drivers."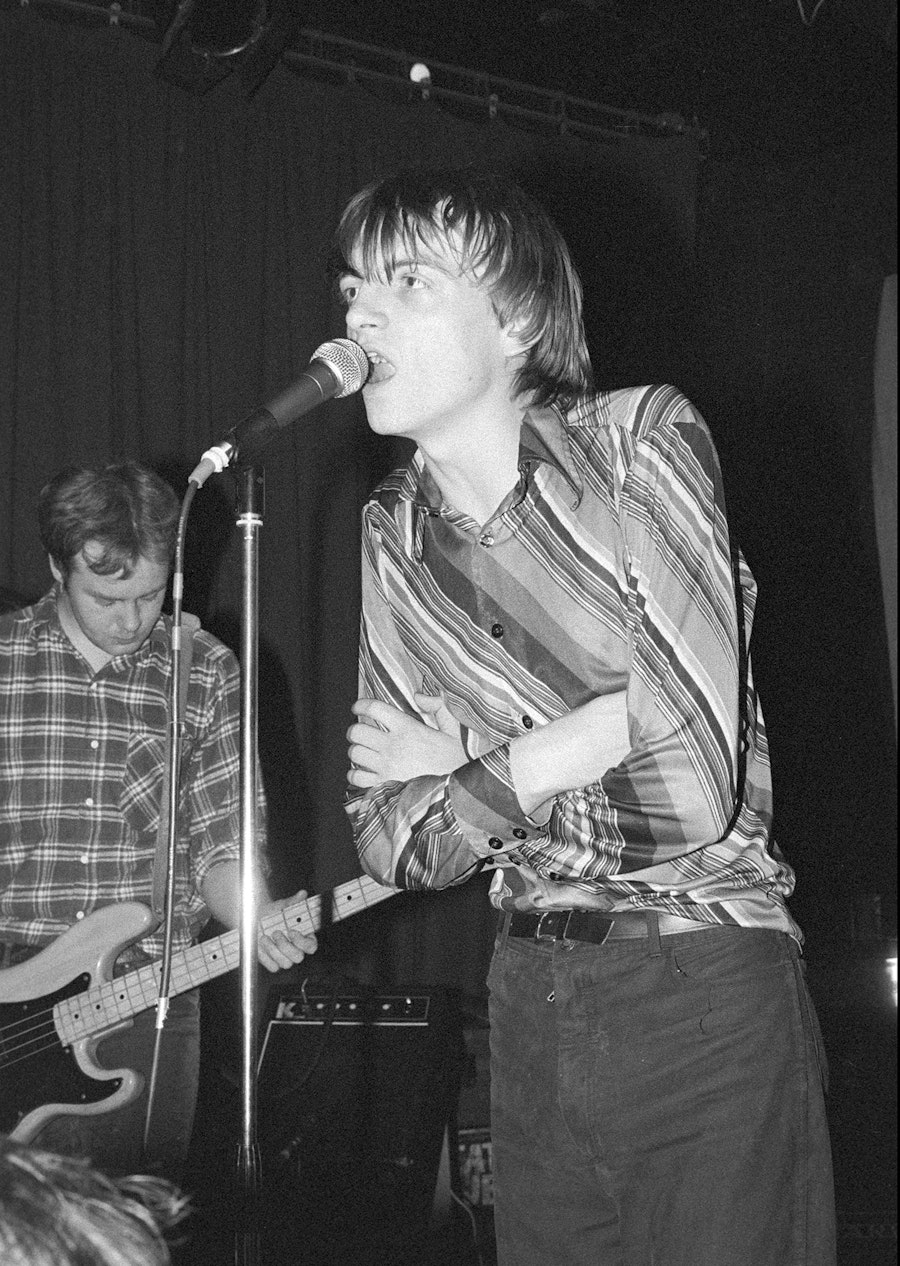 Researching the North and South divide—Mark E. Smith and the North have justified reason to complain. A 2021 article by Katie Burton sums up a number of studies suggesting that, since 2010, life expectancy has increased in London relative to other parts of the country. Even after adjusting mortality rates for deprivation, a substantial divide remains, suggesting more deep-seated structural issues. A previous everyday labor-worker, Mark E. Smith illustrated what it meant to be poor and from Greater Manchester, with unequivocal vigor, until his death in 2018. 
Nonetheless, the power to transcend suffering into creativity is always what brought post-punk together, and the virtue of perseverance remains. Down and out—but forever fighting—against the hands that push us down.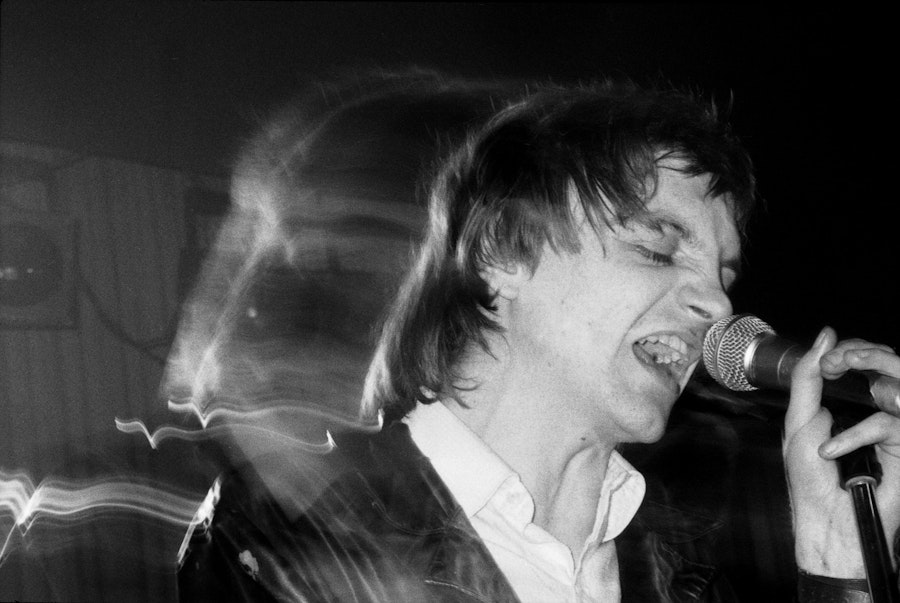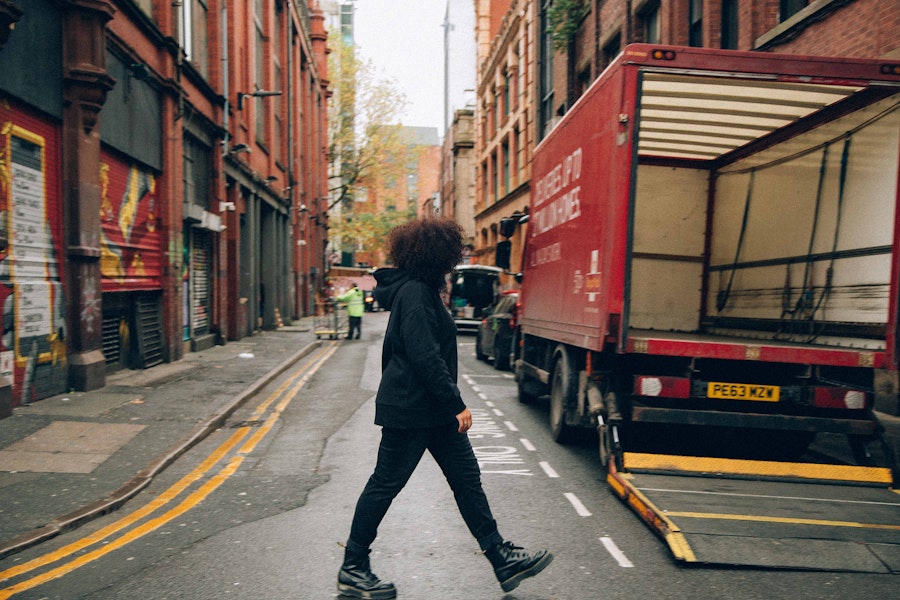 I spoke to Giorgio Carbone of Sour Grapes Records, an independent record label based in the subcultural heart of Manchester, to develop a further understanding of post-punk in 2021, and to determine whether, as a record label, they were influenced by the city's past. Sour Grapes has a shop, Mars Tapes, nestled on the top floor of the city's Northern Quarter's subcultural mecca, the suburban breeding ground for innovation, lovingly known to the community as Afflecks Palace. Established in 1981, the market is a self-declared "emporium of eclecticism," providing generations of punks, art students, and societal beatniks with four floors of quirky shops and record stores. As I waded through the madcap labyrinth to find Mars Tapes, it made complete sense to me why Sour Grapes would make their home here in the helter-skelter crux of it all.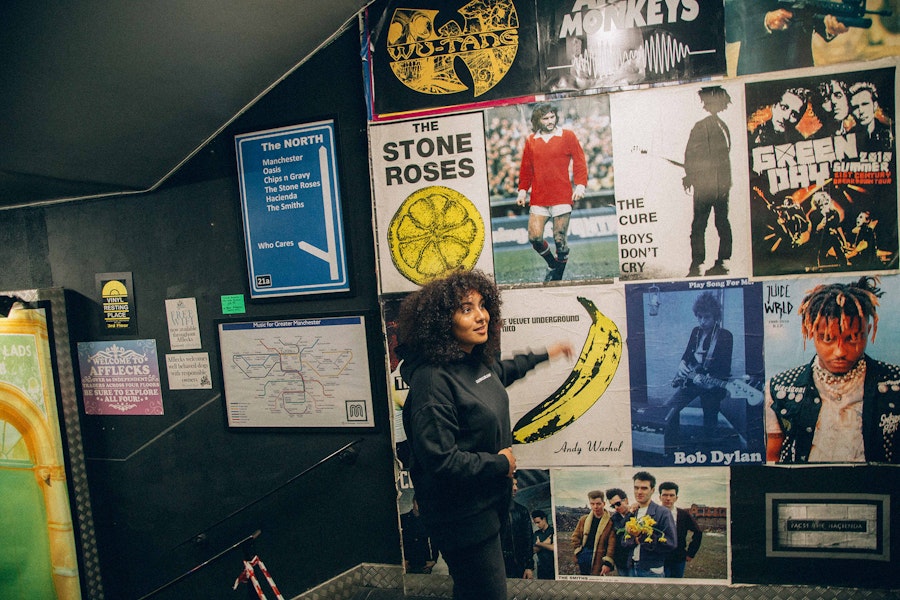 Sour Grapes was founded in 2019 by Giorgio Carbone, Alexander Tadros, and Borja Regueira Vilar. Deriving from various areas of Europe and living in Manchester—they started their musical pilgrimage by showcasing gigs at their favorite venues. It wasn't long until they unanimously decided to expand outwards into the uncharted territory of releasing physical music for bands. Frustrated by the expense of vinyl and detached from the fatigue of compact discs, Borja decided to open a cassette shop. Not any old cassette shop, but the only dedicated cassette shop in the United Kingdom. 
Cassette tapes are a controversial format, with the '90s generation traumatized by irksome pen winding and, worst-case scenario, abraded fingertips. However, the format is making a comeback. Mainly for countercultural reasons but, more importantly, because it's an inexpensive way for artists (and record labels) to profit from their work, something that is difficult to do in the endless epoch of streaming sites such as Spotify, Soundcloud, and Bandcamp. The Sour Grapes collective met through circulating in the same scenes, as struggling musicians themselves, and decided to specialize the record label on their mutual fascination with blues, garage, and psychedelia.
Although not solely focused on post-punk music, I assumed while talking to Giorgio that the importance of networking in Manchester, following the modus operandi defined by Factory Records, was an imperative factor in the birth of Sour Grapes. He warmly agreed, explaining further that "the DIY ethos is the most important part of what we do. We make our own cassettes; we have a duplicator and mastering machine. We make them from scratch, right here in Manchester. We want to help the bands have something tangible at their gigs," he continues. "This city's attitude to making things happen, like Factory, have pushed us to, well, want to make things happen too."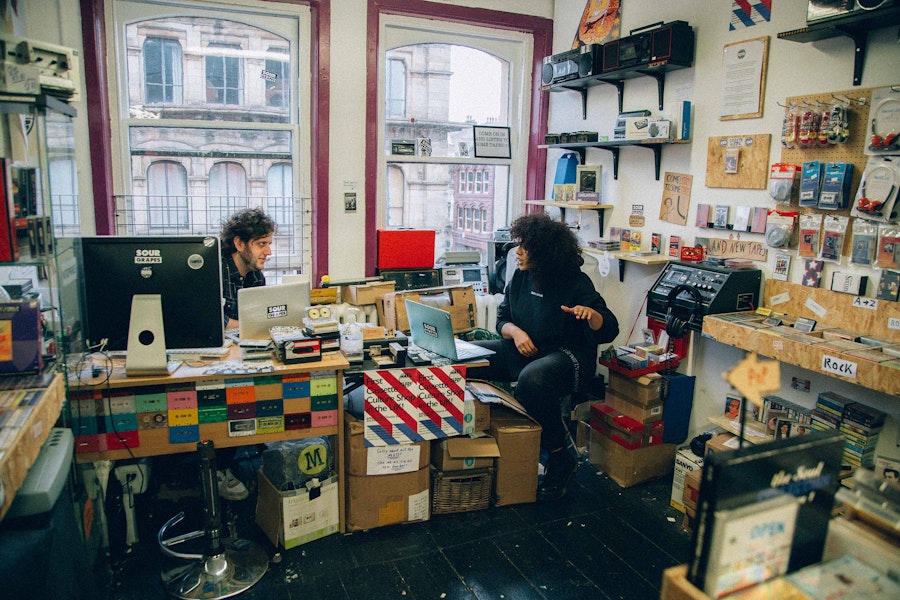 When we continued our discussion about today's prevailing "Post-Brexit new wave" scene in Manchester, I asked for Giorgio's insight (as a record label manager) on whether he felt a connection with the bands discussed. "The post-punk sound is always very consistent with feelings of uncertainty," he says. "Wherever the sound emerges—there is usually darkness. Look at Brexit. It's hard for people to imagine a future. We always have to look at the past to feel comfortable. It's what we know because it's already happened. Can you imagine a film set in the future where everything is amazing? No. Everything is dystopian. That's why we go backwards: to vinyl, to cassettes, and post-punk music. We communicate in ways that we know how." 
Brexit seems to have had a significant impact on the present wave of post-punk musicians, evidently inciting drastic feelings of ambiguity and apprehension. Stirring the pot of a presumably progressive and cultivated population is the next worrying chapter of British political history—almost identical to the disparities felt in the late '70s. The present day is rife with divisions in race and class, protests and climate crises. The global Black Lives Matter movement in 2020 saw revolutionary action on the streets of Manchester by students fighting for justice, an apt parallel to Manchester universities involvement with '70s anti-apartheid campaigns.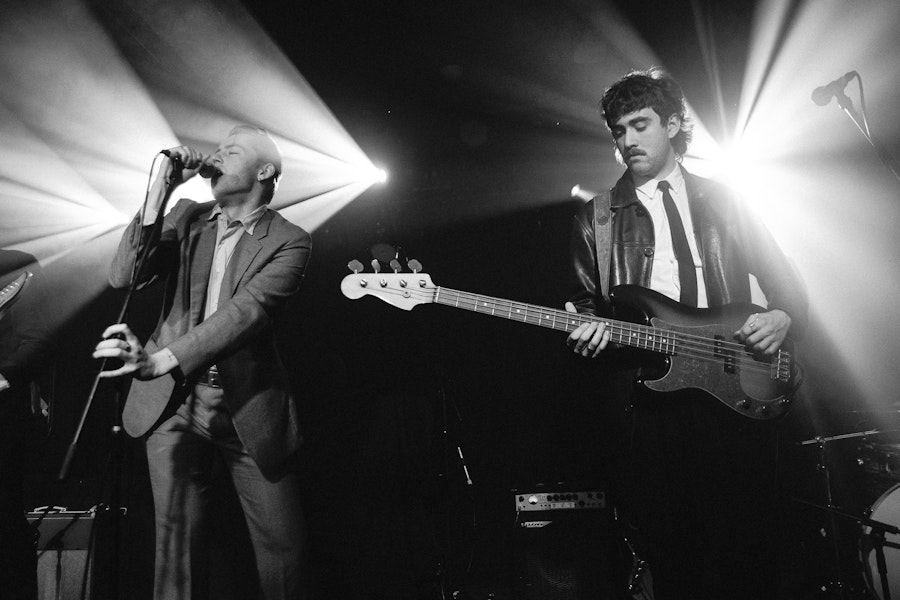 I wonder, is the ill-fated screenplay of the Winter of Discontent and the crippling effects of Thatcherism equal to the impact of Brexit? The artists are now visibly wrought with anxiety, transgressing into a more aggressive type of music, and rightfully so, as tomorrow marks extreme unpredictability. I talk with Max Grindle, the bassist in the new and upcoming Manchester post-punk band Document, about his mindset on the current political impact. The members of Document, formed in 2018, have explored the same territory as the '70s Manchester bands, using desolate imagery and expansive expeditions into atmosphere and sound to express conjoint uneasiness. Discussing their latest EP, A Camera Wanders All Night, Max discusses how state affairs have impacted them as a band. "There is a rise in the popularity of post-punk music at the moment," he says. "I agree with you: I think it is to do with the current state of our surroundings. There is a lack of hope. We were part of a generation that Jeremy Corbyn politically charged, and we watched him get shot down. We're going to listen to the Clash and the bands of the late '70s and try to understand what they were telling us during Thatcher's reign. And, of course, write some good fucking music about it too."
Natalie Emslie, of the diamond-encrusted chav-couture chaos that is Manchester's the Red Stains, also joins me to discuss her take on the genre as a working-class, unhinged post-punk front woman. Consulting on how she melds politics with the sound of her group, Natalie expresses the vulnerability of her experiences growing up in a single-parent household on a council estate in Edinburgh, Scotland. She decided to move to Manchester to pursue her passion for music and form her genre-bending, supermarket-obsessed prodigy band. 
"I lived a lot inside my imagination growing up, and that part has never left me," says Natalie. "My world is still very much the same concrete block of twenty-story mayhem as it ever was. We couldn't afford to go on holidays or go abroad; I guess that's where my fascination with everything closer to home began, because I couldn't see the world over the cemented wall. Growing up working-class, you are taught to hide anything that could make you feel 'common.' My culture is ridiculed, yet has secretly been admired by the ruling classes, especially when it is in music and arts. I romanticize the best parts because times were hard, and still are—but I would never change my upbringing for a second. Northern poverty is never glamorous, but nor is it a reason to ever be ashamed. I'll always wear my history with pride, like a sovereign ring on an Argos gold chain around my neck."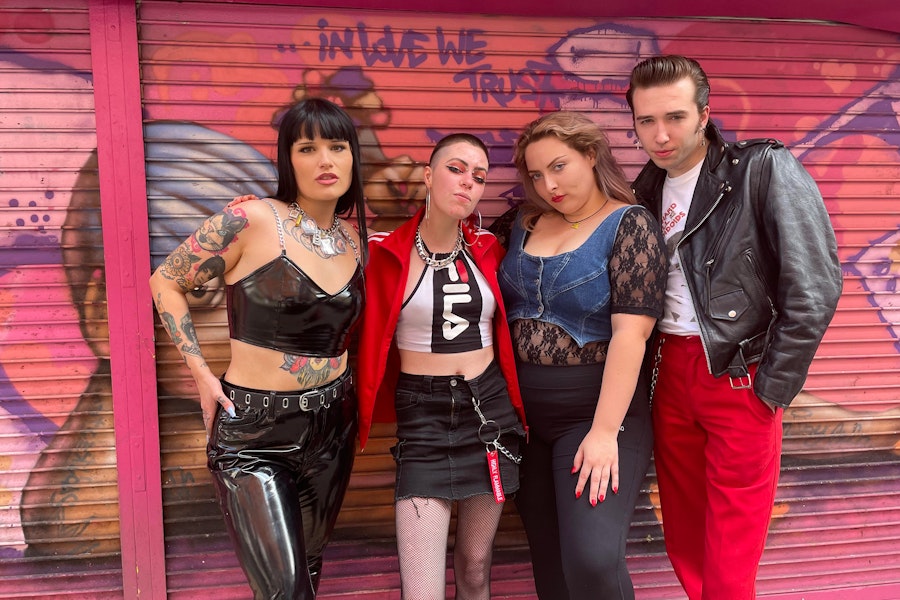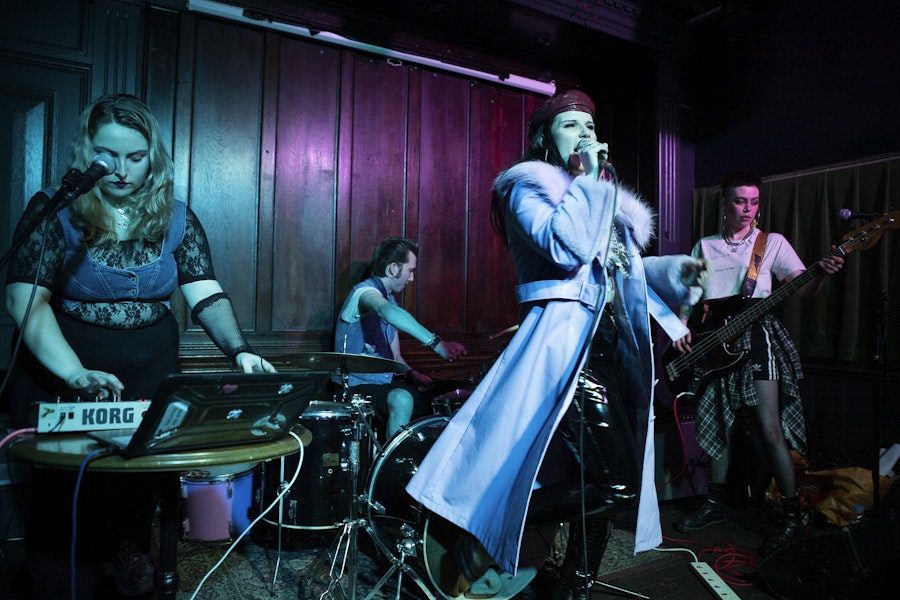 The working-class semiotics that Natalie portrays is the expertise of John Cooper Clarke. Supporting acts like Joy Division, the Salford poet is the epitome of a working-class ethos with a back catalog of unmasked, maddening poetry. He's often renowned for the obscenity recited in 1980's "Evidently Chickentown," flagrantly, yet perfectly, summing up the despair of Northern culture of being poor: "The bloody food is bloody muck, the bloody drains are bloody fucked, the colour scheme is bloody brown, everywhere in chickentown." 
Manchester-based zine UP YOURS has taken a leaf straight out of Cooper Clarke's grime-addled book, launching a post-punk poetry prize for young writers in Manchester, emphasizing that the rebirth in Manchester isn't solely limited to music. UP YOURS is a tongue-in-cheek, gritty print-based publication formed in 2020 by two housemates—George Jenkins and Arron Fox. The print zine, sold for one pound, started as a quest to find other post-punk fanatics in the COVID-19 lockdown but has since accelerated into the record shops of Manchester—including Mars Tapes and Wilderness Records. Self-professed post-punk artist and a cult patron of the Fall, George and I sit down to talk about the incentive behind his artistic and working process. As we meet for the first time and converse about our mutual love of the same bands, he clarifies the importance of print-based political zines.
"We wanted a focus that was purely on the poetry of post-punk," says George. "The performance and publications side of the post-punk literary field is sometimes, we find, segregated from those in the music scene. We believe it is time to reintroduce those circles to one another again. Many bands in the network now emphasize political lyrics, many being spoken, shouted, even, rather than sung. It's effectively purgative poetry. Language is reflected clearly in the relation between post-punk and today. The language is the connection, not the music. Anything can be post-punk if the message stays the same."
I reflected on what George said, and reached a conclusive thought. Even with the "Manchester sound" template—bands like Joy Division and the current scene's undeniable resemblance to the momentous '70s post-punk assault—the voice and meaning behind the movement still calls out, uninterrupted by changes in its surroundings. Like a chemical reaction, music has the aptitude to change states or environmental conditions, but the nucleus survives untouched. Bowie's glam or the Clash's punk. Public Enemy's hip-hop. Marvin Gaye's soul. Kraftwerk's Krautrock. These genres bend and twist, repeatedly mutate, sometimes even die, to be revived, adopted, and cultivated by others as far as time allows; but the core of it—the centrum of where it all made sense—never changes.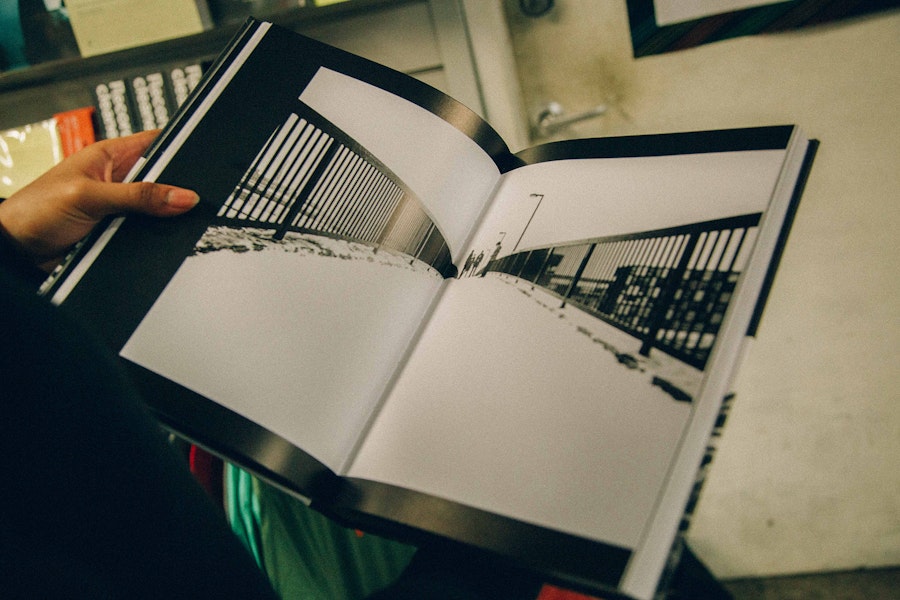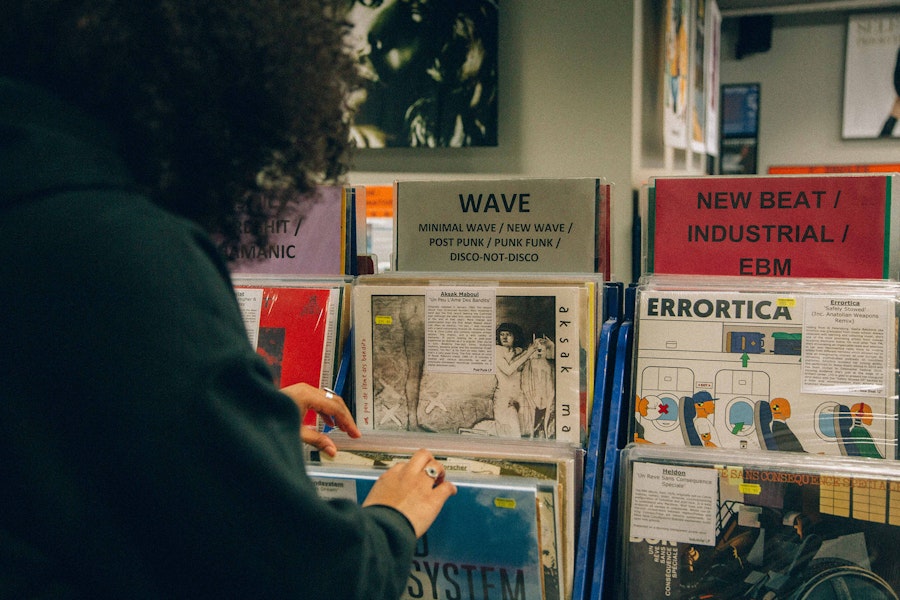 Manchester's discordant pulse of its descendants beats eternally, and the primitive rhythms echo far and wide for all to hear. Generations—my generation—of frustrated yet desperately optimistic dreamers still create art. We walk the streets of our ancestors with pride. Manchester and the North—Leeds, Sheffield, Newcastle, and Liverpool—home to poets, artists, musicians, and authors, all wonderfully and creatively fucked up by their environment, wear it on their sleeve with strength. We fight and discuss the inequalities faced in society, hoping that maybe the next generation will lead better lives. And here I am. I conclude with the heartfelt words of Mark. E. Smith, on the track "The N.W.R.A."—"The North Will Rise Again."
The author, Amelia Fearon, in Manchester. Photo by Diogo Lopes.

Fearon in the labyrinth that is the Northern Quarter's Afflecks Palace. Photos by Diogo Lopes.

The author, Amelia Fearon (at right), speaks to Sour Grapes Records cofounder Giorgio Carbone at his retail store, Mars Tapes, in Manchester. Photo by Diogo Lopes.

Photo by Diogo Lopes.

Photo by Diogo Lopes.

Photo by Diogo Lopes.