"I made my money off of crooked people in this business, made my money off of thieves," says the one and only Syl Johnson. "But for them to steal, I had to make good music. So I give myself credit for making music so good that a motherfucker want to steal it." True, bootleggers have outright stolen his music, psychedelic rockers have been "inspired," and many a hip-hop artist has "borrowed" from the catalog born in the blues heartland of Mississippi, forged in the urban musical meccas of Chicago and Memphis, and chopped and spun internationally by DJs across the world. The fact that you can directly connect the dots between Syl Johnson, Willie Dixon, Junior Wells, Jefferson Airplane, Donny Hathaway, Minnie Riperton, Al Green, Public Enemy, Cypress Hill, the Wu-Tang Clan, and Kid Rock should say something. Yet, many simply know him, if at all, as a one (or three) hit wonder. 
Born Sylvester Thompson on July 1, 1936, near Lamar, Mississippi, to a large musical family, a young Syl fell in love with the blues early and would eventually become proficient and comfortable as a guitarist, harmonica player, singer, bandleader, songwriter, arranger, producer, and talent scout. So what if a printing gaffe forever changed his last name from Thompson to Johnson. He'll tell you he probably wasn't the best of the best, but he was damn good. He probably could've, should've been a star. 
"I learned to sing by listening to the birds," says Johnson, his lilting voice still sounding like it does on the seventeen albums he's put out. "I grew up surrounded by fields and woods, thickets and grass. And it was hot! But the heat didn't mean shit, 'cause I was a true soul brother." And when he was fourteen, he took that soul with his older brother Mack to Chicago, where steady gigs as a blues sideman morphed into a recording contract with Federal Records, the home of the Platters, the Midnighters, and one James Brown. A modicum of success followed throughout the '60s, but not enough to keep him from getting his Teamsters card and driving a UPS truck in order to support his growing family. 
All of that changed in 1967, however, when he scored his first true hits with the infectious "Come On Sock It to Me" and "Different Strokes" for the upstart Twilight—soon to be Twinight—Records. Shortly thereafter, he found himself in the now-legendary lair of Willie Mitchell's Royal Studios, steering the gritty Hi Rhythm Section and Memphis Horns through another future hit, "Dresses Too Short." For reasons that still seem a bit convoluted, Johnson lagged on an offer from Mitchell to climb aboard the Hi express, an offer that was quickly snatched instead by a singer by the name of Albert Greene. And though Syl Johnson would have another hit with "Is It Because I'm Black" and later join Hi Records in 1971, he could never shake the feeling that the mantle that soon held the supernova of Al Green should've been his.
At the age of seventy-four, Syl Johnson is perhaps finally getting his due with the release of a hefty four-CD/six-LP box set, Complete Mythology, by Chicago's own Numero Group. Years in the making, the painstakingly thorough anthology shines a bright, annotated light on Johnson's mostly overlooked nuggets recorded between 1959 and 1977 for various independent labels, though it skips over the singer's three-album '70s tenure at Hi Records. It's a visual and aural tour through the evolution of blues into rhythm and blues, soul into funk, wrapped under the guise of one man, who will remind you that he can still put on a show, can sing as well today as all those yesterdays, a fact he attributes to forgoing liquor and cigarettes. "I smoke a little pot once in a blue moon, you know," he says. "But I don't drink whiskey, 'cause hard liquor will take you out of here, especially when you get old."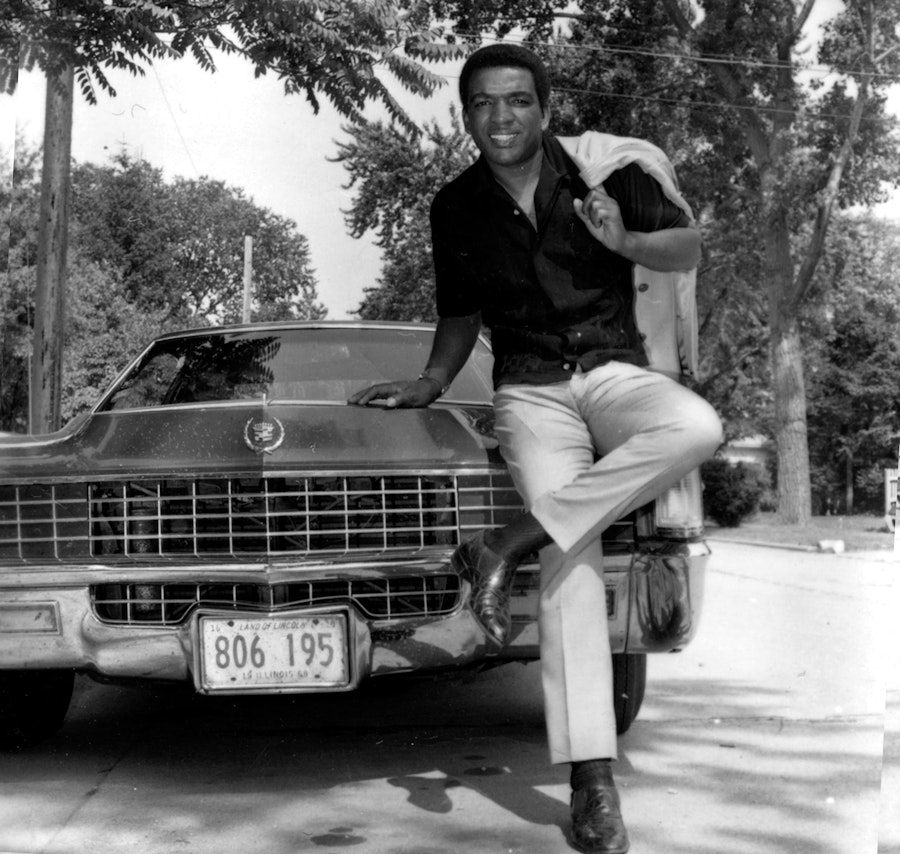 So which came first for you: singing, the harmonica, or guitar?
Guitar! I might've picked up the harmonica when I was a kid, but I don't think I could play good. My father, though, he played some mean shit. Next to Little Walter, no harmonica player played as well [as] my father. He was rough, man! Those guys played the blues! 
When I was younger, I played blues with the blues guys. But I had a feeling that I wanted to play some other type of shit. So I went to music school and learned to play some chord changes and knew exactly what chords the blues guys were playing—I–IV–V—that's it. I wanted to do more, so I started learning about the relative minor and shit. And then I heard gospel and then a little jazz. But I didn't like major sevenths, 'cause that was too pretty. I liked the minor key. It's got a deeper soul to it. The minor chord [whistles] is a motherfucker, man. That's where the gospel is. 
Were you singing and playing in the church?
Hell no! No, sir. I heard 'em singin' and jumpin' and shoutin' up and down and shit, but I never did, man. 
Do you write your songs on guitar?
Yes, sir, I always use my guitar to write my music, to write my style, 'cause I know what chord changes I want to sing to. It's easy to figure out. Man, I hear that shit, bam! I learned a lot about guitar watching Matt Murphy and my brother Jimmy Johnson play. When I was maybe eight or nine years old, I first saw B. B. King play in a little theater about six miles from Holly Springs. The Blacks had to sit up on the balcony, and the White folks sat down in the lower level, but that didn't bother me. I just loved him. I'd hear him on the radio, on WDIA outta Memphis; he had a fifteen-minute show. We'd catch the blues hour, hear B.B., Muddy Waters, Howlin' Wolf, John Lee Hooker, Elmore James [starts singing] "Dust My Broom." Whew!
When did you leave Mississippi and move to Chicago?
When I was about fourteen. I remember looking up at the tall-ass buildings, going through downtown, thinking these buildings are gonna fall on a nigga's ass. Damn! And there were cars everywhere. When me and my brother got here, we saw Magic Sam sitting right next door, sitting on the porch playing a raggedy-ass guitar out of tune. I said, "Give me that thing!" He was a country boy then. I started playing some John Lee Hooker "Boogie Chillen," and he said, "Damn! That's impossible!"
Did you own a guitar then? 
Yeah, I owned one, but I had to leave it when we ran away from home from my dad. He was working the shit out of our asses in the field picking cotton. When Mom sent the tickets for us [from Chicago], I got on a horse and galloped to the post office, 'cause I knew they were gonna be there. We got on the bus, and, oh, my daddy just missed catching our asses. 
He didn't know your mom was sending for you?
No! Ya see, he had knocked my mama down. She had just had a baby, and he knocked her down. Next thing I know, my mom was gone. I don't blame her; I would've gone too. She took my two little sisters and my little brother and headed up. My brother Mack was old enough to sell the cotton he picked, so the day we left, we picked up the money from the mill—bingo, we had a pocketful of money coming to Chicago. We had a layover in Memphis to get from the bus to the City of New Orleans train, so I bought me a brand-new pair of shoes and a jacket. Sheeeit, I was in style. 
When was the next time you saw your dad again?
When I went back to see him, I was grown. I wasn't scared of him then. He was a pretty good man. I just saw him beat my mama once. But I loved him. He sure made a man out of me.
Where'd you live in Chicago?
We lived in the Ida B. Wells housing near the South Loop. We were all squeezed in there. In the wintertime, we'd have to keep the water running in the bathroom to keep the pipes from freezing. But I was happy to get in them projects. Projects was like a palace.
What clubs did you used to check out early on?
Big Mama Thornton was up in the Loft; it was a club. We could only look through the windows. There was another club on Thirty-Ninth Street where we used to go stand and watch Little Walter play. We'd look through the door. Man, they'd be sharp and play so good. And the house would just be packed. He was clean. Play that harmonica, man—guitar, bass, drums—that's all he needed. No horns.
So when did the horns really start to come into the blues scene?
When I started making music. I was the first good soul band in Chicago. I started adding horns when I started doing soul in '62. I didn't want to play blues. I did a shuffle, and a B. B. King blues, and that was it. I didn't even have to play guitar, man; I just had to sing. And put on a little charm for the young women. People loved funky soul music then. It caught on like black pepper! 
When'd you start calling the music "soul"?
I can't remember. It went from rhythm and blues first. Then the people started calling it soul. We took the blues and we added some rhythm to it. And I used to put, like, a calypso, Latin cha-cha-cha beat, put the rhythm up-tempo—that's what rhythm and blues is all about. Then Motown, they had violins, French horns, oboes, tubas, and xylophones in those days. Shit, even harps! The old school of music of the '60s, you can't beat it. 
Were you influenced by Motown?
Not really, 'cause Motown came around when I came around. But Jackie Wilson was very popular in the '50s.
You remember the first time you saw him?
Oh man, I damn nearly shitted my clothes. He could sing! He had charisma! Elvis Presley copied a lot of his style. Tommy Hunt [of the Flamingos] taught Jackie charisma. Tommy Hunt was a bad man. He taught Chuck Jackson too. My band later backed Jackie Wilson. He was an ex-boxer. He'd have on his boxing trunks, be standing sparring in front of the mirror, juicing up before he'd come on the show. They needed a kung fu fighter to handle him on the road.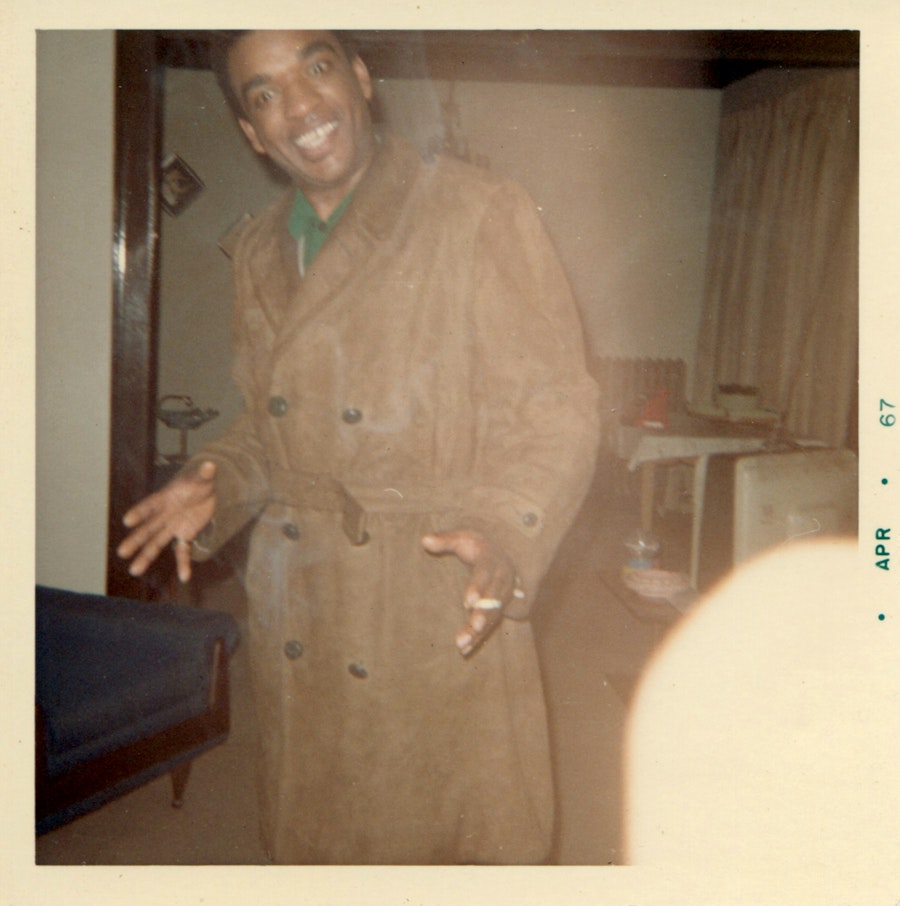 Talk about your years on Federal Records.
Syd Nathan, the owner, said, "Man, you got a unique voice; you gonna be around a long time, young man!" He was a big, fat man and showed me how the operation worked. He'd pick me up in the morning, give me a ten [dollar bill]—boom—I'd go up there in the studio with the musicians. One day, he said, "Today, you're canceled. Little Willie John is coming up here to cut 'Heartbreak.' We're shipping it the same day we cut it. Tomorrow, it'll be on the radio stations across the country. That's how we do it, Syl!" It was called "Heartbreak (It's Hurtin' Me)" that was hitting for someone else, but Little Willie John covered it and snuffed it right out. Syd Nathan was thinking rationally; that's why he was successful. 
You're playing guitar on a lot of this Federal material?
Yeah, most of it. Early '60s, I was playing a Fender Strat. 
When you were recording, were you overdubbing vocals or doing both at the same time? 
Sometimes both, cut 'em live, sometimes overdub. I could concentrate on anything. 
What was your first radio hit?
"I Resign From Your Love." Al Benson, the old swing-master, broke it on the radio [in 1962]. I'm singing falsetto on the intro. It was like a razor. Johnny "Guitar" Watson named me "Razor Throat." He said, "Who's that razor-throat motherfucker?"
When did you get your first big break?
We were the house band at a big club, man. First, it was called the Club DeLisa. Then they called it the Club, then the Burning Spear. It was a show club, held about a thousand people. The stage'd come up off the floor. We had showgirls; the girls'd come out and start boogying and shit. We'd back Arthur Prysock, Sammy Davis Jr., Lou Rawls, Ella Fitzgerald, Joe Williams. Band had about thirteen pieces. After a while, I became a star on that same stage, with "[Come On] Sock It to Me," "Different Strokes," and "Is It Because I'm Black." I had trombone, trumpet, and tenor. Good horn section sound. I was bad, nobody else in Chicago was as bad. Then Willie [Henderson] came in, so we had baritone, trombone, and trumpet. We were ready to go big time!
What do you remember about writing those first true hits?
I think it was Chuck Jackson that said, "Sock it to me one time: uh! Sock it to me two times: uh, uh!" I stole the idea. Then I got [singer] Jo Armstead and Jesse Anderson, my tenor player at the time; we came up with the lyrics up at my house in the attic apartment where we rehearsed. And [my brother] Jimmy was right across the hallway; he said, "Let me put an intro there, man! [sings the intro to "Sock It to Me"] My brother Jimmy came up with that. That's Harold Tidwell on drums, who was with my band at the time. He had a gap-tooth, and he'd grin all the time when playing. 
Who's playing that crazy floating guitar throughout?
That's Wayne Bennett. He was bad, man—played a lot with Bobby Bland. I'm like, "What is this motherfucker doin'?" My man Zac said, "Let him do his thing. He's putting the flavor into this. It ain't blues, man." That's a good-ass song. Freddy Robinson's playing rhythm guitar, and I'm playing guitar chinks on there as well. I'm a bad man with the chinks. Those are my chord changes too. "Sock It to Me" was banned on some stations. My distributor from Detroit said, "They don't want White girls to hear you say that. If you were Elvis Presley, they wouldn't mind."
And "Different Strokes?"
That's me, John Cameron (my horn player), and John Zachary (my bass player). Cameron was my arranger, and Zachary was my co-bandleader with the big band. We had a record label, Zachron. They took the writer's, and I took the publishing. Then the whole thing got taken from me, but I took it back. There was a guy named Little Oscar who'd come to the club, and, oh, he'd wanna get on the stage with us all the time. He'd say, "Boy, what's goin' on up in here?!" He'd say, "Different strokes for different folks, special strokes for soul folks!" Boom, got it. 
How'd you get Minnie Riperton's laugh on "Different Strokes?"
She was a secretary down at Chess. People always wanted a female vocalist on the road, so she was my female vocalist for a while. Minnie was named Andrea Davis. She was traveling with me with that name.
How many units did you originally move with those songs?
It's hard to find out, but I can tell you about "Sock It to Me," 'cause I was in on the first pressing. It came out on April 7. By May 1, it had done eighty thousand in Chicago. Need I say more? Black people spent so much money on 78s and 45s back in the day. If you attracted fifteen hundred people in the Black neighborhood, that was a big-ass crowd. The chitlin circuit was a lot of money, don't kid yourself. Black people went out and spent money. I'd pack the club every Friday and on the weekends in Chicago, week in, week out, over lots of years. Blacks in Chicago were at one time the richest motherfuckin' Blacks in the world. I'd do the theater circuit too, played the Apollo with the Miracles and the Jackson 5, but nobody knew them then. They only had "Big Boy." They tore the club down!
Michael was a little boy, man. He got my autograph when he was eight. He got it twice. He got it at the Regal, then he got it at the Apollo again, 'cause he lost it. He said, "Send me a song." I tried to give them "Different Strokes" for a year. 
While you were driving for UPS at the time, did you ever deliver any of your records?
No, no. But I heard "Sock It to Me" all the time while driving in the truck on a little transistor radio sitting on the dashboard. It was number [imitates DJ voice] one…one…one…on WVON, one of the biggest stations that ever been. 
Those came out on Twilight and Twinight, but that's really the same label, right?
Yes! I started Twilight to put out "Sock It to Me," with Rodney Jones, who was one of the biggest DJs at the time and had a good ear, and Howard Bedno, who was the payola king. Everybody brought records to Bedno; he had about eighty percent of the major-label record-promo business in the Midwest, but he didn't care about no record-label business. Peter Wright was his secretary. I went out on the road to support my hits, and when I came back, they had changed Twilight to Twinight, said the Twilight Zone had it hampered. But they were lying; they just wanted to take it away. I didn't pay that much attention though. 
How'd you come to meet the Hodges brothers and record with Willie Mitchell and Royal Studios?
I came into Royal Studios first around '67. I went to see O. V. Wright record, and I fell in love with the band. O. V. Wright was on the road traveling with me. He said, "I'm gonna record; come see me record." So I went, and he was recording with the Hodges brothers and Al Jackson Jr. I had met Willie Mitchell before; he had come to our club and watched me play a number of times. We used to play "Soul Serenade" every night—that was our theme song, man. He said he would like to get me on his label one day. 
So after O.V. recorded, I went back to Chicago and then came back to Memphis, 'cause I wanted to cut with that band, man! They were young, kinda like the Pieces of Peace guys, but they were cool. Charles is a bad man, he's rough! And Leroy on that bass, man. And Teenie got a classic style on the guitar, like Curtis Mayfield, full of colors. First we cut "Double Whammy" and "Your Love Is Good for Me" [both unreleased at the time]. If you listen to that, you're gonna hear Al Green. And Al Green was nowhere near Hi then. I taught the Hodges brothers some uptown stuff. It was me that came up with that groove, 'cause before that, they didn't play that type of groove. But nobody knows that though; they all call it the "Al Green sound." Ask Teenie, Leroy too. [The sound] started with "Sock It to Me."
And then we had another hit with "Dresses Too Short" [in 1968 with the Hi Records band].
So your 1969 album Dresses Too Short for Twinight was truly a Chicago-Memphis tag team. 
Yup, it was a fucking tag team. I'm glad you got it, kid! It's the first time I heard it put like that. That became the Hi sound. [laughs] Yet the people call it the "Al Green sound."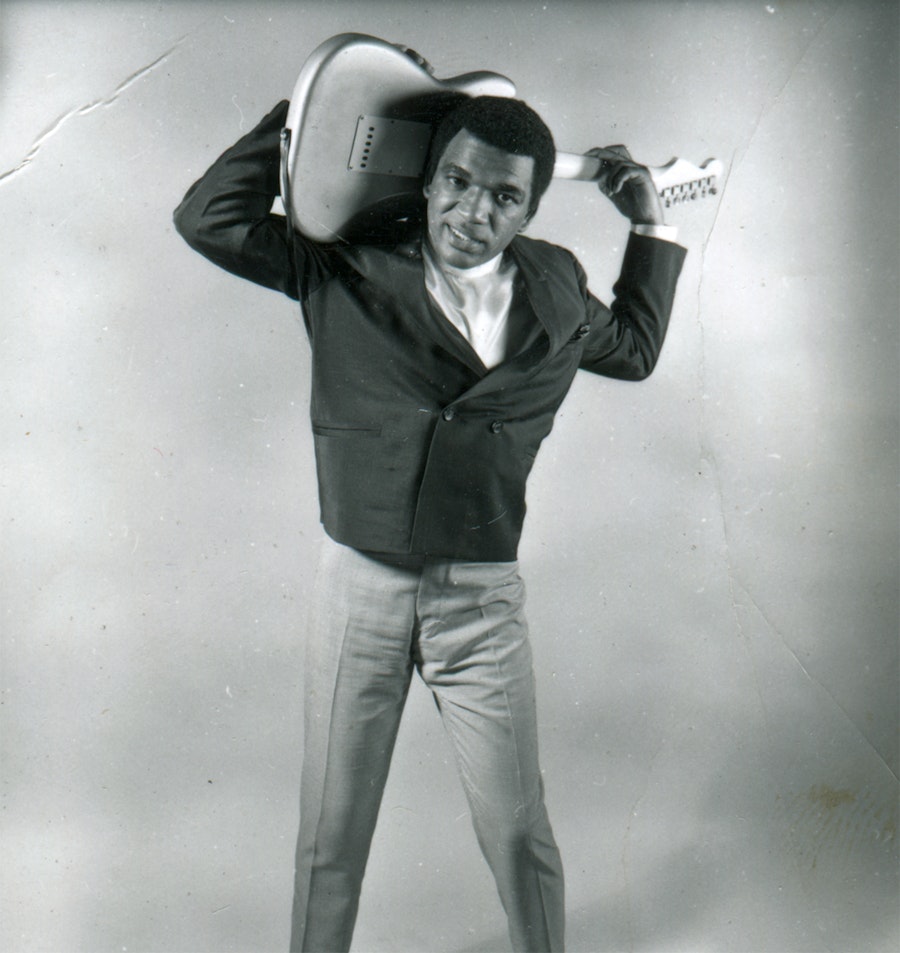 So why didn't you sign with Hi Records in '68?
So what happened was, I'd talked with Willie, and he said, "I'll get you a ticket on the red-eye, get you some food, get your contract, get your money, then you can get ready to start recording." I said I wanted a $50,000 signing bonus. He said, "I'll give you thirty-eight." I said okay, but I didn't catch the flight [to Memphis]. My first wife, she was crazy, a different kind of sick than sick. Really sick. Mentally. I'd gotten married when I was seventeen and she was sixteen. It was rough. She said she couldn't do it. So I fucked around, man, and didn't catch the flight. I traveled around for a while, driving a brand-new, blood-red convertible Eldorado; I was making plenty money. But I was embarrassed, 'cause I didn't call Willie back! So finally I called him from a phone booth. I said, "What's up, man? You wanna get back up on that same deal?" He said, "Look man, we just signed this guy named Al Green. We can't make you that same deal, but we'd still like to sign you." 
How much time had passed since he had first made the offer?
About three weeks.
Wow. At the time, no one knew Al Green was going to do anything.
Uh, he wasn't that much. Shit, next thing I know, [sings] "I'm So Tired of Being Alone." That was the one. Al Jackson cowrote everything; he did Al Green a favor. Al Green's first royalty check on "Tired of Being Alone" was $50,000. Anyway, Willie, he said, "You should just put your stuff back out on Twilight." So now I cut "Is It Because I'm Black." It's a big-ass hit. 
So were you actively involved in the civil rights movement?
No. I didn't go nowhere. I just looked at it on TV, that's all. Ray Charles said, "Why did you come up with 'Is It Because I'm Black'?" Dr. King got killed, so I wanted to make something pertaining to that, but I didn't want to make a radical or militant statement, you know. So I just said, "Here's the mirror." It went pop, 'cause the White college kids loved it. But it was banned from a lot of stations then.
How long did it take you to write and record that song?
We wrote it, then after about a day and a half, we was in the studio. Glenn Watts, the other writer, helped me write it. He used to demonstrate with Dr. King. I said, "Maybe I'm stepping on White people's toes." He said, "Nah, it ain't militant. Come on, man, call the musicians." So I had Jerry Wilson on alto, Michael Davis on trumpet, Bernard Reed on bass, Benjamin Wright on keyboards, Hal Nesbitt on drums, and John Bishop on guitar. 
The Pieces of Peace. 
Well, it was my working band, but I let them call themselves the Pieces of Peace. Only way they could be a band was travel with me. They were younger than me. I said, "You a garage band, and you gotta get in the garage and get good!" They were all good musicians, but they couldn't stay together but three months. Hal Nesbitt was another Al Jackson Jr., but he was a drug addict. Then Fred White took over, Maurice's little baby brother. He played with me when he was fourteen.
So the Pieces of Peace became more or less a house band for Twinight?
House band for the label? They were my band! I'm the one that made them a band, 'cause I had the gigs! I'm the one who had the reputation. I produced seven hits on myself, one hit on the Notations: bingo. Chart records I'm talking about. I brought the Notations, the Radiants, Josephine Taylor… But I [wasn't] making no royalties. Then I cut a hit on the Temptations and didn't get paid for it. So I said, "I ain't cutting nothing for you motherfuckers no more."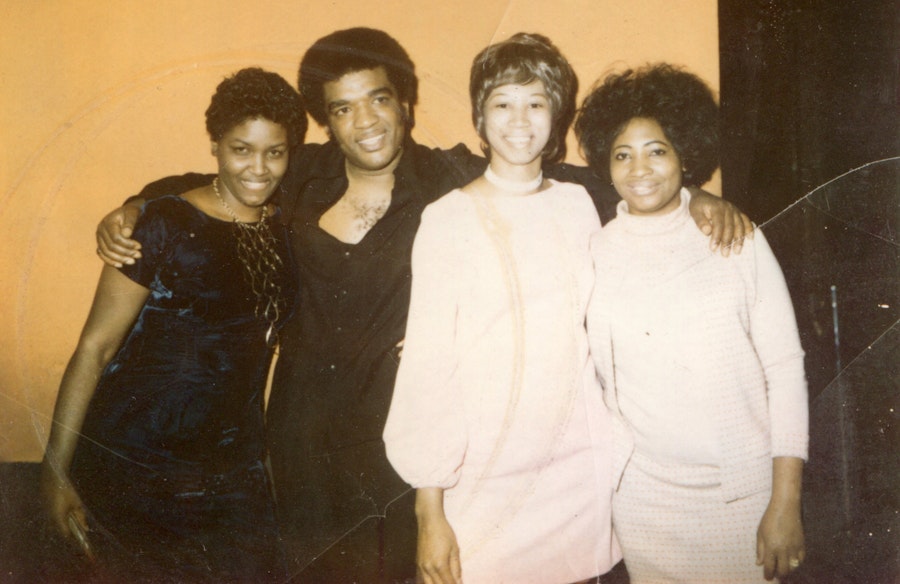 So you finally signed with Hi Records in '71?
Yeah, when I went to record with Hi, Al Jackson Jr. was the drummer and writer for me. [sings "Back for a Taste of Your Love"] It went in the charts. But I was just a shadow man, really; all the motherfuckers just put all the shit on Al Green. I pretty much produced myself. "Back for a Taste," I brought that from Chicago. "Any Way the Wind Blows," I brought from Chicago with Earl Randle. "We Did It," I brought that from Chicago. 
"The Love You Left Behind" is no joke either.
That's Al Jackson Jr., man, not Willie Mitchell. That's a bad song! 
Did you and Al Green do shows together back then?
Yeah, I went on the road with him. He was making $100,000, and I was making $2,000. Al Green was huge. But he had a problem. On the road, I'd open up with his song. Teenie and Al had already done "Take Me to the River," but it was a hit single for me, so I had to sing it. People didn't know it that well with him. If I did a show now with him, I'd kick him in the ass with it. [laughs] I like Al Green. He's like a machine; his voice is an instrument. Like Billie Holiday's. Like Aretha Franklin's.
So you weren't too happy on Hi?
I should've gone with Jerry Wexler. Wexler and Jerry Greenberg, shit, they loved me! They wanted to put my label Shama out on Atlantic. I was producing for them; all I had to do was work on my label with Wexler. Shit, I introduced Donny Hathaway to them. He was in my band at one point and doing great arrangements for me. He had no break till I introduced him to Wexler—the rest is history. 
Speaking of history, how do you want to be remembered?
That this motherfucker was as good a producer of music as James Brown. Or any of them. 
It's clear you never had a problem laying down the funk.
Funk is the shit that makes you move, man. It's the rhythm. You remember monaural as opposed to stereo? This shit is all mono, straight in the center. That's where you get your funk, man. A stereo record is not as funky as a monaural record. You start spreadin' shit to the left and right side, it becomes stereo, not funky as that shit in the middle. That funk is in the center, man. They don't know how to record the funk no more. The beat has got to be in the middle.