Several years ago, while promoting one of his projects beyond the scope of music—maybe a book on elements of the creative process or a culinary project touting his name and attention—Ahmir "Questlove" Thompson, drummer and cofounder of the Roots and the musical director of NBC's Tonight Show band, told this writer about something he'd just gotten his hands on: nearly forty hours of rarely-if-ever viewed footage of the lost, legendary 1969 Harlem Cultural Festival.
Lensed by the late videographer Hal Tulchin, the live display of local and renowned national talent in an urban, bucolic setting (Mount Morris, now Marcus Garvey, Park) not only featured a transitional Stevie Wonder moving from Motown prodigy into adult-age wunderkind, a progressively politicizing Nina Simone, legends such as B.B. King, Max Roach, and Mahalia Jackson finding a new generation of fans, and the likes of the 5th Dimension, Gladys Knight and the Pips, David Ruffin, Sonny Sharrock, Sly and the Family Stone, and the Staple Singers (but, oddly enough, not Jimi Hendrix, who requested to play, yet was denied stage time) at the top of their game and fame. As crisply new as it was vexingly vintage with all the costumed colors of the rainbow in its display, the raw videotape footage portrayed was the very height, soul, and sound of Black Consciousness, Black Power, and Black Music right in time to be juxtaposed with the Caucasian-filled Woodstock festival mere miles away from Harlem, as well as the Apollo 11 moon landing, many thousands of miles from home.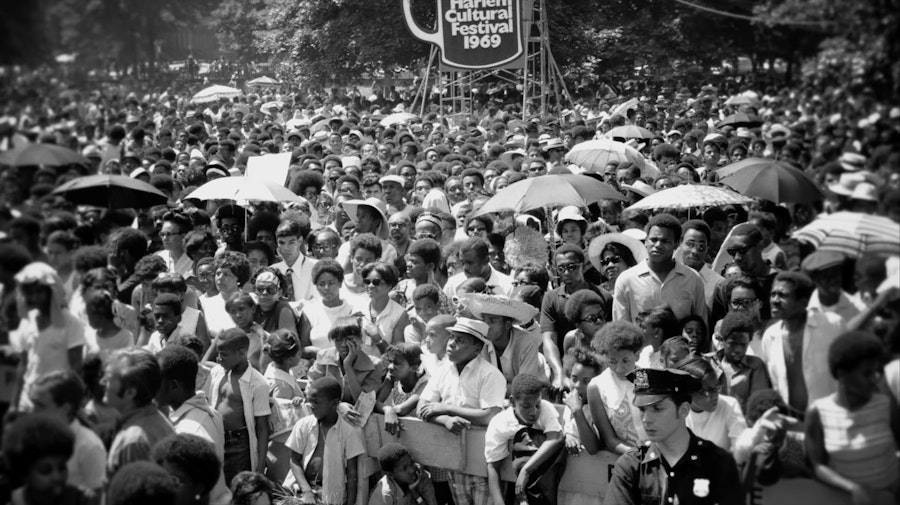 Once in possession of Tulchin's filmed-then-buried material, with assistance from producer Joseph Patel, Questlove's newly found role as director—his debut as such—became much like that of one of his DJ sets; curatorial, historical, deconstruction-al, instructional, and insurrectional, bringing all that was in the background to the foreground; pumping up the volume, swinging its heartbeat, and cutting close to the edit.
Beyond the show of soul that was the Harlem Cultural Festival's six summer Sundays, and the righteous cheer and indignation of Black America being loud, proud, and heard like never before (opening with Stevie playing drums and closing with Nina at her most incendiary), Questlove moves to the present day to portray a set of real-time interview reactions from people who were there in the first place. Whether an audience member, such as Musa Jackson (five years old at the time), or performers, such as the 5th Dimension's Marilyn McCoo and Billy Davis Jr., they allow their emotions to fly wild and free. And with those recollections and emotions, we feel Questlove's emotions, his reconnection with his past (Philly festivals of his youth), and the past of Black music, as well as his smarts and his heart. Combine all of those ingredients, and with Summer of Soul (…Or, When the Revolution Could Not Be Televised), Questlove has given generations of Black artists their due, while posing a set of new, weighty what-ifs: What if this nearly forgotten Harlem musical festival had been given the same cultural weight as Woodstock? What if baby Black musicians coming up through the '70s and beyond had been given access to this collective, cinematic holy grail sooner?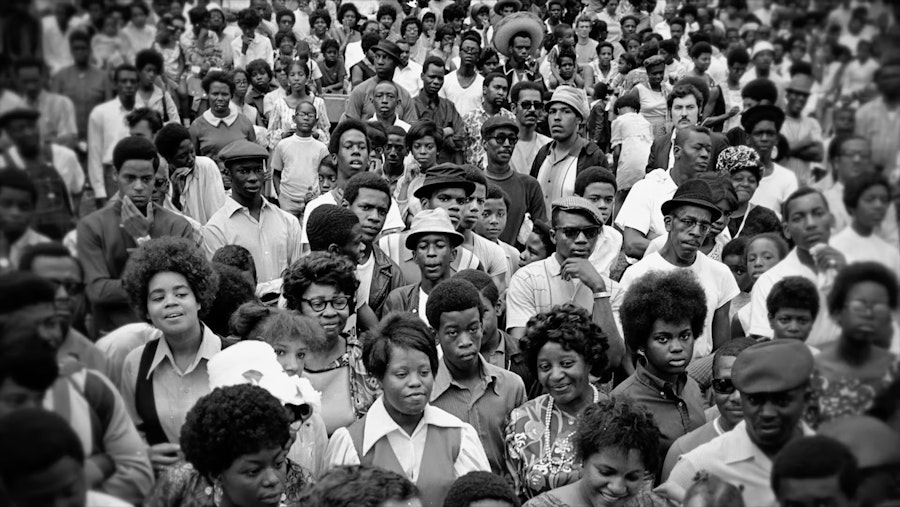 And what if, in my words, the ultimate Wax Poetics heads film found its way into the mainstream? With two 2021 Sundance awards to its name, a combination of streaming (Hulu) and live-screening (752 theaters) displays, and an acquisition (by Hulu and Searchlight Pictures) worth more than $12 million, an amount re-setting the maximum paid out for a documentary film, it just may have.
"Here's the thing," starts Questlove, fresh from a morning's yoga and meditation session with his girlfriend. "I almost treated this film the same way I do album titles. Let me explain. When Rich [Nichols, the Roots' late, longtime manager] was alive, he taught us to think on a triple-layered scale. The best example being album titles. We needed a title that applied to us, the band, a title that applied to the greater hip-hop culture, and we needed a title that applied to the world."
Doing this film, Questlove knew instantly that the attraction to his Summer of Soul would be to "the heads," the psychographic typical to vintage soul, R&B, funk, jazz, disco, and crate digging so smartly integral to the pages of Wax Poetics. "Those circles I'm part of, that I run into regularly no matter what part of the world I am, that was my platinum audience," he says with a laugh. "My gold audience was anyone else from that era, if they were twenty or thirty during the civil rights era and still alive now as grandparents. My silver audience, then, would be my generation—the offspring of baby boomers."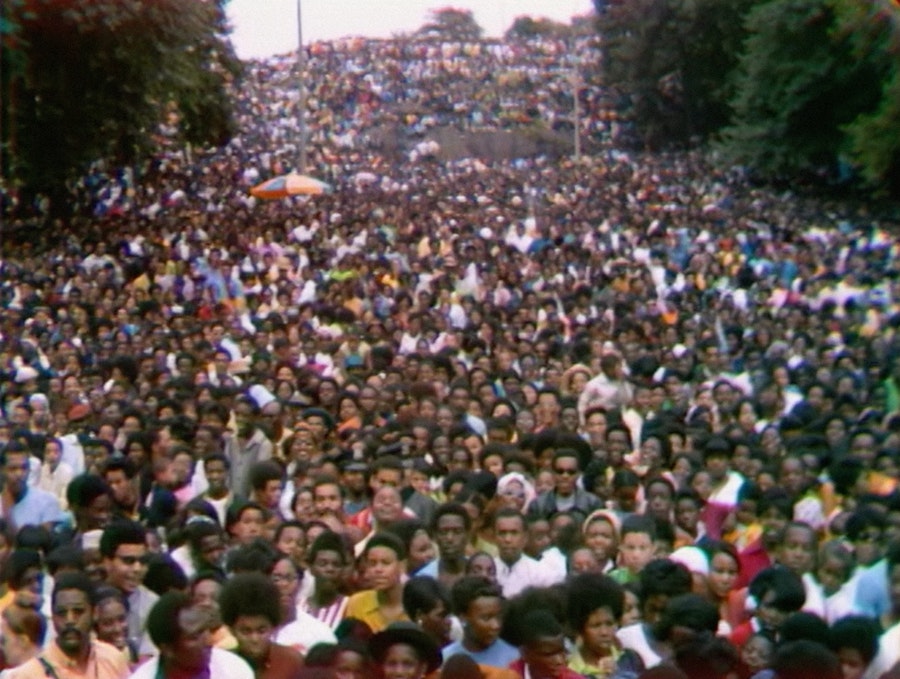 Summer of Soul film stills courtesy of Searchlight Pictures.
Thompson believes that that last audience, the boomers' children, have a different relationship with history than Gen Z or Gen X children. "My girlfriend isn't punishing her kids for listening to Prince by making them listen to John Coltrane like my parents did when I was their age," he says. "Gen X is way more lenient and open to their kids than my parents were to me and my generation. Even if you don't know Sly Stone, you do know 'The Humpty Dance' by Digital Underground, and you do know Tribe Called Quest samples, or Arrested Development's 'People Everyday.' So the extra added bonus is, once you're past Gen X and you're dealing with Gen Z, millennials, they're living through many of the conditions people were living through in 1969—it's part of a day's news cycle. Even if they don't know every name of every act in the film, the feeling and the atmosphere of what was going on back then resonates with them, now. There's still a fight for culture. There's still a fight for human rights. There's still a civil rights struggle for voting and such. It's all the same."
One issue, then, for Thompson regarding the potential mass appeal of Summer of Soul was whether or not to open all the "chambers to culture and politics, then versus now," or to keep it all musical. Pitched as it was to him by the footage's producers in 2017, with the director getting hold of its film stock in 2018, Questlove's first instinct was to stick to the musical side of the Harlem Cultural Fest's ledger.
"For me, Sydney Pollack's Amazing Grace was my North Star," says Questlove, pointing to that director's posthumously released 2018 documentary of Aretha Franklin's 1972 gospel album recording session at the New Temple Missionary Baptist Church in Los Angeles. "I was just going to let it be that. Then, two things happened."
First, Questlove got a look at filmmaker Hal Tulchin's notes from the "Black Woodstock" of 1969. Quest had already been through the forty-plus hours of footage from the Harlem Fest repeatedly, living with them, over and over in some sort of haunting repetitious loop, and discussing the properties of Black performers beyond the music of the time, such as comedians Moms Mabley and George Kirby. A phone call from Hal Tulchin's widow, Janine, changed everything. Tulchin had passed in 2017 at his home in Bronxville, New York.
"Hal's widow informed us that she was leaving their upstate property and, at age ninety-something, isn't really sentimental about stuff. She asked us if we wanted to make one more pass before she left, and trashed what was remaining. We went, and luckily found more than we bargained for, as his main contribution to Summer of Soul, beyond filming the raw footage, was his notes. They helped us tremendously, with names and coworkers."
Three fun facts derived from Tulchin's notes:
One: Aretha Franklin was supposed to play at the Harlem Cultural Festival. 
"She was the eleventh-hour pullout. Via the paperwork, we found out that Aretha Franklin and Mahalia Jackson were supposed to have had the gospel generational moment that Mahalia and Mavis Staples had in the film," notes Questlove of a righteously rousing duet on the sacred treasure (and a favorite of Dr. Martin Luther King) "Precious Lord, Take My Hand." Forty-eight hours before this, Jackson believed her duet would be with Franklin. "A Western Union cable on the Thursday before the show is left behind to tell us the legend. Then there are notes regarding the Staples Singers doing a return set—they are the only act to do two sets during the festival as they were the last-minute fill-in for Aretha."
Two: the Luther Vandross story.
There is a note that Questlove found from a television production outfit that Hal Tulchin used during the Harlem Cultural Festival that "regretfully informs" Tulchin of the fact that they can't shoot the festival's last week. "'If there are any adjustments to make to ensure that your A-list talent went first…' It was that type of warning," recalls the director, "to re-juggle the schedule in order to get the heaviest hitters before the cameras." With that, instead of opening the Harlem Cultural Festival with local acts, its producers decided on closing out the event with everything from the Miss Harlem Beauty Pageant to unknown bands from the New York City area. "We have an idea of what happened through photographs that were taken that week; like women in one-piece bathing suits with interview and talent portions, and, lo and behold, the vocal group Listen My Brother, with a very young Luther Vandross."
Vandross, along with Robin Clark, Carlos Alomar, and Fonzi Thornton were part of the ten-piece-plus Harlem-based ensemble Listen My Brother (written about in Wax Poetics by this author during separate features with Clark, Alomar, and Nile Rodgers about the roots of David Bowie's Young Americans). "What's weirder still is that the show that the camera crew had to shoot during that lost sixth week that they left the festival to do was the pilot for Sesame Street, a debut that Listen My Brother guested on," recalls Questlove.
Three: Jimi Hendrix's request to play the Harlem Cultural Festival was denied.
Jimi Hendrix, like the 5th Dimension, was seeking connection to Black audiences and requested a slot at the Harlem festival. He was rejected. "What winds up happening is that, for several weeks, Hendrix then puts forth that he'll be the after-party for this festival; he really wants to be a part of this," says Questlove. "For the last eight months of his life—and this is really reflected in his music, the whole South Saturn Delta thing—Hendrix is over being the primitive, exotic wild child that his fan base was fetishizing. He was tired of being known for setting his guitars on fire, and wanted to get back to his blues roots. His Black roots." With that, Hendrix presented the Harlem Cultural Festival brain trust with an idea of him teaming with Freddie King for a showcase to do a combo set with the Band of Gypsies and Buddy Miles. "But they turn Jimi away," says Questlove. "There are no notes on the extent of the rejection, whether they thought he was too wild or that, logistically, they just couldn't fit him in. After he was declined, Jimi booked different clubs in Harlem to play, thus marking his first and only gigs in Harlem." One such event which Hendrix headlines (over Maxine Brown and Big Maybelle) at this time is the Harlem Street Fair on 138th Street and Lenox Avenue for the United Block Association, a gig booked by Hendrix friends and activists in the local Ghetto Fighters, and played with his Gypsy Sun and Rainbows ensemble on September 5. By most accounts, the Hendrix gig wasn't great, and the guitarist disbanded Gypsy Sun and Rainbows shortly after the Harlem debacle.
"The more you know," Questlove says, barely restraining a laugh.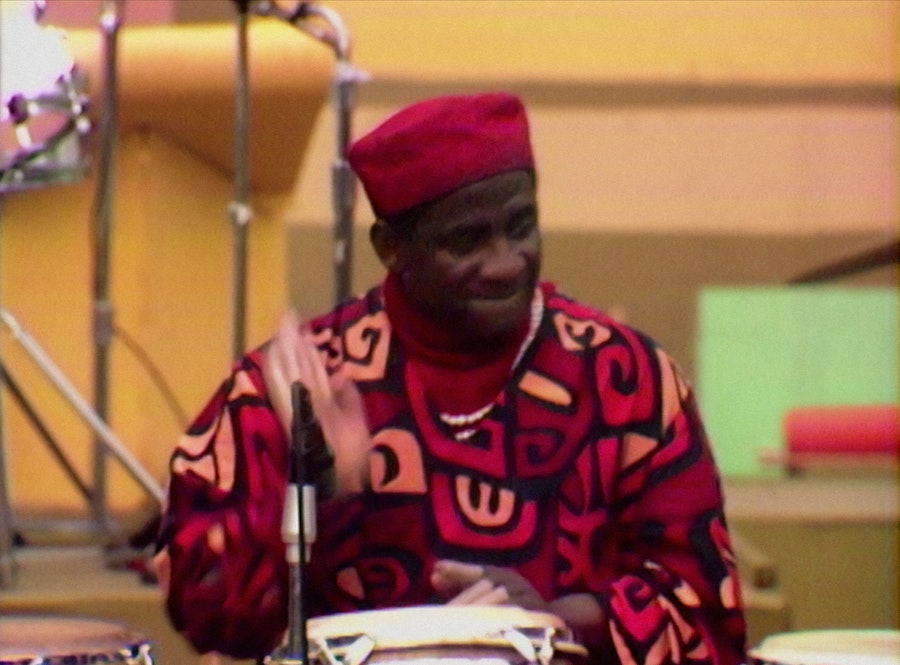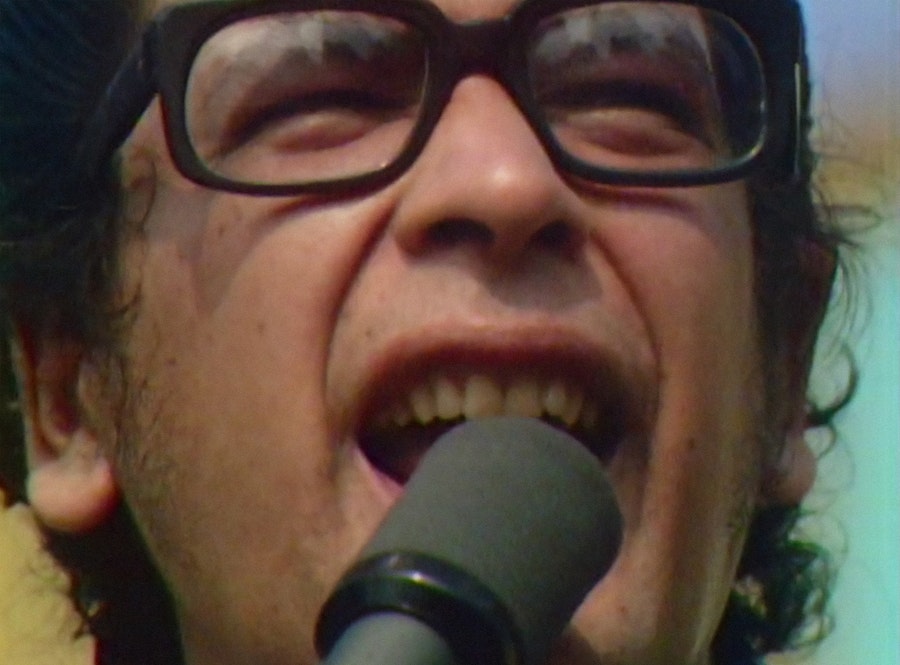 Left with an amazing paper trail of who-did-what, Questlove laughs, in particular, about the event's riders situation—what each band wanted in anticipation of their participation. "That was a whole 'nother situation," he laughs. "To think, I could have had Sly and the Family Stone play my backyard barbecue back then for $2,500." Mahalia Jackson was the most expensive performer back then at $10,000. To see the business arrangements of hotels and their location, the gasoline mileage, and flight receipts ("571 miles from Macon, GA") was a godsend for the music head in Questlove. "That's why and where a second element came into play: a narrative component that allowed you to know the struggles, the civil rights issues—those were crucial," says the director. "But I also wanted you to know the conga techniques of Mongo Santamaria, that he and Ray Barretto were two separate entities, and not just two people sharing Latinx connections. People have a habit of putting all Spanish-speaking people under one umbrella. There was a lot to unpack. The challenge was to smooth that story out."
After beginning the approach to telling its musical storyline as he would his DJ sets, Questlove lived with the material, night and day; for the first five months viewing its footage on twenty-hour loops, no matter where he was in the house or the world. He found goose-bump-inducing moments—at least thirty—and found ways to insert his love into the movie—without inserting himself into the movie—like starting the film with a drum solo.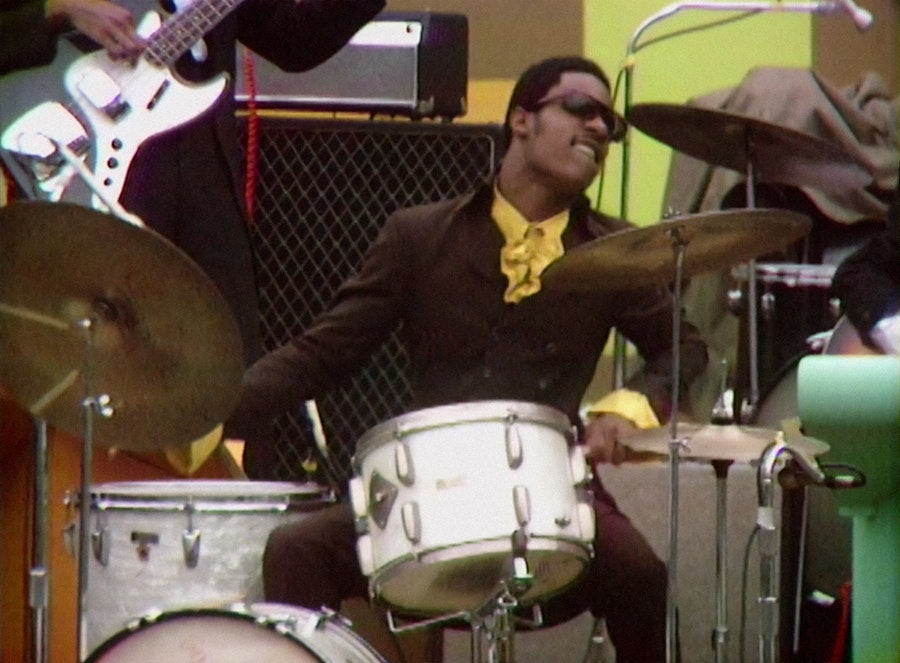 With Thompson becoming concerned about the viability of making his Summer film a visual mixtape, a potentially inconsistent presentation of fifteen, sixteen songs in a row ("maybe if we had the look of consistent weather, that would've helped"), the concept of interviewees who were part of the action came to the fore. In the case of living, once-participating artists, that was simple. When it came to those Harlem dwellers that attended the festival, the challenge became larger.
"On my end," explains Questlove, "I cast a wide net by tweeting and Facebooking for an entire week about [this question]: 'How are you tired of hearing your crazy uncle at Thanksgiving talk about this mythological festival that maybe did or didn't happen? It happened. Let me know.' My Facebook is weird anyway. I keep all older people on it. So I got responses like where their aunt was there, but they never believed her. Musa Jackson was in our first round of responders. But, because he looks so young, I didn't believe him. I thought maybe he responded because it was me, and he wanted just Jimmy Fallon tickets. But he told us everything he knew, information and clips we had not yet put up about the festival. In fact, before we interviewed him, we took down all of the photos and clips. What five-year-old is going to have that insight? Musa did, and regurgitated the whole Harlem festival back to us. Once we showed him the footage, it did him in. Suddenly, as a fifty-seven-year-old, the memories flooded, as did the tears. He didn't know if he would remember it all or if anyone would ever believe him. Look, I got friends who still lie about seeing Michael Jackson on the Victory tour. For Musa, it was like the little boy who cried wolf's exoneration moment. 'I knew I wasn't crazy. This really happened.' And then he started crying. That emotional commentary got me, made me so glad that we decided to do those interviews."
Anyone who has witnessed the quiet storms and simmering funk of Summer of Soul and its epic performances had to slow their roll and be awed by Musa Jackson's emotional response to the memories of his childhood. "Seeing Musa's response made us realize what we had on our hands…the power of the interviews," says Questlove.
Also done in by seeing the raw footage from their Harlem Cultural Festival performance, for the first time, were Marilyn McCoo and Billy Davis Jr., two of the founding members of the 5th Dimension. Beloved by fans of AM radio for their highly harmonic brand of sunny, soulful pop and jazzy post-psychedelic MOR, the 5th Dimension was a Los Angeles–born vocal ensemble. However, the 5th Dimension was originally mostly made up of St. Louis transplants: Davis Jr., Lamonte McLemore, and Ron Townson, with roots respectively in gospel/R&B, photography, and opera. McCoo had moved at the age of seven from Georgia, and Florence LaRue originally hailed from Pennsylvania via Jersey.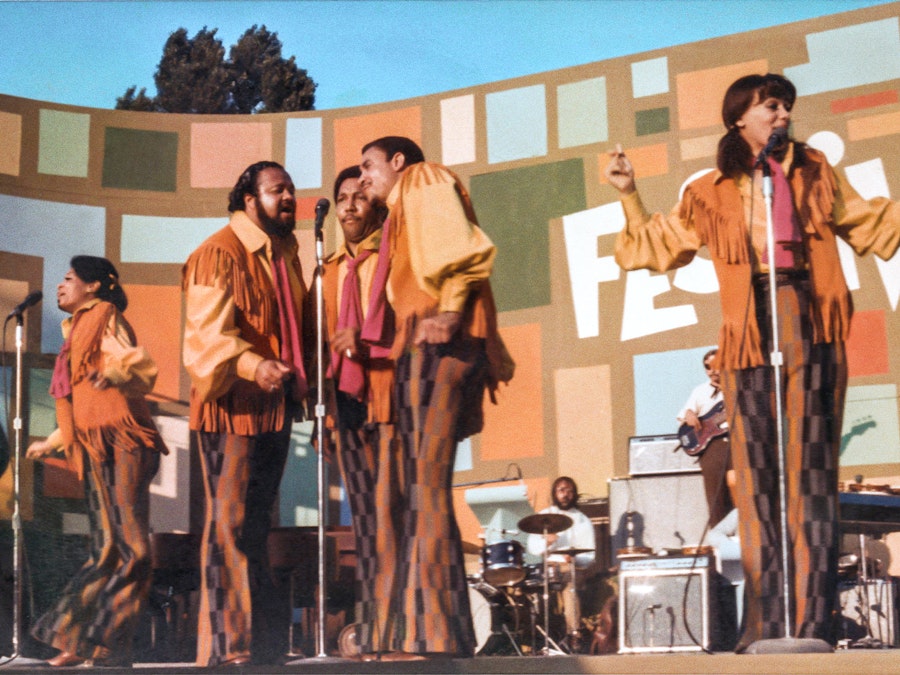 Earlier, the band had changed names from the Hi-Fi's to the Versatiles. After Motown had rejected the Versatiles' demo tape, the group was signed by R&B/pop singer Johnny Rivers for his own brand-new label, Soul City Records, under the recommendation that the band change its name. The 5th Dimension nearly started life as a Black Mamas and the Papas, courtesy of a 1966 cover of Papa pensman John Phillips's "Go Where You Wanna Go," one of the Golden State group's earliest hits. With the aid of producer Bones Howe, the 5th Dimension not only put themselves on the top of the pop charts, but also aligned with some of that era's then-burgeoning classic songwriters as well, such as Jimmy Webb (1967's "Up, Up and Away") and Laura Nyro (1968's "Stoned Soul Picnic," "Sweet Blindness," and 1969's "Wedding Bell Blues"). Along with propelling themselves into the pop cultural stratosphere with their sugary, psychedelic soul medley of "Aquarius/Let the Sunshine In" from the then-controversial Broadway musical Hair, and the tender balladry of Bacharach/David's "One Less Bell to Answer," the 5th Dimension became the province of Vegas nightclubs, family music fairs, and variety show television—all which meant far more recognition and acceptance (and success) from white audiences than they had from Black audiences.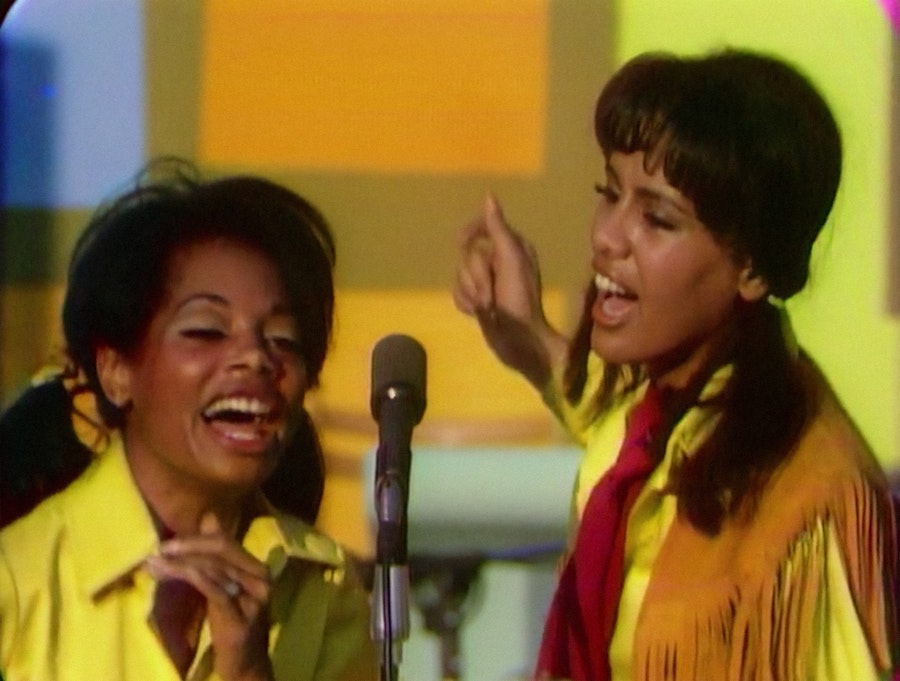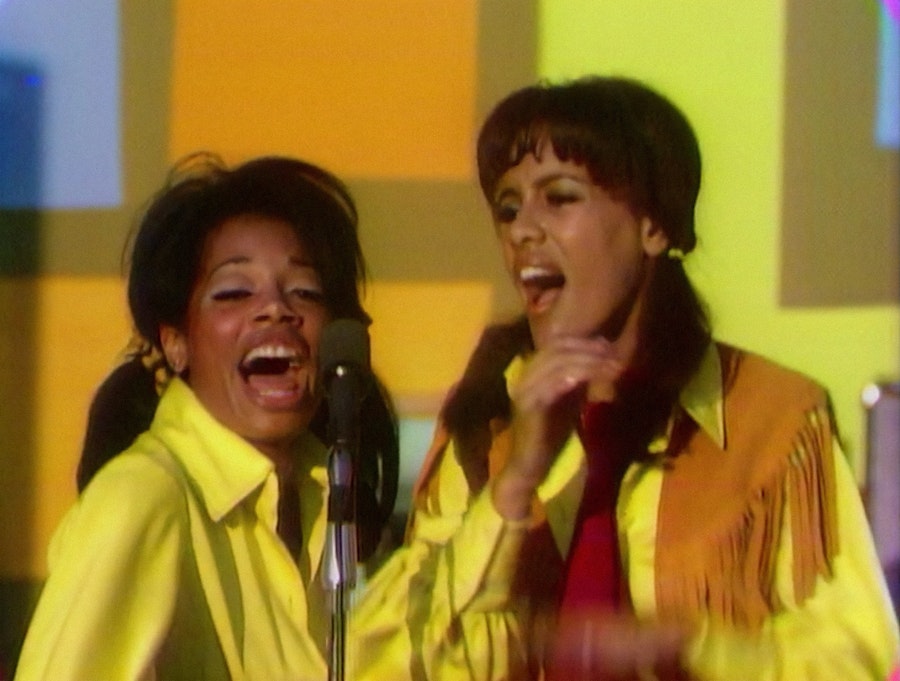 All of this, according to Davis Jr. during his Summer of Soul segment with wife McCoo was a blessing and a curse for the band, and all the more reason that they needed to play the Harlem Cultural Festival—synchronized dance steps, frilly Day-Glo orange-and-yellow matching outfits, and all.
"We got involved with the festival through our management at the time," says Davis Jr. "Since it was in Harlem, we leapt at the opportunity to perform for our folks, as we usually didn't get the chance to get in front of our people at that time. Knowing that they couldn't get to us, we had to get to them. We were excited to do it. And who knew how important it would wind up being years later, in 2021?"
McCoo seconds her husband's emotion. "It was thrilling to play for people in Harlem, who didn't often get a chance to see us perform."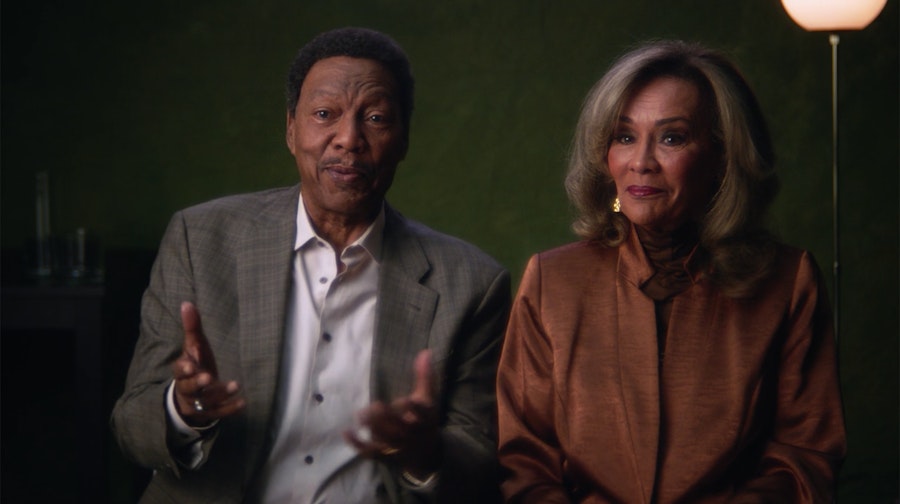 As artists, Davis acknowledges that the 5th Dimension's surrounding roll call of characters involved color-blind casting—what McCoo called "the cream of the crop of songwriters and producers, most of whom just happened to be white"—but that people of the day may have hoped for more Black musical flavoring. "There were those I knew who would have liked us to have covered Motown-like songs, but that wasn't the direction we were going in."
With that, the 5th Dimension in 1969 were both a wildly successful pop act, as well as something of an anachronism, as socially conscious Black Power was on the rise, as was a brand of R&B, funk, and soul less conventional than they. That didn't mean they weren't trying to stretch into the socially conscious when you consider 1970's Portrait, a richly appointed and occasionally radical album that not only featured "One Less Bell to Answer," but Nyro's protest-y "Save the Country," as well as the ten-minute "Medley" of "The Declaration" (the full Declaration of Independence put to music), Sam Cooke's "A Change Is Gonna Come," and the Rascal's "People Gotta Be Free" (written by Felix Cavaliere), combined.
Months previous though, back at the Harlem Cultural Festival, the 5th Dimension were just pleased to be among their fellow African American performers ("It was a real family outing thing backstage, even though there wasn't a lot of room for all of the artists who were participating," says McCoo), including some of Davis Jr.'s relatives. "I didn't know it until I got there, but my cousins were singing as part of the choir in the Edwin Hawkins Singers during 'Oh Happy Day,'" laughs Davis. "But we didn't have even that much time after our set, as we were working that night in Manhattan."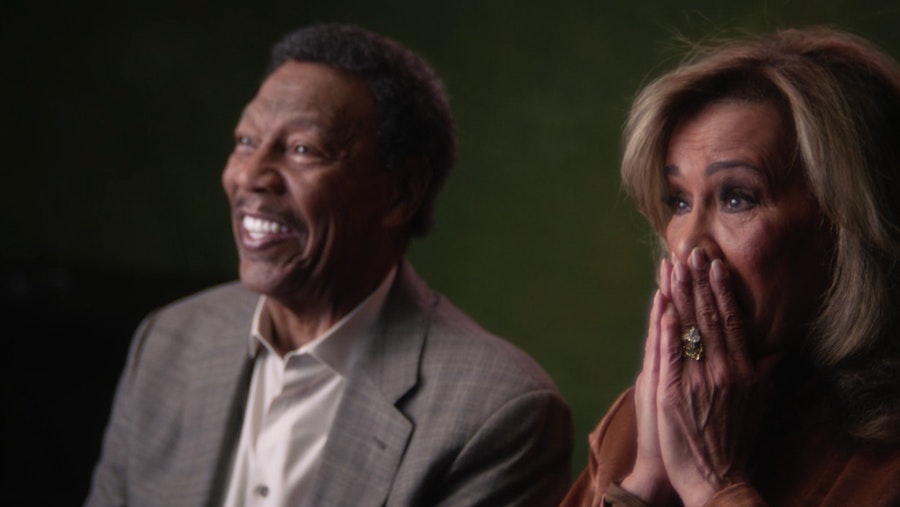 Knowing Questlove to be, in McCoo's words, a "great musical historian," she and Davis Jr. believed a documentary on the Harlem fest had the potential to be "a rich piece of material," and a cathartic one at that, as the 5th Dimension's connections to Black America was always an emotional topic for the married twosome.
McCoo states in the film that the 5th Dimension were constantly being attacked for not being "Black enough." "We were not often performing for Black audiences," she tells me, "because our concert ticket prices were too steep. That surely stopped us from having Black audiences at our shows."
Davis continues McCoo's thought: "It was a pleasure to perform in Harlem, especially since so many people back then thought we were a white act until they saw us on television or in photographs," he says. "The emotions are the same now, watching that concert footage, as they were then—it means the same. It's powerful."
The interviews being the big reveals that they are, packing as much emotional weight as they did, had a profound effect on the shaping of Summer of Soul. "I'll say that the emotional component of the film is something that I wasn't prepared for," says Questlove. "I didn't know it was going to happen; the Barbara Walters question where you know tears are forthcoming. Only in conversation, when the interviewees talk about something poignant is where that feeling comes through."
One emotional trigger moment, at least where McCoo and Davis Jr. were concerned, came through Questlove's recollections of the 5th Dimension that we all had back in the day—a smiling Black singing group "all composed, happy, posh, and sophisticated," Questlove says. "This performance of theirs, however, at the Harlem Cultural Festival was closer to a gospel revival. With the exception of 'Your Love,' which is on one of their solo albums, I never heard Billy Davis go off like he did during that fest, [and] use his raspy gospel baritone." With that, Quest emulates the husky soulful scream, a James Brown sock-it-to-me howl.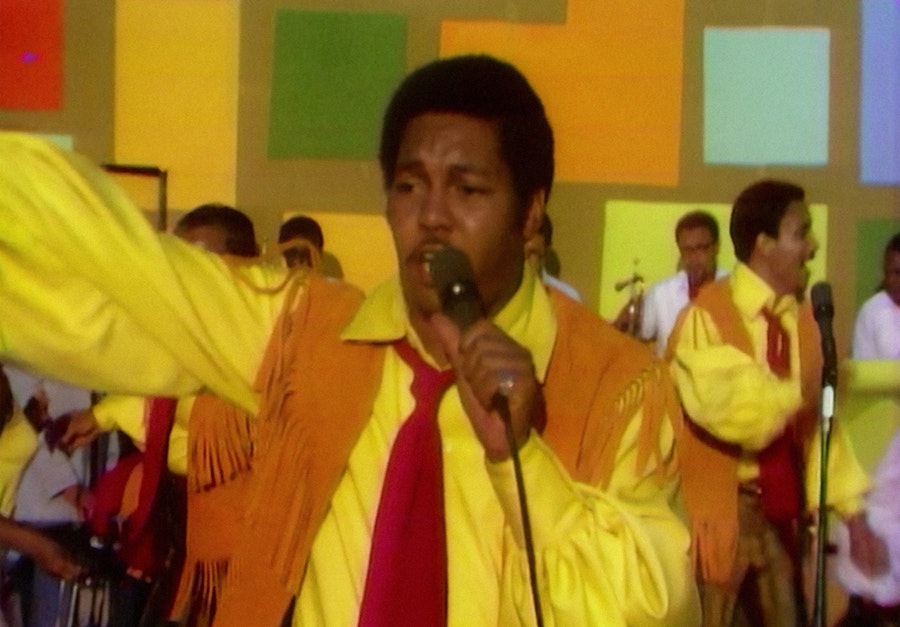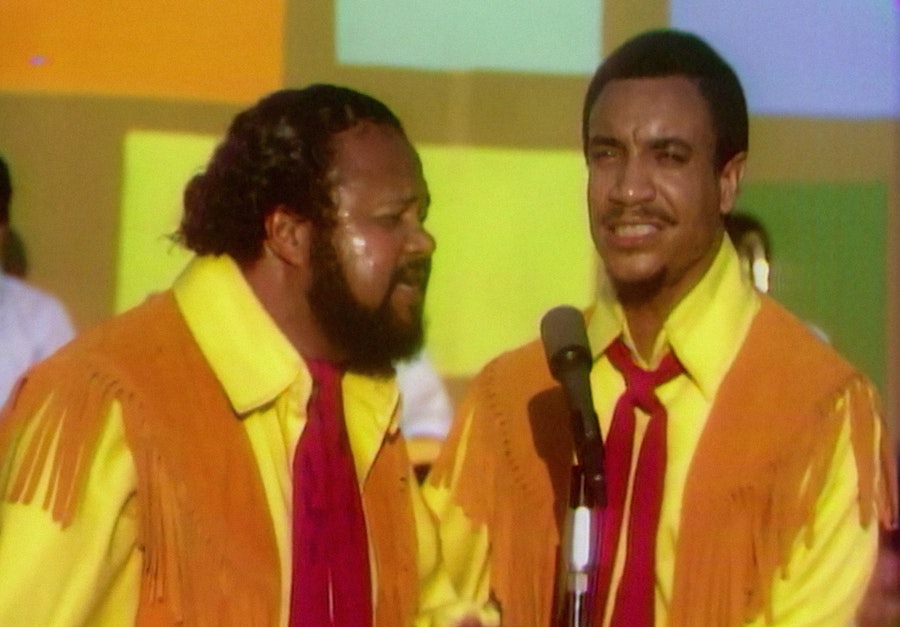 Telling Billy Davis Jr. that he had never heard the 5th Dimension vocalist use his rough, husky gospel register opened the door for Questlove and the married duo. "Suddenly, they let me know about the comfort level they had at being at the Harlem fest, that it wasn't the pressure of being on The Ed Sullivan Show, or the Jack Paar Tonight Show. And with that, I had a Memento moment," Questlove says, comparing his role as a director to that of Christopher Nolan. "Personally, I could relate to that. Black people had to code-switch all the time. Not just in the office space, but even in entertainment. I have to adjust the Roots' show, say, if we're performing with Beck, as opposed to doing a show with Wu-Tang Clan or Erykah Badu. All of my shows could be code-switched, adjusted for wherever we go. They too had to go through that process, and with that pressure. I'll do you one better: David Ruffin playing that Harlem festival, in August, wearing a wool tuxedo, and a coat. Why? Because, back then, you had to be professional even to the detriment of your own comfort. That's what was so radical and amazing about seeing Sly and the Family Stone, there, and the reaction to them—no one had ever seen a Black act not wearing tuxedos, but regular clothes instead, let alone the whole intersectional, multiracial aspects of his band."
As far as his own emotions go, save for using Stevie Wonder's drum solo as the film's start, asking the documentary's first question and his impromptu conversation with Musa Jackson about handing one's history back to the interview subject, Questlove was careful not to overtly insert himself into Summer of Soul's story.
Talking about the singular, musical direction that his Summer of Soul had as its initial trajectory, Quest notes how the fast-acting scourge of COVID-19 helped move the needles and changed the course of events starting with Harry Belafonte.
"Here is a very, very little-known fact; that before the world shut down, we were supposed to go to Belafonte's house to hone in on the story of how Harry Belafonte sponsored Hugh Masekela," says Questlove of the beloved South African jazz trumpeter, who—through Belafonte's urging— left his homeland to take up residence in London for a spell, then subsequently came to the United States. "Belafonte became Hugh's mentor, which was another story we were going to tell during this film. But Harry's interview got shut down due to the pandemic. There was another funny story we were following about how Chuck Jackson (another Harlem Cultural Fest performer) had gotten together with another of our interviewees during the fest—a whole Chuck Jackson angle [was] shut down by the pandemic. We had the Chambers Brothers ready to talk—shut down. There were different angles all over the place closed out by COVID. We had to start all over again when March 15 hit—storyline, interviews. We were sixty percent done, talking about how Harlem was an epicenter for all of this musical and cultural crosscutting. The pandemic hit, however, and suddenly no one was opening their doors for us, especially for those of a certain age. We had to 'Mars landing rover' cameras into Mavis Staples's home, remote-controlling these devices before her, while our crew wore hazmat suits in the hallway. We got knocked down, but figured out how to pivot—and I feel bad for saying this, considering the millions of people, those who died from COVID—in what became the jolt in the arm that we needed to give our film its emotional kick. Until then, I thought this film, after a few focus groups, was going to be for us hip-hop and R&B heads at Wax Poetics."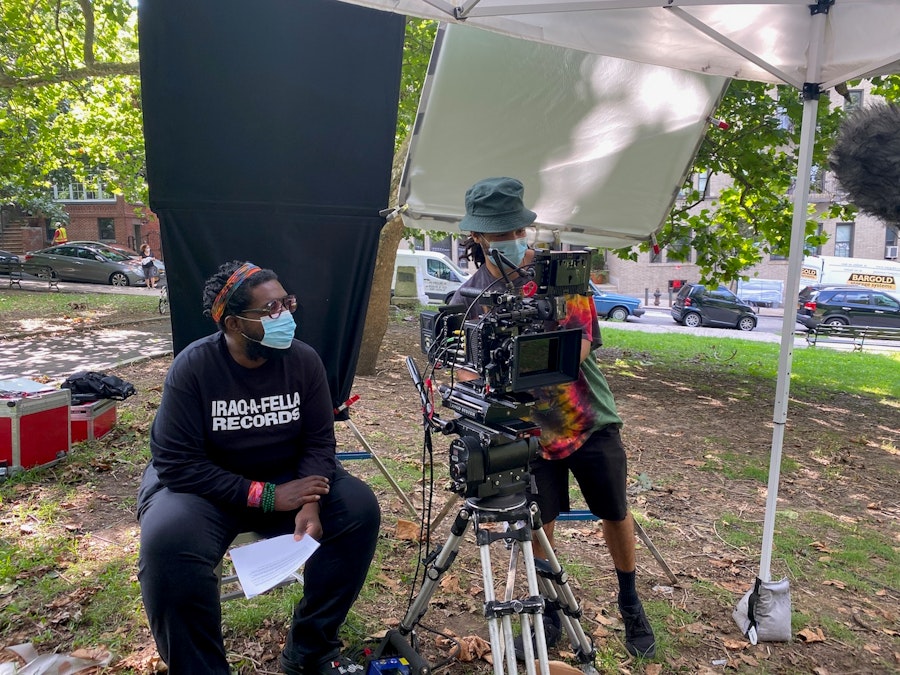 No sooner than the quarantine and anxiety from the spread of the pandemic hit hard came a worse blow; a succession of Black murders at the hands of white police in America leading to protest, civil unrest, and ardent activist calls for social justice across the globe.
"Many conversations were held about capturing the present moment, sending cameras into the streets, and wondering aloud if the actions of the now came from the past, came from ignoring the events of moments that filled our film," says Questlove. "My DJ sensibilities informed my creative direction as to where this movie had to go. Whenever I was in the dark as to whether I could tell a story, or how to tell it, the creative process and the curatorial process I use for DJ sets and shows became my go-to strategy."
As Quest's DJ sets are usually crafted backwards, with a part of them being geared toward a point of discovery ("People love that; here's the sample, and here's the hip-hop part"), he is used to an instant-recognition factor among the crowd. "People love feeling smart, and hate a know-it-all," he laughs. "The same thing is true of this movie. We could have spelled everything out, and pointed to how, sixty years later, Black Lives Matter is happening. 'This is all just like us now.' So there was no need to be Captain Obvious. We weighed every option, and decided that there was no need for filming in the present day."
The past then speaks for the present in Summer of Soul—racially, socially, culturally, and politically—with the lion's share of the film's edit locked down by July 2020, with but a few open spots left for final filming (a planned Stevie Wonder interview), clearances (a lengthy wait for CBS News to allow the use of Apollo 11 moon landing footage), and a handful of questions to survey.
"We didn't know who our president would be or how the election would turn out at that point. The question mark of what the election results would be, the faith in the process, was fragile. This was a Hail Mary, not the same thing as when we knew Obama was coming into office after the Bush years. We didn't know if we would be alive or if our principal people would be alive or not—one did pass away...one of Edwin Hawkins's people. We didn't know who our studio or our distributor would turn out to be. We had a hope and a drive to make it, that this film would be ready just in time for the world to open back up—the first day of freedom—making it the 'feel-good movie of the year.' That 'flux capacitor' moment."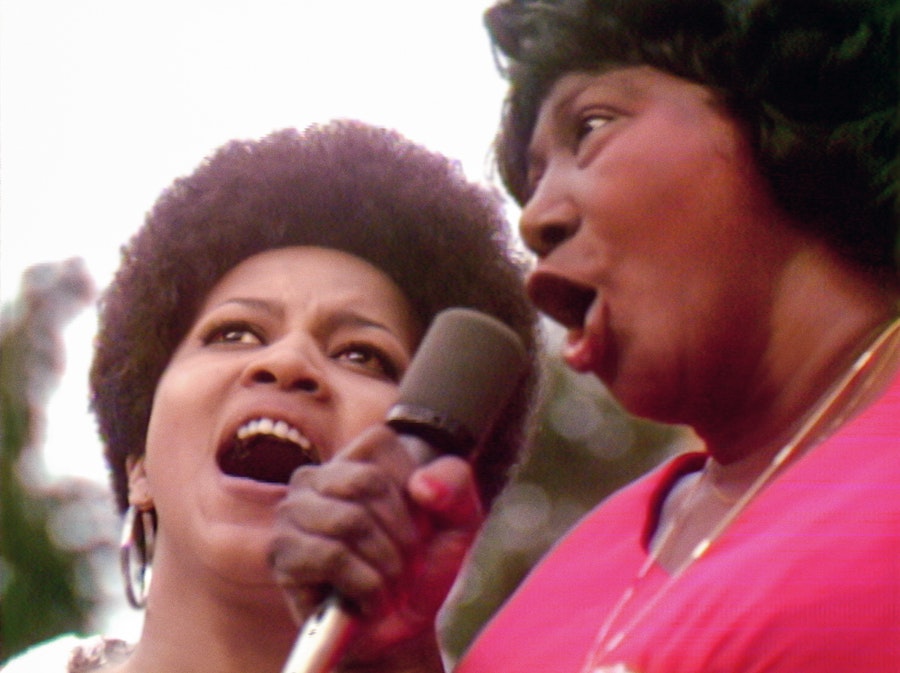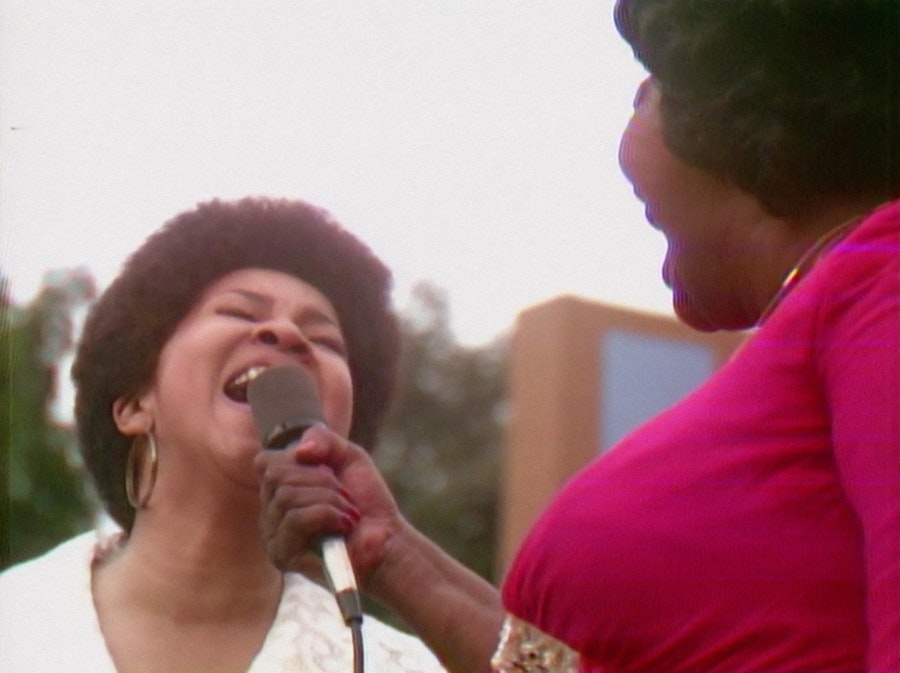 Socio-politics and the power of Black Protest also creeps into Summer of Soul when you consider the film's original climax; not that of Nina Simone's incendiary brand of activist gospel, but the literally sacred screed and "Kumbaya" spirit of Mahalia Jackson and Mavis Staples.
"So, as a first-time driver, there's a lot of concern about transferring my creativity to another medium," says Questlove. "There's a confidence and a know-how and an unabashed, uninterrupted stream of creative consciousness happening on, say, records I do as the Roots or with D'Angelo that I am wide open to. Something I'm not used to—i.e., directing a movie—you walk on eggshells. You avoid land mines." With that, Questlove encouraged his producers to forget about wounding his ego and be brutally frank about every aspect of his directorial debut, in order to avoid any "amateur hour" scenarios. "If there was something better, let me know," he says he told them.
Along with a first draft clocking in at three hours and twenty-five minutes came an ending featuring Mahalia and Mavis doing their feel-good best during their holy duet, segued immediately into a rabble-rousing take on "We Shall Overcome." That zero-to-one-hundred gospel-overdrive moment also added fire to the brimstone in Questlove's eyes: "An ending for your ass," he says with a laugh, "one where you could see the credits rolling."
Producer Joe Patel thought the first draft's ending was good, but not quite enough regarding the times we live in at present. "I dropped that first draft on the producers right around the time that the New York City BLM protests started," recalls Questlove. "What was different about New York, and what would subsequently happen in Beverly Hills, was like [this]: unlike the Rodney King riots where they only happened in the inner city, the 2020 protests came to your neighborhood. So there was an even deeper fear in the air, and all happening in real time."
Recognizing that the Hollywood "Kumbaya" finale from this first edit might not meet the moment, Patel provoked Questlove with a push to move beyond a cool, calm peaceful protest approach and toward a hot-button civil-unrest view; essentially to "take into effect the fact that we're now living in Black Panthers times," states Questlove. "The fact that we didn't know what or where we would be next in the world, that uncertainty, gave way to a new ending. See, my generation is more touchy-feely, Martin Luther King–'peace, my brother' types, wherein millennials are closer to Black Panthers in thought. It's like how I program shows for the Roots, where I take the encore from the last tour and make that into the first song of the next tour. Taking Mavis and Mahalia from the end and putting them in the middle is a genuine climax, which forces you to come up with a stronger ending."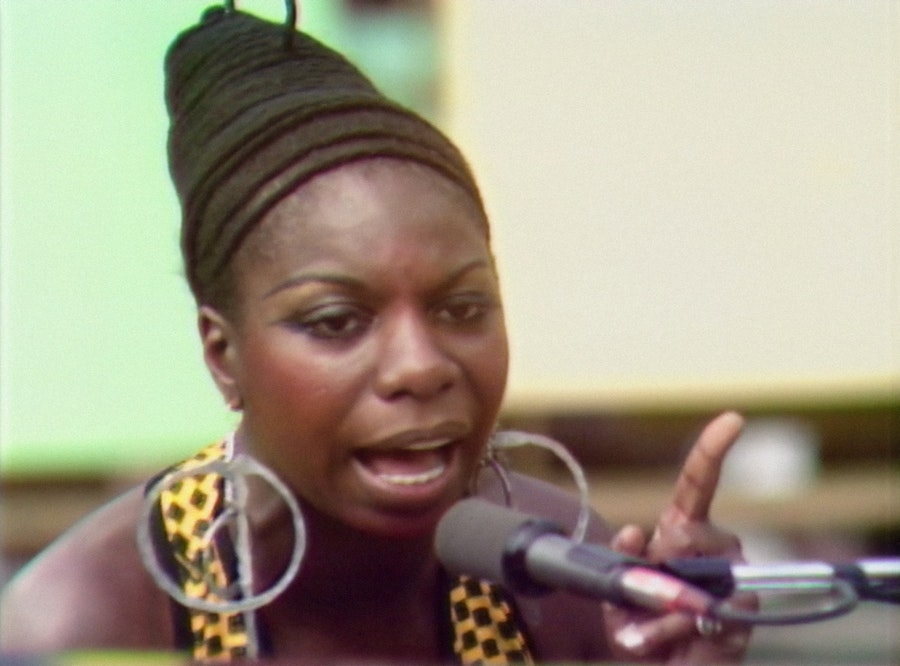 Questlove toyed with a few endings—a Stevie song, a loud, proud Sly and the Family Stone moment ("Technically, Sly does get the very last word in the film, so…"). But that gravelly, raw, silken voice of Simone's imploring the Harlem crowd, entreating them with "Are you ready, Black people… Are you ready to listen to all the beautiful Black voices, the beautiful Black feelings, the beautiful Black waves moving in beautiful air? Are you ready, Black people? Are you ready?"
Questlove claims that a moment as such felt like a middle finger, felt like a Black fist, felt like a foot stomp. "It was two handclaps, dusting off your hands after being done with the trash. It felt way better. Her forty-five-minute set was the hardest to dismantle, because it was the most astounding—I wish I could have left 'Four Women' in there. This was the beginning of her activism. She was tired of singing 'My Baby Just Cares for Me,' and 'Porgy,' and her lounge stuff. This was the start of her harnessing her superpowers, telling us all how the fuck she really felt. That discovery…man."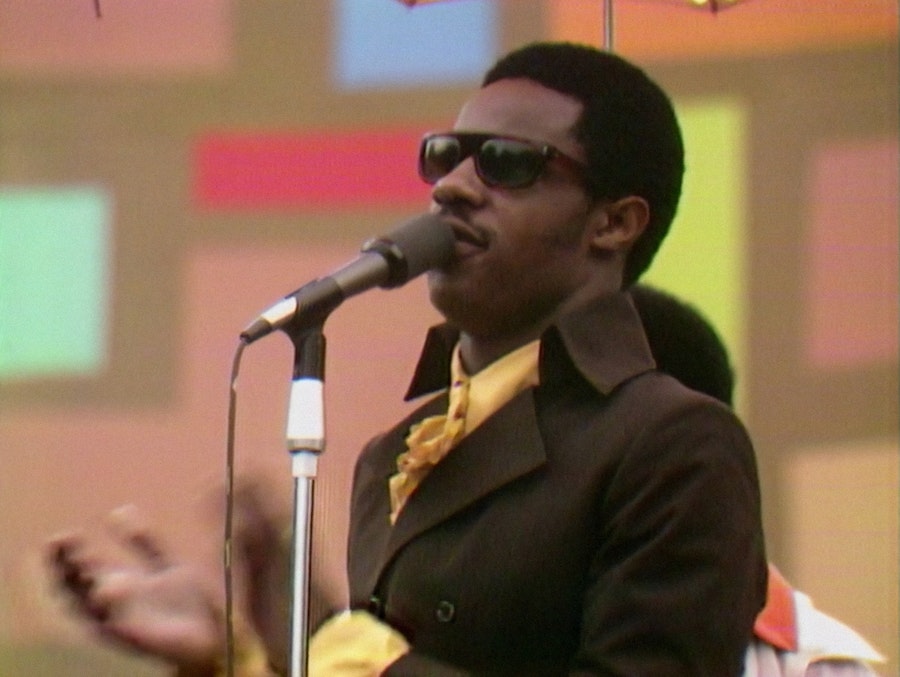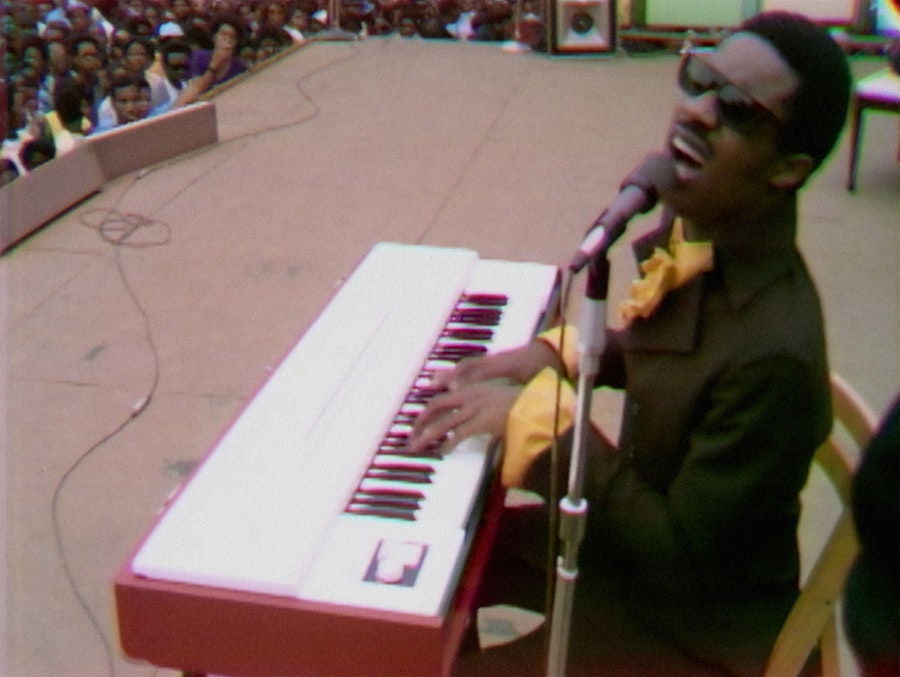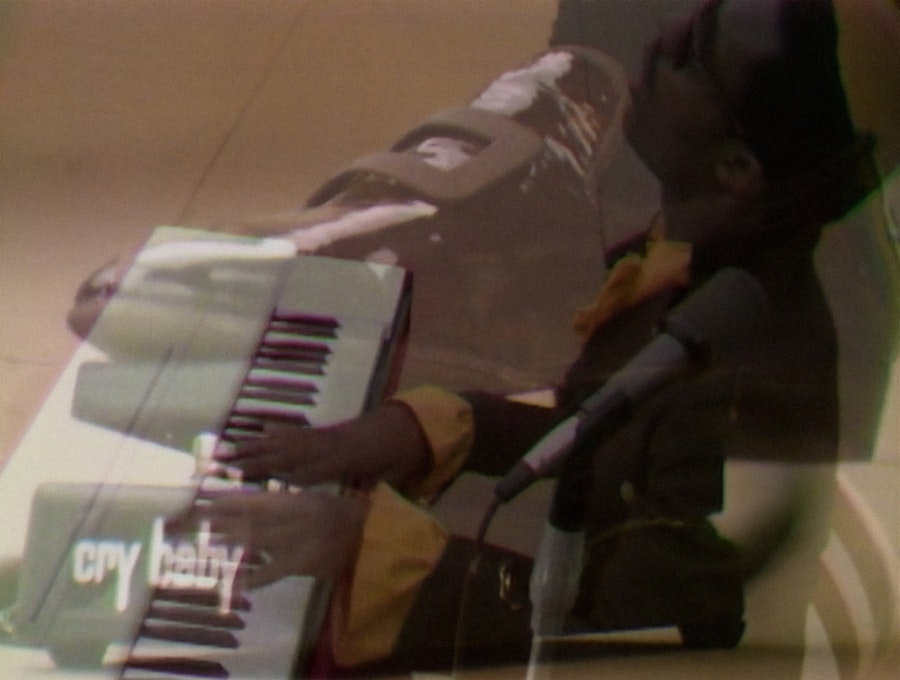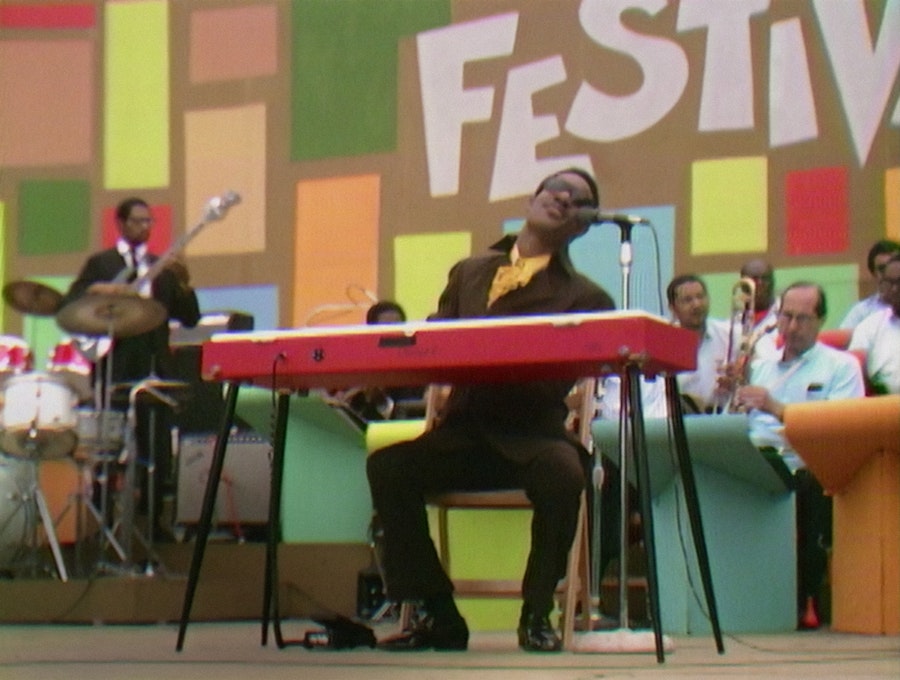 Other discoveries of the Harlem Cultural Festival—or the ones that made it into Summer of Soul, at least—stem from live showcases that gave the director goose bumps, as opposed to more popular choices, which meant placing avant-garde blues guitarist Sonny Sharrock in the documentary mix, rather than, say, another Stevie Wonder hit of the day. That meant, in the director's estimation, missing out on "no less than four interpolations of 'Oh Happy Day' and five interpretations of 'Light My Fire,'" jokes Questlove. "That meant missing out on union musicians losing their sheet music on the windiest of days, comedians such as Pigmeat Markham, George Kirby, and Moms Mabley. That meant cutting the Chambers Brothers doing a seventeen-minute version of 'Time,' three vintage Maxwell House commercials, and the glut of Stevie Wonder's interview—you got two minutes, but, we have like two hours of him talking about Motown, talking about how Berry Gordy hired Raymond Scott to build three grand synthesizers for Stevie until he discovered [synth duo] Tonto's Expanding Head Band, and set the seeds of the future... Getting these huge [TONTO] synthesizers on the stage... A side story where the nineteen-year-old Stevie knew what he wanted, but didn't know how to get it all out; a lot of technical stuff similar to how Shelia E. was talking about the mechanics and difference in conga players. We, the Wax Poetics heads, would have gotten off on that stuff." (And for the record, though the "Captain Obvious" answer to whom Quest would have most loved jamming with during the Harlem fest is Stevie Wonder, the drummer's druthers would've most been satisfied playing with B.B. King: "He and his band were on fire that day.")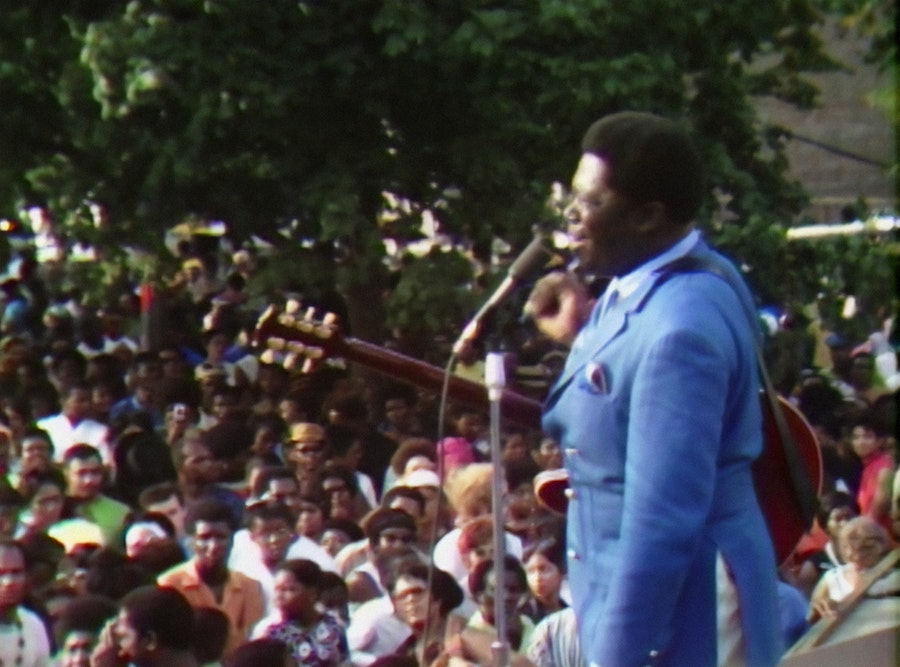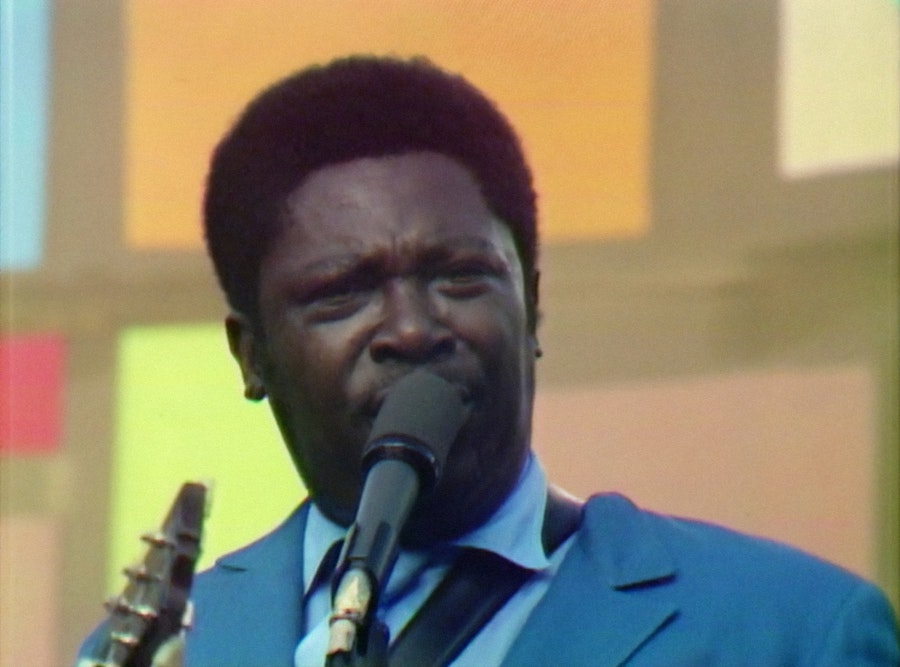 There is no way that Questlove could have gotten to any discovery—Nina, Stevie, or otherwise—if he didn't consider his own homegrown festival past; not just his self-created and curated Philadelphia-based Roots Picnic where new friends (Common, Erykah Badu) and old favorites (Public Enemy, Snoop Dogg) play to his hometown's multiracial audiences, but the legendary festivals of his youth, such as WDAS's Unity Day, centered around the City of Brotherly Love's principal Black-music and culture-driven AM and FM station.
How a Philadelphia background fed into an understanding of a Harlem festival keyed into some of Questlove's initial doubts, like those of a drummer taking on a film director's chair for the first time. "The trepidations I had about getting involved, the many snowballs and smoke bombs I was lobbing out of the car window to distract the car coming after me…that started with me not even being from Harlem. I knew someone would call me a fraud, or 'not even one of us,'" he says, laughing, seeking excuses to not make Summer of Soul.
"Once I got past that, what most intrigued me, was the background of the fest; the riders, how they managed to only use fifteen microphones for the event—I still can't figure that out; how twelve microphones plus three mics on Stevie's drum set could be so powerful, so crisp, and pristine. In the mix, we did little to no sweeping. The live sound was so potent, that, in the film this is the dry rough mix, the reference [you're hearing]!" he exclaims. "Amazing, right? That's the million-dollar question: how could that audio be so pristine? I asked the Roots' production manager how many mics we use for our eleven people, and he said '103 mics'… I had to go to the Roots' manager and look at our paperwork to compare and contrast with theirs, and how they organized a festival. The headache we have now, as opposed to the past of the Harlem Fest, an over-the-top rider request back then was that Stevie Wonder might want a nap, so could the organizers please supply a white couch in his trailer. Really? Bottled water was big on their rider, then. No per diems. Going through all that, though, reminded me how I played many of these festivals across the Northeast during my childhood."
Questlove then brings up his father, the legendary R&B singer Lee Andrews Thompson who, as Lee Andrews, not only led the 1950s doo-wop vocal group the Hearts, but would eventually lead a family-based ensemble that included Ahmir's mother, Jacquelin Thompson, sister Donn T, and, by age seven, Ahmir playing drums.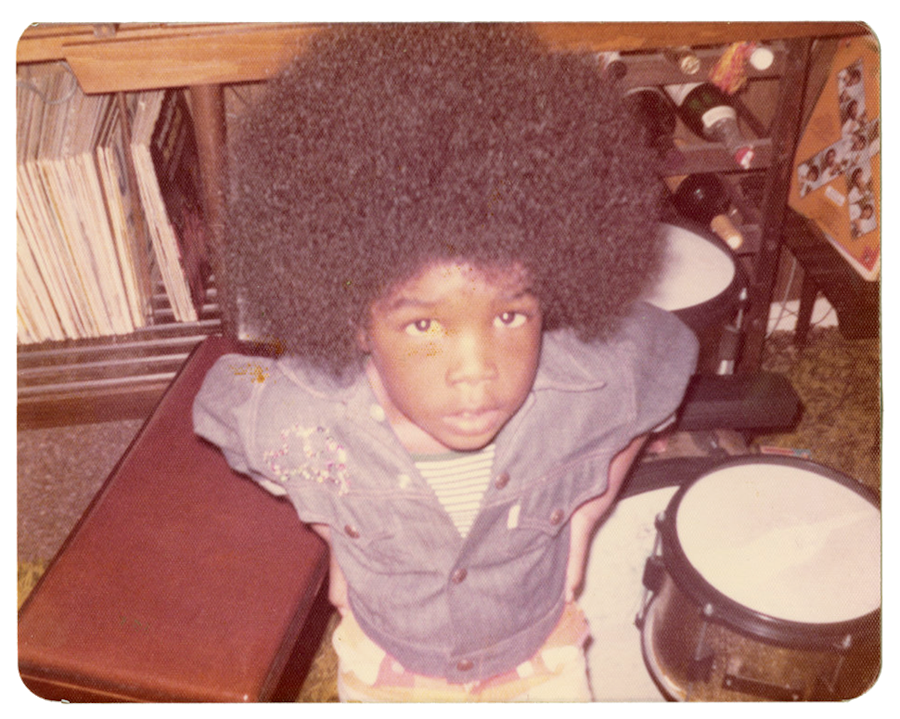 "There's a period between 1983 and 1987 where Lee Andrews and the Hearts is playing festivals like Bronx Day, and other block parties," muses Questlove. "I'm glad I was young in that moment, grew up during that period, and played professionally when I was a kid. Because even [with] an established, Grammy Award–winning résumé, I'm going to lose sleep if the Roots are playing a gig that is not our demographic. But my dad, whose initial era was the 1950s, was driving to the Bronx to play a block party in the mid- to late '80s. I'm certain that if it was the 'me' of the day, I'd imagine that the bookers might want Taylor Dayne or Mantronix or some freestyle dance music, like Information Society, and not some oldies group. It's like me doing a DJ gig and having kids think that I'm going to play a host of trap records. The parents might know Double XX Posse, but the kids won't. I want to know, in advance, who I'm going to face on the firing squad. I wonder what my dad thought about doing a bunch of these gigs. Because I realize with that, that growing up, I played many Harlem Cultural Festival–like gigs with my dad throughout his years. To me, playing these street fests meant getting money to buy a new bike and some vinyl. Did he think like I worry about feeling today? In his mind, was he facing a crowd that may not have known or recognized him—or what he represented—and did that make him feel like a relic? Or not? Doing this film instantly took me back to the ages of twelve to sixteen, playing these faceless street festivals in Hartford, Connecticut, or West Virginia, a lot of weird places. Then again, the Roots left America for Europe in 1993 to play the festivals, to learn festivals. Once it was Things Fall Apart time, and we came home, there was a discussion about coming back wiser and older, and what made us [more] sophisticated than our Philly contemporaries at that time. We learned the art of the jam session and the concept of the festival."
While the concept of making their own Glastonbury has informed the Roots Picnic since its 2008 start ("I'm a Simpsons nerd, so my goal for fame wasn't a boat or a house for my mom, but throwing my own Homerfest"), the personalized feel for festival life and block party affairs that Questlove went through in his youth gives Summer of Soul's look at the Harlem Cultural Fest something poignant and lived in, a feel for the road that another director might have missed.
How that close-to-the-edit feel for his subject matter affects Questlove's next cinematic work, a focused look into the life, love, triumphs, and disasters of Sly Stone, with and without the Family Stone, is what the Roots man is coming onto. Questlove, however, in this, the 2021 Summer of Soul—beyond its screening and streaming successes—is still left with questions unanswered in regard to his take on the 1969 Harlem Cultural Fest, the last of which will precede his upcoming documentary.
"I have three important questions that remain, the first being where the hell is Tony Lawrence?" asks the director about the man who not only put together, organized, booked, promoted, and emceed the Harlem Cultural Festival. Additionally, Lawrence got the space, found a sponsor in Maxwell House Coffee, and connected his festival with an advocate in John Lindsey, the then-Mayor of New York City. "We looked. And I am resigned to the fact that we may never find that out."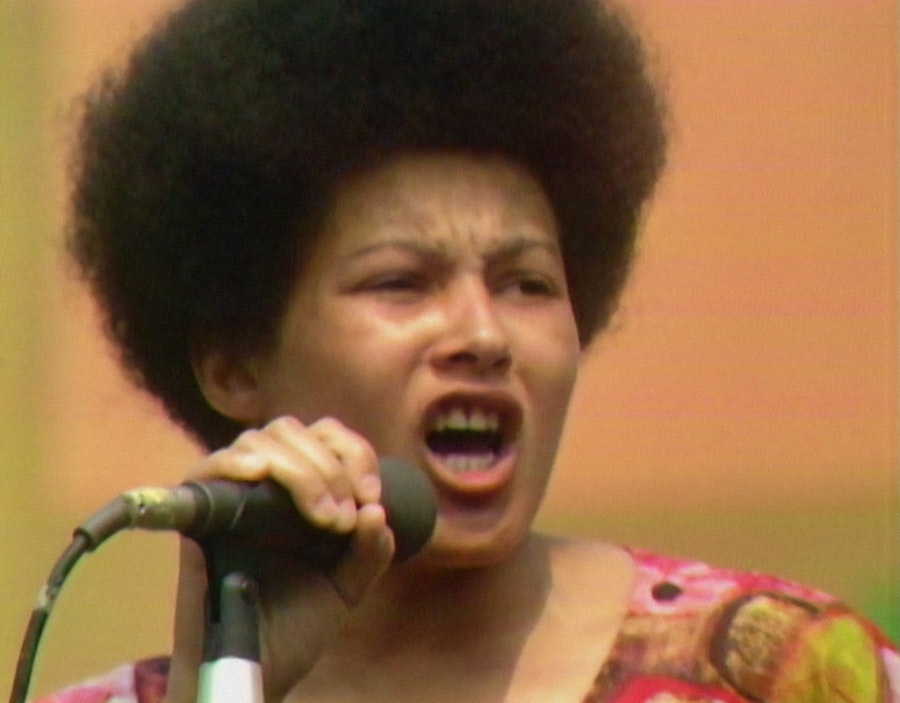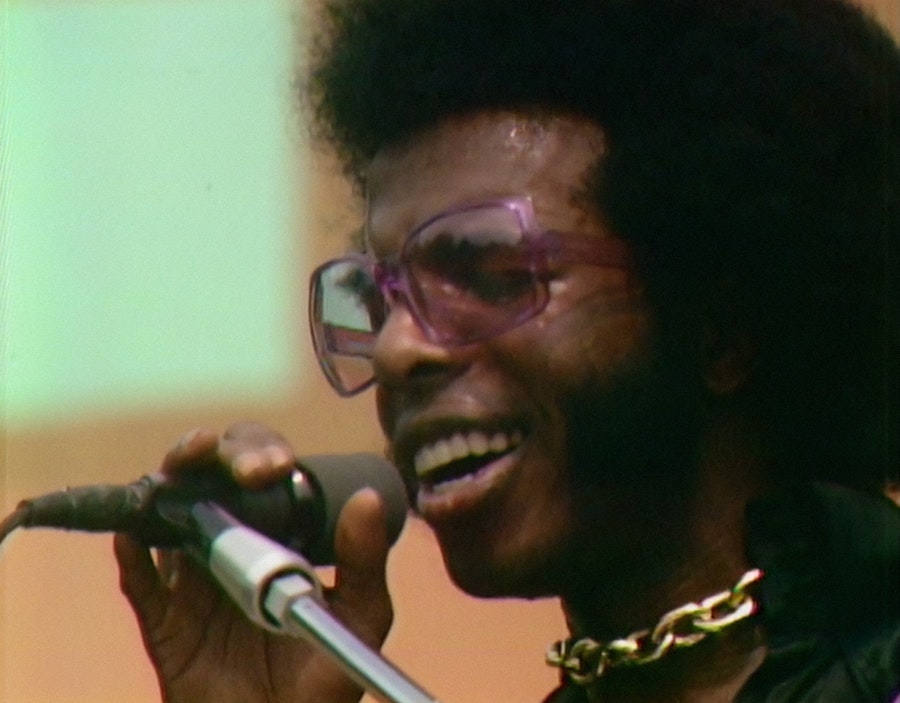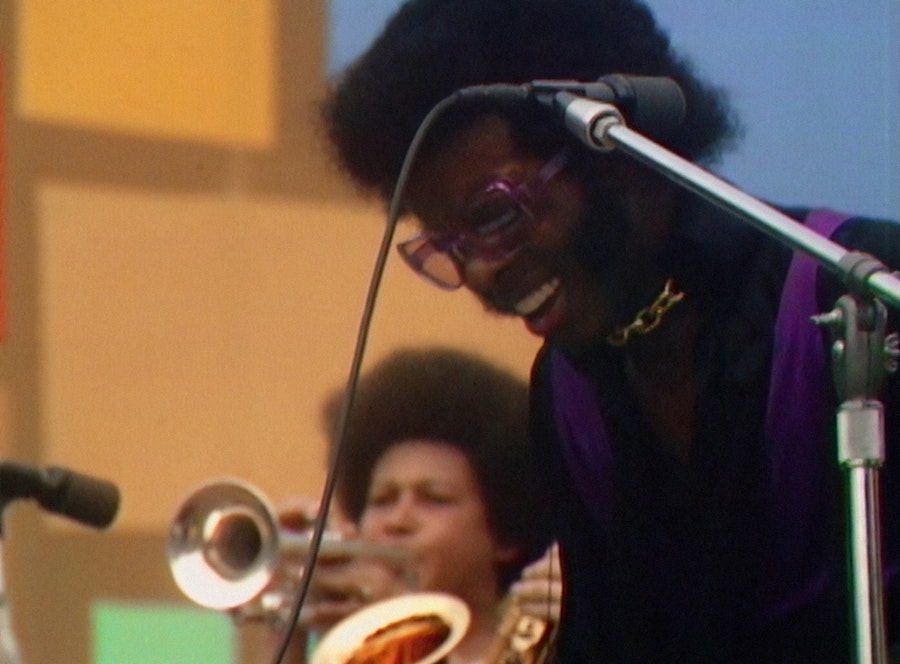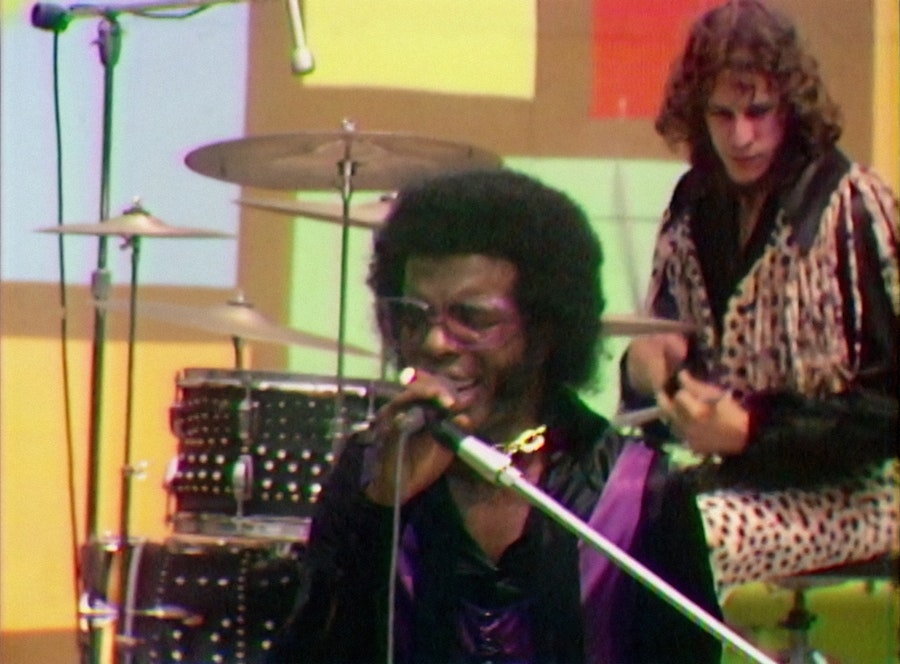 Secondly, knowing that penultimate episodes of a television series are truly a program's end with a brisk finale leaving room for a cliffhanger, Questlove's fascination with the next-to-the-last-thing brings us to Sly Stone.
"For me, even though I know that the Harlem Cultural Festival is the beginning of the moment that Sly had been waiting for and working for with four genius albums under his belt up to this point—but still underappreciated—he had the power to become a household name," says Questlove. "We both know that Woodstock is going to turn him into that household name. These two weeks, the time between the Harlem Fest and Woodstock, are the two most crucial in his professional life. The events of these fourteen days are going to make him into a superstar. But was it worth it? What happened to him from August 1969 until 1971 to change him forever? I mean, I'm one of the few people you will meet who has a glass-half-empty feeling about There's a Riot Goin' On. Is it his best album? I think so. Funk music. Drum machines. Every recording technique we're still using now. Check. Is it my favorite? No. Because it is too painful to listen to—that being the sound of someone acting out, crying for help. Riot Goin' On is the sound of someone falling on his sword for our entertainment—like people pulling out their camera phones, now, if they stop by a car crash with a family strapped inside. We're recording, but no one is running to the car to help them. What a conflicted feeling."
Ahmir continues, "This should have been his victory lap. His version of cool was not about being a part of the system; what you leave out and not what you bring in. And the challenge of my film on him is that I don't want to do the tragic genius, child-prodigy-that-had-it-all-becomes-a-junkie story that we've seen done on him countless times before. There's a bigger story: if I can figure out the Sly Stone Rubik's Cube, maybe I can figure out why Marvin Gaye had his problems. Then you look at every troubled artist that comes after. There's a common denominator with the people on the left side of us, the geniuses. Maybe then I can find why this one took ten years between albums, and that one died at age forty-six. What happens when you take an alternative thinker, put them in a business environment, and expect them to be creative? There's a lot to uncover, and Common and John Legend's Freedom Road Productions have the rights to Sly's story and brought me in as a director to tell Sly's tales. Look, a lot of our stories are just never humanized, and we place so much pressure on artists. Maybe now, my inside baseball expertise can help the situation—something I didn't have, yet, with Summer of Soul. And this is just the beginning—the purple stretch of land on the Monopoly board. I've got like six, seven more projects coming that you're going to be like, 'How did Quest get those?' Trust me, we're going to be talking."
And, though a blessing for him, Questlove's third and final big question is why the Harlem Cultural Festival never got an extended airing prior to 2021 (save a couple regional broadcasts of excerpts on television at the time, and later licensed footage like some of the Nina footage in What Happened, Miss Simone?), and why it was never held in the same esteem as was Woodstock, a festival not so epic and critically beloved immediately following the New York state fest, but forever has loomed large—and made money—in the public's consciousness. "Why was this not broadcast before this? How was no one organized enough to get this out? This is the first time I'm seeing a lot of questions being asked, let alone answered—like how is it we never talked about the mental health of Black people before the present day? We never really spoke of Black erasure. It used to be called 'cultural appropriation' and the problems were draped in slang, so you could never see the hurt or the heart of what the problem was. Be it TikTok content, or a festival like this one in Harlem, I can tell you one thing: this is not the only story of its kind out there. The most shocking thing I have learned in the last three weeks comes from professors at universities, via DMs, that there was this show or this festival where they shot twenty hours' worth of footage that is just laying around, unscathed and unaired. Just think, if Prince has been able to see a film of the Harlem Cultural Festival in the same way he wanted to see, and was able to see, the Woodstock concert film with his father in 1970, who knows what could have been. We know from his memoir, The Beautiful Ones, that the Woodstock experience left a lasting impression on him. What if he had seen Summer of Soul instead?"
Perhaps, then, Summer of Soul can be an entry point or a sea change where documenting Black culture and Black art is the norm, and gets out. "Whether it is content on Twitter or festivals in Harlem, it is important to document and present our history," Questlove says. "The process is normally to talk about something for three months, then forget about it. For me, I didn't come up wanting to be a director. Now, however, I am obsessed more than ever about telling our stories, about correcting the history, and never forgetting our best artists."