It was an overlooked song by one of the more underrated rappers of his generation, and it was a masterpiece.
It was the first time on wax that a rapper had weaved together a narrative as gritty as a Donald Goines novel. It was a tale of heartbreak, deceit, and revenge. In fact, the main character could've been a vixen straight out of a Goines book. At the height of the message-rap era, one guy decided to do it his way.
Before Scarface, Biggie, Tupac, Kool G Rap, and Slick Rick took us on cinematic lyrical journeys, there was Spoonie Gee. Before L.L. Cool J, Snoop, Too Short, Big Daddy Kane, or anyone else who would make a claim to being a mack, player, or a pimp on a rap record, there was the "cold-crushing lover" named Spoonie Gee who composed slick narratives about cruising down the street in a new Mercedes SL, meeting fly girls, and doin' the "wild thing."
In a conversational tone, which was unheard of at that time, Spoonie told stories that would make Jody the Grinder, the mythical bad man of blues legends, smile. He was cool before Rakim even touched a microphone, and had mastered the art of lyrical seduction before a teenage Todd Smith rapped "I Need Love."

In a career that spanned from 1979 to 1987, he authored the classic recordings "Spoonin' Rap," "Love Rap," "The Big Beat," "Take It Off," "Spoonie's Back," "Monster Jam," "Survival," "That's My Style," "Mighty Mike Tyson," "You Ain't Just a Fool," and "The Godfather." And it all started on an obscure label called Sound of New York and with an intro that will forever be a part of hip-hop history: "You say one for the trouble, two for the time, come on, y'all, let's rock the…"
The Harlem that Gabriel Jackson was born into is different now. "Harlem was Harlem back then," he tells me in a phone interview. Indeed. "Regentrification" has drastically changed the face of the place that poets and writers like Langston Hughes and James Baldwin once wrote about so vividly. But when Spoonie was growing up there, "It was the hustling times, when the real gangsters were out, the real hustlers," he says. 
"Man, he was a real Harlem dude," writer Barry Michael Cooper tells me about Spoonie in a phone interview from his home in Baltimore, Maryland. Also a Harlem native, Cooper wrote the movies New Jack City, Above the Rim, and Sugar Hill and is no stranger to the streets that drug lords with names like Bumpy Johnson, Frank Lucas, Goldfinger, Freddie Myers, and Nicky Barnes haunted almost a lifetime ago. "He walked the streets without fear," Cooper says, certifying Spoonie's street cred. 
In the early '80s, Cooper was a reporter and music critic for the Village Voice who covered everything from the infamous Larry Davis case to the latest 12-inch record release by up-and-coming rap acts. While Cooper was in the middle of covering all of these new and exciting singles, the music bug bit him hard and inspired him to buy equipment and write and record his own songs. Along the way, he ran into and befriended one of the hottest MCs of the time, Spoonie Gee.
"We used to eat at a joint called M&G's [Diner]," remembers Cooper. "M&G's is still on 125th Street, but the weird thing about it is that it used to be on the other side of the block. Spoonie used to eat there every day. And he would flirt with this Jamaican woman; she had the biggest breasts I've ever seen in my life. He would always order grits, fried salami, and wheat toast or something like that, and scrambled eggs. And we would sit in there and talk. And he's not a big talker. Even back then, he didn't talk a lot. All I knew about him, and all he would volunteer in terms of action over words, was that whatever he did in Harlem, whoever he ran with, he was respected, man. Nobody ever came at that kid crazy. No one said a word out of place to him. He had mad respect on the street."
Respect and honoring the hustler's code were common themes in Cooper's movie. Be it Nino Brown in New Jack City or Roemello Skuggs in Sugar Hill, Cooper brought the cold, hard streets to life in his stories: "I knew about this, the respect issue, because growing up in Harlem in my little time getting high, I had one foot in the Schomburg Library and the other on 123rd Street in building 136, buying me a bag of 'Black' or some 'Improved' or some 'Red Devil Dust' or some 'Busy Bee Dust' or whatever. If there was a drought there, I'd go down to 'Dust City' on 112th Street.
"My main thing back in them days was being an observer," Cooper continues. "Unbeknownst to me at the time, I was making mental notes for New Jack City and all this other stuff I would go on to write, 'cause I was out there. To speak on someone getting street respect, I'm not saying that out of a vacuum. The way Spoonie carried himself, the way he dressed, he was the embodiment of Harlem. I remember this guy used to wear the trench coats and mocknecks and the jeans with the slants and some Italian shoes. He wasn't wearin' British Walkers; he was goin' downtown to get his shoes, man. He was real Harlem in the way he carried himself."
"I grew up on 123rd between Seventh and Eighth [avenues]," Spoonie tells me. "If you went to Seventh Ave. and looked around, you'd see nothing but pimps and big-time drug dealers and stuff like that, so I seen a lot of that as I was growing up. As far as gangs and all of that, there wasn't none of that. You had the Black Panthers when I was growing up. When you had a beef back then, it was a one-on-one thing. If you won, you won. If you lost, you lost. There wasn't no going home to get a gun or a knife or none of that. It was straight up, you know?
"I used to see the hustlers," Spoonie continues, "and look at them and see the cars they drove. [I was] a kid, you know. I admired some of the things that they had, but I never looked up to them or nothing like that, and [I never] said, 'I wanna be like that.' I just used to admire their cars. And they had a lot of women, you know. I like women. I love them, as a matter of fact."
It was his love of women, fly girls as they were called back then, that was his main and, some could argue, only subject. He called himself the "cold-crushing lover," a title that he said he just "made up one day." It actually wasn't until the subject of women came up in our conversation that he truly came to life. "Yo, I used to have a phone book that I had all the broads' numbers in," he says. "I was knockin' them off left and right, for real. I was knockin' them off one by one." And then he pauses and says in almost a mumble of a voice, "I was a smooth cat back then. I used to call one, she'd come over; when that one left, I got the next one. That's how it was. I had more energy back then. I was younger. I was pullin' girls everywhere I went. It didn't make a difference: it could be the store, the laundromat. I pulled a broad at the laundromat while I was washing my clothes, for real…it didn't matter," he says with a slight laugh.
Spoonie came up in Harlem in what could be called a special time. Right on 125th Street is the Apollo Theater. When Spoonie was coming up, R&B legends like Jackie Wilson and James Brown used to play there on a regular basis. Spoonie was raised by his uncle, Bobby Robinson, who owned the recently closed record store Bobby's Happy House, one of the first Black-owned businesses on 125th Street. But Robinson is better known as the guy behind Enjoy Records. Before recording Spoonie, the Furious Five, the Funky Four, and his son Ronnie's group, the Disco Four, Robinson recorded the late King Curtis, Elmore James, Gladys Knight and the Pips, Lee Dorsey, and the Shirelles.
As much as Spoonie loved rhythm and blues, he was not a singer. He found his calling when he heard the godfather of rap, DJ Hollywood. He doesn't remember where or when he first heard Hollywood, only that it was on a tape. It made a big enough impression on him that he started writing rhymes soon after. One of the first rhymes he wrote was put to wax on "Spoonin' Rap": "I was driving down the street on a stormy night, I said up ahead was a terrible fright. There was a big fine lady, she was crossing the street, she had a box with the disco beat…" He laughs a little while rapping it to me over the phone.
But aside from his rhymes about being a "smooth talker and a midnight stalker," Spoonie had depth. On the record "Spoonie's Back," over studio band Wood, Brass and Steel's funky remake of James Brown's "Funky President," he showed a quality never before heard on a rap record: a sensitive side. 
She was a lady who lived in the past,
Whose life I thought would always last.
She'd wipe my tears when I used to cry,
Made me feel better when I thought I would die.
Helped pick me up,
When I felt so down,
Put a smile on my face,
In the place of a frown.
She took care of me from date of birth, 
And if it wasn't for her,
I wouldn't be on earth.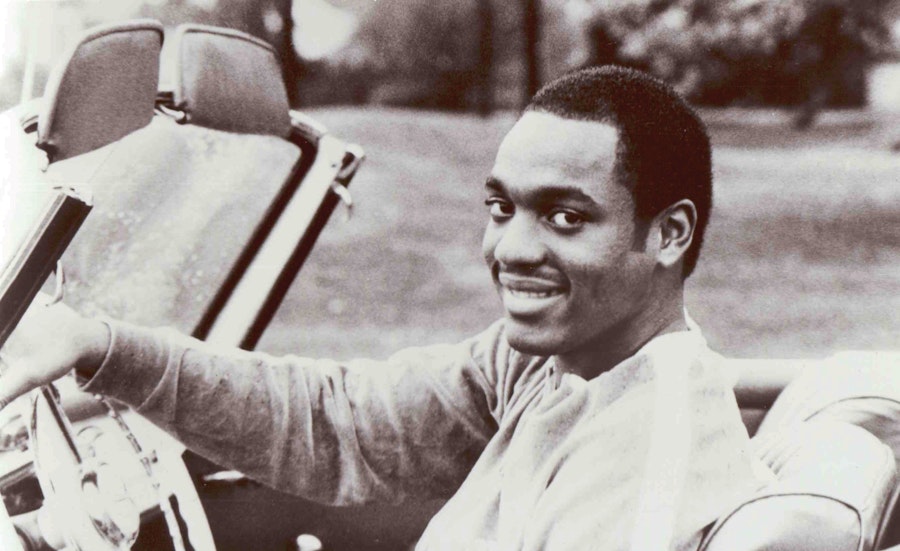 When I ask about the inspiration behind the song "Street Girl," Spoonie responds simply, "I used to see girls like that. I used to just see things, and I would write about them. It was easy for me to do. I'd see the lifestyle."
Barry Michael Cooper remembers Spoonie as being an observer who "knew Harlem and the streets intimately. When this guy spoke, you knew he was speaking from experience, and when he related these things that happened, you could tell if he didn't experience it personally, then he was an observer. He may have even been a participant observer; you would never know, because back in that day, you had discretion. You didn't speak on that like that. You didn't glorify it like that."
Spoonie tells me that the song "wasn't about one person; there were a lot of different things that inspired it."
"But was it based on a true story?" I ask.
He raps the hook to himself real quick in an effort to remember the song. "Street Girl," he says to himself as the memory of the melody came back to him. "Somewhat," he replies.
I know of one, somebody's son,
Who's on the run, 'cause of what she done.
She met this man at a birthday party,
Nice, kindhearted, never hurt nobody.
They became friends and later on lovers,
Met each other's mothers, fathers, sisters, and brothers.
Became very close, only on his part,
Not knowing that soon she would break his heart.
A very nice guy, but she thought he was weak,
Well, she panned his pockets seven days a week.
Until she got it all, every dime he had,
Till she got in the wind and left the man sad.
It was plain to see, but hard to believe
That the woman he loved had tricks up his sleeve.
He'd think to himself, Oh, what a mistake.
What he thought was real turned out to be fake.
It wasn't the way that the girl had him believe,
So deep down inside, he just wanted to get even....
"Tell me what or who inspired this story," I implore him.
"Let me tell you somethin'," Spoonie says with the cool demeanor of a street-hardened veteran. "Okay, you got girls that date drug dealers, right? Like, say a dude, he got a package or something, right, and the girl will get close to him. And one day, she'll rock him to sleep and take his money—and the package, and he's gotta be accountable for that. That was the type of thing that used to happen. Now he gotta account for that. He can't account for it, so he gotta go on the run. Or girls that mess with two dudes, you know he'd get mad, because she'd mess with another guy, and he'd go and do something to that other guy. Now he gotta be accountable for that. It just so happens that the dude that he did was a guy that was down with a crew, or whatever have you, you know? So now he gotta get on the run. So there's a lot of different things I was talking about."
He called her up by disguising the fact,
'Cause if she knew he was mad,
She would never come back.
She answered the phone,
Sweet words came out his mouth,
Somehow he convinced her to come to his house.
He hung up the phone, lay down on the bed,
And crazy thoughts started running through his head.
The doorbell rang, and he answered the door.
She said, "What did you wanna see me for?"
He said, "Come in, baby," and gave her a kiss.
And then he got real close and took the girl like this.
And after that you didn't hear one word,
Two shots from a gun is all you heard."
The last verse of the song has not been equaled by any rapper of any generation. It's at once insightful, sad, poetic, and cinematic. Barry Michael Cooper summed it up the best by asking: "If it wasn't for 'Street Girl,' would Tupac have recorded 'Brenda's Got a Baby'?" 
With the rose in my hand, I went to her grave,
Hoping to God that the girl had been saved.
Though my eyes was wet,
And my heart was lead,
I fell on my knees, and this is what I said:
"Some win at life, and some get defeated,
Still, ya gotta treat others like you wanna be treated.
Short, tall, medium, fat, bald, skinny,
She planned the game on one too many."
"I used to go to church, man," Spoonie says to me in a serious tone. "If you ain't saved when you die, you going to hell. That's where I was coming from. 'With a rose in my hand, I went to the grave, hoping to God that the girl had been saved.' If she ain't saved, she's going to hell," Spoonie says, carefully emphasizing his point.
It's no secret that Spoonie has led a hard life. But what I never understood as a fan was how a man who recorded so many great records didn't have as prolific a career as his peers Kool Moe Dee, Melle Mel, and Kurtis Blow, all of whom he equaled in talent. Taking a moment to reflect on his life, Spoonie concludes, "I don't know, man. I had a good career and all, but I think it just wasn't meant to be, you know?"