For Björn Wagner of Bacao Rhythm & Steel Band, it was the YouTube comments and Wikipedia entries that inspired an ongoing secrecy around his band's origins. He did not intend to be heralded as the original steel drummer for 50 Cent's 2003 hit single "P.I.M.P." In fact, he was giving full copyright credit to 50 Cent, but the internet felt otherwise.
"There were big discussions like, 'That's the original,' and 'The original is really great and hip-hop is not music,' and it kind of scared me," Wagner says.
Originally released as a 45 on Wagner's Mocambo imprint in 2008, his "P.I.M.P." cover was intentionally vague, with only a silhouette of Trinidad on the label and the language "all rights reserved." The B-side was merely handstamped "VERSION." Wagner wasn't trying to fool the world that he was the originator of the steel-drums sample. It was more about trying a different sound outside of his traditional funk band. The Wikipedia page for the 50 Cent single has since been amended.
Wagner, a musician from Hamburg, Germany, and founding member of the funk outfit the Mighty Mocambos, says the original intention of the cover was innocent: "I was just doing it for the DJs."
To this day, "Doing it for the DJs" remains the mantra for Bacao Rhythm & Steel Band, as their collection of 45s covering hip-hop, funk, jazz funk, and R&B has become a staple of DJ sets looking to switch it up to an island vibe still familiar to popular music listeners. BRSB signed to Big Crown and reissued the "P.I.M.P." 45 in 2014 (temporarily under Truth & Soul Records) and again in 2016, along with being the label's first artist with their album 55. The mysteriousness of the group has somewhat faded, but the 45s remain coveted collector's items with steel-pan renditions of Faith Evans's "Love Like This," the Jackson 5's "Great to Be Here" (the sample source of the Biggie breakdown on Puff Daddy's "All About the Benjamins"), and Dr. Dre's "Xxplosive."
Wagner has traveled extensively in the Caribbean, and as he heard and collected steel-pan records, he realized the covers were part of the tradition. "They replay Fela Kuti, or the Meters, or Stevie Wonder, or whoever," he says. "Even back in the '70s, they would rarely write a downright funky tune for a steel band or small steel orchestra."
Bacao Rhythm & Steel Band is born from that tradition and expands upon it by infusing a rhythm section that gives their covers more low end. An addition that is ripe for interpolating hip-hop. The group's 2021 full-length Expansions features funky steel-pan covers of Jay-Z's "Dirt Off Your Shoulder," Nas's "Represent," the Dilla-produced Slum Village banger "Raise It Up," and Mtume's "Juicy Fruit" (a bonus track not on the LP). For the headier types, there's steel-pan versions of Galt MacDermot's "Space," which was the foundation of Busta Rhymes' "Woo-Hah!! Got You All in Check," and Ramsey Lewis's "Les Fleurs."
But, Expansions also hints of a future direction for BRSB that Wagner feels compelled to explore. The group covers moodier songs like Sylvester's "I Need Somebody to Love Tonight," which was written by Patrick Cowley. It's a darker, spacier proto-electro direction for the band. Wagner envisions getting beyond the hip-hop covers and exploring the cosmic ranges of techno or disco. He's explored disco with his side project Magic Source, but there's still more he sees for BRSB. A vision beyond the joyous carnival sound of steel pan. He offers hints of this direction in his selections below.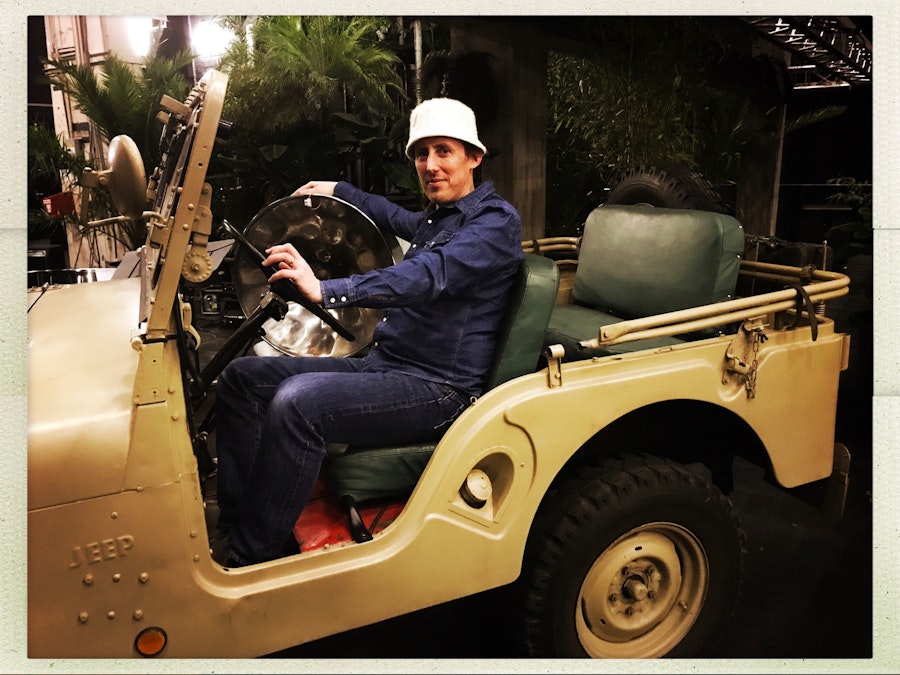 Lever Brothers Gay Flamingoes
Secrets of the Pan (Antillana) 1973
The version of "Black Man's Cry" by Fela Kuti that's on there is insane. It's like a marathon of eight minutes. That was really telling me that steel bands did funk, or at least one did. I just needed to find out what's going on there. I knew steel bands. I knew funk bands back then. But this is still for me, one of the most killer, like…it's all in there.
I've been on holiday in the Caribbean before I discovered this record. I found steel bands lovely and beautiful. It's all calypso. You can feel a rhythm going on and it's all happy. But this one is proper Afrobeat playing on steel drum.
Adolf Noise
EP 1: Wunden, S. Beine Offen (Plattenmeister) 1996
Do you mind if I tell you about nerdy stuff from my hometown? Maybe you know DJ Koze? On this project he called himself Adolf Noise, which is kind of like tongue in cheek. It's a totally weird mix of beats and soundscapes and spoken word from television. It's a mixtape. It's really a record that's unique and something I'd listen to when I was a kid, because it came from my hometown. It's just snippets from words from radio, TV, and just blended together. It's very nerdy, but very beautiful.
Isaac Hayes
Tough Guys: Music from the Soundtrack of the Paramount Release Three Tough Guys (Enterprise) 1974
I've listened to it so many times. Actually, funny story: I've heard that these are pretty rare. In Europe, at least. A friend told me that here in Hamburg there was a pallet of a thousand of these, all cut at the same plant. They just came here. Everyone I know got Tough Guys at the record fair for five euros, or I got Tough Guys from a record store for five euros. All the guys from south of Germany would be like, "Why in the north do you all have copies of Tough Guys?"
One day, I found out there was a pallet coming from Enterprise Records or Stax and the remaining stock was shipped directly to Germany. And everyone just ended up with it. When I go to other countries or read on Discogs, you pay your normal price, but here everyone's got it because it just fell off a ship.
Ramsey Lewis
Maiden Voyage (Chess) 1968
I'm not even a piano player, but it's just relaxing to me to listen to Ramsey play. Why should I even play piano if I can just listen to this record? I have to admit that I did ["Les Fleurs"] after the Minnie Riperton version. Apart from "Les Fleurs," I like his style of playing; very '68 soul jazz, piano kind of thing. Just easy grooves with a break here and there. This is just good music.
Funkadelic
Cosmic Slop (Westbound) 1973
I listened to this album when I was young like many, many guitar players out there. Others go for Maggot Brain or the Parliament ones, but this is my album. There's no style that's not on there. There's country, there's psychedelic. There's proper funk. There's comedy. I love this album. It's so diverse and there's so many moods.
Mos Def
Black on Both Sides: Instrumentals (Rawkus) 1999
For the hip-hop side of things. I quickly pulled out the instrumentals of Mos Def. I have to admit, apart from two or three songs from the album, I have only listened to that one on instrumental. Everyone knows "Ms. Fat Booty" and the hits on that one. To me, it works really well as an instrumental hip-hop album. I don't even know the titles. I just listen to the instrumentals.
Lee Fields
My World (Truth & Soul) 2009
So I took this one out from the new stuff. That's Lee Fields. That's the label I'm working with. It's the record I listened to when I was just starting touring. Even though it sounds like the late '60s, it's happening now. It's a tour-bus favorite. It's very warm. I've got good memories with it. But also, if you listen to it as an album, the sequence of songs works very well.
I actually bought the record before I talked to Danny [Akalepse, cofounder of Big Crown]. For me, it was in my record store with other new arrivals like Sharon Jones. The girl at my record store said, "Hey, that's kind of the same crew." I just bought it and everyone was listening to it. I didn't even think of wanting to sign with Big Crown or Truth & Soul when I was speaking with Danny. I just thought it was cool he was doing stuff with Lee Fields. I thought they only put out their own stuff which they record themselves. So that's why I never thought about asking if he'd sign us or produce something.
Shadow
Sweet Sweet Dreams (SR Records) 1984
This is calypso, but it's kind of disco-synth calypso. I think the album, for me, stands for calypso not being happy carnival music. It was a huge flop at the time. Didn't do anything. Didn't have any success. But it's kind of early '80s electro and kind of cosmic. For DJs nowadays, it's become quite a bit of a thing. I like the dark side of calypso. It's not up-tempo carnival. I wish there was more calypso that would be introspective and about heartbreak with slower tempos. This is one of the very few that I know. It probably didn't make the carnival season because it was too slow.
Portishead
Dummy (Go! Beat) 1994
It made a deep impact on the vibe of the music that I do, even if you don't hear it. I listened to it just the other day, and it has aged very well. It's an album you can listen to from the beginning to the end. There's no dull moment to it. The beats and how they do the drums, the whole sound, truly. I should listen to it more often. I have a vision of a beautiful dark disco. I don't know where I got this from. All these clubs in Europe in the '90s, they'd have drum and bass, and Portishead, and acid jazz. It was all a bit more spacey. [I've been] discovering records from Trinidad that have a similar dark vibe, and I've been to Trinidad several times; I lived there for five or six months, and the carnival is just very happy. But I know they also have their troubles and they have beautiful stuff from the '70s like funk and disco that's really deep. Steel pan should be more in that context. They mostly play in major keys, and sometimes I feel like I'm the only guy playing in minor keys.
Peter Thomas Sound Orchestra
Raumpatrouille (Philips) 1966
Peter Thomas, I knew him personally. He passed away two years ago. I love soundtrack and library music. I love science-fiction music. This is his most famous work. It's a sci-fi series from Germany in '65. It's crazy how much imagination you can have. At that time, you didn't know about music in space. You could just make things up. That's what he told me and that's what I love about it. It was made with mostly a jazzy big band, but also vocoders in there. It was some of the first use of the vocoder. No rules. It just has to fit the film, which is in space.
What did you learn from him?
He told me, "Your music is serious. You can do that, but you have to do it with a smile." But that's his thing. I also love it because of its attitude. He was courageous.
The Rolling Stones
Beggars Banquet (Decca) 1968
I've got one more, which is kind of a sentimental thing. It's my mom's favorite record. The Rolling Stones' Beggars Banquet. That was on a lot in the house growing up. I pulled it up again because what I like about it, apart from the guitars which is something you'd play when you first start to learn, but they actually recorded on [portable cassette] recorders. On that album, they had the big studio, kinda Abbey Road similar, they recorded drums on a tape recorder to give it a bit of a sound. It was pretty unusual for the time. It's a bit of the same thing as Portishead recording drums, cutting it up, and then scratching it and then making found shit. It's a good DIY mentality.
I really have to have that record in there. Growing up playing acoustic guitar and starting to learn the whole thing. It was in the early '80s or mid-'80s, and the stuff on the radio in Germany wasn't very good, so I'd rather listen to my mom's records.