DJ Nuts, aka Rodrigo Teixeira, is arguably the best-known Brazilian DJ internationally, a turntable champion, Brazilian record connoisseur, and the beatmaker who helped integrate classic Brazilian samples into modern Brazilian hip-hop. He helped the Mochilla crew bring together the iconic Brazilian drummers for the groundbreaking documentary Brasilintime, and Gilles Peterson calls him his favorite Brazilian DJ. As a teenager, he participated in the formative years of the Brazilian hip-hop scene that produced Brazil's first hip-hop royalty, like Racionais MCs and Marcelo D2; the latter he's performed with since the late '90s as his tour DJ. His 2004 mix CD Cultura Cópia set the bar for excavating Brazil's funkiest and dustiest crates. Though he's yet to drop his own original music, he'll soon release his first joint album with one of Brazil's most legendary percussionists and producers, the late Hélcio Milito (of Tamba Trio fame), a multigenerational collaboration between beatmakers.
How did you first get into music? 
My first record? Diary of a Madman by Ozzy Osbourne. [laughs] But that's how it started. I joined my dad buying records and he let me pick one. I was probably six years old, something like that. I looked at the record cover and I said, "Yo, I want it." I listened to rock music very first at the start, like heavy metal. I bought Diary of a Madman and then Bark at the Moon, then KISS, Creatures of the Night, which was awesome as a child. I listened to that loud, I liked it loud. 
From heavy metal, I jumped to rap music. I came down to the record shop again with my dad. I saw Ice-T's Power record on the wall. I liked the impact of the record cover, two girls with bikinis holding a gun. Ice-T, Power, was the first taste. But I had a neighbor that showed me rap music before that. He was an older guy and he gave me seven records to listen to in my house for just one week. I listened to Eric B. and Rakim, Paid in Full. That's how I jumped in, it was amazing. So I started collecting in the late '80s: Chubb Rock, Too Short, Ice-T, and then Public Enemy was like the Beatles of rap for me.
Was it difficult to find these records in Brazil?
They had Brazilian pressings of some of these records, like Public Enemy. We had a bunch of Brazilian pressings. If you wanted to go deeper, you had to go to the import section. Then I started to hang out in the Central area of São Paulo and came down to the galerias in the year 1990, I think I was thirteen, to find out about imported records and buy bootlegs, because I wanted to become a DJ in 1989 or 1990. 
What inspired you to be a DJ? Did you know other DJs? 
I was listening to radio a lot and club DJ culture was big in the late '80s, so all the DJs were the kings of São Paulo. There was nobody bigger than these guys in the late '80s. There were two styles: there were the DJs from bailes, like Grand Master Ney, Luciano, and Duda, but the radio DJs were playing dance music. But DJ culture in general—if you take a look in the mid-'90s, rap music was not accepted the way it is nowadays, right? It was kind of wrong to play this kind of of music at parties. So that's why we had specialized parties for this genre. Because if you're jumping in a club in 1991, you would listen to a selection of like four rap songs, because the whole set would be dance music, euro dance music. At the right time of the party they would put on like Public Enemy, NWA, "Mistadobalina" by Del tha Funkee Homosapien, AMG "Bitch Betta Have My Money," Wrecks-N-Effect "Rump Shaker." And that's all. So I was influenced by the radio DJs and club DJs and the baile DJs of course, people like Ricardo Guedes, Sylvio Muller, Grego, these were the biggest DJs, these were the guys that I wanted to go see in the clubs. I was in the bailes, I was in the clubs, and then I would come here to the Central area for information and to make new friends, you know, this kind of action.
It was in 1990 I met my master, my teacher: Marcelo 2 da Bone. He was the producer for the first Racionais [MCs] record. Dynamic Duo was his crew. He was my teacher. He taught me how to pitch control first, then he taught me how to edit on reels, cutting and splicing. Back then, he was kind of a bully and back then bullying wasn't a crime. So, he was being hard on me like, I was asking, "Yo, what's this?" And he'd be like, "It's an MPC, shut up, get out of here," like a Russian ballet professor, very severe. From bullying, he ended up teaching me. One day, I insisted so much about going to the studio and asking "What's this, what's that?," he eventually taught me how to DJ. I'm his student.
Is he still alive?
I have no clue where he's at. I tried to look him up and asked some friends, but people don't know where he's at. He disappeared from the scene. He produced the first Racionais MCs LP, all analog on MPC60. The first time I saw an MPC was in the studio with him, and he was onto drum machines as well. He was like Mantronix, very influenced by Mantronix drum programming.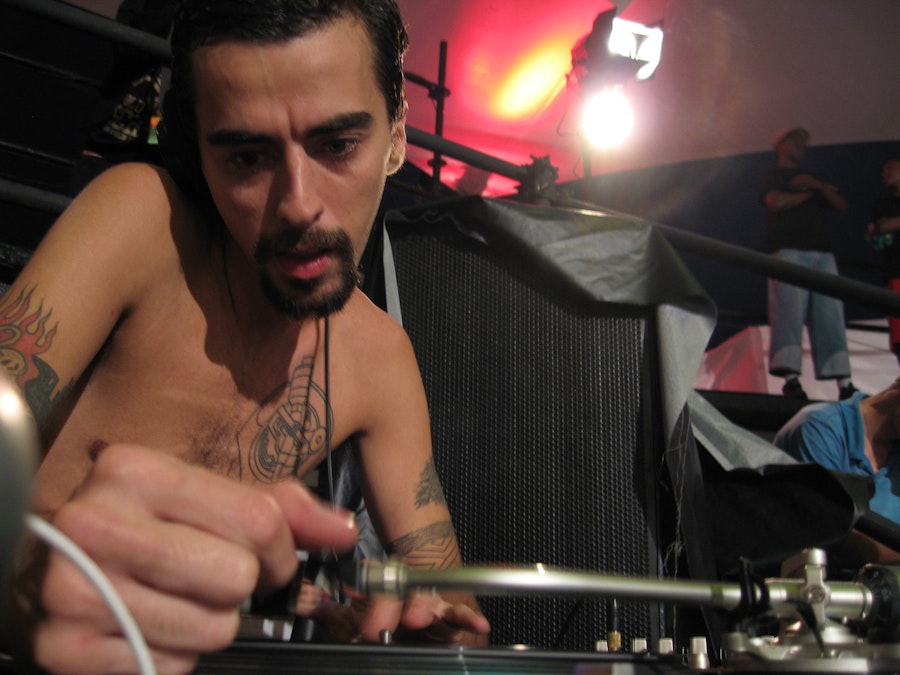 These DJs that influenced you, were they spinning mostly international music or were there Brazilian sounds as well?
I was into the DJs that spun rap music, but also the dance music DJs as well. DJ culture in São Paulo was very big. So there were clubs all around. We used to go to parties, you know, when I was thirteen, fourteen, and I wanted to go out at night. Sundays used to be for kids, like before midnight or before ten. Then as I got older, I started to go on Fridays and Saturdays. I used to love the nightlife. I jumped into the nightlife really, really early. And I did my own night in '93 when I had the opportunities to play in clubs. Before that, I had a mobile DJ team from school from 1990 to 1993. I was doing parties for friends, you know, birthday parties, really small events like garage parties. I used to record mixtapes for my friends in school. That's the kind of action I had when I first started. When you're in school, you wanna be popular, you know, so I used to record tapes for everybody.
Did you go by DJ Nuts from the beginning?
I started going by DJ Nuts in 1996 when I moved to Rio de Janeiro, so I had a new nickname in town. Before that, back in São Paulo, my official debut was with DJ Hum [of Thaide and DJ Hum]. I had a residency. I started to do every Sunday with DJ Hum at a place called Club Soweto. I used to support the female rapper, Rose MC, that was my first live gig. I used to be her DJ in the early '90s. She was a feminist rapper from Brazil, one of the first female rappers. She started the female movement in hip-hop in Brazil. After Rose [MC], I came into all the friends that I'm still close with now, because this was the hip-hop movement, I wouldn't be here without all of them, hanging out at the São Bento subway station where the breakdancers would hang out. Every Saturday, you'd go there to make friends, friends I still have now, friendships that are thirty-one years old. People knew me when I was thirteen; I was a child when I started coming to the galerias, buying records, coming to the subway station. It was an important cultural meeting point. Before 1993, it was a super beautiful scene. We used to exchange information, we used to be passionate about information. I used to collect magazines. I had Rap Pages and The Source. You would show your magazine to a friend and he would have articles from a newspaper and some other dude would have pictures; each person would bring one thing. That was the key for having friends in the early '90s: information. I'm still on this information thing. I respect people for what they bring.
So you went to Rio in 1996?
I went to join the group O Rappa. O Rappa needed a DJ for their tour. I quit school, I quit my job, I quit church. I left my mom's house to go to Rio and I stayed there for two years, from the year 1996 to the year 1998. I was really young, on tour, joining the band as a musician, but I still do not agree that a DJ is a musician, because a musician has different skills. Being a DJ is much easier than playing a saxophone. The band was all live and I would mix in collages, do interludes. I had the echo pedal, doing effects, and scratching. I was learning how to fuck with my equipment, because a musician has rules, like, you gotta have the right tone for the music, the right chord. You can be adding sounds, but you have to understand what's going on. I was learning the dos and don'ts. It was a very good school; I learned a lot from that time, because the musicians, you know, if you did anything wrong on stage, they'd give you a nasty look. Then I left the group in 1998 to take care of the production for the first [Marcelo] D2 album [Eu Tiro É Onda]. Marcelo was with the rock group called Planet Hemp, and the band had problems. And he was thinking about going solo, and he wanted to jump into rap music. 
And did you know Marcelo D2 from Rio de Janeiro?
I met him in 1995, because Cypress Hill played in Brazil that year and we all became friends. Planet Hemp opened for Cypress and they also opened for the Beastie Boys. That's another big thing, because we became friends with Mario [C.] and the homies from the group as well. And Mario became one of the best partners, more like a lifetime partner. He's more than a partner, he's part of the family now. Mario's a big friend. Then my friend from here, DJ Zegon, Zé Gonzales, who joined Planet Hemp, he's a DJ from here [São Paulo], and he moved to Rio and joined Planet Hemp. And he introduced me to O Rappa, and we were all on tour together as "pop" groups, because both bands blew up around 1995, so we had full tour schedules, two shows a week, shit like that, all through Brazil [back] in these days. 
Were the members of O Rappa and Planet Hemp friends with each other?
Super friends. O Rappa, Planet Hemp, and Chico Science [and Nação Zumbi] were all friends. We used to use the same studio for rehearsals and we were all a part of the movement that revived good music [in Brazil] in the '90s. Because before that, the only relevant movement was the Brazilian rock from the '80s that became boring as the '90s rolled on, bands like Titãs, like Legião Urbana. And this new scene emerged around the mid-'90s, like Fernanda Abreu, like Chico Science—we were all friends—Cidade Negra as well. It was good to live in Rio back then; we had beautiful days back then in Rio de Janeiro.
Where in Rio did you live back then?
I used to live in Tijuca at Yuka's [the drummer from O Rappa's] house. Yuka was super humble and he gave me his bed and he slept on the floor. He took care of me like a son when I was there, because I was a teenager and Rio was super dangerous back then. He's one of my masters for record digging. He died; he got shot and was in a wheelchair because he lost the movement in his legs, and he died like three years ago. Before I met Yuka, I was only into imported records because I was a rap DJ, I was playing rap music so I had to build up my crates, buying imported records all the time and paying for imported records. In Brazil they cost like four times [as much as they did in the U.S.], maybe more. It was super hard for a third-world DJ to collect. For Brazilian DJs who played rap music, you had to understand they paid five times as much for each record. Before I met Yuka, I was only into imported records and maybe some jazz, like John Coltrane. I knew Sun Ra, but I wasn't digging at sebos [used-book stores] back then. He was the one that gave me that virus. I used to go to all the old record stores in Rio; I used to go to Moto Discos and I used to get all the records for super cheap. In my collection, I've gotten records for super cheap and super expensive. I don't mind spending a lot of money for a record. I won't decline to buy a record. When I want the record, I never decline to buy it, but I live in the extremes; I paid one real [Brazilian currency] to one thousand dollars, I don't care. 
Was this when you started digging Brazilian records?
Yeah, from my friendship with Yuka. He showed me. I had no knowledge of Brazilian music. He was the one, I call him my master for this. When I came to his house, he'd put on Marku [Ribas] and he was like, "Have you ever seen this record?" And I was like, "Never. What?! Mar-ku?" And then he put the needle on. Boom. And then I fell in love with the music. Marku was my entrance. I fell in love with Brazilian music from this record, the white one [1973's Marku].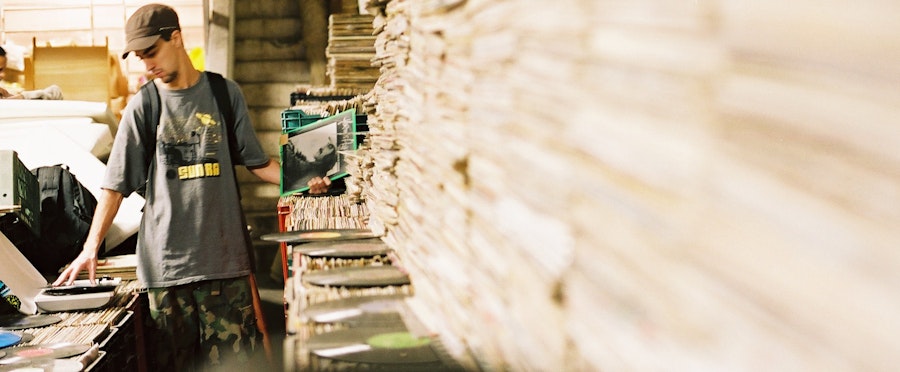 Planet Hemp had that song, "Nega do Cabelo Duro," and that was kind of bringing back an older Brazilian style, right? Was that something that was beginning to happen in the mid-'90s, rediscovering and incorporating the older Brazilian styles into new recordings?
There was a whole revival of Brazilian culture—I credit Chico Science for this as you started to hear female and male singers bringing [older styles back]. Chico Science was the one that brought the pride back to "pop" music, but for rap music I think we brought this [intention] back with [Marcelo] D2's first album. His first solo album brought this connection of the old and new. I would not say that I created the blend, but people look to me and say, "Yo, you created the formula, like rap with samba behind it." But if you take a look, I know DJs who did this [before me]. But we were the first ones who brought this to a big audience; that's why people look to me and say, "You created it," because whoever did it before, no one was paying attention, it was only an underground thing. Blending rap with samba was an obvious thing. When I was a child, like thirteen, me and my homies from school in the mobile DJ days, we used to blend like this and put a rap song with a forró beat behind it, and [we] were like, "Whoa! Look, it's the same!" And the two beats just matched perfectly, and we used to do this as kids just fucking around playing rap with other styles and laughing. DJ Cuca for example, a big influence, he did this a bunch of times blending rap with samba, but his productions were more underground. Only the rap people knew these productions; DJ Cuca is one the masters. When people say we are the first ones that sampled Brazilian music, that's wrong, I don't take the credit for this. Tim Maia Racional was sampled in 1989 in Brazil [Dynamic Duo, "You Don't Know What I Know"]. We were not the first ones, we were just the first ones to bring this to a big audience. And Marcelo [2 da Bone] was the one who really did this first because that first [Racionais MCs] record was distributed to the whole country, playing on radios, and changed the game.
When I first met [Marcelo] D2, I gave him a tape of my beats. I had a song that sampled Sergio Mendes, and it's a bossa and rap thing, and I gave the tape to him and some other people. I made these tapes at my mom's house. Then he called me in 1997, towards the end of the year, and said, "Yo, I want to leave Planet Hemp. I'm tired of the band, we're not getting along anymore, and I want to do my first album. And do you remember the tape that you gave me that had that bossa nova with rap shit? I want to do a whole album with this idea: Brazil and rap." That's how he described the concept. The beat was called "Samba da Primeira" and this song inspired the whole project. It sampled the Sergio Mendes song "Tim Dom Dom," from the first Sergio Mendes and Brasil '66 album, composed by João Mello. We cleared the sample, because it was a big piece to take, and we made the album from that idea. It was great that he came up with that idea because otherwise it would have been only a demo that I made at my mama's house, but instead we made a whole concept from this. He wanted to bring the Brazilian pride back home, and he wanted to use Brazilian samples, and he wanted to call Brazilian musicians to jump in, people who inspired us from their records. I finished the whole album [backing tracks] in one weekend. The label gave us one month to make the album and we had to be in New York for the mixdown. We had no time to experiment in the studio. It was my first experience on the Akai and MPC-200. I had the SP-1200 before, which I bought in 1996 just because I knew that Pete Rock used the machine from a picture of his studio—I remember I had a picture of his studio and I had no idea what it was, but I knew it was a sampler, but I had no clue what it actually was. So, I was in New York in 1996 and I went into a shop and they had the SP-1200 on the floor and I said, "Yo, how much?" And the old lady said $300. Then I started programming the SP, and as you know, it's very hard to learn. When I first started to work on the Akai, it was very easy, but the SP was hard back then. Not now, now it's like my brain. So I made the album in one weekend, playing beats for D2 and he said, "Yo, I want that one…this one is good." Then we had nine songs there and we had the whole album done. I made everything except for one that I'm not part of the composition.
Do you still work with Marcelo D2? Are you still partners?
He's one of my main partners and we're still on tour together. I left the group to do other things, but I've been back with the band since 2008 till now.
Aside from the Marcelo D2 stuff, what are you most proud of?
I think the big thing that happened was the DJ championship; it was the year 2000 and I was the champion of Brazil. It was a smaller league, because the DMC office was so crooked. They abandoned their presence in Brazil. DMC held [DJ] championships in Brazil since 1990, I think, until 1996. Then the office [in Brazil] broke down because of money problems. And then DJ Pogo brought it back to Brazil in 2004, so we had a gap in the DMC championships in Brazil from 1996 until 2004. And I first competed for DMC Brazil in 1996. I tried to beat MC Jack and I failed. I totally failed on my first performance. I thought I would win when I left my house, "Yo, I'm gonna take the crown" and some shit, and I just lost. I was nervous when I tried to perform, but then I started to practice from the year 1996 and up, and then I won in the year 2000. 
If it wasn't DMC in 2000, who was it?
We had a smaller league in Brazil. Kylie J from Racionais [MCs], he made a smaller league for hip-hop DJs. I competed from the years 1999 to 2002. Then Brasilintime started in 2002 and I met B+ [photographer Brian Cross], Eric Coleman, and they brought Madlib, Cut Chemist, [DJ] Babu, J.Rocc, and then life changed.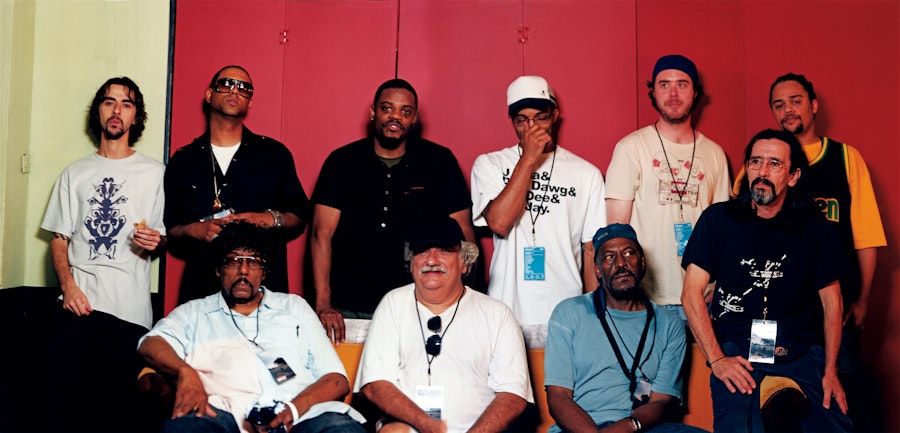 How did you become a part of that project? 
They came to Brazil and started asking around about who is who and everyone mentioned my name: "There is no other guy you should talk to about records other than DJ Nuts." And I became like a tour guide for B+ and all the friends from California. I still like getting phone calls about people coming to Brazil to buy records, like when Q-Tip calls and he's like, "I'm in your town, can you take me record digging?" And you know, you're like, "This is just beautiful." And you have DJ Spinna, Alchemist, Maseo, and so many friends I made like this. I became like an ambassador for this, like, if you want to get hooked up for Brazilian records, call Nuts. Like when Kenny Dope came to my house, I was like, what?! This is not normal. Like when you take Ali Shaheed Muhammad, when you take these heavy guys record digging, it's just beautiful. J Dilla for example. We had J Dilla here in Brazil! I could never have imagined that….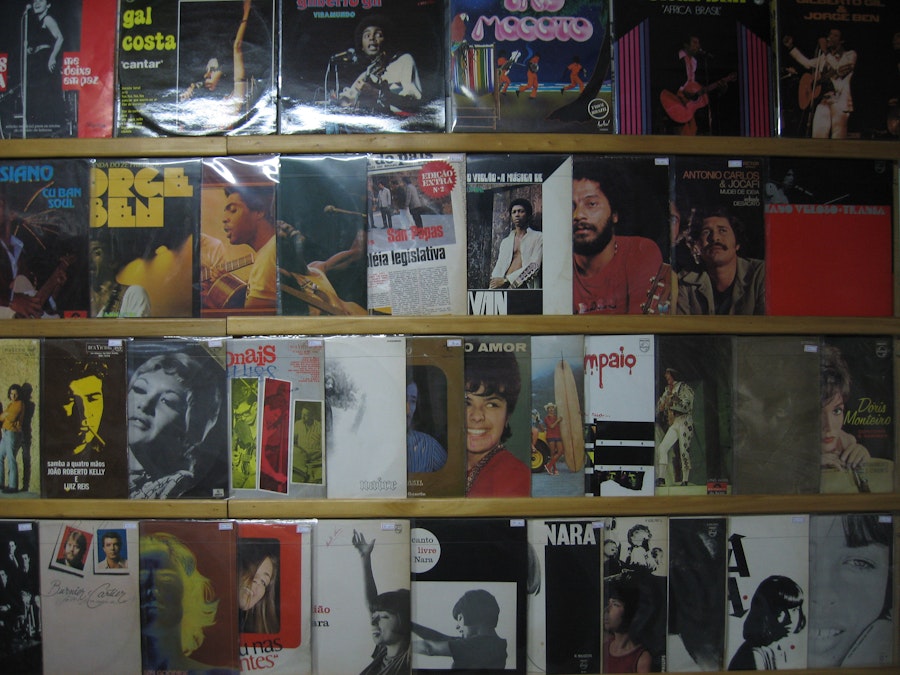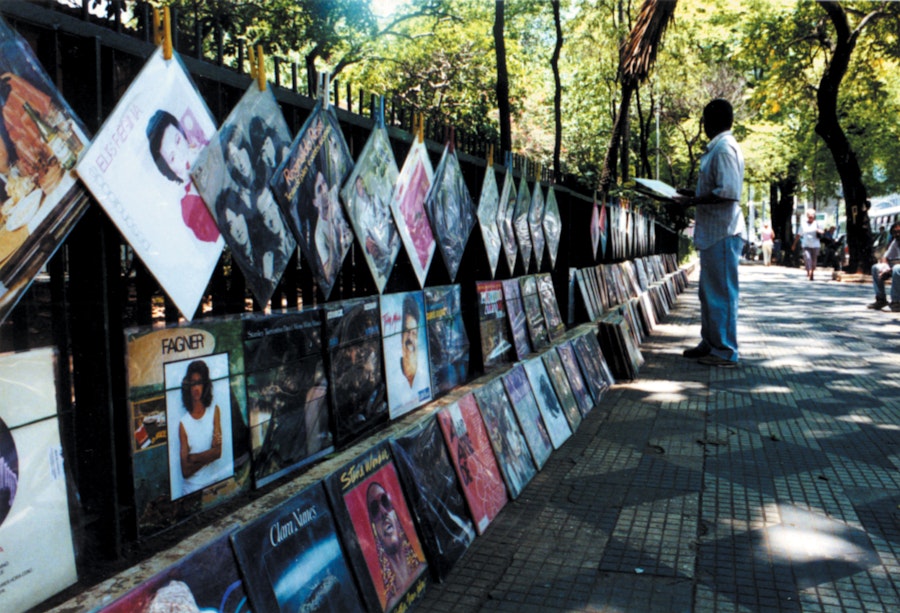 When did you do the Cultura Copia mix?
That was a big help from Wax Poetics magazine that brought the CDs to all the subscribers. It was a big thing, because it brought this to a worldwide level. I have to really thank Mochilla Productions for this first of all. I would not be here—I cannot skip [Brian "B+" Cross's] name or [Eric] Coleman's name. They took me from darkness, because at the time before Brian and Eric, I was doing really bad: nightlife, drugs, my life was declining, you know, my life was fading out, too much craziness going on. I was on the dark side, so I have to thank Brian and Eric, they helped me to put the mix CD out, and the CD was a big come-up, and that changed my life. We had Brasilintime already, but I was on a different level than like [DJ] Babu and those cats, I was a small fish, I was the "third-world" DJ there on the same scene. I couldn't believe that and I could not accept that. I was just the best DJ from here, I was the best DJ from 2000. The mix CD helped a lot, because the mix CD was my last bat, you know. I had the records that I had, I need to record this—I wanted to show off this set and I came up with this mix and I could show the world. It wasn't the first Brazilian [breaks] CD. I was talking to [DJ] Spinna and he did Brazilian Funk Mode in the same year, so who put it out first, we don't know. It was 2004, the same for Spinna. And [if] you look at that, DJs playing Brazilian music after this time just started to be more hectic.
These were the days when I started to complete my record puzzle, I started to understand the records I didn't have. You know, I learned more [about Brazilian records] from people from Europe [and the U.S]. You know, Egon, [former GM of] Stones Throw [and now owner of Now-Again Records], taught me about a lot of records I didn't know from here—Egon told me about [Arthur] Verocai, for example! He asked me if I had the record. This was the year 2002, when we met. Mario [C.] taught me a lot about Brazilian music. I learned a lot from Japanese friends. I learned my music from them.
Have you ever been interested in putting out your own original music record, the DJ Nuts record?
I'm glad I never made that, because it would sound immature if I listened nowadays…. I have an album with Hélcio Milito kinda ready to go—we have some problems with the album cover, so I'm trying to arrange the artwork. Me and Hélcio became friends. Me and Brian [Cross] came down to visit Hélcio in Carmel [California], and we brought the Krishnanda record and we were like, "We're not here because you're the Tamba [Trio] guy, we are here because you were the CBS [record] producer." And, "Do you remember this record?" And he was like, "Oh, I remember this record—I produced this record!" Hélcio was a big influence, one the biggest things that ever happened [to me]; his friendship is beautiful. I met him in California and we became friends. [He] signed the Krishnanda records, and then one day I was walking down Paulista Avenue in São Paulo, and I heard his voice, "Yo, Nuts!" I looked behind me and it was him. "I'm here!" And I was like, "Oh, word, you moved back to Brazil?" He said, "I was thinking about you and I wanna do a record with you as a DJ." And I said, "You wanna do a DJ record?!" And he was like, "Yeah, I'm tired of musicians, I'm tired of the music they bring: same, same, same. I don't wanna play 'Barquinho' or 'Corcovado.' You can put me six feet deep; I don't want to play that stuff. I'm tired of musicians' mentality. I was thinking about you, and I met you by chance on the street now…."
You just did a show with Azymuth. How was that? Is that the first time you've done that collaboration? 
I've done five shows with them. I tried not to interfere, you know, in a bad way. I'm saying this because, if I was in the crowd, I would dislike a DJ playing with them. I would say, "What the hell is a DJ doing onstage?" So I have to be good enough to perform and not interfere. I try not to fuck with the melody, because it's not my speciality. So I focused on percussion, like adding some beats. I'll do like an intro for one song, then on another one I'll go for a disco or laser effect, just like their [original] records had. I listened to the original songs and tried to see what I could bring to them. That's what I did and it was awesome, man. We had no time to rehearse or anything. That's how they are. You know, they pull out the playlist at the last minute. I asked [drummer Ivan "Mamão" Conti], "Which songs am I jumping in on?" And he said, "The whole set." I thought that I would join on like three songs, and then I was playing the whole show.
You're friends with Mamão, I know, but are you close with the other guys too?
I first met [the late Azymuth keyboardist] José Roberto Bertrami during the recording sessions for Marcelo D2's Eu Tiro É Onda. A friend of D2's had his contact. He came up [to the recording session]; I remember very well he brought a small keyboard. It was a Yamaha, I think, but I remember [he told us that] Chick Corea gave him this little keyboard. Then we became friends from this recording session. We also had Dom Um Romão as well and João Donato. I think this record started the dialogue between the new generation and the old. If you take a good look, nobody did this before. You know how Brazilian musicians don't have recognition in Brazil, right? Artists like Joyce, [Marcos] Valle, and Azymuth had careers in Europe, right? But in Brazil, only people who are passionate about music knew about them. 
So when we brought musicians from the old school to join the new generation, it started a new dialogue that has been duplicated [by others] since then. I'm not claiming that we started this, but I think nowadays it's more common to see new musicians joining with older musicians that they only know from records. That's a beautiful thing. If you take a look nowadays, everybody's doing this, like Criolo and Emicida, they're putting the value back on old school. That's beautiful, especially after Brasilintime as well, which led to a breakthrough for beautiful projects that came up later on, like Timeless. It's beautiful to see how those musicians are getting more attention, and now we have a full tour schedule for Azymuth, we have a full tour schedule for Arthur Verocai. They're back now, yeah. And this is just beautiful.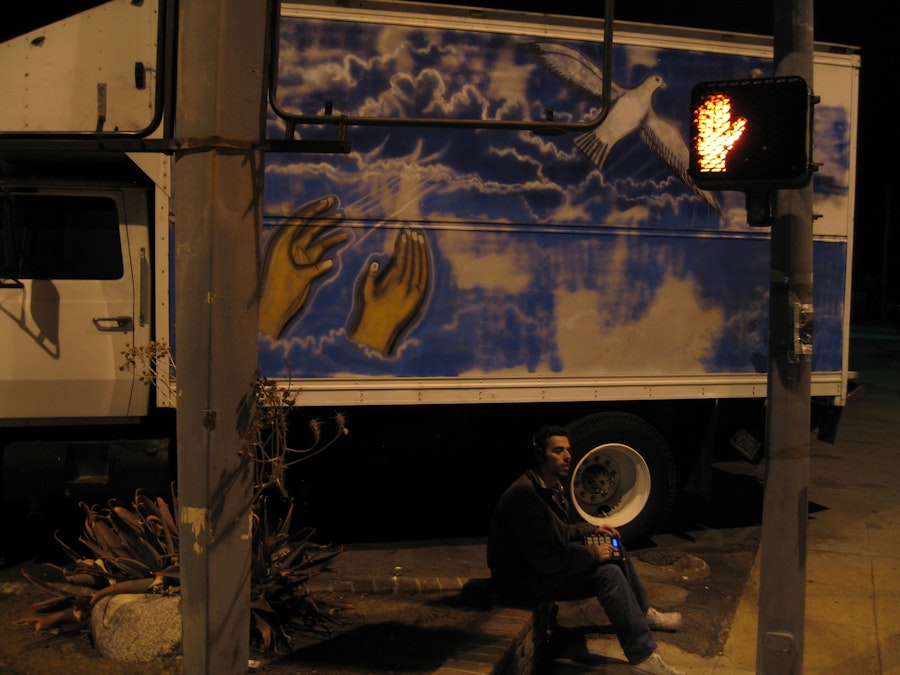 What are your thoughts about the Brazilian record collecting scene in 2022?
I think the record market has changed. In the '90s, we had a movement of records leaving Brazil, to Europe, USA, and Japan, people coming and buying up the records and they disappeared from the market as people started making want-lists. Nowadays, I don't feel like I have the same joy about collecting, because the times have changed so much and what I have here is enough. I feel like the days of digging records is over. The internet has changed things so much. People sell records on Facebook, I have to be up on the page all the time to see what the dealers are posting. And, unfortunately, the new platform Discogs changed things for the worse, because it's a database based on speculation, on what people are looking for, and that's bad for the customer, and it pushes up the prices. Music and this record collecting hobby should be healthy; when you start to have problems and it's too hard to buy records, I get out.
What do you think of the reissues now? You can buy a lot of these records, like Hareton Salvanini came out on Mr. Bongo and Verocai's been reissued lots of times.
Europe is still trying to colonize us. It's still on. They put out a bunch of bootlegs. This guy—I won't mention his name—he had no authorization from the artist when putting out the record over there. They're still extracting the best of what we have, exploiting us. Record labels from Europe, they look at our music as the new gold, the new lumber. They took everything before, they took the gold, they raped the women, they stole, they killed, they taught religion, now they're putting out our music over there. And there are people doing this the right way, like Mochilla, for example, they're not on some exploitation shit, they're on some other game; but record labels from Europe, all these reissues, are not bringing anything good to the artists. Sometimes the artist doesn't even know the record has been put out over there. Some of these records are very close to bootlegs, using some publishing deals, but they don't even talk to the artist. 
As for reissues, I'm OG, as DJ Muro said, and he's a big influence, "No bootlegs, no comps." I only rock first pressings. But for the people who don't have more records to sell, these will fill up the record shops, and there's a new market of customers that don't have access to the originals. I only play the originals. I won't play the MP3; I'll wait to find the record.