This is the story of how an eighteen-year-old influenced the sound of an era. It is the story of how one man's musical craftsmanship artfully bridged the rough funk of the '70s and the polished dance-floor grooves of the '80s. It is the story of a Guyanese-born, Brooklyn-bred intellectual with three college degrees who has dedicated his life to music. 
Randy Muller is a true unsung hero and behind-the-scenes master of the disco era. His compositions have powered a string of anthems, and his trendsetting arrangements continue to be emulated. An incredible talent, he is a fluent flautist and keyboard player, as well as a percussionist, and has contributed vocals to numerous recordings. 
Born on the southern fringe of the Caribbean in the tiny nation of Guyana, Muller was eight when he moved to Brooklyn to live with his grandmother in 1964. There, in the neighborhood of Bedford-Stuyvesant, he found a place he describes as magical. "The first night I arrived, I couldn't sleep, I was so excited. In those days in Bed-Stuy, guys walked around the streets singing doo-wop. Listening to three-, four-part harmony outside my window, it was just like the movies."
Possessing a hungry intellect and a near-photographic memory, he excelled in school but found himself irresistibly drawn to the vibrant local music scene. "Every West Indian mother's dream is for their kid to be a doctor or scientist, and for me that meant going to Brooklyn Tech. But all my friends were going to [Thomas] Jefferson High School, which is where the music scene was. I had to lie and tell my grandmother that I wasn't accepted at Tech just so I could get over to Jefferson where the action was!" Here at the famed Brooklyn institute that counted global stars Danny Kaye, Hal David, and Peter Nero as alumni, Muller devoured musical theory with the encouragement of his teachers, who often fed his voracious appetite with extracurricular musical assignments. 
Since junior high, Muller had been gigging on the local West Indian dance scene with a group of older men in a group called the Panharmonics. Muller remembers them as being somewhat unusual, because they not only had the traditional steel-drum setup, but members also doubled on instruments like the electric bass and, in Muller's case, flute, enabling them to play hip versions of popular tunes of the day. At many of the gigs, the Panharmonics would be paired with a horn-led band, and it was then that Muller first became fascinated with the power of good brass arrangements, an obsession he would develop into a formidable expertise. "I used to stand there and fantasize about having a band like that," he recalls, and it wasn't long before he did. 
At Jefferson, he was also playing with a group of friends in an outfit called the Dynamic Souls who had originally assembled after school, let into their junior high building to practice after hours by a sympathetic custodian. Relationships with many of Muller's future collaborators were solidified at this time, and the group of schoolmates began formulating the sound that would comprise Brass Construction. "The original members were Larry Payton and Wade Williamson [drums and bass], and I played piano." Muller was a fan of Mongo Santamaria's big, brassy, soulful charts and tried to emulate those arrangements with his band.
His obvious talent caught the eye of more than a few, including the organizers of the state Miss Black America Pageant, and the young man was hired as the music director for the show. "It was great training, since I would have to come up with arrangements on the spot when girls would say they wanted to sing this or that show tune," he remembers.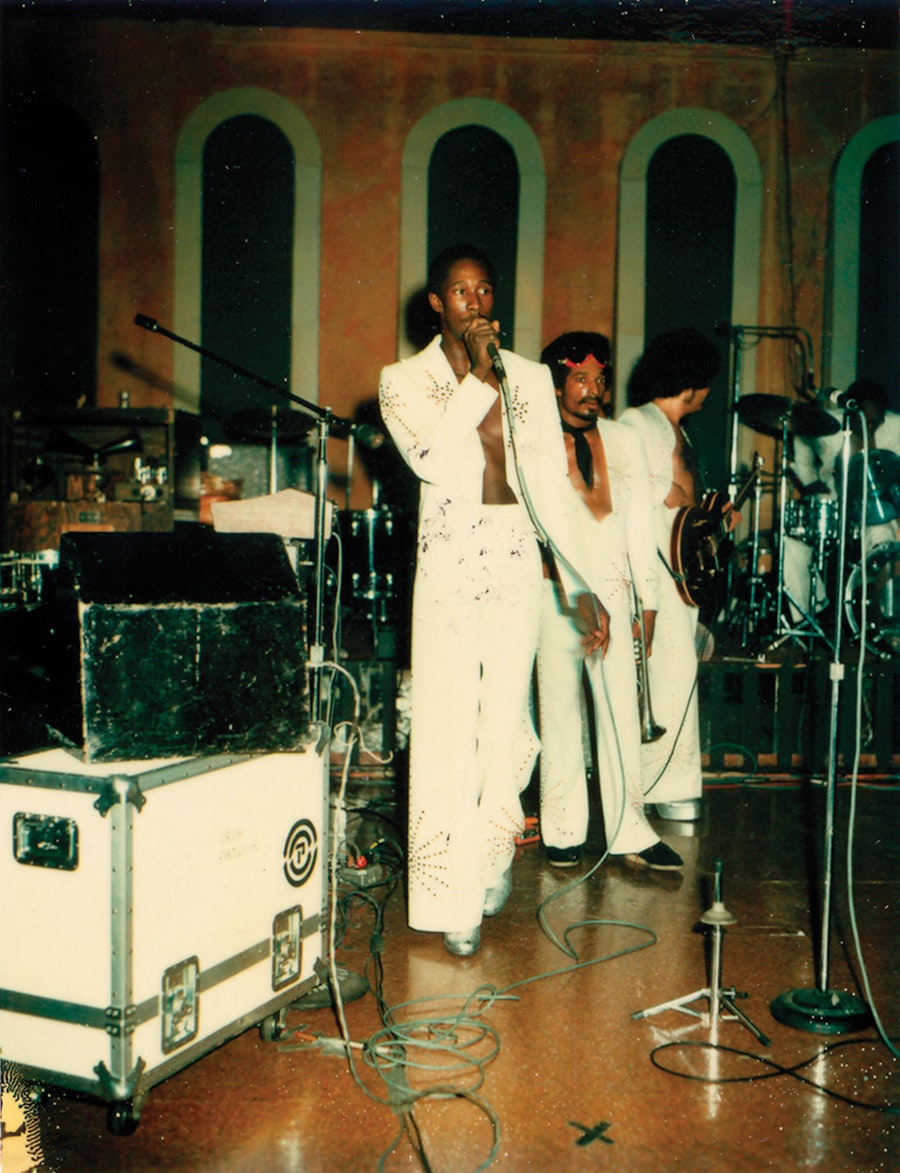 Around this time, Muller was scouted by none other than Detroit powerhouse Motown. "A lot of people don't know that Brass Construction had an affiliation with Motown," he reveals. "They wanted to sign us to the Rare Earth label; we actually auditioned with some Motown songs." Muller eventually decided against the opportunity. "I even had the contract signed but just never sent it back. They wanted us to change up our sound. They had someone who was going to be the front guy; it was just becoming something totally different." 
As Muller's reputation in Brooklyn grew, the long-distance relationship with Detroit probably didn't seem as appealing as the things percolating in his own backyard. "I had started working with Jeff Lane, who was much older than me, a sort of Don King–like music impresario." Muller became Lane's go-to guy, doing a wide variety of arrangements for him—one of the earliest for singer Nat Kennedy's "What's Happening Brother." It was a gospel tune with an R&B flavor; Muller remembers it as "kinda corny stuff, but it was helping me get my chops together." 
The first Brass Construction recording came on Lane's Docc label, so named after a prominent Black doctor, Coolidge Abel-Bey, who bankrolled the operation. "Two-Timin' Lady," backed by the frantic "Take It Easy," was released in 1972. While shopping for a major-label deal with the single, Lane called Muller in to do arrangements for a band that had gone through a few name changes, but was by then known as Brooklyn Trucking Express. For a tough funk band like B.T., as the moniker was abbreviated, strings were unusual, if not unheard of. To make their horn and guitar–led tunes stand out, Lane wanted a different feel and called in his boy genius to write string parts for a few songs. "Before then, I had never really done string parts, but Jeff, not being a musician, thought since I could do horn charts, strings would be no problem. I remember him saying, 'By tomorrow, I want a violin section there!' " Muller shakes his head, laughing. "The parts for 'Express' I did in fifteen minutes because Jeff was outside my grandmother's house in his car waiting for me, beeping the horn while I was furiously writing!" The string motifs the teenager came up with, self-described as "so simple," got worldwide exposure when the album and "Express" in particular became smash hits. Even James Brown took notice and came up with one of his funkiest tunes in reply, "(It's Not the Express) It's the JB Monorail."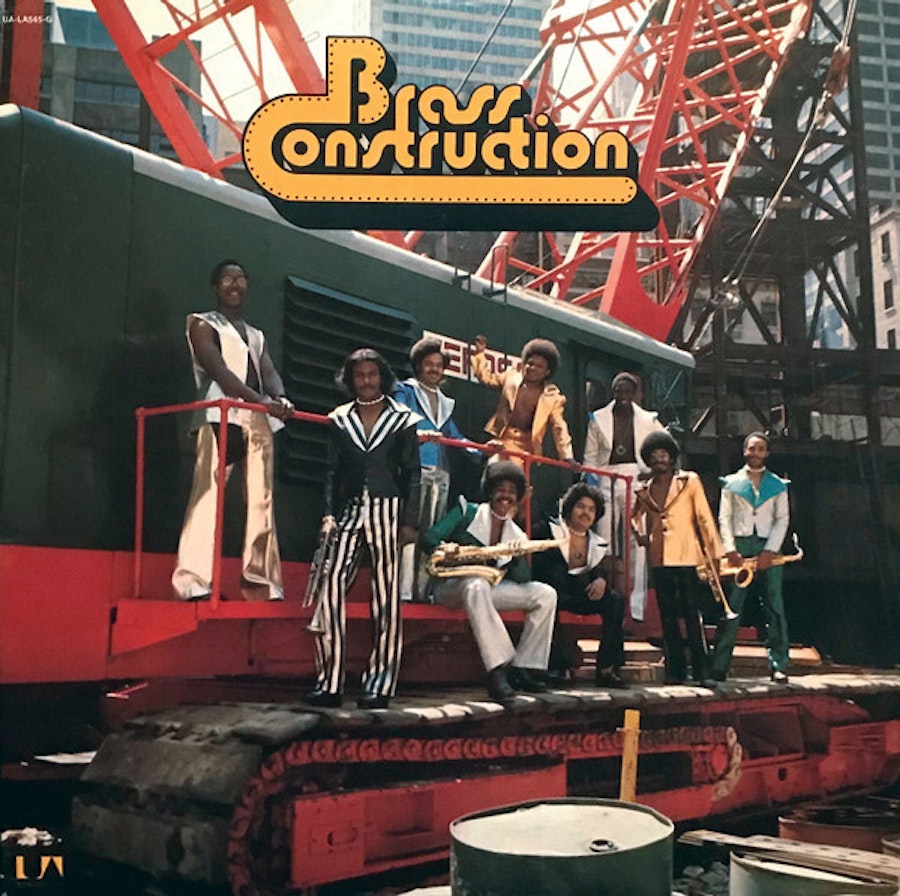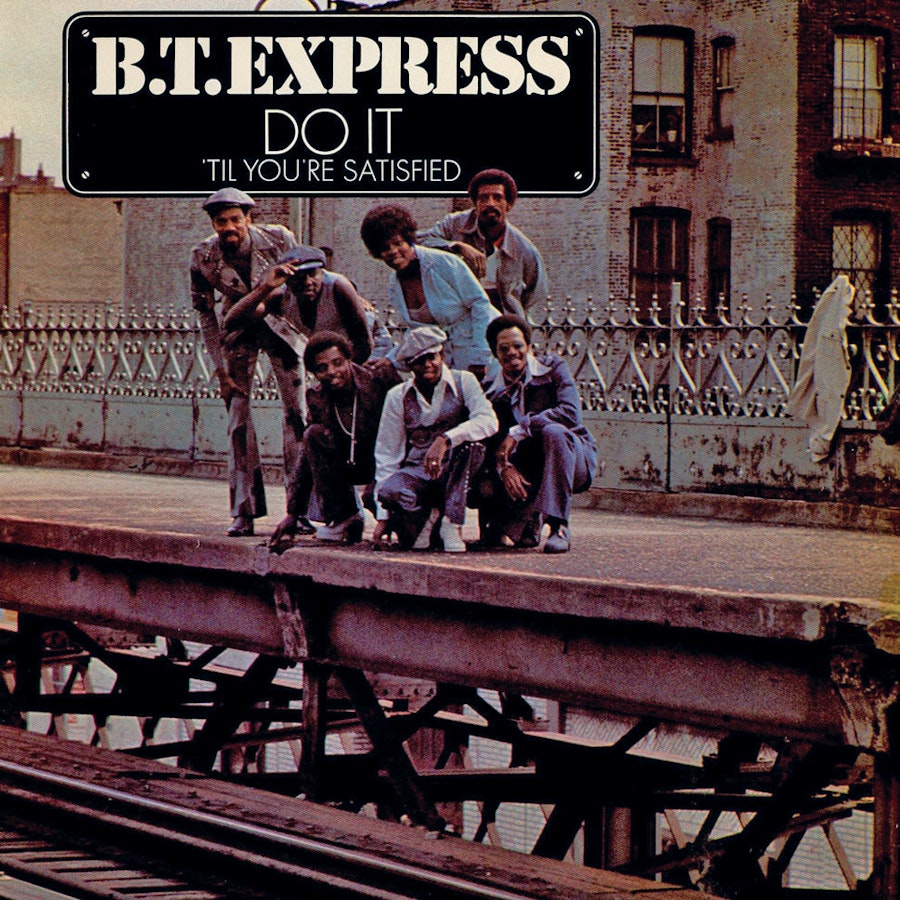 The B.T. Express record was the first time this style of string arrangement was used, a texture that later became de rigueur for "disco," as the new trend of dance music was being called. As a pioneering example of this global phenomenon, it was only natural that others would pick up on it. Listen to Silver Convention's "Fly Robin Fly" and the similarities are striking. "A lot of that fall-off stuff on the strings," Muller describes the sound, "comes from me as a horn guy basically writing horn parts for strings, because I didn't know any better." His arrangements fused the horns and the strings but still kept the track lean and funky, not overdone. "It's about prudence," Muller explains. "It doesn't get in the way, and it's supportive. It brings the track to another level, and that, to me, is what good arranging is."
With Muller's star on the rise, he continued to devote himself to broadening his knowledge in music as well as other areas, getting degrees in political science and media. His insatiable hunger for musical knowledge and his professional dedication to seeing projects through made him a highly sought-after component of the thriving New York City club music scene, though by his own admission he was a studio fiend, only occasionally venturing into nightclubs themselves. "I knew Larry Levan," he says of the legendary DJ. "We used to go down to the Paradise Garage and bring our latest acetates to test out. Larry would listen to the track and say something like, 'Okay, this is three o'clock.' " Muller would be obliged to hang out in Levan's spacious booth until the temperamental jock was ready to play the song, and he would watch the crowd's reaction. "We made changes based on that, bringing a part up or down in the mix, say." 
Below is a personal selection of Muller's productions, running the gamut from his early work with Brass Construction and some classic late-'70s rarities, to his essential work with Skyy and Salsoul, and an overlooked 1985 single.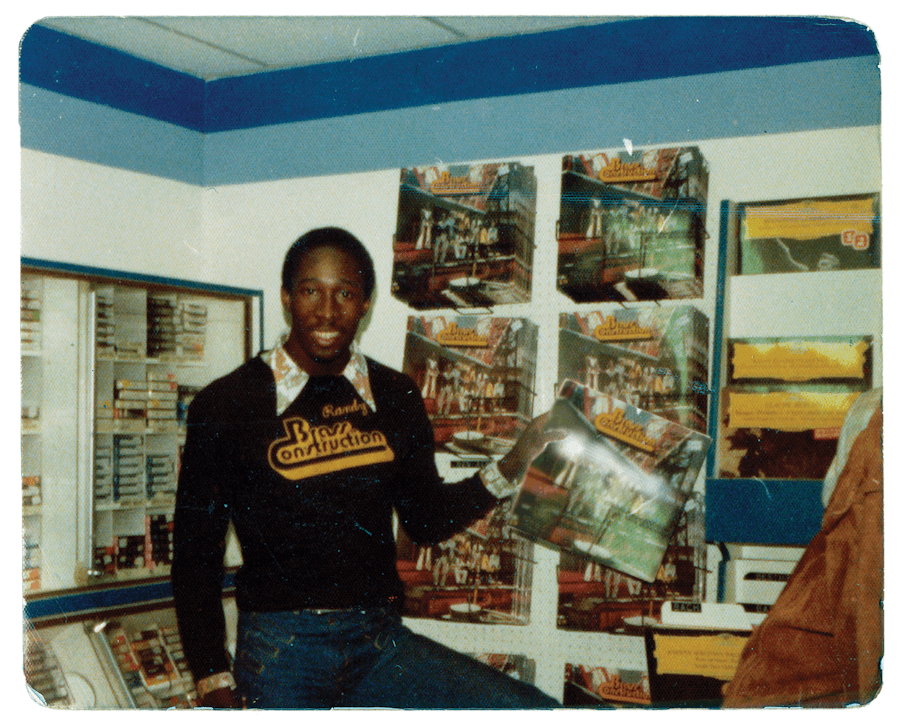 I knew Larry Levan. We used to go down to the Paradise Garage and bring our latest acetates to test out. Randy Muller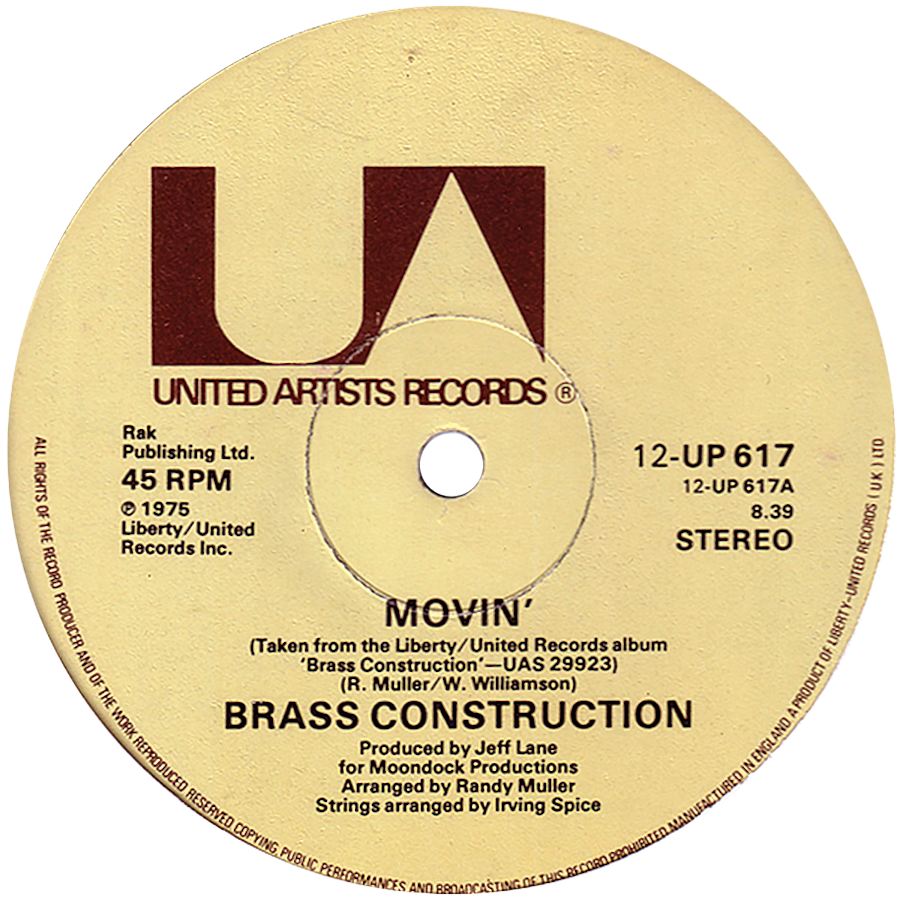 Brass Construction "Movin' " b/w "Changin' " (United Artists) 1975
I loved instrumental stuff, especially groups who had great horn sections, like Kool and the Gang; Blood, Sweat & Tears; and Chicago. But at the insistence of the label, I had to put some lyrics on the instrumentals. So, as a concept, I used verbs for all the song titles and came up with some very simple, abstract vocal chants to go with the music. Later I would hear from fans how much these songs spoke to them—they would have a whole story for these one-word songs! [laughs] That's the trick to writing good songs: Let people plug in their own experiences.
At that time, I was going to Hunter College, studying music theory. I actually ended up using some of my Brass Construction arrangements for class assignments in counterpoint! [laughs] If you listen to "Changin'," for example, you'll hear all these displacements where a phrase is shifted over a bar. 
"Movin' " came from a studio jam session. The way I always set it up was that I would have a mic at the keyboards and all the guys would have cans [headphones], since a lot of them couldn't remember charts. Wade Williamson started playing the bass line and I came up with some ideas as we were playing and would just shout them out to the guys. That's why you hear some off [drum] rolls in there, since I would yell to Larry [Payton, the drummer], "Okay, let's go! Roll coming up!" But sometimes the serendipity of what happens in a live setting makes it sound good—it's funky, you know! So we jammed on the riff for the whole sixteen minutes, which in those days was the entire reel of tape. Then I came home and wrote the "Got myself together" hook, wrote the horn sections, and we overdubbed it.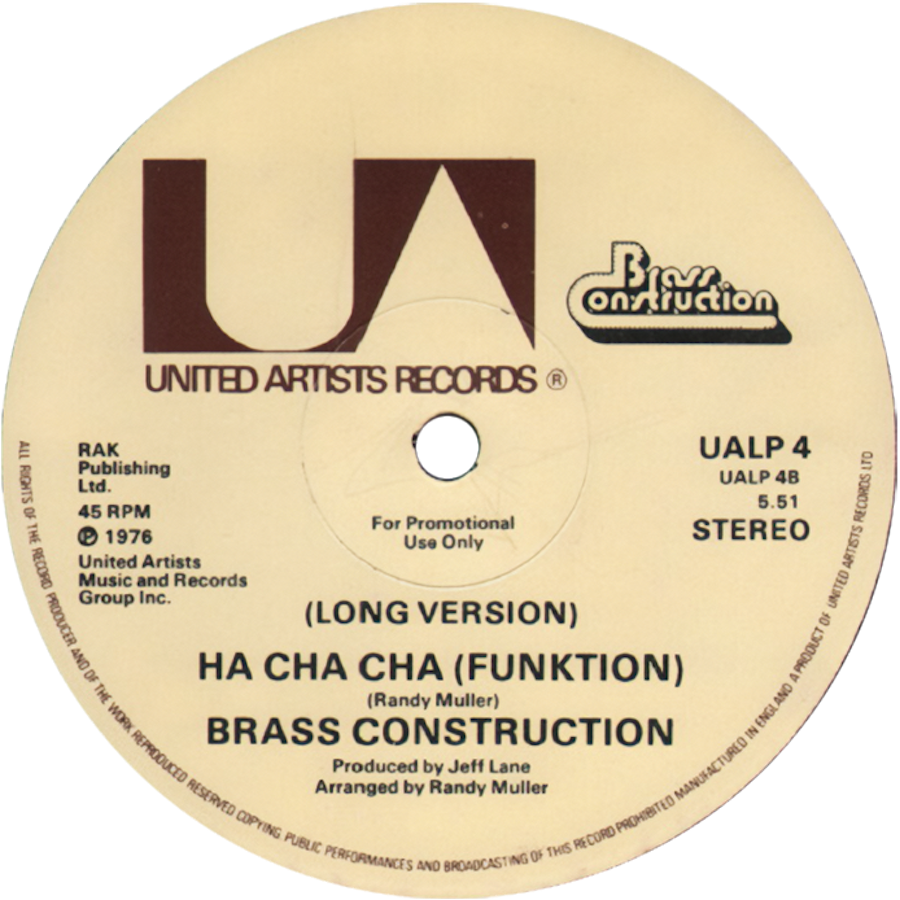 Brass Construction "Ha Cha Cha" (United Artists) 1976
I like all types of music. When I was very young in Guyana there were so many different types of music due to all the different ethnicities there. I lived right down the street from a Hindu temple, for example. I think that really broadened my scope. In this case I wanted to change things up with Brass a bit, and I threw in what little Spanish I knew, "Vamanos, ha cha cha"—whatever I could get over with! [laughs] We played that song in concert a lot before we recorded it, and people loved it because it had a little theme that they could shout. So we just put it to tape that way, and it did well.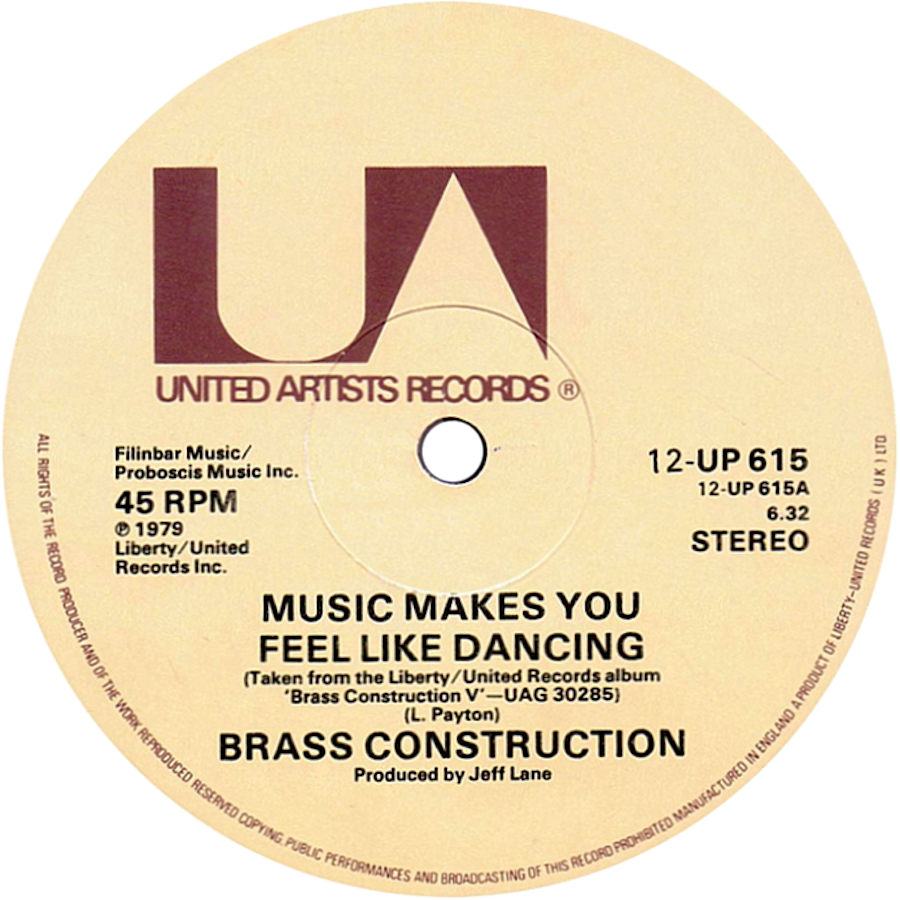 Brass Construction "Music Makes You Feel Like Dancing" (United Artists) 1979
Larry Payton had the idea for the track, but he doesn't really play melodic instruments, so I put the music together. It grew as we played it in the studio, really. I mean, it's not deep lyrically! It's just a pocket. Sometimes you just have a feel about the groove of a song, and you go with it. I added a bunch of synth stuff on top to kind of make up for where it was lyrically lacking. There's a great feel on the drums. It was Larry's song after all, and he had the pocket locked.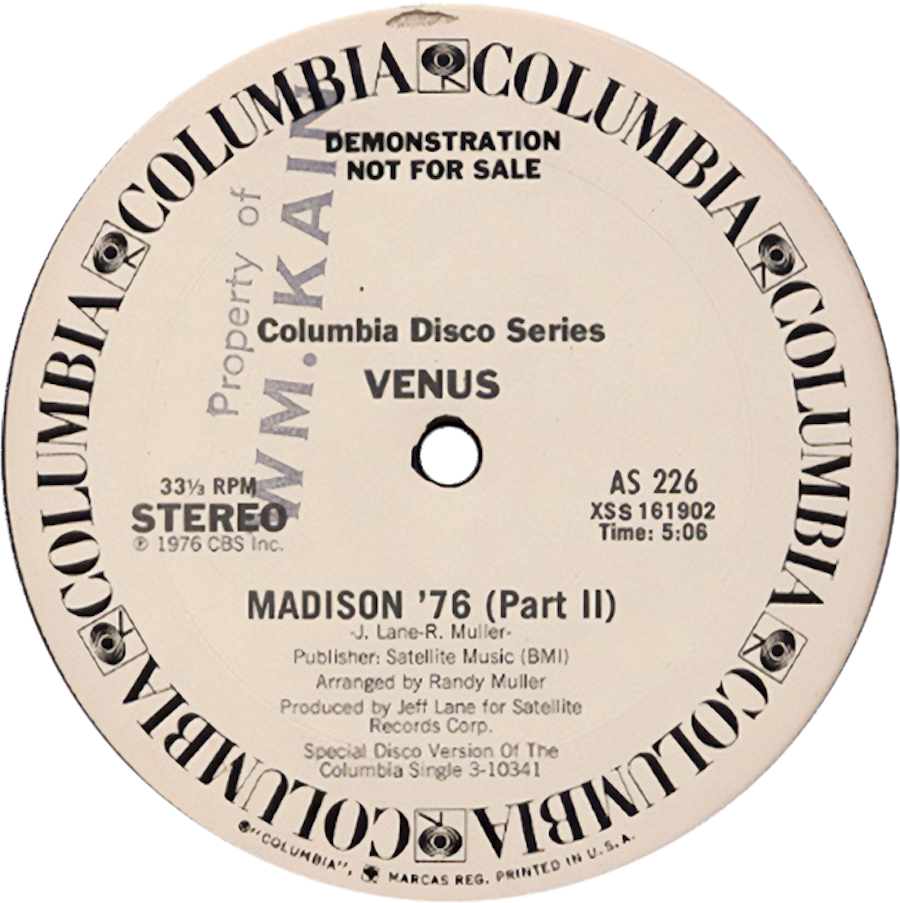 Venus "Madison '76" (Columbia, promo only) 1976
It's a made-up group. It was one of those things where the hustle thing was starting; we did a record to take advantage of that. Jeff was the nominal cowriter of the song, but it was entirely my composition and arrangement.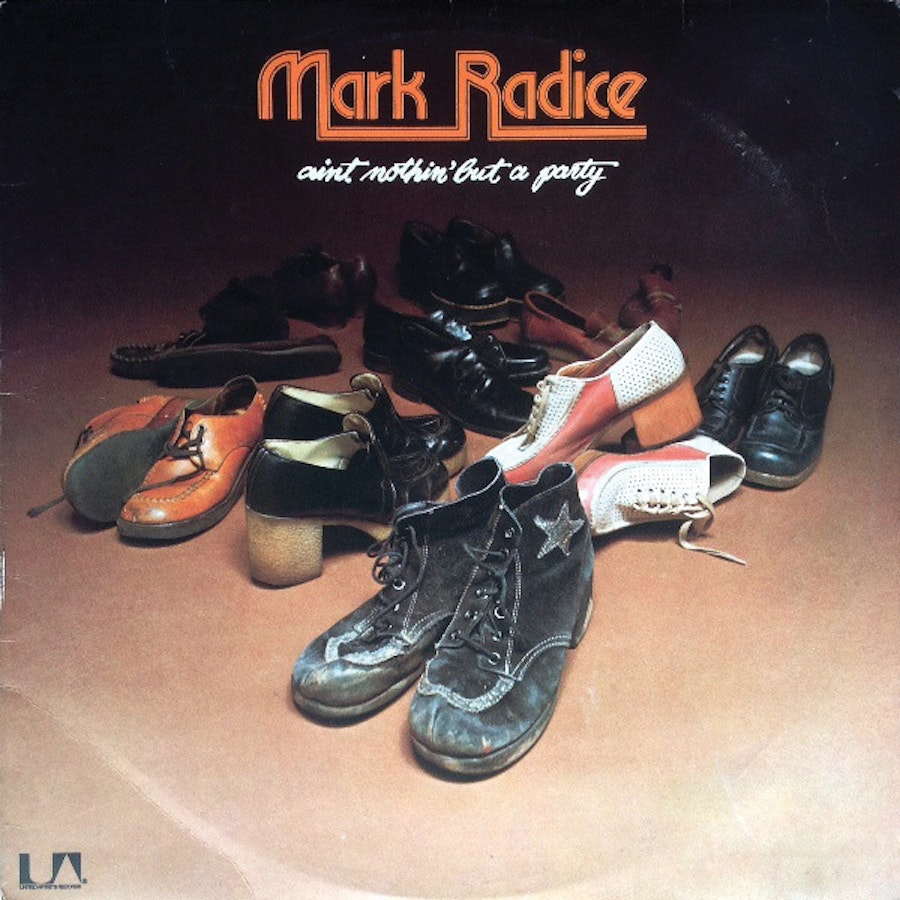 Mark Radice Ain't Nothin' But a Party (United Artists) 1976
This was basically a record we did for United Artists with all the Brass Construction guys. Mark Radice was an incredible synth player. He was a Minimoog genius. The concept was that we had this white kid with Brass Construction, which in those days was supposed to be very innovative! They used my shoes for the cover of the album, and they never gave me my shoes back.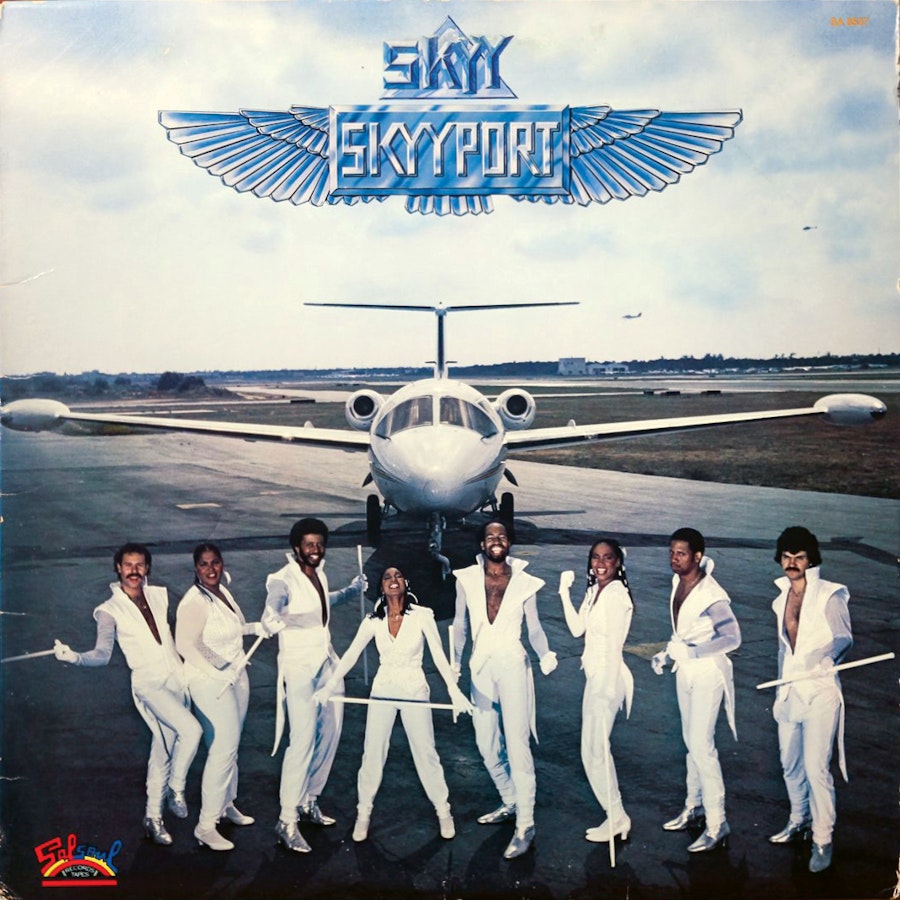 Skyy Skyyport (Salsoul) 1980
One of the greatest groups to represent the classic New York club sound, Skyy charted fourteen singles during their tenure on Salsoul and continued to be active even after the label's demise, scoring a couple of number one hits in 1989–90. Skyyport is their third LP.
Solomon Roberts, Skyy's leader, was a good friend of mine. He was a neighborhood guy. In fact, the Brass Construction demo was recorded on a four-track in his parents' basement, where we used to go and rehearse. Sol had a group back then too; they were called Fuel and were a little more rock-oriented than us. During one of the Miss Black America Pageants, I saw another act that just blew me away. It was four girls, three sisters and a sister-in-law, who did an interlude at the pageant. I hired them to come and perform with Brass Construction. They would come on during the show and do a few songs, mostly stuff from Main Ingredient's Afrodisiac album, which they really liked. Unfortunately, when you added the girls to the band, we had so many people performing that at the end of the night we would each end up with something like five dollars! We couldn't afford it. So I told Solomon that he should get these girls involved with his group, and that's when Fuel became Skyy. They started developing a different style, and I began recording them. 
Solomon and I formed a company called Alligator Bit Him. The name came from a line in a song [Jerry Reed's country chestnut "Amos Moses"] that we took to represent the sound of a snapping electric bass. I put up the money to get the group started, but we still had to get a deal. It was really tough. I had taken a lot of money out of my savings—my wife thought I was crazy—but I really believed in them. Salsoul, Casablanca, and RCA were hot labels at the time, and I wanted to somehow get this group involved with one of them. 
I didn't go out much at all, so I didn't meet up with industry people very often, beyond who I was already working with. One day, though, I ended up at this apartment in midtown. It was a place where all the producers and musicians used to congregate, near a bunch of studios like Opal and the Music Farm. I remember Patrick Adams was there, Norman Harris, a lot of people, and that's where I met Ken Cayre [owner of Salsoul]. I was thrilled to meet him, and to my surprise he knew just who I was; in fact, he wanted to meet me since he'd heard the arrangements I'd been doing. I told him I had a new act, and on Monday it was done! I was so happy. "First Time Around" was our first single in 1979. Larry Levan did the mix. 
One of my favorites "Here's to You." I felt the finished song represented exactly what I had set out to get across. Musically, lyrically, it came together perfectly, and the bass line and pocket is so deep. It was the first time that Denise Crawford had sung lead with the band—prior to that she was the backup and Dolores Dunning sang lead. Denise just knocked it out of the park, an amazing performance. After that, I always featured her.
"Superlove" was a big West Coast and down-South record. It wasn't big in New York, but they loved it out there. I saw it on Soul Train one time and was really surprised.
"No Music," unlisted on the album cover, is an uncontested breakbeat classic comprised entirely of handclaps, drums, a chant, and, of all things, kazoos. Muller explains: 
When I'm finished doing a record, I put the tracks on in sequence to hear it as a listener would, and ask myself, "Would I buy that record?" Listening to Skyyport, I felt something was missing. We'd finished the album, I was in the studio doing edits, and I felt like we needed something really funky. Tommy [the drummer] and Solomon were the only guys there; we were at Blank Tapes [Studio]. I wrote this chant ["We don't need no music, 'cause all we want to do / is sing and dance and party down and play our Skyyzoos"] and wrote out the beat. I got the secretary, the receptionist, the delivery guy from Sarge's [thanked on the credits as "the pizza guy"], anyone who was there came in the room. Everybody clapped, we did the chant, Tommy played the beat, and the record was done. Solomon used the kazoos as a gimmick in the live shows—the girls would play them and people liked it, so we went with it.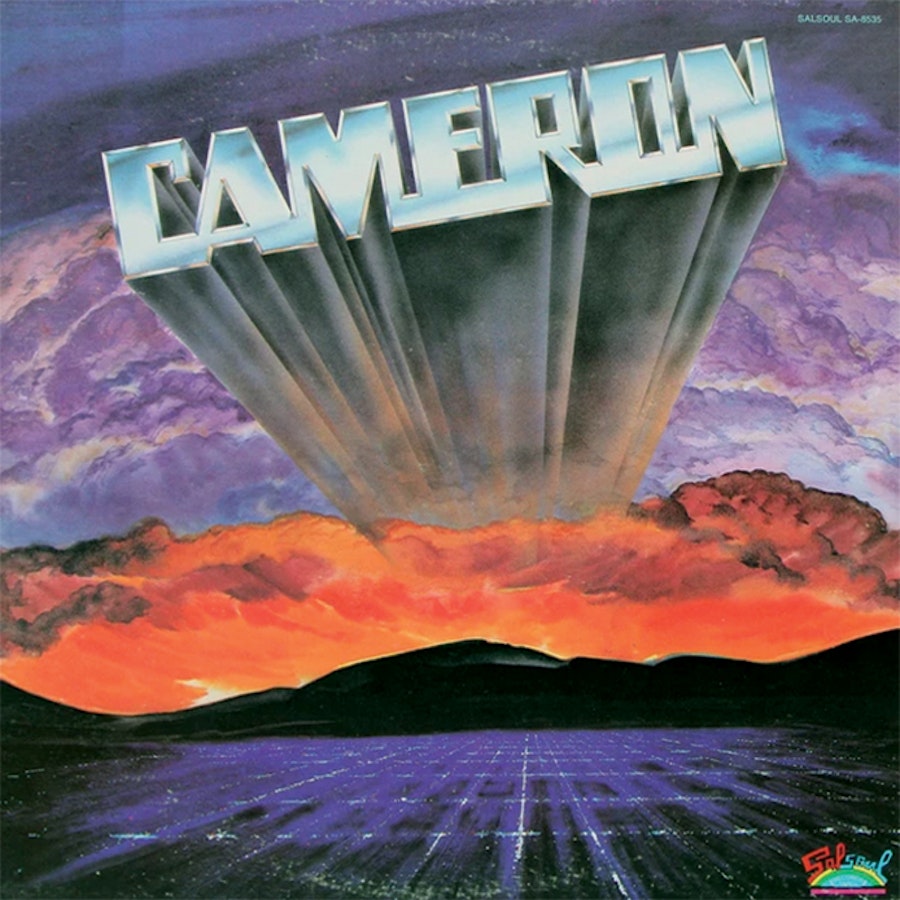 Rafael Cameron Cameron (Salsoul) 1980
Rafael Cameron, another Guyanese-born Brooklynite, had three albums on Salsoul, each produced by Muller. This is his first, and contains the dance-floor gems "Funkdown" and "Let's Get It Off." His second LP contained his biggest hit, "Boogie's Gonna Get Ya."
We had known each other back in the days of the Panharmonics, when he sang with the group. I ran into him by coincidence on Church Avenue in Brooklyn years later, and he mentioned that he was still singing. I had him come by the house, he sounded great, and I started working on some songs with him. At that time, I had some clout with Salsoul and I got him signed. 
Musically, it's the whole Skyy group again. The girls are singing, Sol and the guys are playing. We had a great time doing that record. Tommy McConnell and Gerald Lebon [drums and bass] were probably the best rhythm section I've ever worked with. It was meant to be very unlike Brass, and very unlike Skyy. Even though it was the Skyy guys, it was almost like we were trying to be schizophrenic, to have a different musical persona. I have so many nuances that I want to express, and Brass wasn't always the right structure for them. Cameron was a good way to do some male vocal things.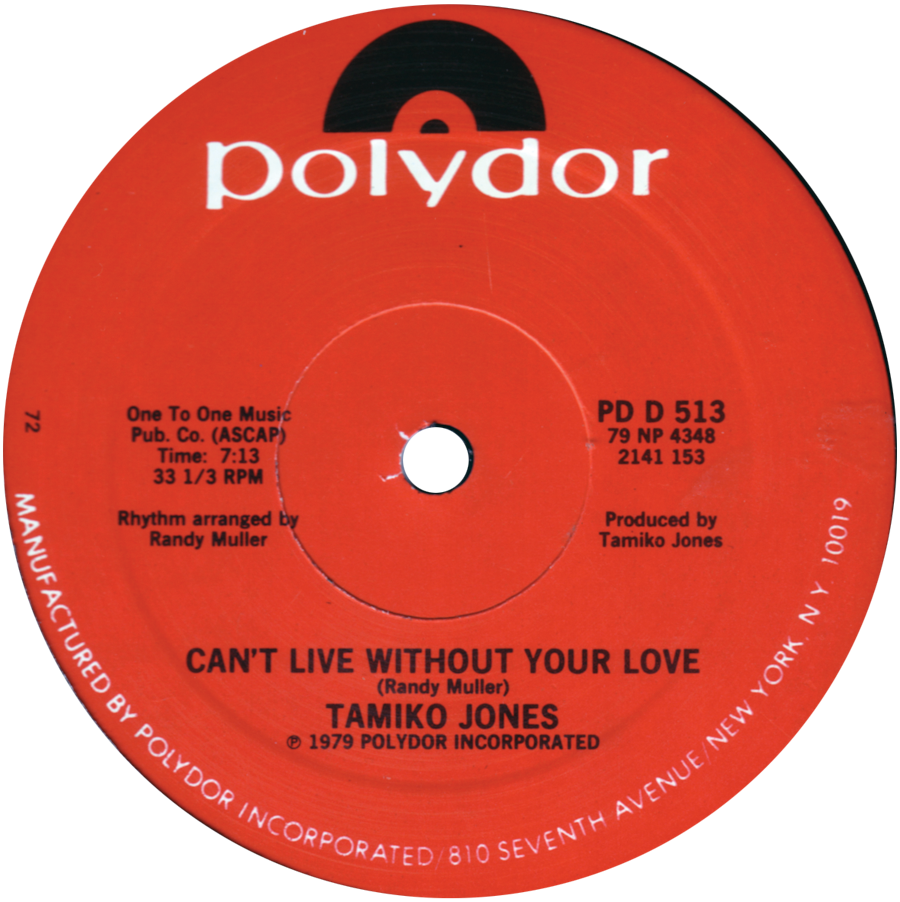 Tamiko Jones "Can't Live Without Your Love" (Polydor) 1979
Jones, who gained fame through her '60s work with Herbie Mann, lent her name to this huge New York underground record. It continues to be a favorite of David Mancuso and many of the Loft-influenced DJs.
I met Tamiko through John Abbey; he owned Blues & Soul magazine in the U.K. She was his wife, and he asked me if I'd do a song with her. She had something before that that was pretty big, "Let It Flow," on TK Records. So I wrote something and had the Skyy guys come in and play. Gerald Lebon was on bass, I think Solomon might've actually played drums, I played keys, and we just rocked the track. Carlos Garnett [soul jazz great who also played on Denroy Morgan's hit "I'll Do Anything for You"] played sax.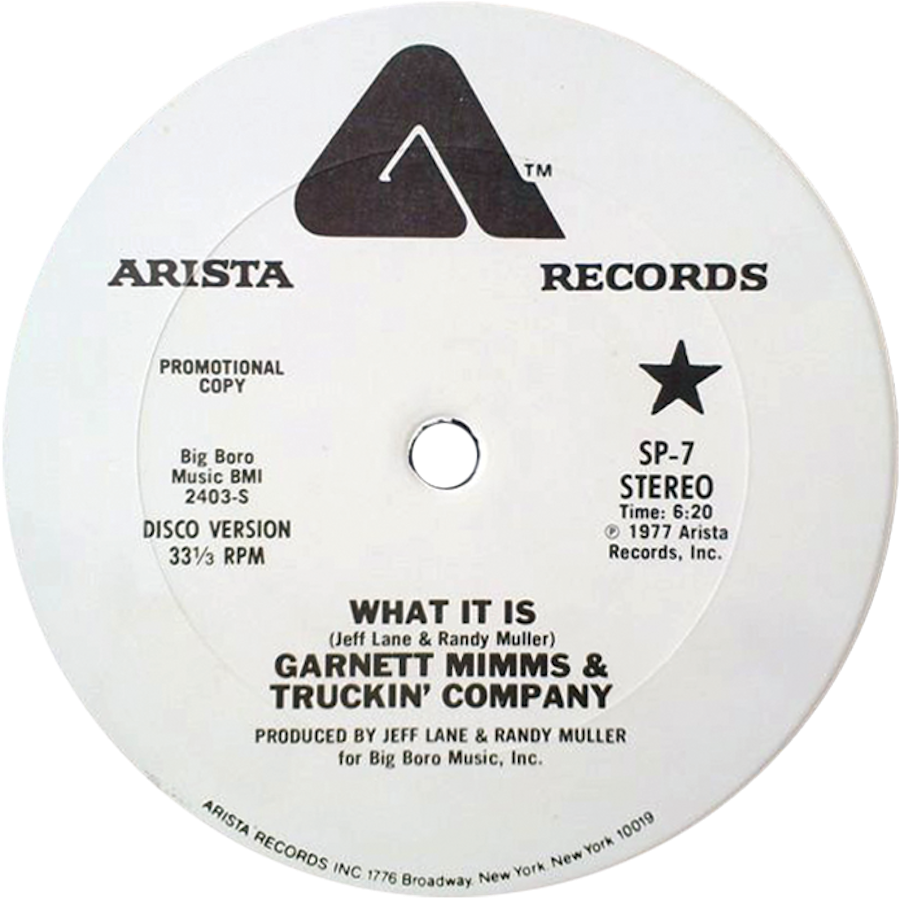 Garnett Mimms "What It Is" (Arista) 1977
This song, a change of pace and something of a comeback for Mimms, reached #44 in the U.K. pop charts. The 12-inch was available in the U.S. only on promo but became the first official Arista 12-inch in Europe when it was released there.
Garnett was from Philly, but the guy putting the project together wanted something like what we were doing in New York. I came up with this chorus, "girls do it, boys do it." I still have the scrap of paper I wrote the lyric on. I got the Brass guys to play on that track; Larry Payton played drums, Wade played bass. Sharon Williams [a well-recorded session vocalist] came and did vocals.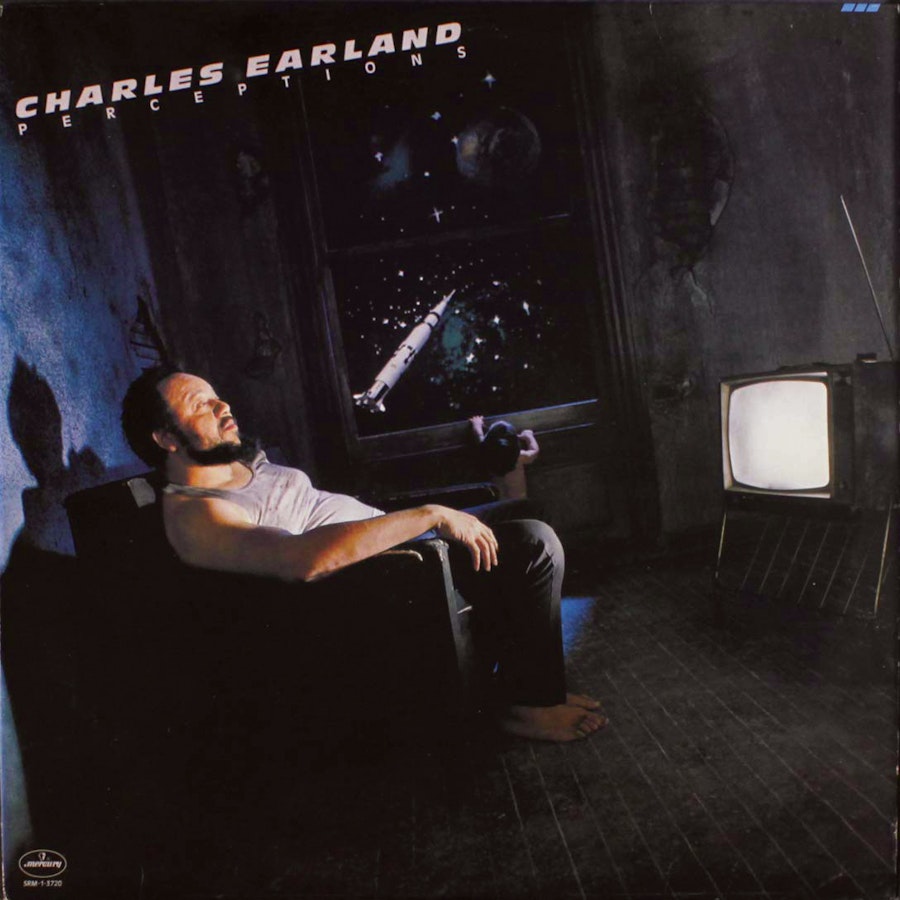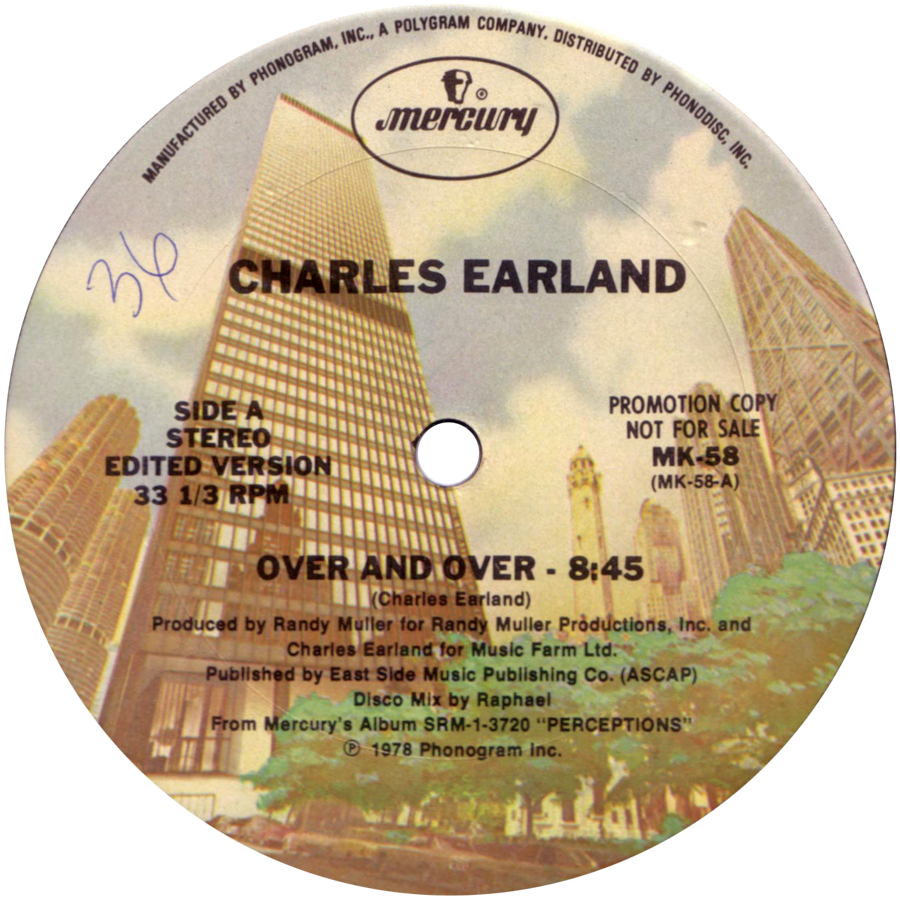 Charles Earland Perception (Mercury) 1977
I knew the guy who was managing Charles Earland at the time. He was a fan of my stuff. So he talked to me about doing a record with Earland. I love jazz, and Charles is great, so I said sure. Charles was a really hip, old-school jazz dude. He called you "babe" and everything! The objective was to make him more appealing for contemporary audiences, which at the time meant a disco sound, but keep the jazz to have some continuity. My task, in other words, was to get his music into the clubs, but include some jazzy stuff. I set out to write the record while being on the road with Brass Construction.
During this time a crazy thing happened—we almost died doing that project! Charles's band had done a gig at a club and I joined them the morning after the gig to run through some of the songs I'd written, to introduce the tunes to the band. We started playing, the track was sounding great, and all of a sudden the guitarist fell over. Now, I thought the track was cool, but knock you off your feet? Come on! [laughs] Next thing you know, the bass guy is passing out, and Charles is nodding off! Luckily, someone had the presence of mind to open a door, because there was a gas leak in the club. We all had to go to the hospital in an ambulance!
I wrote "Over and Over" and "Let the Music Play" and again got the Skyy guys to play on those tracks for the recording, with the girls doing vocals. I used Earland's guys on the jazzier tracks.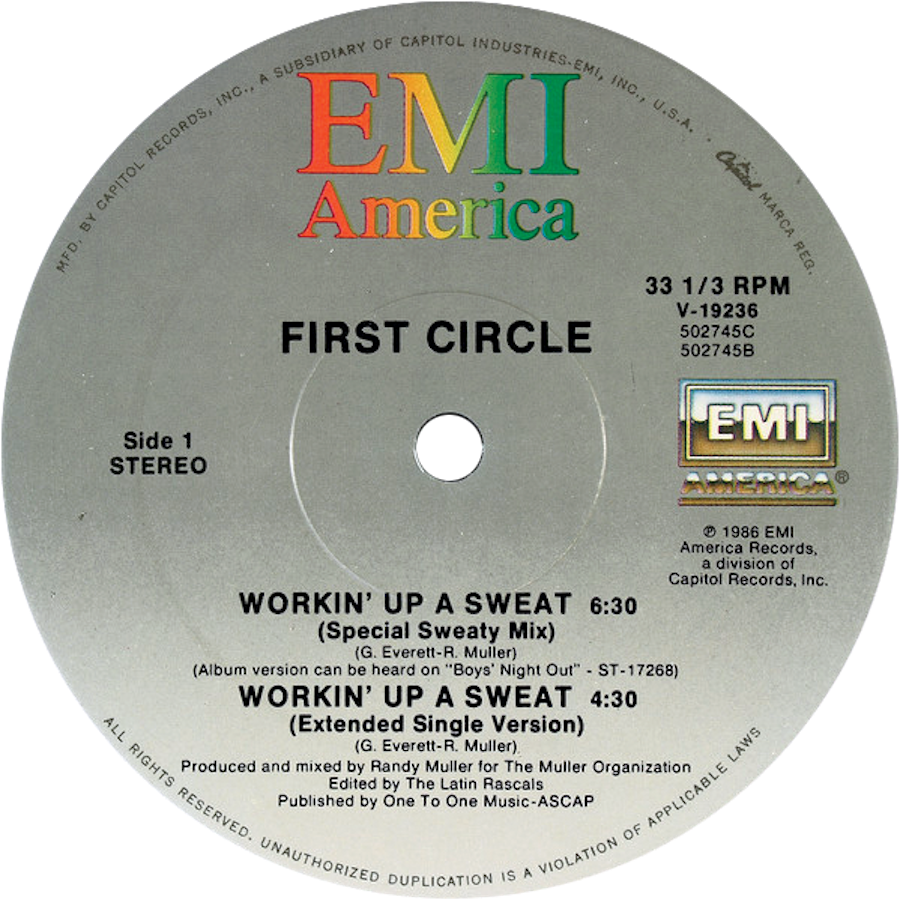 First Circle "Workin' Up a Sweat" (EMI) 1986
They were great guys, very funky. From Al, the singer, who had what I call a "whiskey voice," to the musicians. Larry Marsden was a great guitarist and Ronny, the bass player, was a bass player of doom—just incredible. They were another band from East New York [Brooklyn], whom I saw and liked what they were doing. They were originally called Motivation, but I thought the name was a little corny, so we changed it to Full Circle, and then First Circle [after another band of the same name asked them to change it]. We got a deal with EMI and put out "Workin' Up a Sweat," a thing that me and Chango, the drummer, wrote. He had the hook and I programmed a DMX beat and wrote verses. We had the Latin Rascals chop it up; they were amazing, cutting little quarter-inch pieces of tape and actually making new beats by measuring out spliced segments. I remember seeing the reel with all these pieces of masking tape flying by, it was fantastic! That was done at Arthur Baker's studio.