In 1979, an anonymous demo tape postmarked Westminster, London, found its way into the hands of influential critic and Vanity Records owner, Yuzuru Agi.
As editor and founder of post-punk bible Rock Magazine, Agi set the agenda for Japan's alternative scene at a time when major labels dominated the media narrative. Filling his pages with the likes of Talking Heads, Patti Smith, Brian Eno, and Conny Plank, he raised his readers on a strict diet of downtown New York City no wave and European post-punk. Such was his influence, Agi is said to have coined the term "techno-pop" in a review of Kraftwerk's Man Machine, a term which would go on to define the electronic Yellow Magic Orchestra–influenced sound of the late '70s and early '80s.
Although obsessed with the European and Anglo-American music he imported, Agi was also an influential figure on Japan's own domestic scene, founding Vanity Records as one of the country's first independent labels. Between 1978 and 1982, Vanity released a modest yet groundbreaking collection of eleven LPs, three singles, six cassettes, and twelve flexi discs (which were given away in editions of Rock Magazine). Based in the vibrant Kansai (Western Japan) city of Osaka, Vanity captured a pivotal moment in the country's musical evolution, as access to home recording technology and the splintering of the cultural mainstream collided with a new generation making music on its own terms.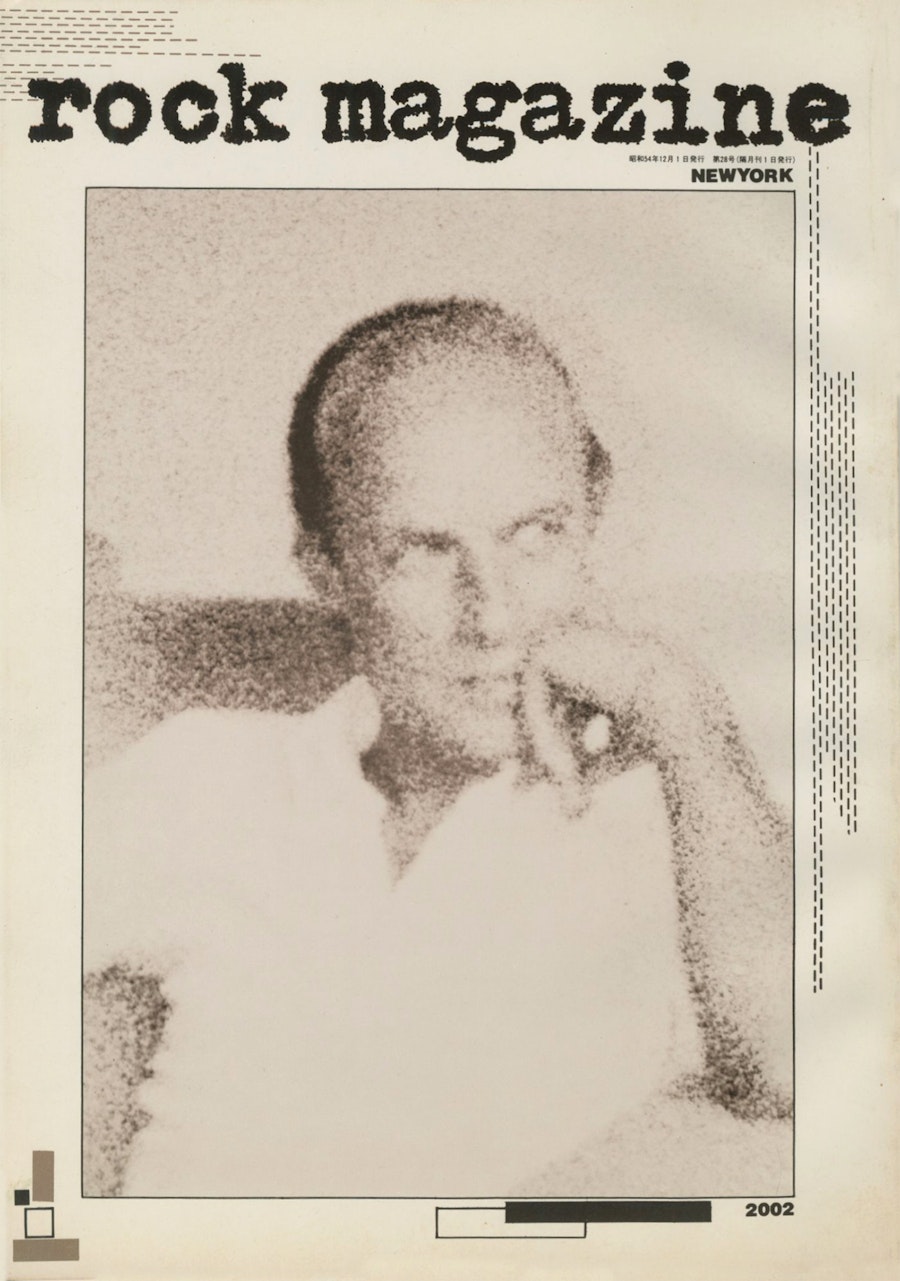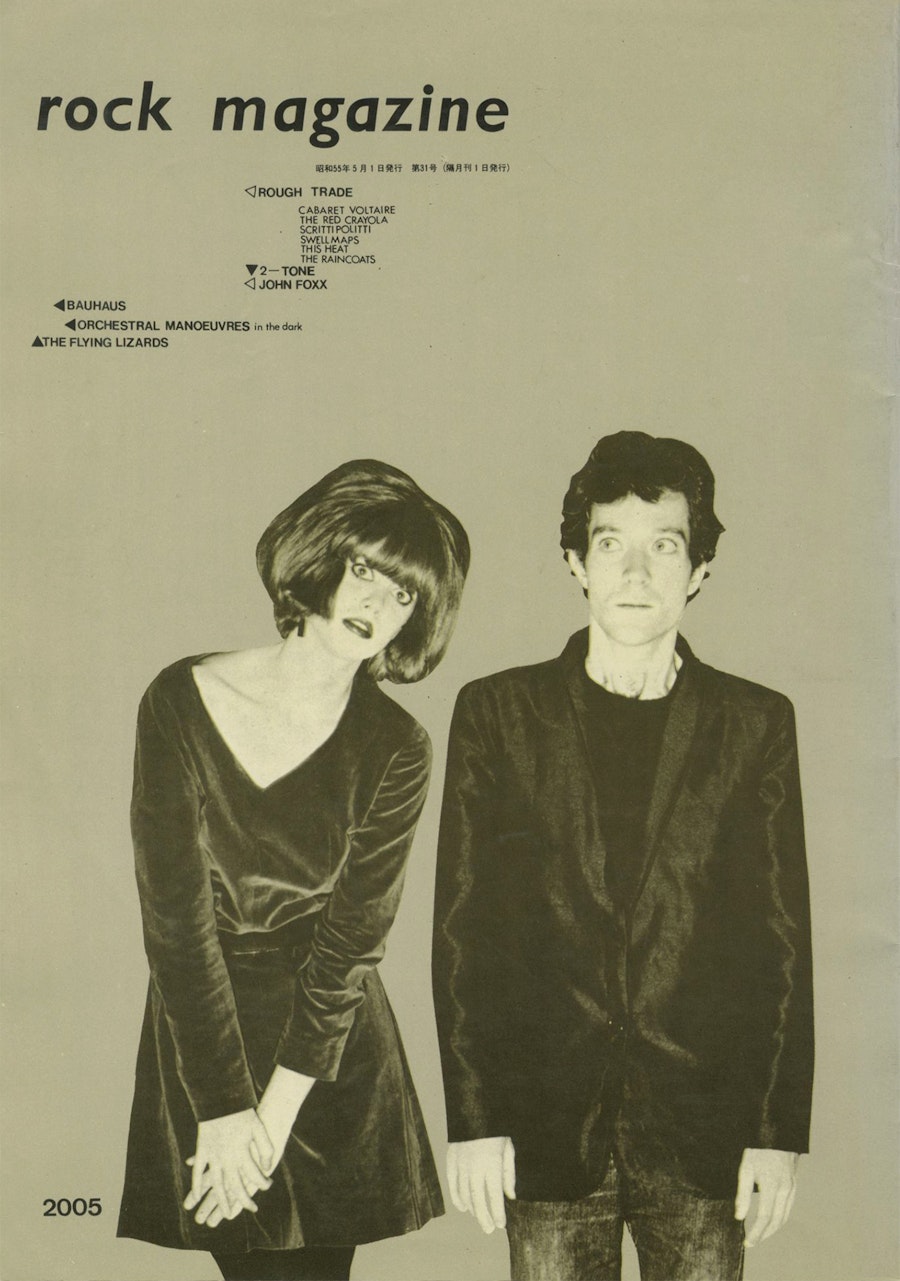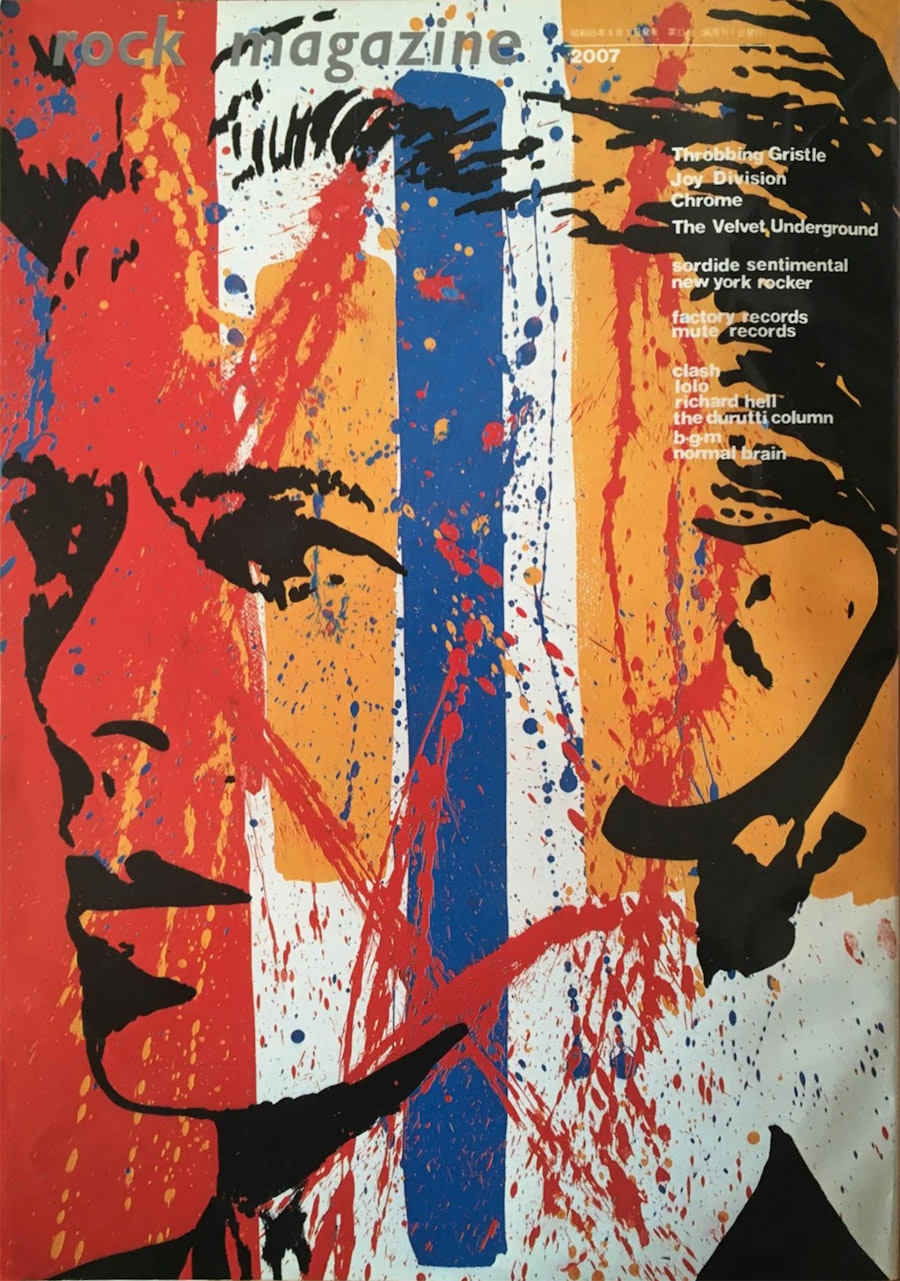 It's a period which has been increasingly pored over by reissue labels in recent years, fleshing out an image of a chaotic, innovative moment that, beyond niche circles, was rarely exported outside Japan.
Among them is the Seattle- and L.A.-based label Light in the Attic, who have released a series of compilations that plot points on Japan's musical map between the folk and rock of the '60s and '70s, the '80s ambient and environmental music of Kankyō Ongaku, and the lifestyle boogie of AOR-influenced city pop. A fourth collection, entitled Somewhere Between: Mutant Pop, Experimental Minimalism and Shadow Sounds of Japan 1980–1988, positions itself self-referentially between the others, occupying a nebulous space that compilers Yosuke Kitazawa and Mark "Frosty" McNeill describe in the liner notes as "a blurry constellation that defies collective categorization."
In one orbit, you had major labels with cash to burn operating niche sub-labels, like Better Days, which gave extensive (and expensive) studio time to experimental artists like Mkwaju Ensemble and Wha Ha Ha. In the other, artists rooted in the '70s student protest movement were channeling zine culture to carve a space for private-press home recordings and handmade cassettes. Avant-garde musicians, pop producers, and ambient composers moved in and out of focus. When they aligned, genre lines were drawn, erased, and redrawn in wildly creative ways.
It was in this schism that Yuzuru Agi and Vanity Records operated, nurturing a radical platform that appealed to the artist on the other end of that mysterious demo.
Although he won't admit to sending it himself, the U.K.-stamped package was the work of Kaoru Sato, a maverick producer who had yet to find a willing taker for his experimental synth outfit R.N.A. Organism. Sato wagered that receiving a tape that looked like it came from London would have been an exciting proposition for a post-punk enthusiast like Agi.
"What was unique about Vanity in its early years was the fact [that] both the artists whose work was released on the label and the music categories or genres were extremely diverse and broad," Sato explains. "The music was consistent in the sense that only music that Mr. Agi liked ended up being released, while there was little direct association amongst the artists."
Formed from heady, anarchic student jam sessions, R.N.A. Organism was self-consciously anonymous and provocatively deviant. The cover of their only album, R.N.A.O Meets P.O.P.O., released on Vanity in 1980, was made of a monochrome instant-lettering sheet and featured raw, dubbed-out electronics with track titles like "Say It Loud, I'm Dilettante, I'm Proud" and "Weimar 22." In influence, it owed as much to the Dadaism of 1920s Germany as the squat parties of '80s West Berlin.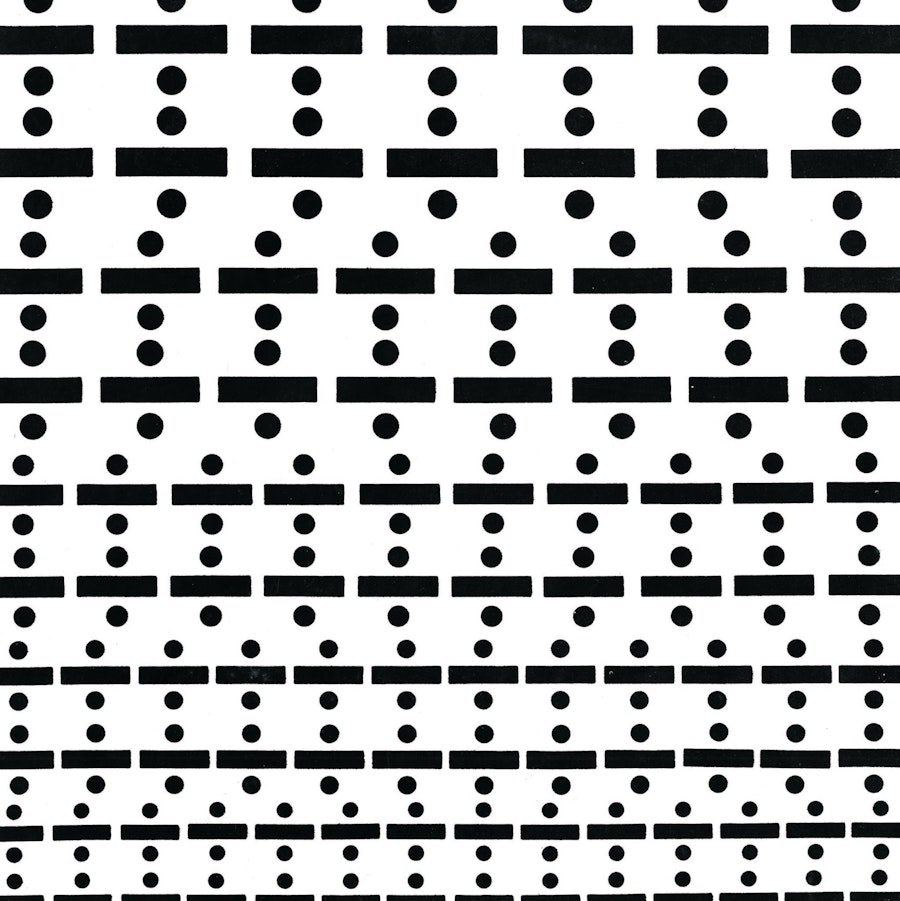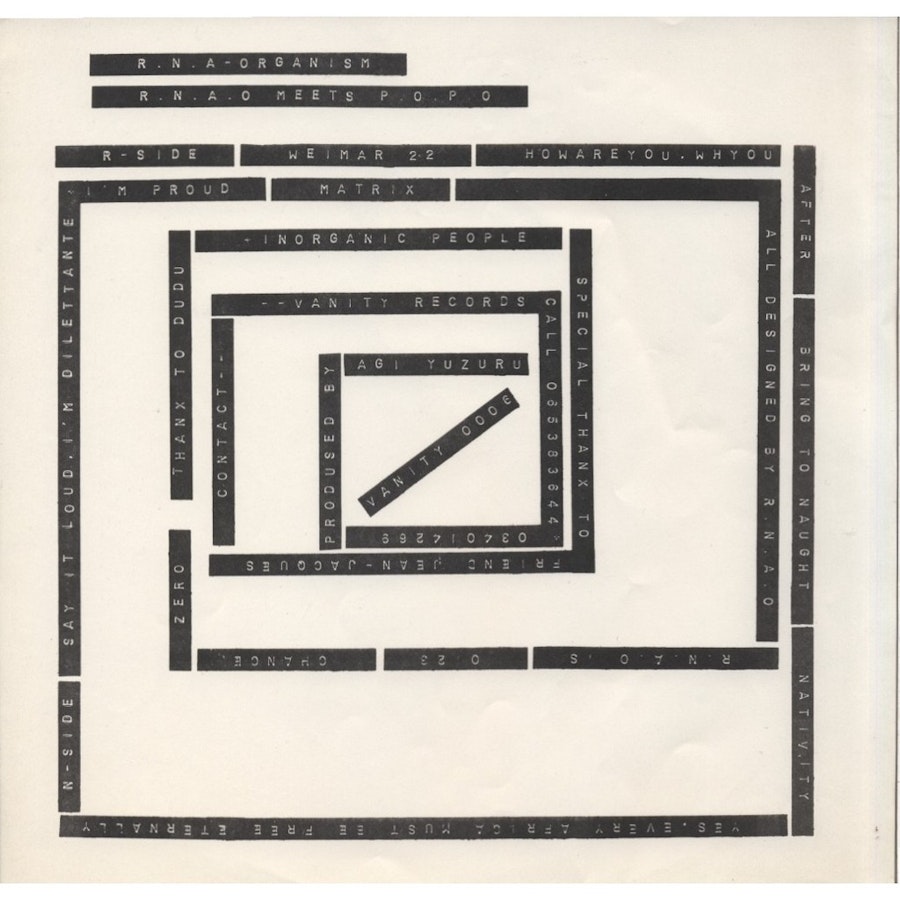 Refusing to perform live, instead sending pre-recorded performances to venues in absentia, R.N.A. Organism was designed to disrupt not endure, and the group promptly disbanded. The album did, however, eventually make it to the U.K. via the London correspondent for Rock Magazine, Akiko Hada, who sent a polite letter to John Peel imploring him to listen to the record on the basis that "Yellow Magic Orchestra isn't the only Japanese band that exists." It's not clear if he ever played it.
"I was interested in production that wasn't about the result, but that also valued the method and the process," explains Sato, who went on to work with groups like Amaryllis, Perfect Mother, Mammy, and Neo Museum, some of which also feature on Somewhere Between.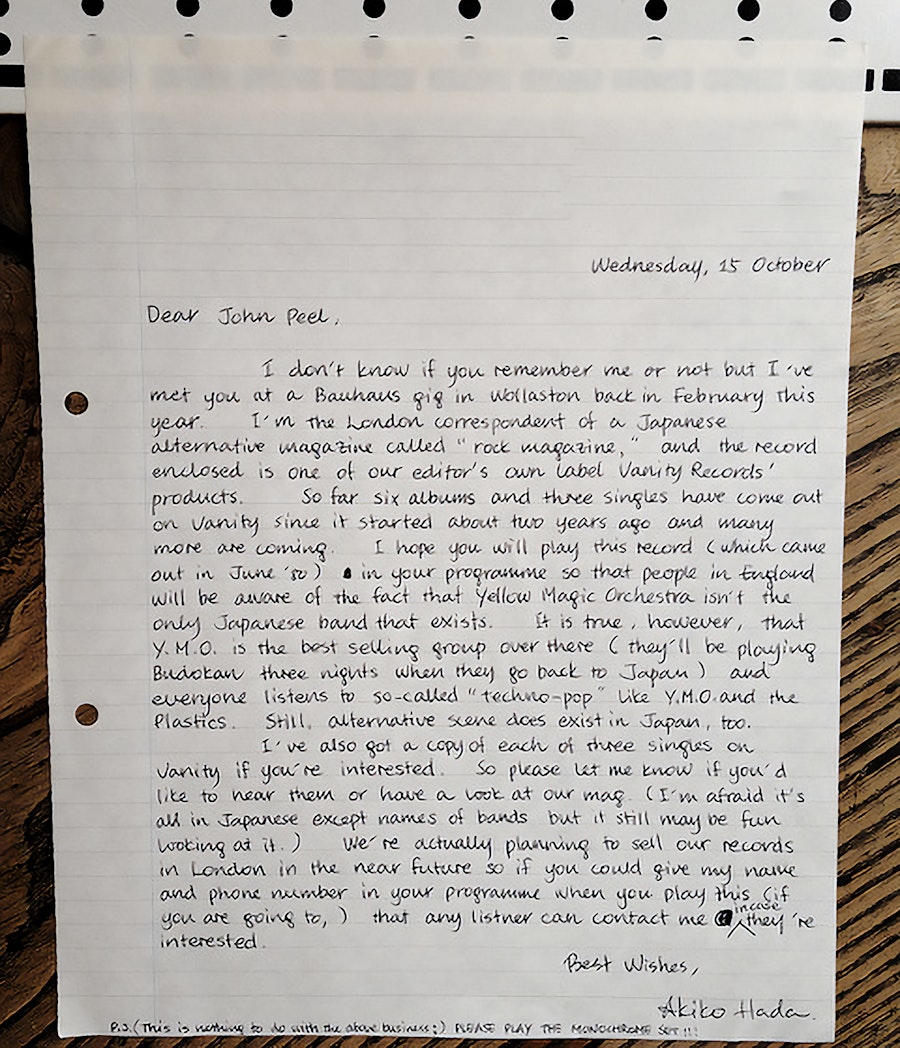 "In terms of technology, a cassette multitrack recorder targeted to the general user was released in 1979, which resulted in the dramatic popularization of home recordings," Sato continues. "At the same time, this development enabled people to bring their equipment into a rehearsal studio and create a basic recording, generating a DIY revolution for Japanese music."
That Tokyo remained the magnet for commercial trends meant regional scenes like that of the Kansai region—and its cities of Kyoto, Osaka, and Kobe—could forge an identity in the shadows of the mainstream. As is so often the case in underground scenes, where cheap rehearsal rooms doubled as makeshift recording studios, physical space played a crucial role both in the creation and dissemination of this new sound.
As a DJ, Kaoru Sato had spent the latter half of the 1970s frustrated by a lack of audience for his eclectic record bag. "I was playing non-disco music in several discos in the Kansai area, [but] in those days, playing Kraftwerk or Fela Kuti in a mainstream disco had no appeal." In true DIY fashion, he decided to open a venue that would accommodate his tastes.
In 1980, Sato introduced Club Modern to Kyoto with a strict no-disco policy. Gone were the chairs and tables that typified more traditional establishments, replaced instead by an open floor and stage to encourage dancing and live music. Drinks were bought from a vending machine. "The music played ranged from punk, post-punk, techno, and alternative music through to world music," Sato explains. Iconic spots like the Haçienda in Manchester, Mudd Club in NYC, and Plan K in Brussels come to mind. "I think that, at the time, a venue where you could see people dancing to Throbbing Gristle or Joujouka was rare anywhere in the world."
If Rock Magazine was a portal to the international underground, Club Modern was its physical incarnation, typifying what Sato calls the "bricolage" tendency of DIY movements to bring together different elements into something wholly new. "I think Club Modern was an extremely unusual venue," says Sato. "It was a venue that was realized by diverse elements that meshed successfully. Club Modern was, in a way, a template for independent culture, and informed what clubs and venues developed into."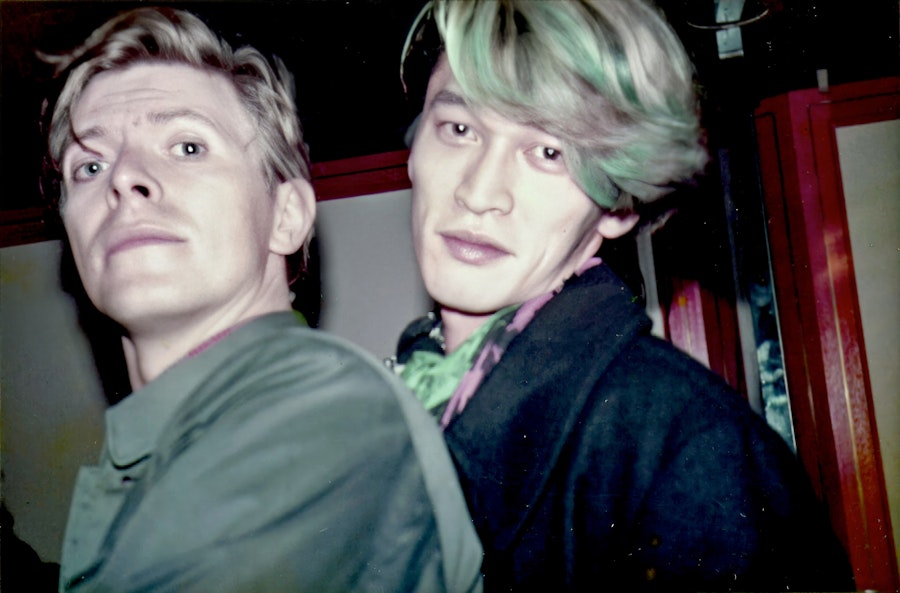 Sato's disruptive instincts would continue as one half of mutant funk unit EP-4, whose 1983 album Lingua Franca-1 昭和崩御 (Death to the Emperor Showa) LP—initially censored for its provocative title—was something of a paean to the raucous sounds of PiL and Liquid Liquid. With a knack for industry subversion, Sato managed to convince both independent and major labels to release what turned out to be the same record, organizing a series of near simultaneous concerts in different cities that were advertised on illegal billboards across Tokyo. With a series of unreleased R.N.A. Organism mixes recently reissued, Sato has picked up where he left off and is now running a label called φonon, dedicated to underground electronic, ambient, and noise.
"One had no choice but to reject the environment or backdrop to the pop industry," he concludes. "This is no different from what was taking place around the world, which is why it was only natural that not only the sound, but the environment or backdrop itself, became avant-garde."
Vanity Records aside, a small cohort of independent labels was also making its mark, often releasing compilations that took grainy snapshots of the shape-shifting musical ecosystem around them. Sato describes this proliferation of underground groups as forming, and presumably dissolving, "like foam." Sometimes, a track on a comp was the only trace left behind.
Borrowing Sato's analogy, one of the most important compilations of this period was Awa 沫 Foam, released in 1981 by an art collective called YLEM. Complete with a sticker that read "Japan Artistic New Wave" and a complimentary stick of ironic bubblegum, Awa 沫 Foam was kaleidoscopic and fragmentary in nature, bringing together artists that would either disappear or go on to take radically different directions.
Nestled among Sato-produced outfits R.N.A. Organism, Perfect Mother, and a youthful incarnation of noise outfit Merzbow were two wonky pieces of synthetic home recording credited to Interon (one of which, "Kaelf El," is a scuzzy inversion of Chic's "Le Freak," that sounds like it was recorded down a trans-Pacific phone line). 
Behind these raw electronic transmissions was a young artist called Sonoko, whose debut album La Débutante was eventually released in 1987 by Belgium's Crammed Discs. Her track "Wedding with God" was selected to close out Somewhere Between—once again residing on a compilation alongside R.N.A. Organism and Perfect Mother.
"At that period in Kyoto, it was chaos, which is why it was so interesting," says Sonoko, a contemporary of artists like Noizunzuri, Amaryllis, and, most successfully, Shonen Knife. She recalls film screenings, collaborations with galleries, and concerts in churches, describing every day as "a moveable feast," not unlike the multidisciplinary environments unraveling in cities around the world at the time. "The Kyoto music scene was very stimulated by philosophical and intellectual tendencies," she describes, suggesting that it was perhaps closer in spirit to Berlin or London than Tokyo.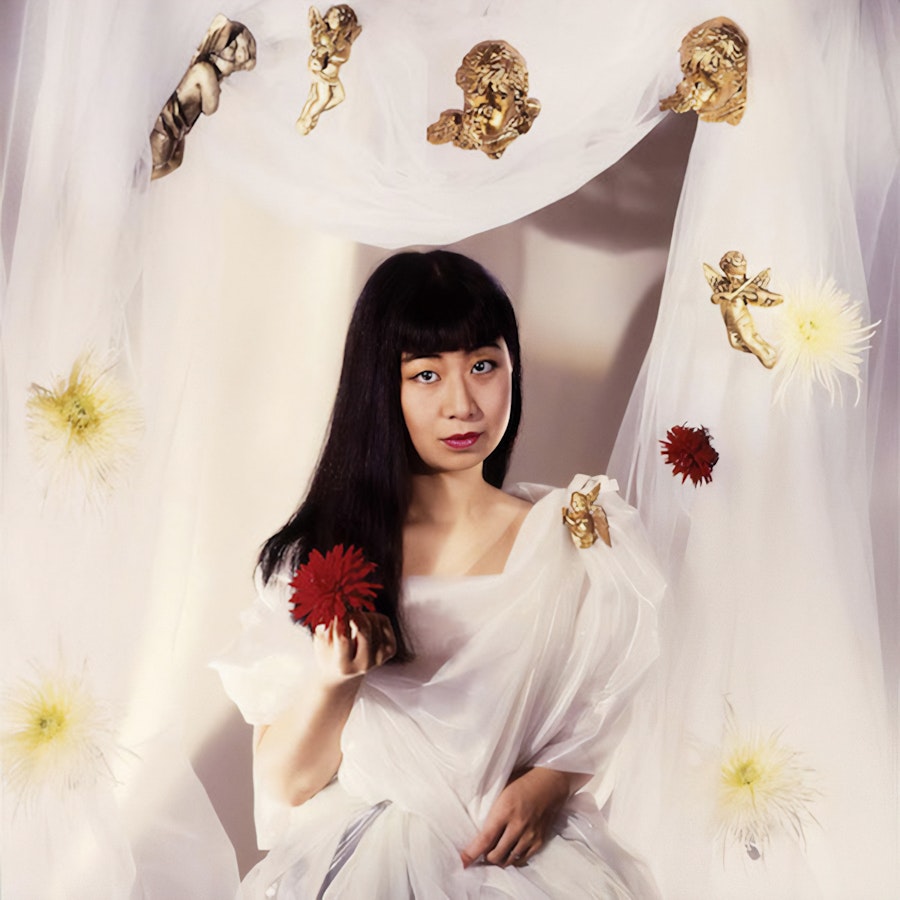 It was in another European city, however, that Sonoko's passion for literature, cinema, and art would find its focus. "Many girls are attracted [to] Paris as a kind of romantic place, but for me, it was something more hard-core, something very real in my life," she says, tracing her fascination back to the culture-shock moment of hearing Erik Satie for the first time, at age fourteen, on the 1963 Louis Malle film Le Feu Follet. "I was crazy about Impressionist music like Claude Debussy and Maurice Ravel. Finding Satie brought me into a completely different world from where I'd lived till then—maybe to another life, something I'd never known before."
Although drawing on what she calls a "shared sensibility," musically speaking, Sonoko never felt fully at home on the Kyoto scene. Instead she gravitated to European labels like Crammed Discs, Les Disques du Crépescule, and Cherry Red, scouring record shops to seek out music that reflected her intuitive esprit. At home, she wired up two tape recorders to create a collaged dreamscape of sonic and literary clippings—music boxes, toy instruments, kalimbas, bells, metallophones, violins, and an electric organ conspired with the words of Marguerite Duras, William Shakespeare, and British surrealist Leonora Carrington, whose short story, "The Debutante," would eventually lend its name to the finished album.
Drawing on the soporific narratives of children's bedtime story tapes like Maurice Ravel's Pavane for a Dead Princess, Gérard Philipe's reading of The Little Prince, and David Bowie's narration of Peter and the Wolf, Sonoko struck out from the Kyoto scene, completing a demo that she promptly sent off to her three favorite labels. Crépescule was the only label not to respond.
Initially agreeing to the release with Cherry Red, Sonoko enlisted Kaoru Sato to produce the album in Japan. However, as her ideas began to diverge from those of the British label, Sonoko sought a new direction, approaching Crammed Discs' Marc Hollander instead, who agreed to release it on the condition that Sonoko rerecord the album in Belgium without Sato. Studying French literature at a Sorbonne summer school at the time, Sonoko obliged, working with Hollander's left-field electronic duo Aksak Maboul and Wire's Colin Newman to complete the record.
"A lot of people say that La Débutante is a 'jewel box,' which has an uncanny unification, though various genres are condensed in it," Sonoko described the album in a previous interview. Tracing its influences is like diving through looking glass. Inspired by the naïve tonal quality of femme fatale actresses like Marlene Dietrich, Catherine Deneuve, and Isabella Rossellini in Blue Velvet, La Débutante features Sonoko's own cover of "In Heaven" from David Lynch's Eraserhead, alongside versions of Suicide's "Cheri Cheri" and her reworked "Requiem" by nineteenth-century French composer Gabriel Fauré. "Wedding with God (À Nijinski)" references legendary ballet dancer Vaslav Nijinsky, and evokes the near-religious intensity with which Sonoko made music.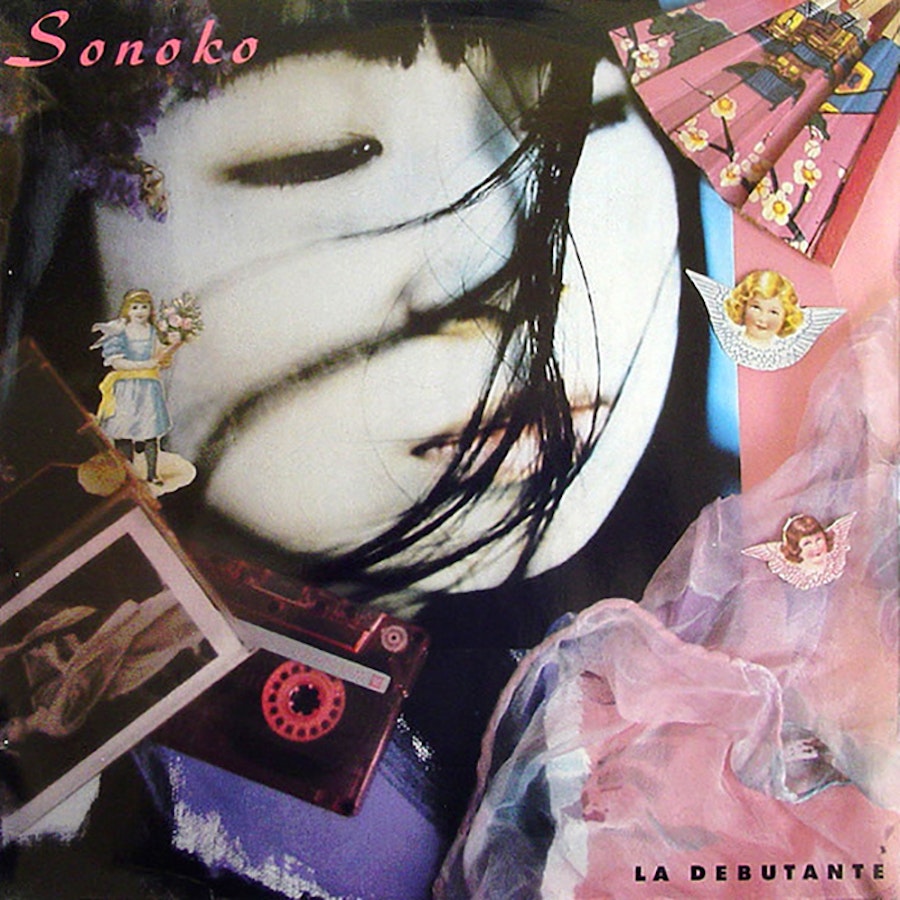 "I wanted to make a spiritual world [of] what I feel [is] beautiful, things so pure as to be beyond shame, sublimated to beautiful music," she said. "Since it was so personal, I felt that it might be hard to be understood." She needn't have worried. On its release, French newspaper Libération suggested it was "destined to become an underground classic."
What La Débutante also showed was the fluidity with which the post-punk, new-wave, and DIY underground was communicating across continents. In our conversation, Mark "Frosty" McNeill talks of the "feedback loop between Europe and Japan," and digging through the artists included on Somewhere Between, a clear fascination with European culture bubbles through. Avant-pop duo Dip in the Pool (sharing a name with a macabre Roald Dahl tale) was released by Rough Trade; Naoki Asai's private-press cassette Aber Heidschi was named after a Bavarian folk song; Takami Hasegawa's "Koneko To Watashi" was taken from an album named after French author Boris Vian's 1947 novel Froth on the Daydream (foam, anyone?). Then there was Tamao Koike's YMO-produced "Automne dans un Miroir," which didn't quite make the cut, not to mention Ryuichi Sakamoto's own projects with David Sylvian and Robin Scott, the latter of which featured one Kaoru Sato on violin. Even indie label YLEM can trace its origins in the work of Ukrainian American theoretical physicist George Gamow.
Making sense of this critical period in Japanese music history is to embrace its chaotic tendencies, where narratives, by their very nature, are less linear or defined. It is to accept that artists like Sonoko and Sato, although placed side by side on compilations forty years apart, were subversive in their own ways. As she was in 1981, Sonoko is still not comfortable being presented alongside Japan's avant-garde musicians; and viewed from her perspective, being featured on Somewhere Between is "like having my picture taken with strangers—I don't even know when it was shot…"
Inherently abbreviated and imperfect, the world that a compilation like Somewhere Between tries to conjure is a fantastical one, assembled in the spirit in which Sonoko gathered her European influences like flowers around her, as half-formed memories of a life not lived. "For myself as the curator, it is sort of like dreaming and projecting in a way," McNeill echoes. "It's like a gaze from afar, I'm looking at it from the other side, and not able to fully comprehend it, nor do I want to."
What the music does share, however, is an oppositional quality which jarred with the universalizing, optimistic message of economic prosperity that defined the decade. "The real divide," Ian F. Martin wrote in Quit Your Band: Musical Notes from the Japanese Underground, "is between the hegemonising swarm that is mainstream culture and what basically amounts to Everything Else. What Everything Else consists of is less important than the fact of its existence: the fact of its otherness. And from this you actually start to find links and crossovers forming between all kinds of things that wouldn't normally be considered natural bedfellows."
It is this that perhaps drove ambient composer Yoshio Ojima to make a piece of synthetic machine funk like "Days Man," or free jazz saxophonist Akira Sakata to guest on an ungodly piece of bubblegum garage punk by Wha Ha Ha. "I like the moments where it all gets mixed up and you can start to unravel it and appreciate that all of these things are interconnected and influenced by one another," McNeill continues. "None of it is being created in a vacuum." Viewed in the dying light, even the more analgesic tones of city pop emit the nostalgia of lost youth, lonely affluence, and the deep irony of aspiration.
For Kaoru Sato, the explosive creativity of those few years contained within them the seeds of its own demise. "The dark side completely dominated," he says. "The contrast between the early '80s and the late '80s makes this very clear. After 1985, the indie scene evolved into a new pop contest. Music was created simply to appeal to specific labels, while the labels were never committed to the music. In other words, it was a time during which the meaning of DIY had become distorted." The magisterial eclipse of Koichi Sato's artwork on Somewhere Between seems a portent of the decline to come, until you realize it was originally commissioned for a housing company calendar.
In trying to capture this contradiction, Mark "Frosty" McNeill reaches for the ethereal term "shadow sounds," as both antithetical to, and yet inextricable from, the totalizing mainstream. To borrow a phrase from Junichiro Tanizaki's treatise on Japanese aesthetics, In Praise of Shadows, "We find beauty not in the thing itself but in the pattern of shadows, the light and the darkness, that one thing against another creates."
Whether in the staged mystique of R.N.A. Organism, the flair of Yuzuru Agi's Vanity Records, the dreamlike visions of Sonoko, and even the squinted perspective of a West Coast reissue label, something of this music denied its own substance, for the blurrier the edges became, the harder it would be to contain. In the words of Lafcadio Hearn—the naturalized Japanese, Greek Irish author, who spent a life caught somewhere between—"all component things, without exception, are impermanent, unstable, despicable, sure to depart, disintegrating; all are temporary as a mirage, phantom, or as a foam…"