For someone who didn't much like the idea of being interviewed, Neal Birnie tells a good story. "I remember going into Phonica Records, bunking off college when I was seventeen," he begins, recalling a moment at the London record store. "Jonny Rock was working there at the time. Going into a record shop can be quite overwhelming, but as I came through the door, Jonny just pointed to me and said, 'I've got a record for you.' It was the best feeling ever. It was such a personal thing. And it was spot on too. Nina Simone's "Funkier Than a Mosquito's Tweeter." When I started working at Sounds of the Universe, I thought, I want to be that person. Why wouldn't you?"
This openness and positivity has accompanied Neal throughout his fifteen years on London's independent music scene. During that time, he has worked in roles from the shop floor to the recording studio, gaining a uniquely holistic perspective on the industry. He has cut dubs at the Carvery, restored rare records from his living room, and run his own reissue label, Suncut. He now oversees the direct-to-disc imprint Night Dreamer Records, with the intention of both capturing a live essence in the music and righting some of the wrongs in the traditional artist-label relationship. "I've just got more enthusiasm for the music industry now than I have ever had, because I feel like there is room for change," he says, above the din of the café where we meet. "That is what's driving me."
Before joining Sounds of the Universe, Neal had been hustling records for a distribution company, going door-to-door with the week's sales list and learning the ropes from the inside. Sensitive to the potential moods of his clients, he'd plot his route around Soho based on who'd had lunch yet, more often than not ending the day at the Soul Jazz institution, where he ultimately spent enough time hanging out by the counter to land himself a job.
Working with then shop manager Nicole McKenzie (previously featured in this column), Neal describes his six years at Sounds of the Universe as the best of his life, immersed in music and surrounded by people that have remained close friends ever since. He remembers the thrill of Four Tet dropping off a stack of white labels and the community those encounters engendered. Like Jonny Rock, he relished the responsibility of sharing his enthusiasm with others. Customers became regulars on the strength of Neal's advice alone, a cohort among whom I readily count myself. "If you're the person to introduce someone to Marvin Gaye, it's an honor," he smiles, eyes bright. "Come on. It's an honor!"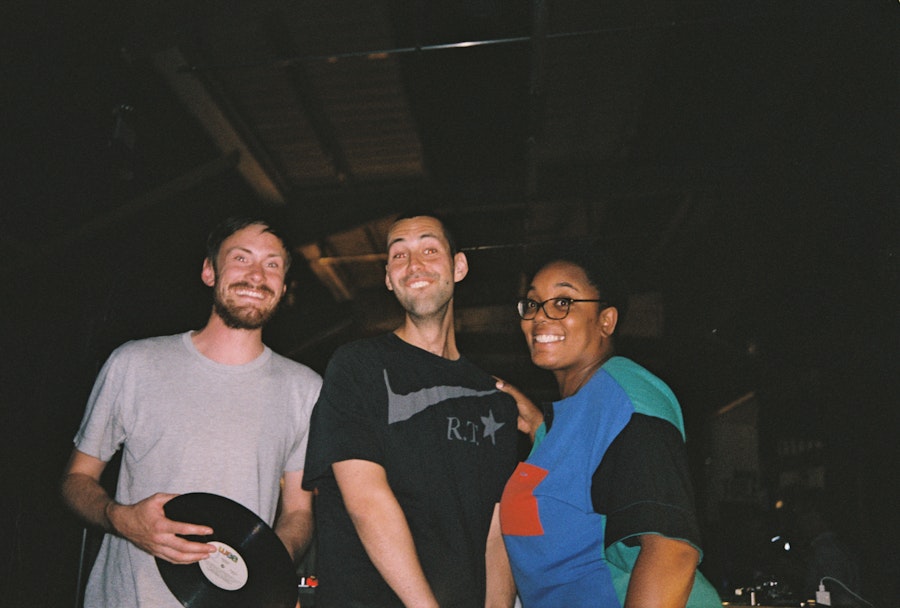 While Neal's own introduction to classic soul came at home through his parents' Motown collection, it was at long-running funk and soul party Southport Weekender that this love became an obsession. "I can tell you the moment and the track," he enthuses. "Connoisseur's Corner. Bobby Reed. 'The Time Is Right for Love.'" Something about the environment of inclusion and appreciation chimed with Neal, and he returned to London with a desire to dig even deeper.
Alongside Stuart Baker at Soul Jazz, he inaugurated the shop's in-house reissue label with a 7-inch of "Human" by Brief Encounter. If I too could pinpoint a moment and a track, it would be hearing Mafalda play that 7-inch to a delirious congregation at Saint John at Hackney Church at the end of an eight-hour session in February 2017, as the snow began to fall outside.
"It was quite a privilege to be a part of putting this music out again and giving it a new lease of life," Neal explains, emphasizing that with such privilege comes a real responsibility; "If you're reissuing a record, you're part of the history of that record, whether you like it or not." Starting life as an NTS Radio show, Suncut was Neal's contribution to that history—its demure yellow labels and embossed brown paper bags addressed by hand to each recipient speaking of the attention to detail demanded by such responsibility. He puts it more concisely: "I just found it all too precious to fuck up."
In late 2015, Neal left Sounds of the Universe to learn what he calls "the dark art of cutting records" at East London mastering studio the Carvery. Fascinated by the materiality of the medium, he graduated from dubs to restoration, immersing himself in another, more technical facet of the record industry. Straightforward jobs involved baking tapes to preserve and ready masters for reissue. More complex ones often began with a less-than-mint 12-inch, and demanded a level of surgical precision to remove clicks and crackles from high-end frequencies without disturbing the fabric of the track. It is meticulous, solitary work, a long way from the lively back-and-forth of the record-shop floor.
While Neal can't have known that the experience would prove to be invaluable, he is more than aware that the variety of jobs he's worked has had a cumulative impact. "I've been so lucky to work on so many different parts of the industry, which has made me able to do what I can do now," he says, breaking off mid-sentence to hold open the door for a woman with a pram.
What Neal does now is in many ways a consolidation of those previous roles. Night Dreamer Records—and its new offshoot Day Dreamer—is a record label based out of the all-analog Artone Studio and Record Industry pressing plant in Haarlem, outside Amsterdam. The concept is so simple as to hardly warrant the term—live sessions with consummate musicians, cut direct-to-disc in a single take. More recently, Day Dreamer has been established to add reissues and off-site projects to the mix, the first of which has seen Neal hook up with Beastie Boys' producer Mario Caldato Jr. to bring Orquestra Afro-Brasileira's foundational 1957 debut, Obaluayê!, to a new audience.
"The initial idea with Night Dreamer was to capture the purity of a recording, or a jam, rather than relying on technology to fix it afterwards," Neal explains. Approaching its third anniversary, the label has released albums with legends Seun Kuti and Seu Jorge, encouraged intergenerational collaboration between Maisha and Gary Bartz, and provided a platform for the U.K. jazz musicians Emma-Jean Thackray and Sarathy Korwar to put their chops to the test.
"What my label partner [Jörg Mohaupt] and I have found doing these sessions is that beyond the insecurities of doing a live take lies this place where you're not really afraid to make mistakes," says Neal. "You're just there, in the moment, doing your thing, in the best way you can, not thinking about anything else." In that sense, the process is about so much more than just the product.
"Once you let all those things go, other things happen. You might think of things in a different way, or you might get a bit more creative, and maybe those mistakes turn out to be really good ideas." Although some artists might find it exposing, Neal is convinced of its worth. "We want to keep the mistakes; the mistakes are good. It doesn't have to be perfect. It's human."
In hearing Neal talk about Night Dreamer, it's clear that he sees it as much as a vehicle for independent artists as a label with its own agenda. "The label shouldn't own the music. The label needs to get something from the artist and the artist needs to get something from the label. It's a partnership. There's no hierarchy. That's what it should be about."
Elaborating further, Neal talks about the impact that the COVID-19 pandemic had, and continues to have, on recording artists, who in seeing their revenues evaporate upstream have revealed the urgent need for a change in the system. Within weeks of industry shutdown in 2020, Neal struck a deal with Worldwide FM and Boiler Room to livestream at-home sessions to help artists plug the gap. For someone so immersed in the day-to-day dealings of a project, he always has an eye on the bigger picture.
"When we set up Night Dreamer, we worked with a music lawyer to come up with an agreement that is in plain English, not lawyer chat," he says. "I am not a lawyer, but I can explain every part of this contract, and it's fair. Even if you just change things by one degree, it's nice to be able to give control back to the artist."
For Neal, going about things the right way is as important as the work, and hearing him reel off possible solutions to issues facing the industry with such verve, it's clear why he was hesitant about being the subject of an interview himself. "I think that the independent artist is the future of the industry," he concludes, citing the outdated boardroom models of the major labels' approach. "I think it's just time to shake things up." Unfortunately for the interview-shy Neal, but to our benefit, his ideas are too good not to be heard.