During a career that has spanned half a century, musical polymath Dennis Bovell has been one of the most important figures in the development of reggae in Britain. A multifaceted individual whose talents are many and whose reach has been unusually broad, Bovell has played myriad roles in different settings, most notably as the guitarist and major creative force behind the groundbreaking band Matumbi, and as the bassist and leader of the Dub Band that backs Linton Kwesi Johnson. Bovell also helped to spawn the romantic Black British reggae subgenre "lovers rock," made some of the greatest dubs cut outside Jamaica, and has worked as a producer and musician with a range of A-listers outside the reggae realm, helping the Slits and the Pop Group to bridge gaps between reggae and punk in the late 1970s before going on to work with artists as diverse as Fela Kuti, George Clinton, Joss Stone, and Boy George. An arranger of film soundtracks who has contributed to KPM library music, Bovell is also a mean singer-songwriter in his own right, as well as cofounder of Sufferer, one of Britain's top-ranking reggae sound systems.
Interviewing Dennis is always an intense experience. His obvious intelligence and openness makes spending time in his company a joy, and despite his many achievements and the requisite bravado prompted by the need to stay afloat in a notoriously cutthroat realm, Dennis never lets any ego get in the way. Instead, humor is the overriding factor as he shares his memories, and collaborative tales are relayed in character, the anecdotes brought to life in the accents and mannerisms of those described.
As Trojan Records recently released The Dubmaster: The Essential Anthology, a major retrospective emphasizing the breadth of his output, what follows is a conversation with Dennis, shedding light on different facets of his life and work.
You spent your formative years in Barbados before moving to London as an adolescent. What memories do you have of the place?
I was born in Rose Hill, [Barbados], up in the hills in the parish of St. Peter, and I lived there for I don't know how long. We moved to a place called Ashton Hall, and then we ended up living in a coastal town called Speightstown, and our back garden was literally the beach. My granddad had a seven-room house there, and he was a joiner, with his workshop in our back garden, and that's where I learned to use all the tools to do with woodwork, and I also learned how to cane chairs. There's a way of plaiting cane peel to make patterns on the back and the seat of the chair, and he taught me and my sister how to do that. My dad was in America, so me and my sister were living with our mum, and sometimes we would be with our grandmother, or my mum's aunts. My dad came back to Barbados in 1958, when I was five years old, and that's when I met him; until then, he was a photo on the mantelpiece. We moved to Benn Hill, nearer to his parents, who had a farm where they had animals and grew vegetables and sugarcane. And then my dad went to London to work as a bus conductor, because he didn't think that Florida was a good place to raise his kids, and two years later, Mum joined him, leaving me with my mum's parents, where I was very spoilt, being the first grandchild.
Was music important to you then?
My granddad's father was a lay preacher who formed a Seventh-day Adventist church in Mile and a Quarter, so we were heavily into Adventism. My granddad believed that Saturday was the Sabbath, for speaking about God and holy things—and also on Friday night, when the Sabbath kicked in at sunset. There'd be no TV, no radio, just singing spiritual songs and having family worship. And my grandfather was the choirmaster and my mom was his assistant, so the whole family read music, and they would teach other people their parts, like the alto, the tenor, the harmonies, and I was witnessing that from the time I was born. We had a record player in the house, and we could only play classical music or spiritual music on that, but one of my mum's brothers bought the Drifters' "Under the Boardwalk," and we used to keep that record under the radio, so the old folks never knew, and we only played that and [Ray Charles's] "Hit the Road Jack" and Ben E. King when the old folks were out. My uncle Sam played the guitar, and I wanted to learn that thing; so when my uncle decided he was gonna teach me to play the guitar, I was in heaven. He said to me, "I'll let you touch the guitar if you can sing open tuning." That's the sound the strings make without pressing any frets down, and I'm really grateful that he made me know that, because when I came to London, I could show off to other boys that I could tune the guitar.
You arrived in London in 1965 and began blazing your musical trails while still at Spencer Park, a South London school with a rough reputation.
I came in the summer holidays, and word got out that I played guitar, so I auditioned for an existing band at school called Roadworks Ahead, with three white kids. We did Rolling Stones covers, Beatles covers, the Who, the Small Faces, Otis Redding, Wilson Pickett, the Equals, and the Monkees. My dad said, "Why don't you have your rehearsals in the basement?" So I started recording stuff in the basement of the house, and then as luck would have it, the school opened a recording studio, primarily to record sound effects for the drama group. But I turned it around and recorded music there with my band, and at one point, we actually took Marie Pierre into the school, dressed as a boy, to record at the studio.
You could leave school at fourteen in them days, so the guitarist left school to work for Robert Stigwood, and the bass player became a sound engineer at Olympic Studios. And I was learning to play contrabass in the school orchestra, but they put me out, because I could read slowly but not sight-read. So I stuck to electric bass or electric guitar, and then we formed a group with the older boys. Nick Straker [aka Nicholas Bailey] came in as the keyboard player, and he had a Vox Continental organ, and this time the band was like more of a Motown thing, more R&B, and we were up on Booker T., but then the older boys wanted to move into Afro-rock. And Nicholas and I weren't ready for that—we wanted to play reggae. I had a friend named Euton Jones who was Jamaican; he played in a London group called the Gladiators [not the Jamaican roots group of the same name], and I played keyboards with that band sometimes, so I said, "I'm going to form a reggae band. Will you be the drummer?" But he was a lot older than me. Then I borrowed his drums to play in a rock band at school and, quite cheekily, I said to him, "I'm forming this band, Matumbi, and if you don't join the band, you ain't getting your drums back!" So we had a good reggae drummer, the guitarist Eaton Blake, Errol Pottinger and Bevin Fagan as vocalists, and a third vocalist, Tex Dixon; he lived across the road and we both followed a sound system called Easton Rocket 69. And Tex knew about my ability, because I had made a couple of dubplates in the school studio.
Nowadays, they call it sampling, but back then, that earned me the name of Blackbeard, because people were like, that's piracy.
Original dubplates? Or versions of known songs?
Versions of songs. Like, I sampled a couple of bars of the rhythm side of "Young, Gifted and Black," made a loop by running it from one tape recorder to the other, then I got another record and took the drum intro that I joined on, and with one of the teachers at school who played trombone and flute, we made a version of "Guantanamera" to that section of the rhythm of "Young, Gifted and Black." Nowadays, they call it sampling, but back then, that earned me the name of Blackbeard, because people were like, "That's piracy." And I said, "I'm not selling or reprinting them, so it can't be piracy. It's for my own amusement." I'd read that the Beatles had been doing sampling, so I tried it myself, so I could take any chords and make any tune that I wanted. In fact, that was how I got into Sufferer's sound [system], because my friend Owen had come to hear some of my dubplates that I'd made at school, and when I played them to him, he said, "I want them all. We're making a new sound [system], and the sound's gonna be called Sufferer," and I said, "Have you got a DJ? I'm your man, because you want to play all my dubplates, and I want to show you how to play them, and in what order." And so I contributed my dubplates to be a part of the sound system, and I was the DJ and the mic man, all in one.
Had Matumbi already formed? 
It was just about the time Matumbi was being formed, and also what had made me popular was that the cards that the sound systems would print announcing the blues dances, I would print those in the school's printing press, because I studied typography. I was operating the printing press and the recording studio by '68, '69. And so I could tell people where the blues dances were being kept, and in doing that, I became friends with a lot of sound-system people. Now, with Matumbi, Tex managed to get us some amplifiers, a place to rehearse, and he got us a manager who was an ex-policeman in Jamaica. And our first gig was at the joint USAF and RAF base in Alconbury, where they told us, "Don't play any reggae, 'cause them Americans, they're not gonna take to that," so we learnt a few soul tunes, but then switched to "Singer Man," the Kingstonians' tune, and we had them dancing, and they booked us back a month later. Then we got a gig replacing Pat Kelly in Margate, [Kent,] at the Dreamland Ballroom. But Pat Kelly turned up there, so we started to tour as Pat Kelly's backing band. And after Pat Kelly had gone, we got to be Johnny Clarke's backing band, and then Ken Boothe's, just leading up to [1974's] Everything I Own. At that time, lots of deejays had come from Jamaica and performed on the sound systems, but [sound system proprietor] Lloydie Coxsone had the idea to bring I-Roy to London and to have us be a live backing band, which was nearly unheard of. So I-Roy came and he was supposed to be around for three months, but he stayed for three years, and we gigged all over the U.K. with I-Roy and became very close.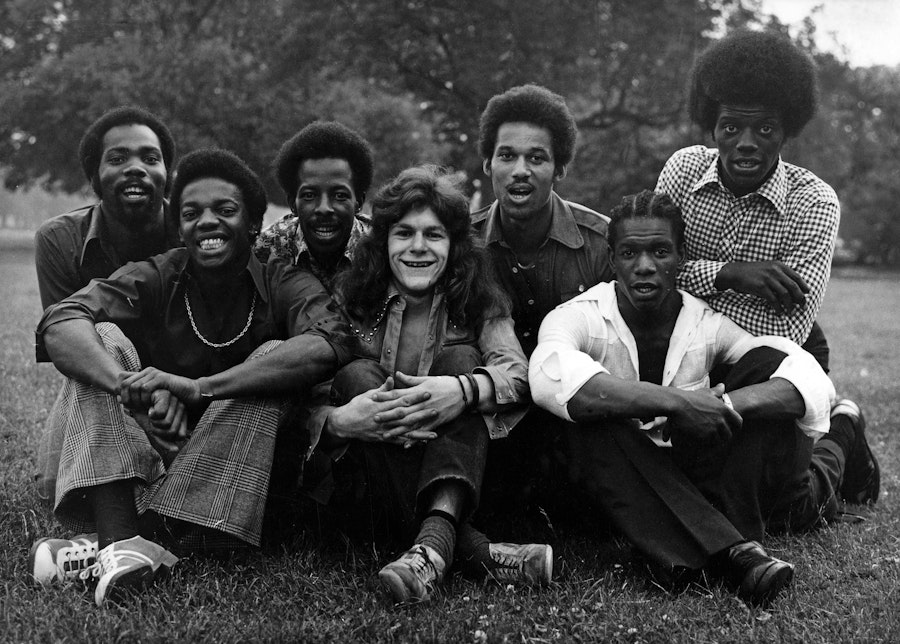 Was Matumbi already recording by then?
 We'd recorded eight or nine songs and went to Trojan, but Trojan didn't much care for a lot of the songs we recorded, because they were quite political. There was one called "Go Back Home" [in 1978] where we were singing about that awful speech that Enoch Powell made, and I don't think they were ready for politicizing in London. You could do something political about Jamaica, but not London. We had also recorded a version of Hot Chocolate's "Brother Louie" [originally a Stories' tune], so it happened to be the very first Matumbi release in 1973; but the band weren't happy because I was singing the lead and doing the toasting, so it seemed that I was stealing the thunder of the vocalists. Then we did a reggae version of Kool and the Gang's [1974 song] "Funky Stuff," where we changed the word "Funky" to "Reggae."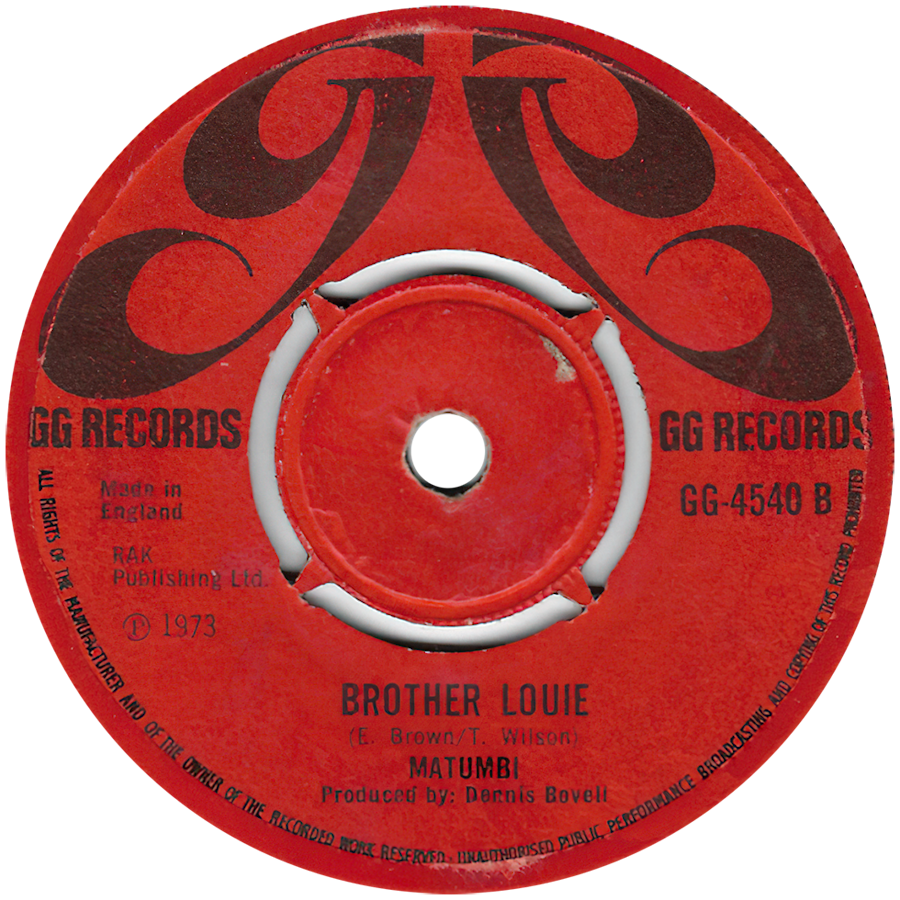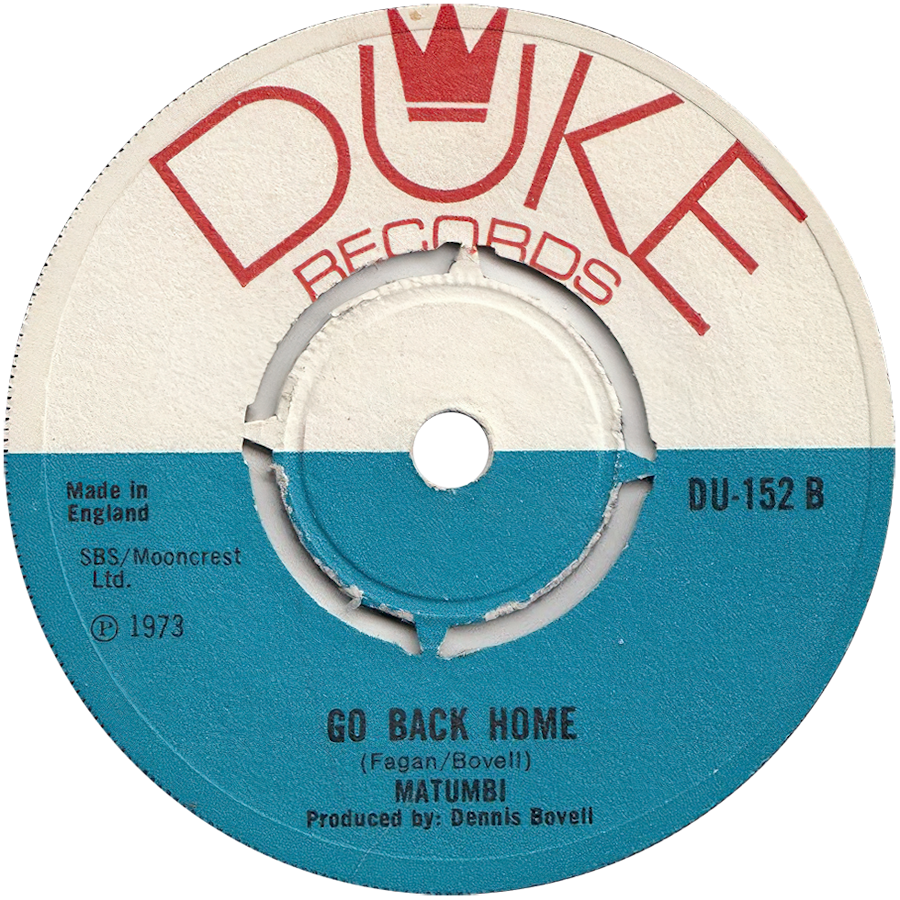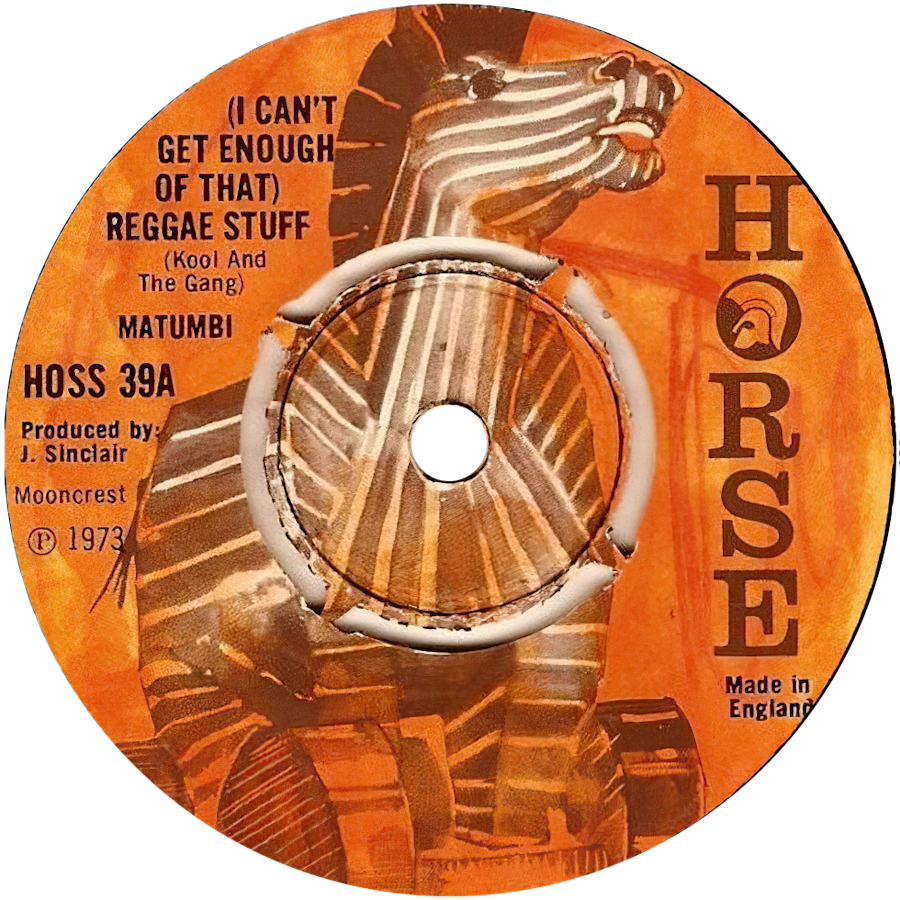 And while that song was being released, we were called to play on a festival for famine relief in Ethiopia [Sundown at Edmonton, London, May 27, 1973]. And Bob Marley and the Wailers were headlining that, but the Wailers hadn't had a soundcheck, so while they were playing, there were some feedback and it detracted from the show. And a journalist wrote, "Matumbi were far better than the Wailers," and our drummer was gonna kick his head in, because he and Bob had been at school together.
Around the same time, you produced one of the very first lovers-rock songs, Louisa Mark's 1975 song "Caught You in a Lie," which was a cover, but thoroughly restructured with unusual melodies and unexpected changes of direction.
Whenever you went to hear [Lloydie] Coxsone sound, the first tune on the deck would be "Caught You in a Lie," the [1967] version by Robert Parker. And Lloydie Coxsone had the idea to make a reggae version, 'cause that was his signature tune. And at the time, I was engineering at Gooseberry Studios in Soho; I got the job there after I'd recorded "Come With Me" with Nick Straker [credited to Bovell under the pseudonym Dennis Curtis]. So with "Caught You in a Lie," the fad at the time was to make [people] believe you were playing some other song than the song you were playing, so it would have a false start. And a famous tune at the time was [1974's] "Curly Locks" by Lee "Scratch" Perry and Junior Byles. So I borrowed the bass line from that tune for a few bars, and the original intro of the Parker version had a saxophone, and we didn't have any access to a sax player; but in the studio, we had a Moog synthesizer, and [bassist] Robbie Shakespeare was around because [producer] Bunny "Striker" Lee brought Robbie for Johnny Clarke's first tour. So I remember pulling the Moog synthesizer out and saying to Robbie, "You ain't seen one of these in Jamaica! This is strictly King Crimson, Yes, and Genesis!" And then I added the synth melody, and Lloydie went, "That sounds good!" And Lloydie was famous for saying on his sound [system], "We don't play English music, we only play strictly Yard pre-release and strictly Jamaican." So a lot of people thought it was a Jamaican recording, and because Lloydie was playing it on his sound, all the other sounds wanted it. When ["Caught You in a Lie"] came out, it was very popular, and it put my foot in the door of the reggae world, 'cause I played the bass, I played the synthesizer, I played the piano, the organ, the guitar, and Euton played drums, and Louisa sang. So that taught me that I could almost single-handedly make records. So next time I'm in the studio, it's just me and Nicholas or me and [drummer] Jah Bunny.
Matumbi severed ties with Trojan around that time. Why?
We were in the middle of doing a cover version of the Temptations' "Law of the Land," and we were told that Trojan had lost the tape. So we ended the relationship, and we didn't need them to record, because I was working in a recording studio, so I'd get time in lieu of my wages. Then we went in and cut "After Tonight," and by virtue of the fact that I knew a lot of sound-system people, I gave sound system upon sound system a dubplate cut of that tune. So by two years later, when it was to be released, it was already popular; people knew the tune, but they just couldn't get the record. The label that released "Caught You in a Lie" was a label called Safari, run by a guy called Reg McLean, and on the back of the success of "Caught You in a Lie," we thought, "People know the label now, so this is the new Matumbi tune, not on Trojan but on Safari." And then when we fell out with Safari, we decided to print our own label, Matumbi Music Corporation, so we pressed our own records and sold them to people like Daddy Kool, or Count Shelley, or Black Wax up in Birmingham; we'd jump in the car and drive to these places, up to Leeds in fact, and leave the records, sale or return. That would be a day's work on a Saturday, distributing our own records.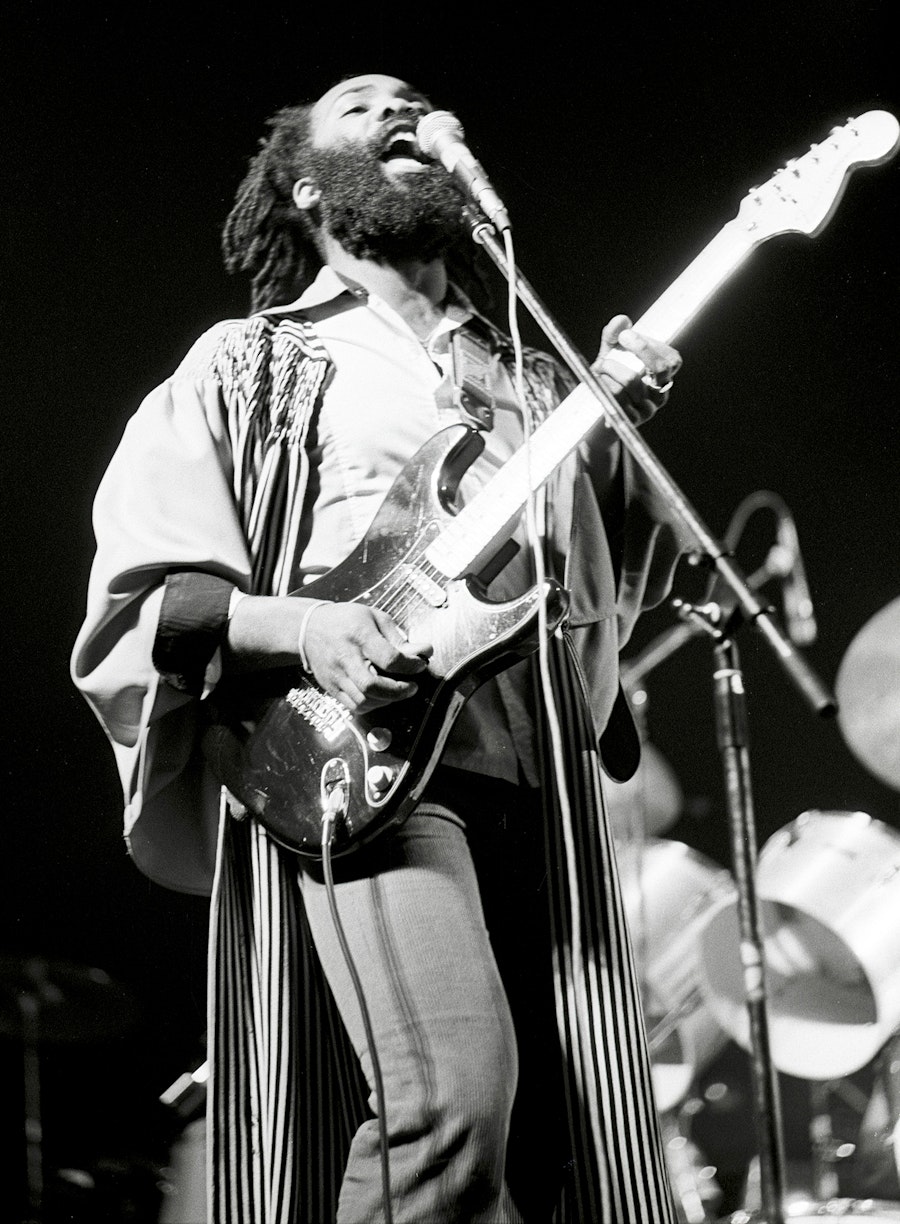 Between the recording of "After Tonight" and its initial release, you wound up in trouble with the law, after a notorious incident at a northwest London nightclub in October 1974. What happened, exactly?
I was DJing my sound system one Friday night in Cricklewood, where standing next to me was Lee "Scratch" Perry, and on the other side of the dance hall, Bunny Lee with Lord Koos. Now, I had Bunny Lee's dubplates because Matumbi was backing Johnny Clarke, so he gave me them, and Lord Koos had them too, because they were friends. But that day, the very day Lee Perry came to London and Larry Lawrence [of Ethnic Fight Records] went to collect him at the airport and brought him to southwest [London], we kept him occupied in our camp, make sure he didn't go anywhere, 'cause we wanted to bust them dubplates in Lord Koos's head. One dubplate that he gave me was Vin Gordon playing that tune "Real Rock," but this version started like a doo-wop jazz tune, and when it went into that "Real Rock" refrain, the audience went ape, [so] Lord Koos couldn't play no more tunes! I had conquered in that dance hall, but at the same time a fight broke out, people against police. Apparently, and I only knew this after, the police had gone into the gents' toilets, arrested someone, and while they were bringing him out, people snatched the prisoner away from the police and snatched the police's batons and gave them some licks too. One policeman got stabbed, and some policemen ran into the ladies' toilet, thinking it was the exit, and were held up in the ladies' toilet, which was right next to Lord Koos's sound. So I didn't know that there were policemen still in the place, radioing for help, which brought about three hundred or four hundred policemen there, and they beat up nearly everybody that came out of that club. 
Castro Brown [of DEB Music] got arrested that night, and he said, "In the police station, all they wanted to know is, 'Who is Sufferer's DJ?'" So I went to Golders Green police station to say, "Word on the street is that you're wanting to interview me; here I am, what do you want?" So they told me that they had got word that it was me who told the audience to fight the police. And the chief inspector said, "Well, where were you?" And I drew the dance hall and said, "I was there." "Ah, one of my officers was stabbed there." So I'm like, "Really? I didn't see that." "Well, give me the names of some people who were standing around you at that time." And I went, "If I say to you there were this person, that person, and the other person standing there, then I'm gonna have to go into the witness box and point them out once they're charged. Are you crazy?" And he said, "Well, if you don't tell me, I'm just gonna say it was you." And two policemen went, "Yeah, that's him." And he went, "Dennis Bovell, I'm charging you with causing an affray." And I was alleged to have said, "Get the boys in blue." I said, "Mate, that's cockney talk. You don't go in a blues dance and say, 'Get the boys in blue,' they wouldn't even know who I'm talking about. You know what we call unoo [y'all]? Babylon and John Crow, or beast." He didn't take to that, and they charged me, said that I stood on the stage with a microphone in my hand, instructing the crowd to fight the police. And that did not happen.
There were twelve people charged with having caused this array, at the end of the first trial, six months at the Old Bailey, every day, no hope of working and not even signing on. You had to be in court, ten in the morning—if you were late, you lose your bail—until four in the afternoon, to witness policemen lying through their teeth. At the end of the first trial, nine of the twelve people charged were acquitted. And just to show you what a farce it was, three of the people charged had a hung jury. Now, if a man is innocent until he's been proved guilty, I would have thought that my innocence should have been presumed, but the judge moved the goalposts and said, "We're gonna have a retrial." And this time, there was three people charged with what twelve people was supposed to have done, and [with] what the police were saying, we would have to have been in ten different places all at once. And at the end of that trial, my friend Oliver was acquitted, that left myself and another guy called Roy. Now, Roy was only about four foot tall, but he's supposed to have hit a policeman in the face with a bottle. He would had to have jumped up to hit that policeman. But anyway, the judge had said, "If the jury don't came back with a verdict by ten o'clock, we're gonna throw the case out." At five to ten, they come back and said, "Dennis Bovell's guilty!" And the judge hands me a three-year sentence. I'd never been in trouble before with the police; I'd never been inside of a police station, even. But because I hadn't been unanimously found guilty, that gave grounds for appeal, so we lodged an appeal immediately; but that appeal took six months to come before the court, and that time, I had no bail. I was in [prison at] Wormwood Scrubs, in C wing, waiting for my appeal to happen, and then one night a guy was put in my cell who asked me if I knew a certain police officer, and I said, "Know him? That's the guy who framed me!" And he's going, "Well, listen, him and me just got caught, he's in a lot of trouble." And I was like, "What? They put him in my cell to tell me that?" 
And then on the Monday my appeal was heard, and I was appealing against sentence and conviction, and the appeal judges said that there hadn't been sufficient evidence to have even charged me. So they didn't understand how it got that far, and also they said that the judge's summing up had advised the jury that it was not safe to convict me because there were too many conflicting reports. But they went against the judge's summing up and found me guilty. So they let me go, but without any compensation, because I would have had to have sued the jury, and you can't do that. But, man, I was so happy to be out of jail. So they set me free, and [community activist] Rhodan Gordon was outside of the court with a lot of people demonstrating, "Free Dennis Bovell," so they let me go, and I had a few glasses of alcohol that night, and I also had a cache of songs that I had written.
You wrote songs while you were inside?
I wrote songs. They wouldn't let me have a guitar; they said, "No, you might hang yourself with the strings." And I was going, "Yeah, just about," but I wrote songs, wrote the lyrics down and remembered the melodies. So by the time I got out, I had songs like "Run, Rasta Run" [recorded by Bovell and Jah Bunny as African Stone], and "Hypocrite" and a bunch of other songs that we then recorded for Matumbi.
After your release, somehow "After Tonight" ended up being rereleased by Trojan in 1976, with the even bigger hit cover of "Man in Me" on the other side. Why was that?
It ends up on Trojan again because Trojan is then taken over by a man called Marcel Rodd. And he called us in and said, "I just found this contract, you're signed to Trojan, what are you doing putting out records on your own? You better stop that, or we're gonna sue you." So he put that record out back-to-back, "Man in Me" and "After Tonight." Now, "Man in Me," I was making that record for a Dennis Bovell solo record, and when Bevin [Fagan] heard it, he was like, "Are you mad? You put that record out, you're gonna sink Matumbi. Let me sing the tune and make it a Matumbi tune, and then we've got a group to go and promote it." I thought that made sense, so I let him sing and then I got Webby Jay to play a kind of Liberace piano on top of it. But on "Man in Me," that's Euton Jones on drums, and me on the rest of the instruments, and Bevin singing, because the owner of Gooseberry [Peter Houghton] had aspirations to become some kind of poet, and he wanted to do his poetry on reggae. So when Euton, Bevin, and me did stuff for him, he gave us time in the studio to do whatever we wanted, and so out of that downtime came "After Tonight," "Man in Me," and the first Matumbi album [Seven Seals] that was released by Harvest/EMI. In the meantime, Trojan had found the tape that they said they had lost and released it with guide vocals, and we were not happy about that, so we left them for a second time.
In addition to your work at Gooseberry, you began cutting diverse material at Eve Studios, opened by Jamaican immigrant Dennis Harris in Brockley, South London. Do you know how he became involved in music?
He was a grocer to begin with; he had a mini-mart in Brockley Rise, and he would also dabble in excursions, get five or six coaches to converge on a holiday camp somewhere, and there'd be a sound system and a group. We met because Matumbi was invited to be the band on one of these excursions, but we turned up late, because we'd gone through South Wales and the place was in North Wales. So we did the gig and left, and we were too ashamed to take the money, and then some weeks later, he called us up and said, "Don't you lot want your money? I shouldn't give it to you because you were late, but you played well."
And then he had an involvement with Lee "Scratch" Perry, and out of that came the [Millie Jackson cover] song "Hurt So Good" with [Jamaican singer] Susan Cadogan, and because it had got in the British charts, Dennis sold his mini-mart and bought a building further up the hill and turned it into a studio. So he came to me one day and said, "I've just built a recording studio, these are the keys. You're gonna be the engineer, and there's a room upstairs, so if you work too late and can't get home, you can sleep there." And all he wanted was an album every month. But he said, "I think you're a great bass player, but your guitar playing leaves a lot to be desired. I'm gonna bring a guitarist who will wipe the floor with you." I'm like, "Yeah, bring him! I'm ready for any challenge!" And then the guitarist came, and I was disillusioned; I was like, "Man, I'm never gonna be that good." And that was John Kpiaye. So I said, "Let's form a band together, me and you and Jah Bunny and Nicholas on keyboards." So we made a lot of records in Eve Studios. The first album was A Who Seh? Go-Deh!, but we didn't put any information as to who was playing; it was just a white label and the title written with a magic marker, and the idea was to confuse the issue that reggae supposedly could not be made in London and sound good. So when that record came out, a lot of people thought that it come from Jamaica.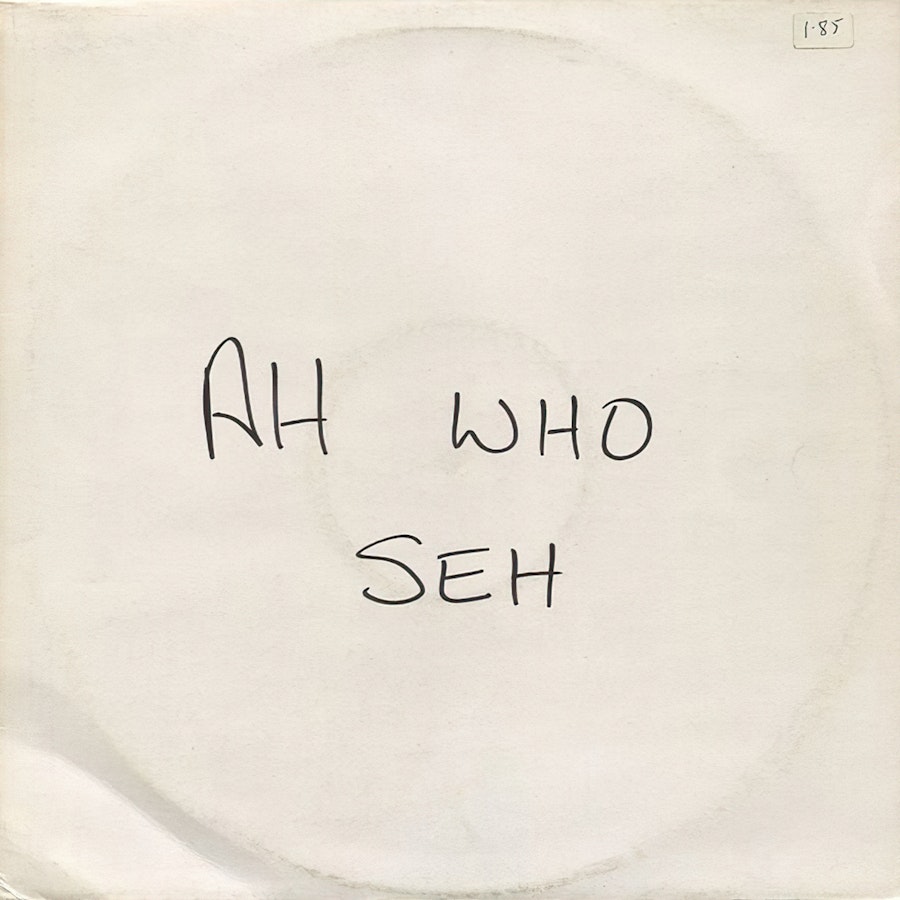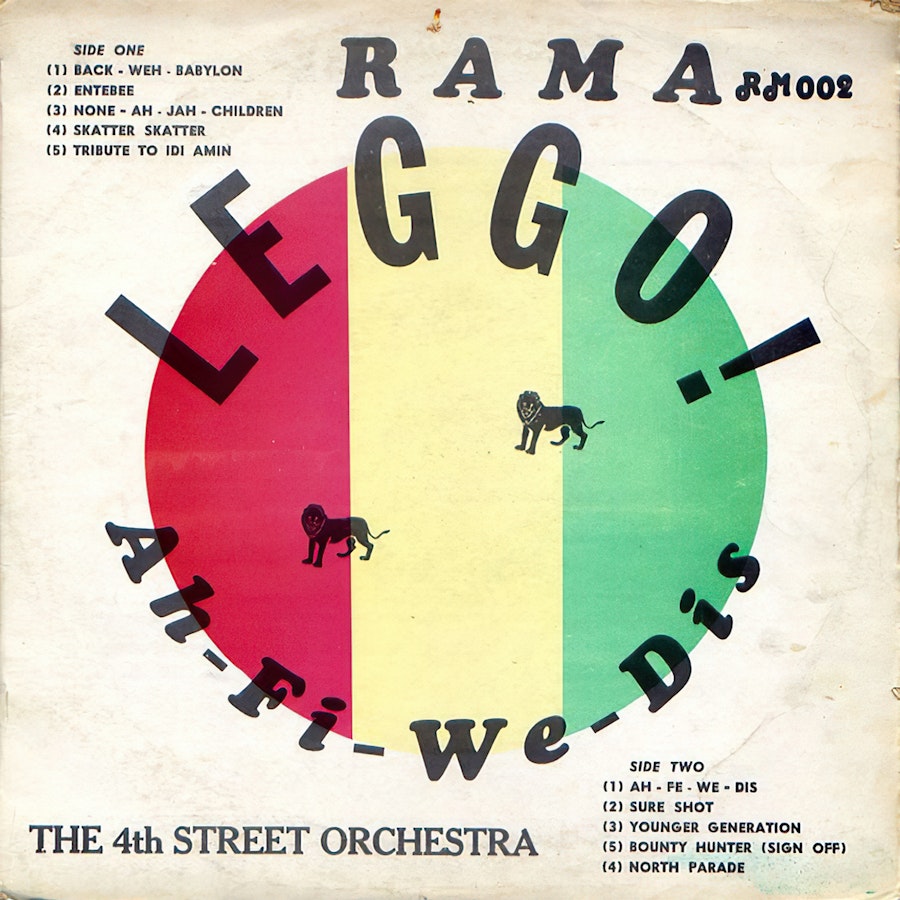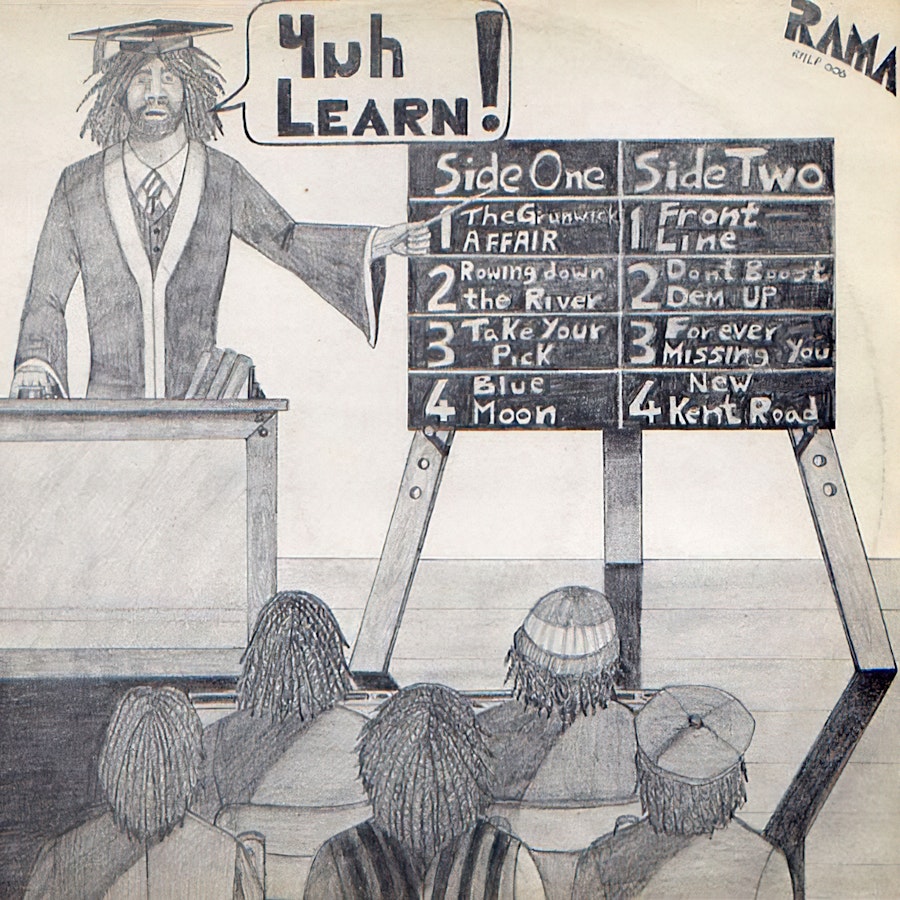 Follow-up albums Leggo! Ah-Fi-We-Dis and Yuh Learn! are credited to the 4th Street Orchestra. What did the name refer to?
I wanted it not to sound English. I knew there was a Fourth Street in New York and in Jamaica, but there was no such street in London. And by then, I was hanging with [trombonist] Rico [Rodriguez]; [trumpeter] Eddie Thornton, and [saxophonist] Steve Gregory, who were both playing with [singer] Georgie Fame and [vocal group] Boney M.; Michael "Bami" Rose from Cymande; and another sax player called Godfrey [Maduro]. So I had a horn section, and reggae bands in England at that time didn't have horn sections, so it was distinctive.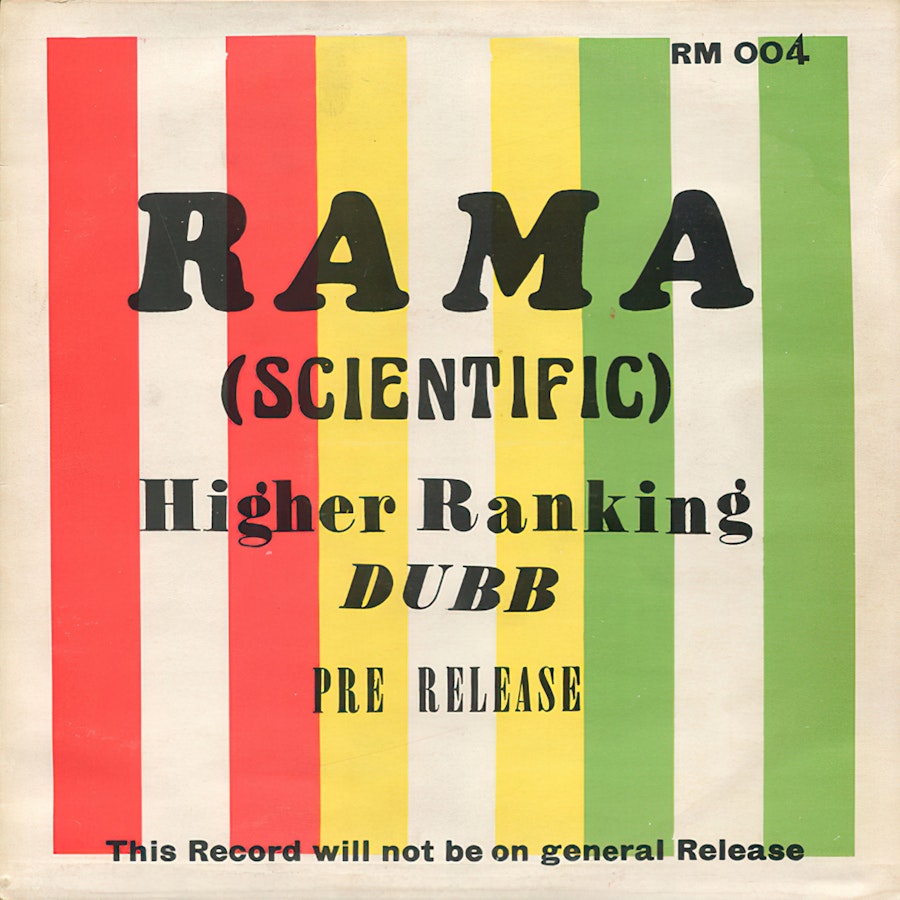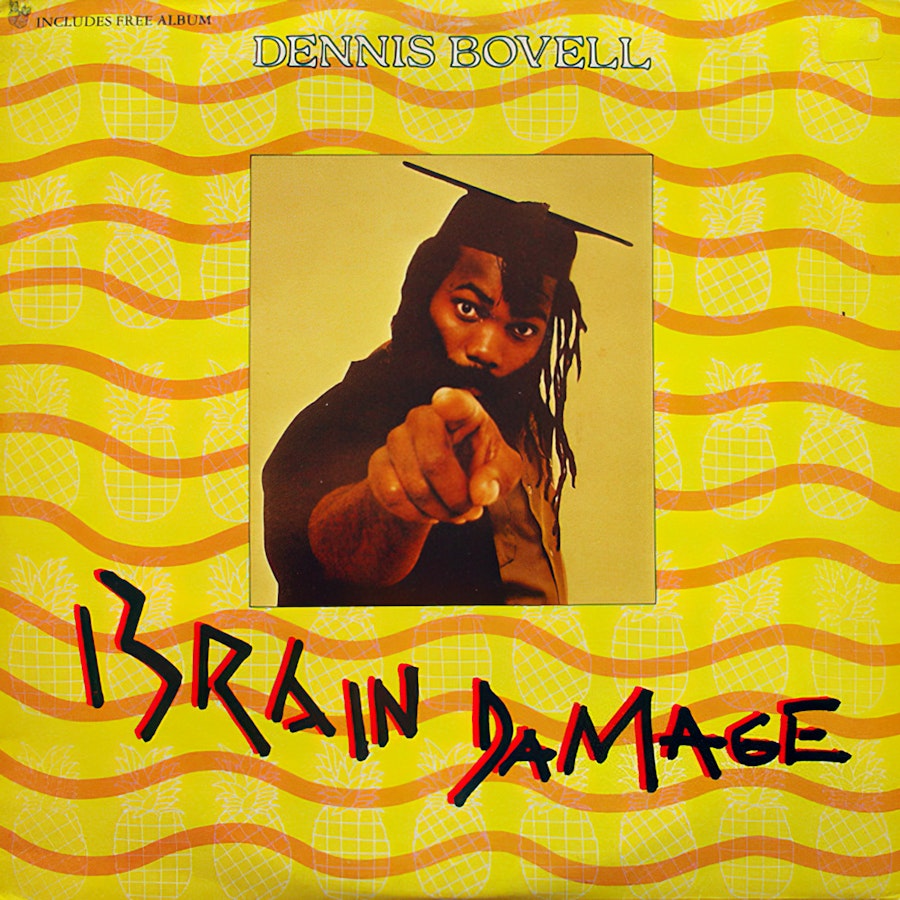 The dub album (Scientific) Higher Ranking Dubb and later sets like Brain Damage and Strictly Dub Wize all maintain distinctiveness.
Because I had so much time in the recording studio, I got to find out how things worked, and I quickly got to know how to do the kind of dub that was being done in Jamaica. So I availed myself of all the delay lines, and delay with tape recorders, and quite a lot of my guitar effects, like the phaser, I would hook them up into the desk. So I would be looking to experiment to bring about my own style of dub, which also meant sometimes turning the guitars up until they were nearly as loud as Jimi Hendrix, or making the bass resonate in the way that it did on King Tubby's dubs. And for the reverberation, I had [an AKG] BX20 spring reverb, and I found out that by hitting it, the springs would sound like thunder. Also with switching things in and out of the mix, 'cause once the rhythm had been laid, it would stay in time, but then I found out how to take things that had been recorded at a different time and spin them into the dub, to bring different elements like sound effects. One time, I had a BBC Sound Effects record, and it had all the sound effects you could think of, and to make them my own, I sometimes played them backwards or played them at a different speed, because I'd been a fan of what Errol Thompson was doing at Joe Gibbs [Studio] with African Dub Chapters. Also, dub was becoming the thing to have on the sound systems.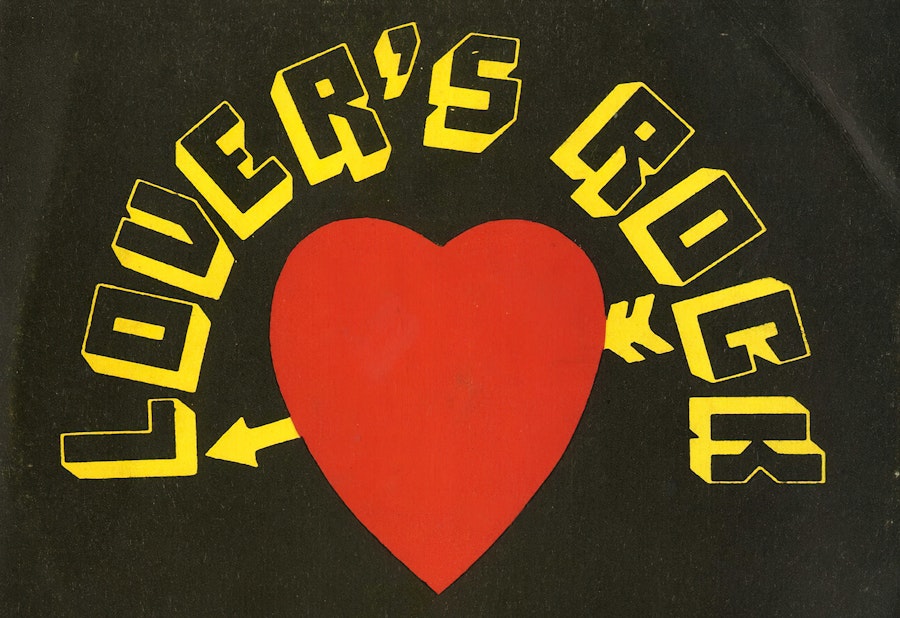 Away from the dub, the work you and John Kpiaye were doing helped lovers rock to gain acceptance.
At the same time, Dennis [Harris] wanted to expand, and he thought that the way forward would be to have lots of different labels, and in a meeting I said, "The word on the street in the sound systems is lovers rock." And when I told him that, he took a pen out of his pocket, drew a heart and put Cupid's arrow in it, and by the next week, the Lover's Rock label was on the street. John [Kpiaye] had written a song that he says was in answer to "Curly Locks"—"I'm in Love with a Dreadlocks" [credited to his alias Browne aka Brownie "T"]. And three girls that came to the auditions that were held at the studio on Sundays were put together as Brown Sugar. And their first record was [1977's] "I'm in Love with a Dreadlocks," and it was a huge success that went a long way to cementing the genre. 
Then a guy called Delroy Witter who had a label named D-Roy and a sound system called Success, he invited me to engineer a session that he'd been doing at TMC in Tooting [London]. And the players were Sly Dunbar and [bassist] Lloyd Parks, because they had come to do a tour with Dennis Brown, so Delroy has taken them into the studio to record a version of "That's What Friends Are For," Deniece Williams. And the singer of that was Janet Kay, and Sly Dunbar and Janet are related; Sly said, "That's my little cousin there, man." The next time I met her was in Gooseberry Studios where Delroy wanted to do a version of that Billy Stewart tune, "I Do Love You." And this time, I was the MD [music director], as well as the sound engineer, so I'm playing bass from the control room, Jah Bunny's playing drums in the drum booth, and I had Nick on keyboards and John Kpiaye on guitar, and we made that tune, and she sang so heavenly. So I was like, "Hey, we should work together," and then I had the idea for "Silly Games," which came to claim the crown.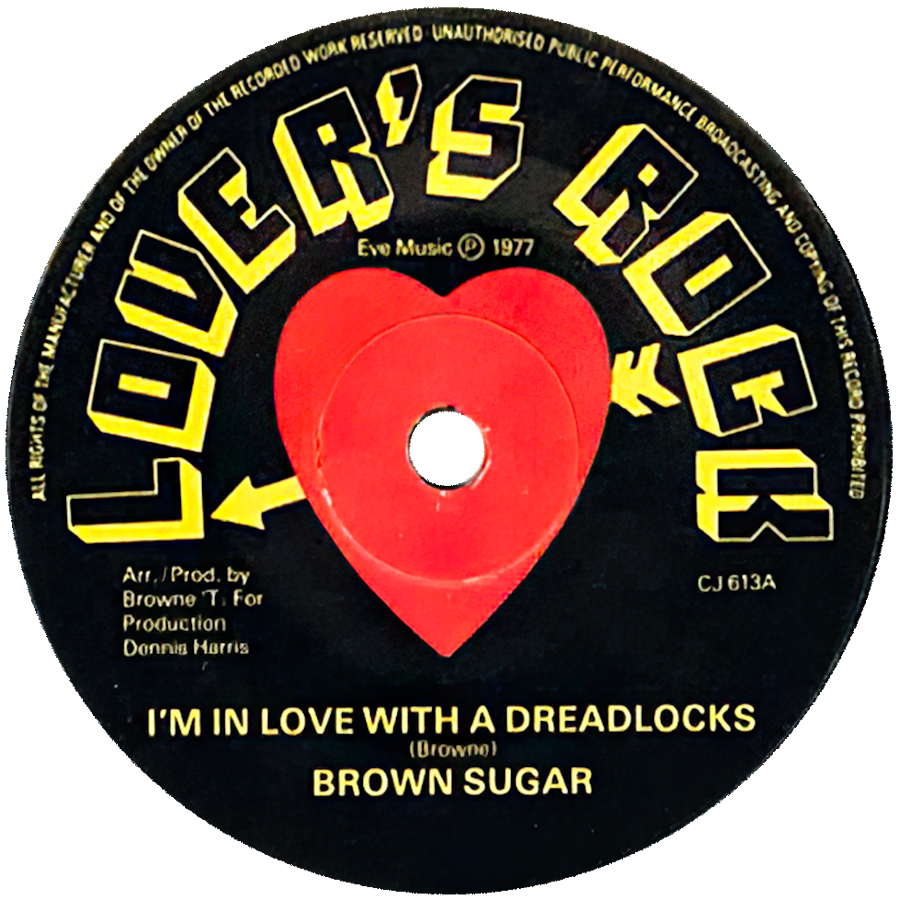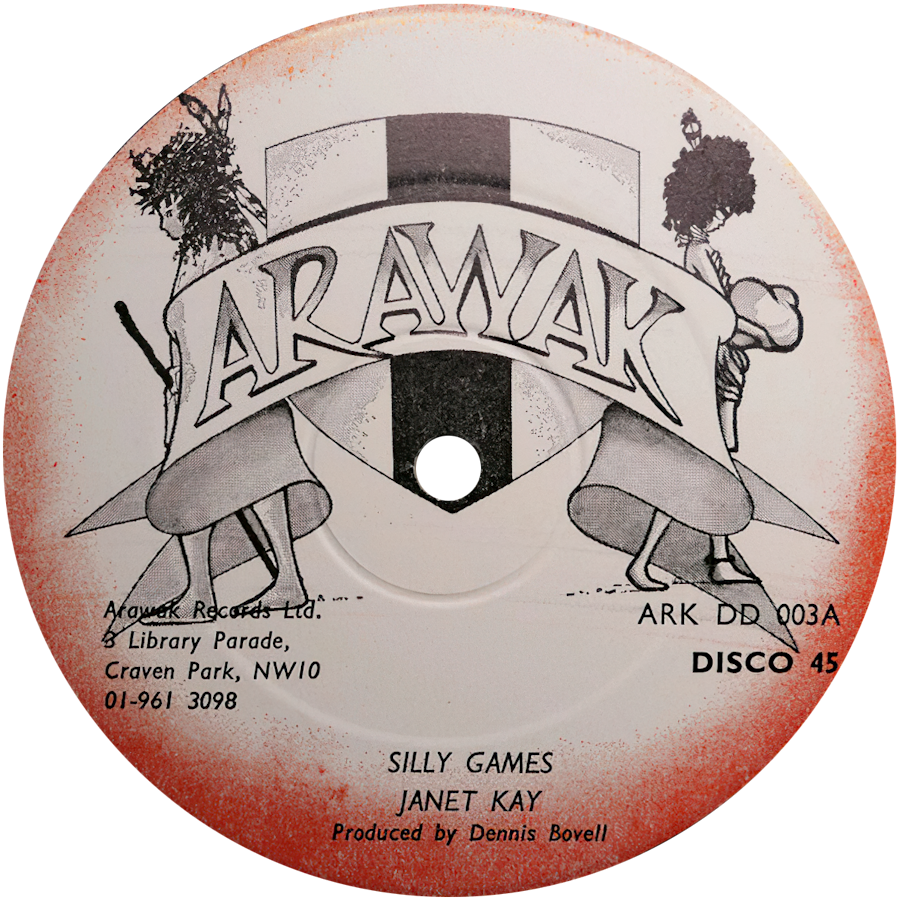 You've maintained a long working relationship and friendship with Linton Kwesi Johnson, bringing extra contours to his sound.
Yes, we've been working together for forty-five years or more. Linton came to interview Matumbi at the Four Aces [music club in London] one night, as a journalist, so while we were speaking, he said, "I write poetry, and my friend [singer-songwriter] Vivian Weathers has told me, if I'm gonna record in the U.K., you've gotta be involved with it, 'cause you know how to get the frequencies, and also you can be my spare musician; if any of the musicians I have with me can't cut it, you can take over." So sometimes I played keyboards and sometimes I played guitar, as well as engineering. Linton asked me if I would help him to put together the [Poet and the Roots] album Dread Beat an' Blood, and we did it over a weekend. And for the second album, Forces of Victory, I brought John Kpiaye to the band, and John has been with us ever since. And there came a time when I had to put a band together because Linton was going around with the Revox [reel-to-reel tape machine], playing the music that we recorded in the studio while he was reciting the poetry. And sometimes people would put the wrong song on, or the tape would start halfway through the tune, and it would irk him. So I put the Dub Band together to provide the music for Linton in the studio and worldwide.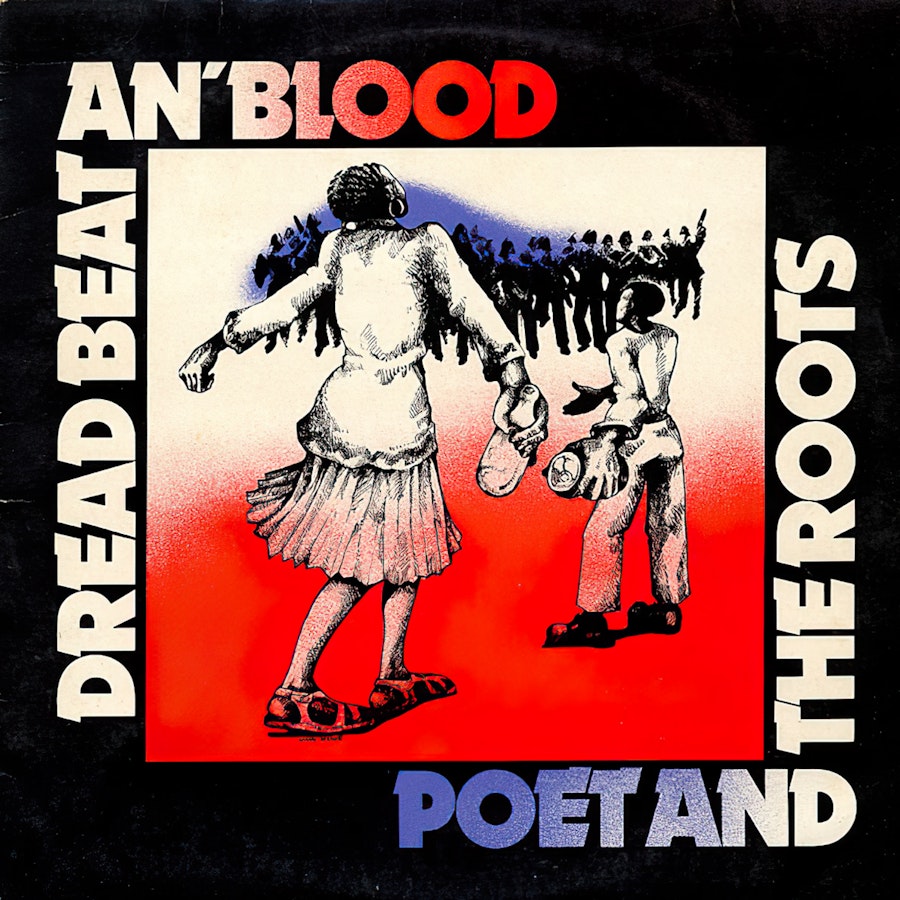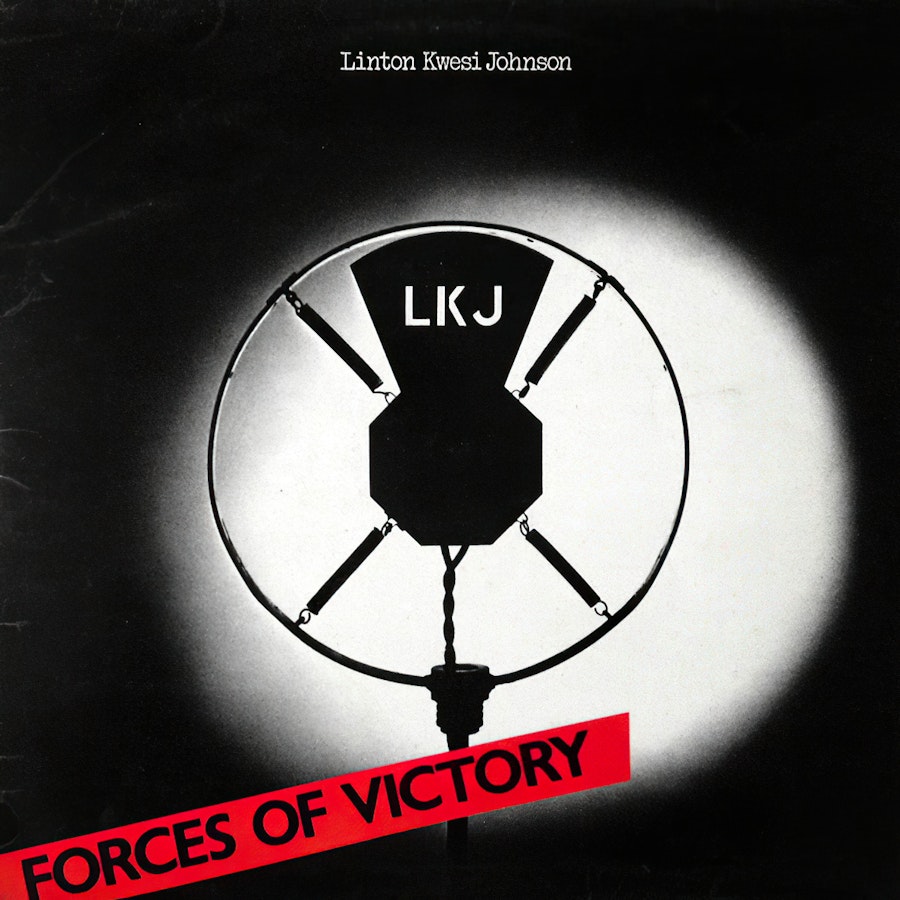 During the late '70s and early '80s, you made a strong impact outside the reggae realm, beginning with some punk projects.
Dick O'Dell's dad [Denis] had been a famous journalist; I think he did a Beatles film. Dick said, "I know you're into rock music, and I've got a rock outfit and I want you to produce them, and their name is the Pop Group." So I thought, "Oh, that's good, punk, the Pop Group." So we recorded a song called "She's Beyond Good and Evil," and that was the Pop Group's first single. On the back of that, Warners signed them to do an album called Y, and so we went to Ridge Farm [Studios in Surrey], and this was the first time I was working in a residential studio, where we were on site 24/7. Then after the success of that, Dennis Morris called me up one day to Island Records and said, "Chris [Blackwell] wants to have a word." And Chris said, "I've signed this group, it's going to be the first female punk band in the U.K., and I want you to produce them." So we went back into Ridge Farm Studio, and recorded [the Slits'] album, Cut.
Bob Geldof approached me to say that he'd just done a reggae tune with [producer] Tony Visconti in Ibiza, the song was called "House on Fire" [by the Boomtown Rats], and I think it got to number five in the charts, and they wanted a twelve-inch dub mix, so I did that. At about the same time, I was working with [American singer] Viola Wills, and I recorded that song, "Gonna Get Along Without You Now," a disco hit, so I was well popular on the soul-disco front and on the reggae-remix front. 
And a little before all that, I'd had the opportunity to be the musical director of the [1980 Franco Rosso] film Babylon, so on the back of that I decided I was gonna build my own studio, as I was done with having to wait for downtime. And when I built the studio, Don Letts had just come back from Japan, telling me that there was someone in Japan who wanted to work with me, and it turned out to be Ryuichi Sakamoto, and I'm a Yellow Magic Orchestra fan from time. Chris Blackwell gave me an LP of theirs and I was jamming on that, and then for the main man to be wanting to work with me in my studio, I was like, "Wow! Come on over!" And he was saying, "Well, I've got some equipment in Germany, and I want to send it over to you." And the penny didn't drop until one day a German truck pulled up outside, "Sign here for this equipment," and I realized then that he had been putting together an album in Kraftwerk's studio, and he wanted to construct a couple of tracks in my studio with me engineering and mixing in my dub style. One of those tracks was "Riot in Lagos," and he started that track from the very beginning, playing the kick drum first, and then the snare drum, and then the hi-hat, all from his Prophet-10 [synthesizer]. Now, I'd only ever seen a Prophet-5, which is a single manual sequential circuit, but he had a double manual Prophet, two keyboards, up and down. And he had all the sounds in there, so he put together the drum sound, the keyboard sound, the flute sound, and then he said, "Do your thing." So I started to do a dub mix, and he was like, "Yeah, that's what I want, lovely." And I now know that [Ryuichi's 1980] album B-2 Unit was the first Japanese electronic dub album.
One of the most mysterious projects you were involved in was the original version of Fela Kuti's album Army Arrangement. What happened with that LP?
Well, I recorded it in my studio, and they then incarcerated Fela [in the mid-1980s] for allegedly bringing too much money out of Nigeria, and while he was in jail, [producer] Jean Karakos and [French bassist] Pascal Humbert decided that they had to get some money to get Fela out and back on his feet again. They signed him to Celluloid, and Celluloid had the idea to take Army Arrangement and let [American bassist and producer] Bill Laswell mess with it. So they took off the drums and made Sly Dunbar play drums, and there was a solo that Fela had played, and they had taken that off, and Bernie Worrell had played some kind of Booker T. jazzy solo there. And I said, "Fela's not going to be happy with that. I don't want nothing to do with that." And Pascal took a little tape recorder, a little voice note thing, into the prison where Fela was, concealed in his pocket, and he puts the record on so Fela can hear it, and within the first opening bars, Fela starts shouting, "Motherfucker! Who did that?! What the fuck! I don't wanna hear no more! I don't want to hear it!"
You were the engineer on the original album, essentially?
Yeah, I was the engineer on that. And "Teacher Don't Teach Me Nonsense," "You Gimme Shit I Give You Shit," all them tunes were recorded in my studio, Studio 80, in 1983, when Fela had come to London to get his money that EMI owed him. And they put together a little tour, and he was going to Amsterdam to record in the Paradiso, a live Fela show, and EMI picked me to engineer that session.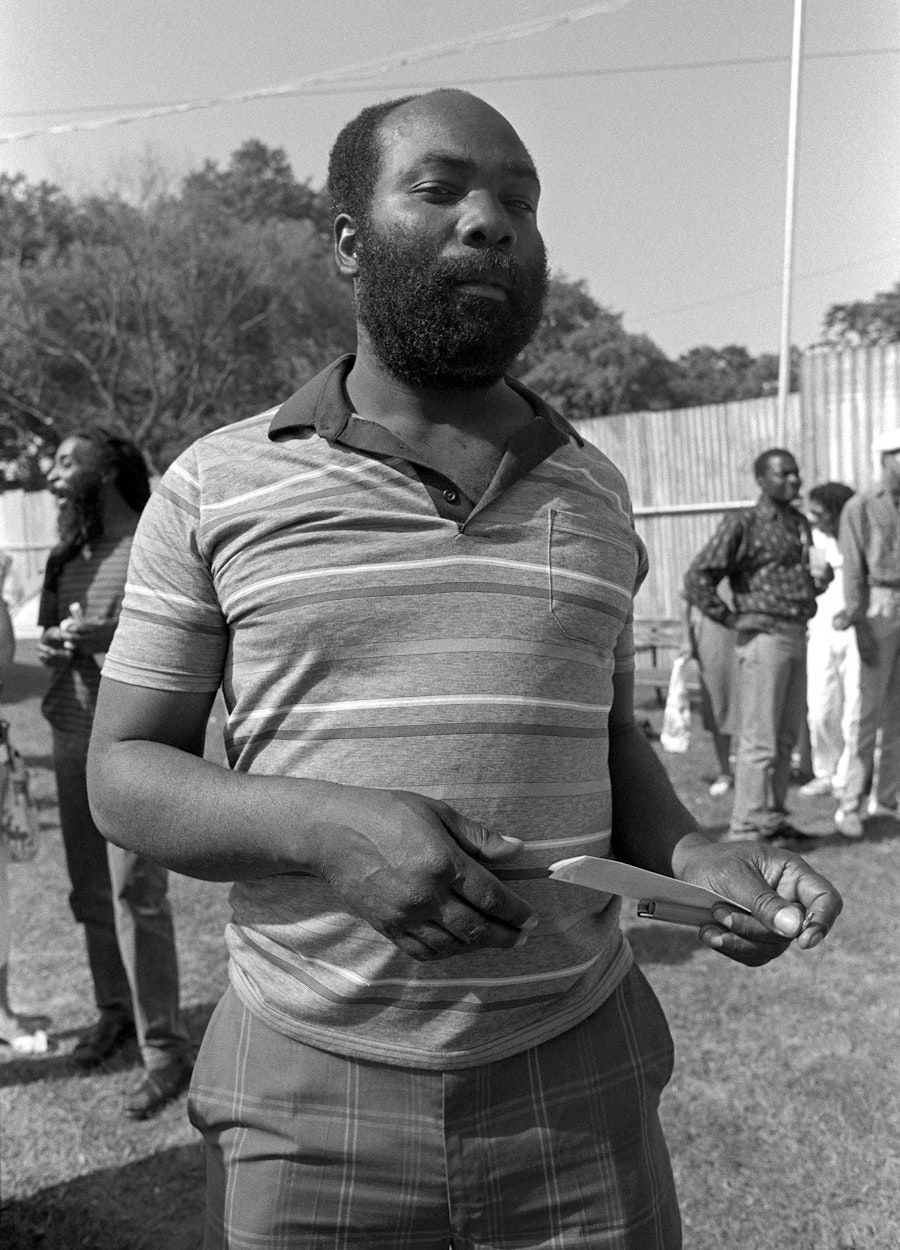 Didn't you play bass on part of the 1984 Live in Amsterdam album?
Well, yeah, because what happened was, while we were recording, the lighting engineer was a bit of a pain. He was a redneck dude, one of those Hell's Angels boys, and there was a light that, every time that light went on, it went, "Eeehrrrrh," over the PA. And so I was trying to say to him, "Look, we're recording, don't put that light on!" He's going, "This is my job, man," and Bob Currie, who was the head of A&R at EMI, was gonna punch that guy's lights out. So when we got back to London, I managed to filter all the noises away from all the channels except the bass channel; the noise was still there, "Eeeeeh," all along the bass channel, and Fela was furious! I was like, "No, don't get upset, man, I'll replay that line for you." And he was like, "You play bass?" I said, "Yeah, I've done it once or twice before," and I put the tape on, this is "Movement of the People," and started the tune and I played that bass. Listen, the song was about forty minutes long and I found myself drifting in and out of consciousness whilst playing that line over and over. It was bordering on monotony, and the music around it was going everywhere, but spinning on that line, and Fela was very happy that I did that, but I didn't expect him to put my name on the record. A lot of friends said to me, "It's a live recording, ain't it? And you played bass, what, from the console?" So I had to say, "No, the bass was an overdub, back in the studio." Although it's a 99.9% live album.
What are you working on now, and what can we expect for the future?
I'm working on releasing The Dub Master: the Essential Anthology on Trojan Records. I was approached by BMG to do a deal to exploit my back catalog, and I thought, "Yeah!" Because I had very good relations working with BMG in France when they opened the Vogue label, and I had a hit there with Winston Francis, under the name of King Cool, back in the '90s, singing the Ben E. King song "Stand by Me." So when they said, "We'd like to do business with you, and we're gonna put you on Trojan," I said, "Hmm, full cycle! I'm back to the beginning!" And I'm sure they're gonna make a better job of running Trojan than Trojan did, so I jumped in, and then we started to go through my albums. And [Trojan staffer] Laurence Cane-Honeysett picked a bunch of tunes, and Caeshia St. Paul helped me put together the sleeves and the notes and all that, and it's a remarkable piece of work. I feel like I've been elevated to Paul McCartney status or something.
What I've also been working on recently is, members of the group Radiohead have just reformed with a different drummer, so it's Johnny Greenwood, Thom Yorke, and a man called Tom Skinner, who's the drummer of Sons of Kemet, so they have got a new group called the Smile, and they're about to issue their first single, called "The Smoke," and they approached me to do a 12-inch dub mix of it. Also I've been working with Tyler [Pope] from LCD Soundsystem; he's embarking on a solo career, and he sent me his single, and I just mixed two versions of it, a straight version and a dub version. So I'm keeping busy.