"Thirty-five minutes and thirty-eight seconds of artistic prophecy" is perhaps the best way to describe Marvin Gaye's magnum opus, What's Going On. During the recording phase of this album, there was an assemblage of musicians and engineers working around the clock to complete it. Alongside Gaye was Bob Olhsson, a seasoned engineer who had been working in Motown Records' recording studio Hitsville USA since 1965. His expertise became a valuable asset while assisting other engineers in setting up the groundbreaking equipment that captured Gaye's inimitable talent at Hitsville USA and Golden World Studios in Detroit. 
But before we delve into Bob Olhsson's role in this masterpiece, some background. The late 1960s was a turbulent time period in United States history. After the assassinations of Dr. Martin Luther King Jr. and Robert F. Kennedy in 1968, Black America was at a perilous crossroads going into the new decade. The Vietnam anti-war movement sprung up across college campuses and in major cities, resulting in the killings of protesting students at Kent State University and Jackson State University in 1970 by the National Guard and state police. During this same juncture, Marvin Gaye experienced a tremendous loss when his Motown Records labelmate, Tammi Terrell, collapsed in his arms while they were performing at Hampden-Sydney College in Hampden-Sydney, Virginia, in October 1967. Over the next couple years Terrell underwent several surgeries to treat her brain tumor but unfortunately, she never regained full health and passed away six weeks before her twenty-fifth birthday in March 1970.
After this tragedy, Gaye became reclusive and fell into a deep depression. By the late 1960s, he had experienced several personal setbacks, including a failed suicide attempt. As he began to find his footing again, he felt the urge to change his artistic and musical direction. The world was quickly changing around him, and he felt the desire to speak on the atrocities going on in his country and abroad. From the correspondence he was receiving from his brother serving in Vietnam, his desire became stronger to produce music centered on the topics of gentrification, environmental injustice, the military industrial complex, the unemployment crisis, and the rampant police brutality spreading across Black neighborhoods and anti-war protests.
One of his first forays into experimenting with social messages in his music was rerecording the song "Abraham, Martin and John" for his That's the Way It Is album, which was released in 1970. It was originally recorded by Dion in 1968. The lyrics paid tribute to the legacies of Abraham Lincoln, Martin Luther King Jr., John F. Kennedy, and Robert F. Kennedy. The single wasn't released in the United States, but it became a top-ten hit on the United Kingdom music charts. Due to his ongoing issues with Motown Records, he refused to promote the album and remained in seclusion. Around this time, he changed his outward appearance from clean-cut to growing a full beard, and he even made the decision to switch careers temporarily by trying out for one of the National Football League's professional teams, the Detroit Lions. After failing to make the team, he regained contact with Renaldo "Obie" Benson from the popular group, the Four Tops.
While on tour in 1969 in Berkeley, California, Benson witnessed firsthand the violence and brutality from the local police department on anti-war protestors who were protesting at People's Park. The incident was subsequently dubbed "Bloody Thursday." Benson began to question what was happening in the country. When the tour ended, he returned to Detroit, Michigan, and began writing the lyrics for "What's Going On" with Motown songwriter Al Cleveland. During a golf outing, Benson offered the song to Gaye, but Gaye thought it was better suited for one of the groups he was working with called the Originals. After some convincing, Gaye agreed that he should record the song once an agreement was reached that he could alter its composition. In the late spring of 1970, Gaye went into Hitsville USA studios to begin recording his next effort.
Upon completing the recording of "What's Going On," Gaye yearned to have it released as a single, but Motown Records founder Berry Gordy fought vehemently against it. Gordy feared that it would ruin Gaye's sex symbol image and the trademark Motown sound. Intense discussions ensued, and Gaye refused to release any more music until Gordy had a change of heart. By the end of 1970, Gordy finally wilted and allowed the song to be released as a single. It was released in January 1971 and immediately received critical acclaim. Feeling the momentum from the success of "What's Going On," Gaye returned to the studio with his creative juices flowing, and was able to finish recording the entire album in a remarkable ten-day period during the month of March. As a result, he became the first Black artist to successfully record a concept album.
On May 21, 1971, What's Going On was released. It peaked at number one on the Billboard charts. The album spawned three chart-topping singles, "What's Going On," "Mercy Mercy Me (The Ecology)," and "Inner City Blues (Make Me Wanna Holler)."  As Gaye ushered in the new decade, he would regain his stature as one of the marquee artists of the day. In celebration of the album's fiftieth anniversary, we spoke with engineer Bob Olhsson, who provided a vivid account of how this timeless record came to fruition.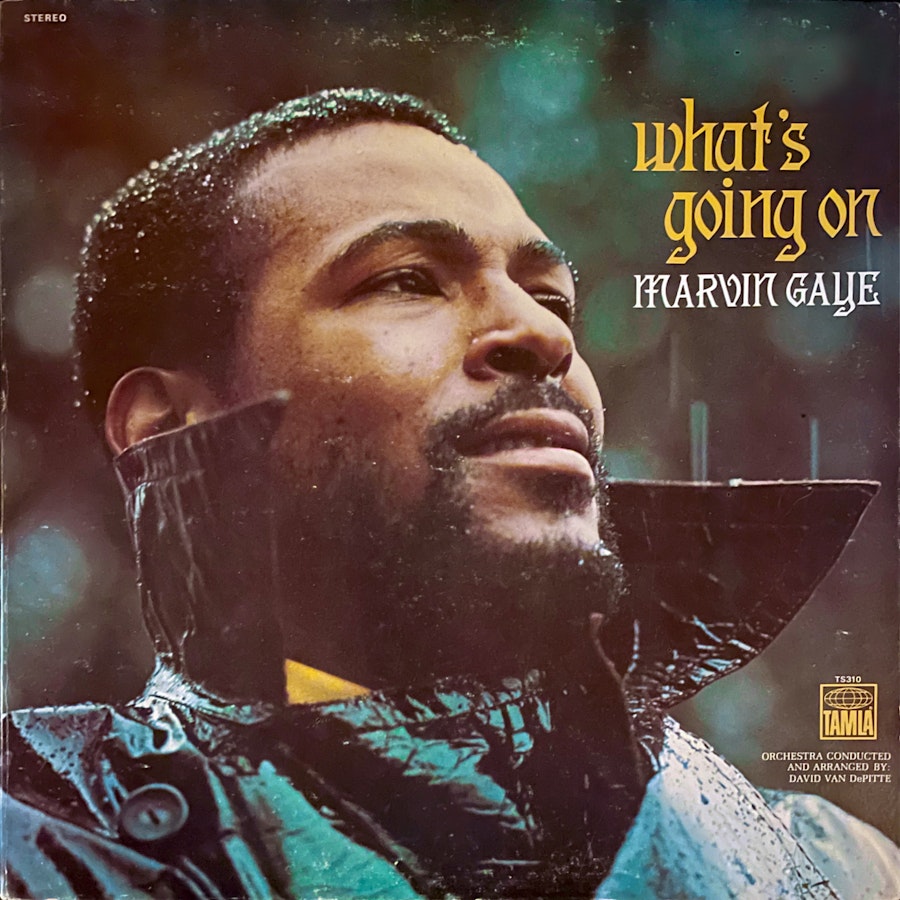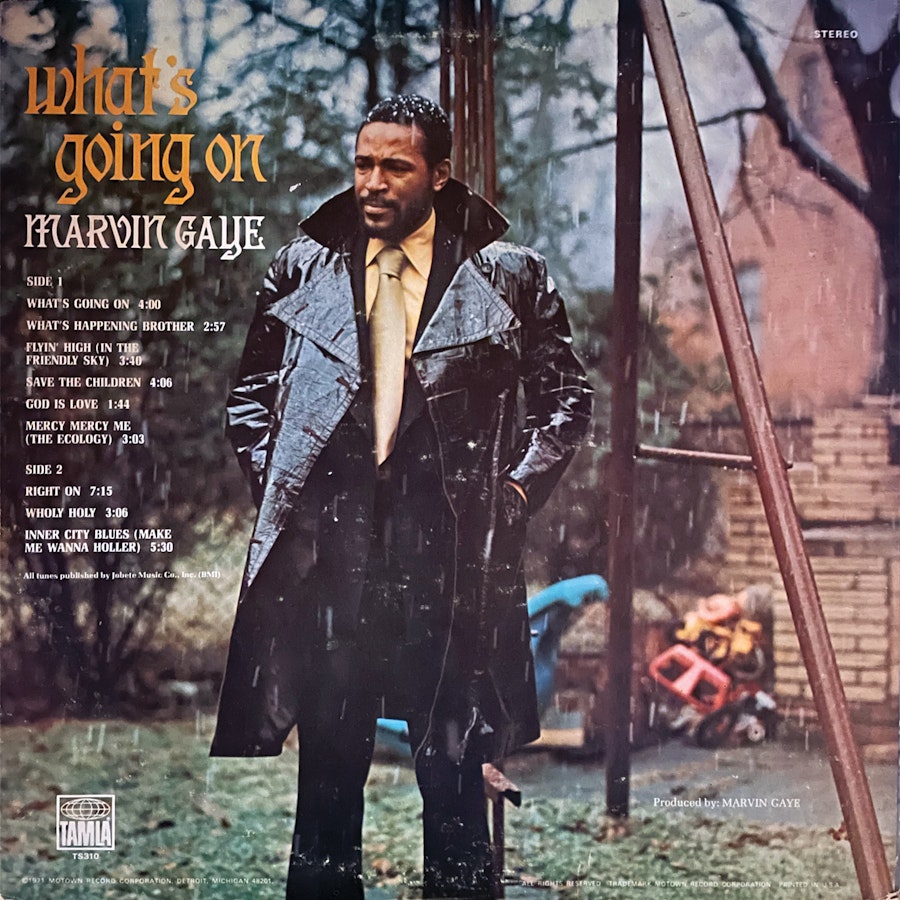 How did you become involved with working on Marvin Gaye's What's Going On album?
Bob Ohlsson:Well, I had been working for Motown since 1965. One of the first songs I worked on was "Uptight" by Stevie Wonder. It was incredible. At that time Brian Holland and Norman Whitfield were both working as the quality control department. They brought in Brian Holland, and Whitfield was writing but kind of working as Brian's assistant at the time. They became quality control, and they were at Motown when I arrived in 1965. At the time, I was terrified of getting drafted [into the Vietnam War], so I was trying to go to school. I'd gotten an educational deferment, and I was trying to go to college at Wayne State and work at Motown. It was just too crazy. It didn't work, so I wound up getting fired. I went back to college for a year and flunked out. Then, my best friend from high school had gone to MIT in Boston, Massachusetts. I went out to Boston and got a job in a studio. Three or four months later, I got a call from Motown. They wanted me to come back. I came back in 1968. I [had previously] worked there from 1965 through 1966, so basically, I had 1967 off. I came back in 1968 and onward. By that time, they had hired Cal Harris from Gold Star and they'd hired Joe Atkinson from Atlantic Studios in New York. They were the ones who wound up teaching me studio recording. I didn't really quite realize who these guys were until later on.
I was afraid of the draft for a pretty good reason. My cousin was the Sergeant Major intelligence liaison to the Joint Chiefs of Staff. My two cousins in Detroit and I went to visit him in Washington, D.C. He gave us a little tour of the Pentagon and then yanked us into an office. He closed the door behind us and told us, "Don't go near the service. What these people are doing makes me wonder why we bothered with World War II." He was livid. He said, "I can't tell you why." Later on, we learned that it was obvious what he was talking about was Vietnam. Apparently, he had been one of the army intelligence operatives in Vietnam, who had promised Ho Chi Minh we wouldn't interfere with them getting rid of the French. Then, Kennedy came in and the French were talking about withdrawing from NATO if we didn't help them hang on to Vietnam. It was a whole mess.
I'll fast-forward ahead a couple years. What was going on with Marvin [Gaye] and Stevie [Wonder] was, they both wanted to produce themselves. Up to that time, Smokey was the only person that had been allowed to produce himself. It was partly because Motown Records was originally a partnership between he and Berry [Gordy]. Holland-Dozier-Holland had left and went bankrupt within six months of leaving. When they left, it opened things up a lot, because that just left [songwriter and producer] Norman Whitfield working with pretty much of the old-school artists. Mickey Stevenson had left, so there wasn't as much going on as there had been.
Anyway, what happened was, as I understand it, Berry [Gordy] basically told both Stevie and Marvin, "You've got to produce something on someone else first. Give me a hit on somebody else." Marvin took a group called the Originals, and Stevie took the Spinners. Stevie's record was "It's a Shame." Probably the high point of my career was being at the vocal session for "It's a Shame," because G.C. [Cameron of the Spinners] nailed that thing in one take. [laughs] He had done the whole song in one take with everybody in the control room's jaw on the floor. [laughs]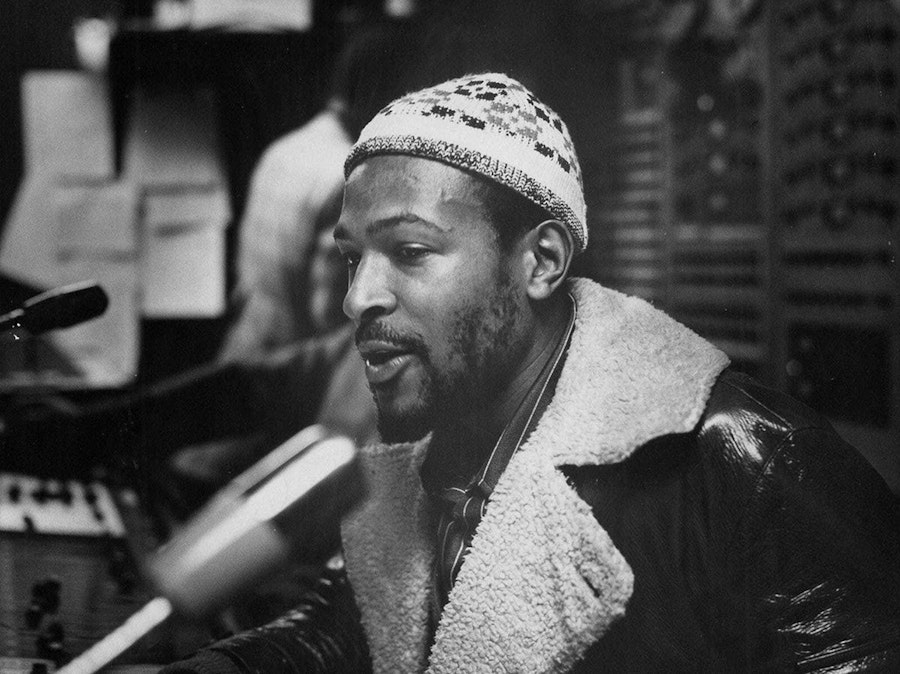 Wow.
In three minutes, we knew, number one, it was a hit. Number two, Stevie was going to have a career producing. [laughs] It was so unexpected, but apparently, their contract had expired. Motown tried to stop the record, to slow the record down, until they could get a new contract. They weren't successful. They wound up getting outbid by, I guess it was Atlantic. [laughs] They lost the Spinners. Anyway, Stevie went on to release "Signed, Sealed, Delivered." Marvin got this group called the Originals. Honestly, I'm not remembering the name of the single. It wasn't nearly as big as "It's a Shame," but it was pretty decent. It was a top twenty record ["Baby, I'm For Real" reached number one on Billboard's Top Black Singles chart and number fourteen on the Pop Singles chart].
What had happened [with "What's Going On"] was that Obie Benson from the Four Tops had written a song and the rest of the group didn't want to do it because they thought it was too political. They knew Marvin wasn't particularly a writer. They knew that he was looking for material for the Originals, so they ditched the song and gave it to the Originals. Marvin decided he was going to do it himself. As I understand, there's a story about him grabbing [Funk Brothers bassist] James Jamerson and recording the basic track at another studio with him playing while lying on his back or something.
Yes, that's correct.
The tape that I saw said the Originals on it and was very obviously done at Hitsville. I think what happened was Marvin was trying to cut his own version and couldn't. When he recorded the thing, I was working at the studio. We were on shifts. If you weren't good enough for everybody, you were gone was the way it worked. You couldn't really request an engineer. I was working the night shift at Hitsville. Marvin was going to do his vocals at Golden World. As it happened, I didn't have anything to do, so I went over to Golden World to assist or whatever. He did the vocal. They did the saxophone beginning, which was done by a guy named Eli Fontaine. Eli, I believe, at the time was working for Stax Records, and because he worked for another label, he wasn't supposed to be doing anything at Motown. [laughs]
But this was sort of Marvin's way of flipping off Berry, I think. Anyway, he ran the tape, and he played that piece as a warm-up. It was really good and Marvin sent him home, so that was quite something. Then, the next thing I was involved with was when we did the strings. I will never forget seeing Marvin in tears listening to the strings go on the whole album. The other thing that happened before we got to that was Berry [Gordy] thought the thing was too political and too jazzy, and because it was political, he was afraid that Marvin was just going to completely destroy the relationship he had with his fans. He didn't want to put up the record. Under Marvin's contract, they had to release one record every so often, and that was the only thing they had on Marvin. A guy named Harry Balk, who at that point was running A&R in Detroit [and set up the Motown subsidiary Rare Earth], he basically talked Berry into doing it. He said, "Well, I think it's a pretty good song, and if it comes out and doesn't do anything, it doesn't do any harm." Well, the damn song went into the top ten within a week.
So we got the call, "Okay, where is the album?" I said to myself, "The what?" [laughs] The rest of that record was written, I would imagine, within about ten days.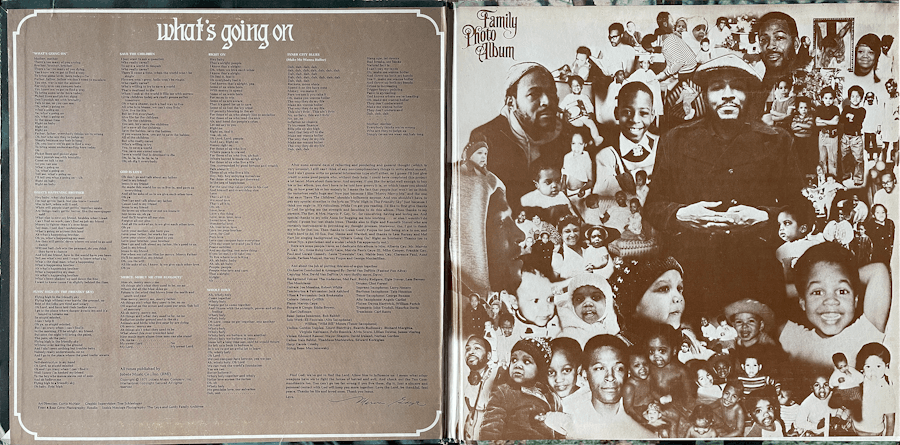 Whoa. Can you describe the collaboration process that existed in the studio with Marvin, the Funk Brothers, and other contributors?
Our night switchboard operator was a guy named James Nyx. Mr. Nyx had been a staff writer at Motown from the beginning. He'd never had a whole lot happen, but they gave him various and sundry jobs because he'd been there forever, and he'd sit there writing. He wound up with Marvin taking a bunch of his lyrics, because that's what he was, a lyricist. Marvin took a bunch of his lyrics and the rest is history, so to speak. I think they wrote a couple things, but the main thing was, it was recorded and the original mix was done literally within a couple weeks. It was the fastest-moving album I can remember. The beauty of it was there was no time for overthinking it. It was just all from the gut, because there wasn't time to get intellectual. What happened was Marvin got intellectual and wanted to add some keyboard parts to "What's Going On." He was in L.A., so he had the tape sent out to L.A. My friend Larry Miles overdubbed his keyboard part, and then they made an appointment for Sunday afternoon to do the mix. Larry told me he locked him out of the studio. [laughs] He was way too left-brained, so Larry mixed that whole album that afternoon. That story Larry told me himself, but because they couldn't verify it, it didn't make it into some books and stuff. Larry basically bet his job on it, and when Marvin heard it, he broke down in tears.
Incredible. 
He had said in a number of places that "God produced this record." There's a lot of truth to that. It's interesting. It has been something I've carried with me for the rest of my life. It has been really something working on all this stuff since then.
You mentioned that you saw Marvin in tears at one of the studio sessions?
Yes, it was during the string session. It was like, "Oh my God." He knew roughly what the ideal arrangement was, but once he heard the nine violins, four violas, and three cellos, it had an impact. And we ran it twice. It was incredible. Dave Van DePitte was the arranger. He was really good. He was a horn player. One thing I've always noticed is that horn players are usually better arrangers than keyboard players, because they think in counterpoint. They don't think in chords.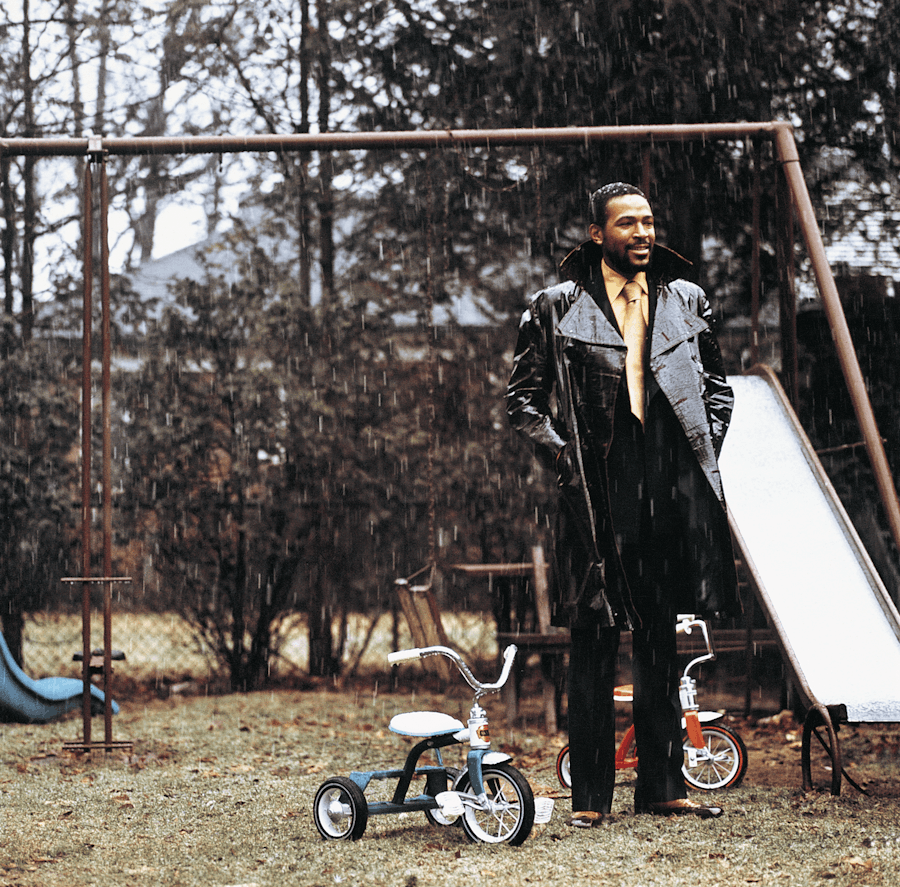 When you first heard Marvin singing the song, "What's Going On," did you have a sense that it could turn into something?
Marvin had several ideas of how he wanted to phrase it. We had recently gotten the sixteen-track machines. He would do a vocal one way and then he'd do it another way. They wound up putting that together into two different versions. The engineer was Ken Sands, and he wound up making a stereo mix with one vocal on one side and the other vocal on the other side, so that Marvin could take it home and decide which phrasings he wanted from each verse. It wound up with him wanting both in spots. That particular combination, we didn't hear at the time. The strings weren't on it yet. So it didn't have the landscape, maybe. It just didn't have that vast horizon when the strings weren't on it. It turned into something else when the strings went on it, which is why Marvin was crying and the rest of us were getting chills.
I'm just trying to fully understand why Berry Gordy was hesitant in putting "What's Going On" out in the first place.
He saw Marvin's fans as being sixteen-year-old girls, high school girls, and thought the message was a little too political. He also was afraid of the jazzy aspect of it. I think that's from his early experience. When he got out of the army, one of the first things he did was start a jazz record store with a couple people. He's still a huge jazz fan. He was totally into bebop and all that stuff. This thing was a little too in the jazz theme for him, and too political. They didn't really want to put out anything they didn't think would be a hit, simply because Berry knew that record stores don't pay their bills other than when they need another record from you. Then, they hopefully pay off their debt at Christmastime. Otherwise, they would lose money eleven months a year and then make it all back up in December. That was how it was at record stores. Record stores wouldn't pay the distributor. The distributors wouldn't pay their bills. It all hinged on having another hit. Berry understood that aspect of it. For that reason, Motown was thinking about producing only singles. We weren't really thinking about albums. He didn't hear it as being a hit single that kids would dance to. It was too artsy for what he thought was commercial, which was very ironic. It was the reality of being a small record company. It was really funny, because we were selling more singles than RCA.
They were pressing all of our DJ copies and initial runs. Then independent pressing plants did all these reorders. We were selling a lot of records, but I don't think the company was really making that much money. It was a management company that had a label. I think that's the best way to describe it. It would actually be the ideal business model for today. [laughs] Berry got screwed by United Artists real bad on a couple early singles, so much so, he got a $120 check for a top ten record. They framed it and hanged it in the office. They framed that according to an interview Smokey [Robinson] did a few years ago. I totally understand why he was hesitant to invest much money in that record. Motown did not pay payola to anybody. I've heard that from both distributors and from Esther Edwards, Berry's sister. She said, "We didn't have the money to do that." Luckily, I knew a bunch of people in broadcast and the only thing payola would ever buy was a few spins. If the record didn't start flying out of the store, it was gone. [laughs] It wasn't really nearly as big of a deal as they tried to make it, because they wanted to get Black music off the air, so there was that racist bullshit.
What was it like working with Marvin?
He was pretty demanding. In fact, I think that's why Larry locked him out of the studio. [laughs] He had some real strong ideas about what he wanted to do. He was a perfectionist. He was really trying to prove how good he was. I thought that was also why he didn't come up with much after What's Going On for a little while. A friend of mine named Art Stewart wound up working at his studio.
For the studio sessions you worked on, when did you typically arrive in the evening?
At that time, I was working from 6:00 PM to 2:00 AM at Hitsville.
What was the difference in Marvin recording at Hitsville versus Golden World?
Well, Marvin did all of his stuff at Golden World because it was bigger and more modern-looking. They've never been able to get a good rhythm sound out of it, so Hitsville was probably the best-sounding small studio anybody I knew of has ever worked in. There was a reason. It was designed by RCA. The room treatment was designed to reflect off flat-frequency-response sound. Any leakage or bleed or what have you was really clean and good sounding in there. Actually, for vocals, it was better. You could get five feet back from a singer and it wouldn't lose any presence. The cool thing about doing a vocal in Hitsville was the singer would be three to five feet back from the microphone. It meant you didn't get any volume changes with your movements and you didn't need much, if any compression. It meant the vocals had incredible focus. Golden World also had a noise problem. We bought some big roll-around baffles that absorbed some of the luminescence. We worked around the problems.
While working with him on this album, were there any specifications that you all used in the studio setup to get the most or get the higher quality of sound for him?
We pretty much did the same thing we did for everybody. The studio had twenty-nine Neumann KM 86 microphones which had a three-pattern, small-diaphragm condenser. We used the U 87 too. They wanted everything to be consistent. When the transistorized microphones came out, they got rid of all the tube stuff and put in all these same Neumann small-diaphragm condenser microphones based on the guys' liking of the small-diaphragm stereo microphone, a Neumann SM 2. They'd done a lot of recording with that in the old days, and they really liked that. They thought, "Okay, well, if there's one microphone, what would that be?" Because they were replacing everything, they got all these Neumann KM 86s, which turned out to be a super choice.
Did you work alongside any other engineers during the sessions?
Yes. Well, during both of my sessions, I ran the tape machine. Ken Sands ran the board, except there was nothing really to run. On the strings session, I set up the microphones and brought up the balance and all of that. Cal Harris sat at the board. I'm trying to think of the other guy. I think his name was Sam Ross. There was another guy working with us too, and he was from Chicago. He had the idea of setting up a back wall of all the big baffles for the strings and that worked out really well. It really sounded good.
Was Marvin present when the mastering process was going on?
He was present for the first Detroit mixes that were done by Steve Smith. Then, he wanted to add some piano keyboard parts, electric piano parts. He was going to be in L.A., so he had the tape sent to L.A. That's where my friend Larry Miles put his piano parts on and then mixed it again. Larry swung the axe heavily. He cut out stuff and basically rearranged it.
What was the atmosphere like during the album and when it was on the verge of being completed and released? Was there talk going on in Detroit and at Motown about it before it was released?
At least, in the studio where I was, we didn't hear much. It was really funny. I was talking to Larry [Miles], and he asked me, "Have you heard the Marvin Gaye album?" My response was, "My God, has he done another one?" [laughs] We talked about it, and he finally figured out that it was the same album.
While you all were working on "What's Going On," do you remember any conversations that you had with Marvin or any of the other musicians?
Marvin wanted to have a party around him at all times. The sad thing was that he would buy drugs to have people hang out. He wouldn't do it himself, but he wanted the party around him. In Detroit, it was a bunch of the football team and various people there. Ten or fifteen people would be hanging out and partying while he worked. He would give direction on what he wanted done or redone and that kind of thing. Most of the conversation was with his guests. 
There were a lot of people around him during the recording of the song.
Yes, during the vocals but not during the string session. It was just the players, the three engineers, Marvin, and the arranger in the control room.
He was singing to two-inch tape, correct? 
Yes. Basically, they did the rhythm section, then he did vocals, and then they did strings. I don't remember if the backgrounds were already on the string session or not. I don't think they were. That was a common thing at Motown was to do the backgrounds last, to sort of catch the spots that needed something. That was a Brian Holland thing. It became our standard operating procedure.
Where were the Funk Brothers positioned during the recording process?
They were working during the rhythm session, which would have happened during the day. It would have been in Hitsville in their normal places.
In the Snakepit?
Yes. Actually, the Snakepit was a place out back by the alley where they would go and smoke weed. It was called the Snakepit. [laughs] Nobody wanted to talk about that, so when people get interviewed, it evolved into calling the Hitsville studio the Snakepit. That's the real story. I didn't even know about it, but [Funk Brothers bassist] Bob Babbitt told me about it. The other thing was that the head of security was a former New York narcotics officer. A guy named Charlie Collins. You did not want to get caught doing drugs in the Motown studio. Berry Gordy was very shrewd.
What was it like being a part of hearing someone of Marvin Gaye's talent and, really, the Funk Brothers as well, hearing them play and sing? This became such a transformative record for him?
We didn't quite realize how transformative it was until that string session. Other than that, I was working fourteen hours a day and everybody was that good. I had no idea how good they were until I left. They were the first people that I had ever worked with.
During the string session, was there anyone else in the studio besides you and Marvin?
Cal Harris and Sam Ross.
How long was that session of getting the strings just right for the record?
It was probably five hours.
Did Marvin have his input on the strings?
He had met with Dave Van DePitte, the arranger, before that. No, he was just hanging out listening to it. Dave wowed us.
I guess it was pretty moving to see Marvin in tears after listening to it.
Yes. We were all on the edge. It was really good. The great irony is that you can't totally record music. When music is happening live, it's a whole different thing than recording. You sort of get it, but when it's happening live, you are breathing along with the musicians, and everybody in the room is breathing together and it takes you somewhere. Music is an amazing thing.
Yes, it is.
It's a shame that it's become so paint-by-[numbers], and we have generations who've never really heard the real deal live.
I agree. It's a shame.
It's very frustrating. At this point, it may have all lost out to cheap production. Why hire a musician? I'll just play all of this on a keyboard. It's not the same at all. Somebody told me Berry Gordy thinks we ruined music because we were the first people to do the really heavy-duty overdubbing. A few rock groups had done some of that, but we were the first to just assume that vocals were all going to be overdubbed. 
Did Marvin and the band do any rehearsing before recording?
Yes, they'd run down a song, maybe. They would play it once before recording it. The string players were all members of the Detroit Symphony. The Funk Brothers were all professional musicians who had been playing advertising sessions. Detroit was the origination point for ABC radio up until the mid-1960s. CBS and NBC were in Chicago. Most of their broadcasts originated in Chicago. ABC was the radio drama station with shows like The Lone Ranger and The Green Hornet and all that stuff. The musician's union required live music at all network programming. Between that and the advertising work, Detroit was one of the best-paying towns in the country, along with New York, Chicago, and Los Angeles. Los Angeles had the film work. Detroit and Chicago had the broadcast and advertising work. New York had Broadway and some broadcast, although most of it was actually coming out of the Midwest in the '40s, until the airlines switched to jets and that whole thing. At that point, most of the advertising work moved to Los Angeles from both New York, Chicago, and Detroit. That was why Motown had to move, because the bread and butter of the musicians was the advertising and not the record sessions.
How big was the Detroit Symphony Orchestra?
The sessions were nine violins led by the concertmaster Gordon Staples and four violas and three cellos. Sometimes a couple of bass viols. I don't remember if What's Going On used them or not. I don't think it did. That was our normal string section at Golden World. The older stuff had used maybe a total of eight strings. By the late '60s, there was enough money to get serious with hiring string players. That was wonderful. That's probably the thing I miss most, the string sessions. 
As you look back, this year marks the fiftieth anniversary of the releasing of the record. What does it mean to you to have been a part of making it?
I'm old. [laughs] What Marvin said was really true. God produced this record. The whole thing happened so fast. It was mind-boggling. There was no time. They wanted an album to sell. They had a [single] in the top ten and no album. It was done in a hurry, and I think it's largely a classic because of the basic level of talent all these people had. It was a great experience.