So rarely are Black women artists afforded the license to be anything other than infallible. But between the years 1960 to 1990 (the Exile Years), Miriam Makeba had spent the greater part of her life in pursuit of a seemingly elusive sense of belonging. Orbiting home yet never quite being able reach it. As did the likes of Hugh Masekela, Letta Mbulu, Hotep Idris Galeta, Kippie Moeketsi, and the many other Black artists who fled South Africa at the turn of the 1960s, and subsequently released exilic records that spoke to their discontent. The first "mass exodus" of Black talent rapidly departed the country in response to the Sharpeville Massacre of 1960—where police fired on crowds of local residents, killing sixty-nine people and wounding hundreds more in the Black township of Sophiatown. Once more, following the Soweto Uprising in 1976 (which saw students protesting the use of Afrikaans in higher education brutalized by police); the New York Times reported in April 1978, "The Blacks are fleeing apartheid…. Escape brings them enormous new freedom—but, often, not very much happiness."
In neighboring sanctuary states Mozambique, Tanzania, and Namibia, which granted Black exiled musicians refuge to live and perform, cross-border appearances became all the more vital in countering the disparateness of exile. Once again in close proximity to the home they were no longer welcomed in, they used these performances as ways of reconnecting to faithful crowds that had missed them in their absence. Overseas, they introduced these issues to new audiences, weaponizing whatever cultural capital they had built to draw attention to the situation back home and antagonize the apartheid state. "Black South African cultural exiles found themselves navigating a world that was both foreign and familiar to them," explained Martin Luther Boston. "New countries meant encounters with new opportunities, new social and political contexts, and new people but it also was familiar in the sense that, as was the case within apartheid South Africa, they found themselves in places that insisted they did not belong. […] Apartheid taught them about displacement and loss, as did exile. Apartheid taught them about depression and longing, as did exile. Apartheid, however, also forced them to seek alliances and create new forms of community that could resist this regime. So, too, did exile."
Of course, some remained. As Ntombizikhona Valela noted, "Unlike many of her counterparts, [South African singer Dolly Rathebe] chose not to live in exile, and for that she paid the ultimate price as her fame dwindled." Fabled as South Africa's "first Black-woman superstar," Rathebe solidly occupied the imaginations of the Black working-class within Sophiatown. Providing a balm for those living under oppressive apartheid rule and, equally, humanizing the very lives and experiences of Black folks living in the city: from "Mbombela" (meaning a coal train)—later covered by Harry Belafonte on An Evening with Belafonte/Makeba—which spoke about the journey of ordinary workers on a train searching for an unattainable wealth, to her song "Ngihamba Ngedwa" (I Am Going Alone), a punchy Marabi record that portrayed the loneliness of inner-city living. Although Rathebe continued performing as lead of the Afro-jazz group the Elite Swingsters until 1964, restrictive censorship laws and city-wide curfews made it almost impossible for her career to take off after that. What might Rathebe have become without censorship laws that viewed Black artistic expression as a threat? Without efforts of archivists to revive her legacy in more recent years, Rathebe might have faded into obscurity. Clearly, no decision as to whether to exile or remain was straightforward and each brought with it some unique sense of longingness.
Miriam Makeba's years in Guinea are for the most part relatively obscure. Forced into exile once again in 1968 when the U.S. canceled her visa, she spent a solid decade building a home and legacy in the newly independent African nation. From her compound, she housed other exiled young women and men. Formidable jazz-trumpeter—and one-time husband to Makeba—Hugh Masekela remembers this charity the most. "She would find students [from] all over the world and she would make sure they were okay," he said in a BBC documentary. "All her life she did that." In legacy, Miriam continues to hold space for us who know what it means to roam unfamiliar lands. To those of us who know exile—Southern African, Palestinian, Syrian, and all others displaced from our native homelands—her music means so much more. I'm reminded of the explanation given to me by my father about the meaning of her 1960 single "The Click Song" (Qongqothwane): acting almost as a compass, when the qongqothwane (revolving dung beetle) spins, its head can be used to orient the way home. Miriam Makeba became this vital anchor for so many throughout her lifetime. She spoke to the disenfranchised, the exiled, and the dispossessed, and reminded us, often, where home was.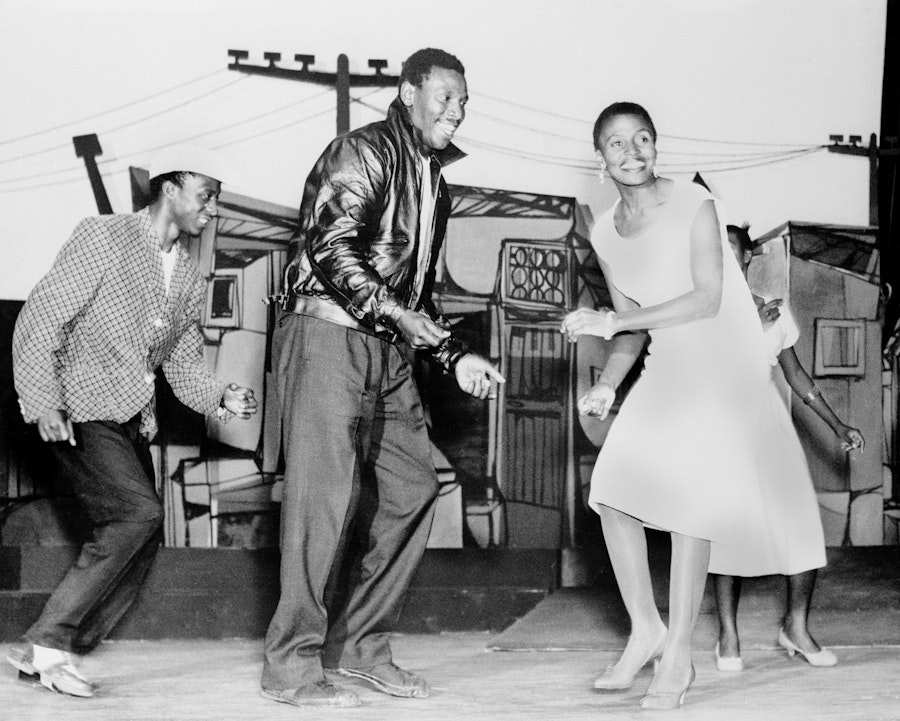 Around the same time, Makeba was also working on the landmark jazz opera King Kong, a musical written by Todd Matshikiza. Miriam worked once more with some of the same faces that had helped push forward the Black artistic community in Herbert's earlier 1954 revue. Joining Manhattan Brothers front man Nathan Mdledle, Joe Mogotsi, as well as young Letta Mbulu and Hugh Masekela, Miriam (now cast in a much larger role) worked to bring together the story of the great South African heavyweight boxer Ezekiel Dlamini, who'd been given the nickname "King Kong." The iconic 1959 jazz opera King Kong became an instant hit. In order to sidestep apartheid's segregation rules, it was often performed at universities to multiracial crowds. Despite facing heavy censorship restrictions on the content of the play in South Africa, New York Times writer Roslyn Sucas noted how the show's "72-strong black cast offered the audience a vision of another kind of country, in which creativity and collaboration prevailed." Manhattan Brothers front man Nathan Mdledle, Joe Mogotsi, as well as young Letta Mbulu also toured with the original production of the musical King Kong in 1959. "King Kong was the first musical production to come out of South Africa," said Letta in an interview with Cape Talk Radio. "We were all struggling artists trying to make it."
Both productions brought together some of the foremost writers, singers, and actors of their generation and allowed them to create long-lasting networks among one another. They opened doors to opportunities beyond South Africa's borders. In fact, it was a trip to promote Rogosin's Come Back, Africa! at the international film festival in Venice, Italy, that gave Miriam the chance to go abroad for the first time in her life—a move that laid the groundwork for her achieving household esteem. Before her departure in 1959, Miriam managed to quickly record two songs with Gallotone. First was "Miriam's Goodbye to Africa," written, according to her biography, by none other than legendary playwright and composer Gibson Kente (known as "the godfather of Township theatre") as well as the Zulu record "Iph' Indela / I Ask That You Show Me The Way" that was later featured and sung by Belafonte himself on the album, An Evening with Belafonte/Makeba. In each of these songs she asks for guidance on her journey.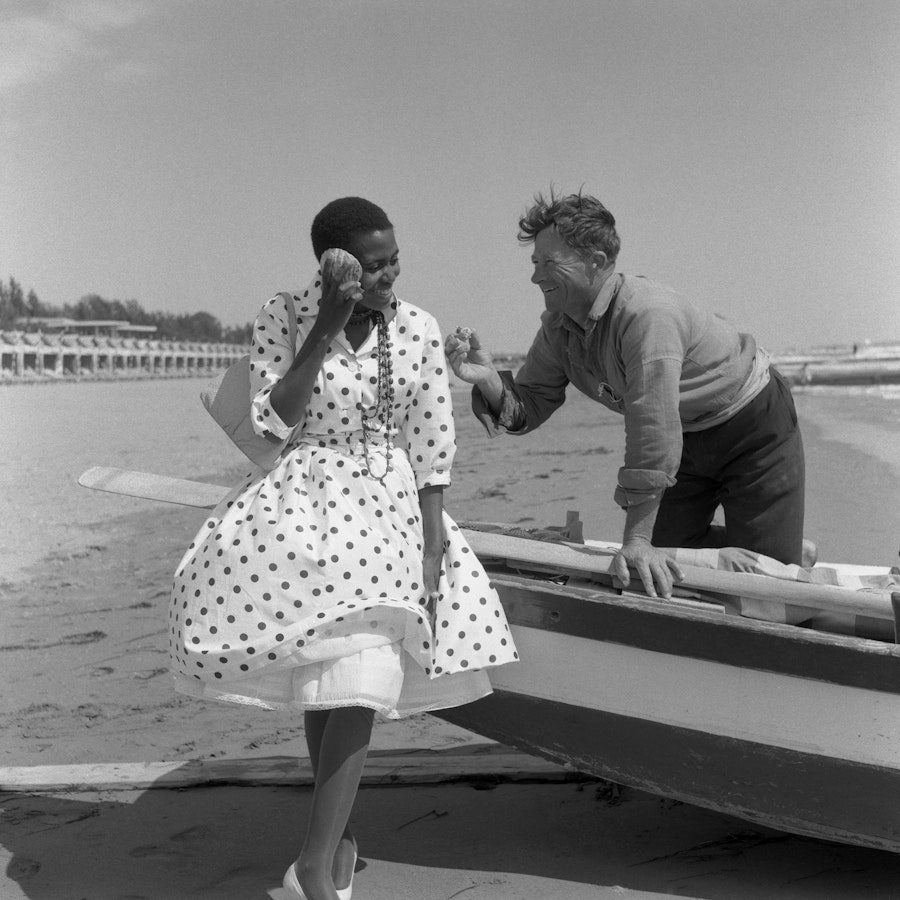 Where is the way? — Iph' Indela?
Where is the way? — Iph' Indela?
Where is the way? — Iph' Indela?
Shake hands (goodbye) — 
Xhawulani siyahamba ma
We are going mama — Woza uhambe nami emhlabeni
Shake hands we are going home — Ungibonise yonke indlela
abroad mama (in exile) — Yonke indlela yenkhluleko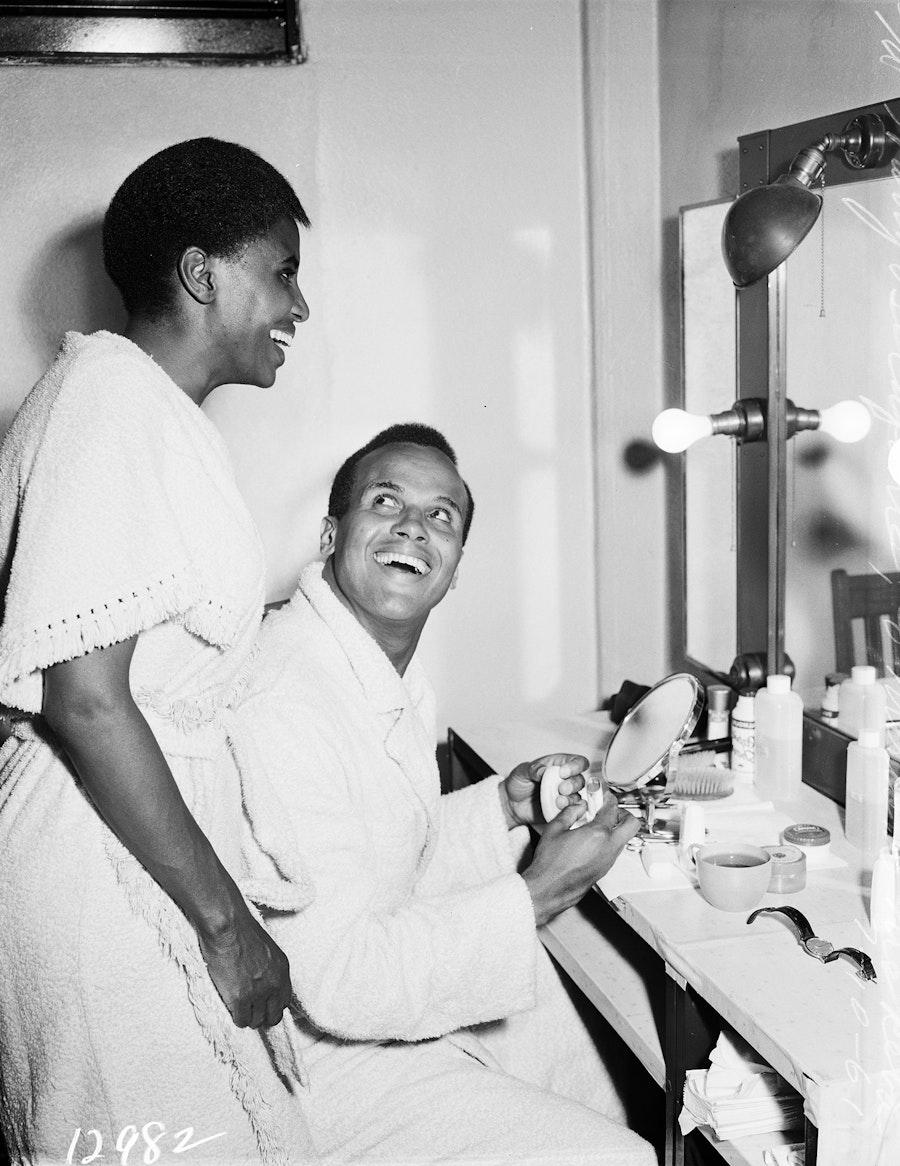 While touring Europe in 1959, Miriam Makeba met American singer Harry Belafonte in London; the famous singer took an immediate liking to her and helped Makeba obtain a visa to move to the United States, where she ended up settling in New York City. There, Belafonte took Makeba  under his wing as a mentor, helping her to get a gig on the Steve Allen Show (where sixty million American viewers were introduced to the South African singer); a stint at New York's Village Vanguard; and a studio album, 1960's Miriam Makeba, for RCA Victor; followed by a three-month American tour with Belafonte, further raising her profile. All the while, she retained her language, unique cultural perspective, and authentically lye-free image (short natural hair styles were similarly popularized by actress Cicely Tyson around this time).
While Makeba's meteoric rise in popularity marked the beginning of a new life for her in America, she also confronted a profound ending of her past life, when her mother, Christina Makeba, passed away in 1960. The South African consulate in New York, likely pressed by its home government's desires to quell Makeba's rising voice against apartheid, refused to allow her to travel back to South Africa to attend her mother's funeral. As she wrote in her autobiography, the state officials stamped her passport "Invalid," starting her decades-long official exile. With a single stamp, she was declared stateless.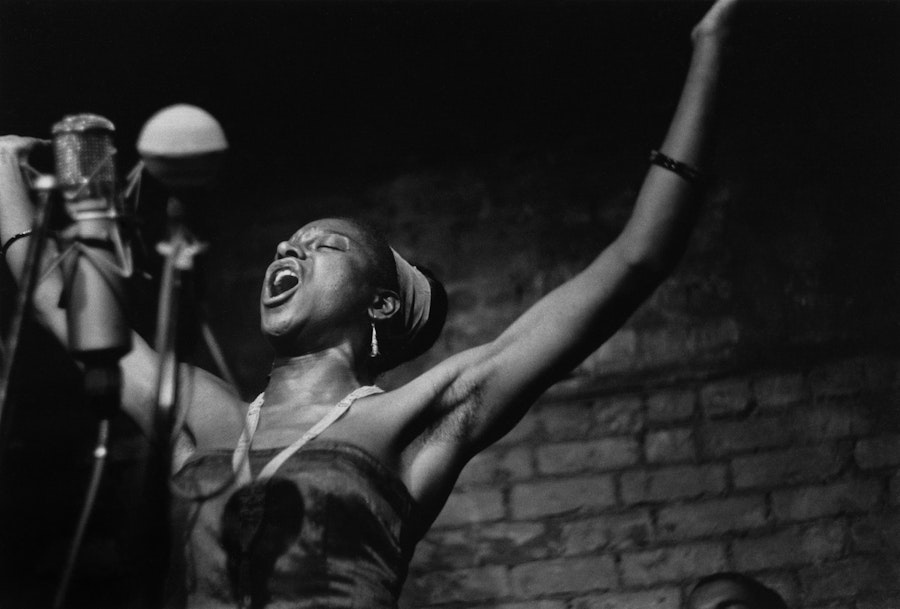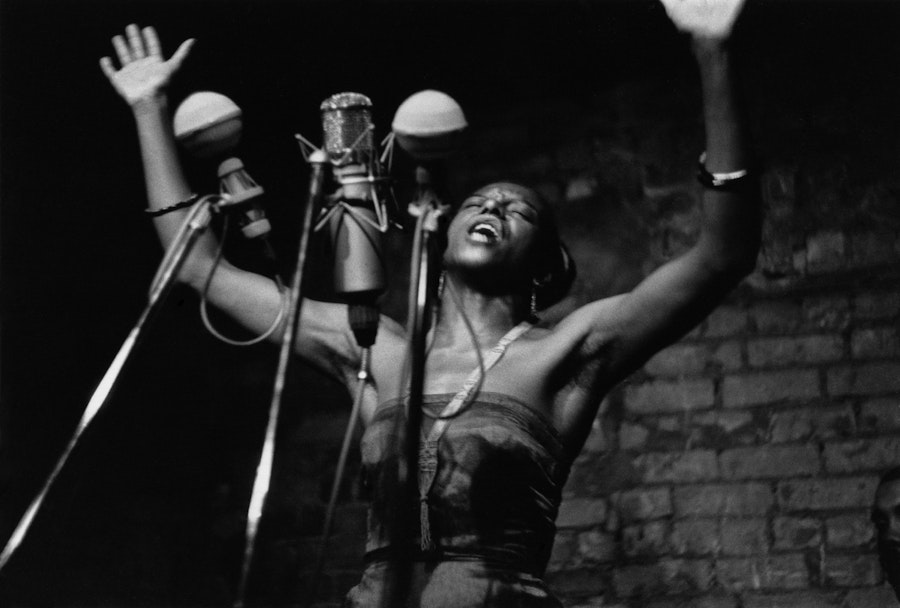 Her continued stay in New York would be met with more ups and downs. RCA Records was initially hesitant to put their full backing behind Makeba out of concern that U.S. audiences wouldn't resonate with her specific brand of African artistry, prompting the label to drop the singer after her debut. But the singer continued to give celebrated live performances, at New York's Bitter End and elsewhere, solidly carving out a spot that was distinctly hers while simultaneously holding space for other international talent in the process. One 1961 review from the New York Times noted, "It was her African music, including the distinctive plosive, tongue-clicking Xosa dialect, that was most pleasing. But in Yiddish melody, a Portuguese fado and an American song drawn from the vendors street cry, she sang with [such] authority."
In 1963, the year that she gave her notorious plea to the United Nations calling for the end of apartheid in her home country, she received her second cancer diagnosis within a period of two-years—this time cervical cancer. "I was used to the idea that I may never have any more children [after Bongi], but now I know for sure," she wrote. "It feels like I am being sucked down, like something is draining everything out of me, all the hope courage I ever had." Belafonte, whom Miriam lovingly referred to as Big Brother, became a source of support during her stay at Hollywood Community Hospital. And regular visitors that came to Makeba's bedside included Sidney Portier, Diahann Carroll, Hugh Masekela, and Marlon Brando, among many others. If apartheid had been about severing the roots of connection that Black Southern Africans held to the land and to one another, the community Miriam found in her second home within the United States became all the more meaningful in fighting on. Because of the sustaining relationships that she built and would carry with her through the rest of her life, she survived.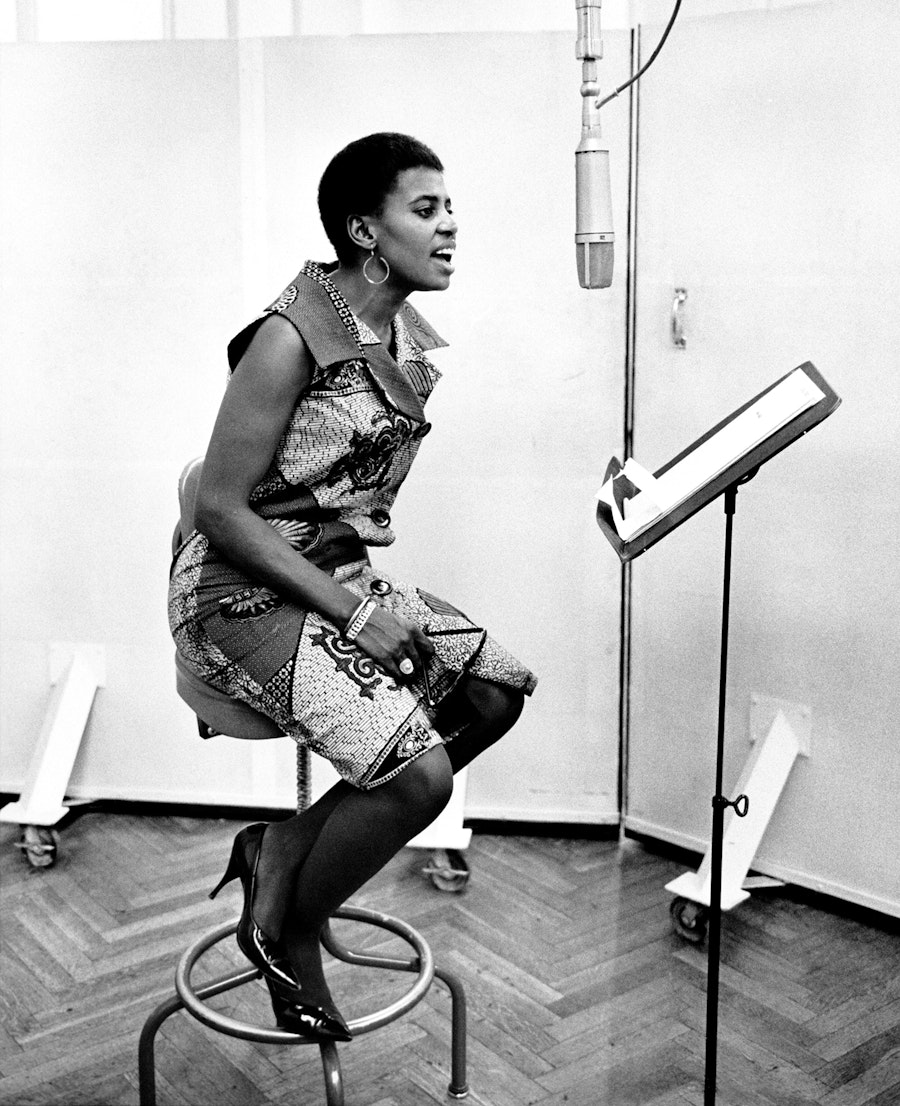 Now on the mend, Makeba saw her singing career bounce back. In 1964, RCA was forced to backtrack and re-sign the singer. "Label executives recognized that there was a growing audience with an interest in the African independence movements and African culture more broadly," wrote music historian Tanisha C. Ford in her book Liberated Threads. 
The promise of her recording career was later solidified in 1965 with the singer's first Grammy Award win, for An Evening with Belafonte/Makeba (sung in a mix of Zulu and English by both performers). Miriam became known as the one to watch. Notably, she would be the first African artist, ever, to receive an acknowledgement at the Grammys, taking home Best Folk Recording alongside Belafonte, who had advocated for her in America so faithfully.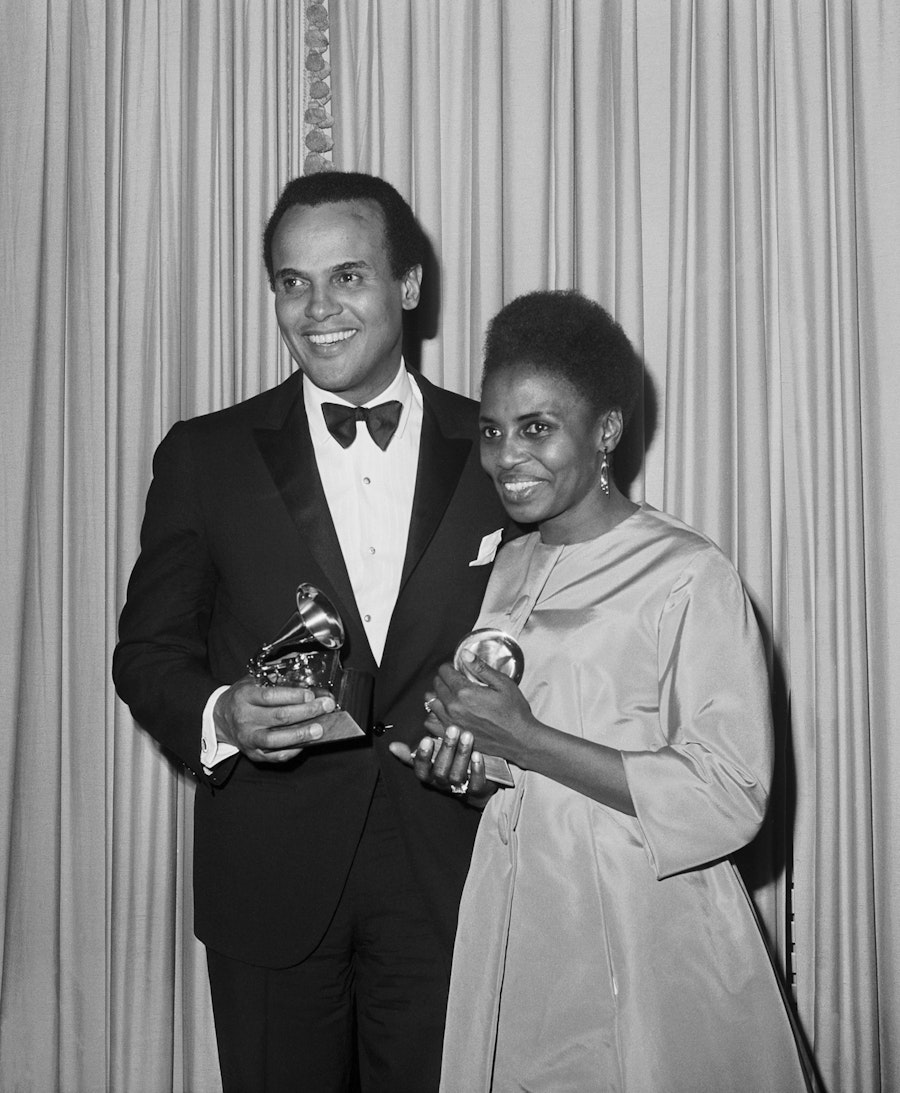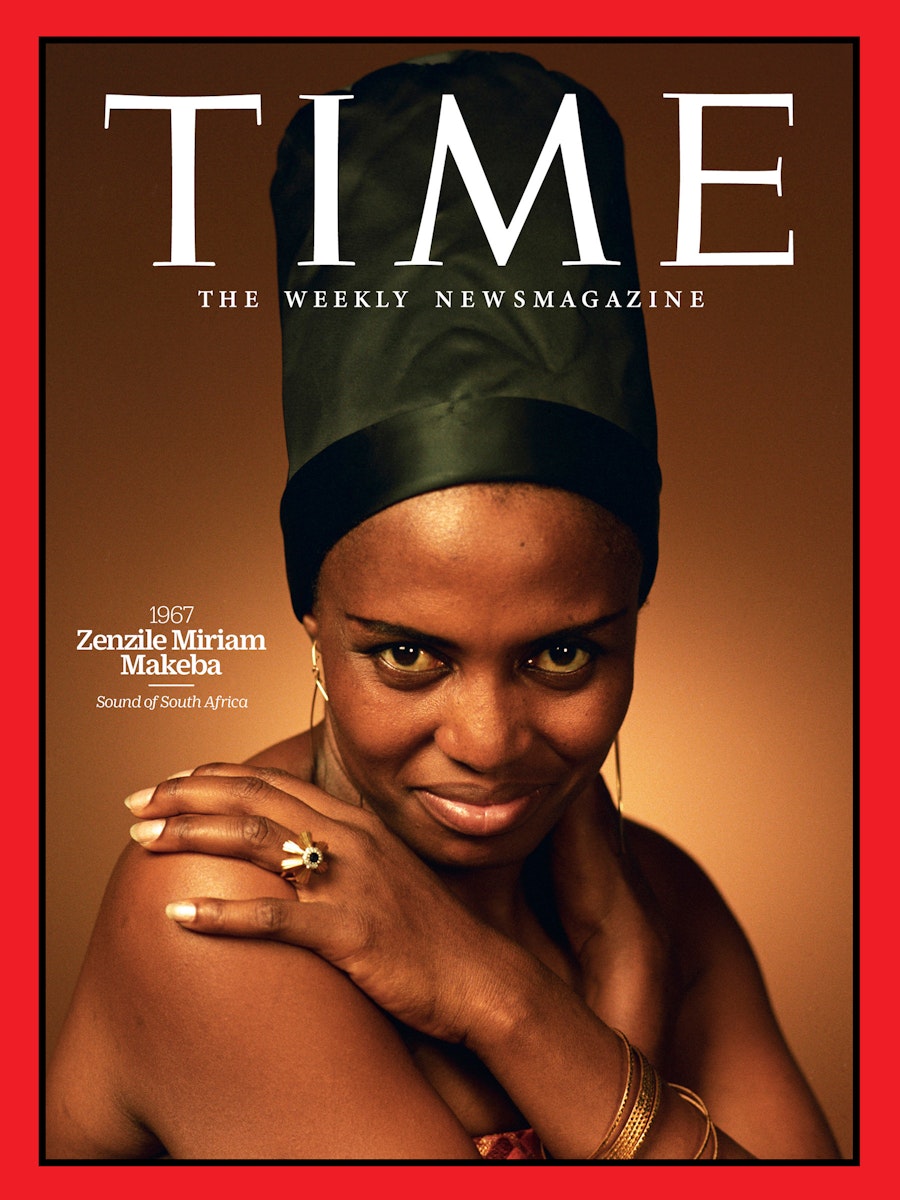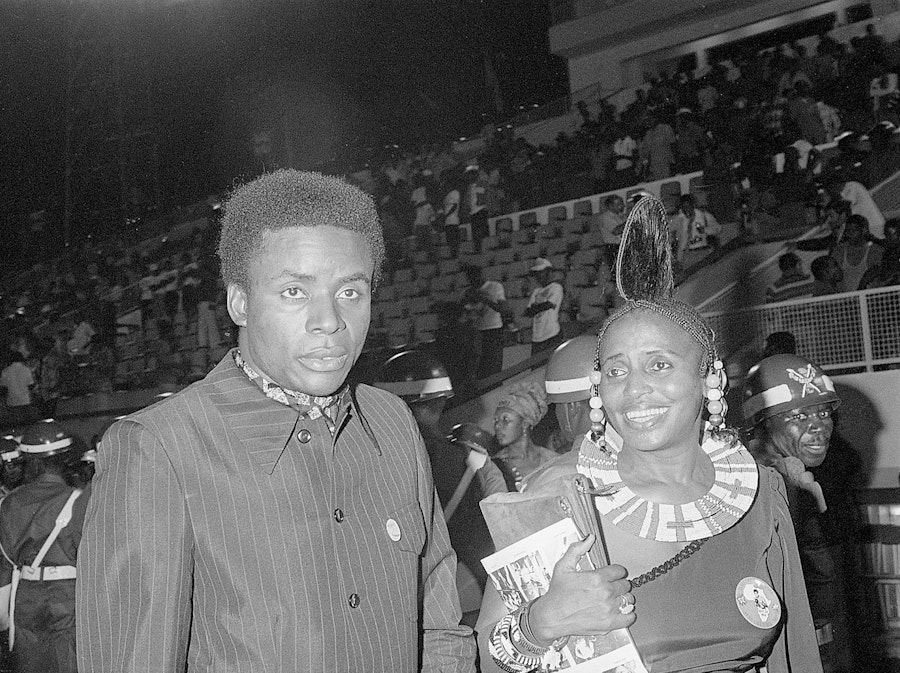 The waves of liberation emanating from post-colonial Africa over the course of the '70s encouraged a more experimentalist approach to both Miriam's sound and personal image. Taking full advantage of her kinship with Guinean President Touré, who had given her diplomatic stay and soon became a confidant during her ten-year stay in Guinea, the singer created some of her most innovative albums. Indeed, she benefited from the encouragement of Touré who admittedly levied his relationship with a global star to inject life into a young but promising cultural capital. During this time, she was given total freedom to live, play, and produce. While running her very own nightclub in the heart of Conakry, she released several albums between 1970 and 1979, respectively, under the charge of Sonodisc and the homegrown record label Syliphone. Appel à l'Afrique, a live album recorded at the popular nightclub Palais Du Peuple in 1971, represented the coming together of all of these things, exemplifying the vibrant cultural economy of Conakry. Throughout the album, Miriam masterfully dips into multilingual mode, speaking in Maninka (or Malinke), Fula, and Bantu languages, as well as two Arabic languages. "Music made in Guinea during the first two decades after independence from France in 1958 [represented] some of the most sublime and influential that any West African nation had ever produced," noted music journalist Jon Lusk. "Backed by Sékou Touré's socialist government, groups from every region of the country were encouraged to modernize their ancient musical traditions and were given the financial assistance to do so."
This was a time for working with local talent. But out of her home residence in nearby Dalaba, Guinea, came one of Miriam's most generative collaborative relationships. The creative symbiosis between Miriam and daughter, Bongi, produced some of her greats such as "A Luta Continua" (The Struggle Continues, in Portuguese), "Lumumba," and of course, she cowrote on the earlier 1974 album A Promise, Miriam's surrealist multi-genre project. Notably produced by longtime musical ally Caiphus Semenya, who frequently collaborated with Hugh Masekela, Cannonball Adderley, as well as Semenya's wife Letta Mbulu. Semenya, along with Bongi's songwriting prowess, formed a creative in-house team that Miriam kept close. Through his work with Adderley and Mbulu at Capitol Records, Semenya had befriended the legendary American producer and composer David Axelrod, who he tapped to orchestrate the strings. When asked about his silent work with Makeba in a 2001 interview for Solid Steel, the producer responded simply, "How the hell did you know I made that record?" Indeed, the record benefits from the experimentalism of Axelrod, a much-sampled producer known for his ability to merge musical worlds. Punctuating each track are incisive parables set to bright orchestral lilts. "Nobody's going to get this ship alright for us people," Makeba opines as the music lifts. "We've got to make it." Powerfully, it's the strongest statement of hope that she would return home intact, and return no less depleted by the journey.
Meanwhile, Bongi, who had just returned from living in Europe, was now permanently staying at the compound in Dalaba. The loneliness of exile there, an allegedly abusive relationship, and her battle with mental health difficulties had brought her to raise her young son in Guinea. At thirty years old, the young singer-songwriter's career was beginning to take off after the 1975 collaborative album Miriam Makeba & Bongi. Thereafter came the duo Bongi and Judy—which she and Judy White, daughter of American singer Josh White, came together to record some singles in '67. Her presence as a backing singer onstage in much of Miriam's performance was always felt, such as at the 1977 North Sea Jazz Festival. But, independently, Bongi was magic. She had so clearly developed a style and distinct jazzy tenor that set her apart from the musical inheritance of her family. Standing alone, her 1980 debut album, Blow On Wind, would be the last project she released before her life and career were prematurely cut short in 1985.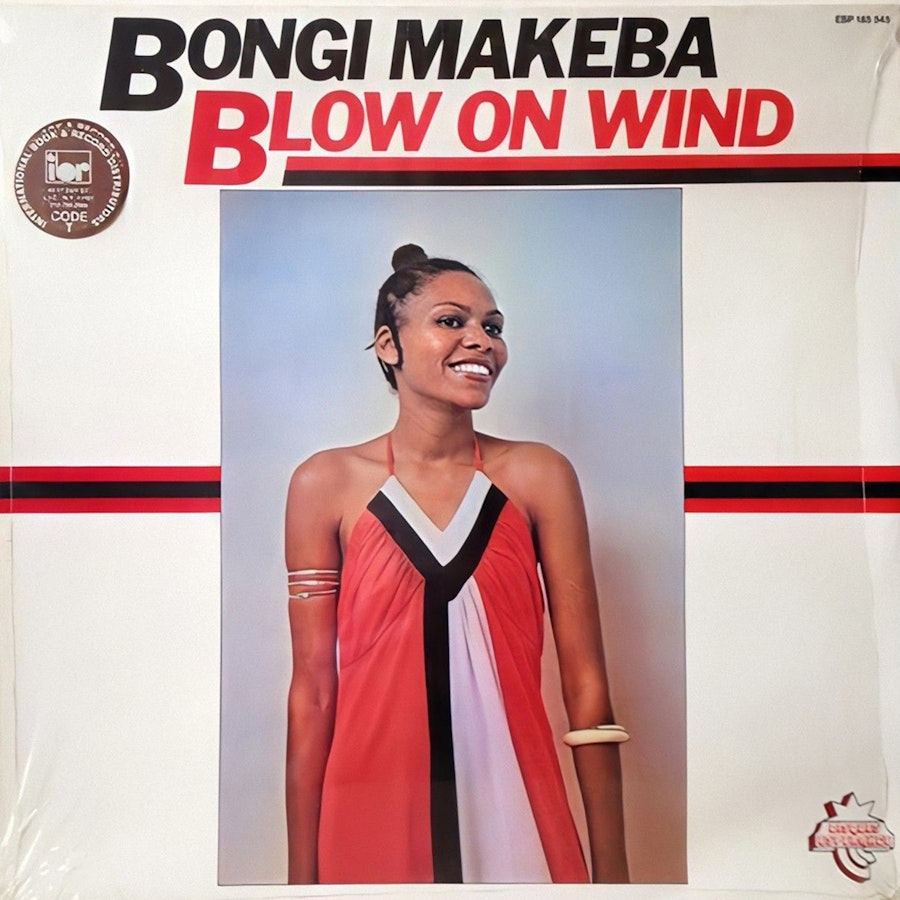 The early '80s were big years for anti-apartheid demonstrations and songs. Peter Gabriel's "Biko" was released in 1980. The Special AKA's "Free Nelson Mandela" was the protest song of '84. Then in '85, from Stevie Wonder's album In Square Circle, the record "It's Wrong (Apartheid)" powerfully decried the system in South Africa. Famously, as part of the musical group Artists United Against Apartheid, Bruce Springsteen, Steven Van Zandt, and Bob Dylan rallied together against the regime with their song "Sun City." Miriam Makeba herself joined in this outpouring of protest performance with Paul Simon in 1988 to sing "Under African Skies" as part of his controversial Graceland tour. Formal apartheid had been in effect for almost thirty-two years when the tenth anniversary of the Soweto Uprising dawned in 1986. With not much having changed politically in South Africa, Makeba's hope of returning home now appeared more distant than ever—but hope itself was not entirely lost altogether.
A concert set to take place in Lesotho was the closest the singer came to a return for at least another decade. Forged by none other than Hugh Masekela together with Vic Moloi, the multi-artist concert promised to bring together South Africa's finest musicians in neighboring Lesotho. It was originally supposed to reach Mozambique and Swaziland, which historically provided refuge for many exiled Southern Africans, however, at the last minute, plans changed. Fearing a situation veering out of their control, authorities caved to public pressure and eventually called off the concert in both countries. Only Lesotho—a region almost encased by South Africa, yet still independent in its own right and with its own unique history, traditions, and geographical boundaries—remained.
"The excitement of the masses was, of course, in part due to the homecoming. A celebration of seeing two stars who had fought for the people coming back to be with the people. But it was also a celebration of freedom. Running beyond a border where the winds of liberation could be felt, even briefly. The concert was about more than the music—it was about upsetting the ever-present cloud of Apartheid," wrote cultural critic Hanif Abdurraquib, discussing the groundswell on the day of the concert, whose numbers reached almost seventy-five thousand. While South Africans living at home were still buying their records illegally, the storming of the gig by crowds symbolized how sorely missed these artists were. "Lesotho quickly ran out of food, drink, and hotel space. People parked cars at the border and sat atop them, hoping to catch some sounds echoing out from the stadium," Abdurraquib went on to add.
Live in Lesotho was undoubtedly the cosmic meeting of those who had been othered under apartheid. Although the details of the set list were largely lost due to issues with the recording equipment on the day, some recordings were later rediscovered and remastered. Performed was everything from the landmark anti-apartheid protest song "Soweto Blues," commemorating the two hundred lives of Black South Africans lost, written by Masekela for Miriam, to the prophetic Zulu gospel "The Healing Song (Bajabula Bonke)," this time written by Makeba for Masekela during the difficult beginnings of their shared exile. The record is an almost eleven-minute revolving and ecstatic chanting of the same refrain, "Everybody is happy / I lay on the ground / I am surrounded by my beloved," that intensifies around seven minutes in, reaching a crashing apex of psychic cries and cymbals.
Like the healing offered at Live in Lesotho, Miriam's most enduring hit records became this conduit for communal healing to take place, performed live they alleviated the suffering of the masses. And in truth, performing onstage as frequently as she did in those later years quieted her own private suffering too. After the untimely death of Bongi, she was reportedly never quite the same, but she continued making appearances internationally. "Four days after Bongi's funeral, I had a concert to do. I did it. The audience had no idea that a part of my life had been taken from me; that I was not whole, that I was discouraged and beaten down," she wrote. "I asked myself why, when I was so tired and discouraged? It was because singing seemed the only way to keep the pain and the numbness away for a little while."
  Increasingly, her setlists moved away from the commercial standards "Pata Pata" (a song she very openly resented for its lyrical unseriousness) and the American numbers she had toured with previously, alongside Belafonte. "A Luta Continua," inspired by Mozambique's rallying cry for independence, was sung regularly at her shows. Similarly, the mbaqanga-inflected "Do You Remember Malcolm?" (also known as "Malcolm X") was performed, which asks us to remember a man who fought for our liberation. Performed in English was the single "Quit It" (from A Promise), portraying the madness of exile in which many Southern Africans lost their minds to loneliness, drug use, and alcoholism. Right through to "Amampondo" (The Breathing Song)—a story of resilience seen through the Mpondo warriors of South Africa—a part of the Xhosa tribespeople. Through each of these records, she coaches audiences through strategies for coping in war and displacement, grounding us in breath and memory work.
In the background of her performance life, Miriam recovered privately, still keeping an ear to the ground, monitoring the situation back home. Frequently, she paused between each song in her setlist to relay messages to her audiences on behalf of activists left behind and exiled revolutionaries who she remained remotely in touch with. In one 1980 performance in Sweden, she shouts out Caiphus Semenya, her aforementioned frequent collaborator, credited for writing the 1974 record "Hauteng" (once again, from the album A Promise), which spoke to the reliance upon Black bodies, used as capital in South Africa's gold mines. Behind the scenes of the industry, she became a moral voice for other Black entertainers, such as Aretha Franklin, who supposedly consulted Makeba in 1971 on whether it would be wise to continue her then-scheduled tour dates in South Africa. She had several conversations like this with other artists. Even though she had lived a relatively quiet life in Guinea, her connection to those issues and her home remained unwavering.
Miriam Makeba at rehearsals for a concert at Hamburg, Germany, circa 1969. Photos by Helmut Reiss/United Archives via Getty Images.

Miriam Makeba press photo, circa 1970. Photo via Michael Ochs Archives/Getty Images.
In 1990, after twenty-seven years as a political prisoner, Nelson Mandela was freed and emerged as the imminent leader of the South African people. He invited Miriam Makeba home, officially breaking her three-decade exile. Upon her death in 2008, Mandela stated, "She was South Africa's first lady of song, and so richly deserved the title of Mama Africa. She was a mother to our struggle and to the young nation of ours."
Photo by Will Stepney

Photo by Will Stepney

Photo by Will Stepney

Photo by Will Stepney