It all began with a walk up the candle-lit stairs of East London's Total Refreshment Center—a music haven filled with a smoke cloud of what could've been sandalwood incense burning, an array of neatly stacked records, burgundy leather couches, a selection of Persian carpets, and just the right amount of sunlight beaming through the windows. On June 15, 2022, the intimate space was adorned with music lovers sipping on beers as they gracefully sweat through their garments, all waiting for the much-anticipated performance by Chicago-based drummer and producer, aka the beat scientist, Makaya McCraven, alongside friend and collaborator Joe Armon-Jones, the British keyboardist, composer, and producer.
McCraven, dressed in an all-black outfit embellished with a large gold necklace resembling a cymbal, and Jones, With his ever-so-cool demeanor, sat across journalist/broadcaster Emma Warren to talk about all things music. From their musical influences, the importance, and the significance of improvisation, to the looming effects of social media on the music industry.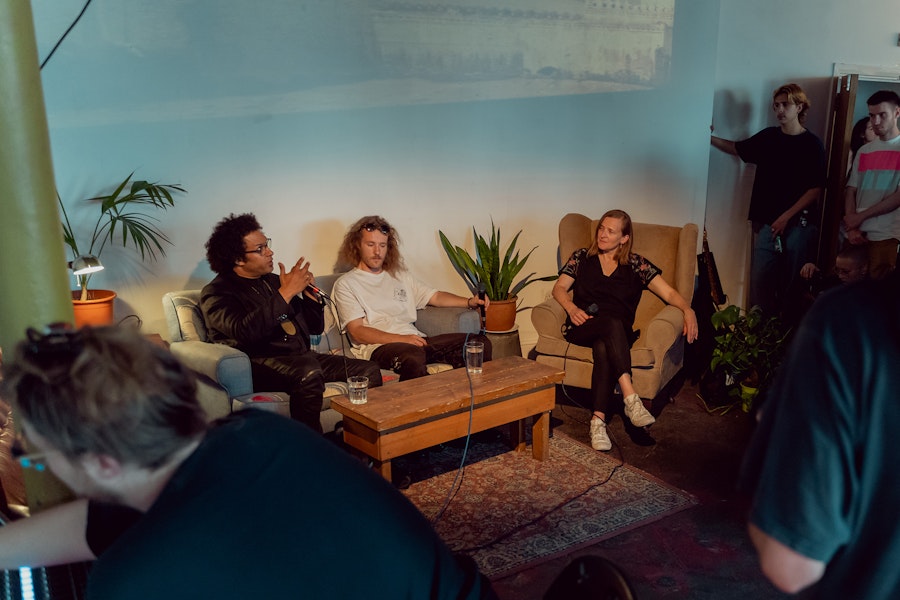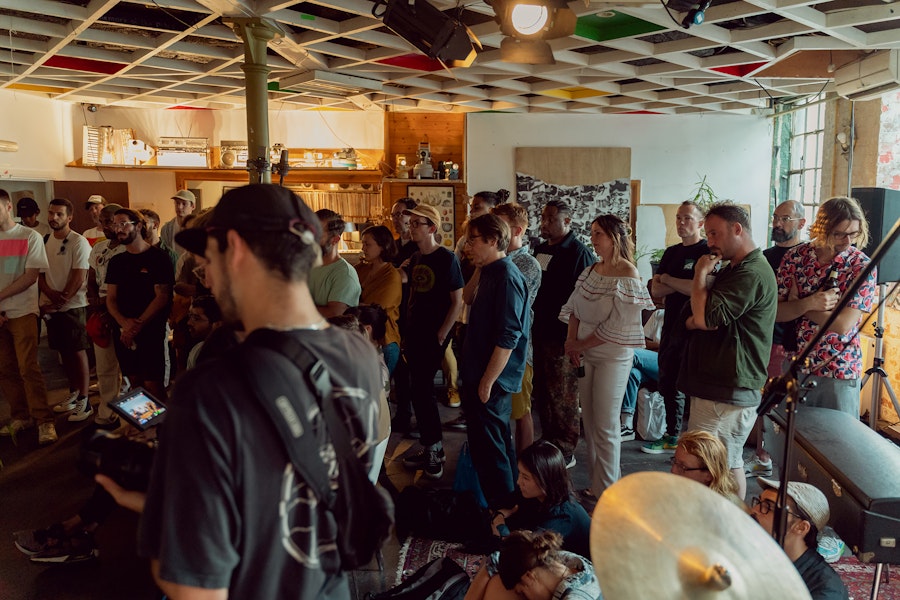 The instruments are set in place, and the room slowly starts to fill up with like-minded individuals eager to hear the duo's long-awaited artistry. The room falls silent, with the occasional sound of someone opening a beer can followed by McCraven's free-spirited insight into the art of improvisation. He calmly states that "improvisation is a fact of life," reiterating that it's all about what's happening at the moment and organically feeling your way through the different sounds, pitches, rhythms, and textures and having a conversation through them. Fifteen minutes into the conversation, both McCraven and Jones highlight the struggles of being an artist, emphasizing that "you have to be doing it for the right reasons. The music industry can be a very brutal place; you have to put your heart out there every day." 
As Jones goes into how his pre-gig ritual is to smoke a joint, he also passionately details how everything nowadays is about content, as opposed to quality, "A lot of time is spent on photos, social media, videos, so there ends up being not enough time to really make music, it's all about content." McCraven adds, "And even something like Spotify is actively killing that concept of the album. Because the way that they're going to put everything in playlists and try to have this listen to music in certain ways and the way it's organized or even put it on artists page, it's the top or top five, you know, rather than presenting music as like listen to this album start to finish on. And so I think, you know, we are at a time where I like making records, you know, and I like making the physical record because I feel like there is a timelessness in the physical world. Makaya ends the tête-à-tête with advice for all musicians: "Find your sound and know your shit."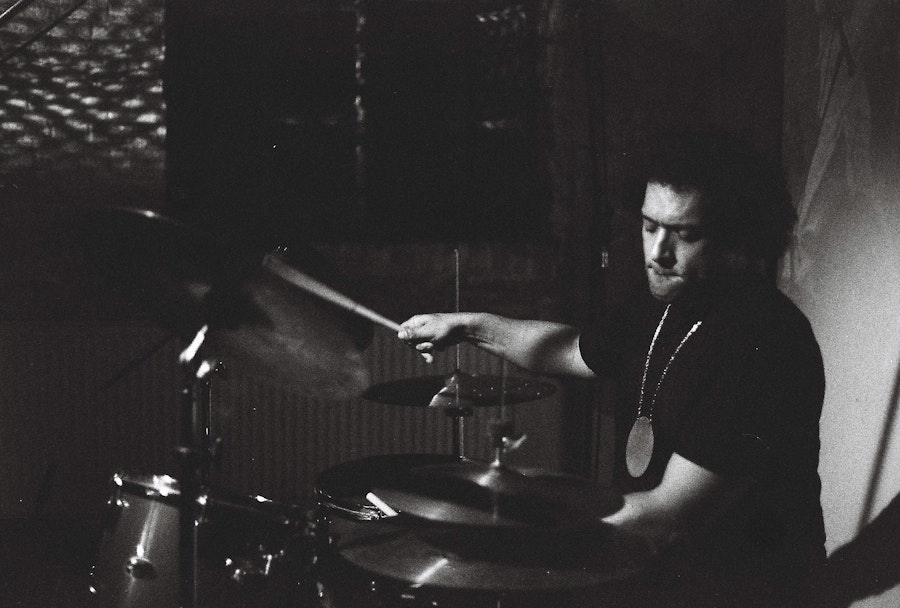 The conversation ends, and as everyone slowly returns from smoking their cigarette, the intimate gig begins. The room slowly quiets as the two start an extended, transformative language of unexpected sounds, a transcending symbiotic conversation between the two musicians. The beat scientist and the channeling wizard epitomize what it means to be a jazz musician. The sweaty and captivated audience sways and bobs their head in unison, never anticipating their next move; no one utters a sound, and the only conversation occurring at that moment is between Makaya McCraven and Joe Armon-Jones. The performance kept you on your toes, never knowing when they would switch up the rhythm, flow, and overall mood, and they did it with such ease and jazzy excellence. 
Stay tuned for Makaya McCraven's recently announced LP, In These Times, set to be out in September.
Joe Armon-Jones and Makaya McCraven at East London's Total Refreshment Center. All photos by Anna Francesca Jennings.