"When I was a little girl, I used to dream of going along in some kind of beautiful Cinderella-type carriage, and I'd be largesse-ing to the world," recalls singer-songwriter, guitarist, and actress Linda Lewis. "But my largesse-ing would be that I had big bags of songs, and I'd throw them out to people."
Over sixty years in the music industry, Lewis has shared generously. Her five-octave voice has graced ten solo albums and supported some of the biggest names in pop music. Watch performances by Lewis at any point in her career and her tone is instantly recognizable. It has a Peter Pan–like quality that remains young beyond its years—sweet, soulful, and unique. 
It is as a songwriter, though, that Linda Lewis blazed a trail. The three albums she released for Reprise between 1971 and 1973 represented a groundbreaking and intuitive combination of soul, folk, R&B, pop, and reggae influences. Populated with pastoral flights of fancy and wry observations alike, her songs told unassuming tales of love, loss, and escapism, narrating the dreams and dramas of her daily life with youthful ease. They're also the albums in her discography that she likes the most.
And so today, on the other end of the phone, she is largesseing with a bag of stories. Some she's told before, others have been jogged from her memory for the first time. How she appeared in the Beatles' A Hard Day's Night, backed David Bowie, supported Cat Stevens, hung out with Marc Bolan, duetted with John Lee Hooker, went on the razz with Ringo Starr, and was serenaded by Stevie Wonder. While these are all names remembered more widely than her own, this isn't a story about anyone except Linda Lewis. To borrow a phrase from author Hanif Abdurraqib, it's about time she got her roses.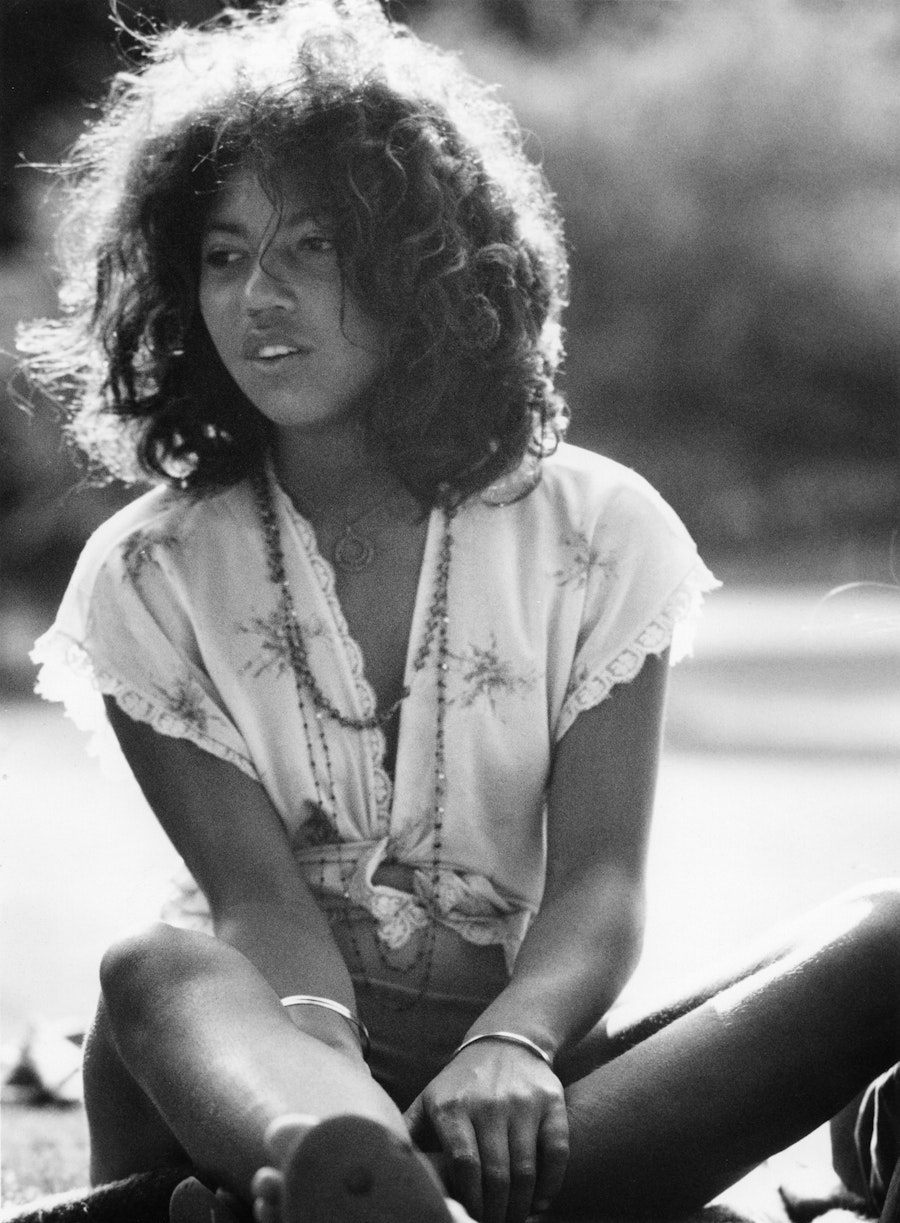 Linda Lewis was born Linda Ann Fredericks in Custom House, West Ham, in the East End of London. It was 1950 and there were just twenty thousand non-white residents in the U.K. The HMT Empire Windrush, which had brought immigrants from the Caribbean to fill postwar labor gaps, had docked twenty miles down the Thames two years earlier, but Linda's family was already part of the furniture. 
Her grandfather had come to London from Jamaica in the 1920s, working as a stoker on the ships and strolling the neighborhood in his Sunday best. Her nan was born down the road in Stratford and worked as a cleaner. Linda remembers them fondly—his big white Afro, their affectionate bickering, his open-casket East End funeral. Linda's mother, Beatrice Lily Allen—known to all as Lily—was born in West Ham in 1929, into what was already a diverse Docklands community. Lily was just nineteen years old when Linda was born, the oldest of six siblings from five fathers, few of whom hung around long enough to pay their share. 
Growing up under what she calls "very poor circumstances," Linda was surrounded by music—the calypso tunes and Harry Belafonte numbers adored by her grandfather, and the showbiz jazz of Shirley Bassey and Sarah Vaughan beloved of her mother. Pianist Winifred Atwell may have been one of the few Black musicians on BBC radio, but Linda preferred the American R&B that was finding its way into British mod culture instead.
And when she wasn't playing among the ruins of bombed out East End buildings, a young Linda was put to work in the service of her mother's dreams. "My mum had a lovely voice, really sort of low and mellow," Linda remembers. But working three jobs to support the family and not having the opportunity to make it as a singer herself, Lily funneled all her energies into her oldest daughter instead.
"Even when I was a little tiny girl," she says, "we used to get on the bus somewhere and my mum would whisper in my ear, 'Go on, walk up and down, and start singing.' I didn't have my hand held out or anything, but they would go, 'Oh my God, she's so cute, she's got an amazing voice,' and they'd give me half a crown." She embellishes stories with an array of accents that pop even more against her cockney twang. Like something out of a Victorian novel, Linda's talent and enthusiasm landed her at a stage school called Peggy O'Farrell's School of 100 Wonderful Children, which she describes as less of an education than a front for working kids. It's not hard to imagine why it was so awful.
"I was the only little Black girl there for a start, so there was quite a lot of racism. Even the grown-ups would give you these filthy looks and shoot you these nasty things. I got the brunt of their maliciousness," she remembers. It's an image of postwar Britain that has been too often swept under the rug. It is telling that Linda preferred the convent she was sent to in later years.
"On the one hand, I had to sort of keep it under wraps so I wouldn't get picked on all the time, and on the other hand, I so wanted to please my mum," she recalls. "Because for a little girl to have your mum..." She trails off. "It didn't feel like she gave me unconditional love; it was kind of like conditional love. You know? If I get the parts, if I'm at the front of the stage, and all that." Pressure from all sides. "Since she died, I've actually gone to therapy for all that stuff that's in my brain. I think that's why I still have a love-hate relationship with my career."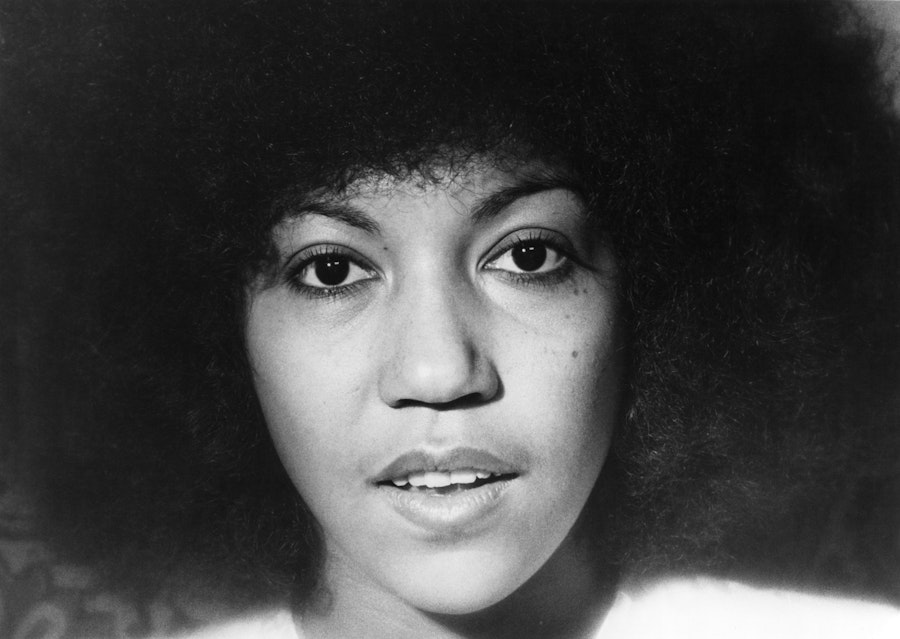 When Linda was fourteen, her mom took her to see John Lee Hooker perform in Southend and wrangled her up onto the stage to sing with him. It would prove to be something of a break for the teenager, but one she is still puzzled by.
"There is a big question mark over who my dad was," Linda says, emphasizing the first syllable of "question" with a cheeky flourish. "But someone said to me the other day, the reason that I got to sing with John Lee Hooker was because he was in England when I would have been conceived." She laughs, muddying the joke just enough to seem serious. "It could have been him, or him, or him, so I'm saying he's my dad!" The more stories she tells, the more remarkable is Linda's ability to find levity in otherwise difficult situations. "I'm a bit like Marilyn Monroe who had a picture of Clark Gable next to her and who she called her dad, because she didn't have a dad either."
Linda's early interactions with the music industry brought her into what she calls "the offices of Don Arden," a music exec with a fierce reputation and a Wikipedia section dedicated euphemistically to his "business methods." First, Arden decided Linda Fredericks was going to confuse fans of another East End singer, Linda Kendrick, and bid her to change her name. Linda picked Lewis because she loved R&B singer Barbara Lewis and thought Linda Lewis sounded a little bit like Superman's Lois Lane. Second, Arden sent her to the hairdresser and imposed on her a makeover to turn her into "this little cute mod." And third, he took issue with her accent.
As she tells it: "I remember him picking me up and putting me on some sort of counter or desk and saying to me very frighteningly—I was scared of him—'I can't understand what you're singing about!' But I didn't understand what the Americans were saying, so I was covering songs and singing them phonetically."
In 1967, Linda Lewis cut her first single, a U.S. R&B number called "You Turned My Bitter into Sweet." Although her voice is recognizably her own, the phrasing lands a little awkwardly, and in the two years that followed, she concentrated her energies as a vocalist on jazzing up the psychedelic-soul outfit the Ferris Wheel instead.
What was clear from day one, though, was that all Linda really wanted was to sing her own songs. "If I was left at home to look after my younger siblings, I'd just pull a song out of thin air and keep them all occupied," she says. Years later, in 1986, having all changed their surnames to Lewis, Linda and her sisters Shirley and Dee Dee would unite as the Lewis Sisters for a series of 12-inch singles; but in their youth, Linda was very much in charge. "I used to make them sit on the couch and listen to me. I was a bit bossy when I was younger!" Of the thirty-six tracks on her three Reprise albums, just one was not written by her.
"For Mama," the first track on Lewis's debut album, 1971's Say No More, is an a cappella showcasing all the talent that Lily had so coveted in her daughter. "I remember playing it to her," Lewis says. "I so wanted to please her, and she came back and said, 'Oh, that's nice, but it'd be nice if you did something with a beat.' I was so deflated!"
In truth, much of Lewis's musical drive was now coming from elsewhere. Four years earlier, aged just seventeen, she moved out of West Ham and into a commune on Hampstead Way with young producer Ian Samwell. Where others headed for the countryside, Lewis found her idyll in the relative serenity of Hampstead Heath, an untended woodland in the heart of "the Old Smoke" that was just about big enough to get lost in.
There is something suitably folkloric about the Hampstead Way house, if for nothing other than the numbers of musicians who would pass through. Elton John, Cat Stevens, Robert Wyatt, Marc Bolan, and David Bowie were all regulars—there to get high, jam, and listen to Joni Mitchell records. For Linda, one visitor stuck out.
"John Martyn would come round. I'd see him playing on the guitar, and I'd try to copy it somehow. Then he sent me a few chords and showed me stuff," she says. "Oh God, he drank so much though; he could go from Scottish to cockney in a click, I never knew which one he was! But he gave me a chance to play."
In London, Martyn used to perform at Les Cousins, a Soho basement that became central to the British folk revival. One evening, he got Linda a spot on the lineup, for what would be her first solo performance with a guitar. "I've always had terrible stage fright," Lewis explains. "You'd stand in the wings and just pray that the floor would open and swallow you up. But there's this whole kind of weird magic thing that happens when you step onto the stage; it's like going into the looking glass." In one photo from the era, Linda is onstage in a blue denim dress, looking every bit like Alice in Wonderland. "Everything turns backwards, and everything that you're afraid of becomes things that you're not afraid of anymore."
In 1971, when Lewis took to the stage at the inaugural Glastonbury Fayre festival, she all but stumbled through the looking glass for real. "When we all got down to Glastonbury, I was taking so many drugs [with David Bowie, the story goes] that I forgot to do my appearance," she laughs. Instead, floating on an acid cloud, she drifted onstage to sing with Terry Reid, reached for the sky, and cracked it wide open.
"I remember notes coming out of my mouth," she recalls, "and I could see them, and they were all multicolored and wonderful. And then I could see people standing round, and they were looking at the colors as well and listening to what I was doing. I wasn't aware that I was doing anything special; I just wanted to feel good." When the song was over, Linda smiled, turned around, and walked off the stage, without so much as a goodbye.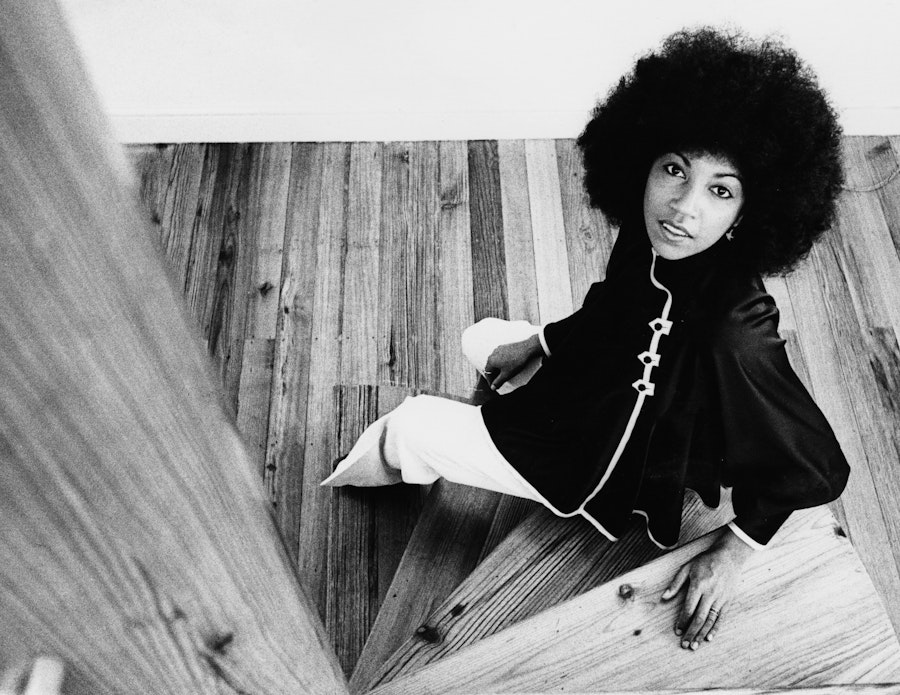 "Falling in love played a big part in my life," Lewis says, and as such, love played a big part in her music too. The "fine nose" and blossom toes of "Spring Song" are quite possibly meant for Jim Cregan. "Goodbye Joanna"—ostensibly about her "piana" ("Joanna" being cockney slang for "piano")—really spoke of her time with Ian Samwell. "I even remember falling in love with a little ginger-haired boy when I was nine," she muses. "He was the only one who was kind to me at the stage school." Love is a powerful force in a hostile world, and Linda Lewis knew how to capture it in song. "I drew inspiration from everything I was surrounded by. And now I get it from all the different husbands I've been with!" she jokes. "Oh no, not really!"
Toward the end of Say No More is a song called "I Dunno." It is short, sweet, and presented like an afterthought. "We just needed another track on Say No More," Lewis explains. "I went home and I thought, 'I dunno what to write.' And then it was like, 'Oh, I dunno! Maybe I'll do that.' " Imaginative and resourceful, Lewis nestles deceptively simple lines on love and loss within a song that feels at once weightless and profound: "Love begins when everything looks good when you're together / But it has a trick, oh yeah, it changes like the weather / It may not last forever, and I know that you feel it…"
At the time, Lewis was unhappy with Jimmy Horowitz's arrangements on Say No More. "I've only just started liking that album," she confides, "but at first I felt it was too stiff. It was all... In... A… Number… Of... Bars," she says, her voice mimicking a staccato rhythm, "not free-flowing like I wrote it." It is interesting to hear her speak of her love for Brazilian guitar music, because so often her playing style seems to refer to the gentle ebb and flow of a bossa or a samba groove. Feeling a little out of depth in those early studio discussions, Lewis let her reservations slide, but that would be the last time.
"I started knowing that I could do things when I began recording Lark," she says of her 1972 follow-up, perhaps most widely known for the soulful rare-groove staples of "Reach for the Truth" and "Waterbaby," as well as its first hit single, "Rock a Doodle Doo," a wind-up toy of a song that came to her in a dream and spent eleven weeks on the charts. "I used to let the musicians all pipe up with their ideas, and took into account what they were saying." For the first time, Lewis was not just at the mic, but orchestrating from behind the desk too. "I co-produced Lark with..." She pauses. "Oh God, I can't remember which man it is!" she laughs. "Jim Cregan!" Lewis is being generous. "I let Jim just say that he was the producer because it made his ego better."
By now, Cregan and Lewis were living together in Chiswick, where their mornings would often begin late and end up at Apple Studios on Savile Row some time after lunch. "I'd walk into the studio, and sometimes you would encounter a Beatle walking out. And I tried not to go, 'Ahhh, it's John Lennon, oh my God!' Because he was the one that I'd never really had a conversation with." Affecting a seamless Liverpudlian accent, Lewis remembers one moment during the mixing of Lark when George Harrison "popped his head round the door and said, 'That'd be great if it had some shakers on it.' Little did he know that a young Linda had been a front-row extra for 1964's A Hard Day's Night, cupping her hand to her ear to catch some of the music from beneath the din of the screaming girls around her. "In fact, I once had a night out with Ringo at Playboy Club," she continues. "It was great; we got totally wasted!"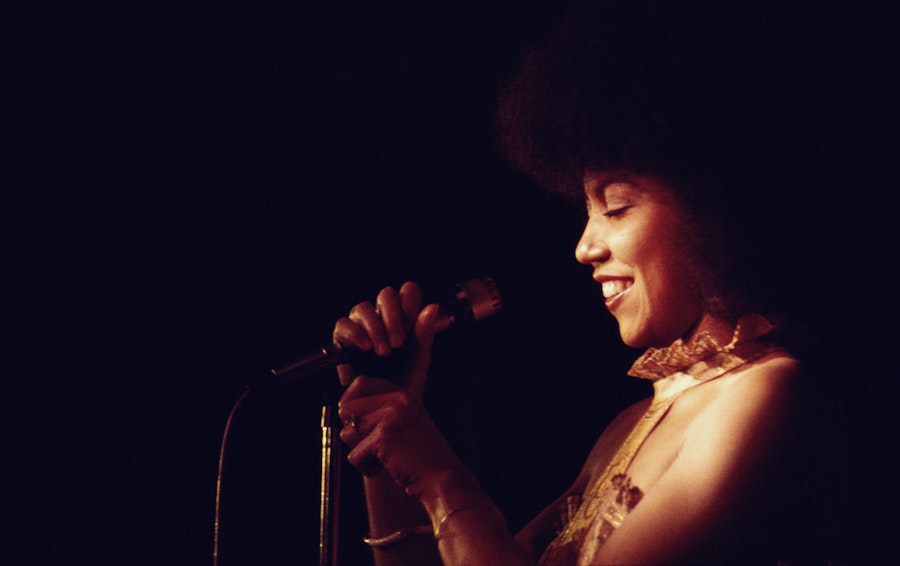 On her third album, 1973's Fathoms Deep (which again credited Cregan as coproducer), there's empowerment hidden beneath the sweet-soul veneer of "I'm in Love Again," a song that Stevie Wonder once sang on the phone to her live on radio: "Listen to me, let me tell you girls if you're stuck on anyone… Don't be like Lindy Lewis staying home all alone getting fooled." Because of course, Linda Lewis was nobody's fool.
"A lot of the time," she muses, "I was the only woman at a festival. My agent used to put me on between the big, heavyrock people like Deep Purple and Black Sabbath. Just me and my little guitar, I dunno how I did it. I must have just strutted my stuff. [laughs] I was just in the moment, you know?"
And in that moment, she wrote of what she dreamt— of dolphins, oyster pearls, mermen, mistresses, moles, and mountain tops, of bishops, queens, and beetroot babies in blackberry bushes. And she wrote of what she saw—red-light ladies in Amsterdam, "girls and boys in bed" on Hampstead Way, the "peacock-painted pretty guys" of London life. For those years, Linda Lewis was a true soul troubadour, perched on a tractor with an acoustic guitar, in an ankle-length sheepskin coat and a neckerchief, her wedges caked in mud. The Reprise era is one she speaks of with great fondness. "It was so fun just to be in that whole environment. I think that being at Apple with Jim, and all those songs that just came flowing through me, were the favorite moments of my life."
After her final Reprise album (which was also released in the U.K. on the Warner subsidiary Raft), Lewis released a nonalbum single she wrote and recorded during the Fathoms Deep sessions, 1974's "Sideway Shuffle," a New Orleans–inflected percussion-heavy jam that would later find favor with the rare groove scene in the 1990s.
The albums that followed Fathoms Deep were defined not so much by Lewis as those around her. Original compositions started disappearing from track lists to be replaced by those written with the intention of turning her into a mainstream "disco diva." Like clockwork, the marketing language around albums Not a Little Girl Anymore, Woman Overboard, and Hacienda View became heavy with innuendo. Writing in The Guardian in 1977, Mick Brown thought he had diagnosed the issue: "The career of Linda Lewis presents the classic case of an artist caught on the horns of a dilemma between commercial success and artistic worth." These dichotomies are never straightforward, and male musicians were rarely confronted with this choice. No one ever told John Martyn to be more sexy.
More pertinent was a 1975 article in Crawdaddy, which positioned Lewis alongside Terry Callier at the vanguard of Black folk music that was already being erased from the broader discussion: "A lot of people can't understand this music simply because of previous expectations as to what a Black singer should be singing," wrote Vernon Gibbs in his piece "Terry Callier, Garland Jeffreys, Booker T. Jones, Linda Lewis: Soul, Man: The New 'Black Folk.' " Consider the hits that helped Labi Siffre and Joan Armatrading into the cultural consciousness and know there are still many books to be written about Black British folk music.
Instead, Lewis is quick to blame herself, suggesting that the passion she had felt at the start of her career had given way to an "ambiguous, love-hate relationship." She heard the expansive soul of Minnie Riperton and Deniece Williams and felt that an opportunity had been missed. In context, it's difficult not to feel like she is being hard on herself.
The story goes that after being offered a check by her then-label Ariola, Linda headed for the loo and skipped out of the door for good. It would be over fifteen years until—compelled by an adoring Japanese audience—she cut another record she was happy with. It was called Second Nature, and her only regret was that not more people heard it. Cast your eyes down the credits and at the end you'll find the words "written by Linda Lewis."
In 2008, artist Sonia Boyce curated an exhibition at National Portrait Gallery in London called Devotional, which paid tribute to a lineage of eighteen Black British women musicians. Winifred Atwell is there, as are Shirley Bassey and Joan Armatrading, Janet Kay, Sade, Neneh Cherry, and Ms. Dynamite. In this story, Linda Lewis does find her place, slapbang in the middle of the list. "Britain's first successful Black singer-songwriter" proudly reads her bio on the exhibition website. The word that stands out is "successful," because Lewis's story is not always told this way.
"I had to still have validation from other people; otherwise, I thought I was the imposter," Lewis recalls, self-deprecating to the last. "I thought someone was going to fi nd out that I'm not really as good as everyone says. I'd like to one day go, 'Oh yeah, I am really good, aren't I?' I'm still waiting for that day."
It is a feeling she is not alone with. Writer Hanif Abdurraqib sets aside a chapter of his 2021 book A Little Devil in America to give Merry Clayton her roses. Clayton was the backing vocalist who elevated Rolling Stones' "Gimme Shelter" from rock-and-roll pastiche to soaring gospel heights, and although Linda Lewis and Merry Clayton are very different musicians, they do have a connection. Released in 1975, Linda Lewis's only top ten hit was a version of "It's in His Kiss" (also known as "The Shoop Shoop Song"), which Merry Clayton had recorded twelve years earlier, without much success. 
"I would like to scale some mountaintop and hold stacks of [Clayton's] solo records in each hand, like a messiah summoning the deprived masses to drink in what they've been missing," Abdurraqib writes. It is about time someone took Say No More, Lark, and Fathoms Deep to the top of Hampstead Heath and held forth too.