The sounds from the streets of New York City have echoed in the ears of DJ and curator Lex Blondin since his childhood. Hip-hop sparked his nascent musical interest and led him down a sample rabbit hole, from jazz to Afrobeat to post-punk. But it was the intoxicating music of Machito, Chico O'Farrill, and Eddie Palmieri—music that married Afro-Cuban percussion with jazz—that truly captured Blondin's heart.
Having set up shop in London nearly two decades ago, Blondin has become a central proponent in the local music scene. His Total Refreshment Centre became a hub for London's burgeoning jazz and world-music scenes through live performances, studio productions, and recordings. His Church of Sound–branded curations and radio programs have driven interest in U.K. contemporary jazz, widening the scope and attention of London's practitioners.
Blondin's latest project takes him back to dynamic sounds from the New York streets, though this time eyeing el barrio. Together with a crack team of London's Latin and jazz music experts, including Crispin "Spry" Robinson, Eliane Correa, and Nathaniel Cross, Blondin has assembled a big band to present the Latin-jazz flavor that caught his ears so long ago. The New Regency Orchestra is an eighteen-piece ensemble ready to move dancers with their tremendous energy and inspired renditions of Latin gems from the 1950s through the 1970s.
Wax Poetics spoke to Blondin on the eve of the New Regency Orchestra's debut at the EFG London Jazz Festival about his musical path and the origins of the group.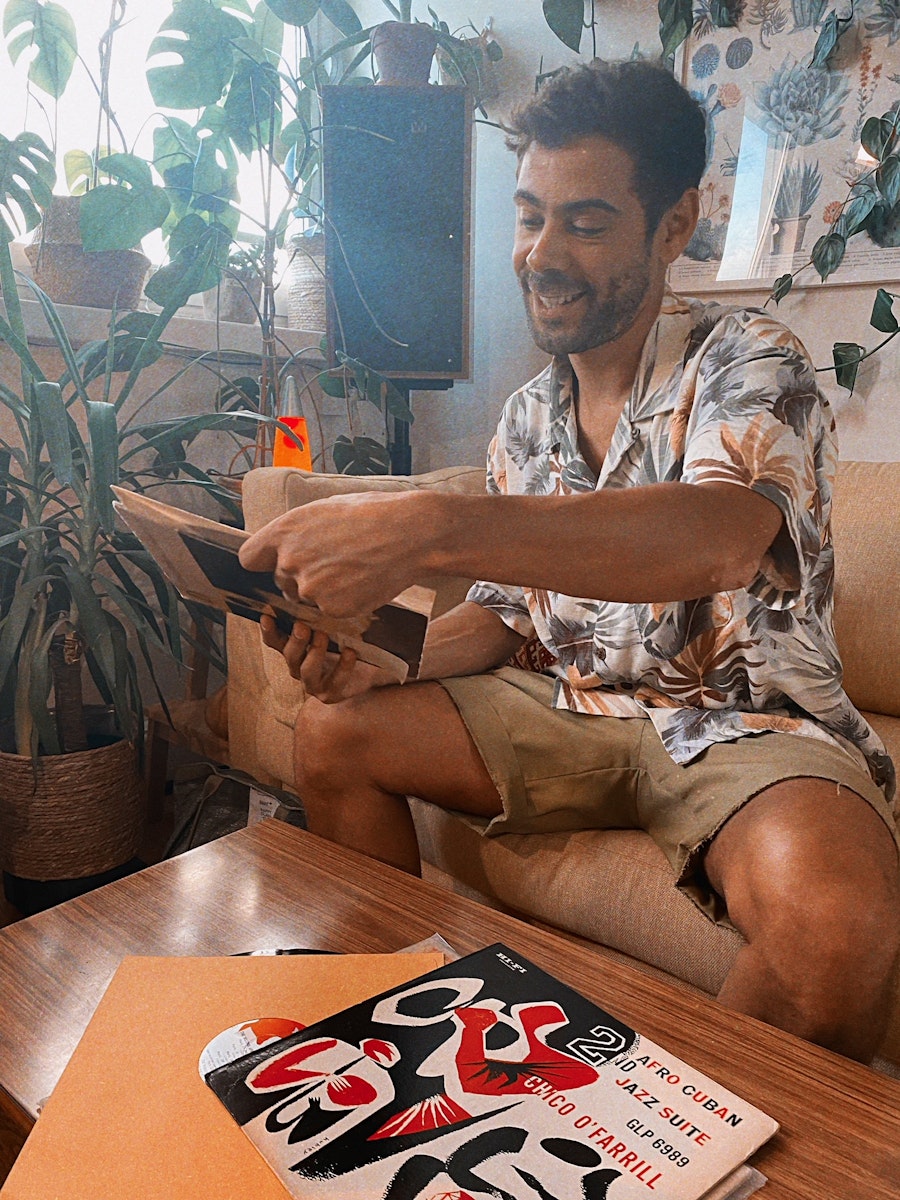 I understand you are originally from Paris. Can you give me a little background about yourself and how you got into music?
Sure. I'm from Paris. I moved to London about seventeen years ago. My background in music is that I grew up with an older brother. He got me into the Beastie Boys when I was eight years old. I got deep into hip-hop from then on. I must have listened to Wu-Tang when I was ten, not having a clue what they were saying, but thinking, "Yes! This is the shit!"
From then, I started digging into samples. You know, the Blue Break Beats and the jazz stuff. I kind of made my way through Afrobeat, funk, reggae... All that stuff.
I moved to London in 2004 and quickly got accustomed to post-punk, which is something I never really got into before. I'm aware that might be confusing, because we're talking all kinds of genres, but we're about to talk about Latin music. Let's talk about Latin music!
When I was in my late teens, I got a CD by Clark Terry and Chico O'Farrill—Spanish Rice on Verve—who was this arranger of Afro-Cuban jazz big band. I started digging into his music and that's how I found out about the 1950s Afro-Cuban jazz, which is really this kind of chunky, Afro-Cuban percussion ensembles with big bands. That did it for me, because the rhythmicality, in a way, I could find in hip-hop. Though that might be a little far-fetched.
All that music was made in New York in the '50s. Some Cuban players, like Chano Pozo, were half gangsters from the ghetto. There was this energy to it. It felt like they were almost battling each other with big bands, so I kind of found it [to have] a similar energy. Since then, I've been obsessed with that music.
Was there something particular to Paris that led you to exposure to this music? I know that in Europe you would get American jazz and Latin music, especially around Paris. Gitane and PolyGram, the labels responsible for all the Verve reissues, were based there. So you probably had access to that music when a lot of people elsewhere did not.
Interesting. Back in Paris, jazz was a big thing. I used to go to jam sessions all the time. My way in was record shops, there was definitely a big stock of that kind of music. When it comes to Latin music, the thing that influenced me the most was stuff that was indigenous to New York. It is just by chance, really. I was just listening to jazz a lot, and, obviously, jazz has mingled a lot with Latin music. To answer the question: being in Paris definitely helped me get deep into jazz, and that was my gateway to the Latin stuff.
Interestingly enough, I must have been listening and digging into this stuff for about fifteen years, but it has taken a while for me to start sharing this music and trying to get people into it or connecting with people who are into the same thing.
I've been in the U.K. for seventeen years, and I've always liked jazz, but it is only since 2015 that I've started putting on gigs with a new, young generation. I'm sure you've heard about most of them—Comet Is Coming, Moses Boyd, Maisha, and the likes. Until then, this was just stuff that I dug and I listened to for myself. Not necessarily for DJing at gigs.
Realizing that there is the bubbling scene of musicians playing that stuff gave me the confidence to start putting on gigs and growing side by side with the musicians. We built it together to the level that it is now. It has taken me until this year to find the balls, for the lack of a better word, to go out with the Afro-Cuban jazz, because, like jazz had until a few years ago, there is a big stigma with this music. Whether it is jazz or if it is mambo. If you say mambo to people these days, they are like, "Aah, 'Mambo No. 5.'" So there's the challenge of battling the clichés. It has taken me until now to meet people who also dig that music, who have been promoting this music in London for years, and come from these kinds of networks, to be kind of, "Okay. Cool. Now is the time."
It is still a challenge because I'm going to my audience with music that they are not necessarily accustomed to. But I'm quite excited about the challenge of taking this music from the '40s and the '50s and recontextualizing it into today's scene and creating new artworks/videos and fresh productions with it. New videos. New dances as well. Why not!
Obviously, we aren't going to try to be a retro band. We're not a cover band, even though we take deep inspiration from that music. We very much believe that this music is as relevant now as it was before. In a way, there are also parallels in the timing of it. That music came out right after the Second World War. There was a kind of new optimism. A grandiose kind of vibe. Even though a lot of that music was funded by the CIA back then, which is not the case now. [laughs]
We've just come out of COVID and there is this new energy. I see quite a few big bands coming in London. There is this band, Balimaya Project, SEED Ensemble is another one… People are going big! There is a bit of a parallel with previous times there, I guess.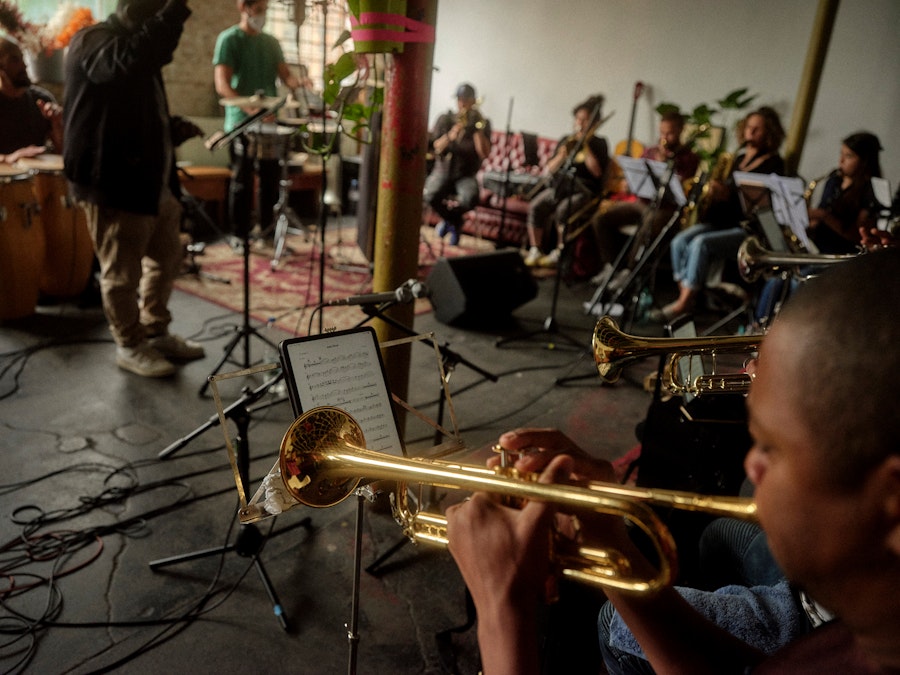 How did the New Regency Orchestra come together? A few of the names I saw were Crispin "Spry" Robinson, Eliane Correa, Nathaniel Cross... Besides bringing your knowledge of the music, who was instrumental in the development of this group?
The only reason I'm able to do this is because of the people that I've met. They are a very, very important part. I can even pinpoint the date that it all clicked into place. Back in April, just after lockdown started easing up, this Latin [music] promoter called Andy Wood from Como No reached out to me.
He's responsible for one of the biggest Latin festivals in London called La Linea, amongst other things. They've been at it for over thirty years, bringing big acts from Latin America. A legend in the game! He contacted me for a project that he was producing with the British Council called Mestizo, which was a collaborative project between Colombian musicians and the London scene. Originally, they were going to fly everyone to Colombia to collaborate with them, but because of COVID, they decided to shoot a video in London and they did the same in Colombia to make a film. Andy contacted me to do it in my studio, the Total Refreshment Centre in Dalston/Hackney.
That is how I met him. He brought some musicians I knew already, like Crispin "Spry" Robinson, the conga player. Nathaniel Cross, the trombone player and arranger for Moses Boyd. He arranged [the Moses Boyd Exodus song] "Rye Lane Shuffle," amongst other things.
This is the day when I started talking to Andy about this mad idea I had, like, "This music is incredible. I want to start a night about this music." There was this whole concept. He was into it. And it turned out that master percussion player Crispin Spry shared the same dream of doing a big band. It was a bit like, "Oh my God! Really? You all want to do this? Let's do it!"
From then on, we started sitting down, thinking, "Who would be the absolute best people to get involved with this?" Eliane Correa was straightaway a person who was mentioned. We both knew her and she is an incredible piano player, as well as an arranger. She was in the project from very early on. Same with Nathaniel Cross. This was kind of the core band. We sat down one day and I played them my dream set list from my collection, and they basically just said, "Yes! Let's do it." I couldn't believe it. Like, "Really? You're sure it's even doable?" "Yeah, fine. No problem." That kind of blew me away.
It was kind of like a mutual effort of Crispin "Spry" Robinson and Eliane Correa, being more from the Latin scene, enlisting some Latin players from London, like [trumpeter] Yelfris Valdés, timbale player Ernesto Marichales, bongo player Flavio Correa, bass player Frank Portuondo, but also jazzers such as [saxophonist] Camilla George, [woodwind multi-instrumentalist] Tamar Osborn, and [trombonist] Rosie Turton.
In a way, it kind of mirrors what was happening in New York back in the days where our rhythm section is badass Cuban players, and on top of that, we have a twelve-piece horn section of absolutely killer jazz musicians… Except the band is mega diverse today, which is something that was really important to me from day one. We're not trying to bring 1950s misogyny back from the dead!
I'm still pinching myself that this is happening, to be honest.
To put things in perspective, I'll tell you about the last club night that I did before lockdown. I was like, "This is it! I'm going to play my Latin records for the first time. I'm going to hire a big sound system. Here we go!" Absolute flop. The sound system sounded like crap… The listeners weren't ready. I wasn't ready. As I was saying earlier, it needs a lot of repackaging in a way that people are going to get it. That was a fail.
Coming out of lockdown, here we are, we have a big band, and I'm still coming to grips that this is a reality. It is almost like a cooperative effort doing this thing. The eighteen-piece band. It is a team effort. I feel like I manage a football club. At the same time, everybody is very involved. I could not do it without these people.
Obviously, you were leading them in terms of repertoire. What did you eventually end up picking out? How big is the book?
The book is ever growing. At the moment, we have about fourteen tracks. Probably the oldest tune in the repertoire is "Tanga," by Machito, that is basically the first tune marrying jazz with Afro-Cuban rhythms. Mario Bauzá is the arranger that made this. Machito was his brother-in-law, and they basically jammed that one out in New York one day, like, "We gotta do that one again!" It is a raw tune. There have been a few versions, but we play the one from 1947. It is a live version and it is absolutely incredible. We go from that all the way up to 1979 with a tune called "Oyelo Que Te Conviene" by the Puerto Rico All Stars. The tune is originally by Eddie Palmieri, but this version contains the most blistering horn arrangement. It has a very "gun fingers in the air" type of feeling. I absolutely love it.
From 1949 up till 1979. In the middle of that, we have some Tito Puente, Ray Pérez, Tito Rodríguez… All kinds of stuff.
We have some oddballs that come from my collection. Being an absolute nerd and finding jams. There's this one: an Afro-Cuban jazz, but made in Brazil, called "Scarlet Hour Mambo" by Guio de Morais, which sounds like a film noir, Batman-esque type tune, which is insanely sick. I found it completely randomly. Another one is a French tune, like a French mambo from the early '50s called "À la Kenton" by this postwar star called Jacques Hélian. A few left-field ones and a lot of bangers.
That's great. Who is handling most of the arranging?
We are still a new band, so we are still figuring out the process. What happened on the first two gigs is that we split them: half the tunes went to Nathaniel, and half to Eliane to do the charts. Then during rehearsals, our musical director, Crispin "Spry" Robinson, was opening up sections, so that we could have soloists come in. Kind of adapt them on the spot. Now we are trying a new process where I take the original tunes and edit them on Logic, kind of like a disco edit, and then bring them to the arrangers and Crispin to make final calls on what shape tunes will take live. The idea is to have a solid template so that anyone who comes to rehearsals for the first time can dive right into it with confidence.
It is a big process, and it is interesting how it works. Obviously, it is all new to me. It is an interesting project because, for the live thing, we play these tunes as hard as we can. Extend some of them. Edit some of them.
Down the line, the aim is to get into the recording studio. So, we do edits thinking of how we are going to produce them. We don't want to re-create the recording techniques from the '40s. Some of it sounds absolutely incredible, but we've got access to drum machines, synthesizers, and the whole studio to play with to make things sound fresh and new. We're not trying to sound exactly like they did. We know all of the arrangements and draw deep inspiration from that, but the aim is to twist it into the now.
You've had a couple of performances with this group just recently. How did they go?
Man! Incredible. For me, it is straight up goose bumps all the way. From listening to that stuff on record to seeing it live... It's pretty incredible. The first one that I have to mention was this summer at Cross the Tracks, as part of South Facing Festival. I've got to give a big shout-out to Noah Ball, who is the booker for this. He trusted me with the vision and basically funded it so that we could play this festival. I remember I was skateboarding when I got the call. We were talking about doing something together for this festival. I just pitched him the idea. At that stage, I had nothing. I didn't have a band. Nothing at all. And he was like, "Cool. Yeah. Here is the budget. Off you go." Without him and without this festival, the band simply would not exist. It was almost like funding to us. That allowed us to book all of the musicians, to pay for four rehearsals with the full band, and the performance.
That was the first one, and it went really well. The reception was really good. Funny story about that one: We had twenty minutes to sound-check for our eighteen-piece band, which is obviously mission impossible. So obviously, we started a bit late. That meant that they had to cut us off halfway through our set, or at least try. [laughs] Basically, the production manager came to us and said, "Sorry, but you have to stop." The musician he talked to gave him the finger and we kept going. They cut off the front of the house speakers, but, obviously, we are an eighteen-piece band, so we've got the acoustic power to keep blasting. We managed to finish the tune, and the crowd was one hundred percent with us. It was one of these moments where you get the crowd even more on your side. That was a cool moment.
The second gig was at a new venue called Woolwich Works. That was incredible as well. We had a chance to add a few more tunes to the repertoire, and it went down superbly. It was great.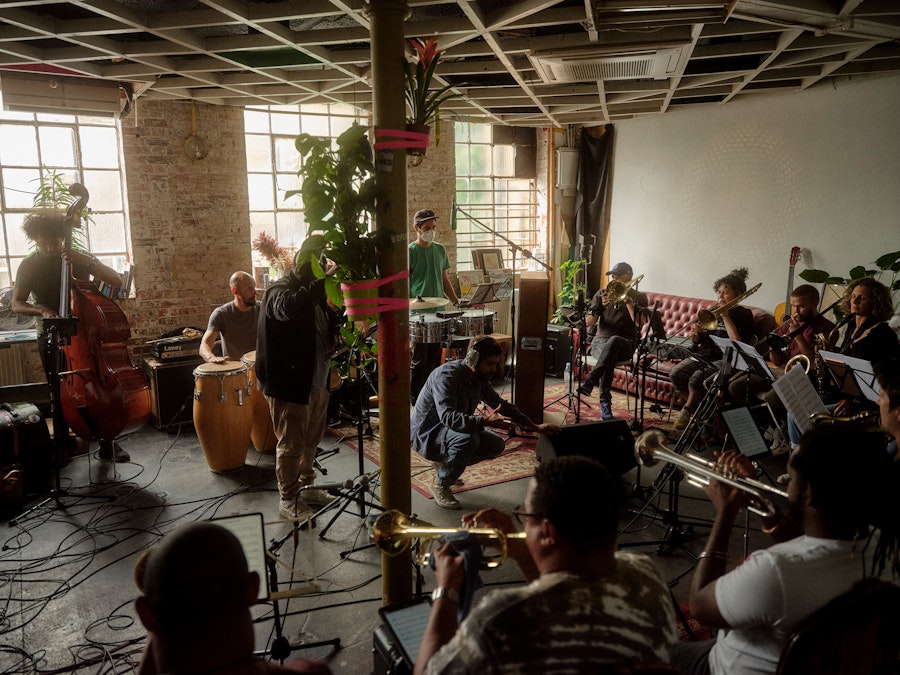 Maybe we should have started talking about the Total Refreshment Centre and what it is. Can you speak about how and where that started, and what is coming up in the future?
I started the Total Refreshment Centre in 2012 with some friends. It was an old Edwardian warehouse in Hackney that I knew about, because it used to be a Caribbean social club. They had a rehearsal studio, a dance studio, a social club where they hosted functions sometimes. I had been to the social club a few times, so I knew about the spot.
At the time, I was looking for a space to make a studio with a friend of mine called William Autmans. We stumbled on an ad on Gumtree, which is kind of like the Craigslist of the U.K. I found this badly advertised space, which was the social club, with really bad pictures. Capital letters saying: "Perfect Space for Music School." And I was like, "What?! This space, really?" We went to see it, and it was the exact space that I knew, except I didn't know of half the rooms that were hiding in the back. It was like opening a new world in Super Mario every time you opened a new door. [laughs]
So I called a few people to get the space filled with good music. One of them was Capitol K, who [is] a producer, recording engineer, and amazing artist. The guys [Danalogue and
Betamax] from Soccer 96 [and] Comet Is Coming, et cetera… Quickly, we started doing a few gigs. We set up the recording studio. Everything was very DIY from the start. We grew very organically as a community of producers, musicians, and filmmakers. Slowly, we all started working together towards stuff that we loved.
We're going to go on to ten years in February 2022. We also have to mention that we were a music venue for about six years, where we hosted a lot of gigs with the U.K. jazz scene, amongst others. We started a label about two years ago.
What is the name of the label?
Total Refreshment Records. We put out acts like Alabaster DePlume, Danalogue, Vels Trio, Neue Grafik Ensemble—we've got a new EP from Neue Grafik coming out soon!
We also did few collaborations with other overseas labels. One was with International Anthem, where Makaya McCraven came to record and do some gigs in our space. We recorded a bunch. Mixed it and then gave it to producers to remix. That became the ChicagoxLondon [aka Where We Come From] mixtape that came out on International Anthem and our label. The latest one is with [the label] Mushroom Hour Half Hour out of Johannesburg, South Africa. It was a collaborative album too.
This is all still very much ongoing. The venue is no more, but we still have the music studio and the label and the space. Our studio residents regularly meet, make music, organize shoots and things like that. It is a really good base. That, along with the community we work with, makes things easier. The good thing is that we are able to avoid the classic industry thing of people who don't know what they are talking about coming to document something that they are not a part of. It means that we are able to do the shit ourselves. To keep it in the community. We love to have new people come into the community. But what we don't like is to have people come who don't know and bring their narrative.
Actually, this reminds me of one of our good friends, journalist Emma Warren, who is a good example of someone who came into the space and our lives in the right way with the right idea.
She started coming to the gigs and club nights and then decided to write a book about the space! It is kind of an aural history where she talked to all of us about our experiences. It's called Make Some Space. It basically talks about the entire history of the building, from when it was a sugar factory up until now. She talks about the whole story. She is a big advocate for documenting your own culture. Telling your own stories rather than them being romanticized or whatnot.
There is a lot of struggle when doing things yourself. I think it is good that people know about it. I understand people's thing, "Oh yeah, I could do that." But they need to understand that it isn't all just magic and romance. It is all very real.
Going forward, how and where will you be presenting your curations?
For the curation side of things, I've been in this thing called Church of Sound for five years now and very much intend to keep it up. The concept is to invite artists, either up and coming or OGs from the scene, to showcase their own music and to play a songbook. For example, we had Moses Boyd play his music and then a set of Art Blakey's music. We had Daymé Arocena play the music of Leon Thomas. Orphy Robinson did a tribute to Bobby Hutcherson.
The first one was Yussef Kamaal playing the music of Idris Muhammad. With all this, it is the curator's job of hearing the music or an artist and hearing an influence in them. Or seeing an interesting twist on a repertoire that someone could bring to something. I've been doing that for about five years, and had over sixty gigs. It is one of my favorite things... These are going to start coming out as live releases soon.
With the orchestra, it is kind of the same thing. In my mind, we were never going to start with the orchestra. It was always going to come as the last thing because there was so much groundwork to be laid before putting that in front of people. But it just kind of happened. All the better for it! The groundwork is happening already, to be honest: doing mixes and write-ups that show what the music is all about. Radio shows, et cetera.
There is a goal to record a mixtape. Making raw recordings of the band but also getting remixes to play around with, even having myself chop things up a little bit. Basically, doing a big mixtape, being like, "Hey! This is our music. You can get a sense of what we are doing." Maybe about sixty minutes with all sorts of stuff going in there.
We are also working on a release. Two or three tracks of, basically, covers, but twisted in a way that they are completely new.
We are also going to be working with some dancers. I feel dancing is a real good way for people who don't know this music, to get it. There are points of reference that people can get, so say get a break-dancer to dance to an Afro-Cuban jazz tune at 80 bpm… They could do some moves that people will recognize, "Oh. Okay. Now I get it. I can nod my head like this… In the same way." So I think a few videos featuring dancers will definitely help for people to get it.
Beyond that, we've got the gigs. We're working on a residency at EartH in Hackney. Bring the big band once a month.
Is the London Jazz Festival hit the start of the residency?
It is, yeah. We have not announced it yet. We are going to do a residency once a month at EartH [Evolutionary Arts Hackney]. The idea with that is… Obviously, being an eighteen-piece band, there will always be moments when a musician can't do it… I'm quite excited about throwing some new cats in there. People from the scene who haven't necessarily tackled this kind of music… It would be interesting to see what they bring to it.
We're probably going to have Tony Kofi, a legendary baritone sax player, for the next gig. Poppy Daniels [who's] a young woman from the scene and an absolutely killer trumpet player. That is another one of these instances where I called her and she said, "Oh my god! I love this music. I went to New York and met Bobby Sanabria!" He is an insane percussion player from back in the days. She got some lessons from him. A match made in heaven.
As soon as you start putting these things out there, you begin to realize how many people are actually into this niche music. So I'm really excited to see who is going to bring some of their flavor to it. Eventually, we're even thinking of getting some MCs on top of it. Some of these tunes are 90 bpm, which is a perfect tempo to rap on. Even some of the ones that are 70 bpm, we can just go from half tempo to double tempo. Then even get a grime MC on it! Why not? We're not in the '40s. We have all this stuff in London. Why not flip it on its head?
The residency is going to be a really good occasion to kind of mess around with it and take it somewhere else.
Don't you have a regular show on Worldwide FM?
The show is called Church of Sound. The original premise of the show was around our monthly nights that we did in London. Now, it is about whatever I'm doing at the moment. I do live catch-ups with people. I've been doing the last few shows from [Gilles Peterson's] Brownswood Basement, and generally people drop in. I see Gilles, "Let's chat on mic. What have you been up to?" The other day, it was someone else. So I thought, "This is quite cool." If someone has a new album, I call him: "Okay. Tell me about this album." Play a little preview. Then I also play music around the gigs that we do and the releases I have also been digging. It is a mixture of reviews of things I've seen recently. Things that are coming up and catching up with people. Loads of fun.
I just recorded one in this great club called Guzzo, a really cool place in Barcelona. The manager of the place was like, "You're into salsa? I got some new records in," and pulled out a bag full of gems. So I basically invited him to join the show there and then. Easy! It is just kind of laid-back. Lighthearted fun with information about music.