Living in post-9/11 Manhattan, I've had to learn to be more flexible than Gumby. I need more arms than Durga to field all the curve balls life's throwing at me. Recently, gigs have run fewer and farther between more than I care to admit, so I've had to find something more stable to keep my pug Louie living in the style to which he is accustomed.
The teaching profession always seemed noble enough, and I certainly like to run my mouth off a bit. So I found myself teaching a jazz class to some college freshmen who seemed oblivious to the war in Iraq and how it might possibly cost them their young hides some day. I thought I'd come out of the box with a bit of funky message music for the kids and set 'em straight with that classic soul dynamo "Compared to What," off Les McCann and Eddie Harris's Swiss Movement. After setting up the number with one of his patented gospel grooves, Les cold conks you with Eugene McDaniels's like-it-is lyrics:

"The president he's got his war, Folks don't know just what it's for. Nobody gives us a rhyme or reason, Have one doubt, they call it treason."
Sadly those words ring as true today as when Les sang them back in the Vietnam era. Much to my surprise, a handful of my students began to roll their eyes like the song was old news. 
It turned out they'd recently seen a Coke commercial featuring rapper Common and R&B singer Maya doing their totally Splenda rendition of the song. So trying to "keep it real" is actually all about the cola you drink. Well, at least now I know. For most of his career, Les McCann has been typecast by shortsighted critics as another soul-jazz pianist. There's no doubt about it, Les was blessed with one of the best left hands in the business, and club owners around the globe could always depend on his infectious vamps to get the joint jumpin'. But the man also has a way of working magic with a ballad. One listen to "With These Hands" will set you straight. And if you still don't get it, just ask the ladies.
Then there were a couple of surprise left turns that the boys in the front office at Atlantic Records never saw coming. No matter how weird and experimental things got cutting sides with producer Joel Dorn back in the early '70s, Les always held the trump card when the two of them were beckoned by the Brothers Ertegun like a pair of naughty school boys. Les, lest they forgot, had delivered to their doorstep a young, dynamic, rent-paying diva from Washington D.C. named Roberta Flack.
Many of McCann's most innovative recordings, like his 1972 lush, electronic opus Layers, have gone virtually ignored. Few outside of Joe Zawinul, Stevie Wonder, and Herbie Hancock (and I suppose Kraftwerk, Yes, and Emerson, Lake & Palmer deserve some props here) had a handle on the sudden proliferation of electronica like Les did. Over the last few years, McCann has been battling the effects of a debilitating stroke.
But like his old label-mate at Atlantic, Mose Allison, used to sing, Les takes "trouble with a smile, man." At sixty-eight, he is still thriving, gigging, and painting. And he's got a sense of humor that just won't quit, no matter how many curve balls life throws him. He once (unwittingly) got me suspended for a month from a radio show that I'd been doing for five years, for playing a cut called "Bird Story," from his album Les Is More. After a great funk number called "Clapformation" ended, I let the needle glide on, where Les began to spin a jazzy yarn, hilarious and lascivious enough to make Redd Foxx's mama blush. Everybody in the crowd howled with laughter, but the joke was on me.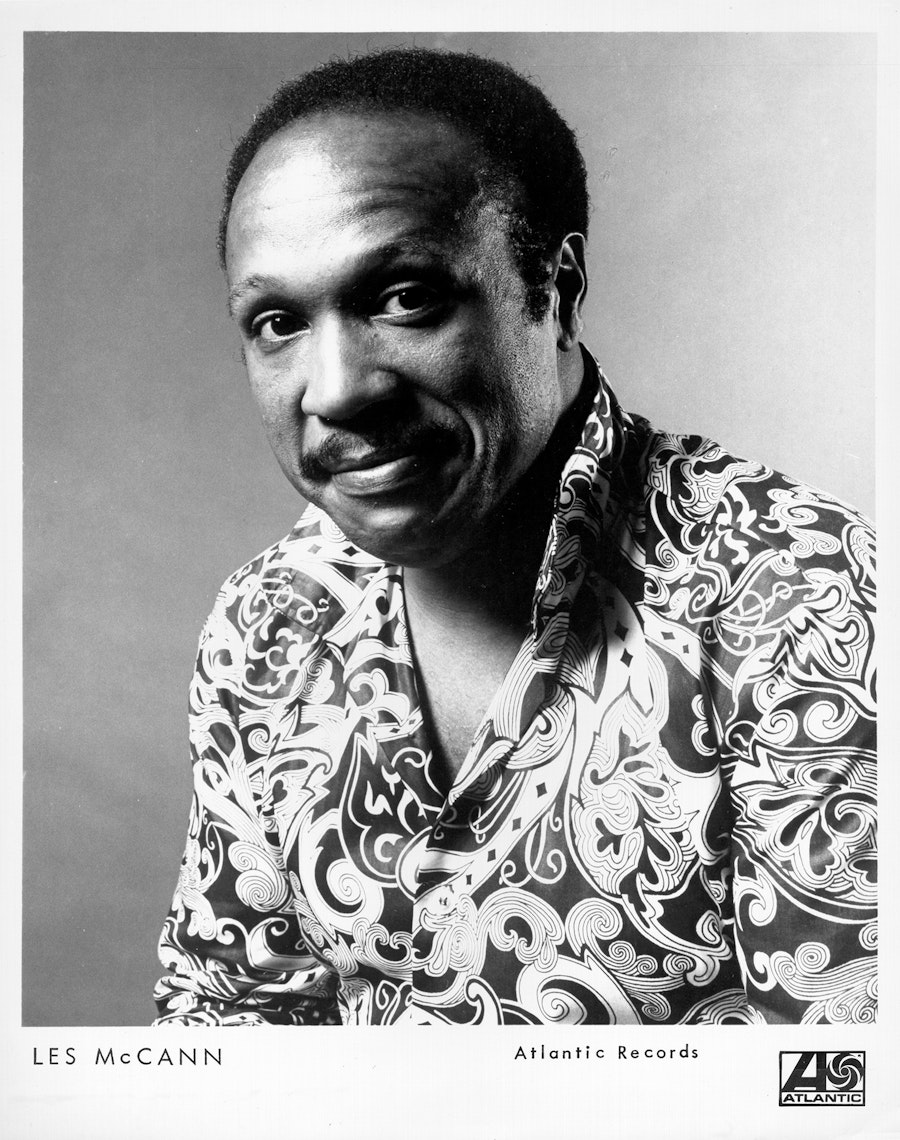 JK: Hey, Les, how're you doing?
Les: I've been doing pretty good, doing some traveling. Just got back from Buchausen, Germany, outside of Munich, where they've been having a festival going on for thirty years.
Did you loosen up those Germans a bit with the funk?
Definitely! Gotta spread the love where it's needed. Y'know, all my friends are Jewish and they want to know if it works.
Well, what do you tell them? 
Yes, yes. You know the way that we play, the people are always very interested. They're total music fans. When you go through something like what Germany's gone through, there are people there that want to prove to the rest of the world they're not that way.
You mean like what we got on our hands with what's going down in Iraq right now.
Oh, America is always gonna be dealing with that.
Now I guess we'll start having to prove to the rest of the world that some of us are still cool.
Fuck 'em! We know who we are! [laughs] All I'm trying to do is spread some love, y'know?
You get that from your music every time. All you gotta do is have some ears and listen! 
Thank you very much. That's one of the things I was hoping to attain when I first started playing—to make people feel good and get 'em bouncing their feet. Well, you've got that patented soul-jazz piano feel with plenty of blues on the side. Just going along with the program. That's the way I was raised up back in Lexington, Kentucky. Didn't Lexington used to have a pretty decent jazz scene back in the late '50s? They had all kinds of music there—mostly blues and funk. That was the only time I saw both the races getting together in that town, liking the same thing. Now they got a great jazz program at the University of Kentucky with teachers in residence from New York. For a while the music seemed dead, but it's not, because there's so many people like me still playing and keeping it new, and the young people carrying it on, but they're not being heard on the radio like they were before.
No, it seems like it's harder and harder to cut through these days. Talking about carrying on, when did you have the stroke?
In 1994.
Are you playing with just one hand now?
One and a half! Mostly on electronic keyboards, like the Yamaha Motif, which I been playing on the road. Basically I've got an all-keyboard band. I got an organ player, Bobby Sparks, a saxophone player, Keith Anderson, who also plays keyboards, and Jason Thompson on drums. We just have a ball, and we don't have a bass player!
So you got the bottom covered with the keys.
Definitely, definitely. You gotta have a good rhythm section. When you got a good bottom you can put anything on top. Actually, I've been working with several bands. I also work with a band called Soul Survivors with guys who used to work at Atlantic Records—Cornell Dupree [guitar] and Chuck Rainey [bass] and different guys on reeds—sometimes Bill Evans or Ernie Watts. We go to Japan and Germany and play a lotta blues. It's great fun.
And you're getting around all right and feeling good despite the stroke?
I'm really doing very good. I just have trouble walking. But once you get me there, I'm all yours.
What are you recording these days?
I'm doing an album for Joel Dorn's new record company [Hyena Records]. It's a collection of things. When I was in the hospital I got into my own personal music more. I went through a whole cross section of things I'd recorded here in my own studio. My whole right side was paralyzed and they told me I couldn't play. But I did therapy and got back into playing again. 
Did the stroke effect your speech too?
Definitely. I couldn't talk at all.
But you sound fine now.
Yeah, it made me speak perfect English! [chuckles]
I got ya.
And I just had another record come out in Japan two weeks ago.
What's it called?
I dunno. It's in Japanese! I can't read it! But they offered me some nice money and came over and recorded me for a night.
It's hard to talk about the feel in music. It's the elusive ingredient that either makes it or doesn't. But it's always something you bring with you whenever you sit down to play. It's been there for people to hear all these years on your records and at live shows. 
Well, it's always been about the feeling. Anybody can play the notes. Anyone can play the rhythms and the beats. But to add something to it and take it to another level, to make the people experience something special and unique, to me that's what's important. And maybe that will come back to the music again sometime in a different way. But for the whole group of musicians that I came up with, loved, and admired, that's what it was all about—the feeling!
Over the years you've had some killer rhythm sections that featured bassist Leroy Vinnegar to help drive that feeling home.
Oh definitely. Leroy and I used to live next door to each other, and we spent a lot of time together. When we played together it was automatic.
Yeah that really comes through. There was some serious telepathy going on there. Did you used to gig around Kentucky much before moving out to California?
No. I was in high school back in Kentucky. Then I joined the Navy. I just played in the high school marching band.
It's a safe bet that you weren't playing piano in the marching band. What instrument did you play?
Sousaphone.
Ah, pumping up the air bass. Now that's some serious bottom!
The air bass! [laughs] Talk about feeling! That's a whole lotta wind!
You've had some great collaborations over the years with guys like Eugene McDaniels and Eddie Harris.
Eddie Harris? He's with Beethoven now. Decomposing!
[laughs] Too much! How's Eugene doing?
A little better than Eddie! He lives in Maine now. [chuckles] We talk on the phone all the time. Gene and I started out together. He was the first singer I had in my band. We worked all over L.A. together back in the early '60s.
What about Rahsaan Roland Kirk? There's that great track with the two of you burning down the house at Montreux back in '72. 
Oh, not only was Roland a great musician, but he was a great photographer too. Once I walked into his dressing room to say hello, and before I knew what was happening, he snapped my picture!
[laughs] Yeah, there was rumor goin' around that he was supposedly blind! 
[chuckles] Yes, yes.
The opening track on Invitation to Openness featured a long beautiful jam called "The Lovers" that included a whole slew of musicians, including Yusef Lateef on oboe and a harp player too.
Yeah, that was Corky Hale, a dear friend of mine. That was a very spontaneous session. Fifteen musicians and five drummers just walked in the door and said, "What do you want to do?" and I said, "Whatever it is that you do!"
It really came together. Most of your stuff is pretty basic, built on driving soul vamps, but that album has a lot of layers to it. Every time you listen to it you always hear something new. Speaking of layers, Layers was a great album and a real departure from anything else you'd been doing up to that time. What sparked your interest in electronic sound? 
Well, I'm always looking for something new and different. I was at the studio at Atlantic one time and Joe Zawinul was playing with his group, and I asked him, "What instrument is that you're playing?" And he said, "Come over and check it out." That was the Fender Rhodes and I've never put it down since! After that my whole career jumped about two and a half notches higher. 
With Layers you really expanded your sound palate. Suddenly you got your hands on keyboards like the Arp Odyssey, Moog Modular, and the Prophet 5.
Once I found the electronics, I could make the sounds I'd been lookin' for. But at the same time, let me say it's not the instrument—it's the musician that creates the feeling. It's still me whether I'm playing piano or electronics. Anybody can play it, but you gotta know how to use it.
Oh yeah! Back in the early '70s when that stuff was new and every prog-rock band had a rack full of synths, there were actually very few real innovators using them other than you, Sun Ra, and Joe Zawinul, who did some cool things. Layers was a real milestone and a revelation for anybody who was into electronics at the time and had only heard 'em used in the context of Walter Carlos's classical music arrangements or maybe on Morton Subotnik's Silver Apples of the Moon.
There were some real achievements made with that record. The engineer on that session, Bob Lifton, hooked up two 16-track recorders together and made it work as the first 32-track machine, I believe. 
Wow, wild! You used those sounds and tones in such a fresh way, like colors and paint on a canvas. Hey, aren't you doing a lot of painting these days?
That's my main thing now when I'm home. When the doctor told me I was paralyzed, I figured that's what I was gonna do. The music and art is so deeply embedded in me, I'd figure out how to play with my teeth if I had to. That's why I live—for the music. It's a God-given gift to take it as far as I can.
Amen! I remember going to see Sun Ra after his stroke and he was up on stage poking at some keyboard with one finger, making the wildest sounds you'd ever heard. It seemed like whatever was in his brain was coming through loud and clear. 
That's lovely. But it ain't even comin' from the brain. It's a feeling that comes from out of the body. If it was coming from the brain it would just be sound. If it didn't have that feeling you'd say, "Why didn't it touch me?" Y'know what I mean?
Of course—that slippery thing called inspiration. Have you heard anything lately that inspires you?
Not really. I try and get out and hear some of the new groups playing live at the clubs here. I don't listen to the radio, but I got ten thousand CDs right here. 
What moves you?
Anything by Miles Davis, Errol Garner, Count Basie, Duke Ellington, and Ivan Lins from Brazil. You gotta check him out!
Any parting thoughts?
I'm just glad I've been able to be in this world, playing this music during this period. I don't know if I can catch up with all the changes. There's a lot of new stuff coming out. But y'know, one of the beauties of electronic instruments is that anyone can have them in their home, regardless of where they live. You can put on some headphones and you're not disturbing anyone. There's a lot of young people coming up now creating and developing some interesting things that way. All of us human beings are creative. We always have been and we will always be. And the really creative ones are called "artists" and everybody else, well…. [laughs]
Just as I was about to open the window to release my faithful carrier pigeon Rutherford into the blue with this article bound to his leg, headed through the dreaded tornadoes of the Midwest for the editorial offices of Wax Poetics, the phone suddenly rang. It was the Masked Announcer with an urgent message.
JK: Hey, Joel, what's up?
Joel Dorn: I'm not tryin' to bust in on your article but I just gotta say a word or two about Les. I knew Les from my disc jockey days in Philly. I thought his records were good but not great. He'd been all but dismissed by the "serious" jazz crowd. But when I saw him at the club he was spectacular. First of all, he was a master entertainer, terrific singer, and he was funny. But none of that came across on his records. When I knew I was gonna produce him, I asked him why his records were the way they were. He said he was never comfortable in the studio like when he performed live. He said, "People were always stopping me with, 'Take one. Take two. Play it faster. Play it more commercial. Play it slower.' " Or they'd run out of tape. When we made that first album, Much Les, I did something simple, which worked for him. We had two multi-track machines in the studio rather than one, so as the tape ran out on one, we could start the other machine up. So he never had to stop. When he didn't have to think about the limitations of the control room, he became more comfortable. Until then he'd mostly been doing trio sessions or recording with orchestras.
So you opened a door for him, took another approach.
I just told him to lay it down and then we could sweeten it. It opened up a whole world for him. Within one or two records he went from being a guy recording songs to making records and using the studio as a canvas. Then he became a studio rat, and as a consequence we made records that not only represented his working group but more developed concepts like Layers and Talk to the People. If you look at his body of work, I think you'll see he blossomed at Atlantic. I just wanna say that Les is a complete artist and a brilliant photographer and painter who deserves much more than he's been given credit for. He's way beyond a pianist who can just set a groove and swing his ass off. And he does swing his ass off, whether he's playin' some joint or for 5,000 people. They'll be jumpin' up and down! And now look at the rap kids and groove kids and the sample set. Look how much they sample him!
Well, thanks a lot, Joel.
My pleasure. I believe my work here is done, and now I'm off to help others.