If Lamont Dozier's life were a movie, no one would believe it. He came up in Detroit in the mid-1950s, when warbly doo-wop harmonies hung in the air over every street corner. He went to high school alongside Aretha Franklin and the Temptations' Otis Williams. From there, he went on to change the face and sound of popular music forever with brothers Brian and Eddie Holland at Motown.
Holland-Dozier-Holland cranked out blockbuster songs the way most people sneeze, defining the Motown sound with songs like Martha and the Vandellas' "Heat Wave," the Supremes' "Where Did Our Love Go," and the Four Tops' "Standing in the Shadows of Love," "Baby I Need Your Loving," and "I Can't Help Myself (Sugar Pie, Honey Bunch)." Five decades later, their influence on popular music is almost too vast to grasp. To get a sense of it, consider the songwriting team of John Lennon and Paul McCartney. During the 1960s, no one was bigger than the Beatles. Girls had spontaneous orgasms at the mere sight of them in concert (the legend goes). But between 1963 and 1966—flush years for Beatlemania—Dozier, along with the Holland brothers, equaled the Beatles' U.S. Top 40 hits (and in 1966, Holland-Dozier-Holland wrote twice as many). 
H-D-H left Motown in 1968 to start the new labels Invictus and Hot Wax, and Dozier went solo not long after that. His work in the '70s would later be sampled widely by a who's who of hip-hop, including Notorious B.I.G., Tupac Shakur, and Dr. Dre.
Turning seventy in June 2011, Dozier says he still writes seven days a week. He is an artist-in-residence professor at the University of Southern California and has received just about every accolade and award in existence, including induction into the Songwriters Hall of Fame, which recently opened a wing at the Grammy Museum in Los Angeles. To celebrate the event, Dozier performed many of his most famous songs. For a man who made his name writing songs for others to sing, it was a fitting tribute.
Some of my closest friends I went to school with were Aretha Franklin, Freda Payne, Otis Williams of the Temps, people like that.
I'd like to start at the beginning. What are your earliest memories of music?
My father played music and sang. He was an aspiring singer, a wannabe I should say, and didn't quite know where to go or who to see. He was just a plain, ordinary laborer who did odd jobs, a jack-of-all-trades, but he loved singing. Everybody in my family did. My father's brother played piano. He was self-taught, and he was quite good at it, but he never tried to go after it like my father did. My grandmother was a choir director at church, and my aunt had the signs of becoming a great concert pianist. She took lessons, and my grandfather tried to get me to take lessons, but the teacher—they called him Professor Shaw—was just too rigorous. He would slap your hands with a baton if you hit bad notes. I heard my aunt crying, and my grandmother asked me, "Lamont, you want to take some lessons?" I guess I was about seven, and I broke off running, "No!" But later on, when I was about eleven, she convinced me to join the children's choir, and I really cut my teeth on singing and performing at that age in church, which a lot of people did in Detroit at that time. Some of my closest friends I went to school with were Aretha Franklin, Freda Payne, Otis Williams of the Temps, people like that. We were surrounded with talented people, primarily in junior high.
Wow, I didn't know you all went to high school together.
Yeah, we were in a place called Hutchins Junior High in Detroit. So many artists came through there—I think Lawrence Payton of the Four Tops used to go there before me, a couple of the Temptations, different singers in doo-wop groups. It was a haven, you might say, for singers and would-be entertainers.
Well, now I have to ask—what was Aretha Franklin like in high school?
I didn't know Aretha Franklin even had those pipes until one day we all got together and said, "Let's go to Aretha Franklin's father's church." And so we decided to do that on a Sunday. We were teenagers, I guess around thirteen, fourteen years old, and we first saw Aretha perform in church. They said, "Now, for our special performance here, we have Sister Reed"—that's what her father called her, "Sister Reed." She got on the piano and started singing and brought the house down. We never heard anything like that. Aretha was kind of quiet about her talent. She would only perform, in those days, in church. She kind of kept it low key until she exploded on the scene in church. And shortly thereafter, I guess she got all kinds of offers from various companies, but her father wouldn't let her. He was strict about her talents.
But I started my recording when I was fifteen years old. I had my vocal group at that time called the Romeos. I wrote the songs, and I was the lead singer, and that's how I started. I was with a local label called Fox Records in Detroit, and one of the Atlantic talent scouts got wind of our song that we had, "Fine Fine Baby." It was a local hit, and so the people at Atlantic contacted the guy, George Braxton, at Fox Records and asked him if he would consider selling the Romeos to Atlantic. He said, "Yeah, for a price," and the price was right, so we wound up on the Atlantic label. We were together for about three years; nothing really big ever happened. Shortly thereafter, I guess when I was about eighteen, I found my way to the Gordy family.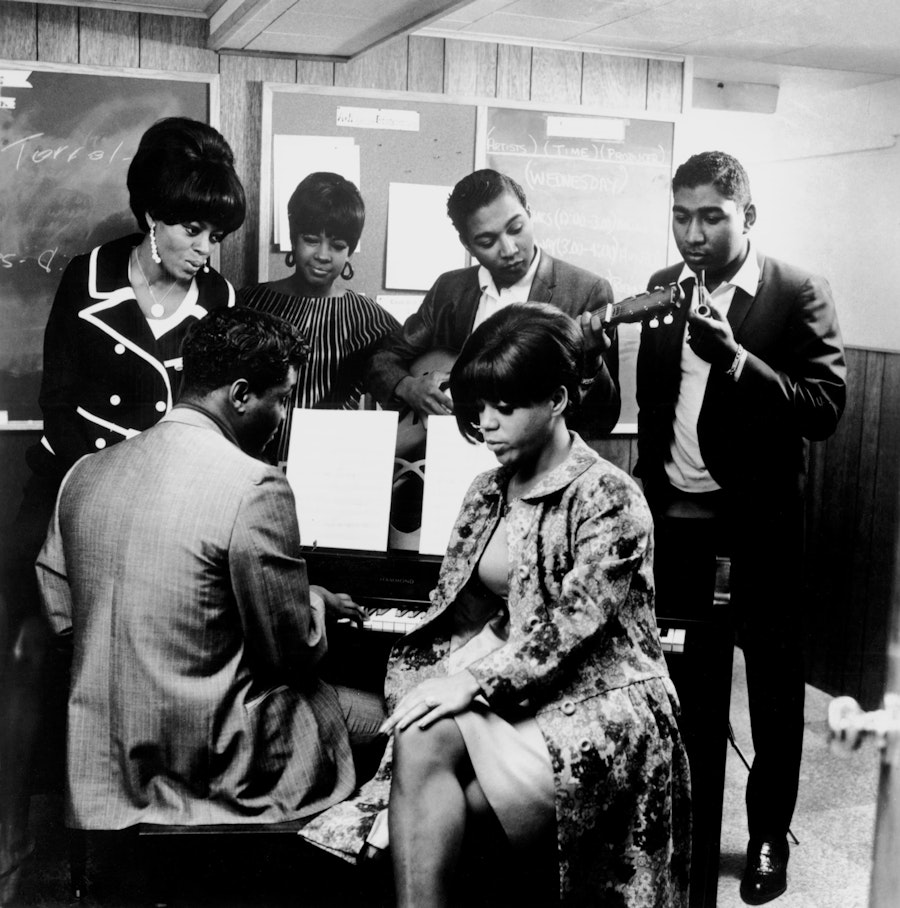 What made you start writing songs?
Actually, when I was in school, I guess about eleven or twelve, Mrs. Burke, my English teacher, she challenged the kids to write poems, and the best poem would be put on the blackboard. In this case, I wrote a poem called "A Song," and she thought it was quite poignant that a little eleven- or twelve-year-old kid would write a poem about what a song does for the human psyche, and so she kept it on the blackboard for three or four weeks. She was using this as a template, so to speak, for the rest of the kids to try to come up to. What that did for me was just open up my head. It gave me so much confidence. She's the one I credit for starting me to write songs, because by her doing that, it gave me such power and such determination. I realized then what I wanted to do.
At fifteen, when you started writing and recording with the Romeos, what were your main influences?
I tried to duplicate some of the doo-wop songs of the day. I didn't think I had enough know-how to get into the [songwriters] Richard Rodgers and Cole Porter, those guys, which I admired their songwriting. I was just in awe of those guys, so I would just try to do the doo-wop guys, because that was easier for me, trying to get my footing, you know, trying to get myself together and learn the technique of writing. And then I did stuff like—they used to call me "the Candy Man" when I was in junior high—I would write love letters for guys that was trying to make up with their girlfriends for fifty cents apiece. And then I was good at disguising my voice on the phone. If I had to talk to the girlfriend, that'll be a dollar, you know what I mean? I had quite the little enterprise going on with my writing, so all of that taught me and gave me a sense of what girls would go for as far as lyrics and what they wanted to hear. That's what I did to get my head in the right direction for writing, you might say. 
How did you end up at Motown?
I met Berry Gordy [in 1958]—he used to have auditions looking for local talent. And he had a group called the Matadors, which he later changed their name to the Miracles, Smokey Robinson and the Miracles. We were still the Romeos, and he wanted to sign us up. We were leaving Atlantic, because things weren't moving there for us. So he wanted to try and lead us in another direction. Anyway, the group just didn't have the heart or determination that I did, so we broke up. About a year after that, I met Gwen Gordy, Berry Gordy's sister who he wrote a lot of songs with for Jackie Wilson. She liked what I was doing as a singer and songwriter, so she asked me, would I come and sign up with her label, which was Anna Records. I did a stint with them for two, three years, and then her company folded, so I decided to move on after some failed attempts at releasing certain songs.
Then I moved on to Berry's company—he called after Gwen's company folded, and I just joined them, because Motown was happening. They had "Shop Around" [1960] by the Miracles and "Please Mr. Postman" [1961] by the Marvelettes. [Gordy] had a stable of artists, but most of them didn't write, so he asked me, would I come over, put my career on hold as a singer, and write and produce for these people. I really wanted to sing and perform, but I took his lead and became this songwriter and producer for Motown. While I was there, I met Brian Holland, who was already with Berry, and so was Eddie Holland too. Eddie Holland used to make the demos for Jackie Wilson. Anyway, I eventually got with Brian Holland, and he and I started a writing team on a song called "Forever," which we did for the Marvelettes [who released it in 1963]. He and I got together and found that we had a lot in common. We were raised the same by our grandmothers, primarily. We had to do the things that our grandmothers said were appropriate, like go to church and rehearsals. There was a lot of church involved, but at the same time, there was a lot of learning that we got in church for our music. We decided to have this writing team, and we got so busy writing for a lot of the artists—Mary Wells, the Marvelettes, and then Martha and the Vandellas. Then Eddie Holland wanted to take a crack at writing. I had always written lyrics, but I was getting weighed down with it. So he said, "Look, we could do more, get more out, be a factory within a factory, by the three of us." You know, two heads are better than one; three is even better. He came in, and I would start a lyric and the idea and give it to him while Brian and I would produce the tracks and come up with other ideas. 
You talked earlier about copying doo-wop songs when you first started writing. Was there a specific song, or a specific point, where you made a breakthrough and began defining your own style?
Well, that didn't happen until I got to Motown. [That's when] I really got my footing, so to speak. I felt that some of the best songs and best ideas for music came when I was working with the Motown artists. I think "Heat Wave" was the first one that really cracked. That opened the door, because it was a big hit. From there, it just really blossomed. Well, actually, the big song that started everything for the company, as well as for Holland-Dozier-Holland, was "Where Did Our Love Go." I came up with that song, and nobody liked it. None of the artists wanted to do it. I originally wrote it for the Marvelettes, and they couldn't stand it. They refused. A lot of people don't have that much nerve, but because they had had several hits—"Please Mr. Postman," "Playboy," "Beechwood [4-5789]," four, five things—they felt they could use their muscle. [laughs]
Turned out that we convinced the Supremes to do it, who really didn't want to do it, because everybody heard that I was peddling this song that nobody wanted. They decided to do it anyway, reluctantly. The night we dubbed it was almost a battle between the girls and Brian, Eddie, and myself, to get them to do it a certain way. It turned out that the Fates or Heaven had something else in mind, because when we got through arguing with them and getting them to do the song, the performance that they gave—especially Diana Ross—was just what the song needed to become a big hit. Her attitude, this pissed-off attitude, was just what the song needed. The song was released, and it sold four million copies for Motown and launched the Supremes, Holland-Dozier-Holland, and Motown. So that was the big one.
When you were producing a song, how much direction would you give to the Funk Brothers? For example, James Jamerson is widely considered to be one of the best bass players ever. So as a producer, how did you approach telling him what to play?
Before we got to Motown, I had a stint where I was playing little clubs, private get-togethers, parties, dinners, and things. There was [Richard] "Popcorn" Wylie's band; I played drums, and James Jamerson was the bass player. This was before we got to Motown. I been a drummer, a tap dancer, whatever I had to be, you know? [laughs] I wanted to be in the business. For a while there with Popcorn Wylie's band, James Jamerson and I were together. Jamerson sort of knew what I was like and my taste in music. He knew that I was basically a bass-player-minded type of guy.
In other words, [sings the bass line from "I Can't Help Myself (Sugar Pie, Honey Bunch)"]—I would come up with bass lines, and I would throw them at him. When we were in the studio, I would give him the bass line and say, "James, this is the main line of the whole song. I want you to carry it all the way through the song—through the changes, all the way through. Keep that pumping bass." Then, his own interpretation of the line is what people talk about today, because I could give the line to several other bass players, and they just wouldn't execute like James Jamerson. He was just a natural. He would add little accents and things to pump it along. Between him and Benny Benjamin on drums, that's all I would need. I would not go into the studio unless I had Benny Benjamin, James Jamerson, and, say, Earl Van Dyke on piano, and Eddie Willis on guitar. If I didn't have those four guys, I wouldn't consider doing any recording until I had my nucleus, as I called them, because these guys knew what Brian [Holland] and I were about as far as rhythm and funk. It was on some occasions when the guys were out of town playing with the Motortown Revue [that] we had to use second-stringers, and they just didn't execute the stuff right. When we would try to explain to them, hum melodies, play bass lines, or show them how to voice certain chords—because Brian and I had a certain sound that we went for with the way we voiced our chords and our bass lines; they were very dramatic—a lot of the guys didn't get it. So if I didn't have those particular guys, I wouldn't cut until they got back in town.
Speaking of "I Can't Help Myself," I heard that you took the phrase "sugar pie, honey bunch" from your grandfather and the way he would flirt with women coming into your grandmother's beauty salon. Is that true?
That's right. He used to sort of flirt with the women coming into my grandmother's home beauty shop. As the customers came in, he was just piddling in the garden. I think that was his way of using the garden as a reason for flirting. [laughs] As they came in, he would greet them. He would say, [in a soft voice] "How you doin' today, sugar pie? How you feelin', honey bunch?" My grandmother saw him out the bay window from her establishment there, and she saw what he was doing, man. The women in there would just be laughin' at him. He was quite the character. A lot of the old colloquialisms that I came up with in the songs, I got from him. Years later, I would be thinking about a song or an idea, and he would come to mind as I was playing on the piano, something he said, and I would use it as a beginning of a song.
You left Motown in 1968 to start your own labels, Invictus and Hot Wax, with the Holland brothers. What was that period like in your life?
It was really dark. I didn't want to do it. I didn't want to leave there. The Holland brothers and I, we tried to negotiate with the powers-that-be at Motown about giving us our own label, because we felt we deserved it. We wanted to have a subsidiary label, so to speak, with our own artists. We figured we had earned that, because we had sold hundreds of millions of records for Motown. We were, like, the hottest producers three years in a row—I think, '65, '66, and '67, we were the number one songwriting and producing team in the world. Beat out the Beatles those three years. We thought we deserved it, and we could never get them to come to the table with any serious deals for us in that way, so we just went on strike in '68. Years were passing by, and we had to think about the future, you know what I mean? I appreciate Berry Gordy, and the time that I had there, and him giving me that shot there to start my career as a songwriter. But when you want to grow and start your own thing, you need to think about the future and having your own business. Everything was very up in the air for the future of Motown. A lot of the writers and people said, "Well, that's the end of Motown. Holland-Dozier-Holland left." We had lawsuits; we sued each other, of course. We wound up settling out of court, and lawyers made all the money. [laughs] That's usually how it is. Motown got a resurgence, or you might say a streak of luck, with the Jackson family, and they took off again. We started our own label with a deal with Capitol Records, with our label Invictus. We had songs out, like General Johnson and the Chairmen of the Board with "Give Me Just a Little More Time" [1970]. Matter of fact, General Johnson died yesterday [October 13, 2010], the lead singer of the Chairmen. 
I'm sorry to hear that. Solomon Burke too.
Yeah, I knew these people. They were friends of mine.
You mentioned how important the Funk Brothers' nucleus was to your sound. When you started your new label, was it hard to find musicians who could produce that sound? 
By then, so many people were mimicking what they thought was the Holland-Dozier-Holland Motown sound. It was easy to get people. There were so many copycat bass players trying to sound like James [Jamerson]. It was quite easy by the time we started our own label in '69, and we had, like, ten consecutive number one songs with Invictus. Then we had another label called Hot Wax.
That must have felt good, being so successful with the new labels.
Oh yeah, absolutely. We were on top of the world, you might say. Then around '72, I was just feeling this itch that I wanted to get back into show business. I recorded this song called "Why Can't We Be Lovers." It became a big hit, and I got calls from various labels. Some friends of mine worked at ABC and asked me if I would be interested in signing with them as a real artist, and that's what I wanted to do. So I said my good-byes. It wasn't a very welcome thing by the Hollands, and we had a little argument there, legally, for a moment. We got over that, and we went our separate ways in '72.
Going back to your father, you mentioned that he was an aspiring musician who never quite made it. Did he live long enough to see your success?
Yes. Matter of fact, about six months or so before he passed, he came to my house. I was staying in a very affluent area in Detroit called Palmer Woods at the time. He wasn't feeling well; he had been sick for a little while. He was a drinker too. He was very young when he passed—he was only fifty-one when he died, primarily because of his drinking and being despondent and not happy with the way his life had turned out. Anyway, before he died, he came to me and said, "You're the only one in our family that has ever done anything this monumental. You're known all over the world as this big songwriter, singer, and I just wanted to let you know that I am so proud to be called Lamont Dozier's dad." That just really choked us both up. We hugged each other. He just kind of wasted away in the next six months after that. But he was just so proud. I can remember him bringing some of his cronies over and telling them this is his son. They said, "Man, we can't come in this area. We gon' go to jail." [laughs] He said, "No, I'm telling you, my son lives over here." They were flabbergasted. "Lamont Dozier is really your son?" He just stuck out his chest. He was all proud. I remember that.
One last thing—I wonder if you can describe the feeling you get when you write a song? Say you are just fooling around on the piano, and then all of a sudden, your fingers come across something that sounds good. What is that moment like?
It's the most wonderful thing. You get goose bumps. It's euphoric, in a sense. You're just overcome with joy that you've come up with something that is so poignant, or I should say, that is infectious. It comes in waves. The more I work on the song—if I start with a bass figure or a title, and then I sit down, and the marriage between the lyric and the melody seems to lock—you start to get that feeling like, "Wow, a baby is being born here." You know, when my first child was born, I felt like this. It's just extraordinary. Then when it blossoms into a situation where it's number one, and people are buying it all around the world, the feeling is just unexplainable. Especially that very first one—for me, it was "Where Did Our Love Go." 
Do you still get that feeling?
Yeah, but not like that first one. The first one is always the best.