Lalo Schifrin is a musical chameleon with a sense of drama so heightened, an expertise and scope so wide-angled, that some of the actors and cinematographers he has worked with had to have been jealous. Lalo has composed for orchestral instruments (1968's The Fox, 1967's Cool Hand Luke), arranged for Brazilian arranger-guitarist Luiz Bonfá (1962's Luiz Bonfa Plays and Sings Bossa Nova), written for and played alongside Dizzy Gillespie (from '59 to '63, including 1961's Gillespiana, as well as 1977's Free Ride), and penned some of the funkiest film scores (Bullitt, Dirty Harry, Magnum Force, and Enter the Dragon, to name just a few) and television show themes (Mannix, Mission: Impossible, and the short-lived Planet of the Apes) ever known to viewers.
His music has been sampled by everyone from De La Soul, Big Daddy Kane, and A Tribe Called Quest to Cypress Hill, Alkaholiks, Portishead, and Pete Rock, and been covered by Grant Green and Lee "Scratch" Perry and the Upsetters. Schifrin has won six Academy Awards, four Grammy Awards, and has been nominated for twenty more. His musical output is so immense that it would take an entire issue of Wax Poetics to discuss each piece of music he has recorded over his very prolific lifetime. And, believe me, he's not done yet.
Through the years, Lalo has used some of the best drummers and percussionists on the scene: guys like James Gadson, Shelly Manne, Earl Palmer, Harvey Mason, Emil Richards, Andy Newmark, Francisco Aguabella, and Paul Humphrey have made his scores and LPs undeniably funky and earned him the title of "The Godfather of Cinematic Soul." 
Lalo doubles as a musical casting director as well, picking the perfect group of musicians to transform his visions into Technicolor and to make his recordings uniquely stylized for each film he works on. And cast he has. The back credits on his LPs are a who's who of '60s and '70s studio-musician elite: Howard Roberts, James Jamerson, Tommy Tedesco, Carol Kaye, Bill Plummer, Bud Shank, Mike Melvoin, Plas Johnson, Dennis Coffey, Snooky Young, Ray Brown, and on and on and on—the best of the soul guys, the best of the jazz guys, the best of the best.
I sat down with the martial arts black belt (he was turned on by Bruce Lee) at his home in Beverly Hills, California, a house previously owned by Groucho Marx, where I learned from a true master what it's like to be truly on top of your game...at seventy-five years old.
Sitting amidst many well-earned trophies and gold records, worn books on philosophy and poetry, and hundreds of beautifully handcrafted pipes, Lalo and his deep Argentinean accent set the tone as I uncovered the answers to long-lingering questions I had regarding rare LPs, his diverse soundtrack work, and a life full of friendships with people I've admired since I was a child.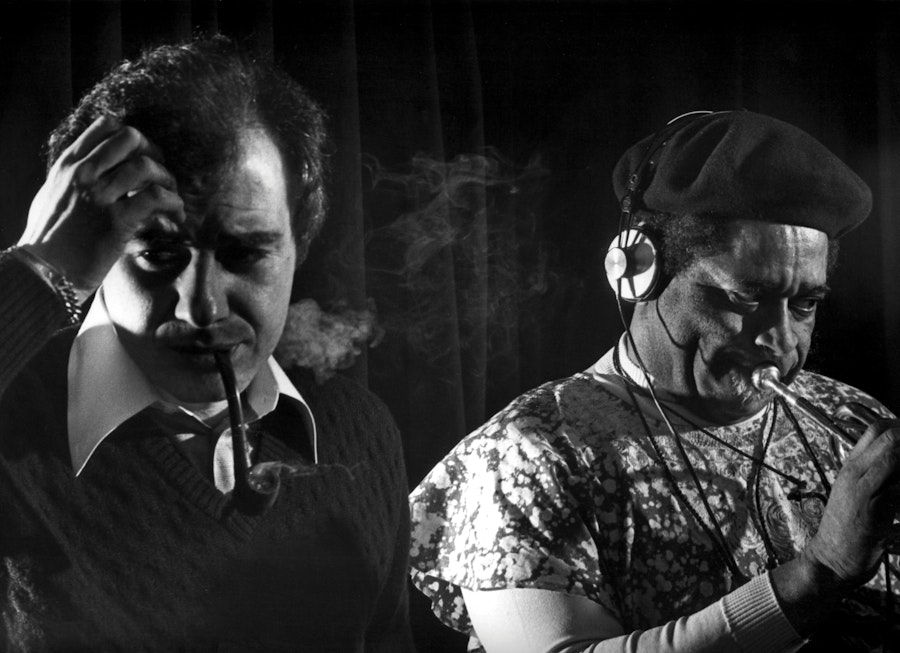 You were born Boris Claudio Schifrin in Buenos Aires in 1932. Who first nicknamed you "Lalo"?
Claudio, meaning Claude­—the nickname is "Lalo." I made it legal, because it was too complicated for the passport and the contracts to have both names.

In the DVD Movie Music Man: A Portrait of Lalo Schifrin I learned that you were, as the narrator put it, "an avid moviegoer as a child, spending countless hours at the cinemas in Buenos Aires," and that Alex North's score for Spartacus was a big influence on you. What in particular did you love about Alex North's music?

Alex North was one of the great masters that inspired many of my colleagues too—Jerry Goldsmith, John Williams. For instance, Alex North had a brilliant idea in [Viva] Zapata! with Marlon Brando when they start with all the pacing and all the rocks against the volcanic-scape in Mexico. They start, [sings, "dun, dun, dun, dun"] they start the sound effects, and all of a sudden, the music takes over, and that's a brilliant idea. I learned a lot from that.
What other films and/or film scores stand out to you from that era?
There was another movie that was showing in Argentina; it was a Russian movie. It was called Alexander Nevsky [1938, by Sergei Eisenstein], with music by Prokofiev, and, of course, it was a great score. He was a great, great composer. I went to see it two or three times. Then, about two or three years ago, I went to see it again, and I was disappointed, not with the score, but with the movie. It was dated.
You studied with Charles Koechlin (a disciple of Maurice Ravel) and attended Olivier Messiaen's classes at the Paris Conservatory and played jazz at night in Parisian clubs in the 1950s. How did living and playing music in Paris get you on the path you ended up taking?
I had to make a living, pay for my tuition and for my expenses. I had a scholarship, but it was not enough to pay for a decent [living space]. The dorms were terrible, so I found my own apartment. By working at night playing jazz, and I also did arrangements for record companies—you know, I didn't sleep. But during the day, Conservatoire; at night, jazz. I played with some of the best European, even American, jazz musicians who were living in Paris.
You played with Dizzy Gillespie's group for around four years, starting in 1959. How did you first meet Dizzy?
Well, first off, I have to say that I had been studying the music of Dizzy Gillespie before I met him, so it's not a coincidence that [he liked it] when he heard my band—I had a band in Argentina after I came back from Paris, and he heard me play the piano.
So he came and he said, "Did you write all these charts?" Because I conducted from the piano. And I said, "Yes." He said, "Would you like to come to the United States?" And I thought he was joking. I mean, maybe they call him "Dizzy" because…no, but he meant it.
Being someone who loves all forms of music, how do you react to critics and jazz purists who claim that things like Miles Davis's Bitches Brew or Fela Kuti's music, for instance, aren't jazz? Both examples are improvisation-based musics. Does it have to swing to be jazz, or is it purely the art of improvisation over whatever rhythm the artist is feeling?
Well, I don't see any contradiction. "Nefertiti" swings in its own way. What they are talking about is straightahead jazz, which is okay. Miles started to experiment with fusion, with rock and jazz, and the music of many civilizations. They have a drive and a swing on their own. The music of Africa, the music of Europe during the Renaissance and the Middle Ages, they had amazing swinging music. I'm talking about European swinging music, but it was not jazz. I recorded a tune called "Troubadour" on one of my albums [1966's Marquis de Sade], in which I took the music of the Middle Ages, and I made it into jazz. I mean, combine it. I mean, my philosophy is why have barriers and labels? You go to a record store, and [they] say, "This is classical, and this is jazz, and this is Latin." Wait a second! I mean, maybe they do it for merchandising reasons. 
Once, I went into a record store, and I said, "Do you have records by Count Basie, Duke Ellington, Buddy Rich Big Band, you know? I couldn't see them in the jazz section." So he says, "We have it in the band section." "Hey, wait a second," I said. "That's jazz! Duke Ellington is jazz! Count Basie is jazz!" So, as I said, that's a problem of merchandising.
I'm thinking more of folks like Ken Burns and his documentary on jazz from a few years back. He didn't even include anything past the mid-1960s. I mean, a tiny blurb on Bitches Brew like it was a blemish that should have been erased. Nothing about Lou Donaldson, Eddie Harris, none of that stuff. Like it wasn't a part of jazz history.
Well, that's his problem.
Luiz Bonfá was quite a fine composer and arranger on his own (Black Orpheus, Jazz Samba Encore! with Stan Getz). Tell me about arranging for the great Brazilian guitarist on Luiz Bonfá Plays and Sings Bossa Nova.
Oh, we had a great time. I mean, it was part of the fun I was having in those days.
He's one of my favorite guitar players.
Oh, he's one of mine too. I met Luiz in Brazil later on many times. See, what happened was the bossa nova—which is another African rhythm [and] is also a combination of Brazilian and jazz—became very big with the audiences. Astrud Gilberto, Luiz Bonfá, João Gilberto, and Antonio Carlos Jobim—all these guys were composing and playing amazing music. Also Sergio Mendes, and there was a guitar player named Baden Powell. So what happened was that the Brazilian government decided to sponsor a bossa nova festival at the Carnegie Hall, and the only two non-Brazilians invited to perform there were Stan Getz and myself. So that's how I met all these guys. As a matter of fact, I'm at a party for all of them, and I remember Baden Powell playing in my house in New York in the living room until five in the morning. I mean, you know, it was a nice party, and I made it for them. So Bonfá said, "It would [be] nice to do an album together." That's how it happened.
The Cincinnati Kid, from 1965, is a classic film with an unforgettable cast, set in New Orleans. Edward G. Robinson, Steve McQueen, Karl Malden, Tuesday Weld, Ann-Margret, and Cab Calloway starred, and you composed the score. Was it a daunting task to write the score for a film set in the birthplace of jazz music?
It was a challenge, but like all challenges, I accepted. But not only that, the theme of The Cincinnati Kid, the producer and the director, they liked it so much that they said at the end of the movie that we should reprise the theme but this time with lyrics. They had a lyricist, and they said let's offer it to Ray Charles, and Ray Charles liked it. He couldn't believe I wrote it, because he heard my accent. You know, he was blind, and he heard my accent, and he said, "Who wrote this?" I said, "I did." And he said, "Who wrote the chart?" and I said, "I did."
I did a demo with another singer who was very, very good. As a matter of fact, we did the demo with a man named Bill Henderson. We told him the truth, that this is for Ray Charles. If he accepts, then he'll be in the movie. If he doesn't, then you'll be in the movie. He was paid anyway by the record company, by the movie company. So Bill Henderson did it and did it with a lot of soul. Not like Ray Charles, a different style. But he was good. He's still around; he's still singing.
So when Ray Charles heard the demo in which I have a full orchestra and everything—I mean, it was a real demo. It wasn't a little group; it was a full orchestra. So I said, "Ray, you probably don't remember, but Dizzy Gillespie introduced us." Once I came out from New York on tour with Diz, and we were playing a club called the Summit—that doesn't exist anymore—on Sunset in Hollywood. Ray came there, and Dizzy introduced us. So he said, "Ahhhh!" He remembered my voice; he had an incredible ear and memory. So then everything was okay.
In your music, you occasionally have musicians imitating percussion instruments. In 1968's There's a Whole Lalo Schifrin Going On, there is someone imitating a tabla on "Wheat Germ Landscapes."
I think that might have been the pianist Roger Calloway.
Can you give us any insight regarding this LP? It's probably your most psychedelic.
Well, I did it as a parody. A little bit of humor. There's one on there…let me see. [turns over the LP] "Life Insurance" is a put-on on bureaucratic documents. So I use a real life insurance [policy] as a text, and I told the singers to do it in their own, not to sing together, to be singing in their own rhythm. Every time they had to take a breath, go a little bit higher and higher and higher.
What about the cover? I've read it was the art department's idea, but what were you thinking when they stuck you in this psychedelic picture on the front?
I wasn't thinking anything, because I had nothing to do with it. The only thing they asked me for was approval, but I had nothing to do with it. It's a surrealistic cover.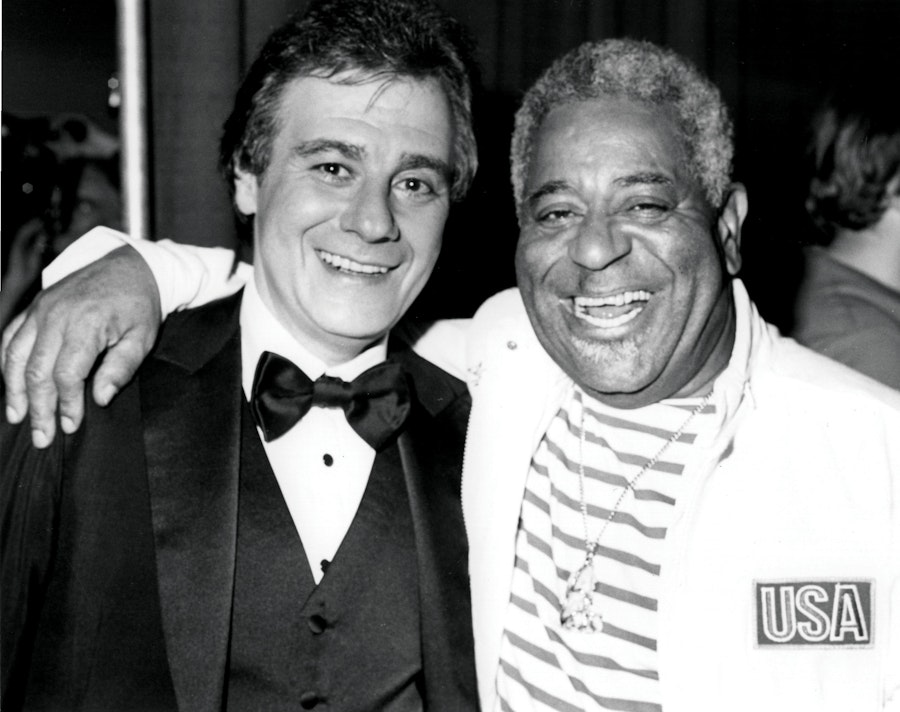 I saw your Dalí clock over there; are you a big surrealist art fan?
Yeah. When I was living in Paris, in the Museum of Modern Art, there is a whole room of Dalí. Not only Dalí—there are other surrealistic painters that I like. Juan Gris. And jazz is the closest music connected with surrealistic art, because in surrealism, they sometimes use automatic painting, and jazz is automatic improvisation.
You worked with the Cannonball Adderley Quintet on the David Axelrod–produced Experience/Tensity/Dialogues in 1970. It must have been quite a session.
It was...and you read what Cannonball Adderley said about me on the back? I am "the Calm Bull of the Pampas."
You used the bits of "New Orleans Procession" (from The Cincinnati Kid) at the end of "Dialogues." What made it work again in this context?
It's not exactly the same, though it's similar. What happened was this: I have a jazz quintet, and all of the members of the quintet were soloists, so I elaborated a texture and a background to inspire each one of the soloists in different tempos. And at the end, in order to unify, we went back to the roots, to New Orleans...the blues or blues-like melody in which they could all play together.
What do you feel was David Axelrod's greatest strength during these sessions?
He has a true gift. In this case, it was to stay away—leave us alone and [let us] do it. The one who really understood what I was doing was Cannonball Adderley, though, and he is the one who supported me. [Cannonball] was the inspiration of the whole session.
The Hellstrom Chronicle won an Oscar in 1972 for best documentary, yet a soundtrack LP was never released. In a 2003 interview, you are quoted as saying, "The Hellstrom Chronicle score pushed my imagination to the limits. After that, it was very difficult to write Hollywood film scores."
Although none of your other scores are quite as completely experimental as The Hellstrom Chronicle, you have constantly used nontraditional scoring means to achieve moods in your music.
It's not experimental. I don't experiment.
Well, compared to your other scores, it was pretty experimental.
Once they asked Pablo Picasso, "Master, what are you looking for?" And he said, "I'm not looking for anything, I found it." So in The Hellstrom Chronicle, I didn't experiment; I did what had to be done. My biggest problem is I'm a chameleon, and I don't say this to pat myself on the back, but I am very versatile, and I know many techniques of music. And I've been using them.
For instance, [in 1968], I did a movie with John Boorman, the director, called Hell in the Pacific. There is a part when they cut to the jungle, and you hear a cicada. And I told the director to give me the tape—and in those days, they were reel-to-reel tapes—of a cicada. And I imitated the cicada with two piccolos flatted in minor thirds, really high in the same pitch, so you don't know when the sound effects ended and the music starts. So during my days in Paris [when] I went to the [Paris Conservatory], it was musique concrète. Concrete music: it was based on noises. They would compose things, really, compose things with the sound of a door opening and closing. Noises and electronics, they are all a part of the sound, and they all can be music. So in The Hellstrom Chronicle, I applied everything I knew.
The La Clave LP, from 1972, is shrouded in mystery and very rare. The band was led by Panamanian Benny Velarde, a contemporary of the great Cuban percussionist Francisco Aguabella. Some songs on this beautiful, psychedelic, Latin-infused LP are "Move Your Hand" by Lonnie Smith, "The Ghetto" by Donny Hathaway, "Soul Sauce," which was made famous by Cal Tjader, and, my favorite, your take on "Sally Go Round the Roses," originally by folkies Pentangle. What exactly were your contributions?
Well, you know the thing about that session is that they asked me to participate or perform, and I went, and I was in a hurry, because I had some other things to do. So I showed up, I did the session. Maybe one or two sessions, but I was in the middle of other projects. As a matter of fact, the one who produced that record, if I'm not mistaken, is Mike Curb. He was, at that time, the head of the music department at MGM. He was a young guy. He was open to many ideas, and we wrote together a country song for Hank Williams Jr. ["All for the Love of Sunshine"] for a movie called Kelly's Heroes. I went to Muscle Shoals, Alabama, to record it.
So Mike Curb was involved in La Clave. But at the same time I was working for Mike Curb on a movie, I think it was Kelly's Heroes for MGM, so I didn't have too much time to stay in the [La Clave] session or hang out with the musicians. So I showed up, they put the music in front of me, and I did my thing, and that's it. It was very simple.
Dizzy Gillespie, by the way, discovered Francisco Aguabella. He has lived in Los Angeles for a while now. He played on many of my movies, many of my records. Francisco and me, we are very close.

Dusty Groove has reissued the album, and quotes Benny Velarde as saying that "the record was killed by MGM upon release, because of a feud with Lalo."

I have no idea what he's talking about. I really have no idea.

Urban myth?

The only thing was the time. I couldn't spend too much time. But other than that, I didn't have any conflict. I got along with the producer. The session went fine. You better ask [Benny Velarde] what he means by that.
What were you listening to when you were writing the score for Enter the Dragon? Had you heard things like Shaft by Isaac Hayes (1971), Superfly by Curtis Mayfield (1972), or Coffy by Roy Ayers (1973), which was released the same year?
No! I went directly to the source, the music of the Orient: Japan especially, Korea, and even China. My specialty after I finished my composition class at the Paris Conservatoire was ethnomusicology. So I studied the music of different cultures, different continents—Africa, Asia, as I said before, South America, North America. So I went directly to the source. Well...combined with contemporary rhythms. Shaft was using a wah-wah guitar, but that had nothing to do with this.
But soul music had to be some sort of an influence with the wah-wah guitar and Fender bass? Where did you first hear these things, and what made you want to start using them?
What made me want to use them was to express what the movie needed. We are all part of a society in which we absorb influences. We might be driving in our car and hear somebody else's car doing something that we like or we put on the radio…we are not living on an island. But on the other hand, I was not influenced by anybody, to my knowledge, except by what I had to tell in the movie.
I met Bruce Lee. He wanted to have lunch with me. He came from Hong Kong; once he finished the movie, he came to the United States on a promotional tour. He said that he wanted to meet me and have lunch with me, and I said, "Why?" to the producer. So he said, "You have to come." I went to Warner Brothers' commissary, and the first thing he did was stand up and say, "Touch." [points to his stomach] He was all iron, complete iron. And then he said that he was excited that I was doing the music, and one of the reasons he wanted to meet me was that he was practicing in his dojo in Hong Kong to the rhythm of "Mission: Impossible."
It's a pity that he died right after that. I mean, a few months after that, he had two aneurysms, and he died suddenly. He couldn't enjoy being [in] the first [martial arts] movie in America; he could have had a career that was amazing. He was such a nice guy and such a great talent. As a matter of fact, because of him, I decided to take martial arts myself, and I became a black belt.
Are you still studying?
No. I hurt my hand in full contact with my instructor. For the cause of the piano, I said, "No more."
Do you see any similarities between how musicians grab influences from all sorts of musical genres and how hip-hop producers incorporate many styles of music into their unique musical collages?
I'm all for it. What they are doing is exactly what I was telling you about—la musique concrète, [which is] collages of existing music or existing sounds or existing noises. This doesn't come as a surprise to me. As a matter of fact, I would be very, very surprised if hip-hop and rap didn't exist, because it's part of the changes that are happening with the technology and with the music tastes and all that.
You've been sampled a ton, but have you ever worked firsthand with a rap artist?
Oh yeah, I still get samples requests to use my music every day, but as far as what you were talking about… [takes a long pause] Right now, I am doing two projects that are crazy—completely opposite. One, I have been commissioned by the Austrian government to commemorate the second bicentennial of the death of Joseph Haydn. At the same time, I am writing something with Snoop Dogg. Can you imagine…Haydn and Snoop Dogg? This is me.
The great chameleon.
The chameleon.