Kokoroko will be performing at the We Out Here festival, happening in Cambridgeshire, England, August 19 through 22.
I have personally witnessed many interesting fluxes of musical innovation concentrated around the turn of a decade. The past few years haven't proven otherwise. London's current jazz generation has brought many skilled and visionary young musicians whose unique take is continuously expanding, and redefining genres. Conjuring up jazz with many other musical styles, whether classic or contemporary, they're constantly reapproaching their musical ideas. 
Gilles Peterson's Brownswood label successfully showcases some of the most talented musicians from London's youthful jazz movement such as Shabaka Hutchings and Kokoroko, among others. The label's We Out Here compilation from 2018 not only demonstrates the talent, but also displays London's potential as a stepping stone to its current multicultural disposition. The last track on the compilation, Kokoroko's "Abusey Junction" became a prime example of how different cultures ingeniously meet. The band's previous guitar player, Oscar Jerome, wrote and played the poetic parts on their hit song "Abusey Junction," which in turn became the compilation's highlight that resonated with many, with over forty-five million plays on YouTube.
Kokoroko, meaning "be strong" in the southern Nigerian language of Urhobo (also a people), is a seven-piece all-star band. Each musician is excellent, and each further developed a unique approach in musicianship through improvisation, writing, and composing. After years of playing live jams together and exchanging ideas with many music friends from different backgrounds, Kokoroko's sound and take on Afrobeat expanded naturally, as they carefully moved forward, by embedding an even wider array of sounds and ideas in their music. Both of West African descent, trumpeter Sheila Maurice-Grey and percussionist Onome Edgeworth started the band during a trip to Kenya, in an attempt to create a playground for their musical friendship. "Because we loved the way we were playing, we needed to find a way to represent it, without being pushed into a corner," Edgeworth explains. "We wanted to bring something kind of new, or different. Something from us." 
The band grew into having an amazing all-female brass and vocal section, led by Maurice-Grey, and also starring saxophonist Cassie Kinoshi and trombone player Richie Seivewright. Guitar player Tobi Adenaike joined Kokoroko later on, just like keys player Yohan Kebede, who wrote "Adwa." Bass player Mutale Chashi, percussionist Edgeworth, and drummer Ayo Salawu form Kokoroko's solid foundation.
After releasing their self-titled debut EP in 2019, Kokoroko has a full-length album in the making. I will continue to closely observe their future unfold. In anticipation of Gilles Peterson's We Out Here festival, I caught up with the two busy founding members, who luckily found a tiny bit of time to answer a few questions.
Hi, Sheila, Onome, thank you for your time! I heard you are very busy right now.
Onome Edgeworth: Yeah, we're all over the place. [laughs]
Sheila Maurice-Grey: "We've been rehearsing weekly, but um, we might have been rehearsing for nothing, because we don't know whether the shows are going to go ahead or not. There's a lot of uncertainty at the moment. [sighs]
Where do you rehearse at the moment?
Edgeworth: We had a pretty nice summer run [lined up], we had some good shows, but now it's slowly falling apart. Prior to lockdown, we were together so much, recording a lot, and we were just playing shows over and over again. It was almost as if the shows were our rehearsals. Today's situation has given us the opportunity to rehearse more, and spend more time together. For planning, and developing stuff.
Where do you rehearse?
Maurice-Grey: In east, west, south London…everywhere! We're eight people, who live all over the city. So we're just going to whichever studio we can that fits eight people in it. 
The two of you started Kokoroko. How did the idea for it come about?
Edgeworth: Sheila and I were in Kenya together, where we were playing music, and just talking. Because we loved the way we were playing, we needed to find a way to represent it, without being pushed into a corner. We wanted to bring something kind of new, or different. Something from us. I think it started when we got this group of musicians together though—that's when the energy came and that's what the band you see today is."
Did your visit to Kenya help you in the process?
Edgeworth: Not really, other than Sheila and I being together. It was more that we kinda had time to chill and spend time with each other. Sheila's parents are from Sierra Leone and Guinea Bissau, and I am Nigerian, so we're both from West Africa. And if anything, our culture is so different from Kenya. So playing and experiencing our music there… The contrast was striking. Rhythms, the music, the dance. We loved it, and spoke about this more than about the similarities.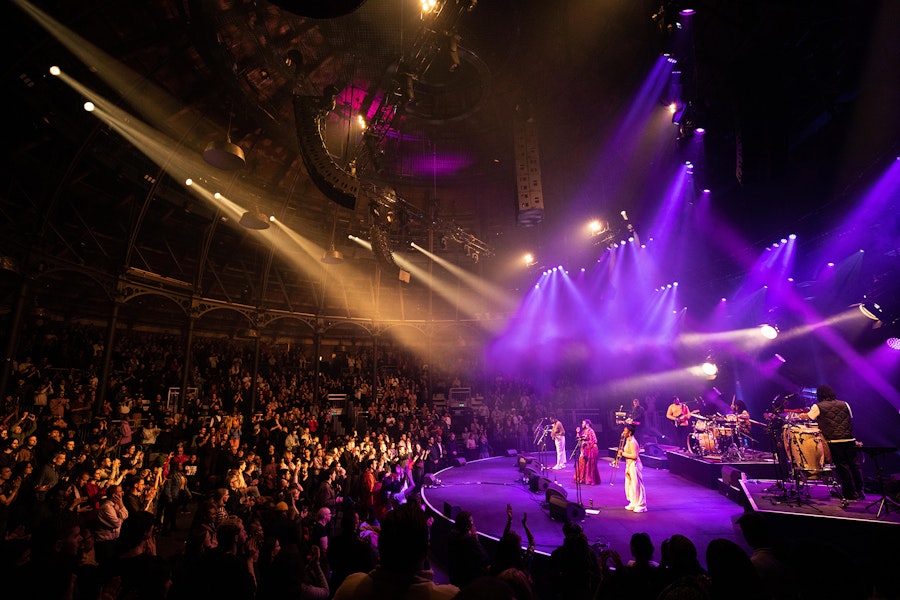 I guess that the music from West Africa was a natural part of your upbringing. Sheila, how was music integrated in your life growing up?
Maurice-Grey: Yes, music was a very normal part of my day, or my week, growing up. Especially at the school I went to, so I grew into it naturally, if that's the right way to phrase it. When I was about thirteen or fourteen years old, I got introduced to Fela Kuti's music. Or Abdullah Ibrahim's. It made my attention for music grow. But other than that, I guess it was just part of my normal day. 
I started playing my instrument at the age of twelve. Playing the trumpet wasn't actually my first choice, because I wanted to play the piano. I remember telling my teacher that, and she was like, "No, try a brass instrument." That was literally it. No romantic story.
What was your music school like at that time? Did you learn to play Western classical, or...?
Maurice-Grey: No, it was the complete opposite. We mainly learned about jazz and funk, and then…we played a lot of film music as well. I think that was as classical as it got.
Since London is this big cultural hub, each band member must have had such a different musical upbringing. 
Edgeworth: Yeah, I guess that goes for everyone in the band. Everyone is slightly different, culturally. Our families come from different places, so we all have different backgrounds, and we picked up our instruments for different reasons. Everyone has a story of when they first started playing and how people reacted to them. So when it gets to the point of us being adults, that comes out so much in the music, I think. The contrast between cultures, and different ways of learning… For example, when Yohan was in music school, he was obsessed with, like, Michael Jackson and Stevie Wonder. I just wanted to make beats, just hip-hop beats, when I kinda, like, slowly fell upon some jazz. So yeah, everyone has had their own path, which makes it interesting when it all comes together. When we tell a story together.
Could you name a Kokoroko track as an example that illustrates this amalgamation?
Edgeworth: I think a good one to mention is "Adwa." All the band members are from West Africa, or the Carribean, and Yohan is from East Africa, he's Ethiopian. So Yohan came up with the idea for the track. He wanted to write a song about the battle of Adwa, so [he] brought that in, and then it gets conjured up with influences coming from the other band members.
Your music is often coined as Afrobeat, but it's broader than that… 
Edgeworth: Yes, we are often coined as Afrobeat, but definitely don't believe in just replication. I feel that kills the spirit and the energy of the music. There's value in replicating; we've spent years replicating to study and to learn. But at some point, you have to be willing to push yourself. You have to try to create something new—learn the rules to then ignore them. I want our music to feel genuine, to feel like it's coming from somewhere, that it speaks from a place of honesty. That's how we can push music forward; it keeps things alive.
Maurice-Grey: Yeah, that's what the greats did. Charlie Parker, for example, said, "Learn your instrument to the best, and then just forget about it all to be creative." 
How do you guys build a track?
Maurice-Grey: "Usually one person brings in an idea, and we kind of build on that. To some extent, some tunes are more developed than others. It depends on the direction that the tune goes in. But essentially, it's a collaboration of everyone. 
Edgeworth: Ideas and vibes, innit!
About the recording process. Fela Kuti, among other Afrobeat artists, often recorded live jams for release. This approach doesn't really seem to apply to Kokoroko. To just bring up one example to what you are saying about creating on your own terms…
Edgeworth: Afrobeat was, and is, created in so many ways; it has had so many different processes. I mean, it can be more of a recorded jam, which is quick, but then the work is done beforehand. Sometimes, it's about putting the right people in a room and it works. Other times it takes five, or even ten years to get to know each other. We tried to record our music like that when we found out that it didn't necessarily represent what we wanted to represent. Because we wanted to use the studio as an instrument as well. We wanted to record in a more deliberate way. 
Maurice-Grey: Yeah, I agree. I am always interested in how people record. It's interesting to see how different dynamics can totally change the outcome of the work. Like Prince, he recorded in his studio, but also on a tour bus, for example. For us, a lot of it goes within the preparation. We recently recorded a track where we did a bit of writing before, but a lot of it happened in the studio. And after, which was fun! But yeah, I do feel like our approach is pretty much different each time.
Edgeworth: You're led by the music, right? Some of the songs took a week to get it right, and others were done in a day.
How did the band get together?
Maurice-Grey: Three of us have met, like, ten years ago. Us ladies. Others have known each other for a few years, like, four years, and again, others came through recommendation. Some of us went to different jazz programs together when they were a bit younger. Onome and I met, like, five years ago.
Edgeworth: It's longer than that, Sheila. You forgot about all the good times! [laughs]
It was a seven-piece band at first, and then Yohan joined on keys. Lots of people have moved in and out of the band as well, but the group we have now is the solid group. We've grown together through the band over time, and we're still learning, and bouncing off each other.
About the ladies in the band. Kokoroko is female-led! It's so amazing to see what you all share. In Kokoroko, but also in your Nérija project for example. How did you grow into having such a strong musical connection?
Maurice-Grey: We used to play all the time. We would meet up weekly to have a play, and we just ended up talking. And hanging out.
Edgeworth: I think you challenge each other a lot there. You are all excellent. Especially the girls in the band, when I watch all of them… Sheila, Shirley, Richie, and Cassie, they're always pushing each other. And that actually goes for a lot of musicians here in London. It's just lovely to see that.
Maurice-Grey: Thank you, Onome!
London has so many great musicians. More recently, the London-based music education and development organization Tomorrow's Warriors seems to have quite a role in getting new talent out there. It seems like they had a hand in the development of this extremely talented London-based contemporary jazz generation. 
Edgeworth: Over time, I've heard so many people talking about it, about how it has given them an introduction, or a grounding or learning. So I guess you are right, there are so many musicians at the moment that have touched that. But I think London has always had an amazing line of musicians. I guess we are a lucky generation, because we are pretty visible. But we're not necessarily any better! [laughs] I mean, there was a strong generation before us and a generation before them, who weren't given the same attention that we've been given. They were excellent, they were serious musicians.
Which London-based musicians inspired you a lot?
Maurice-Grey: I remember seeing [Tomorrow's Warriors cofounder and bassist] Gary Crosby when I was about thirteen or fourteen years old. He was playing at the Roundhouse here, before it was renovated. And even before then, I saw [saxophonist] Jason Yarde, or [vibraphonist] Orphy Robinson. These guys were always about, as I always heard of them. I was always keen to see them play, so whenever there was a free gig, I would go. 
Edgeworth: And remember bands like OCB from England, or even Beverley Knight—
Maurice-Grey: Yeah, Beverley Knight!
Edgeworth: I remember my mum made me do a performance, and Beverley Knight were performing later on. That was my first proper show, it was mad! 
I read you've been working on an album for a while now. How is that going?
Edgeworth: We are mixing the album now—it is recorded! So that should be out… Ahhh, I don't know when! But we've done our part.
Maurice-Grey: It's true, we have!
Edgeworth: We're very excited about it. It's very different. 
Hearing you explain your approach in music, I wouldn't know what to expect! 
When you spoke about making an album before, you said you would take as much time as needed. No rush! What made it all come together for you?
Maurice-Grey: How many years have we been trying to record this?
Edgeworth: We started working towards this album years ago! I think the lockdown really gave us the time and space to actually do it. We went away for seventeen days, to the coast. Where we lived and recorded together. It was just such a good space for us to actually really indulge. We had never done that before! And no one comes to tell you how to actually make an album. No one tells you how to do it! We were creating a world every time. Creating new processes… It feels like a new thing! It's very exciting for us.
Maurice-Grey: And it's interesting, because I feel that when we'd record again, it would be completely different again.
Edgeworth: It might actually sound like Afrobeat—
Maurice-Grey: No, I don't know about that… [laughs]
Ha! So you're no longer an Afrobeat band?
Onome: I think we let go of that a bit! For us, we won't call ourselves an Afrobeat band now. I guess that was our grounding when we started, we definitely moved from that. I even think that our music that's out there is really Afrobeat, to be honest. In our shows, it would be maybe like one or two tracks. When we'd play a cover.
Maurice-Grey: It's Kokoroko, it's the Kokoroko sound!
Edgeworth: You know what, we'll find out when we actually put the album together! We might be able to work it out… I don't know… [laughs]
Maurice-Grey: It does feel liberating not to put ourselves in any category, to be honest. It feels great! It feels good. That's freedom.