Steeped in history, jazz, and voodoo lore, Ishmael Reed's prose, poetry, and social criticism have conveyed the Black American experience like few other writers. Although Professor Reed taught for over three decades at the University of California, Berkeley, his series of spoken word/musical collaborations titled Conjure is hardly the work of an academic. More like the spells of a sonic shaman. But unlike Dr. John, Rahsaan Roland Kirk, and the Art Ensemble of Chicago, whose performances were more often like rituals than concerts, Reed has no need to don exotic robes and feathers, beads and bones. Ishmael's cool delivery is not "in your face." He prefers to let language work its magic.
The title of the first Conjure album was borrowed from his 1970 collection of verse. The music, a sonic stew whipped up by an all-star crew (including bluesman Taj Mahal, New Orleans legend Allen Toussaint, the Art Ensemble of Chicago cofounder and trumpeter Lester Bowie, saxophonist David Murray, composer Carla Bley, Ornette Coleman bassist Jamaaladeen Tacuma, trumpeter Olu Dara, jazz drummer Billy Hart, and bassist Steve Swallow), was stirred and seasoned by the visionary producer Kip Hanrahan.
"There's nothing new about rap," Ishmael Reed says. "I was on an album back in 1967 called New Jazz Poets on Folkways Records." Drop the needle on that old slab of vinyl and hear Reed deliver "The Jackal Headed Cowboy" in a commanding, husky voice. A flood of images tumbles from his lips in a punchy, rhythmic flow. "Tupac Shakur name-checked me in his song 'Still I Rise,' so I get invited to these hip-hop panels where everybody is fifty years younger than I am. But they get on my case for representing the older generation," Ishmael chuckles.
"My friendship with Ish goes back almost four decades," Hanrahan recalls in a hyper Bronx staccato. "His contrarian posture, and prowess, and clear enjoyment of verbal boxing has put him at uncomfortable odds with enough fashionably established voices in the media and the cultural scene to have blocked him from the center stage.
"The Conjure project was almost too easy to set up," continues Hanrahan. "More than any other writer I know, Ish and his American magic-realist griot genius—and I'm using that word with care—has had a hold on musicians from a cascade of musical and cultural angles, including musicians who weren't famous for being the type to 'read.' From the beginning, almost every musician I approached said yes with the first phone call. Allen Toussaint, Steve Swallow, David Murray, Carla Bley, Lester Bowie, and Olu Dara all jumped in at the mention of Ish's name. Some, like Steve Swallow, Gil Evans, and Taj, knew his work intimately."
Reed's classic novels Mumbo Jumbo, Yellow Back Radio Broke-Down, and Flight to Canada are essential reading. Reed's evocative/provocative writing teems with blues, gospel, and jazz rhythms, making him the literary equivalent to Charles Mingus.
"Yeah, that's why I could easily get into it!" Taj Mahal says. "I'm a big Mingus fan. First of all, both of us are the same size!" he says with a laugh. "Mingus always had great titles like 'All the Things You Could Be by Now if Sigmund Freud's Wife was Your Mother.' That inspired my song, 'You Ain't No Street Walker Mama, Honey but I Sure Do Like the Way You Strut Your Stuff.' That was straight outta Mingus."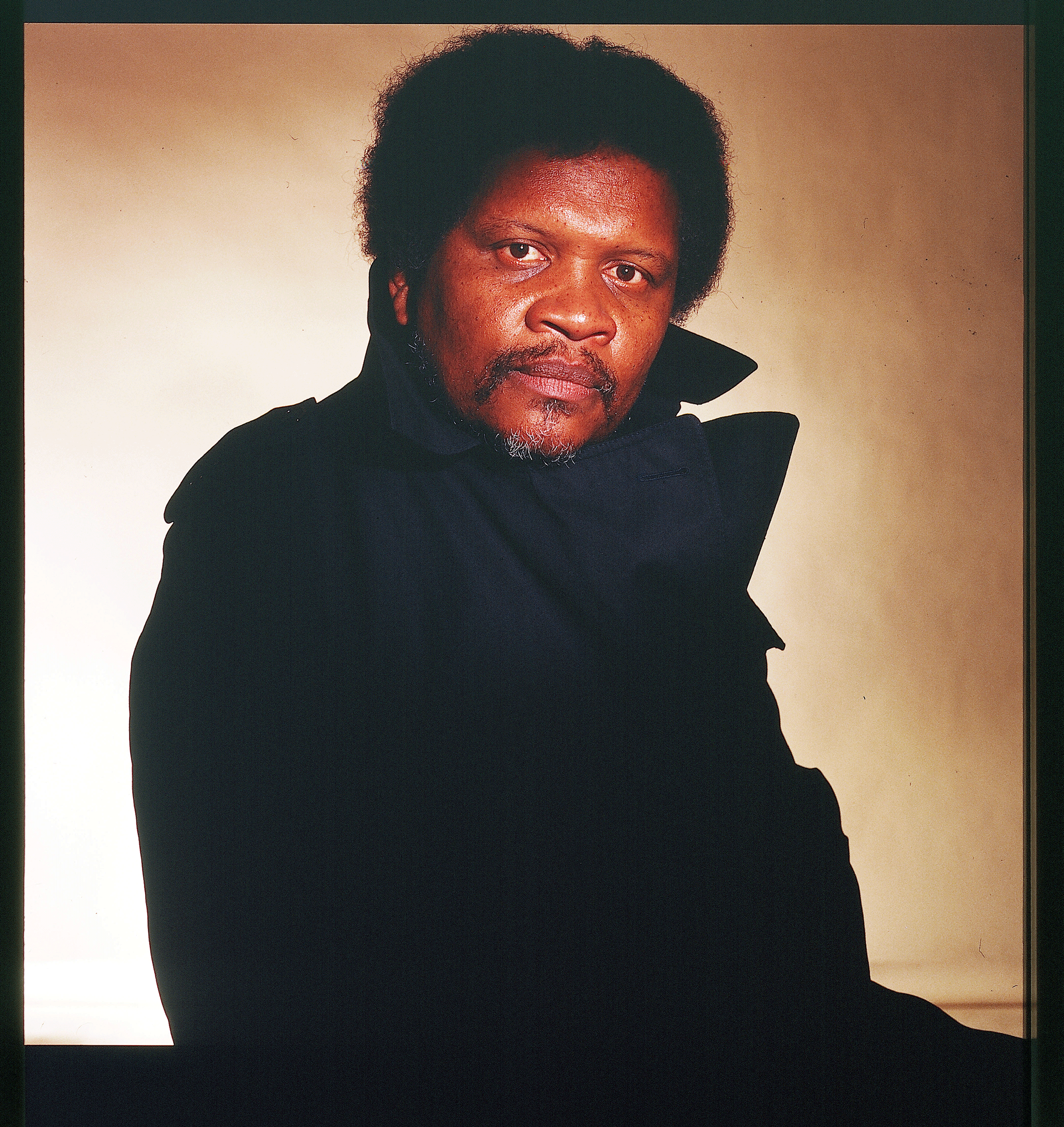 "I first met Ish in '76," says Hanrahan. "We became friends through [pianist] Cecil Taylor when he was working with Baryshnikov and wanted to make a film." Hanrahan, with a background in avant-garde film, had worked with Michael Snow and Jonas Mekas. "So I needed a script, and Ishmael Reed was my favorite writer. Besides his poetry, I was a big fan of his novel Mumbo Jumbo, but I also really liked The Last Days of Louisiana Red, which is not one of his favorite books! It always makes him roll his eyes when I bring it up," Kip laughs. "So I called him, and he said sure. Ish was as magic in real life as his books were. He's a real contrarian. As he says, 'Writing is fighting,' but he has a real loving, caring side too. He came up with a great script called Kill the Mover, with Cecil being the mover. I was gonna direct it, but when we met with Baryshnikov's people, they wanted a 'real director' if they were gonna use his name to raise money. They didn't want me. They wanted a Hollywood director with a name and a track record. Baryshnikov was very sweet, but when I mentioned Ishmael Reed's name to his businesspeople their eyes narrowed, like, 'Uh-oh! This is not what we had in mind!' So Ish got Bill Gunn on board, who was like one of the two Black directors in Hollywood, along with Melvin Van Peebles. But Baryshnikov's people wanted control and were gonna interfere with it. I'd been involved with making independent records with Carla Bley, but in film, it was really hard to have any control. The film budget was like $350,000, where making a record would cost $17,000. So I told 'em, 'No! No changes in the script. No changes in the director or our control, or we'll walk.' Bill Gunn thought that was pretty funny. He said, 'Try that and see what happens,' knowing exactly what was gonna happen. I did it and they, of course, said, 'Okay, walk!' So my five-dollar move sank the whole thing. I told Ish, 'Let's do a record instead.' I said, 'Let's get a great band together and commission music from some great people.' I asked Ish who he wanted to write the music to his poems, which already hint towards song form."
Reed picks up the story: "We discussed the [possibility of a] collaboration with Cecil Taylor, involving a film we were doing called Personal Problems, which now is considered a classic since it's been in revival." Reed had written the script and Bill Gunn directed. "The New York Times called it 'an orthodox work of art,'" Reed continues. "One of the film's highlights was a gag scene where Kip plays a white radical and I'm a right-wing Black owner of a hot dog diner, and we go at it."
"Ish is a true contrarian. Some people think he just says things to get under their skin," Kip laughs. "He said, 'Y'know, white people on the left think just because Obama was Black and a Democrat, that he was working for them.' I said, 'What are you talking about?' Then of course, a few days later when I was in my hotel room, it struck me… He's right. He's usually right. It's just that people don't wanna or can't hear it at the time. I thought he was just saying it to needle me."
"When the collaboration with Cecil Taylor didn't work out, he sent my book of poetry, Conjure, to different composers, and we did a concert at the Public Theater [in New York]," Reed recalls. "We had a huge audience, had to turn away people, and we got an excellent review in the New York Times. Allen Toussaint came up from New Orleans at his own expense. I didn't know who he was at the time! He had a lot of class. He wouldn't pose for a photograph unless he was wearing a tie. He sang 'Happy Birthday' for my daughter. She was so shocked, she dropped her camera. Kip knew people like that!"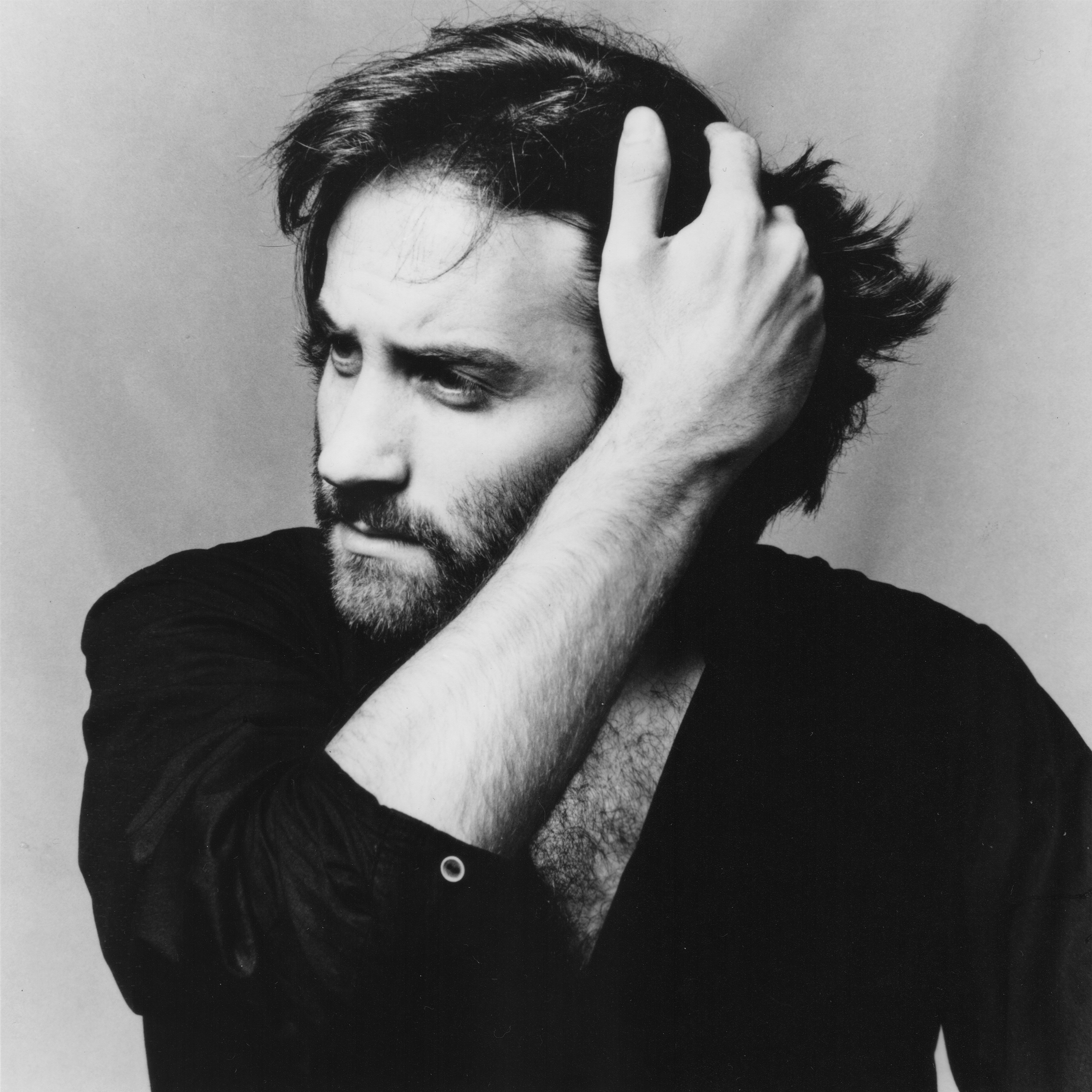 Like the best producers, Hanrahan possesses that Svengali-like power that artists depend on to pull large projects together and make them happen.

"Kip was very important to my writing," Reed continues. "It was through Kip that I've been able to connect to a wider audience than what I've had for my novels and poetry."
"Allen Toussaint and Steve Swallow came in wholeheartedly. They were really the center of it, along with Ish and Taj, of course," Hanrahan explains. "Gil Evans immediately jumped on it. But Gil was sick and never finished the piece, because he was down in Mexico trying alternative treatments for his cancer. He never made it back… Everything was based on Ish's aesthetic and words. Conjure became a record, and then a band, with whoever was available. David Murray's a great saxophonist, unlike a million fake Coltrane guys from the late '60s to the early '70s. David's roots were between Coleman Hawkins and Albert Ayler, who were not fashionable at the time. He has that tone! Don Cherry also said yes, but never made it on the album, as he was dealing with the problems of addiction at the time. As soon as I realized he wasn't gonna make it, I called Lester [Bowie], who was fantastic, as a person and collaborator. Lester took the gig seriously, but not too seriously. He didn't want to write out charts and would rather come up with the music on the spot. It was more interesting and exciting for him that way. So he worked up this rough vamp [for 'Foolology']. It has great spirit!"
Culled from Reed's 1978 collection of poems, A Secretary to the Spirits, Bowie delivers the punchline of "Fool-ology (the Song)"—"Don't do no business with people for whom April first is an important date," like he's having the time of his life, as a clutch of soul sisters echo his every phrase.
"When Lester couldn't do the concert at the Public Theater, I called Olu Dara, who played and made some great tracks on the album," Kip says.
"The album's opening track, 'Jes' Grew,' was actually a prose passage, taken from Mumbo Jumbo that David [Murray] turned into a song," Kip explains. "He was really on his creative game."
"David Murray arranged that bad boy," Taj Mahal says. "If I hear somethin' that's perfect already, I'm not gonna go and do somethin' stupid with it!"
"I like working with a lot of drummers and bass players. Their voicings are different from guitars and piano. The counterpoint moves differently," Kip points out. "I love working with [bassists] Steve and Jamaaladeen. Ornette [Coleman's] band had that sound! Then Andy Gonzalez would play against Jamaaladeen on his baby bass. It was a lotta fun.
"Ish sent mimeographs of like twenty-five poems around to the different musicians, some of which were published, and some weren't," Hanrahan continues. "So they could pick whatever they liked. Steve Swallow was a tremendous fan of Ishmael's and probably gave 'The Wardrobe Master of Paradise' to Carla."
Congas lay down the groove for "The Wardrobe Master of Paradise." The horns freely weave as in New Orleans music, where everybody solos simultaneously, without stepping on each other's toes.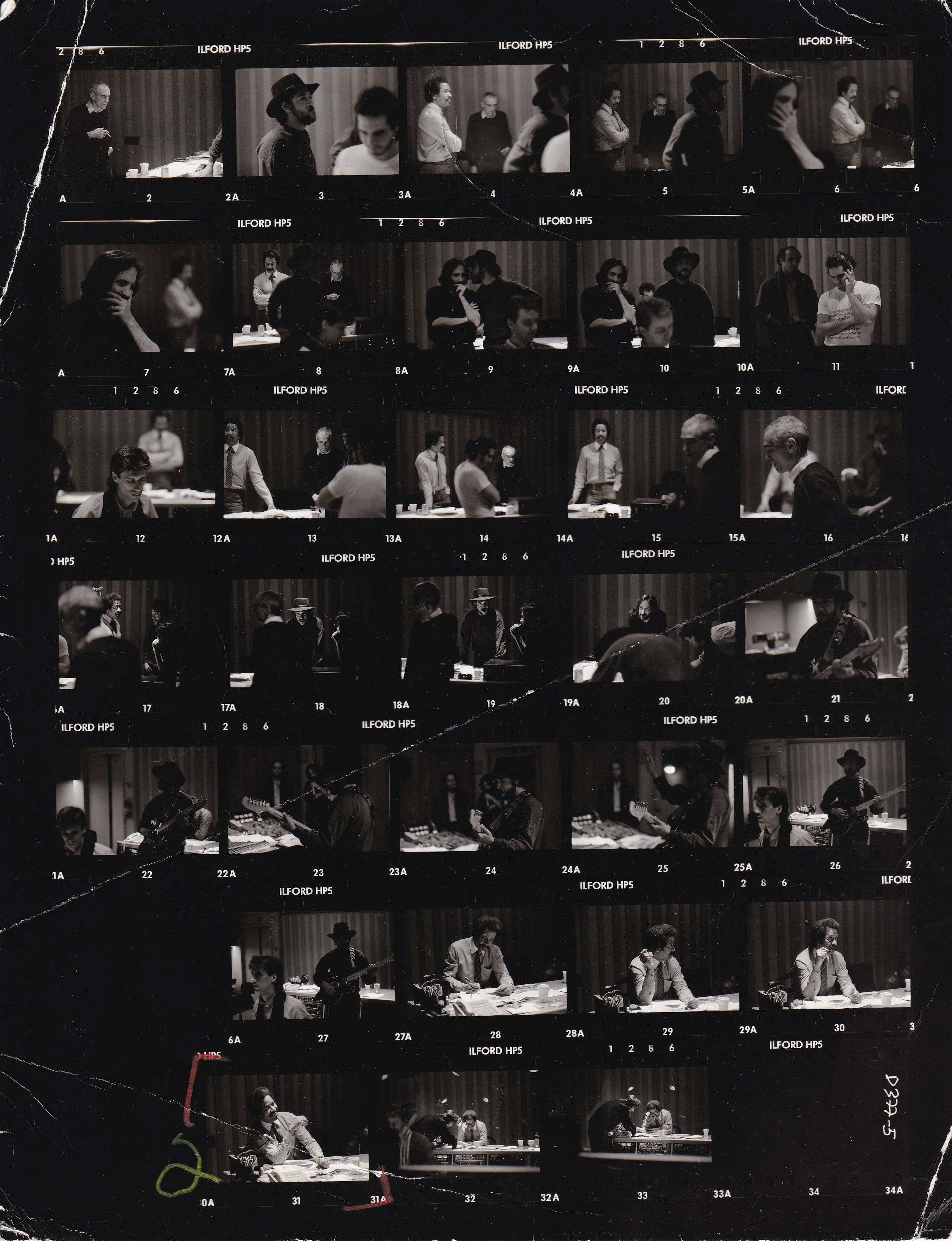 "That arrangement came from Carla Bley," Taj recalls. "It was Carla's melody, but she wouldn't sing it. I said, 'Damn, that's great. Carla, you should do it.' She said, 'Oh, no! I'm not a singer! You have to!' I was like, 'Are you sure?' I basically used her guide vocal when I did the phrasing, 'cause she did such a great job of it. And then I punched it around a bit, to fit my style."
"Was there any trouble singing poetic phrases that don't always neatly fit into a basic rhyme scheme?" I ask Taj.
"It was basically the same for me," Taj replies.
"Did it give you more room to improvise?"
"Oh yeah, most definitely," Taj says. "You just find the melody, get it to buzz right and fit in the track. And then whatever incidentals come up, you can bounce off that. For me, Ishmael's poetry could've worked with just one instrument or even as an a cappella.
"It's still fresh music! It was good at the time, and it's still good now! It was a real departure from the music that people know me for," Taj explains. "I was able to use some of my jazz chops. And what a great band! I mean, Allen Toussaint, Jamaaladeen Tacuma! That's worth the price of admission alone.
"I would run into Ishmael on the street in Oakland," the raspy-throated Mahal recalls. "We'd go sit down at the Mediterranean Café and talk and drink tea or have a beer or glass of wine or somethin'. He was always interested in keepin' up with what it is."
"Betty Ball's Blues" was tailor-made for Taj, who framed the lyric with a slinky guitar riff. Reed's makeover of "Betty and Dupree" reinvents the story of the eighteen-year-old Frank DuPre, who, after a couple gulps of moonshine, kills a man while holding up an Atlanta jewelry store when he couldn't scrounge the cash for a suitable diamond ring for his bride-to-be Betty Andrews. Barrelhouse pianist Kingfish Bill Tomlin first recorded "Dupree Blues" for Paramount Records in 1930, long before it became a hit for the R&B shouter Chuck Willis in 1958. Taj had been playing a version of the Willis number for years before transforming it into a lazy, swaying hula blues with a slippery slide guitar in the early '90s. It's an old story that people never seem to grow tired of hearing.
"That's what I liked about it," Taj says.
Recalling the 1983 recording session, Hanrahan marvels at "Taj's presence and joy of music, and his enthusiasm and love of Ish's work" and how Mahal masterfully "brought the band down to a slow mid-tempo easy ride," creating the feel he needed to deliver Reed's fateful saga of Betty and Dupree.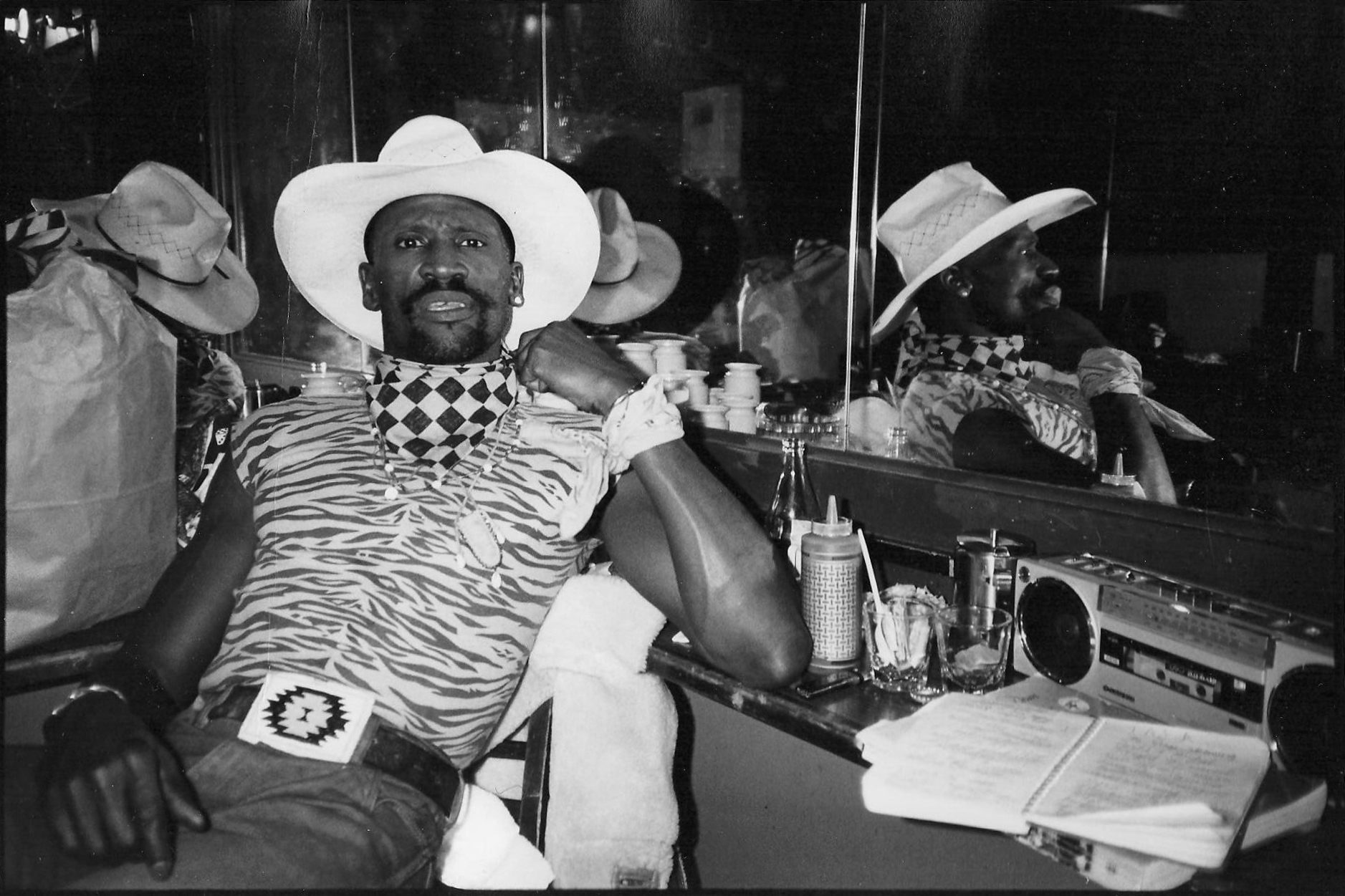 First published in Reed's 1972 collection of poetry Conjure, "Betty's Ball Blues" (as the original poem is titled), evokes the night that "Betty dressed in scarlet and threw her man a ball." The raw lust only hinted at in earlier versions of their fateful romance is suddenly center stage to Reed's rendition:
Betty touched his organ, made his cathedral rock.
His worshippers moaned and shouted,
His stained-glass windows cracked.
No matter how down Reed gets, a mystical quality always seems to illuminate his verse. Betty's sexual hold over Dupree drives the poor boy mad enough to steal and commit murder for her. As Taj sings:
Dupree he shot the jeweler,
She had him under a spell.
The calmest man in Sing-Sing
Is happy in his cell.
"Betty Ball's Blues" caught fire with Taj, Toussaint, Murray, Olu Dara, the double-bass attack of Jamaaladeen Tacuma and Steve Swallow, and Billy Hart on drums. The track has got the real feel.
"Oh yeah, everybody played on that one," Taj says. "I like cuttin' live as opposed to overdubbin'. It's like the difference between butter and margarine! You know what butter is, while margarine is somethin' they came up with later."
"The turning point came when I walked into the Soul Kitchen where I'd go for gumbo on Telegraph Avenue, and they were playing Taj doing 'Betty Ball's Blues,'" Reed recalls. "The song has been used as a theme for a weekly radio show on [Berkeley's] KPFA, The Visionary Activist. There are astrological lyrics in the song. I said, 'This is really it!'"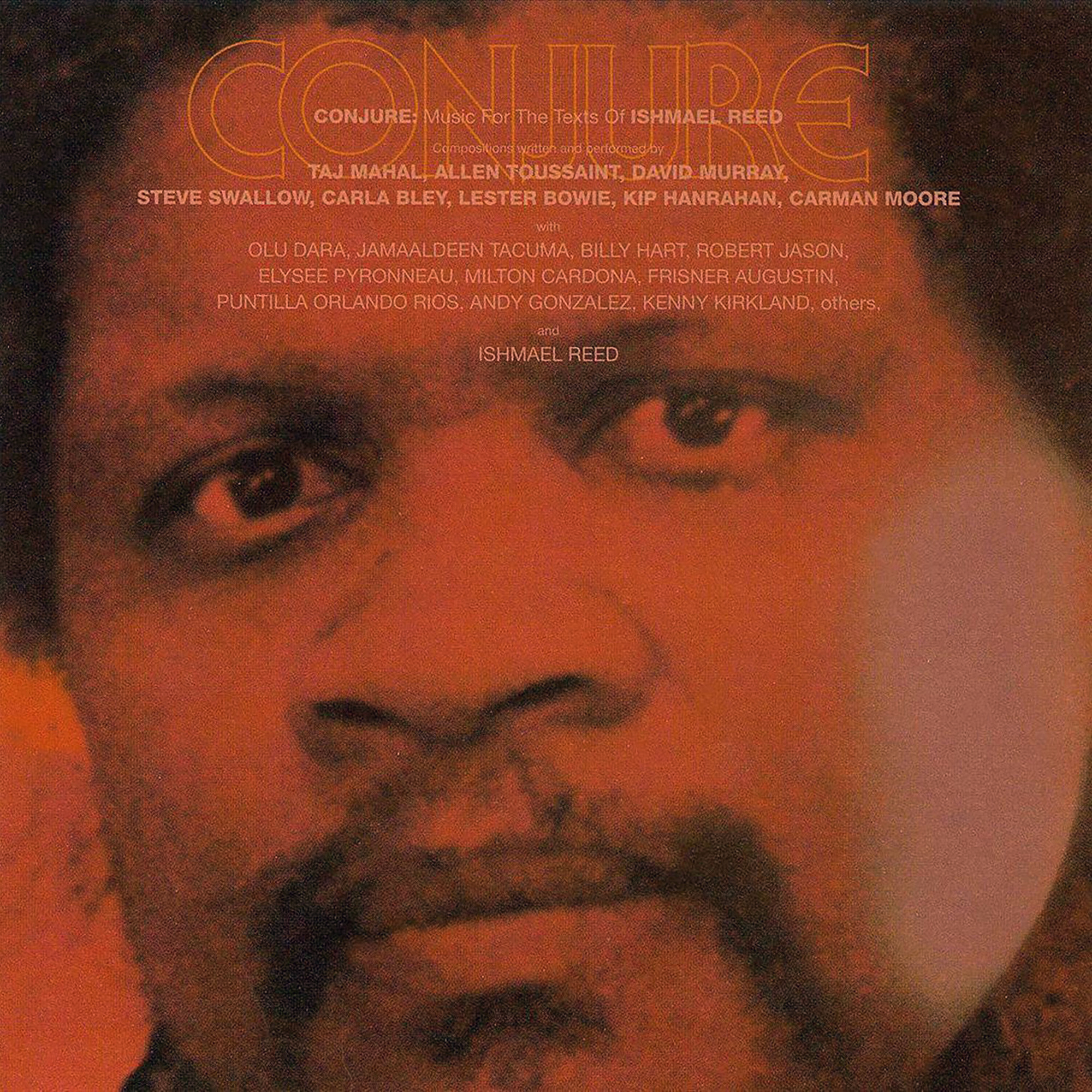 ---
While the first album, Conjure, had a more stripped-down and rootsy feel, the follow-up, 1988's Conjure: Cab Calloway Stands in for the Moon, was a somewhat slicker affair. Built on sturdy funk grooves, the music was now on equal footing with Reed's poetry, if not overpowering it at times.
The text seemed to function differently between the first and second albums. "For Conjure, Ish sent me poems he'd written. I didn't know if he expected them to be sung or recited. All I knew was the last thing anyone wanted to hear is bongos behind somebody reading a poem," Kip chuckles. "I sent the poems around to various people to write music to. In Carla's case, she wrote the melody and recorded a reference vocal track of her singing 'The Wardrobe Master.' Allen [Touissant] didn't get it immediately. He initially wrote music to accompany the poems, but when he heard how everyone else approached it as songwriting, he went back to the hotel and wrote melodies for the words. By the second record, Ish was intentionally writing lyrics, which people wrote music to. They weren't trying to incorporate his poetry into a piece of music.
"Both Allen and Steve wanted a cleaner aesthetic," Kip explains. "We cut the album at Sorcerer"—an appropriately named studio for such rituals—"which had a lovely old Neve [recording console], with a lower, rich sound. We mixed the album at Skyline, on an SSL, and everything in the studio was geared towards that '80s upper mid-range sound. Also, working with Allen on the second record was a different experience. On the first record, he was along for the ride, watching everything and enjoying it. On the second record, he took more control of the production. All the weird stuff I was writing on guitar, Allen wrote it out, and then broke it down to its core, and came up with alternative chord voicings. He got the horns together. I wasn't objecting to it because it was Allen! But between the studio, the mix, and Allen's presence, it wound up more slick. I was thrilled to have Allen work his magic, so I started to go along for the ride."
The ride begins with the street funk of "The Author Reflects on His 35th Birthday" buoyed by Don Pullen's organ. "I don't know how Steve [Swallow] did it, but he took the poem and made that song," Kip says. A sunset weariness spills from the horn's bells as the poet talks with the spirit, asking for strength, and the "meanness" he needs for self-survival… "Pawnbroker mean, Miles Davis mean, Pharaoh mean."
Eddie Harris's tenor sax spars with the congas, making short, sharp rhythmic jabs, stinging like a fistful of hornets as Don Pullen's swirling organ riffs float light and feathery as a butterfly as Eddie evokes the mystical changeling known as loup garou. "Eddie wasn't supposed to sing 'Loup Garou Means Change Into,'" Kip points out. "But how do you say no to him? We didn't have a singer at first, because Taj couldn't do it," Hanrahan confesses. "Bobby Womack did two songs, but it took about fourteen hours just to cut his tracks."
Womack delivers Reed's humorous "'Sputin," a funky portrait of Rasputin to a "Right Place Wrong Time" groove, over Leo Nocentelli's percolating guitar and Robbie Ameen's hot, poppin' snare. Nocentelli is best known for playing with the Meters but also did session work with the Supremes and Temps, and played with Otis Redding. "Leo came up with the riff to ''Sputin' right on the spot," Hanrahan recalls. "Then Allen and I did all the layering in the studio. He really showed me how to craft a pop record. Then we went to L.A. and got Bobby Womack to sing on top of it."
It's a delicate balance between making a great record that inspires you to shake your ass when such fine imagist poetry is at stake. But as Womack sings, "Man, I love to dance!"
The haunting "Nobody Was There" features Olu Dara on lead vocal, playing alternating solos on wailing harmonica and trumpet. "Oh, that was pure Olu!" Kip enthused. The delicate lyricism of the poem is perfectly accented by Toussaint's gossamer piano as Olu sings, "I heard a spider crawl across the silverware, I opened the drawer, but nobody was there."
"Running for Office for Love" was divided into two parts beginning with a soft prayer-like a cappella that melodically recalls "Afro Blue." "We first tried it as an a cappella with Clare Bathé singing," Hanrahan explains. "She had a gorgeous voice but was thrown at first by singing the piece without a track. Allen, who liked simple, uncluttered arrangements, was thrilled by the whole thing. He always liked to boil everything right down, with little or no ornamentation."
"My Brothers" reveals a sly kind of humor that the great jazz vocalist Oscar Brown Jr. was known for. The protagonist bemoans his friends abusing his good nature and taking potshots at his physique and character. That's Don Pullen singing Reed's lyric, as his fingers dance freely across the keyboards.
"[Bassist] Fernando Saunders recommended [singer] Grayson Hugh, who was fast and easy to work with, which was good, as we were running out of money and time," Kip confesses. Hugh growls and shouts Reed's warning and song title, "Beware: Don't Listen to This Song," as Toussaint hammers the piano keys, and the rhythm section lays down a monster groove.
"Ishmael was there, throughout the recording sessions, as a presence," continues Hanrahan. "We recorded his parts in Oakland, [like] when he sang Cab Calloway's 'Minnie the Moocher.' He was really wonderful with the kids. But it was a hard record to make in some ways… We ran out of money. I had formed a partnership [through my imprint, American Clavé] with Sting's label, Pangæa Records. They were supposed to pay us the money to make the record up front, but they didn't. My lawyer at the time advised me to use my credit card 'and they'll pay you later. It's nothing for them,' he said. So I maxed out my credit, and they never paid me! I had to finish the record contractually without any money. I threw the record together as best as I could and finished it before it was anywhere near ready. That part of it was a drag, but we did it! The band toured in the late '80s and again in the early '90s with Little Jimmy Scott and Jack Bruce. Don [Pullen] and Allen [Touissant] formed the most fantastic keyboard section together. But the hang got very heavy, as Don was dying of cancer at the time… Ish and I kept talking about doing another album, but I didn't have money. I was caught up in a long legal battle, trying to get paid." 
Taj Mahal and Ishmael Reed at Charles de Gaulle Airport, July 1992. Photo courtesy of Ismael Reed.

Saxophonist David Murray (left) during the 1992 European Conjure tour. Photo courtesy of Ismael Reed.

Little Jimmy Scott joining the band onstage during the 1992 European Conjure tour. Photo courtesy of Ismael Reed.

Jack Bruce and Kip Hanrahan on a break during the 1992 European Conjure tour. Photo courtesy of Ismael Reed.

Kip Hanrahan (standing) and bassist Anthony Cox (seated, middle), the 1992 European Conjure tour. Photo courtesy of Ismael Reed.

Violinist Billy Bang during the 1992 European Conjure tour. Photograph by Ishmael Reed.
---
Suddenly, the years began to fly by. "In the early aughts, David Murray said, 'Let's do it!' So, we got the band together and went to Paris and played a blues festival," says Hanrahan. "Then we went to Japan. It was a thrill to work with Ish, and I think David's among the deepest and most restlessly brilliant musicians/artists of our generation, and a deep and beautiful person, even if we clashed at times," he confesses.
"Taj joined Conjure for a short tour in the early aughts, in either 2002, or 2003," Kip recalls. "When Taj couldn't do it, I called Bobby Womack, but he wasn't available. So I called Jimmy Scott and Jack Bruce. We had two basses in that band, Anthony Cox and Jack, who also sang. The only constant members of the Conjure band have been Ishmael, David Murray, and myself."
With great grooves, Reed's singular lyrics and percussion galore, 2005's Bad Mouth covered much of the same territory as the two previous Conjure albums. Yet it is arguably the best installment yet.
"Have you ever seen any reviews of Bad Mouth?" Reed asks. "That album was neglected! Part of the problem with the public hearing these records is that Kip is understaffed. He's a true artist, and really deserves recognition," Reed stresses. "But people fail to see the commercial possibilities in him. You gotta just about sell your soul before anybody takes notice, with all the junk out there."
Add to that the multitude of adversarial forces Ishmael Reed has had to contend with himself over the years. "Y'know, I wrote a novel called Reckless Eyeballing [published in 1986], which was sort of the end of my career in the United States, thanks to the many white feminists who didn't bother to read the book," Reed chuckles. "I became persona non grata after I was on The Today Show and said I didn't like the movie The Color Purple. There was such a backlash because I wasn't part of the '[Alice] Walker Cult.' They boycotted me at Louisiana State University in Baton Rouge. But the boycott collapsed after some people actually read my books," he says with a laugh. "Each generation of Black writers has faced the same thing. It goes way back to the communists in the 1930s. There's always some outside group demanding they obey their blueprint. First it was the left, and now it's the right… If bell hooks [pen name of Gloria Jean Watkins] wanted to succeed, she had to write for white feminists. So I've had to cultivate audiences around the world, in Europe and Africa. I'm not great at languages, but I studied Yoruba for about five years and went to Nigeria and read my poem 'Mo Ku Lana' ['I Died Yesterday'] before an audience, which included some of the country's top intellectuals. After you read the first line, people sigh. They are on your side, 'cause you're speaking their language, even if you make a mistake.
Conjure performance in Paris, April 2003.Photo courtesy of Ismael Reed.

Leo Nocentelli and Taj Mahal in David Murray's Paris apartment, April 2003. Photo courtesy of Ismael Reed.

David Murray, Ishmael Reed, Billy Bang, Ishmael Reed, and bassist Fernando Saunders during the Tokyo Conjure tour, August 2003. Photo courtesy of Ismael Reed.

Ishmael Reed reading his poem "Azabu Kissaten De" at the Blue Note Tokyo, August 2003. Photo courtesy of Ismael Reed.
"I learned Japanese and wrote my book Japanese Spring," continues Reed. "I have been published in and traveled to China [and] Israel. And that's how I've survived. My last five books have been boycotted and ignored by the New York Times. I'm a MacArthur Fellow. I don't know if this has happened to anybody else of that stature. I'm eighty-three years old now. I learned a long time ago; in order to survive, I had to be on the offensive." Hearing Ishmael's trials and tribulations firsthand brings a deeper understanding and appreciation of his slogan, "Writin' is fightin'."
Yet throughout all his battles, SFJAZZ's first poet laureate has kept in fighting trim. Bad Mouth opens with Alvin Youngblood Hart's weary, yearning voice on "I Died Yesterday" packing all the soul of a Lead Belly field holler or Son House's emotionally devastating "Death Letter Blues." "I had that in mind when I wrote that," Reed concurs. "You can hear the hammers, like on the chain gang."
"The last section of 'A Love Supreme' is a pentatonic minor, a slave scale, heard in Black spirituals," Reed says. As he recently wrote in Alta magazine: "This slave scale has generated a billion-dollar industry," used, as he points out, as the feel-good soundtrack for advertisements and TV shows. "The complaint one hears from Oakland musicians is that while the blues have increased the revenue streams of imitators like the Rolling Stones, the Beatles, and Eric Clapton, the pioneers are neglected." 
Perhaps Bad Mouth's most gripping piece is "In a War Such Things Happen." "It was early 2003, around the time of the invasion of Iraq," Kip recalls. "We came up with a pedal, [with bassists] Anthony Cox and Fernando Saunders playing behind him. We made it up live, at a soundcheck with Taj answering Ish. On the record, Alvin took Taj's part and kind of imitated him. Alvin said the call-and-response bit made him think of that old Foghorn Leghorn cartoon," Hanrahan laughs. "But thank you, Ish, that was a fantastic piece."
"Where did that line come from?" I ask Ishmael. "Was that something Donald Rumsfeld once said?"
"That was typical of Pentagon talk, when they talk about collateral damage," Reed replies. "I didn't hear someone from the State Department use those exact words. In this case, I think it was about a wedding party that was destroyed."
Musically, "In a War" evokes the deep emotional chaos at the heart of Albert Ayler's music. "David Murray was influenced by Albert Ayler. I knew Albert!" Reed recalls. "We spent an afternoon together, drinking and listening to Charles Ives with his brother [trumpet player Donald Ayler] at my apartment on Second Avenue in New York. That was back in 1969."
"For Dancer" showcases Hanrahan's passion for percussion. Hand drums have a way of making our blood percolate, provoking the ancestors' dance, evoking forgotten ceremonies whose meaning has been lost but still speaks to our collective subconscious while conjuring spirit, pure and bright as flames, licking the night sky.
"The entrance to hell is not a cave, but your mouth," Reed incites in the title poem as his recitation gives way to David Murray's melodic inventions, until Nocentelli rips our collective skulls off with a searing Jacob's ladder of electric lightning. A dizzying geyser of sound gushes from Murray's screaming sax, framing Ishmael's harrowing imagery.
Reed's socially/politically charged lyrics are another link in the lineage of Black protest songs, from Lead Belly's "Bourgeois Blues" to Max Roach's album We Insist! and Gil Scott-Heron's message music. According to Reed, "There's a long piece called 'Jazz Martyrs,' in my most recent book of poetry, Why the Black Hole Sings the Blues, which addresses the kind of politics found in jazz, from Charlie Mingus to Lena Horne, Max Roach, and Sonny Rollins," who told Reed that being Black in America is just "another day at the front."
A fuzz-drenched boogey, "Tokyo Woman Blues" features Billy Bang's violin screaming like a fire engine on fire. "Billy Bang was a genius!" Reed says. "He traveled and performed with us. I loved his work. There have been great Black violinists, all the way back to slavery."
Reed's "Go to Jazz" kick's off Bad Mouth's second disc. "When I die, I will go straight to jazz, no need to encounter the Nazz!" he announces. "I was the first jazz poet laureate at the San Francisco Jazz Center," says Reed. "We presented some diverse programs, with Native Americans, all different groups… Irish American night, Jewish American night, Italian American night. A young woman, who was a descendent of Al Capone, read a poem about a huge salami attacking New York! I had a great time. I got a commission from BART [Bay Area Transit] to do a huge installation of a poem that greets commuters every day when they come into the station. I got poems on sidewalks, on buses, all over the country! So I consider myself to be a public poet! But in Europe, I'm known as a songwriter. When I get my BMI royalties from Conjure, it's from Europe—Italy, German, Scandinavia, Japan, all over…but nothing from the United States. Which shows you the status of jazz here! The United States has always had a thing about Black culture, whether it be jazz or Black Lives Matter, they've always had a problem with it. It gets a lot of resistance. That's what the invasion of the Capital was all about!
"Each time we did 'Go to Jazz' live, the band put a different tune behind it," Kip recalls. While there's a certain amount of improvisation inherent in the musician's performance, Reed's writing and recitation remains both economical and concise. "His kind of spontaneity was more like, after a session or live gig, he'd go back to his hotel room and come up with some incredible poem," Hanrahan explains. "In the studio or onstage, he doesn't do that."
---
There seems to be an invisible spirit, a loa that surrounds and feeds Conjure, in whatever form it takes—whether as a performing band or a series of albums. There were several people, who, for whatever reason, intended to write music or perform live with the band that never made it onto the albums.
In addition to Gil Evans and Don Cherry, Hanrahan wanted to get Dr. John. "He would've been perfect for Conjure. I know Ish was fond of his Gris-Gris album," Kip says, adding, "He came by and checked out the project and seemed very interested in what we were doing, but then he couldn't be found. I think he'd gone into rehab at the time." Then it turned out that King Sunny Ade had been in the studio while we were recording the first album. "Taj had brought him in but didn't say anything," Kip says, a bit exasperated. "A photographer who was taking pictures asked me, after King left, why didn't I ask him to play on the record? I said, 'What are you talking about?' Then he told me, 'That was him, in the African robe and cowboy hat! He just left with Taj!' My jaw just dropped. I was busy working and nobody mentioned it!
"Bill Withers was another," Hanrahan continues. "We asked him, but he said, 'I don't write or read music, and it's uncomfortable for me to sing somebody else's song. I'm not really a trained musician and not comfortable with that.' It was the coolest way of saying no I've ever had. There was no pretense. He was absolutely honest and sweet. He dug the poems and said, 'I'd like to write poetry like that.'"
Conjure (the band) has not gigged since 2012, and Ishmael Reed has been working on his own music these days. "I played trombone as a kid. I was not very good—terrible," Ishmael admits with a laugh. "But I started studying jazz piano at the age of sixty. I was inspired after touring with Conjure. Playing piano has definitely influenced my writing. My latest book, Why the Black Hole Sings the Blues, was inspired by the sound that the recently photographed black hole makes, which is in Bb! I concentrate on the work of Bill Evans, Monk, and Bud Powell every day.
"The Ishmael Reed Quintet released a CD [For All We Know]," says Reed. "David Murray, and my wife Carla Blank [who plays violin] is on there. She's got good style. There's no drums on the album. Sometimes, I felt overpowered by them on the recordings with Kip. He likes a lot of drums, but I wonder sometimes if they don't drown out the words. And besides, the piano is percussive. Y'know this jazz-poetry thing is pretty much a racket!" Reed chuckles. "I call jazz criticism a white-collar crime!"