It's a late January day nearly a year deep into the COVID-19 pandemic, and singer-songwriter Kelly Finnigan is in his living room, sipping occasionally from a mug. We're about to begin a lengthy discussion about his career, one that has been steadily on the rise, from the days when his adopted band, Monophonics, burst onto the San Francisco scene with Finnigan's gruff-voiced psychedelic soul cut "There's a Riot Going On" from the 2012 Ubiquity Records release In Your Brain, to his more recent evolution to sweet soul on "I Don't Wanna Wait" from his 2019 Colemine Records solo joint, The Tales People Tell. Initially, however, a singing career wasn't even a goal of Finnigan's.
"I figured out that I wanted to do this by the time I was fourteen," Finnigan recalls of his early passion. "I knew I wanted to do music. I didn't know exactly what that meant, but nothing made me happier. It was everything to me." Prior to that, sports was his muse. However, he soon realized that the joy of playing sports was dampened as it became more competitive. "I was really good at baseball," he says. "Music was the opposite. It was fun."
His first musical revelation came at a junior-high house party in his hometown of Los Angeles in 1994, when he first saw a DJ in action. "This was back when there was two turntables and a mixer, and the guy was killin' it," he continues, describing the party as being like a typical movie scene of a teen party of fourteen- to sixteen-year-olds. "It was raging. People were getting down." The playlist that night was a lot of hip-hop and R&B—A Tribe Called Quest, the Alkaholiks, the Pharcyde, Nas, Biggie, De La Soul, MC Breed, Tupac, Domino, and Skee-Lo. He was taken by how the DJ controlled the room through the peaks and valleys with the music, and he knew he needed to learn more. So he bum-rushed the DJ.
Leaving the party with the DJ's phone number, Finnigan soon got hooked up with another area DJ, who allowed him to tag along to parties to watch. Finnigan soaked it in, learning the equipment and the business side—how to book and plan a gig, including buying new records requested by the client. Around this pivotal time, he caught DJ Jazzy Jeff and the Fresh Prince performing on the American Music Awards with the now-famous set flipping various sections of party anthem "It Takes Two" and letting his hands do all the talking. "Getting into DJ culture and seeing somebody go back and forth and scratch, I was like, 'Oh, okay!'" That gave him insight into another level of the DJ game—more than just mixing and blending. Still just fourteen, Finnigan saved his money, and scrapped together the basics of becoming a working DJ. His entrepreneurial spirit had him spinning friends' parties and school dances and events, jockeying friends on school planning committees for gigs. 
Support didn't come just from his friends though. Finnigan recalls his mom being especially encouraging and supportive. "I'm fourteen and loading up my records and turntables into her Volvo, and she's sweet enough to drive me there, drop me off, and ask when she needed to come pick me up," he says. Looking back as an adult now, he can see where his mother's understanding came from. His father, Mike Finnigan, a heralded professional musician in his own right, had shown that a career in the entertainment industry wasn't just a dream. There was a passion behind it, and if it caught you right, it could have you fully ensnared. She could see that "he caught the bug," as he puts it, the obsession of wanting to spend night and day listening to music, learning about it, and diving headfirst down the abyss—just like his dad.
And living in the City of Angels had opportunities not found elsewhere. Heading in his mom's Volvo to another typical gig for a friend's classmate, they drove through the L.A. hills into a big-money neighborhood. It wasn't until he walked in that he realized he was in Bill Withers's home to play a birthday party for his daughter.
Finnigan's grind at such a young age helped him learn valuable information that would serve him later in his career with the study of moods, tempos, and feel. His growing curiosity led him to learn how records were made. "What's this sound? How do you do this?" he recalls thinking. Simply put, production became his next obsession.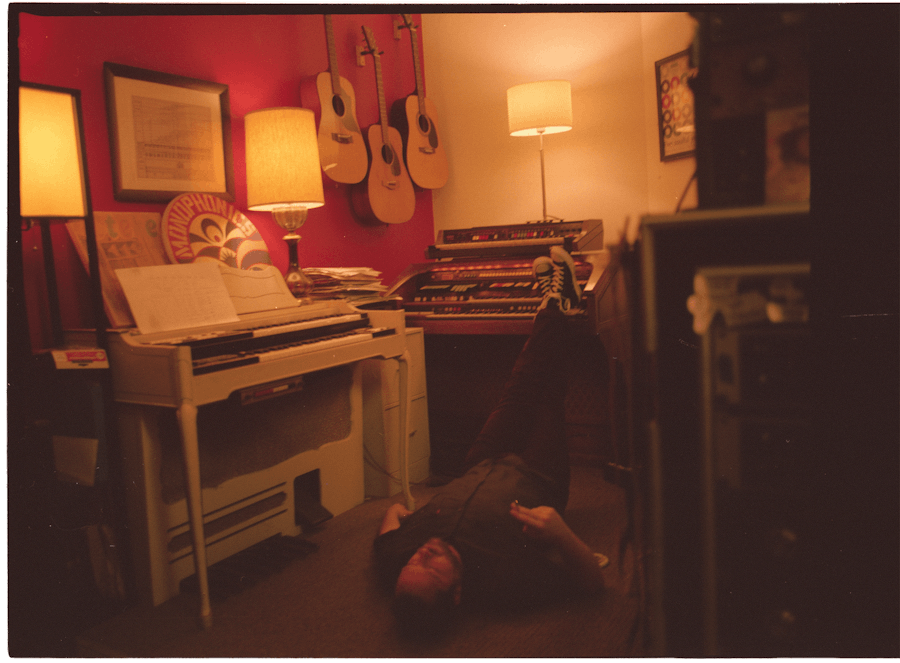 "I want to learn how to make beats. I want to learn how to produce hip-hop records. That's eight or ninth grade," he says. This desire to learn became his mindset. Influenced heavily by the likes of now-legendary producers like DJ Premier, RZA, Pete Rock, and Large Professor, he started buying more equipment like an eight-second Gemini sampler to go along with drum-break records, and then recording it to cassette as it played out of a speaker. This, he says, was his first foray into musical creativity with original thoughts.
At this age, Finnigan still drew a distinction between his musical interests and the professional gigs his dad was doing. As much respect as he had for his dad's work in the industry, he still wanted to forge his own path into production and studio work; touring and playing instruments wasn't anything that he found particularly appealing for himself. Samples, records, and drum machines are where he invested his energy. Finnigan and some friends booked time at a local Los Angeles studio, where they were able to work with an Akai S950 and tinker with MIDI under the tutelage of the owner, whose generosity he still fondly recalls. It was an opportunity for Finnigan to try his hand at the stacks of records he brought in—including Michael Jackson's "Rock with You"—to work on a beat.
The love affair continued into his early high school years, taking much of his time and attention. He often skipped classes to go to the record store and in ninth grade, felt the consequences when he failed out of school. That's when his concerned parents realized Los Angeles offered too many distractions, and sent him East to a boarding school in Saxtons River, Vermont. There, he felt out of place as an L.A. export wearing Hilfiger and Nautica espousing the greatness of Nas and Biggie. He wanted to continue with his creative journey, but the campus music rooms were used for students to practice learning instruments, not turntables and mixers. But he kept musically informed, reading articles on the Meters, getting packages of CDs purchased at L.A.'s Moby Disc from his mom, and digging into David Axelrod's catalog with like-minded friends. Summer had him back in the studio and even interning at the Village, a famous recording studio in Santa Monica. He fully admits he was a music snob at that age. It was basically all hip-hop and R&B. "I never went through a Nirvana phase or the Chili Peppers, or the usual mid-'90s stuff that a teenage white kid would like," he says.
By his senior year, he still wasn't playing a traditional instrument, although he had picked up an MPC as his ax. After graduating high school in 2000, he came back home and completed a three-month program at the Los Angeles Recording Workshop to learn about audio engineering and recording media. Early the next year, he got a job at Cello, another famous recording studio in L.A., running errands like picking up coffee and dropping off tapes and mixes to other studios or producers. From these two experiences, he delved deeper into the production genius that helped create classic later-era Beatles records (while studying at the Workshop) or Pet Sounds (much of which was recorded at United Western Recorders next door to Cello).
As he continued to make beats, he learned more about the instruments creating the sounds that interested him most. Enter the Fender Rhodes. "I'm obsessed with this sound. I kept going to my dad, 'Who do you know who has a Fender Rhodes in L.A.?'" After making multiple calls to industry friends, they found out that family friend Mark Williams (son of film composer John Williams) had one in his garage. After an overnight trip to Vegas where Mark Williams was living at the time, Finnigan purchased his first keyboard for a bargain price of three hundred dollars. At the same time, he continued to broaden his aspirations; no longer tied only to hip-hop, he realized he wanted to produce music— in general. Continuing his pursuit of keyboards, he'd read the back covers of albums to learn what else was being used. Before long, he added a Clavinet and Moog synthesizer to his arsenal, all while trying to teach himself to play. He'd play a record and try to figure out the notes and chords. But no longer trying to do everything himself, he started to utilize his dad's wealth of knowledge: "When I'd hit a roadblock, I'd take it to my dad and ask him, 'What is this? What is he doing?' I was attracted to some heavy shit. I was bringing him Herbie Hancock records, playing sophisticated chords and voicings, so I had that luxury of someone to show me."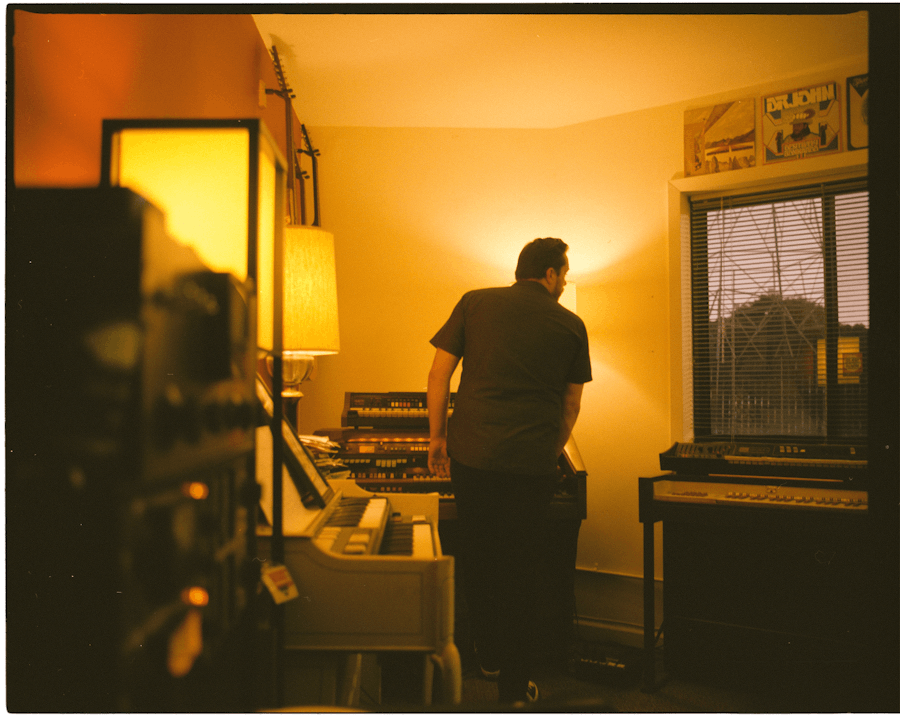 Working solo in a rehearsal space can only be so productive, however. In the early to mid-2000s, a friend he met at Vermont Academy, Jesse Kramer, moved out to L.A. Kramer, a drummer and also the son of Aerosmith drummer Joey Kramer, was working with some musicians at another studio. Finnigan started to go to their sessions where they asked him to play keys while they jammed, opening his eyes to working in a group dynamic. Kramer, Finnigan, and a bassist from the group, Sean Willson, eventually ended up working together as a project called Destruments, self-releasing several albums along the way, mostly of '70s-influenced jazz in a hip-hop styling.
Destruments also found work in the Bay Area through Willson's friend Prince Ali (known to audiences nowadays as actor Mahershala Ali) who was recording on the Hieroglyphics' label. The partnership, along with the vibe of the city, drew in Finnigan, who moved to Oakland along with the rest of the band. Meanwhile, a label commissioned them for a Destruments album, which was great timing right after the move. The stay was short-lived for Kramer and Willson, so Finnigan started going out to meet more people through live music. At the suggestion of a friend who knew his musical interests, he went to the Boom Boom Room at the Fillmore to see bands like the Grease Traps and Monophonics. Finnigan enlisted Alex Baky and Ryan Scott, both from Monophonics, to work on some Destruments material. Fate intervened as Monophonics' keys player, Colin Brown, decided to move to Brooklyn. An opportunity awaited as the band needed a fill-in for some dates in Tahoe.
Coincidentally, it was around this time, in 2009, that Finnigan started singing. That first weekend went well, as the members all vibed musically and personally. About a week later, Monophonics called him back asking if he'd like to join them for a trip to New Orleans to perform at Jazz Fest. Earning next to nothing, Finnigan was excited to be along for the ride, in part to see what was building with Monophonics. While on that trip, they played at local spots like the Blue Nile in the French Quarter. On a late-night food run after that gig, they spotted a Sprinter with California plates. Hailing from California themselves, they felt compelled to find out who was inside. With a knock on the window, an important meeting was about to take place with future collaborators as the door opened up and they met Orgone from Los Angeles.
The conversation continued later in the night with Orgone's guitarist and engineer Sergio Rios schooling Finnigan on recording and production techniques and equipment. When Finnigan and Monophonics returned to L.A., they went on a shopping spree for the gear they talked about with Rios. Plans were made to meet up for a Monophonics recording session back in L.A., which yielded the now-classic "Like Yesterday" cut. That session marks Finnigan's singing debut on a record, outside of a small part on a Destruments track. Around the same time, Finnigan learned about Colemine Records while checking out tracks and running across an Ikebe Shakedown song. Finnigan reached out to owner Terry Cole, suggesting he release a 45 of "Like Yesterday" backed with "Freedom" by Destruments, thus starting a relationship with the label.
As a collective, no formal offer to join Monophonics was ever put forth to Finnigan. The collaboration just seemed natural among the two parties. Feeling more confident in his abilities and with their relationship as a group, he initiated conversations with the band about their identity. "What are our goals? What do we want to do? Do we want to go on tour? If we want to tour, let's find a booking agency." However, in order to find a booking agency, they decided they needed to record more music, since they were changing their identity from an instrumental band to a vocal one.
At the same time, they were having the discussion about what sound they wanted to have as a band. Finnigan and guitarist Ian McDonald were taking inventory of the current soul scene, noting how so many bands were trying to be a revue act like Sharon Jones and the Dap-Kings. As much as they loved that band, they knew they needed to bring something different to the market. With a shared love for legendary acts like Sly and the Family Stone, Funkadelic, the Bar-Kays, and productions from Norman Whitfield's work with the Undisputed Truth and the Temptations, they forged ahead with a psychedelic soul identity in 2011. Tape echo and fuzz were going to be a core component of the sound they wanted to commit to wax.
Finnigan brought the idea to the rest of the group to record a cover of the Sonny Bono–penned "Bang Bang," presenting a handful of unique spins of the song recorded by various acts through the years. It became a challenge to record something to set the bar for themselves as to what they would strive to become. With an online-only release initially, they immediately got a lot of positive feedback. With that momentum, they continued to record more tracks in the same vein, such as "There's a Riot Going On." These ended up becoming the longplayer In Your Brain.
They shopped the album to several labels. Stones Throw was one interested party, but with the Stepkids, who had a psychedelic bent to them, signed already, the label opted to pass. Ubiquity Records ultimately signed the band and their Finnigan-led debut In Your Brain was released around May 2012, and by fall of that year, they were playing their first European tour after signing with a booking agent. At a show in Paris, they met Ben L'Oncle Soul, who they'd collaborate with as his backing band on his 2014 project À Coup de Rêves. Shortly thereafter, in 2014, Monophonics decided to get back in the studio to record a follow-up album, Sound of Sinning.
Finnigan had remained in contact with Terry Cole and asked him if he would be interested in releasing the full LP. However, the label had primarily been focused on 45s, with only a handful of full-lengths on its résumé at that point, and the timing just wasn't right yet. Monophonics opted to self-release on their own Transistor Sound label and toured the album extensively in Europe and the U.S.
With the continued commitment required to grow the band, both musically and in the market, things began to fray. As people started to meet future wives and experience other momentous life events, they started to go on their own paths. Saxophonist Alex Baky left first, although he'd continue to work with the band periodically. Bassist Myles O'Mahony left as well. Monophonics opted to take a short break, but Finnigan wanted to stay active and creative in the music space, which he continued to do at the Transistor Sound studio, partnering with engineer Chris Edwards. The pair connected after Edwards's move from New York to Cali, but shared a passion for recording and sound, meeting through Daptone when Edwards would run sound for Charles Bradley and the Daptone Super Soul Revue.
During this break, Finnigan kept plugging away as a songwriter, putting to tape whatever came out. Although not planned as a solo record, eventually that's what materialized. Initially, the first batch didn't come out under Finnigan's name. In 2018, two tracks were released on 45 via Transistor Sound as the Sentiments—"She Won't Be Gone Long" and "What's So Good About Saying Goodbye" with their respective instrumentals on the flip side. Finnigan was on vocals with Max Ramey on bass, Ian McDonald on guitar, and Chris Edwards on drums. Opting to release it on Transistor Sound was a business decision to help grow that label so it could be utilized to release 45s from other acts.
On the sweet "She Won't Be Gone Long," with its light horns and lilting orchestral flourishes, Finnigan also drops a nice production touch with a double handclap towards the end that appears only once. "I was doing the vocal. It was an impulse," he says. "For some reason, right there on the spot, I reacted and did the handclap. After I did it, people in the studio were like, 'Oh, that was cool. Let's keep it.'" He goes on to further explain, "That's what I love about making records. There's not as much calculation as you think. Yeah, we plan. We plot. We demo things. We try things. We experiment. But at the end of the day, there's a lot of magic that is just happy accidents." He likens it to stories he's heard about Van Halen recording, the Beasties' "Sabotage" bass riff, or Bernard Purdie's drum break on Aretha's "Rock Steady," where things happen by accident and turn into something memorable. As a producer, he believes in embracing those mistakes and in capturing a moment that is going to connect with people from its honesty and the feeling. "It's art," he continues. "We all want it to be really good, but I don't want it to be perfect where it's so practiced and rehearsed."
On 2020's "Last One Standing" from the Monophonics' It's Only Us (released by Colemine Records), the band puts on their Curtis Mayfield hats for a seven-plus-minute opus that finds a groove before a breakdown that builds around the bass riff, continuing to crescendo as other instruments find their way back into the mix—it envelops a celebration of feeling alive. He calls it a personal highlight in his canon because it was a challenge, as something new and different for the band. "I'm really proud of that one," he says. "That record is really special for me, because I put a lot into it. It was the first time I had worked with a string player to help with the arrangements. I was very meticulous with that song in trying to make it as perfect as it could be, because I knew how much potential it had. I was on a mission with that song.
"Production, arrangement, the details, the craftsmanship, that's what attracted me to want to become a producer," Finnigan explains. "I'd listen to records and peel back these layers. 'What's that? What's that? How do you do that?'" He compares a producer's ear to how a chef would break down cuisine. "Why does this taste so good? What is the seasoning? You roast the potatoes for twenty minutes and then grill them for ten before adding butter…" as he cuts himself off to talk about how the little details lead to the magic. It's the process of creation that captures his attention. Furthermore, he enjoys the collaboration element of working with other musicians and the influences they bring to find something altogether new.
In the last couple of years though, he's also explored the stripped-down nature of songs. Monophonics digitally released a piano-and-vocal-only version of Finnigan playing the title track "It's Only Us." In 2019, he performed a three-song set from his solo album as part of an interview for a Hive Mind Session on Kurtis Powers's The Face Radio show to promote the record. There are more stripped-down cuts in the can that he hopes will see the light of day in the future. From a producer's standpoint and what he hopes to impart to young musicians is that "no matter how big or good a production is, the song is the most important thing. If you have to sit down with a voice and an instrument, are you still intrigued? Are you captivated? Is it interesting?"
From an artist's business perspective though, the timing of It's Only Us couldn't have been worse. The record was released on March 13, 2020, and plans were in motion for promoting and touring it for the rest of the year. When those plans crumbled, he called it a "gut punch times ten." However, he had to figure out what to do with his time. To that end, he wasn't sad that the reinvestment gave him an opportunity to focus on his production work. In late 2019, his single "Heartbreak for Christmas" was released by Colemine. With more time now available, he was able to spend a greater amount of time fleshing out a full album of original Christmas material to bolster that single. A due date of July 2020 was set for turning A Joyful Sound in to the label, so Finnigan hunkered down to complete it in April, May, and June. The final album was released in late November 2020, making a big statement that holiday albums don't have to be a canned, soulless affair of collecting a dozen staple songs to fill a calendar date. Instead, in terms of feel, it hearkened to a personal favorite of his, Peace by Rotary Connection. He was determined to make an album that sounded like it was of a continued lineage of his other work.
While bands typically operate in a cycle of creating an album, touring it, working on new material while touring, and repeating the process, It's Only Us may not get the full spotlight it normally would have. Instead, 2021 will see the band looking to promote it in other ways by continuing to release additional 45s and previously unreleased tracks from the sessions as a way of saying, "Hey, we made a great record last year."
In his attempts to make great records, Finnigan also tries to write from an expansive palette topically. Almost a full year earlier in March 2019, a different collaboration hit digital platforms as Finnigan provided vocals on the Sure Fire Soul Ensemble's cover of the Honey Drippers' breakbeat classic "Impeach the President." It was another eighteen months before it was pressed on vinyl. The connection itself was made by Terry Cole of Colemine suggesting to Tim Felten of Sure Fire to have Finnigan provide vocals. Finnigan had no reservations about stepping into the political realm, even if only on a cover, and potentially alienating any fans: "I haven't liked Donald Trump since forever. Even when you'd hear his name in certain hip-hop songs long ago, I was like, 'Man, why are you talking about this fool just because he's got money?' But that's why…it's because he was rich and represented power in New York. My disdain for him is not because he's a Republican or a buffoon who would insult his own mother if she didn't agree with him. It's because he's a shitty human being, and he has been for a long time. He's been a nuisance for a long time. He was a terrible president, but he was a fool long before he became president. I didn't need for him to become president for me to not like Donald Trump."
He recalls as a kid attending shows by Crosby, Stills & Nash—a group his dad had toured with and whose political messages weren't exactly hidden, just as artists like Mayfield and Marvin Gaye had protested against injustice through their music. There was an extension of that belief of using his voice, literally, to revive a song that honored both the music he loves and a message he finds valid. "If I want to create art where I'm expressing my opinion and my views," he says, "if you don't want to buy that, you don't have to. You have to be sincere in your beliefs. I don't make records for people. I make records for me that I like and that I want to hear."
"I think it's an extremely important time," he says. "These things need to be continually discussed. The fact that we've had a Black president. I don't say this with disdain or to be an asshole, but don't forget, he was half white. We're not fully there. Is he a Black man? Yeah! But he is also a white man. It's the same with Kamala Harris. I'm just happy to see a woman…I would like to see a woman run the country. I think men have gotten plenty of chances."
He continues his thoughts, "There is a lot of stuff we need to work on and improve. The fact that we're having the conversation is important. The same people who don't believe in something like Black Lives Matter—no, it doesn't have to do with the slogan—if this was the civil rights movement, you'd be on the wrong side too. The statement of that movement is 'We matter as much as the rest of you. We're all equal.' People take that and think, 'Oh, well, you're just saying Black Lives Matter.' You're missing the point, which is the same thing as saying, 'We all deserve the same rights. We all deserve the same chances. We all deserve to be treated the same.' That's what we're saying. I laugh when people talk about MLK. People forget he was a man who was assassinated. He was spied on by the CIA and the FBI. When he was alive, he was not loved by everybody. A lot of fucking hating. I'm glad we celebrate him, but let's not act like back in the day where everybody was saying, 'This guy is the best!' It's a hard conversation for this country to have, but as tough as it's been, it's really good to see it, because that's the only way we can change anything."
As accomplished as he's been thus far in his career, he still has plenty of career goals. He's played in twenty-five countries around the world, but he still wants to tour Australia and New Zealand and beyond. From a studio standpoint, he wants his work to keep growing and elevating. "I'd love to work in some different genres like a jazz quartet," Finnigan expresses. "I love all music. I'm inspired by all music. The producers I love…while a lot of them, they did a certain thing or had a certain genre that was their specialty, a lot of guys went and produced a jazz record or a rock record. I want to keep growing and experimenting when it comes to certain things like soul music. I want to keep elevating the production and arrangement and to continue to grow as a songwriter. I'm turning forty this year, so I'm getting older and wiser, learning more, seeing more, living more. More than anything, I need to stay hungry and stay grounded. There's this kind of rawness and this cool edge with artists in their beginning. That's the hungry young risk-taker, and I think with success comes comfort and passiveness. You wear away that rawness. I want to grow and get better and get seasoned, but I don't want to lose that edge and roughness. That hunger and attitude are—it's hard to explain as an artist—there's something that comes with being a new artist and being young that really comes out in the work. It's hard to not lose that as you progress and get older and get further away from those early days of, 'I just want to make music. Well, yeah, I make music and this is how I make money, and I've got fans and I'm successful.' At one point, everybody was just like, 'Man, I just want people to hear my music. That's all I want, and I want to share it with people and [have] them like it.' It's that fucking black and white. I think about that all the time, just how bad I wanted to do what I do now."
He continues, "It's funny. I used to dream about a lot of things, but I never put it in the perspective of levels of success, like, 'I want to sell ten million records. I want to win a Grammy.' I just want to do this as a job. I want to be my own boss, make music, and that's how I make a living. I never said to myself that I want to do that and be rich and famous. That's not the agreement I made. The agreement was I want to be able to make records and be my own boss. As far as I'm concerned, I'm living the dream. It doesn't matter how much money I have in my bank account. It's not really important at the end of the day. I get to do what I want, and that's really powerful. I can wake up whenever I want. I can go to sleep when I want. I can do whatever I want. Nobody tells me what to do. I know I gotta make records and do music to eat, but that's what I love doing so that doesn't stress me out."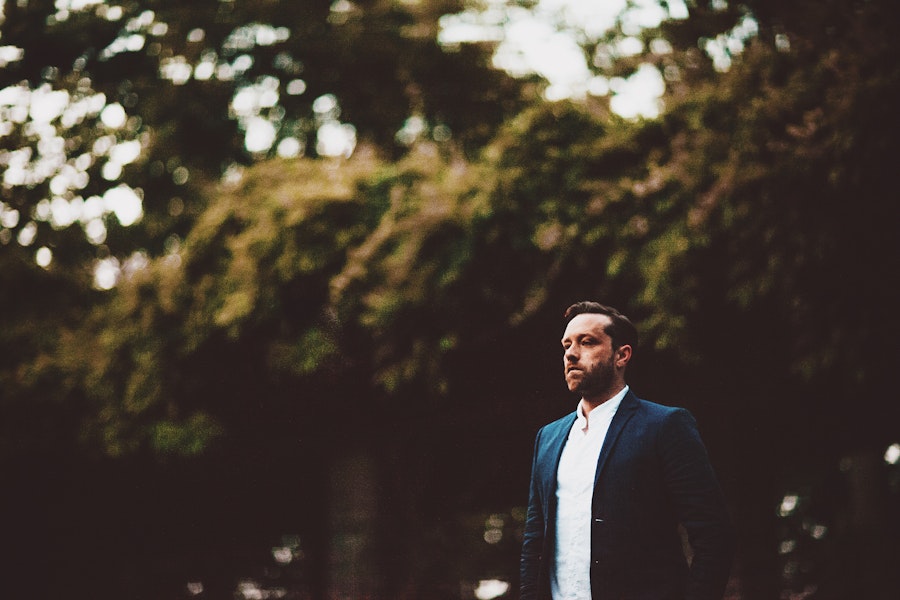 In that freedom, Kelly Finnigan finds inspiration to keep exploring in his artistry and production work, whether it's a track like "Goodbye NOLA" with Orgone, one he exclaims with pleasure as, "That's just loose, baby!" Or in darker places like "Money & Loneliness" with the Kris Lager Band or in something exploring a more spiritual side like "Can't Let Him Down" from his solo record. He still listens to music of his youth to find further inspiration, such as the Beasties. "When I heard In Sounds from Way Out, I knew they all made beats and helped produce records with the Dust Brothers, but now they're playing these tunes that were all rooted in these funk and soul and jazz records. They're doing that? That's what I'm trying to do." 
After three-plus hours, the conversation finally comes to an end. A true conversationalist, he's laid-back and answered questions in any direction the interview splintered. Mostly though, the conversation flowed naturally: no awkward exchanges or pauses or dry question-answer, question-answer format. Just a flowing exchange of how music has been woven into his life, and that's the way his music and collaborations seem to roll out of the studio, just like a kid chasing his dreams.