Before house and techno arrived in the Netherlands, DJs used to blend a vast array of musical styles into variegated palettes. Amsterdam's Kees Heus, aka KC the Funkaholic, was one of the first DJs in the country to pick up house music, but he refused to let it flood his record bag. The record fiend kept his sets versatile instead, and while house music took over, he never gave up pushing music from various backgrounds in the club, also as a music programmer for Dutch main pop institution Paradiso. 
Over a course of twenty-five years, Heus became an important local linchpin. By helping initiatives and artists by the likes of Dekmantel festival, Rednose Distrikt, Antal, Jungle by Night, and Jameszoo in the process to their success, it is safe to say that without Heus, the past three, or even four decades in Dutch music wouldn't have been the same. "I hold big trust in Sun Ra's idea about 'space is the place.' I mean, I see myself as a space maker. It's great to give the key to others! It sometimes leads to disasters, but a lot of times to new exciting things." 
What drew you into music?
My mum, who never lost her touch for exciting, off-kilter music. She experienced Carnival from a young age, because her family moved to Brazil in the early '60s. That simply changed her life! So then, Brazilian LPs became an important soundtrack to my childhood, among music by Bob James and much more. I grew up in Amsterdam, and this was a pirate radio city! During my early teens I discovered all sorts of music, ranging from Russian tape wave to amazing Tony Humphries–style DJ shows, aired by local crews. I was mainly into hip-hop and electro records, by Afrika Bambaataa, Cybotron, or the early stuff on the Tommy Boy label. But also into new wave records by the Smiths.
I went out to spots where they played the so-called import music, stuff from the U.S. Then I started DJing in the mid-'80s at Dansen Bij Jansen, where you'd hear many music genres, mixed with hits. African music, or electro, hi-NRG. As a DJ, you simply had a lot of freedom. Before house music took over, you'd get away with your own musical story, as long as you were convincing. 
You had a residency at Amsterdam's renowned first house temple RoXY, where you started running "Bassline" from '89, which became the longest standing hip-hop night in Amsterdam. A hip-hop night in a house club, what was that like?
I had my residency in that club, but I was also deeply into hip-hop. It wasn't quite natural for the venue, but we managed to make this hip-hop night really work there! 
How?
For example, the night with Busta Rhymes… We had so many different people walking in that night. People from all walks of life. I guess RoXY's immense following in the gay community had a lot to do with that success. We were lucky to get help from an amazing regular, who at that time was transitioning to being a woman. She came with a group of friends wearing striking outfits in '90s R&B style. That was one group. Then there was Busta Rhymes and his crew, and we had the local hard-core hip-hop cats over, as well as the breakdancers… I haven't seen many crowds like this. On another Bassline night there, we had b-boy legend Storm, who came over from Germany for this party. He started breaking and got hit by a glass! It was all just super raw, and explosive! We were very aware of that. Murth the Man-O-Script was MCing, which also worked for crowd control.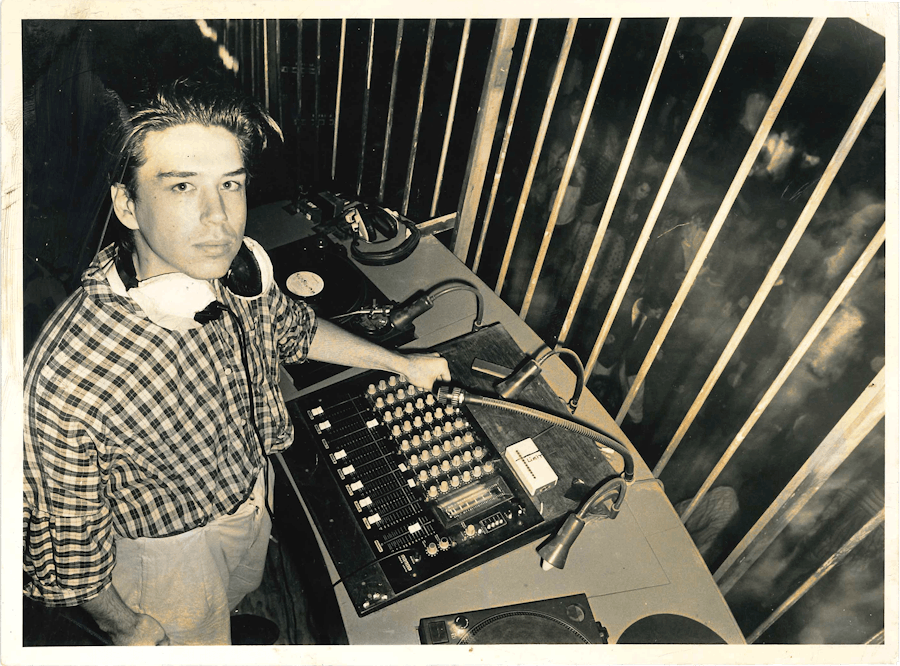 When house music infiltrated the European clubs, it transformed into styles that were often a lot harder. As a DJ, you stuck with your eclectic style. Did that work?
When house music came up, club RoXY asked me to DJ on the busy Saturdays. Because of my vast musical approach, I would frame house music with all kinds of genres to make it approachable. When we became a house music mainstay, I couldn't play like that anymore. The crowd simply wanted to go hard! "Why don't you play that Quadraphonia track?" I was suggested by a DJ friend. I hated it. It knew I had to stop playing on Saturdays. Eventually I left RoXY altogether. 
You started programming at Netherlands' main pop stage Paradiso, where a wide array of music from diverse cultural backgrounds became your focus.
 Bassline had become very successful, so it needed a new home. A downtown club was interested, offering me a really good deal. But to me it wasn't really about the money, because I wanted to support the musical climate in the city. Paradiso opened that possibility for me, which I am eternally grateful for. I detached myself from Bassline, which was quite hard, and passed on the torch. It was incredibly difficult but necessary, because it's responsible to create space for others. I recently co-created Super Sonic Jazz with Tenzers, decades ago it was Kindred Spirits and Disco 2000 in collaboration with Rush Hour records. I am still super happy at Paradiso. It's a wonderful place to be.
Paradiso is a public institution, where you've had a powerful position in Dutch music culture for decades. Do you feel your role has been democratic enough?
I hold big trust in Sun Ra's idea about "space is the place." I mean, I see myself as a space maker. It's great to give the key to others! It sometimes leads to disasters, but a lot of times to new exciting things. I don't really fear my role, because I basically invest in cultural things that other people haven't noticed yet. Holes in the market. When the guys behind the Dekmantel festival started, I let them use our small room so they could explore their ideas. Another hole was that club dancers moved away from the clubs decades ago. So I created Summerdance Forever, to bring the dancers back! This became the largest urban dance festival worldwide, with over thirty thousand kids attending. Now that this has been established, I can leave it to the scene.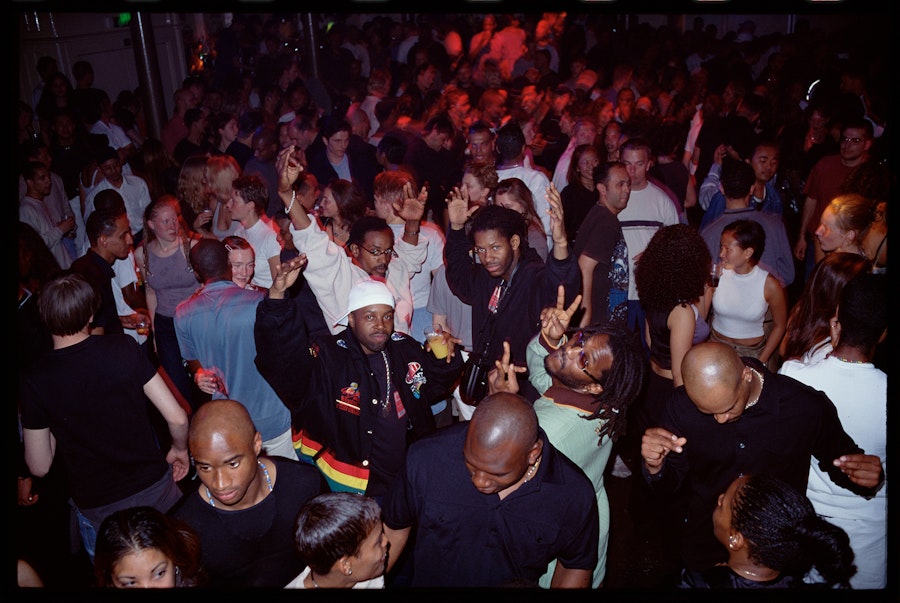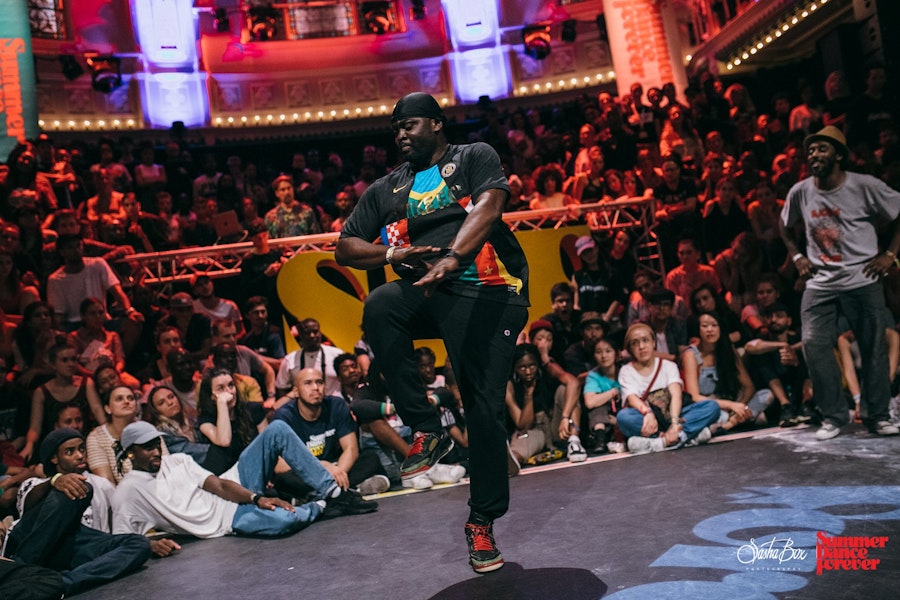 You took part in the development of Rush Hour's first club nights, how did that come about?
At the start of Rush Hour records in the late-'90s, founders Antal Heitlager and Christiaan McDonald were looking into booking Theo Parrish and Moodyman for a show, so they started their Disco 2000 nights. We set up the concept together, to become theirs over time. The same happened with the Kindred Spirits label, which also started out as an event. Kindred Spirits helped artists like Rednose Distrikt, Jungle by Night and Jameszoo to emerge. Antal is such a talented and exciting DJ as well. A true inspiration to me! So I supported and encouraged that too. 
How do you recognize these talents?
I'm triggered when I hear something uncanny. Especially when artists can't find words to describe their work, there has to be an exciting tension in the process of their creation. When I heard Jameszoo's work for the first time, I was completely flabbergasted. It sounded like improvised electronic music in a way I had never heard before. With no start, no ending, no middle… So what's the structure here? [laughs] We set up a team to support him, so he could grow freely in his music, without having to worry about circumstances and possible concessions. I am super proud of how Jameszoo evolved. It's incredible. Last year, he released his second album on Flying Lotus's Brainfeeder label, and a third is on its way.
You work in a team of programmers. Do they also support new talent like you do?
Yeah, I also believe Paradiso has developed its role in that direction. I mean, in the 1980s, Paradiso was some sort of meeting point for punkers. It has become an important pop music institution over time. We're not a young organization anymore, but we do collaborate with young clubs in town. When an affiliated artist wants to celebrate his or her album somewhere else, we don't mind promoting that as well. I mean, in the end the whole city benefits from it. I am super proud to see how versatile many Amsterdam based DJs are. We've had parties with crowds dancing to Brazilian music and cumbia, genre bending bands like Altin Gun and Jungle by Night… That's pretty unique, I think.