In the late autumn of 1976, a month before work began on Exodus, Bob Marley's life and career would be altered by an assassination attempt in his hometown in Jamaica. Incessant gang feuding and the state of emergency declared a few months prior had left Marley yearning for peace in his homeland. Violence was erupting between the supporters of the two main political parties: the left-wing People's National Party (PNP) and its leader, then prime minister, Michael Manley; and the conservative Jamaica Labor Party (JLP) leader, Edward Seaga. Four years earlier, Marley performed across the island for Manley during his election campaign. As the years passed by, he formed relationships with key figures associated with both political factions. As tensions mounted, Marley announced that he and his band the Wailers would be holding a concert, dubbed Smile Jamaica, on December 5, 1976, in an effort to unite the entire island. A few days after his announcement, Michael Manley announced an election to be held right before Christmas. His actions made it seem like Marley was supporting his campaign again.
On the night of December 3, 1976, Marley was in his kitchen peeling grapefruit when he heard gunfire outside the Tuff Gong compound at 56 Hope Road. As he and his manager Don Taylor heard the gunfire, Marley saw a man appear in his doorway with a submachine gun. The gunman opened fire until he emptied his magazine. (Accounts vary as to types of firearms used, with many simply saying "automatics.") Marley's manager was struck five times and fell into Marley's arms. A bullet grazed Marley's chest and entered his left arm above his elbow. In the rehearsal room, after bullets blasted into his drum throne, drummer Carlton "Carly" Barrett, his bassist older brother Aston "Family Man" Barrett, and keyboardist Tyrone Downie fled into the nearby bathroom along with the horn players. Guitarist Donald Kinsey ducked behind some equipment. In a little house on the compound, Bob's friend Nancy Burke and lawyer Diane Jobson heard the deafening gunfire as the children Nancy was watching squeezed under the bed in fear. During this chaotic scene, four more gunmen were outside and ended up shooting at Marley's wife, Rita, and at close friend, Lewis Simpson (or Lewis Griffiths in some accounts). Both Rita Marley and Simpson were seriously injured, with Rita suffering a bullet wound to her scalp. After the ambush, the gunmen fled the scene.
The attack resulted in Marley, his wife, Taylor, and Simpson being treated and their wounds bandaged by nurses at the local hospital in Kingston. (The bullet was never removed from Marley's left arm, and it impacted his guitar playing for the rest of his career. Taylor was later flown to Miami to remove a bullet lodged near his spine.) Thankfully, no one died as a result of the assassination attempt. A couple days later, he and the Wailers, with Cat Coore of Third World filling in for Family Man, were able to perform at the concert to rousing cheers, the crowd in attendance well aware of the previous days' events. The next morning, he and the band chartered a flight from Jamaica and sought refuge in Nassau, Bahamas. A month later, he decamped for London, England, with a renewed sense of purpose.
Despite being shaken by the assassination attempt, Bob started writing and recording while in the Bahamas at Chris Blackwell's Compass Point Studios. By early 1977, he was in the beginning stages of creating his next studio effort, now recording at Island Studios in London. Again, he was working alongside familiar bandmates: the Barrett brothers, drummer Carly and bassist Family Man; keyboardist Tyrone Downie; percussionist Alvin "Seeco" Patterson; and the I-Threes: Rita Marley, Judy Mowatt, and Marcia Griffiths. They had been the backbone of Natty Dread in 1974, Live! in 1975, and Rastaman Vibration in 1976.
During the recording process, Marley and the Wailers felt like there was still something missing from their hypnotic formula. After the failed assassination attempt, lead guitar player Donald Kinsey, still fairly new with the band, decided to return stateside to his hometown near Chicago, Illinois. Shortly thereafter, a search began for his replacement. Eyes were on a talented guitarist and fellow Jamaican from London named Junior Marvin. Marvin had spent several years serving as guitarist for his band Hanson, Ike and Tina Turner, Steve Winwood, Gass, White Rabbit, Toots and the Maytals, and T-Bone Walker, among others. In a wild turn of serendipity, on Valentine's Day 1977, Marvin was offered competing opportunities to join the Wailers and Stevie Wonder's band. After deliberating for a few hours, he made the decision to join forces with his Jamaican comrades and turn down Stevie Wonder's offer.
Embracing the cutting-edge recording techniques of producer Chris Blackwell, Marley and company's otherworldly talents were given the opportunity to shine on wax once again. The subject matter of the songs showcased his poignant lyricism on topics ranging from political corruption, relationships, and deep introspection about the meaning of life. On June 3, 1977, Exodus was released. It became the album that propelled Marley to international superstardom. The album achieved gold-selling status in Canada, the U.K., and the United States. It spawned five singles: "One Love/People Get Ready," "Exodus," "Waiting in Vain," "Jamming," and "Three Little Birds." By the end of the twentieth century, this album was universally regarded as one of the best albums ever produced.
In an effort to delve into Marley's music-making process on Exodus, we spoke with one of his main collaborators on the project, guitarist Junior Marvin, who provided intricate details and stories on how this timeless record was conceived and recorded.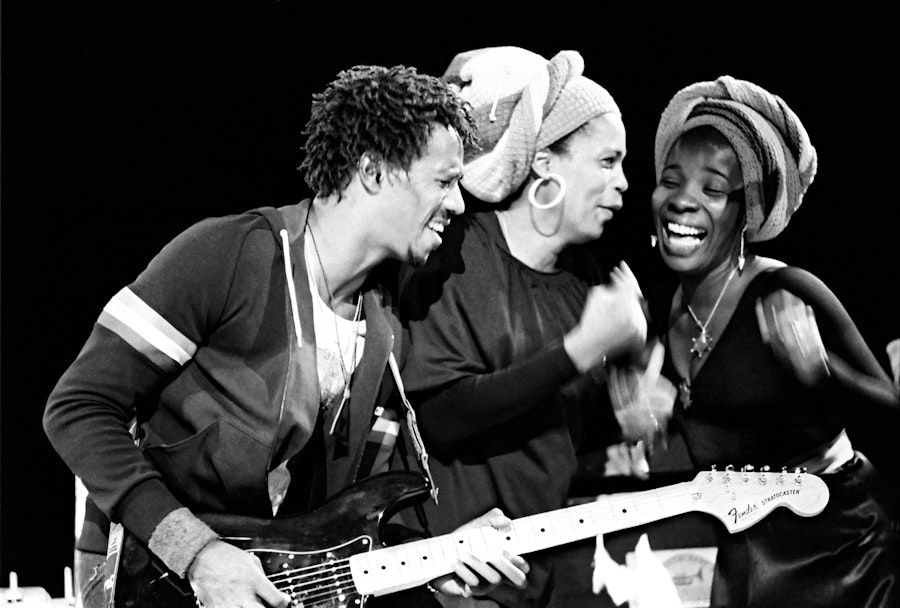 Going into the making of this album, Bob Marley and his whole band survived an assassination attempt in his native Jamaica a month before they began recording it.
Junior Marvin: Yes, it was the whole band. I wasn't even in the band yet. They were actually done with the rehearsal for the Smile Jamaica concert, which Bob had hoped to bring all the people together. There was an election coming up, and the opposition at the time said, "Well, you have to do a concert. It looks like you're doing it for the other side. You got to do one for us as well." Bob said, "No. I'm just doing this for the people, to try and calm them down, stop killing each other." Bob wasn't somebody who had a security guard around him all the time. They never had a gateman or security. They believed they were at home, and everybody loved them, and they loved everybody. Bob helped a lot of people in Jamaica, so he was very much in shock to see that the people he loved so much and tried to help in any way he could, that there could be somebody there who would try and kill him. That was shocking to him.
When you came aboard to join the Wailers, how long was it after this assassination attempt on Bob Marley and the Wailers?
It happened before Christmastime in 1976. I met Bob in February 1977. I think he went to the Bahamas to Chris Blackwell's studio. Then he decided to live outside of Jamaica. He didn't want to be around there so that they could try to kill him again. He wanted to spend time in England where his father was from. He always said his mission was to bring Black and white people together, so it was a great opportunity to be in a country that was predominantly white and try to bridge that gap of bringing people together. They loved him in England. Everybody loved him, and he was very motivated when I met him. I guess he was just happy to be alive still and that Jah gave him another chance. He was very motivated, organized, and disciplined, and he was quite happy. One bullet grazing through his arm and one across his chest is enough to make anyone happy to be alive.
Absolutely. When did you join the Wailers?
It's quite a story, actually. I had heard of the Wailers, and I heard a song called "Concrete Jungle," and I loved that song, and that was about it. I was working for Chris Blackwell. He was the owner of Island Records. It was also the record company for Bob Marley and the Wailers, U2, Cat Stevens, Traffic, and many other bands who were popular at the time. I worked on a single for Toots and the Maytals called "Reggae Got Soul," and Chris liked the way I approached it, because it was different than how most people approached playing on a reggae record, especially a new guitar player. He liked it very much. Then he organized for me to do a tour with the Heptones, a very famous band in Jamaica that had three musicians and singers, really. They had a big hit with Lee "Scratch" Perry. He was one of the early producers of Bob Marley and the Wailers.
He influenced Bob quite a lot and changed Bob's direction from being a type of R&B artist to a more militant-message type of singer. That was my only real connection with the Wailers at the time. On February 14, 1977, Chris Blackwell called me and said that he wanted me to meet someone and that they had been following me, but he never said who it was. I just took it for granted that he wanted me to come to his session. It was about lunchtime, and there was still plenty of time for me to do the session, and I could meet my girlfriend in the evening and have a nice date or dinner or something on Valentine's Day. Before Chris arrived, around eleven thirty, I got a call from the United States. To my surprise, the person said that they were Stevie Wonder. Of course, I didn't believe him. [laughs] I thought it was one of my friends playing a joke. Everyone knew that I was a big Stevie Wonder fan. Apparently, he wanted a guitar player. A good friend of mine [guitarist Marlo Henderson] and his wife were expecting a baby, so he couldn't go on tour. She was having some minor complications, and he wanted to be with her, so he recommended me to Stevie. When Stevie told me about the recommendation, then I believed it was actually Stevie Wonder. [laughs]
He said, "Well, I would like you to join my band, but I would like you to sign a contract also. You'll have to sign with Black Bull Music." Black Bull Music was his company at the time. He said he would be giving me a ten-year contract. I replied, "I can handle your music, but ten years is a long time with anything." He responded, "I've heard your playing on your record." I had a record at the time [with my band Hanson] that I made for Emerson, Lake & Palmer's label [Manticore Records] that was called Now Hear This, and I was on another record that was called Magic Dragon. His guitar player [Marlo Henderson] played on one of those albums, and so he must have given Stevie some music to say, "Well, here's what the guy can do." Stevie, I guess, liked what he heard and was quite confident that I could be his guitar player for the next ten years, or maybe just wanted to sign me off because nobody else would take me away, which is what a lot of people did back in the day. They'd sign you up and then that was it. You're stuck with them whether you liked it or not. [laughs]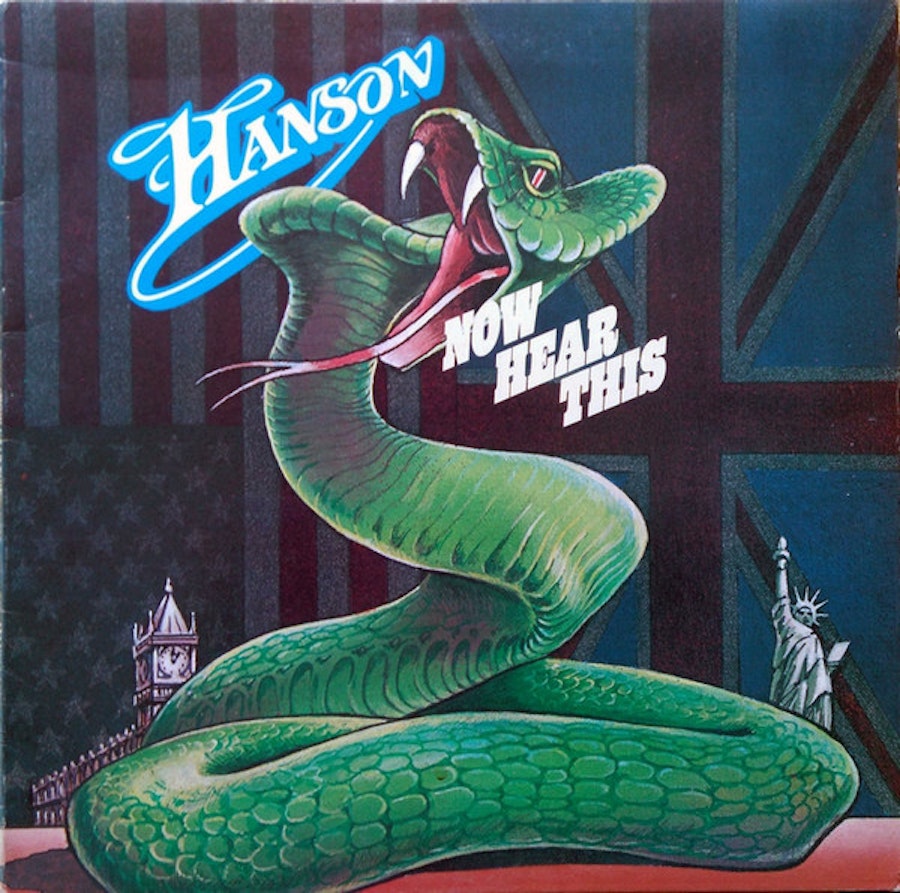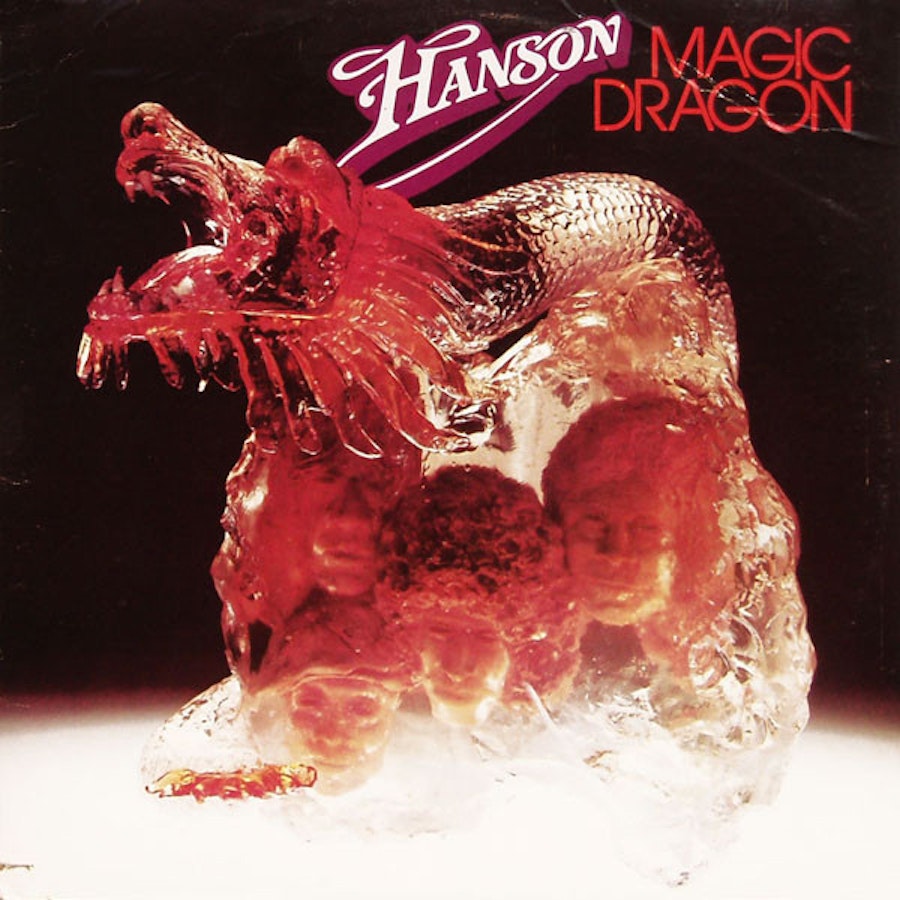 I said to him, "I'm your biggest fan on the planet. I've loved everything that you've done. I'm very honored that you even called me just to give me this opportunity." He replied, "Well, once you play with Stevie Wonder, you'll be a household name, so that's why you have to sign a ten-year contract." [laughs] We laughed about it. Then I forgot that Chris Blackwell and I had an appointment. It was now midday, and he was outside knocking on my door. I really had goosebumps and was quite surprised. I'm floating on cloud nine that Stevie Wonder wanted me. I said to him, "Stevie, give me your number. I'll call you back. I did have a previously arranged appointment at midday, and I wasn't expecting you to call… I need to go to this appointment, and then…I'll call you back." He agreed that would be fine. He was pretty sure that I was going to say yes. I was pretty sure that I was going to say yes also, even though ten years did seem like a long time.
Anyway, I went out and I met Chris. He had his white Rolls-Royce outside to pick me up. I thought, "Oh, I must be meeting someone special in the studio today." [laughs] Anyway, I got in the car. I never said a word to Chris Blackwell that Stevie Wonder just called me, because I still didn't believe it myself. I thought, "I'm going to make a fool out of myself if I tell anybody. It could still be a hoax." [laughs] We started driving and we were going to an area [in London]. I asked, "Where are we going?" He answered, "We're going to Chelsea." I said to myself, "I don't know any recording studios in Chelsea. Why are we going there?" He said, "Don't worry. Everything's fine." We went to Chelsea. Chelsea was a fashionable part of London. There was a famous road called the King's Road where everybody went shopping on the weekend. Then you had to drive through Knightsbridge and Kensington where all the fashionable young people lived. It was a very famous area. So I was saying to myself, "I don't remember any recording studios around here." I knew London like the back of my hand. Growing up there, I knew pretty much every studio. I couldn't figure out what studio he was going to. I didn't really say much. I just kept quiet.

We pulled up outside this building in Chelsea where there were old Edwardian, very solid brick houses. This house had about seven stories. It was a really beautiful house. All the houses in that area were really kind of colonial-looking and very majestic, very upper class, and had very rich clientele. It was a beautiful area. I loved Chelsea. I loved the parks and the people were very nice. Anyway, we walked into this house, and we were waiting on the ground floor. As we went in, we went into what you would call a living room area, recreation room. It was quite a big room with a big fireplace. By the fireplace, there was a big mirror on the wall, and there was a man with his back to us. He had these big dreadlocks. I looked at him and there's like this big aura around him. I thought to myself, "That's got to be Bob Marley." Chris didn't say nothing to me. He turned around, and it was Bob Marley, and he had this big grin on his face. He came up to me and said, "What happenin', man? What's going on?" in Jamaican patois. He smiled at me and said, "Welcome to the Wailers." Of course, a bell rings in my head, "What does 'welcome to the Wailers' mean?" [laughs]
I thought we were going to go do a session or something, and I would have some money to pay for me and my girlfriend's dinner. Instead, it was Bob Marley in front of me and saying, "Welcome to the Wailers." I looked at Chris all puzzled, and he's nodding his head saying like, "Yes. Yes." I was saying, "Yes, yes, what?" Chris said, "He wants you to be part of the band, part of the Wailers." I asked, "How come, just out of the blue?" Chris replied, "No, we've been monitoring your playing and how you are for about a year now." I was like, "Okay, FBI and MI5, what's going down today?" [laughs] This is all going on in my head. Of course, I'm not saying nothing. Then I get goosebumps all over again. After the Stevie Wonder goosebumps, here comes another second round of goosebumps, and now I'm on cloud nine.
I tried to relax and take it easy. I was sure that I was nervous and all that kind of stuff. Bob said to me, "Yes, man, you bring your guitar?" [in patois]. I said, "Yes, man." My family is Jamaican and I understand patois very well. I heard it in my house at home every day, and although I've moved out from my parents' home, I went to my mom's house every day and got dinner. It was the best dinner, actually. So—the patois was always there. Then he says, "Come jam two tune, man. Come jam." I said to myself, "Oh, this is why Chris wanted me to bring my guitar. It wasn't for a session; it was to come and jam with Bob Marley." Chris smiled at me, like to say, "Yes, that was the deal." [laughs] Bob went for his acoustic guitar, then he brought a little amp, and he said, "Oh, plug into this amp." I plugged my guitar in. Then from downstairs, because we were on the ground floor, comes this tall, good-looking Jamaican guy. Bob's quite short. Bob was about five-six or five-seven, and I'm six [feet tall]. Then the other guy who comes upstairs, I feel like he was about six-three. We were all carrying on with Bob. So we all sat down. The gentleman from downstairs had a bass with him, so I thought he was the bass player. I never got to know the individuals in the Wailers apart from Peter Tosh, Bunny Wailer, and, of course, Bob. I never really did pay much attention to the band, even though I always thought that band was very magical, and they had a special way of playing that made the trio of the Wailers, Bob, Peter, and Bunny sound different from everybody else. Apart from having really good vocals, the band was also very classic in the way that they played.
I figured that this gentleman was the bass player. In fact, he was Tyrone Downie, the keyboard player, who also played bass, guitar, and sang. At that time, I didn't know all this. Anyway, the three of us sit down to jam, and Bob said, "This is a thing called 'Waiting in Vain.'" We started playing "Waiting in Vain," and we jammed that for almost an hour, just that one song. Then I thought, "Well, I guess it's time for me to go now." Bob pleaded, "No, just one more. Just one more."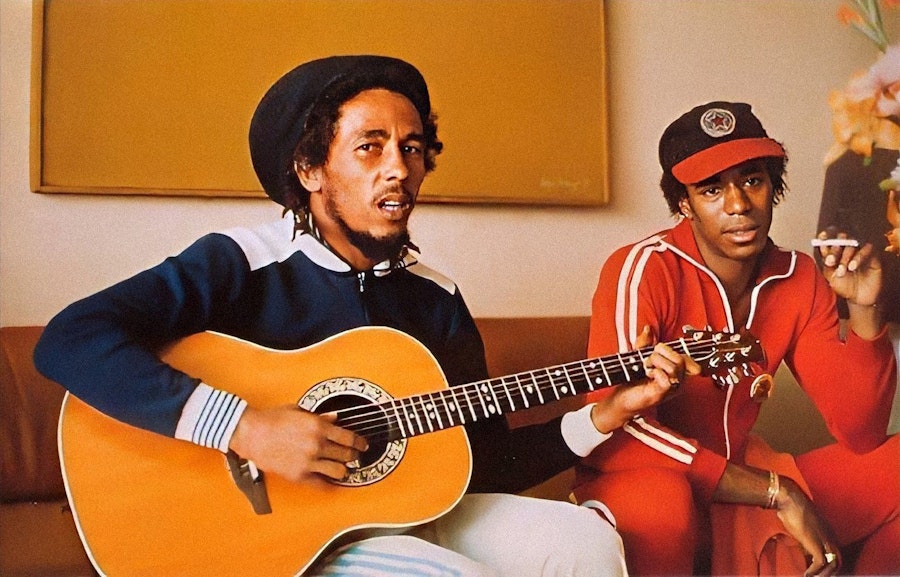 Now we started playing "Exodus," and I said, "Wow, this is cool." I loved "Waiting in Vain." And "Exodus" was really a more advanced style, whereas "Waiting in Vain" was more like a lovers rock type of song. "Exodus" was really like a chant. Bob was singing, "Movements of Jah people," and I was getting into it. Then I looked, and we played for another forty-five minutes. I was thinking, "Wow, I got to get out of here, and then I'm going to call Stevie Wonder." I didn't say anything. I was just like, "Okay, one more time, just one more." I was hoping he didn't say that at the end of the next one. [laughs]
Anyway, I remember that was fun. Chris Blackwell was there. We were jamming and everybody was smiling. Bob was the one who said, "This one's called 'Jamming in the Name of the Lord.'" I thought, "Wow, what a great title. I would love to have written a song called 'Jamming in the Name of the Lord.'" Then we started playing "Jamming," and that was really a great song also. We played that for about forty-five minutes. The first one, "Waiting in Vain," was just for an hour, and then the other two were like forty-five minutes each. Now, we were there for like two and a half hours going on three. I was thinking, "Wow. I've got to call Stevie back." I'm just smiling at Bob all the time. We didn't talk very much. We just jammed and we sang, me and the bass player, or I thought he was the bass player. We played along with him. It was beautiful. I said, "I really have to go. I have an appointment. I have to make a call to the United States. Thanks for the invitation to come here and jam with you guys. Thanks for the offer to join the Wailers." I was thinking, "I hope he's not going to offer me ten years as well." [laughs]
I said that I really need an hour or so to go home, and then I'll call you to let you know what my decision is about joining the Wailers. Chris Blackwell said, "Are you crazy? This is Bob Marley. He's going to be the biggest thing out there." I was saying, "Well, wow. Can I just have an hour? This is all a bit surprising and very exciting. I'm very grateful that you gave me this opportunity, but I need to go call my girlfriend and make a couple of calls. It is Valentine's Day, and I've got to go." They said okay. He let me go, but Bob looked a bit puzzled like, "Why didn't he say yes?" [laughs]

Anyway, I left. I got a cab and went home. I was like, "Wow, what a day this has been. What else is going to happen?" I called all my friends, my musician friends, my school friends, my mother, my father, my family, and my cousins. I made like thirty calls, and I've never done that before in my life. I asked them who they thought I should go with, Stevie Wonder or Bob Marley, and I explained very briefly what the terms were. Bob was just like a handshake thing and Stevie Wonder was the ten-year contract. Everyone said, "America's got a lot of great guitar players but not that many great guitar players in Jamaica, although they do have great guitar players. Furthermore, you and Bob are both from Jamaica. You should definitely join forces with your countryman and help Jamaican music." And I thought, "Wow, that's a special thing. I could really help the country of my birth and try to put something special in reggae." I called Chris Blackwell, and I said to him, "Can you tell Bob that I'll take his offer? I'm very honored and happy about it. I'll meet you tomorrow and get all the previous records that you have done."
Then I thought, "I better call Stevie Wonder and tell him what I'm doing." I called Stevie, and I explained to him the whole thing about the ten years was a long time, and how I met Bob Marley right after I spoke to him. Bob's offer was just like, "Let's see how we can make this thing work." It wasn't that demanding. Although it's always been my dream to meet Stevie Wonder. I said to him, "I'd never dreamed I could even play with you. I'm so honored that you invited me, but I think that I would probably go with Bob Marley." Then he told me, "Oh, yes. Bob Marley's one of the greatest players, and we just did a concert in Jamaica together. Bob influenced me to write 'Boogie on Reggae Woman,' and also, I wrote 'Master Blaster' as a tribute to Bob Marley." I said, "Wow." I had to put all my thoughts together. Then he said, "My advice to you will be to try with Bob, and then if it doesn't work out, give me a call." I replied, "Wow, Stevie. Thank you so much. You're the best." I couldn't believe that he was saying, "Try it out and call me back." He was very, very understanding. I was very relieved for him to say that. I just sat there for about half an hour. I tried to pinch myself like, "Ow, that hurts." [laughs] I sat on the ground while sitting on this cloud, just floating around in my room in my apartment. I called my girlfriend, and said, "Let's go to dinner. I got something to tell you. You're not going to believe this day." That was my beginning with the Wailers. I'll never forget it as long as I live. I remember it like it was yesterday.
Yes, that's something you don't ever forget. What was Bob and the rest of the group members' mindset during the making of this record? 

The first thing that happened was Stevie Wonder knew that I grew up in England, and that I was British Jamaican or Jamaican British. But Bob thought that I was American because I had just come back from America where I had my own band, and I did two records for Emerson, Lake & Palmer on their label Manticore, which was distributed through Atlantic Records. Most people thought that I was this flashy young kid from America. They never knew that I was actually born in Jamaica and grew up in England. Bob, because of the way that my features are—my grandmother was Indian, and my grandparents were African and African and Scottish, so I've got a mixture of Scottish, African, and Arawak Jamaican Indian—[Bob] thought that I was Ethiopian, and he told the rest of the band, "Oh, Jah sent us an Ethiopian guitar player." [laughs] "Selassie I sent us an Ethiopian guitar player, all the way from Ethiopia." Maybe that's why he offered me the job. [laughs] Everyone in the band thought that I was Ethiopian. I didn't want to burst their bubble, so I just kept quiet. [laughs]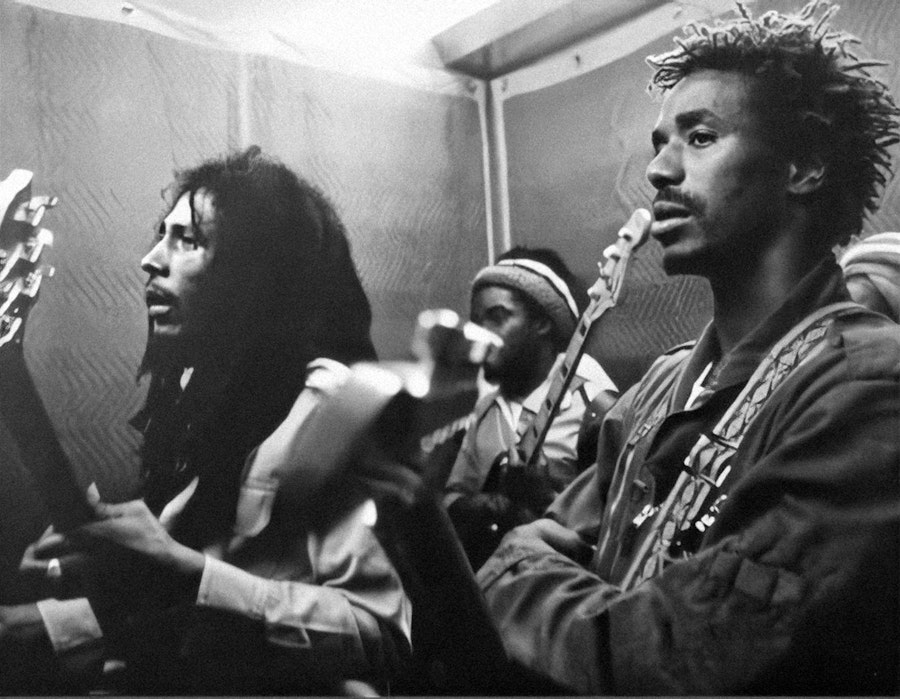 Anyway, we started rehearsals. It was just a one-day rehearsal. We got together and got to know each other. Then I discovered that the man that I thought was the bass player, the tall guy, he was actually the keyboard player. Then I met the Barrett brothers who were just the same height as Bob, about five-seven, maybe even less. Then I met Alvin "Seeco" Patterson, the percussionist, and that was the band, just the six of us. I didn't meet the backup singers yet. I didn't meet them until we actually got into the studio and started recording. They were still in Jamaica. They were the only ones left. The band brought everything with them. They brought their trunks with the kitchen stuff and the TV, like they were moving to England for good and they would never go back to Jamaica. They didn't want to be shot at again. They were all happy and so happy that they had a new guitar player that they liked, and at least they liked the way that I looked.
I didn't know if they liked the way that I played, but they liked me very much, and they were very nice to me. During rehearsal, everybody was smiling. We started to jam, and then, all of a sudden, Bob and the percussion player [and Family Man] turned their back to me. I'm there playing, and I was thinking, "What am I doing wrong? Now that everyone's not really looking at me and they're turning their backs?" It was quite a big room where we were rehearsing in the Hammersmith. It was in Chris Blackwell's other studio. Many months later, after we recorded Exodus, I asked, "Why did you guys turn your back on me in rehearsals?" They responded, "Well, we were so happy to get a good guitar player. We didn't want you to see how happy we were, because you might get a big head." [laughs] "Once you started playing, we were really pleased, and we turned our back to you. We were looking at each other and we're like, 'Yes, this guy's cool. This one's a keeper.'"
Then we started recording with Bob a few days later in Island Studios, which was just around the corner from where I lived, a place called Basing Street, which was very close to a famous road called Portobello Road in London, where they had all the antique shops. I lived right around the corner from there, Ladbroke Grove, Gloucester Terrace, so I could walk to the studio every day. I'd walk home every night. It was like a ten-minute walk. Everyone was so happy. We were eating Jamaican food, and they had people cooking the food for them. Bob was going out with Miss World, Cindy Breakspeare, at the time. Of course, he was very much in love and very happy. Rita was still there, but he had this beautiful Miss World girlfriend. I wasn't going to get involved in that, but Bob Marley do what Bob Marley wanted to do. There were lots of beautiful girls, Ethiopian girls, European girls, Jamaican girls, and they would come and visit the studio. And then they'd leave, because, even though sometimes we had visitors, Bob was very regimental.
What was the band's typical studio routine during the making of this album?
We were pretty much the only ones in the studio along with the engineer. Sometimes, Chris Blackwell would come late at night, and we'd all go home at maybe five o'clock in the morning, and then we would come back the next morning at ten o'clock. We had about five hours of sleep. The studio was booked for about three months. We were actually recording two albums. We were recording Exodus and Kaya at the same time. These are songs that Bob had written before the shooting incident and finished up while he was en route to the U.K. He was staying in the Bahamas for a little while and putting the final touches on these songs that he wanted to put on those two albums. It was a beautiful experience for me, because we had the freedom to not rush; because, normally, you got to the studio and the producer or the artist were looking at the clock every five minutes and saying, "Are we finished yet?" [laughs]
A lot of people, for economic reasons, always used to be watching the clock. That was pretty much the first time in my life that we never watched the clock at all. It was just, "How can we make things better?" Chris [Blackwell] would say, "Do it again." We'd reply, "Okay, you got it." Normally, we'd get the song in the second or third take. But for me, that was still a long process, because a lot of other bands would go in there, and they'd take it on the first take and go, "Yes, that's it. Let's go. That's a wrap." Bob was very relaxed. We'd play games in there and take breaks and go back to it. If it was nighttime, some people would disappear and go meet with whoever they wanted to meet, come back, and play early in the morning. It was like a nonstop recording session, and because I lived around the corner, it was very comfortable for me. I didn't have any problems with staying in the studio for eighteen hours and then rushing home and then sleeping in my own bed.
Sometimes, a couple of them might just stay in the studio all night. We'd come back, and they were still in there. Then they'd go home, and everybody else would take over. It was usually that way when we were mixing. While we were actually recording the songs, everyone was there all the time. Everyone was so excited and motivated. It was just like a dream come true. Exodus and Kaya were very special, especially Exodus, because that was the first album that I played on, and at the time, we gave more emphasis to Exodus than we did to Kaya. Exodus was a bit more mental. Kaya was more like love songs. Exodus was more like a message. Everyone can see how it ended up. Exodus became the top [album] of the twentieth century. Both Exodus and Kaya were top ten hits around the globe, in the United States, Japan, Canada, Brazil, and you name it. It was a big hit for Bob, and I was very happy.
Where were you positioned in the studio versus Bob and the rest of the members of the group? How was the band set up?
We were in like a semicircle. We had the drums at the back of the studio. If you were in the recording booth, there was a big window where you could see everyone. At the furthest part of the room, there were the drums. They were blocked off with these really good soundproofing dividers. Family Man and his bass equipment were in a room and the door was closed. We heard him through our headphones pretty much. Then, in the middle of the room facing the recording room, was Bob Marley, and then I was to his left. Then the piano player was also to Bob's left. Bob was not really in the center of the room. He was more to the right, facing the recording booth. That was pretty much how we recorded: drums, bass, lead guitar, piano, rhythm guitar, and guide vocal. So we were like in a semicircle. 
With the blocks and congas, they would leak into the other instruments, so we always did the percussion at the end. We had good separation for the piano. It was a special type of soundproofing that they used to cover the piano and how they miked it, so the sound was very organized and there wasn't very much leakage from the piano at all. Sometimes, we'd go back and re-record the piano once we'd done the basic track to get even more separation. There was a little bit of leakage on the piano, but nine times out of ten we would go back and do the piano. Sometimes, it would be so magical, and we'd just leave it like that. 
We had screens that we used at the time for the drums that we could position any way we wanted. We had the drummer a little distance away from us, but we were all pretty close together. My guitar also had screening around it, and it was blocked off in its own little box of screens so the sound wouldn't leak out. We recorded live, and it was crisp and very clear. No distortion at all and very, very little leakage. Maybe some leakage might pick up on the drums, but at the time, they could take it out. It was very clear recordings. It was very advanced for that time.
Chris Blackwell had a beautiful studio. It was well equipped with all the compressors, limiters, and reverbs. For Bob, also, it was a dream to be in a studio with such a high class, maybe the highest at the time. Most of his recordings were done in Jamaica, and [Jamaican studios were] not that well equipped. Although they had a few good studios, they were nowhere near the quality in the United States or the U.K. at that time.
It was great to hear such an excellent recording. Of course, we had the best engineers. It was like, "Wow, this is the way to record." Especially having a studio nobody can come in in between [sessions], and we'd go away and come in the next day, and everything would be exactly as we left it. I've never been through that experience before, and so it was very relaxed, very positive, and we were very confident that we would do a good job, because the thing was organized that way. Those recordings will remain in my mind forever.
Did the group go through any type of a demoing process for these songs, or were they all recorded live?
We never believed in demos. [laughs] It was a real deal, man. This was it for life. The way that Bob was so motivated and the way his work ethics were, he inspired everybody, and he was the first one to be in the studio and the last one to go home. It was just very exciting, very challenging, and very rewarding to actually go back and listen to what you just recorded and everything was clean. It was well recorded, good levels, nice and crisp, and it sounded like it was awake, alive. It was bubbling, and it was bare in your face. It wasn't dark at all. It was all light. It was so beautiful. I still remember just going back and listening and saying, "Wow, this is good."
What was the collaboration process like while you were recording? 
The only thing that Bob came up with was maybe sometimes he would toss out an idea about the bass line that he had in his head, and, of course, Family Man would make it a lot better. Then, maybe some things like the melody of the song that Bob had in his head like on "Exodus." All the other ideas pretty much came from the band, or if we had an idea and Bob wasn't crazy about it, we tried other ideas. Somebody else might come with an idea for the keyboard, or he might come up with an idea for the guitar, or the guitar player would come up with an idea for the drums; but pretty much everyone had their own ideas. It was so good that we never said nothing. [laughs] We just kept going. Bob always allowed us to just be ourselves. He was very confident with the other guys. I was the only new person there, and nobody said nothing to me. They just kept nodding their head and doing it and saying, "Okay, what's next?" There were no long discussions about anything other than what we were playing then. Every now and then, somebody would smoke a spliff but only after we finished recording.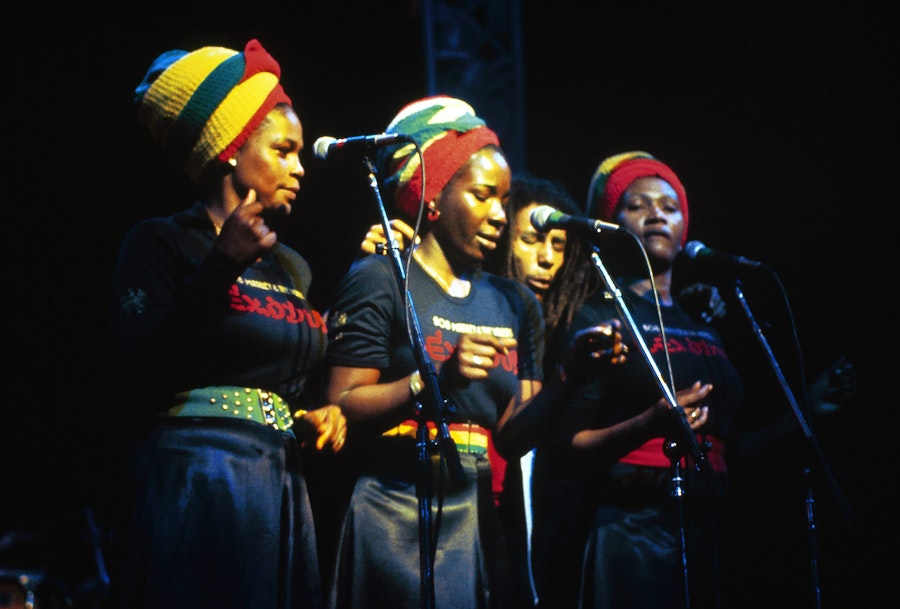 Where do the I-Threes come into the picture during the recording process? 
They never came in until we did all the overdubs. Bob sent for them, and they came from Jamaica. He also sent for the horn players in Jamaica, so there was actually six people who came. The sax player [Glen DaCosta], the trumpet player [David Madden], and the trombone player [Vin Gordon] all came from Jamaica, and the I-Threes: Judy Mowatt, Marcia Griffiths, and Rita Marley. They never came until we started to get ready to mix and overdub. We did all the instruments. We did the lead vocal first, which, of course, all the vocals that we did on the actual initial recordings were guide vocals because there was a lot of leakage off of Bob's mic. Initially, the guitar was sectioned off, so that was pretty clean. We never did any backing vocals until the very, very end, and when we did the backing vocals, the I-Threes would arrive much later. When we were doing that, we focused on that, or when we were doing the horns, we focused on that, so there was no jumping from one thing to the next. Eventually, the tracks would be ready. They would see Bob do the lead vocals, so they'd know where to go with it. It was a great chemistry recording live and doing the overdubs. We did as many as we wanted. Then we'd do the lead vocal, and then the girls' backing vocals, then the horns. And then myself and the keyboard player, Tyrone Downie, along with Bob would come back and do the male backing vocals. Then we'd do the percussion at the very end.
Percussion was always pretty much last. Sometimes, we'd put the rhythm on like what we call in Jamaica the Rasta pack drumming, which was Nyabinghi and Kumina. They would put those drumbeats on before the vocals, so that they would feel the rhythm more strongly—especially in the background, so it would be like a chant in the background, especially on songs like "Exodus." When you listen to the record, you hear how fearful the drums are. The percussion was very hypnotic and spiritual. That was the process. And sometimes when it came to mixing, we might go back and overdub something and say, "Oh, wow, it would be great to put something here or a little bit of lead guitar here, or add some keyboard riffs right here." That would have been the arrangement. We would add some strings or color the music more. We would also do that at the end. After we did a vocal, it was more important than coloring it. Once you have it, you can color it any way you want and get the most out of it. That was the way we did it.
What kind of guitar did you use, and what was some of the other studio equipment that the group used at that time?
At the time, when I did my two records with my band Hanson, which was pretty much like Jimi Hendrix's Band of Gypsys [approach] back then, I'd met Roger Mayer in the United States. He was the guitar tech, the soundman, and the inventor for Jimi Hendrix's sounds, and we got very, very close. I introduced him to Bob, and Bob invited him to come and work with us, and he did, especially on those two albums. He picked some of our guitars and made sure our guitars were in tune with the keyboards, and really made a difference in terms of harmonics and how in tune everything was. Before that, most reggae albums were out of tune. Roger Mayer was an engineer for the British Admiralty, and his thing was sound. Everyone knew him from his work with Jimi Hendrix. He brought that technology to the Wailers, and he aligned everything. He took Family Man's bass and aligned it and made sure it was properly in tune, whether we were playing high up the neck or low down the neck, it would always be in tune. He did the same thing with Bob's guitar. Actually, he gutted Bob's guitar and rewired it, and it made Bob's guitar sound even better.
He bought me a [Fender] Strat. He was in New York, and I was in London. He actually went to the store and picked one out of one hundred that he thought had a really good sound and shipped it to me before he came to London. Then when he came to London, he fine-tuned it again, and that was the guitar I used on Exodus and Kaya. So that technology took Bob Marley and the Wailers' music to another level, because everything that Roger touched pretty much went platinum anyway. Then he worked for Stevie Wonder when Stevie Wonder had those big albums like Talking Book and Songs in the Key of Life. He was part of the team that worked on the synthesizers for Stevie Wonder. Roger was pretty much a gem for us, and he loved Bob, and Bob loved him. Bob said to me, "Don't let him get away." [laughs] 
There is a story that several reels of tapes were lost around this time. Can you fill us in on what you know about that?
Bob had been to London before, and he'd done recordings here and there, and a lot of recordings in Jamaica. I think, when they left Jamaica, they took everything that they owned. They stayed at few different hotels, and somehow, a bunch of tapes got misplaced. It was things that he'd been working on in the Bahamas at Chris Blackwell's studio, Compass Point, and stuff that he'd worked on in Dynamic's [studio] in Jamaica, and stuff that he'd worked on with Lee "Scratch" Perry. I think all sorts of things were going on at the time. Bob was very happy, and he was now recording with much, much higher technology, and [he somehow] misplaced those tapes. He left them in some hotel and had given up on trying to find them—because they tried to go back to all the hotels they stayed at, and they couldn't find it. But there was one hotel they overlooked. That was the hotel where it was, and that only surfaced forty years later. [Note: Thirteen water-damaged reel-to-reel audio tapes were found in the basement of a London hotel in 2013. Ten were painstakingly salvaged, two were blank, and one was beyond hope. The rescued contents reportedly contain live concert recordings from London and Paris. After nearly going to auction, the contents are under negotiations at the time of this writing. –Ed.]
Wow.
There's a lot of songs on there that no one's heard yet. It should be very interesting to see what they do with that. The band, the Wailers, have had a very hard time getting our royalties since Bob passed. Now they're called "musicians for hire," because back in the day, Bob Marley never signed anything with anyone. It was more like a handshake. We were brothers. You were his bredren or you were not.
We were all bredren. I think it was very unfair the way we were treated, but we've all gotten over that and moved on. Hopefully, if any of those recordings are used, the other musicians will overdub and not use what we recorded, so that we can turn some money from PPN or some of these [copyright] organizations like PRS for Music. These people collect money on behalf of other musicians around the world. This is our only opportunity now to get some royalty from the work that we did many, many years ago. Let's see what comes from it. It wasn't all about money. There is life and there is love. There is silver and gold, but life is better. [laughs]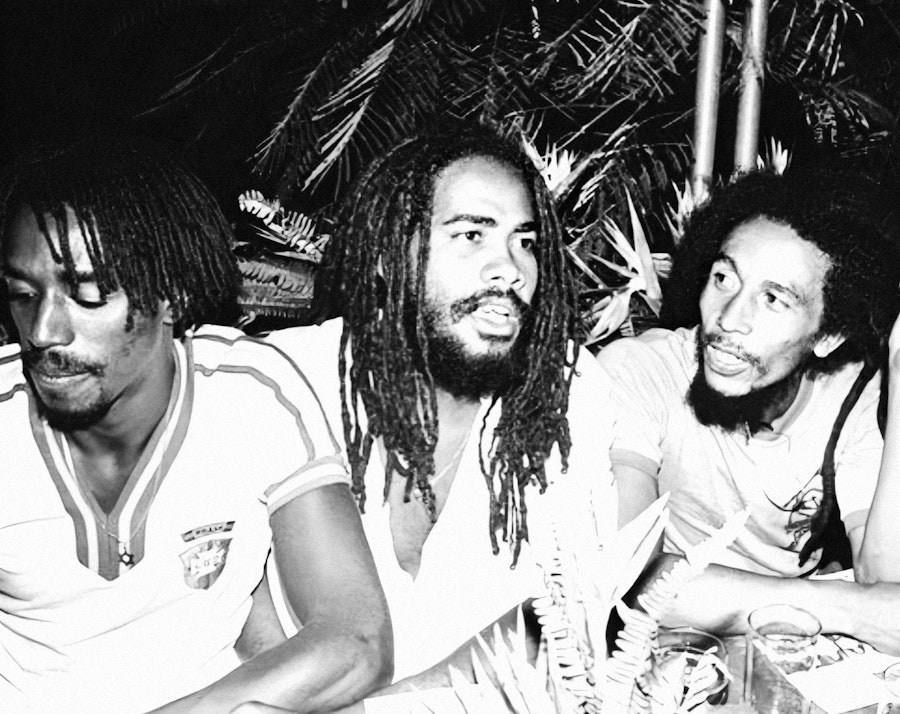 Can you describe what it was like being around Bob every day for this album? 
Bob never was into the superstar thing at all. He was very down-to-earth. In fact, he did not like people calling him a superstar. He would say, "No, no, no superstar, just Bob. I'm just Bob, and I'm part of the band." For him, it wasn't even Bob Marley and the Wailers. He would always state in interviews, "I'm just one of the Wailers. That's it. The Bob Marley and the Wailers thing was the record label and how they wanted to pitch it." He said when Peter and Bunny was there, it was just the Wailers. As far as he was concerned, we were the Wailers and his name happened to be Bob Marley. [laughs] He was super grounded. Like a soccer team or a football team where you would joke together or hang out together, we had a great time working on songs together and writing songs together and arranging. Family Man and Tyrone Downie were excellent at arranging horns and backing vocals. Bob relied on them greatly for this. Unfortunately, people tried to make it look like Bob did everything, but he didn't. In fact, he mainly just reached in and wrote some of the songs. He worked very hard at whatever he did, whether it was playing rhythm guitar or working on the vocals or being there all the time, not leaving it up to somebody else. He was just always there and always happy at that particular time. He was very happy about being alive. Because someone attempted to kill him, every second felt like a year to him. It was that type of a vibe. If he was into something, he would not be distracted. Everyone was pretty much the same way. We were just very focused and motivated. Of course, there was a spiritual side of him being a Rastafarian, and that also helped to keep us grounded and positive with everyone. He never had no security guards and never turned anyone away. His room was always full with at least one hundred people. [laughs]
I'd get to the hotel, and Bob's room was like, wow. There would be nowhere to walk. He wouldn't turn anyone away. There were people that he grew up with in the ghetto that'd come visit him. The fridge would be full, and when they left, the fridge would be empty. Bob was like, "Yes, nice to have my old friends around and give them some food and talk about old times and what's going on now and stuff." He was really loved by the people, yes. I guess that was why it was such a shock that someone would try to kill him.
Did the group ever talk about that incident during the making of the record?
Not at all. He never talked to me about it. Maybe once or twice they might have described what happened from his point of view, but Bob never talked about it. I got the job because they had a guitar player at the time called Donald Kinsey who was from Chicago. He was from a very famous blues [band] called the Kinsey Report. He was a protégé of B.B. King. When he was twelve years old, B.B. King said, "Yes, you're the next one." He was a great blues guitar player. And at the time [of the assassination attempt], when they shouted out to him in the middle of rehearsals, it was really dark, and he actually ducked because he heard gunfire, and when he looked up to where he was standing, there was a bunch of bullet holes. If he'd stayed erect, he would have been shot dead. He jumped on the next plane back to Chicago, and that was it. Hence, Bob had no lead guitar player, and that's where I came in. 
Earlier you mentioned that you were recording Exodus and Kaya at the same time. How did the group decide which songs would be on Exodus versus Kaya?
Bob chose the songs that he wanted to be on the album. There was a big difference between Exodus and Kaya. Kaya was more love songs and more on that side of Bob. He was a writer. Obviously, he wanted to get all of his songs out. Exodus was definitely pointing at what happened in Jamaica and why he had to leave. The movements were choppy. "Many people will try and fight you down when you see Jah Light / but let me tell you, everything's going to be all right." He actually lived that experience. Curtis Mayfield was one of the artists that I tend to reference when talking about being prolific with the way he was able to construct his melodies and his lyrics and really saying something with his songs. There was obviously [Curtis's] influence towards the last record on the album, "One Love/People Get Ready." 
I wanted to ask you about the making of a few songs from the Exodus album. How was "So Much Things to Say" constructed?
That song was written by Bob. It was basically talking about the political scene in Jamaica, and how they cheated people and how politicians can use people very easily. They would always promise the world but gave them nothing in return, and how they can set you up. What happened to Bob and the band, I think, was a setup. His manager at the time was Don Taylor. He recommended that Bob do a show to help with the peace movement in Jamaica around the political time. That was the turmoil that was going on during this political time. Bob was very good with the prime minister at that time, Michael Manley. They discussed putting on a free concert for all the people, no matter what their preference was in terms of the political parties, just to try to get a peaceful election going. So Bob agreed to do it. The prime minister agreed, but then the people who advertised the show on behalf of the prime minister made it look like Bob was actually doing it for the prime minister and not for the people. Of course, the opposition was very upset by the way this looked. It was said that the people who came to shoot Bob were from the opposition party. I have no proof of that. I wasn't even in Jamaica, but this was what was being said. They wanted Bob to do two concerts, one for both sides, which kind of made sense.
Bob wanted to do only one concert and he said, "Listen, I'm not doing it for anyone. I don't trust politicians, and I'm not going to ask any politician to grant me a favor, because they will always get you killed or something." He did the concert, and the opposition was pretty upset about it, and then he left the country, because he didn't want no more attempts on his life, especially at that time.
[ad-libs and sings] "So much things to say; what do they do / They say a lot, so much things to say / They got a lot to say, they got so much things to say, so much things to say right now / I'll never forget they crucified Jesus Christ." He was referring to how Christ tried to help the people, and with all the help that he gave them, they still crucified him. He said, "I remember they sold Marcus Garvey for rights." They betrayed Marcus Garvey. They made him look like he was embezzling money, and they deported him. He went to a party in England, and they claimed that he died of pneumonia, but nobody really believes that happened. I think they poisoned him. Then he talked about Paul Bogle. Paul Bogle was a Jamaican hero during the time of slavery and how he was tricked by politicians. He was basically saying that you have to be careful when you agree to do the things for politicians, because it can get you to lose your life. That song was just coming to you as it was and as it is. We still haven't solved it with what's going on now during the election. They promise you everything, but once they get in power, who knows what's going to happen. Maybe they are trying their best, but there's a lot of opposition, there's a lot of people to go through, and a lot of things have to be passed there before actually implementing them. Some things can take years, and some things never happen. They're empty promises. They just want to get your vote and that's basically it.
What about the music for "So Much Things to Say"? Did you all work on it live in the studio?
We never talked about that song very much. Bob had the basic chord structure. Family Man came up with the bass line. There wasn't any really lead guitar on there. It was more like fills just to give it a bit more color. It's quite a very simple song, but the message in there was very powerful, and I think the way we played it, it didn't take away from the message. It was more supporting the message. I could say that when the rain falls, it doesn't fall on one man's housetop. You hear the chord changes change right there to give the song a little bit of a lift. So that was our input, just to make sure the arrangement enhanced the song that Bob wrote. [The song] had a little bridge there, and [Bob's lyrics] talked about the rain when it pours, because it's not partial to where it falls. [laughs] It's funny because Bob would say, "I don't understand it. People always say they love the rain, but every time the rain comes, everybody runs." [laughs] He was quite funny.
What about "The Heathen"?
"The Heathen" is about the people who want to believe in God, but they want to believe in the devil as well; and they don't know which one they're going to follow, so they sit on the wall of indecision, right in the middle of it. They're neither here nor there; they won't say, "I'll take a stand." Bob sings about them, and he sings about the people who are willing to take a stand and fight for justice and rights and freedom and all the good things. He [sings], "Rise up fallen fighters / rise and take your stance again / because he who fights and runs away / lives to fight another day." In other words, if you're not equipped to fight, then don't go the full way with no backup, because you'll mostly lose your life. But you can go and get yourself organized and then come back when you're strong and ready to fight. At the same time, the people who should be fighting for equal rights and justice and be more on the spiritual side, they just sit on the fence and watch, and they don't try to help you. They are the heathens. Most of them don't really believe in God anyway.
How was it constructed, musically?
Musically, I saw that song as kind of a rock-guitar song. Bob agreed with me about using an intense guitar sound. There's a lot of distortion and sound effects coming from the guitar. I recorded about four guitar tracks for it. One was like that grunge sound, and then the solo had that sustained blues-rock sound, and then it had that sliding effect like somebody was sliding from the darkness or striding into the light or vice versa. That was what "The Heathen" sounded like in my mind at the time. It came out pretty well. I love that song. It was a beautiful song.
How did the song "Natural Mystic" come together musically?
Musically, it is a very tight song. The organ, the keyboards, the guitar, they all sound like one instrument. What happened while we were in the studio was, we decided that it would be the first song on the album, at least, Chris [Blackwell] decided that, and we agreed with him. We wanted to get people's attention when that song came on, and we wanted them to get up and start dancing and just get blown away. Chris came up with a brilliant idea; he said, "We'll play the song in, but we'll play it in a way to make whatever person listening to it, make them feel that they forgot to turn the volume up." It's like almost no volume at all, and it creeps in very slowly, and you think, "Let me turn this up. I didn't turn it up loud enough." By the time you go and turn it up, the drums come in—"There's a natural mystic." It's blasting and it's so good that you don't even want to touch it. You just get thrown back into your chair and blown away. You can listen to how tight the guitar and the keyboards are. They are locking in with each other, and the drums are very simple though. Very, what I would call, hypnotic, and the bass too. The drum and bass are very simple like a heartbeat with a very strong pulse. That's a magical song for me. It is very hypnotic. It really sucks you in, and the idea that Chris had really worked. Nine times out of ten, people will put it on, and then spring forward and turn it up. When we were in the studio, he'd turn it up, and then the drums would come in and hit you, and then he'd just be like, "Wow." [laughs] You wouldn't even want him to turn it back down, just leave it.
How about "Waiting in Vain"?
"Waiting in Vain" was a love song that Bob wrote, because he was in love with Cindy Breakspeare at the time, and she just won Miss World. She always said that he wrote the song for her. I think others might have different ideas about that, but that's what she said. The thing that stands out in my mind about the song was the solo, because it was about two o'clock in the morning, and we decided to put a solo on it. The solo that Bob wanted, he wanted something melodic, but also with a bit of technique to it, not just a couple of notes and gone again. Something that people would sing along with, and at the same time, practice so that there would be something in there that would be exceptional about it.
I tried to get it between two thirty and three in the morning. He did a few takes, but he didn't like it, and it wasn't quite there yet. I said to Bob, "It's almost time to go home. Let's go to sleep and then come back fresh." I went home, and I slept. I dreamt about the song, and I dreamt about the solo. I came back the next morning, between ten and ten thirty, and got it in the first take. That was it. I think the solo has melody. It has a certain class about it, but it also has a bit of virtuoso in it as well. When I play the triplets at the end, it kept getting higher and higher and higher. It took you to a peak and then came down, the climax as you would say, within the solo. I really enjoyed that, and a lot of people have tried to copy that solo. Through the years, all the guitar players tell me, "Man, I can play your solo. [laughs] It took me a few years, but I can play it." There's a lot of people on YouTube who have tried to play it. A lot of people have published it, and a lot of people said, "Man, that's the best solo in a reggae song." I'm grateful. The album did win the Album of the Century, so I guess I've got my ten cents' worth in there.
What about "Turn Your Lights Down Low"?
That was definitely a very private mood moment. In fact, when we were working on the vocals, he tried a few times and couldn't really get the mood that he wanted. Everyone just said, "Why don't we just turn the lights down in the studio and light some candles and maintain that mood." It worked. He got it—pow!—right away. The lights were down, and it was just a few candles around to get you going into that romantic mood. It worked pretty well.
What about "Jamming"?
"Jamming in the Name of the Lord." That was a song about rejoicing. People try to kill you and they try to use you, yet you've prevailed, and God has kept you alive. Now we're going to play a song for God, or for whoever you pursue and believe, Jah Rastafari, Selassie I, and rejoice, and sing the song for the Lord. Make a joyful sound for the Lord, as written in the Bible. Singers and players of instruments should be there. He glorified the musicians, because they were His soldiers and their weapons are music. The song is not just called "Jamming," but "Jamming in the Name of the Lord." It meant a lot to Bob. It was like a love song and, partly, like I want to jam with the whole world.
How did it start, musically?
It started off with the drums, bass, and myself playing the guitar. Bob used to like when I did that picking guitar style. He said, "Play some of that picking guitar at the beginning, to get people in the mood, and you give them a rhythm to dance to." I purposely took that picking guitar style which I learned, basically, from people like James Brown. Bob was a big James Brown fan. He definitely wanted to get up and dance. It was a spiritual song too when I think about the way it's structured in the bridge. In other words, a very spiritual-type song. At the same time, it was also a love song.
What about "Three Little Birds"?
I'd say that it was written for [the I-Threes], but I don't know. I'm not sure about that. I think it was more convenient for them to say that, because there's three of them. I think it was written because Bob used to spend a lot of time in the countryside in Saint Ann's, Jamaica. He'd talk about how the birds would come in and just perch right beside you, and they wouldn't be afraid. If you moved suddenly, they wouldn't. They trusted you. They weren't worried about anything, so he wrote the song "Three Little Birds": [sings lyrics] "Rise up this morning, smiled with the rising sun / Three little birds, pitch by my doorstep / singing sweet songs of melodies pure and true / Saying, 'This is my message to you / Don't worry about a thing, every little thing is going to be all right.'"
How did it start, musically?
It's a very simple song. Not too many things going on. Basically, it makes you want to listen to the words more. The background wasn't too complicated, and then I put a Motown-type of guitar on it. I don't know if you remember a song [by Martha and the Vandellas] called "Dancing in the Street"? There's another one by Smokey Robinson and the Miracles, "Tears of a Clown." They had a little rhythm there, and I changed it and made something new. Chris Blackwell thought that it was brilliant. He said, "That's brilliant. Where did you get that idea from?" I said, "I'm not telling you." [laughs] That was where I got the idea, because I used to listen to a lot of Motown. I used to listen to the Four Tops, the Temptations, Stevie Wonder, my favorite, and Marvin Gaye, and they had a great rhythm section and great little hooks. I learned a lot of hooks from James Brown, Motown, Stax, and Philadelphia International. The fact that I played a lot of music, and a lot of music was played in my house, whether it was R&B, soul, classical, or classical jazz. I even used to watch Elvis right before I started playing the guitar. Elvis was the reason why I went out and got a guitar. I saw him doing "Jailhouse Rock," and I wanted to be Elvis. [laughs] I think Bob was a big fan of Elvis too. Elvis and James Brown. Everybody loved those two guys.
What about "One Love/People Get Ready"?
I think Bob loved the song "People Get Ready" by Curtis Mayfield, and he adapted that and added "One Love" to it. I think they spoke to Curtis Mayfield about it, and they decided to share the publishing rights for it. That's why the song has two titles. In respect of what Curtis Mayfield did with "People Get Ready," Bob made sure that his part that was added was acceptable to Curtis Mayfield and, secondly, that any money or royalties that came in for it, they would be able to share it. If you look at the title, it's "One Love/People Get Ready," because Curtis Mayfield had a lot to do with the influence of that song and the chord changes that Bob used. It's very, very close. I think, if Curtis had taken him to court, he would have probably won. So they took care of that first in a truthful, Rastaman way.
And lastly, the album's title track, "Exodus." How was this constructed?
I think this was the first song we recorded for the album. We spent a lot of time on that song. There were a lot of parts on that song. A lot of parts. It was very simple, but also very intricate because there were so many parts in there. There are female vocals. There are male vocals. There are horns. There is percussion. There are a lot of keyboards and a lot of guitars. It was almost like a little movie theme by itself. You've got the horns. It wasn't just like a jam or anything. It was actually very well constructed and put together. It meant something. There was a big message in there. So we treated it very diligently, like a baby, and watched it grow up. We spent about a week on the song. We didn't do everything at one time. We recorded it, got used to it, and liked it. Then we started doing overdubs on it. For each overdub, we could take a whole day by setting up the sound, getting the right recording quality, getting the right balance, getting the right tone, and playing it the way it should be played. It wasn't done in one take.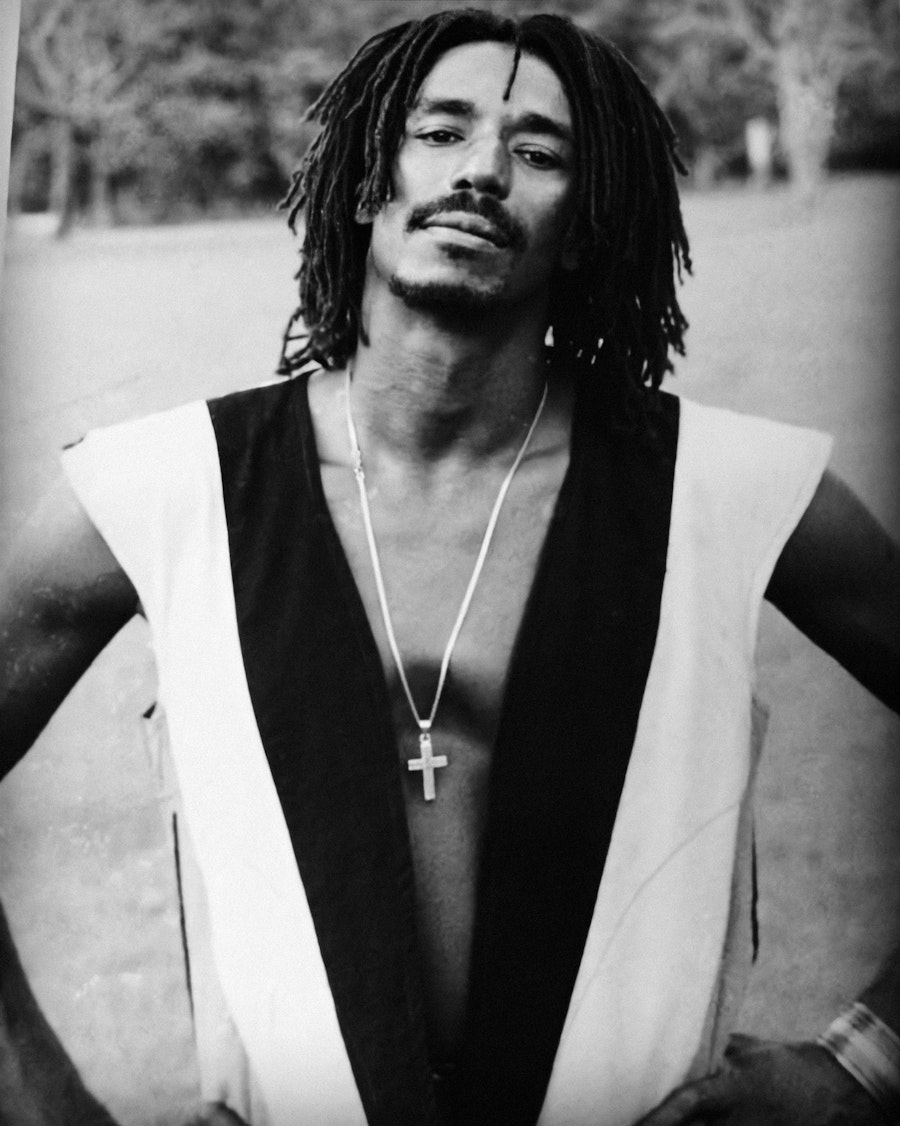 What are some of the things that you remember most about your relationship with Bob Marley?
One thing that Bob always said was, he felt that he was on a mission to bring his people together. His father was an Englishman and his mother was Jamaican. He said that he always believed that it was his job on this earth to bring Black and white together. He used it as his vehicle, his message, and his voice. I think he did a very good job, and I think he would have wished to have lived longer and do more. That's one thing that he always talked about when he said, "If I can't do this in my life, I don't want this life because I believe people need to come together and be one, share with each other, and be of service." It was something that he learned from Haile Selassie, the Emperor of Ethiopia, the Imperial Majesty. It was one of the things he said that we're all here on earth to make life more comfortable for each other.
Whether we sweep the streets or whether we're a lawyer, or politician, a banker, a teacher, we do our own little part to make everything more palatable for each other. If we share the technology, share the experience, the wisdom of infrastructure, housing, teaching, and all these things that we need to share with each other, the world would be a better place. That was part of Bob's concept. He put certain things in the songs that would let them think, put in phrases in there, parables that would wake people up. Not only dance to the music but also learn and get a message and get a certain sense of achievement through the music by living together as one on earth. He was always disappointed to know that some people were starving in a country with a lot of money. He would help send people to school, to feed people, to create housing, to create better educational facilities, to get books, pens, and soccer balls so kids could play soccer. All these things he did very quietly; whenever he went to Ethiopia, he took a bunch of stuff for them. Whenever he came to Jamaica, he had stuff with him to distribute to people who could not afford certain things. He was a very charitable person, but he did it very quietly though. He would never brag about it, and he wouldn't tell anyone about it; so unless you were very close to him, you wouldn't know he was doing all these things. I remember him for being very generous, kind, and loving. It was very important to him to shed down negative barriers like prejudice and racism.