There are at least a dozen points of brilliant light along the John Coltrane discography where the saxophonist and composer changed the face of jazz. Whether it was playing as part of ensembles led by Miles Davis or Thelonious Monk, or leading his own multi-sized outfits (with the quartet setting his most bracing endeavor), improvisation equaled innovation, speed was aligned with soulfulness, and repetition righteously brought with it a supremely hypnotic tenor—all while finding their way to a centered holiness that was Coltrane's hallmark: a vibe and tone uniquely his own.
Just read the liner notes to 1964's A Love Supreme, where the beatific saxophonist claims to have experienced, "by the grace of God," a spiritual awakening in 1957, "which was to lead me to a richer, fuller, more productive life. At that time, in gratitude, I humbly asked to be given the means and privilege to make others happy through music." The liner notes for Coltrane's Meditations a year later opens that sacred declaration to something inclusive and omni-theistic. "I believe in all religions," wrote the saxophonist in 1965, two years before his untimely passing in 1967.
Coltrane breathed a cool, wired wind of spirituality into every note. He went beyond a single tonal center with his revolution of modal jazz, created haunting works based intuitively on his solos like no artist-composer before him, and mesmerized his minions with what iconic critic Ira Gitler branded a ferocious "sheets of sound" approach to playing that was breathtakingly menacing, healing, and beautiful at the same time. One could call this revolutionary arc a move from rhythm and blues and bop into free jazz and beyond. Yet, listening to other players—from Miles to Sun Ra to Ornette Coleman—along similar paths shows thoroughly different flight paths.
 No one ever sounded like John Coltrane.
 "No one could ever sound like John Coltrane," says Ravi Coltrane.
Coltrane was recognized as a talent starting in the early 1940s in Philadelphia, where he first was gifted with an alto axe. Early solo sides for Blue Note and Prestige, and sideman gigs with Miles Davis and Thelonious Monk (taking him up to the end of the 1950s) bear witness to that truth. But it was 1960's Giant Steps that thoroughly and inexorably changed the saxophonist's game going forward. With that change in Coltrane came seismic shifts in jazz itself.
If 1957's Blue Trane (his sole Blue Note LP) was a twitchy tweak to the moody standard jazz canon with now-standards such as "Lazy Bird" and "Moment's Notice"—shedding light on his shadowy chord substitution cycles forever known as "Coltrane changes"—then Giant Steps is a swift, modernist kick to the rubber parts.
As relayed to reissue-hungry masses in Rhino/Atlantic's recently released Sixtieth Anniversary Deluxe package (complete with studio outtakes and alternative versions), the future-forwardness of Giant Steps includes those same self-named "changes." Beyond that, Coltrane's buoyant test patterns on a modern jazz ethos are here developed into full-blown, wide-reaching explorations into chromatic third-related movements, explicitly those harmonic progressions connecting keys a major third apart (kudos to author Keith Waters's take on this album's "ic4 legacy" and Nicolas Slonimsky's much-revered work, Thesaurus of Scales and Melodic Patterns). Along with blasting forth a set of melodies from Coltrane's ardently improvisational solo breaths, such stormy, outer-limit ad libs epitomized the magical melodic phrasing that was his epic sheets-of-sound aesthetic.
As far as being a blueprint for that which was to follow—at least where Atlantic Records was concerned, his label for Giant Steps and 1961's followup trio of solo releases, Coltrane Jazz, My Favorite Things, and Olé Coltrane—this now-classic 1960 album only led to greater, deeper experimentation with improvised melody, rhythm, and harmony, along with the making and maintaining of "vibe" as part and parcel of every composition he wrote or interpreted (e.g. Coltrane's snake-charming soprano sax solo and drone-raga appropriation of Rodgers and Hammerstein's "My Favorite Things").
How did John Coltrane's recorded output from 1959, released in 1960, hint at everything that would follow in its wake? What was so giant about Giant Steps that cast a great shadow on his legacy and that of modern jazz itself?
Ravi Coltrane—saxophonist, composer, son—has played an in-depth curatorial role in the working, future-thinking (and re-releasing) catalogs of John Coltrane and Alice Coltrane since the latter's death in 2007. With that, he is the locus of all that is provocative about the Coltrane family legacy.
"It's hard for us to imagine, from our perspective today, how fast things were progressing for John, year to year, record to record, label to label, sometimes even week to week," says Ravi Coltrane as to the leaps and bounds of what a young John Coltrane was learning, applying, and developing at all times. "The music was happening so fast, so it is harder to delineate what John's revolutions were, as we weren't there, day after day, seeing and hearing all the other bands and players following each other around watching their progressions, and how organic those changes were."
Ravi Coltrane believes to get to Giant Steps' allure, you have to figure in its immediate past and its immediate future. To start that journey, you must gauge John Coltrane's progression by the bands he was playing in as a sideman before he was a leader—say, Dizzy Gillespie's group, and in a rhythm-and-blues style, a rough tone that was the precursor to the raw reed sound of rock and roll à la California jump blues saxophonist Big Jay McNeely.
"That whole walking the bar, honking, low Bb sound," says Ravi with a chuckle regarding the familiar West Coast tone. "That was the style of tenor playing at that time. When John starts with Miles in 1955, you can still hear a little bit of that grit—his feel, his timing, his phrasing—very much that rhythm-and-blues vibe in his playing."
Ravi continues with his quick, flavorful chronology.
"It's only really a year later, barely twelve months, 1956, with Miles, that you can hear a big difference as to how John is dealing with time, his flow," Ravi notes. "It's getting much smoother, sort of bebop phrasing. Then he winds up spending the next year with Monk, playing Monk music. That's an entirely different sort of harmonic exploration. And from there, John's back with Miles starting again in 1958, and now he sounds nothing like the Coltrane we heard with Davis just two years earlier. He's like another guy. That is a major leap… It's impossible to look back in jazz history and find any other player who transforms so much, so often, and so significantly in such a short span of time, to say nothing of what he did from 1960 to 1967. These things don't just happen. You can go through the careers of dozens of guys and pick any ten years: you're not going to hear that evolution anywhere but John."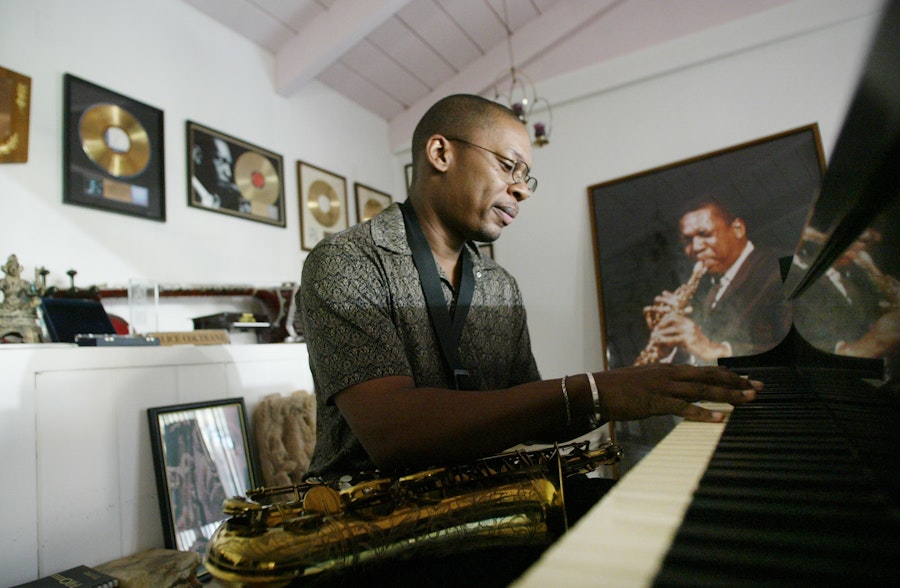 John Coltrane's evolution was indeed happening very quickly. Ravi recalled a conversation he once had with 1966–'67 Coltrane drummer Rashied Ali. During this chat, Ali spoke enthusiastically about the way John played in 1961 versus 1960.
"Rashied spoke vividly about how John was already blowing people's minds after Monk and during Miles—'58, '59—then he makes Giant Steps in 1960, which was quickly a landmark, and turned heads immediately. And, from there, he [debuts] 'Impressions' a year later, and blew people's minds even further," Ravi says of the landmark composition famously recorded at the Village Vanguard in November 1961 and released by Impulse in 1963. "Rashied said that he, like his fellow players, had no indication as to how John got from there to here. Ali said musicians went crazy. Everyone was flummoxed. So much happened between 1959 and 1963, in terms of John Coltrane's evolution. What came from that is a career, a lifetime for the average musician, in terms of change and transformation. For John, he did it in a blink, the shortest span of time, that which would normally take us a lifetime."
Was the trajectory from the bluesy jump swing and jittery bop of Dizzy, Miles, and Monk all part of a plan, a knowing trajectory leading John Coltrane to where he wanted to land? Ravi Coltrane believes that, yes, such pre-planning was the case—all part of a time and scene where like-minded creators gravitated to each other and their work in that most avid era of collaboration.
"It was a small scene then—a microcosm—a tight-knit group of players making this music, in fewer places a more colloquial, centralized group," notes Ravi. "Maybe some people moved from the Midwest to the Northeast and focused on New York. Or maybe they wound up on the West Coast. Miles heard John because of recordings he made in the armed services when he was eighteen. The only reason that John got on that recording was because he knew the tunes. Bird songs, yet," says Ravi of bop saxophone great Charlie Parker. "These tunes were brand-new at the time. Bird made them famous in 1940, but John found them loved them, and had been practicing them devoutly as he always wound up doing. Anybody who was already following that path would be welcomed into this already tight collective."
Miles played with Bird. Monk played with Bird. Bird played with Dizzy. Dizzy played with John. Miles played with John. Monk played with John. Sonny Rollins played with Miles. The associations and collaborations were not accidental. They were all swimming in the same reservoir.
Before going further into the exacts of the Giant Steps to come, with Ravi Coltrane as his own player and bandleader (six albums under his own name, multiple recordings with saxophonist Steve Coleman, along with sessions for producer Flying Lotus, and drummers Elvin Jones and Jack DeJohnette) as well as a curator of John Coltrane's work: when dealing with labels looking to reconsider the catalog, what passes the smell test?
The honest answer is that Ravi is a musician and fan, first and foremost: "Less of an historian than a follower for a majority of my life, I am a lover of this music," he says. "We have the music. We know the music. I still have copies of A Love Supreme and Giant Steps that were rereleased twenty years ago. Sometimes, we get something new, an outtake, a different version, something we haven't heard that elevates and illuminates the proceedings—cast a new light. Maybe even make you question why it didn't make the original album. With someone such as a John Coltrane, listeners have a voracious appetite for the heard and unheard. For me, I recognize that impulse. As a curator of the estate though, I also have to recognize that some of it wasn't meant for release, for public consumption—I had to read what were John's intentions, and, quite frankly, my mother's intentions for a long time afterwards. They continue to be mine as well."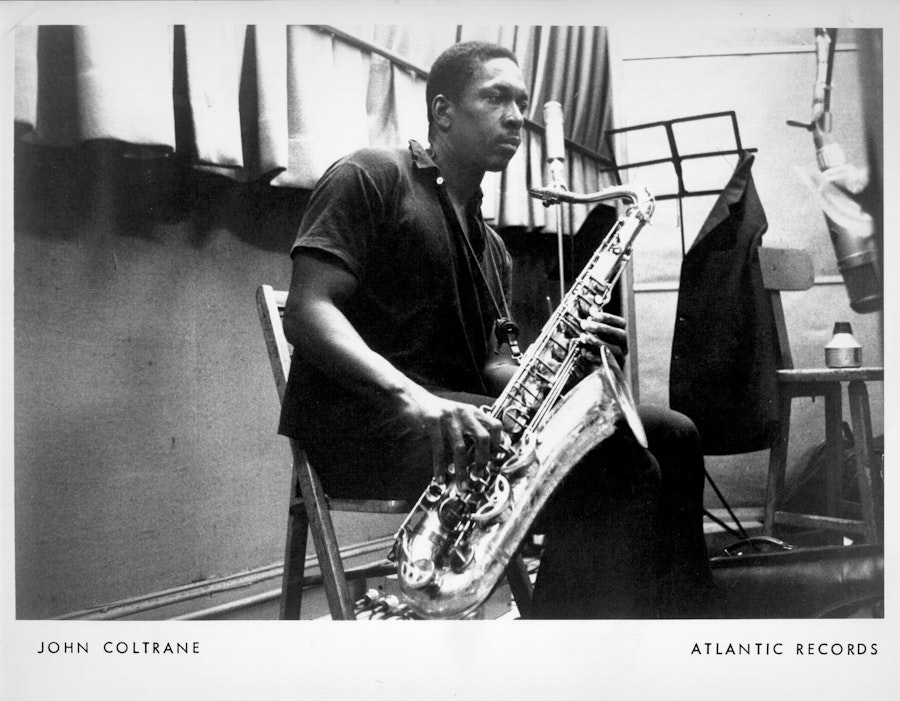 The sixtieth-anniversary edition of Giant Steps and its twenty-eight additional tracks of finished and unfinished quality force the listener to ponder what sort of development occurred between what was left off, and what remained on the epic recording.
Coltrane recorded a version of "Giant Steps" earlier in 1959 with a different band (Milt Jackson, Cedar Walton, and Lex Humphries) at a slightly slower tempo and with slightly different arrangement but chose not to release it (Rhino has released the tracks as alternate versions). "That's the evolution we're looking to hear," says Ravi. "Hearing a false start may not thrill a listener, but a musician? There's a million questions. You get into the process—a deeper insight into John's intentions. These things were stepping stones to the Giant Steps we all know."
Giant Steps was recorded in autumn 1959 at Manhattan's Atlantic Studios with Coltrane on tenor saxophone, Paul Chambers on double bass, Tommy Flanagan on piano, and Art Taylor on drums (save for the tender ballad "Naima," which features Jimmy Cobb on drums and Wynton Kelly on piano). The saxophonist jumped into the fray just twelve days after finishing his work with Miles Davis on the trumpeter's elegantly spare Kind of Blue.
Much can be said of Coltrane's time and tenor with Miles Davis and Thelonious Monk, with the saxophonist's relationship with the pianist (and Monk's test of angular harmonies) marked, posthumously, with the 1957 recording (and 2005 release) of Thelonious Monk Quartet with John Coltrane at Carnegie Hall. Here, Monk simply let a vexing Coltrane fly solo, and with complex density. Coltrane told Down Beat in a 1960 issue that working with the monster Thelonious "brought me close to a musical architect of the highest order. I felt I learned from him in every way—through the senses, theoretically, technically. I would talk to Monk about musical problems and he would sit at the piano and show me the answers just by playing them. I could watch him play and find out the things I wanted to know. Also, I could see a lot of things I didn't know about at all."
Though Coltrane made a series of graceful post-bop recordings with Miles as their leader for Prestige (two 1956 studio sessions, resulting in the albums Cookin', Relaxin', Workin', and Steamin'), the trumpeter didn't truly let Coltrane soar and roar until Kind of Blue. Perhaps, Coltrane didn't allow himself that freedom, as he was in the throes of serious heroin addiction, the likes of which led to his dismissal from Davis's employ in 1957.
The difference between Miles and Monk? While the pianist offered up algebraic patterns through which the saxophonist swirled and swerved, Kind of Blue was kind of cool, harmonically still, and minimalistic. Davis's charmed, almost romantic, harmonic stasis provoked the burgeoning improvisational Coltrane to craft towering emotional solos, often raining down dark sheets of notes like an angry thundergod at a pleasant garden party.
"This is where the sheets-of-sound thing starts," claims Ravi.
The son points out how the father toured with Miles in 1960, with television dates being part of the schedule that Miles wasn't truly into. It was "something John did not want to do; Miles begged him to tour with him," Ravi says. "John really wanted to step out on his own at that point.
"So John did [the TV performances] as a quartet—with Miles's band and Miles's music—Wynton Kelly, Paul Chambers, and Jimmy Cobb," notes the younger Coltrane. "This was a preview of things to come. Thrown into the center of a maelstrom, this was John's comfort zone, standing in front of three men, his improvisations leading the music, pushing the music forward. Giant Steps was the thing he was trying to achieve most at that point. All original compositions. The structure was head, melody, solo, maybe a tag at the end, maybe not. This was far less arranged than his Prestige records where there were cadenzas at their tail, codas, a verse at the beginning."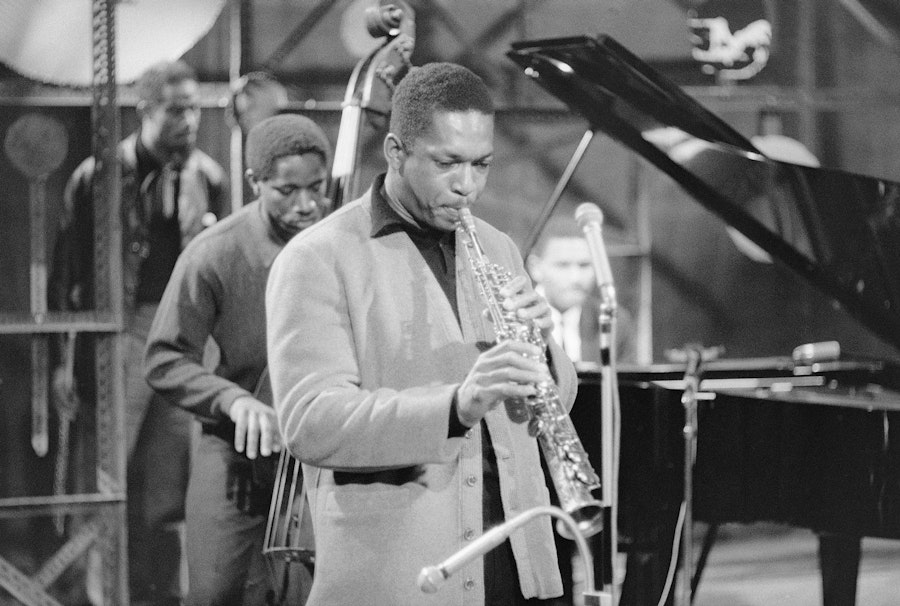 This was the first of the things that made Giant Steps devastating then as now: self-penned songs centered on his solos and making the open monologue an integral conversational element of the melody. This was important to John Coltrane's process and eventually the entire process of jazz in its wake.
"John cut his teeth with Miles and Monk," says Ravi, adding, "with Earl Bostic and Dizzy in small groups, and big bands such as Johnny Hodges's large group—even John's early albums for Prestige and Blue Note. They were arranged pieces that featured other horn players," he says, rushing by the sentiments.
"With Giant Steps—which wasn't even his debut Atlantic album, the first being 1959's Bags & Trane, the one he made with [vibraphonist] Milt Jackson—it was the first album of his where it's just four dudes playing. John took advantage of that. A quartet—a rhythm section with a piano player. Everything after that—that idea—it became his primary formation, his primary instrumentation."
The minimalist might of a quartet setting opened a set of doors—aesthetically, spiritually—and set the stage for what diversity and daring was to come. Though utilized greatly before Giant Steps, its force and focus became the most utilized formation in jazz. It's about the solos, the propping up of the horn player. The material nearly takes a secondary role to the player. The songs and the other players become vehicles for improvisation. "John goes with that wholeheartedly," says Ravi.
"Giant Steps is Exhibit A of how Coltrane's obsession with the inner mechanics of music could not—and did not—impede his lyrical priority as a soloist, nor his compositional knack for inventing memorable, deeply entrancing melodies," wrote jazz historian Ashley Kahn, the pen behind Rhino's liner notes for the new edition of Giant Steps. "It never trips over its own intricacies, never loses sight that it is indeed music. The title track connects with an altogether hip, finger-snapping effect. 'Cousin Mary' is a marvel of blues simplicity and smoky, late-night vibe; 'Mr. P. C.' a burner fired by a toe-curling, R&B feel. 'Naima' stands as one of Coltrane's most wistful romantic statements, and 'Syeeda's Song Flute' one of his most playful. 'Countdown' is a dizzying slalom down a mountainside, while 'Spiral' thrills with a more relaxed energy, a gear-shifting exercise."
Ravi picks up the ball again, and offers the juiciest of realities about this lean, modernist classic.
"This record is like, 'Here's the head, now, here's the solo.' This. Then that," Ravi exclaims, regarding Giant Steps' stirring simplicity. "It's that blunt. We're here for the solo. That's the journey. And John sees that exploration through to the fullest on 'Giant Steps' itself, as well as say, 'Countdown.'"
The songs? They're simpler song forms. Coltrane's got two blues. He's got a ballad. He's got some rhythm and blues from his past. Then the solos—aggressive, passionate, spacious, out of bounds. "This was his moment—Giant Steps—the record John was destined to make at the end of the 1950s."
From those improvisations, a shopworn phrase now part of the lexicon comes calling. 
"Here we go." 
The sheets of sound.
"The sounds of sheet," Ravi says, laughing.
While Ravi Coltrane doesn't seem immediately pleased to discuss the overused trope, he does realize that it is a major part of the jazz canon's dialogue. Why does it come to a head there?
"Gitler coined that phrase a little earlier than Giant Steps, I believe, maybe '58," says Ravi of the jazz historian and critic's most famous and suggestive quote.
"I wrote the first article in Down Beat about Coltrane, which appeared in the October 16, 1958, issue," Gitler wrote, as quoted from J. C. Thomas's 1976 biography, Coltrane: Chasin' the Trane. "I called his music 'Sheets of Sound,' because of the density of textures he was using. His multinote improvisations were so thick and complex they were almost flowing out of the horn by themselves. That really hit me, the continuous flow of ideas without stopping. It was almost superhuman, and the amount of energy he was using could have powered a space ship."
"It's a beautiful phrase," Ravi admits. "It's evocative, right? When you hear the way John was playing at certain times during this period, a phrase such as Gitler's spells it all out. There's a very sweeping line you're hearing, a sheet. There is an amount of exploration that John was doing—you heard it often when he was with Miles, where the songs were standard thirty-two-bar form—traditional—but by 1958, when he returns to the Miles fold, after leaving for a bit and playing with Monk in-between, there's a defiance toward the older repertoire of Miles's due to everything John had learned with Monk in '57. John was playing in a much more accelerated and expansive way in '58, sweeping and moving through these chordal passages, fitting in as much as he could within these smaller spaces."
All that was part of John Coltrane's nature as a seeker, as an experimenter with harmony and with approach. With Giant Steps' harmonic reach the polar opposite of, say, Miles's Kind of Blue, Coltrane fielded mesmerizing patterns gleaned from pentatonic scales like Ichiro Suzuki snagging a hard-flying smack to right field.
"It wasn't bebop lines or phrases either, filling every part of the bar with harmonic information," notes Ravi. "On the Giant Steps album, it is as if John is glissando-ing, moving quickly, even out of the rhythm—the rhythms aren't delineable—moving through the entire harmonic range of any given chord sequence without regard to time or tempo. Just sweeping through them quickly. That's a very specific sound. John does a lot of that on the Newport live album with Miles," he says of Miles Davis at Newport 1955–1975: The Bootleg Series Vol. 4, with the 1958 disc dedicated to Miles and Trane.
Ravi continues enthusiastically: "'Fran-Dance' from Newport? John's killing it. He knows the tune inside and out, so he's not bullshitting his way through it. He's playing every correct note—all of them at once, quite quickly with his own set of substitutions, pivoting and shifting from one chord to the next. He's working things out, really going for it."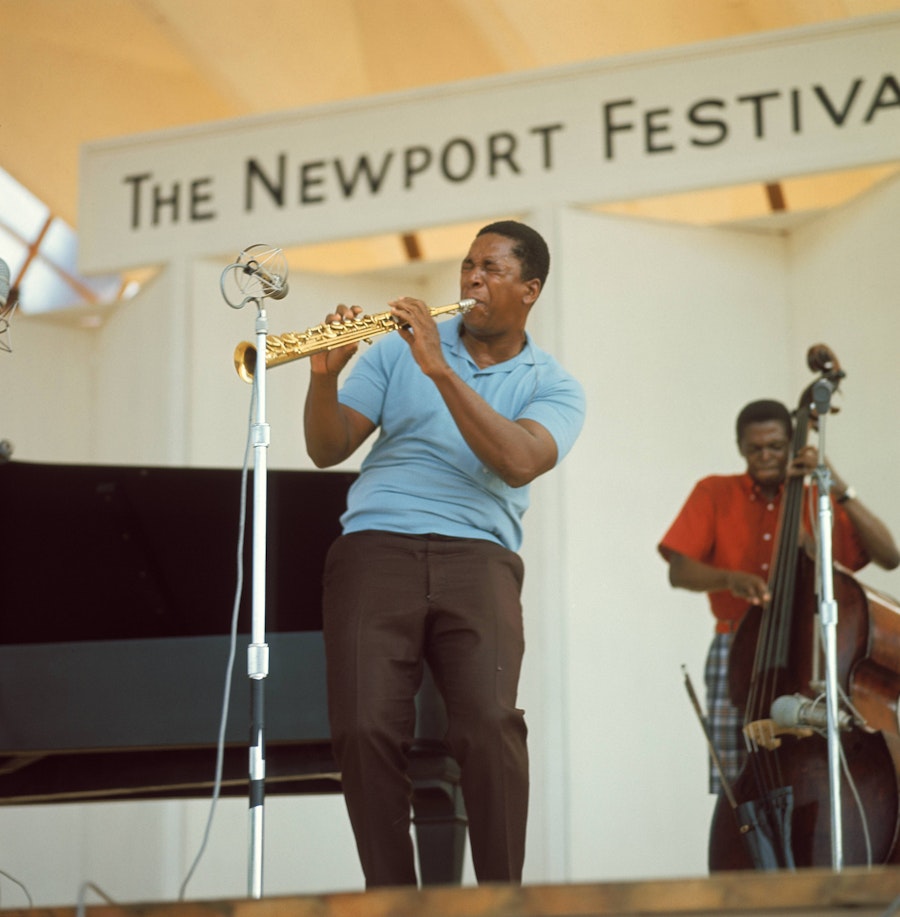 Ravi Coltrane notes that there is a hidden density to that approach to the saxophone. With that, Giant Steps features an additional brand of density, one where "John is sticking to eighth-note lines and phrases that work within that system—not glissando-ing through each chord, from the top to the bottom then the bottom all the way to the top. He is not doing that all over the album but he's doing it hard—like on 'Mr. P.C.,' with this fast, sweeping line. It's used sparingly—a little here, a little there. The solos on the Miles's Newport record? It could be the whole solo where he's doing that sweeping line. On Giant Steps, there are tastes of that."
The tastes of Coltrane's searing "sheets of sound" effect just happen to be at their most delicious, and memorable, on Giant Steps. The point is, though, that Coltrane had refined Gitler's defining statement by the time the saxophonist got to Giant Steps. By that 1959 recording session, it was as a punctuation or as a declarative sentence where the sheets of sound was best utilized to make bold points louder and clearer.
"A phrase such as Gitler's became common parlance for anything that John did during this period, even when the lines later became more dense," says Ravi.
Another phrase often applied to Giant Steps is in its use of multi-tonic changes—the dread-inducing Coltrane Matrix ("I love those movies," teases Ravi)—where substituting chords over common jazz chord progressions (of ii–V–I) becomes de rigeur practice. "The 'Giant Steps' cycle is all substitution of the standard progression," Ravi says. "John takes another route to get to C. Instead of taking the usual route, he goes through E and Ab and puts a V [dominant chord] above each [B7 and Eb7 respectively], so he's lengthening the route while going to the same exact place. More steps allows you greater density and more places to roam free. The ultimate substitution, based on turnarounds, the sorts of things that [pianist] Art Tatum would play, are here, but just in the last two bars of the song so to set the top up again. With that, you create your own [cycle of] V–I [progressions], which gives you more elements to explore harmonically."
What Coltrane does with that same substitution on later records is even more miraculous, at times violent, at times serene. On "Giant Steps," it is one long harmonic progression.
"There is no melody to 'Giant Steps,'" laughs Ravi. "However, that John moves through that progression in such a swinging and bold way is what turned the whole world onto that record. What he does later on in his work is take that harmonic progression and utilizes it within other song forms…say the bridge on 'Body and Soul' being the primary and best example of that, where he is just altering that bridge and using that cycle—that's a masterstroke. Playing the cycle is one thing, but really utilizing it, repurposing these older song forms, is epic. So on a song of his such as 'Satellite'—which is based on 'How High the Moon,' the insertion of Coltrane changes…he does it very quickly and slickly. It is a beautiful experiment, a beautiful creation."
The Coltrane Matrix, so rich and prevalent throughout Giant Steps, is something that the saxophonist did for a short period of time: utilized, exhausted, then changed radically by 1961.
"Those shapes always stayed in his playing… The 'Giant Steps' cycle stayed under his fingers, but the harmony opened up more. When you hit 'Impressions,' it's just two chords," Ravi notes. "'Giant Steps' is three separate keys, and you're moving from V–I to V–I, in each of those keys in rapid tempo, so the band is really hustling to keep up and play all those harmonies. Two years later, the band is playing modal harmonies—another repurposing of the cycle."
Before going on to the concept of speed, how does Ravi see the repurposing of the cycle when we come to the complex rhythms of Olé Coltrane, or the elegant, dramatic drone of My Favorite Things, two additional Coltrane Atlantic-era albums coming up on their sixtieth anniversaries?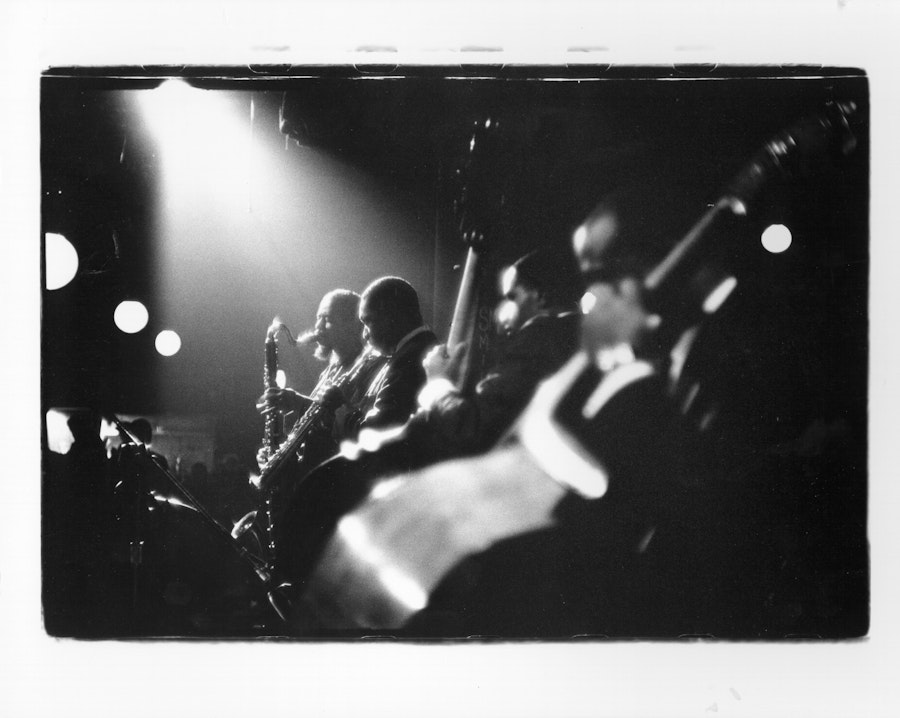 "Our ears acclimate at our own pace," says Ravi. "The Atlantic period is a gorgeous period where you hear the precursors of what was to come after that at every turn. We talk about Giant Steps, harmonic exploration, and harmonic density. You don't need to go much further to see their progression, as one year later—with Olé and My Favorite Things—you hear the early beginnings of his modal period and all these vamps."

With that, "Olé" is a vamp. "My Favorite Things" is a vamp, a haunting vamp for sixteen minutes whose repetition gives that prancing track its power.
"That vamp is like a raga, hypnotic, a drone," says Ravi. "That allowed John to play modally, stay within the harmony, go outside the harmony. There is speed, density, and vibe there. It also allows him to be lyrical and melodic. On a song like 'Giant Steps,' you got to keep up with the changes; it's a much more regimented way of playing."
Before I am able to finish my observation of speed becoming an element of freedom, Ravi trumps me with a bigger concept: "Ultimately…everything becomes freedom. Everything is worth substitution. You let theory go, it flows through you. The things that you have under your fingers and within your soul and body get released. That is the ultimate freedom."
One would miss the boat entirely if the crew behind Giant Steps—pianists Tommy Flanagan, Cedar Walton, and Wynton Kelly, bassist Paul Chambers, drummers Art Taylor, Jimmy Cobb, and Lex Humphries with producer Nesuhi Ertegun—didn't get their due. Considering that most of these same players made it onto 1961's Coltrane Jazz, with the addition of pianist McCoy Tyner, drummer Elvin Jones, and double bassist Steve Davis (the latter three, the saxophonist's backing outfit on My Favorite Things), all are heroic in their efforts and abilities.
"We know who he was, and where he went, and who he went with," says Ravi of John. "Giant Steps, though, would have been a very different record, say, if John had made it earlier in 1959, or if Elvin and McCoy were on Giant Steps."
Those two players had their own evolutions to go through before they got to John Coltrane's employ, Tyner with trumpeter Freddie Hubbard, and Jones with saxophonist Sonny Rollins. In 1959, both were still playing bebop—and both were still young and playing bebop.
"The real veterans of bebop at that point in 1959—Tommy Flanagan, Paul Chambers, and Art Taylor—were on this record," says Ravi. "Essentially, that's what Giant Steps is: a bop record, or a hard bop record. It's all 4/4 times, walking bass, swinging drums. John had been playing with Paul Chambers through Miles since '55, so that association was solid. P.C. played on most of John's Prestige recordings too, so Giant Steps is but the culmination of that era for the both of them. Mainly John. By the time he got to 'Impressions,' he let it all go. It's gone. Bop is no more and they have all moved into that different direction that Rashied Ali talked about, where everyone got so used to cats playing bop, the new masters by 1961 were developing a new sound—that's Elvin and McCoy—a sound that people hadn't heard before. It was something that was building, but it was a culmination of what they had been doing for years."
With that, the whole of Coltrane's Atlantic period—Giant Steps, in particular—stands on its own for its leader and its collaborators. As it has for sixty years, Giant Steps remains one of the best records, one of the best instrumental records, and one of the best John Coltrane albums, all because of the power of his intuition, his commitment to his instrument, and to the advancement of his music. "That album is a beautiful shining, guiding light for anyone who has creative aspirations," says Ravi Coltrane. "John made his choices correctly, whether it was Tommy Flanagan, or recording quickly. All of its recording was an experiment. 'Giant Steps' itself wasn't a bop tune basked in a blues structure that guys were used to, or a thirty-two-bar standard they'd played before—even at tempos such as this speed. This was new, and to bring it all to a band, sight-unseen, was brave. It was an experiment. Maybe the first session didn't work out, as he didn't choose to release any of that material in his time. Instead, he re-recorded it with another band. Even if it wasn't what John wanted, initially, it was all on a high level—not just guys flubbing. The other thing was that John was a pure improviser. He wasn't working out solos in advance or writing them down or doing this same thing from take to take. The fresh ideas were flowing all the time. That's another great thing we learn from John at that time: we don't have to formulate who we are as players. We just have to trust our instincts, build up your intuition, and try to go as far as these guys did."
One thing that Ravi Coltrane claims is most special—yet often overlooked—about the power of Giant Steps is its accessibility in the face of its more rigorous aesthetic challenges, and how effortlessly joyful a recording it was, and is, despite its athletic complexity, physically or theoretically.
"If you are a jazz follower or player, this is a great album to start with," says Ravi Coltrane of the giganticness of Giant Steps. "There is something about it that, after repeated listening, is still a challenge to your ear, makes your eyes open wide, and allows you to be inspired and captivated by its sounds and feelings—the vibe. Layman too, the feeling must be the same, as in, 'Wow, what is that?' For accessibility into John's catalog, Giant Steps is a gateway. There are beautiful ballads such as 'Naima,' which everybody can relate. Modern jazz players can find groovy blues on 'Cousin Mary' and 'Mr. P.C.' Those grooves are welcoming. They hit me in a place where I feel safe. John's sound—the sound of his tenor—is captivating. It draws people in. It's his vibe, the sound of his horn, and the feeling that comes from it. You really can't ask for anything more magical than that."